Soundcore Motion Boom Plus
Pros
Excellent audio quality.
Very loud maximum volume.
Lightweight, portable design.
Doubles as a power bank.
Floats in water.
Cons
Battery life is only so-so.
Indicator lights are too bright.
Visually unappealing.
Portable speakers have come a long way from where they used to be. Back in the 80s, people used to carry boom boxes around. For you kids, a boom box is a big rectangular music player with two speakers.
They played audio cassettes, and with a bunch of giant D-cell batteries, you'd get a couple hours of listening. Boom boxes fell out of favor in the 90s as CD players replaced cassette tapes. Portable speakers got smaller, and almost disappeared altogether. In the 2000s, people switched to digital music on phones and MP3 players.
But the 2010s brought more reliable Bluetooth technology. This led to the creation of Bluetooth speakers. Bluetooth speakers are the best of both worlds. They're portable, but they're speakers, not headphones. You and your friends can enjoy your music together, no matter where you are. At the same time, you can still use your favorite streaming service. Just pair up via Bluetooth and you're ready to go.
That said, there are many Bluetooth speakers on today's market. If you want to find the best one, you need to do your research. Some are well-designed and will produce good audio with a stable connection. Others are more questionable. Thankfully, we're here to help sort the good from the bad.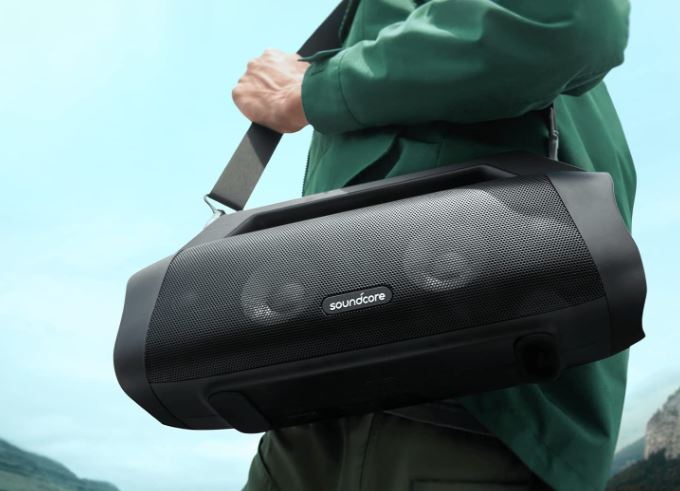 Anker Soundcore Motion Boom Plus
We're about to review the Anker Soundcore Motion Boom Plus. This is a powerful, 80-watt outdoor speaker that's great for anyone who needs a lot of volume. It's surprisingly lightweight for the power, and it's water-resistant enough to float in water. It even doubles as a power bank for charging your smartphone.
But is this the right Bluetooth speaker for you? To find out, we'll have to take a deeper dive into its features and functions. We'll start by looking at how it's built, and the physical design features. We'll talk about how you operate it, and how it pairs with your phone. Next, we'll investigate the battery life, and of course evaluate the audio quality. After that, we'll have enough information to make a fair judgement. Let's get started!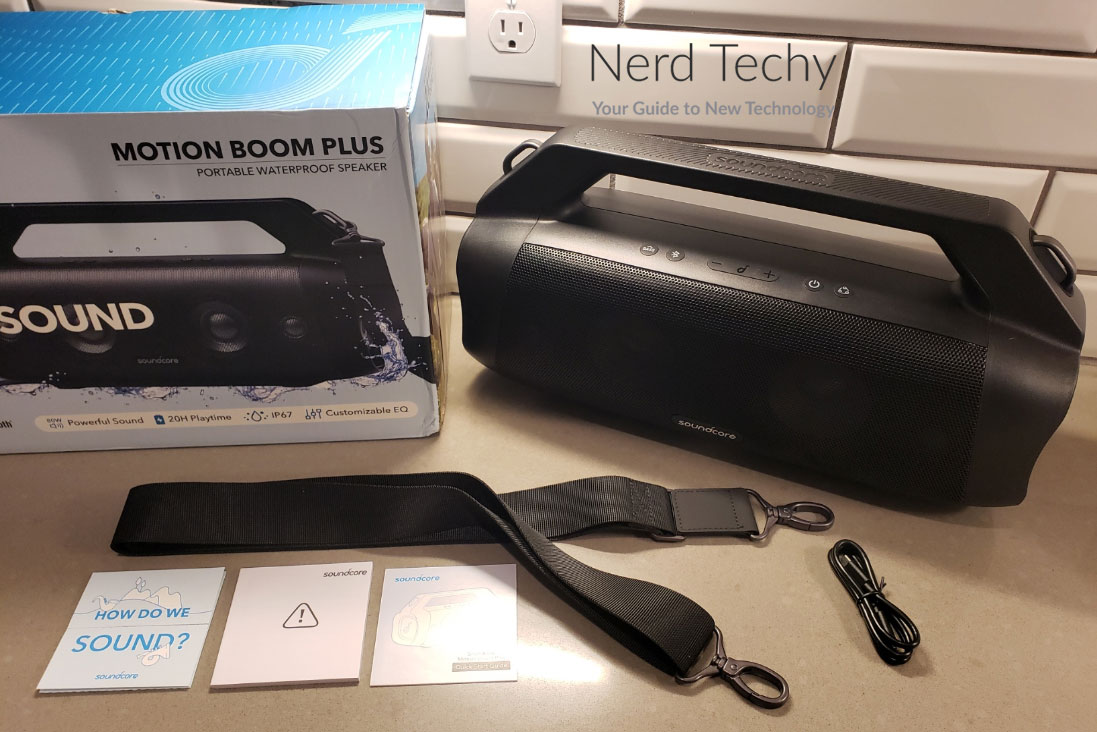 Overall Design
The Anker Soundcore Motion Boom Plus Outdoor Speaker is constructed from a durable matte black plastic. It's roughly rectangular in shape, with a width of 15.31 inches, a depth of 5.51, and a height of 7.7. Much of the height consists of a large handle, which arches over the top. Between this and the light weight of only 5 pounds, the speaker is very easy to carry around.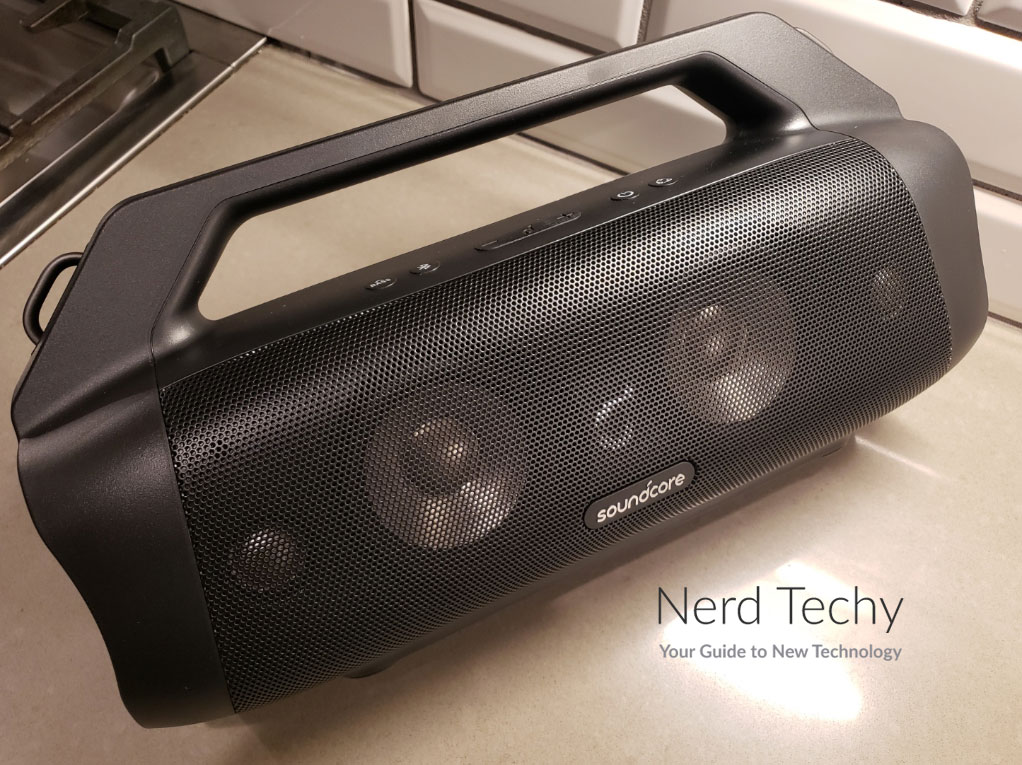 If that's not enough, the kit even includes a nylon carrying strap. The strap is adjustable, with clips at the ends that lock onto rings on the sides of the handle. This lets you carry the speaker over your shoulder and use your hands for something else.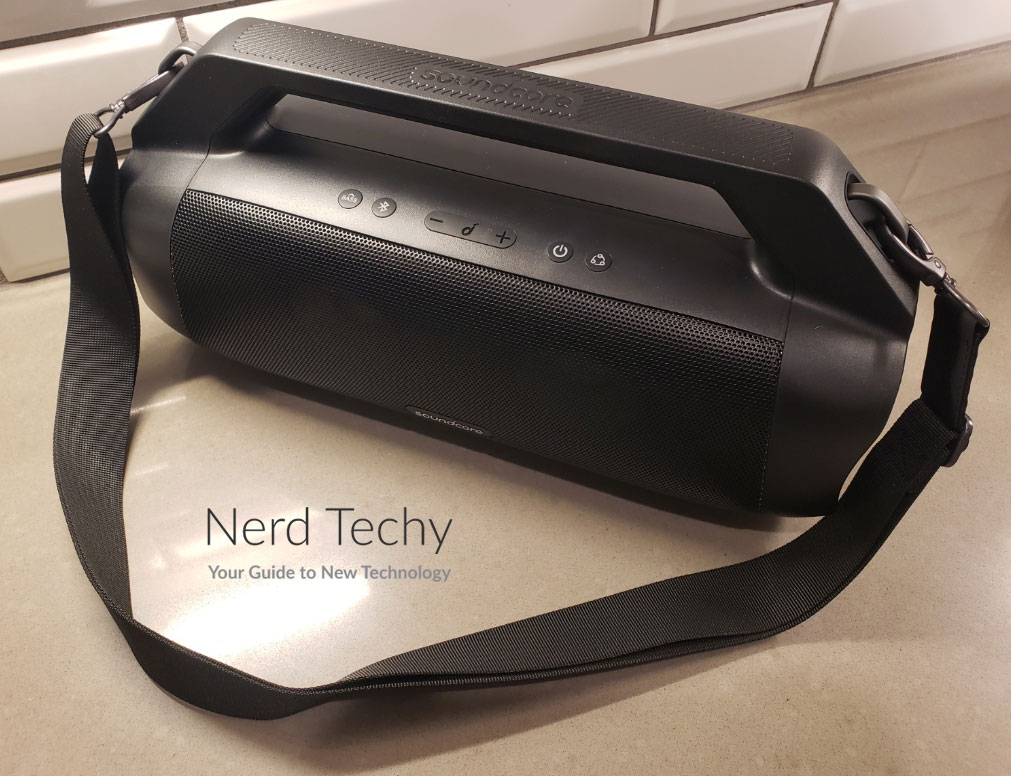 Most of the front of the housing consists of a black speaker grille. You can see through this to the large woofers and smaller tweeters inside the housing. The sides are indented, which reduces the overall mass and provides better noise conduction. On the bottom, you'll find a pair of broad, flat rubber feet. These feet keep the Motion Boom Plus from sliding around or scratching any surfaces.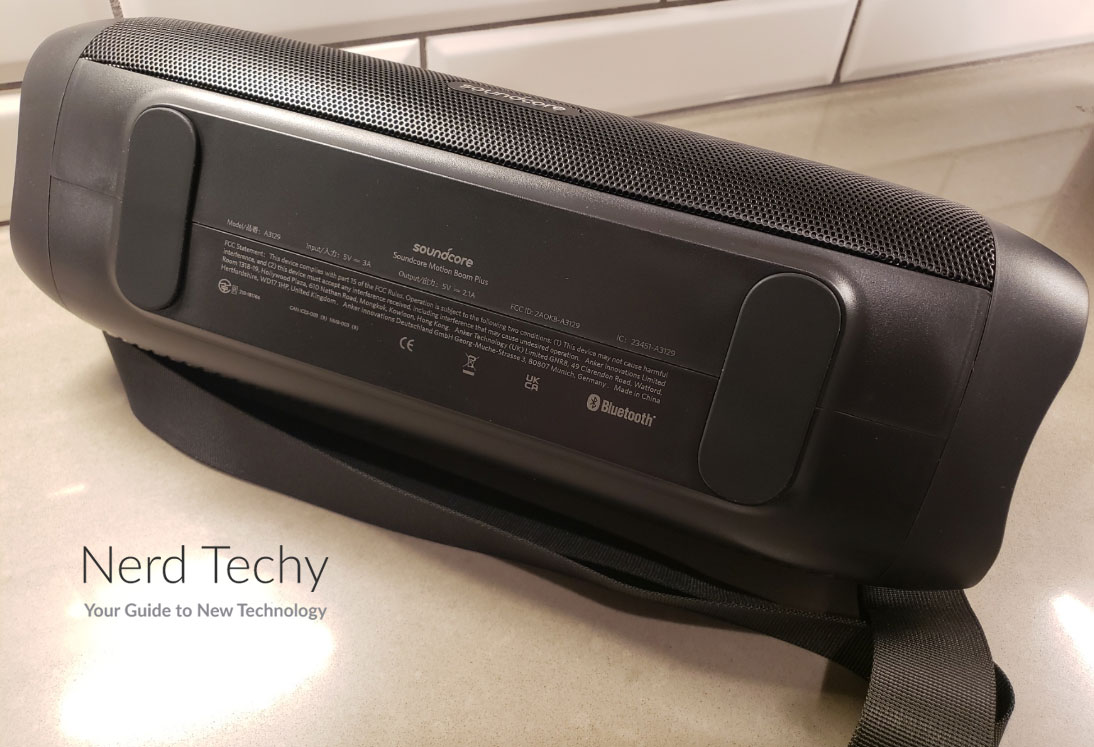 You can use this speaker under just about any weather conditions. It has a weather-resistance rating of IP67, which means it's entirely dust-proof and highly water-resistance. It can be submerged under 3 meters of water for a minimum of 30 minutes. Not that that's much of a concern – it will float if it's dropped into water.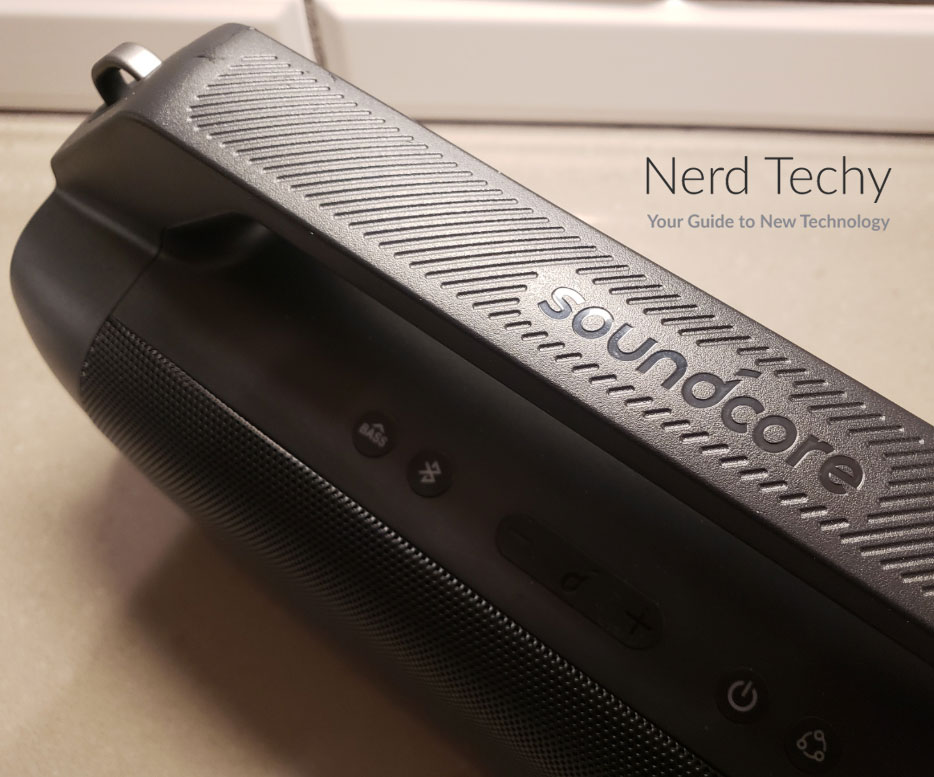 Controls
The control buttons are located on top of the housing, just in front of the handle. At the left is the control button for the BassUp function. This gives you a quick bass boost, and it's great for parties. The button is round and gives good tactile response. There's also a bright LED indicator in the center.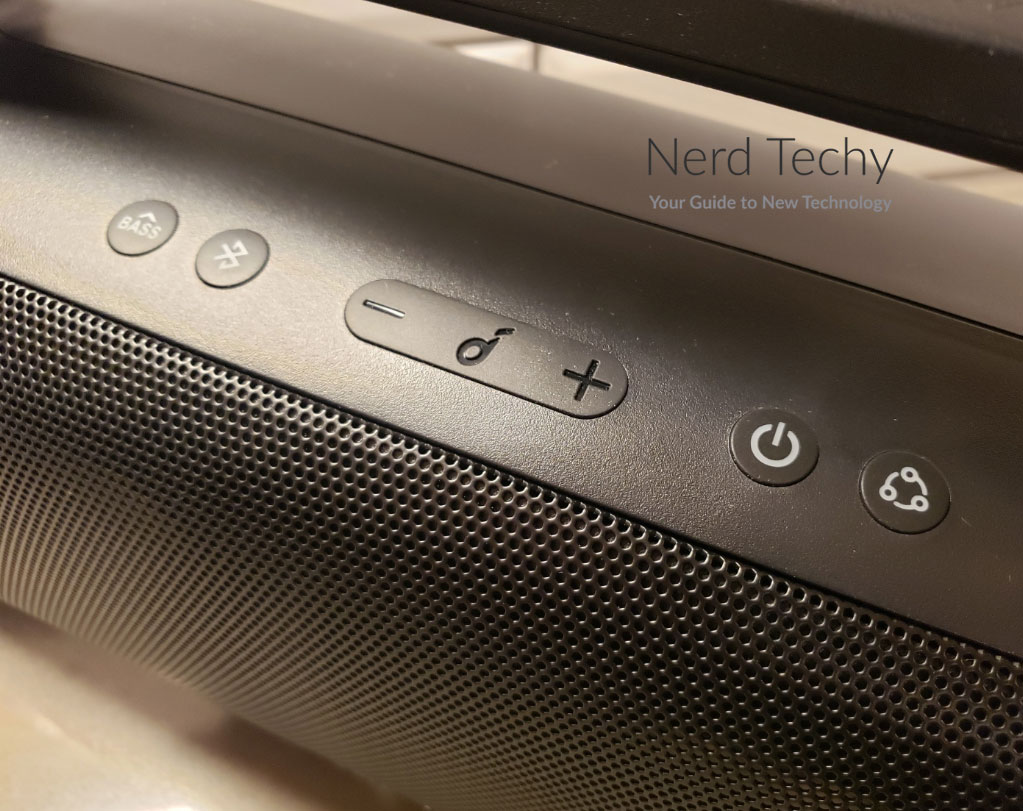 This brings us to one of the minor problems with the Motion Boom. The LED lights are ridiculously bright. In daylight, this is no problem. But in low lighting, they can be distracting. This is of course a matter of taste, and some people like bright LEDs. If that sounds like you, check out the Tronsmart Bang. It's a Bluetooth speaker with bright rainbow LED lights built into the left and right sides. It's purpose-built for parties, with very powerful bass, but it's also a bit large.
To the right of the BassUp button is a Bluetooth pairing button. This button also has an LED light, and illuminates when you're currently connected. In the middle of the row of controls is a rubber volume bar. This is easy to operate, and you can quickly reach the level you want.
Next in line is a power button. This does exactly what you would expect, and it illuminates when it's turned on. The last button activates the PartyCast function. This is designed to extend your signal to Soundcore's PartyCast speakers. You can daisy-chain up to 100 of them together with the Motion Boom Plus as the controller. It's a great feature for larger areas where you need a ton of sound.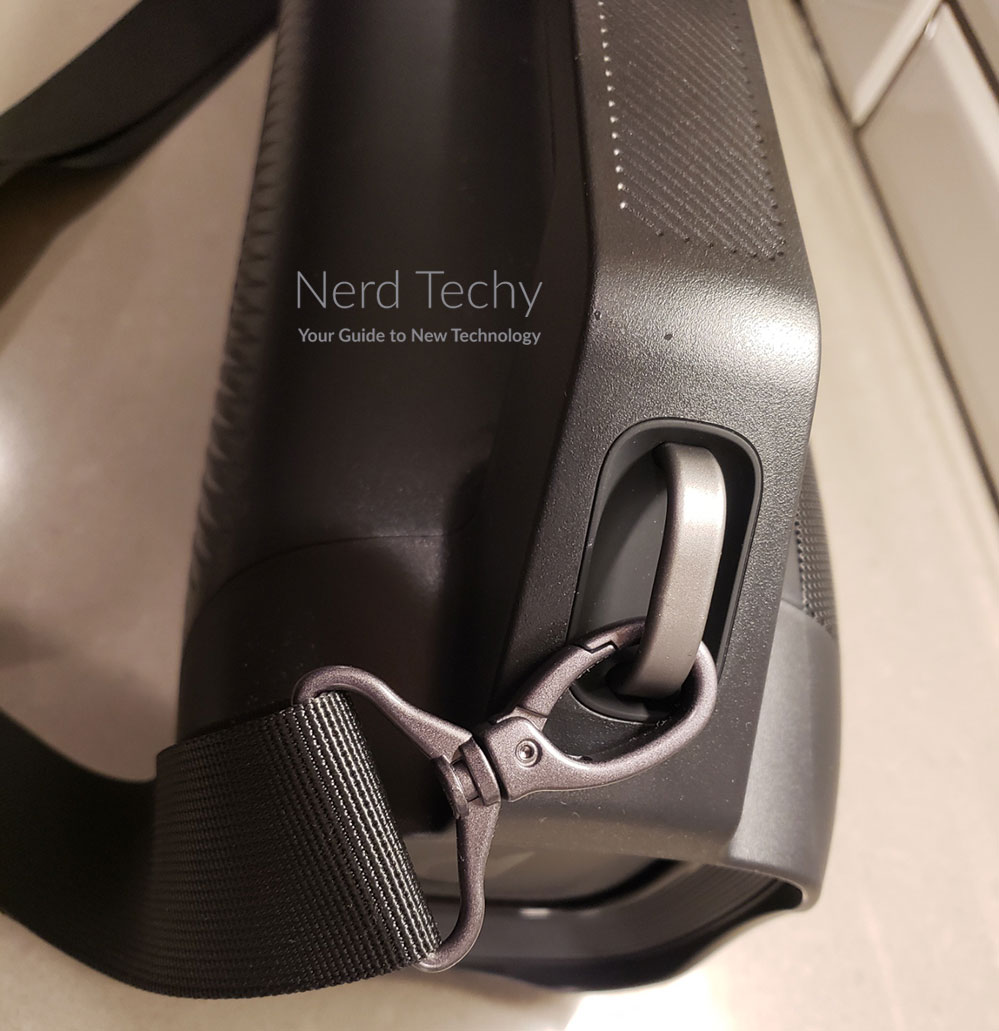 Connectivity
The Motion Boom Plus uses Bluetooth 5.3, which is the cutting edge of Bluetooth technology. Like Bluetooth 5.0, it supports higher bitrates than earlier Bluetooth versions. Many people won't notice this feature. However, if you want to listen to HD music, you'll be able to, at least if your phone supports it.
Bluetooth 5.3 also has virtually zero latency. That means that there's no noticeable gap between the video and the audio. With earlier versions of Bluetooth, the audio could lag behind the video. Low latency makes videos a pleasure to watch, and massively improves your gaming experience.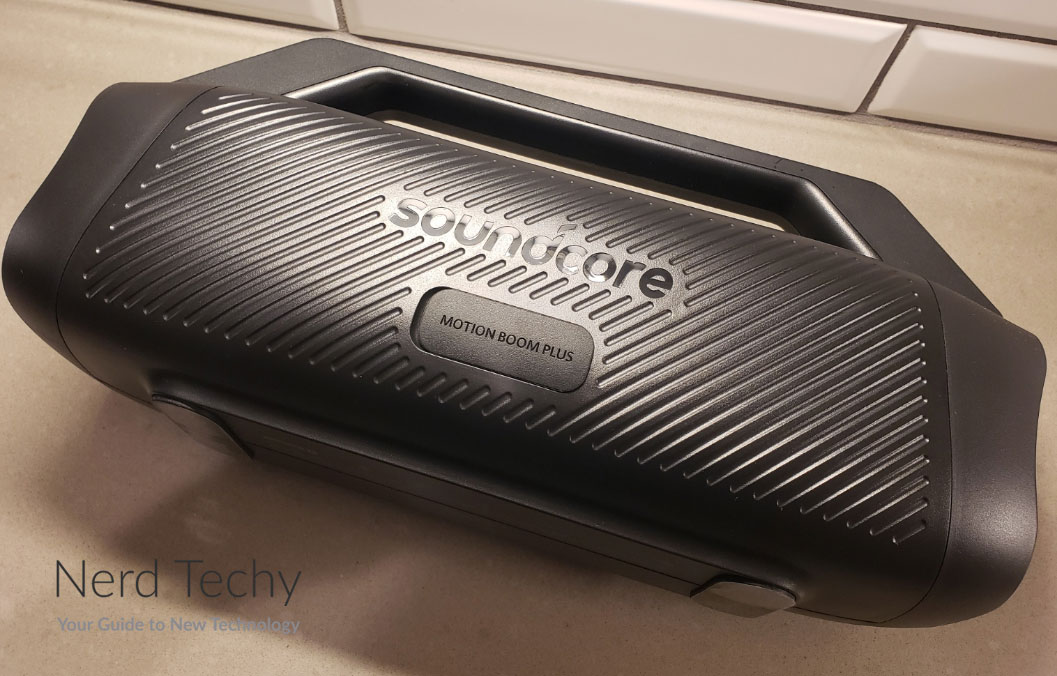 Finally, Bluetooth 5.3 is more stable than earlier Bluetooth versions. If you're moving around a lot, you won't lose your signal. You can dance your heart out without your music cutting in and out.
But wireless connections aren't always the best. Maybe you want to connect your speaker to a CD player or turntable. In that case, you can remove the rubber plug on the back of the unit. There, you'll find a few ports, including a 3.5mm aux jack. Plug in, and you'll be ready to go. You can also plug into the USB Type-C port with your phone or computer.
If you only need Bluetooth, consider the original Motion Boom. It's similar in many ways to the Motion Boom Plus, including the form factor and BassUp function. However, there's no 3.5mm port. Then again, it's also more affordable, which can be a good thing as long as it meets your needs.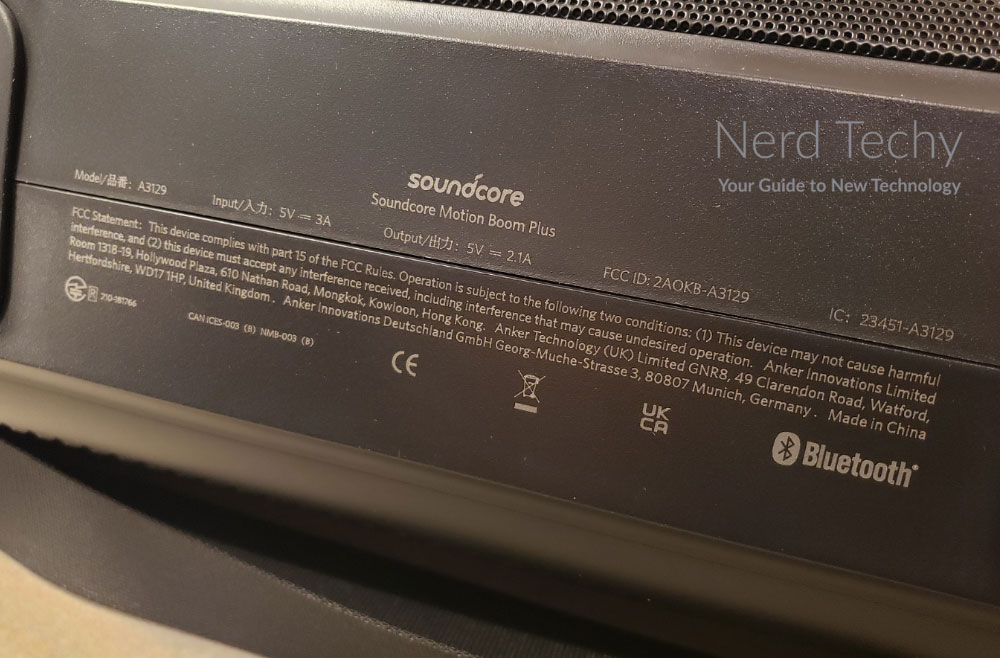 Battery and Charging
The internal battery has a capacity of 13,400mAh, which is enough for up to 20 hours of use. Note the use of the word "up to." At low volume, 20 hours is perfectly accurate. Crank up the volume, and your battery life goes down. At half volume, you can expect more in the neighborhood of 12 hours. At maximum volume, 8 hours is more realistic if you have BassUp turned on. Then again, maximum volume is very loud, and you probably won't need it that often.
When the battery starts to get low, the power button light will turn from white to red. At that point, you'll need to plug in the speaker. Remember that USB Type-C port under the back plug? The kit includes a USB Type-C to Type-C charging cable that you can plug into any charging port. If the battery has been fully drained, it will charge in around 5 ½ hours.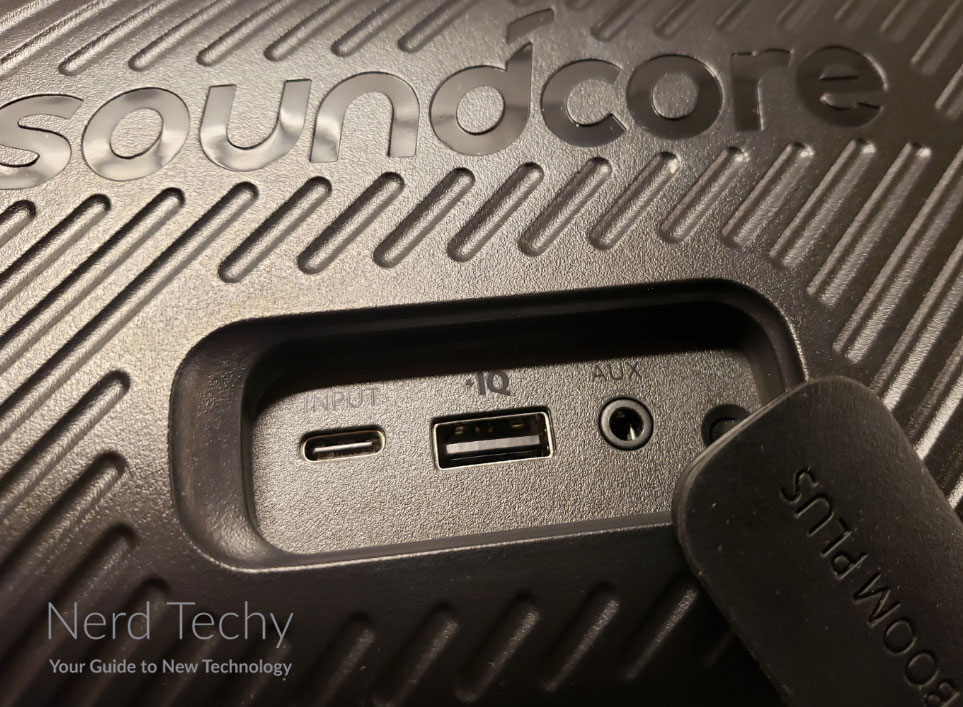 Next to the Type-C port, you'll notice an ordinary USB Type-A port. This port can be used for charging other devices, such as your smartphone. Depending on your phone, you'll get around four full charges. Of course, you'll be depleting the battery on your speaker at the same time. But if you need an emergency charge, you'll be able to get one.
If you're looking for more battery life, the Tronsmart Studio is a good choice. The maximum performance of 15 hours isn't all that impressive. But it does better at maximum volume, where it will last from 11 to 12 hours. You can also link up to 100 Tronsmart speakers together, although they are fairly bass-heavy.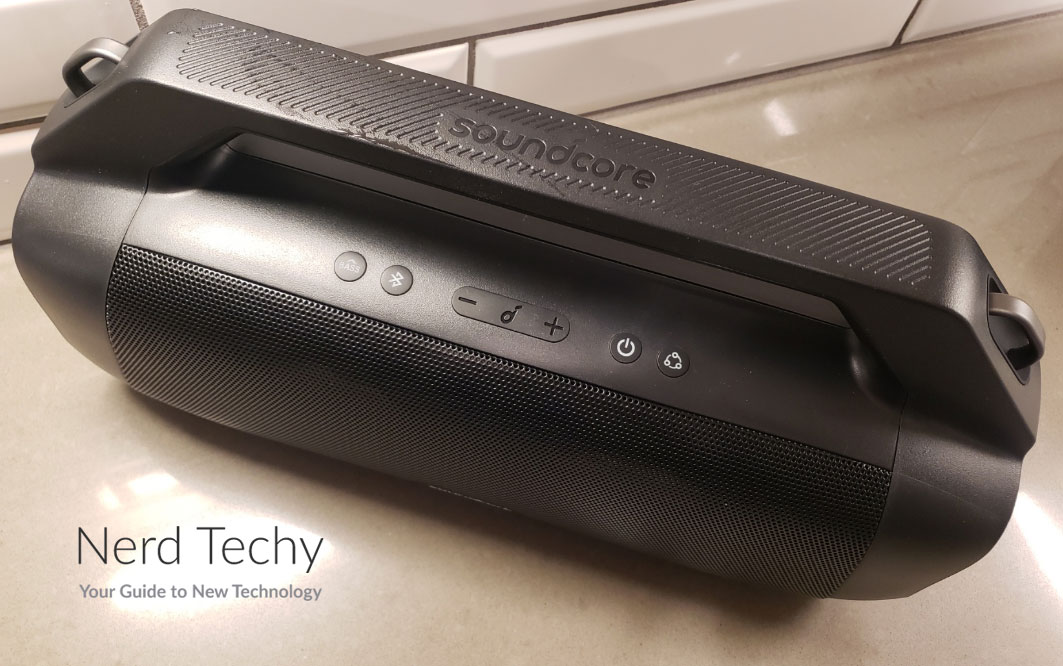 Audio Quality
The Motion Boom Plus provides a total of 80 watts of audio. This consists of two 10-watt speakers, paired with a set of powerful 30-watt woofers. Between them, you'll get an impressive level of volume. We're not talking about PA levels of power. If you're having a wedding, you'll need a lot more. But for small groups of friends, it's more than enough.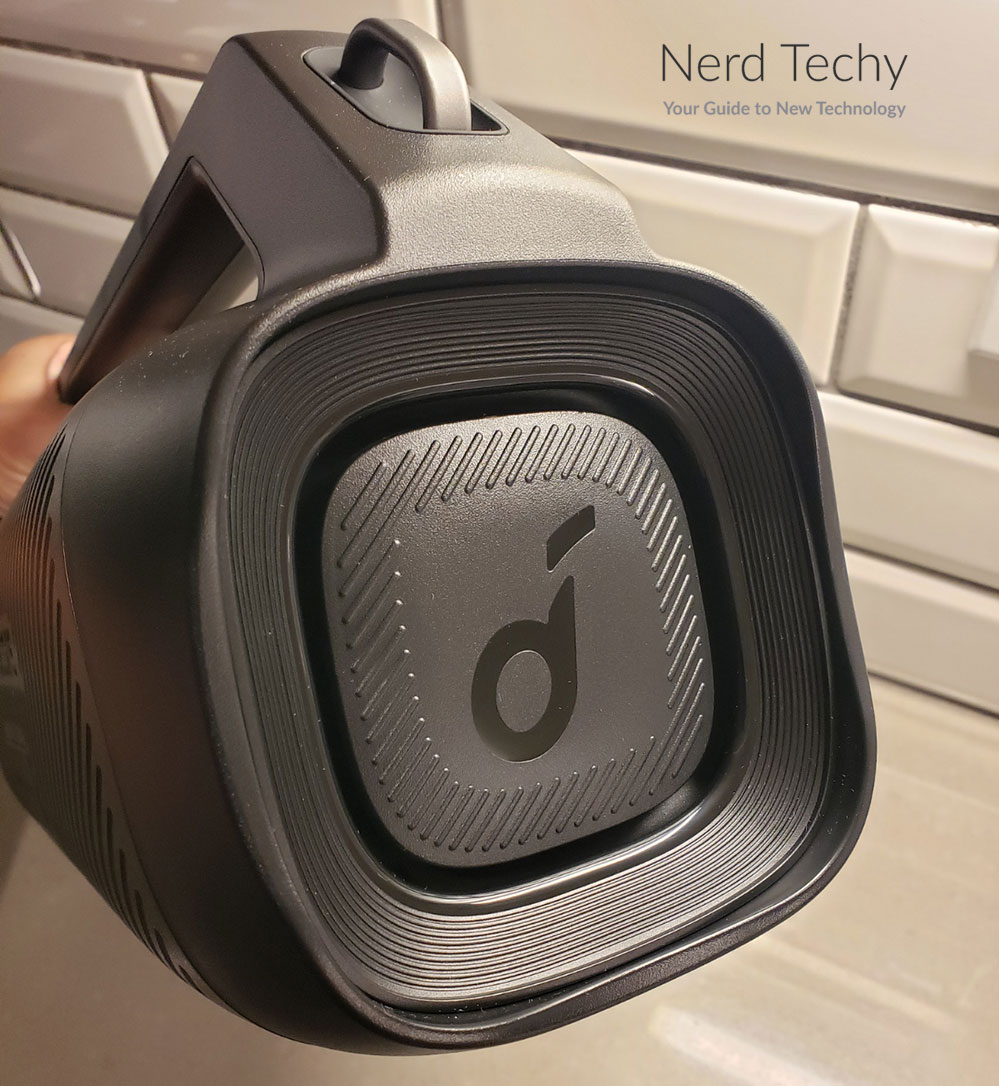 Not only is this speaker loud, but it also offers excellent quality. The drivers are made of titanium, which allows for pristine response. The highs are shimmery, the lows are punchy, and the middle frequencies don't get crowded out. Moreover, there's a real sense of space. Because this is a stereo speaker, you get a more authentic experience than you do with most Bluetooth speakers.
Final Verdict
The Anker Soundcore Motion Boom Plus is compact and powerful. At only 5 pounds, it's easy to carry anywhere with the built-in handle or removable strap. And with 80 watts of power, it puts out a ton of sound for such a small device.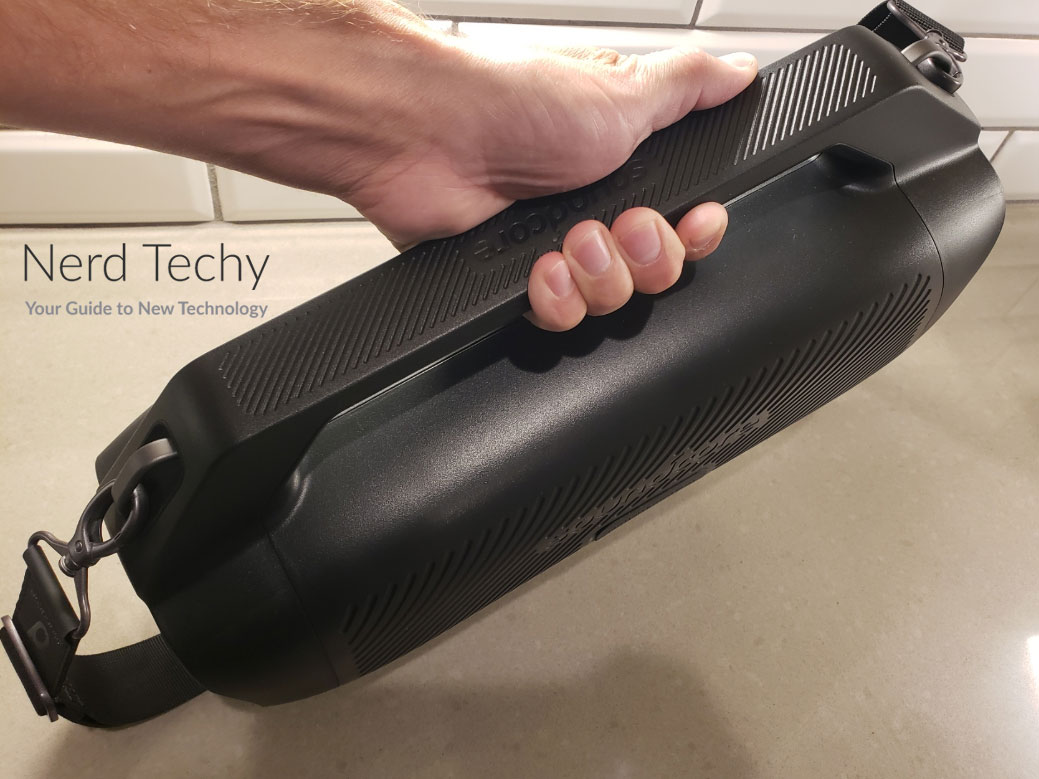 To be fair, we had some complaints. The battery life could stand to be longer, and the LED lights are too bright. The physical build, while utilitarian, is also not all that visually appealing.
On the plus side, you get amazing audio, whether you're listening to music or podcasts. The controls are easy to operate, and the Bluetooth pairing works well. Compatibility with Anker's PartyCast speakers is a welcome touch, since you can expand your coverage area. And with IP67 weather-resistance, even a drop in the pool is no big deal.