If you're looking for a Bluetooth speaker, the first thing you want to do is establish realistic expectations relative to your price range. When you're spending anything less than hundreds of dollars for a speaker, you'll notice some speakers have more features than others. The next thing you'll want to do is think about the places you intend to do most of your listening. Keeping those intentions in mind, it's easy to weigh the strengths and weaknesses of any given Bluetooth speaker against your personal needs.
Most of the things you're going to want to consider are obvious, like battery life and sound quality. Some are less obvious, like whether or not you intend to use the speaker mostly for watching television, mostly for listening to music, or split evenly between any number of activities. Those seemingly small differences can actually have a strong impact on the kind of Bluetooth speakers you should select.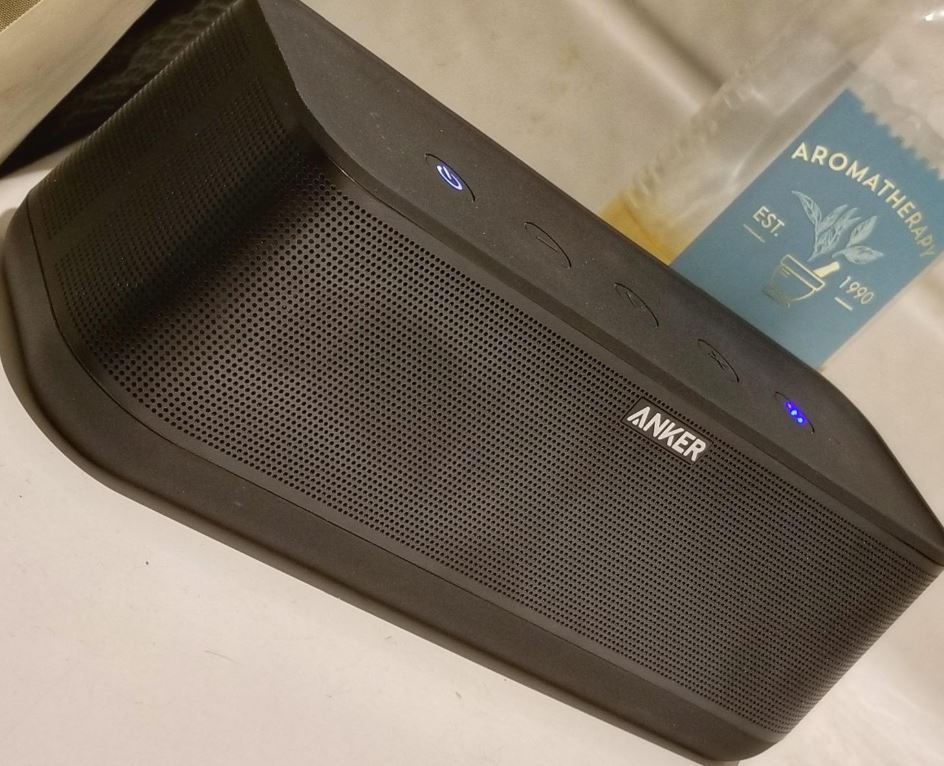 Anker SoundCore Pro+
Anker originally began manufacturing batteries, but in recent years it's expanded to producing a range of Bluetooth electronics, including some impressive audio equipment. Most of their audio gear is inexpensive, entry-level equipment. But the SoundCore Pro+ is Anker's attempt to create something outside of the inexpensive category, and enter the space of consumers who are looking for higher levels of audio quality.
Relative to Anker's next best speaker, the SoundCore 2, the Pro+ is essentially twice the speaker. Many of the more important differences are added features, like a built-in microphone to help enable Bluetooth call support. But even fundamental things, like battery life and sound quality, have been considerably improved. Provided only that you're not trying to fill an entire stadium with sound, the Sound Core Pro+ is worth a close look.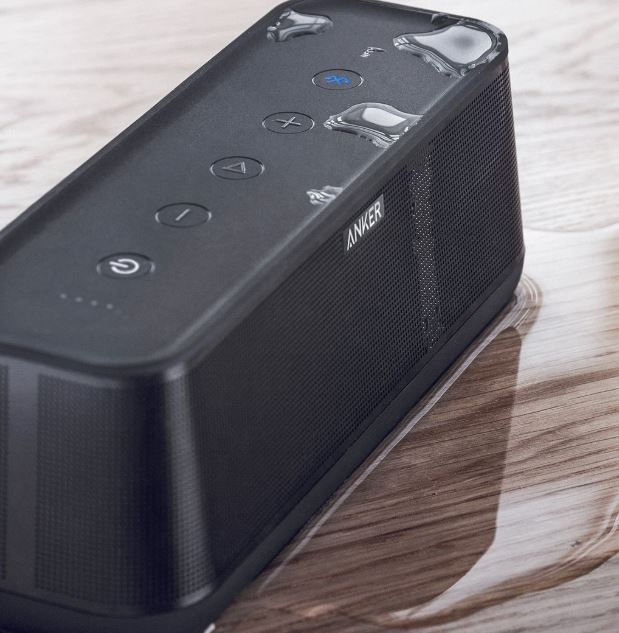 Build & Design
The physical design of the Pro+ is fairly standard. It's got a black rectangular body that sits at 8 x 2.8 x 2.7-inches, providing a stable yet subtle build. Its metal casing and tactile controls are large and clear, making obvious how to operate the SoundCore Pro from a single glance. Between the metallic build and the hefty weight of the Pro+ in your hands, it's easy to get the impression this speaker is nigh indestructible. That impression is further backed up by Anker's 18-month warranty, which if nothing else, can help give you a strong indication of Anker's faith in their work.
Unfortunately, the Pro+ has a smooth glossy surface which tends to attract fingerprints. But that's partially countered by the water friendly nature of the device. Specifically, entire body is IPX5 water resistant, preparing the Pro+ to undertake any manner of water-based abuse. Rain or shine, you won't have to worry about the SoundCore Pro+ getting a little wet. And that kind of durability makes it great for taking along with you on the road. However, don't take the SoundCore Pro+ for a dip in the pool because the IPX5 rating doesn't protect from submersion.
Along the backside of the speaker, you'll discover a rubber panel that can be removed to access a USB charging port, and the 3.5mm jacks. The panel pops on and off easily with one motion, and plays an important role in protecting its hidden connections from water. If you don't intend on connecting through Bluetooth, these ports are the best way to connect to the SoundCore Pro+.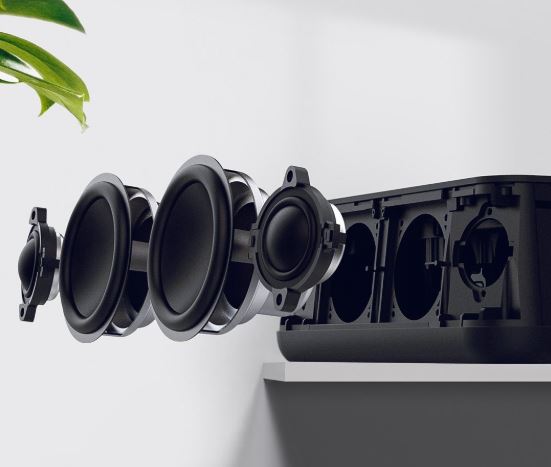 Control & Ease of Use
The straightforward design of the Pro+ makes it simple to use. That design is best characterized by the rubberized finish of the body, and its large operational buttons. Those buttons include volume control, power, pause and play, and of course Bluetooth connectivity. In the interests of saving space, the play button is overlapped with the skip button. You can tap the play button twice to skip, or hold it for 15 seconds to activate Google Assistant or Siri.
However, there is one button you can't figure out simply from looking at it, which is the "Up" button. That button initiates Anker's signature boosted bass, which can help you make a one-press adjustment of the SoundCore's sound profile and battery consumption. Whether or not you like the "Up" button will ultimately depend on how you feel about boosted bass, but most people should be able to appreciate it when it comes time to watch a movie with the Pro+.
Relative to similar portable Bluetooth speakers, the SoundCore Pro+ has a stunningly reliable connection. It's surprisingly talented at overcoming walls and similar obstacles, and that's reflected in its maximum effective range of about 66 feet. And to keep things simple, the Pro+ has an NFC button to help with rapid pairing for the supported Bluetooth 4.2 connection.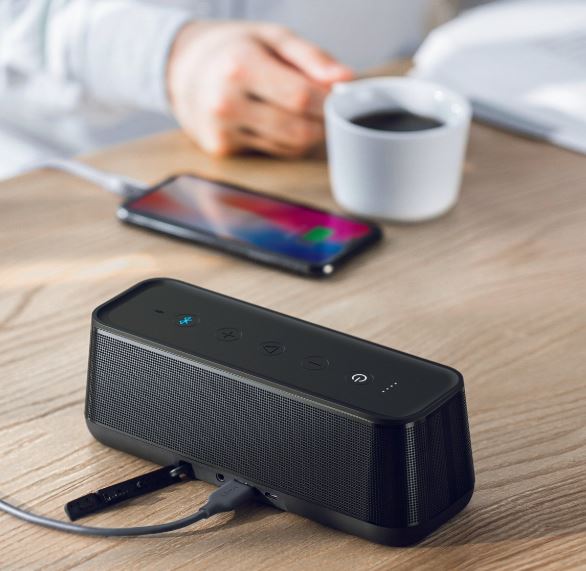 Sound Performance
Internally, the Pro+ is composed of two dynamic drivers and two tweeters. If you're not familiar, tweeters are drivers which are built specifically to helping provide detailed higher tones. While there's no subwoofer to be found with this kit, the Pro+ uses Anker's BassUp technology to provide their own signature boosted bass.
Nearly every one of Anker's Bluetooth speakers promise to deliver bass, and the SoundCore Pro+ is their best attempt yet. The Pro+ is particularly well equipped to handle low-end distorted tones, as are commonly present in genres like metal. Although it's not the same deep authentic bass you can get with a subwoofer, it's still nice to be able to get a complete range of sound from the Pro+.
Internally, those sound drivers peak out at 25 watts, which does provide the Anker SoundCore Pro with a handful of limitations. A finely tuned ear will note treble tones can end up flat, and acoustic guitars lack sound definition relative to what you might hear from top-shelf tweeters. But those are problems which are mostly related to the finite wattage available to a wireless speaker, and not something you can fairly hold against the SoundCore Pro+.
As far as volume is concerned, the SoundCore Pro is equipped to play to a medium sized room. If you max out the volume, it reaches about 90db, which could be described as "party volume." But there is an audible difference in distortion when you max out the volume, and you'll find the highest effective volume is closer to 90% of its maximum capacity. Fortunately, provided you're not maxing out the volume, you'll never run into those kind of issues.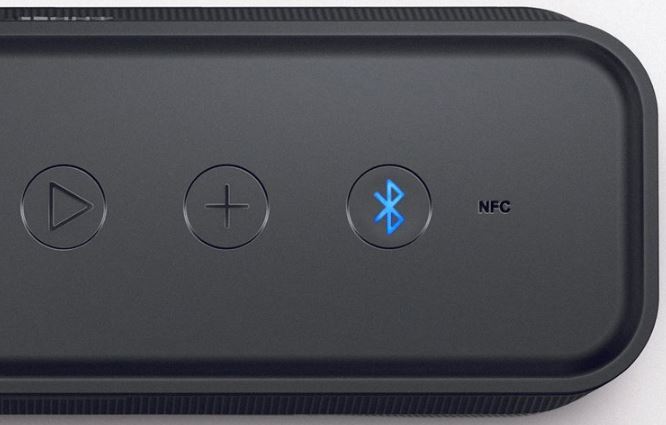 Battery Lifespan
The SoundCore Pro+ battery life is rated to last for 18 hours, making it one of the longest lasting Anker units. Usually it's a good idea to exercise skepticism in these battery estimates, as manufacturers aren't held to one unifying standard when doing their tests. But the 18-hour estimate is very close to accurate, thanks largely to the exceptionally large 8,000mAh lithium-ion battery within the Pro+. That's roughly three times the size of an ordinary laptop battery.
That large battery is what contributes to the SoundCore Pro's nearly two-pound weight, but it's also what allows you to use the Pro+ as a battery to charge your other devices. While expected results will vary from one smartphone to the next, most people can anticipate getting at least two full charges out of the SoundCore Pro+, while still leaving enough power for a couple of hours of music.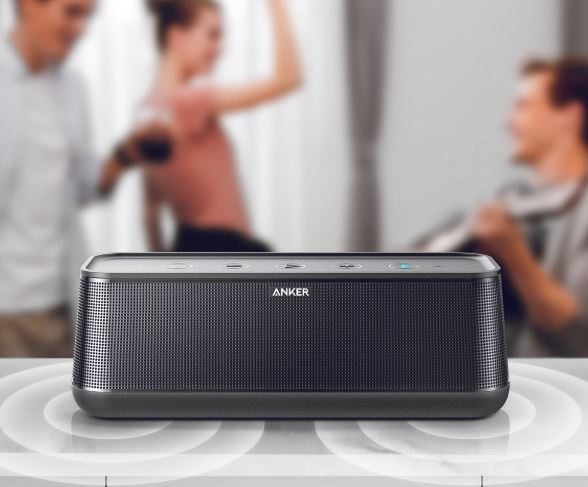 Added Features
The SoundCore Pro+ speakerphone feature is most accurately compared to a smartphone's speakerphone feature. To credit of the Pro+, its highly accurate sound quality makes it much easier to hear people who are talking to you. The experience of a conversation with the Pro+ is much more like having the other person in the room with you than an ordinary phone call. But unfortunately, the microphone in the Anker SoundCore Pro isn't any better than what you'll find within your own phone. That means voice quality is roughly the same as using a smartphone.
Another feature that's somewhat unique to the Pro+ is its fully rounded design. That circular design helps the Pro+ produce sound in a full 360° range around the speaker, which makes for great listening no matter where you are relative to the SoundCore Pro+. When you're not listening from a fixed position, and you find yourself moving from place to place, that circular design helps the Pro+ provides a service that similar speakers can't.
Other Considerations
The Pro+ is within a price range where you sometimes see multiple speakers using microphone designs. Having extra mics on board makes the speaker better equipped to take voice commands, especially when there's content being played from the speaker while the voice command is issued. But the absence of multiple microphones is hard to hold against the Pro+, especially relative to its incredibly strong audio quality per dollar ratio.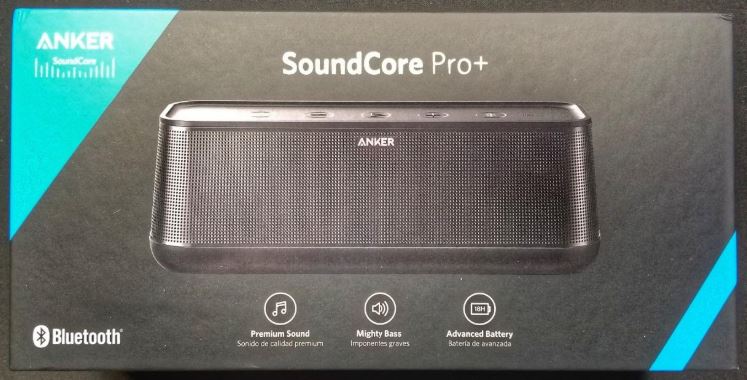 Who Should Choose the Anker SoundCore Pro+?
The Anker SoundCore Pro+ has a mastery of the essentials. Its sound is the best you're going to get out of this kind of form factor, and one of the best within this price range. The on-board tweeters ensure a rich and full soundscape that's only restricted by the relatively small size of the device. And its powerful 8,000mAh battery is much more capable than most speakers of any quality. Its battery life alone makes the Pro+ a reasonably strong choice for almost anyone who needs a Bluetooth speaker.
Battery life aside, the Pro+ isn't lacking for features. The speakerphone is a nice addition, and support for vocal assistants is particularly strong relative to a single mic configuration. Being able to use the Pro+ as a battery pack to charge your devices has its own charm, as well.
The SoundCore Pro isn't for everyone. As far as portable Bluetooth speakers go, its nearly two-pound weight makes the Pro+ on the heavier side of the marketplace. It only has a single microphone, so you can't expect to get business-quality calls. And if you're willing to increase your budget, it's possible to find some concrete improvements over the Pro+.
But you can't spend less and do better. The Pro+ has audio quality which matches what you'll find from some products with double its price. Achieving that quality means Anker doesn't have the Pro+ loaded with every added feature imaginable, like added software support, but not everyone is looking for frills and extras. As long as you don't intend to use the Pro+ to start placing every call you ever take, it's an excellent choice for anyone looking for quality gear on a budget.