Imagine you're at a party or at the beach and you're hanging out with a bunch of your closest friends. The mood is relaxed, everyone is enjoying themselves, and it feels just like a party should. Then you notice that something is missing; there's no music. Suddenly the vibe is less enjoyable, and you find yourself longing for some of your favorite tunes.
Or maybe you're just in your living room trying to relax with some soothing background music. You lay back on the couch and seconds later, you find that you're a little disappointed by your current home stereo system. Your favorite songs just don't sound as good or crisp, and the system itself is pretty limited on features.
When it comes to quality audio equipment, finding something that is durable, high-quality and that can fill a variety of uses isn't always easy. You may want a lot more than just a Bluetooth speaker that can fit in your backpack. Sound quality, special features and compatibility all play a factor in speakers like this, and if you're the kind of person that can't go anywhere without their tunes, it pays to do a little research. Not all Bluetooth speakers are created equal. One model may have everything you're looking for, while some others can't quite get the job done.
In this review we'll be checking out the Antimi Bluetooth Speaker. It isn't your average portable speaker, and is designed to not only go with you where you need it, but is also the kind of speaker that could also have a place in your living room. We'll be looking at the design, the special features, the compatibility, the sound quality as well as any drawbacks of the speaker to see if it can deliver high-quality audio in just about any setting.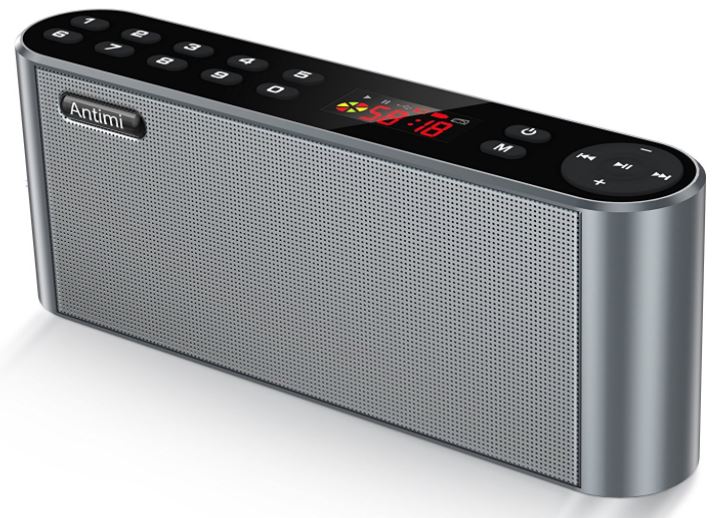 Design
As soon as we took it out of the box we could tell that the Antimi Bluetooth Speaker was well-made and had some really impressive hardware. It comes in a gold, silver, or black and has an all metal rectangular body with curved edges. Its dimensions also make it incredibly portable. It measures in at 6.69 x 2.63 x 1.29 inches and weighs just 10 ounces, so you'll be able to easily put it in your backpack or even your pocket.
The front is also loaded with lots of clearly labeled controls. You'll find a combined play and pause button, buttons to increase or decrease the volume, skip forward and skip backward buttons, a mode switching button, an on/off switch and a display screen. There was also a digital key for programming the FM radio. On the top of the speaker you'll also find a variety of connection ports. You'll find the DC 5V Micro USB Port, a standard USB port, as well as a slot for a TF card.
We found the speaker to be very well-equipped and to have an understated, but eye-catching design that would fit in well in a number of different settings.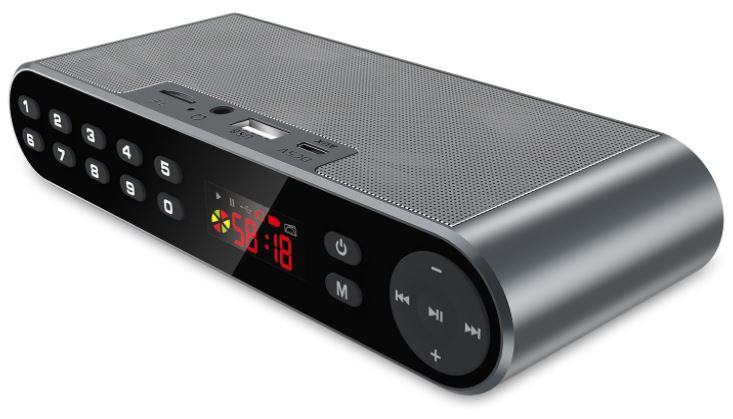 Charging and Battery
The Antimi Bluetooth Speaker has an impressive battery life, and was very convenient when it came to charging. Inside the speaker is a built-in 2200mAh rechargeable lithium-ion battery that will yield about 12 hours of play time on a single charge. It can be charged in almost any USB power source and takes about 2 to 3 hours to fill the battery.
Considering the short charge time, we found 12 hours to be a really impressive battery life, and felt that it would be sufficient for most small gatherings. That being said, charging the speaker is so easy that even if you think the battery is running low you can always just plug it in to a USB port to keep the music playing.
However, it's worth noting that the battery life will depend a lot on the volume at which you use the speaker. Essentially, the louder you play your tunes, the faster you'll drain the battery. Last but not least, the remaining battery life will display as an icon on your smartphone so all you'll have to do is check periodically to see when it might be time to recharge.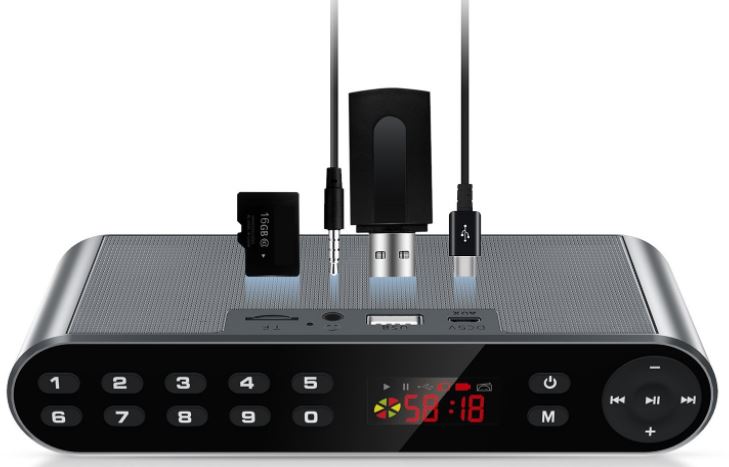 Three Playing Modes and FM Radio
The Antimi Speaker has three modes that you can choose from to play music from a variety of different media formats. The built-in mode button allows you to either play music via Bluetooth from your smartphone, tablet or laptop, play files from your own memory card, or use the included AUX cable to play music from a wired device. We found this added a huge level of versatility for the speaker, mainly because it left us feeling like there really wasn't much that it wouldn't be able to play.
There's even a built-in FM radio, just in case there's a particular station you may want to tune into. The built-in screen shows you which station you're tuned to, and the speaker itself has an enhanced signal amplifier to boost reception and enhance radio sensitivity. More simply, the receiver is extra high-quality and will deliver crystal-clear reception when used as an FM radio. We put it to the test and found that it performed extremely well with almost no static.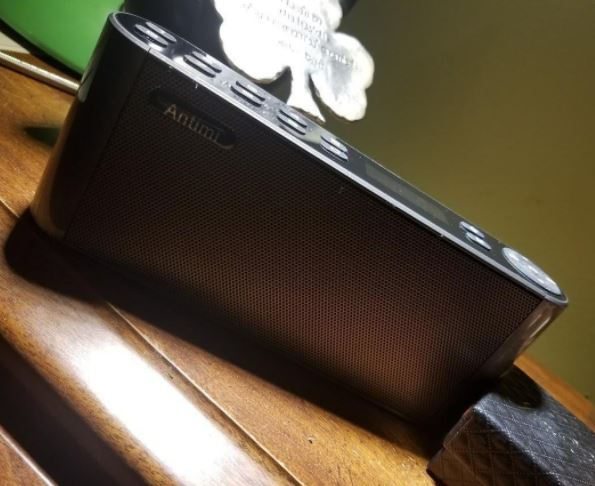 Bluetooth Connection, Compatibility and Built-In Microphone
The Antimi Speaker connects to a number of different media platforms via Bluetooth. It's compatible with the Bluetooth-enabled smartphones, tablets, PCs or Macs as well as MP3 players and is very easy to connect. It takes less than 10 seconds to connect to a Bluetooth device and only requires the push of a button to begin the pairing process. We also found that the signal stayed strong up to about 33 feet.
Once connected, you'll also be able to take advantage of the built-in microphone as well. Phone conversations through the built-in microphone were clear with very little distortion, and we could also hear the person on the other end without any issues. That being said, we didn't feel like the microphone was absolutely essential to the speaker. We couldn't think of many scenarios in which we'd want to use the speaker as way to take phone calls, especially if it was going to be used with a smartphone that we'd likely have close by.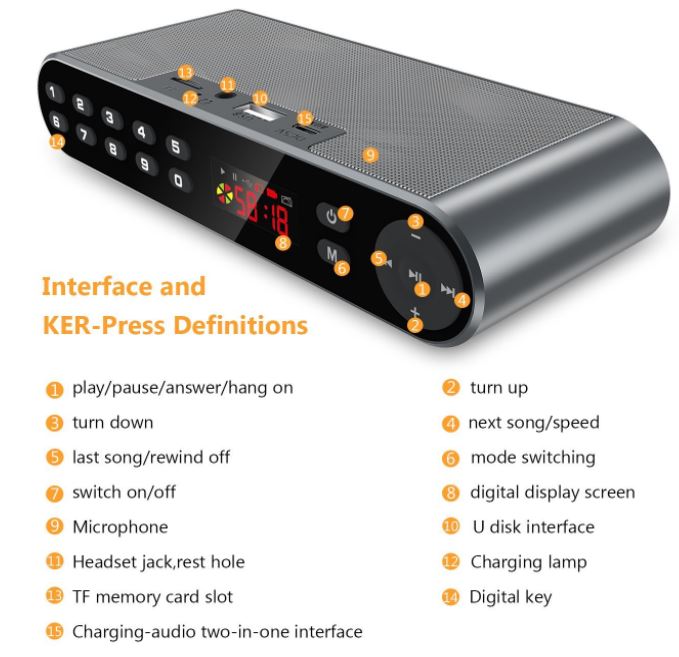 Number Key and Display
One thing we really loved about the Antimi Bluetooth Speaker was the number key and built-in display. Considering that the speaker is also an FM radio, we found the number key to be an excellent way to program stations. The display was also clear and brightly depicted the current station. However, one thing worth mentioning is that, to program a station, you won't be able to enter a decimal point. You'll simply enter the numbers of your preferred station and the FM radio will automatically find it for you. It can be a little confusing, but once you understand that the speaker will do some of the searching on its own, it actually ends up being very convenient.
Sound Quality
For a speaker this size, the sound quality is very impressive. Due to the two internal full-range 3-watt speakers with an enhanced bass radiator, you'll get big, powerful sound in a small package. You'll also experience less than 1 percent total harmonic distortion for even better fidelity during play. We found that even at higher volumes the speaker's bass still held up extremely well. It was clear, thumping and surprisingly robust no matter what we played.
The mids and highs were also very present in the overall output, and didn't feel out of proportion or overpowering when combined with the bass. There is also a grill on both sides of the speaker that allows sound to be emitted from both locations for a true stereo experience. The Antimi Speaker is very compact, but we felt that it had the necessary sound hardware and output that would allow it to perform well at parties, in classrooms, or even on a desk in a college dorm room.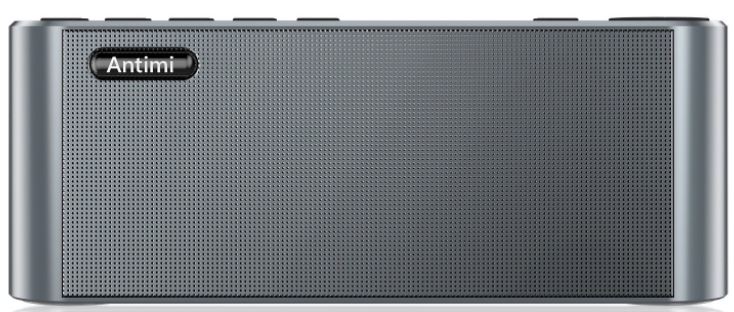 Drawbacks
The biggest issue is in its design. Considering that there's a grill on both sides of the speaker, you'll have to stand it up to optimize its full sound capabilities. The problem with this is that it doesn't feel very stable propped up in this position. It could easily be knocked over during use at a party since the side of it is so thin.
We would have liked for the overall design to be flatter and more balanced while still exposing each grill enough to allow sound to escape. Currently, the speaker almost feels like it would work better handheld to avoid it getting pushed over or damaged. Also, positioning it in this way means that you'll have to access the controls from the top of the speaker, rather than on the front. It was a small issue, but was slightly less convenient to use than some other Bluetooth speakers in which the controls are located front and center.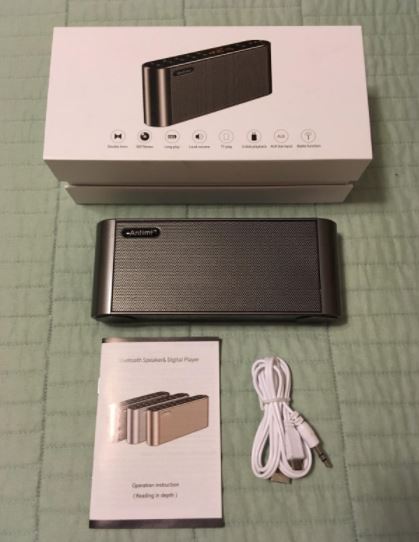 Final Thoughts
In general, we really liked the Antimi Bluetooth Speaker. We found the design to be eye-catching and durable with only a few minor issues. Despite its few shortcomings, the speaker successfully integrated portability and great sound quality into a convenient package. It had a ton of compatibility features that had us thinking that it would be perfect for sharing music at parties, and the sound quality was excellent for a speaker so small.
The built-in display as well as number key made using the FM radio easy, and gave the speaker a much more high-end look than some others we've seen. It may be small enough to fit in your pocket, but the Antimi Bluetooth Speaker is well-made enough to handle a variety of settings from small gatherings, to trips to the beach, to solo listening in the home.
Meet Derek, "TechGuru," a 34-year-old technology enthusiast with a deep passion for tech innovations. With extensive experience, he specializes in gaming hardware and software, and has expertise in gadgets, custom PCs, and audio.
Besides writing about tech and reviewing new products, Derek enjoys traveling, hiking, and photography. Committed to keeping up with the latest industry trends, he aims to guide readers in making informed tech decisions.