In days not long past, the distinction between copy machines and printers was huge. But these days, most modern office equipment is multi-functional. The copier you choose isn't just a copier, but also capable of printing, scanning, faxing, emailing, and even downloading. Smashing all those special features into one device can help you cut costs and save time, especially when it comes to micromanaging a large print job.
If you're only doing the occasional print job from home, and you may get through 40 pages per week, then you'll be okay using the numerous dirt-cheap copiers which are built for individual use. But if you're dealing with dozens of daily prints, and print jobs from just as many people, then you'll need a copier that's been made specifically for the demands of a business.
Choosing the Right Machine for Your Office
The first feature you'll want to keep an eye out for is duplexing, which is when a machine can print or copy on both sides of a page. Apart from saving a ton of paper, duplexing makes professional two-sided prints, and can cut in half the time it takes to get most copy jobs done. In other words, duplexing can help you literally turn an hour long copy job into something you can place-and-forget for 30 minutes.
Another thing to consider is connectivity – how is the office going to connect to the printer? Thanks to wireless connectivity, Wi-Fi is now standard with virtually all copiers. But what isn't standard is Wi-Fi direct, the capability to connect to the printer without going through a router as an intermediary. Cutting out the middleman of router connectivity makes Wi-Fi direct a far faster and convenient solution in dozens of print scenarios. And of course, you can't forget support for printing from the cloud.
Copying, Printing, and What You Need
If you know anything about printers, it's probably that color prints are slower and more expensive. If you don't need color, you'll be able to make use of black and white printers that cost less and produce more prints. As a result, you'll save money both in the short run and the long run.
Versatility is another thing to keep in mind. Paper isn't the only thing that can go through a copier or printer. How well does it handle cardstock, thick paper, index cards, materials with various transparencies, and so on? In terms of copying capacity, does it use a flatbed, or is there a sheet feeder you can use to stick your documents?
If you're doing a good deal of copying, then you'll want to take a look at how much memory the copier has. Memory allows a copier retain documents and scans, similar to a computer's hard drive. A few hundred megabytes are okay, unless you're scanning more than text. If you're doing scanning of more than text, you'll want to check out the optical resolution of the copier. 600 pixels is perfectly passable for text, but for graphics you're looking for a copier with support for at least 4,800 pixels.
Print Speed and Page Capacity
You'll also want to keep an eye on print speed, measured in ppm or pages per minute. A reasonable rate for a small business is around 20 ppm. To get incredible speeds like 52ppm you'll have to invest in industrial-tier machines built for places like huge public libraries and copy shops. But those speeds are just unnecessary for a small office, and add unneeded expense.
Automated document feeders (ADF) can be useful for larger volumes of scanning, so you don't end up babysitting the copier for an afternoon. If there's an automated feeder it should hold at least 30 sheets. Depending on how much paper you go through, you may want to consider the tray capacity for each machine. Most office machines will hold a standard of 250 pages, but some are built to carry much more. Although tray capacity may sound like a small detail, it can become a big deal for anyone who's going through print trays often enough that it changing them becomes a daily task.
The devil's in the details. Sometimes you need to learn things about each machine so you don't end up getting a printer that's great about going to sleep to save electricity, but awful about waking up without needing 2 minutes in the process. Or a machine that's great at printing black and white, but turns to a total slug when printing color. Depending on what you need, these kind of minor details can make-or-break your selection.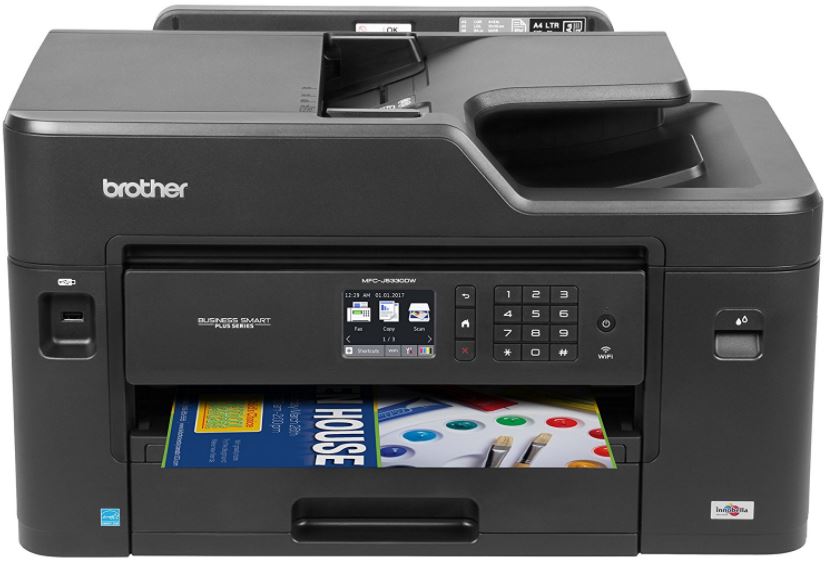 Brother Wireless MFCJ5330DW
A printer clearly built for business, the Brother MFCJ5330DW won't leave you waiting for your print jobs to slowly grind their way out. Capable of handling whatever you can throw at it, this Brother printer has all the essential modern features you'll want for your small business, without any enterprise-level features burdening the price. You'll find many convenient presets for document printing, so you can make one-click customized calendars, signage, or business documents.
Important Features
The first thing small business owners should note is the fully flexible paper handling capabilities of the Brother MFCJ5330DW. Accepting 11''x17'' documents, you won't have a hard time with envelopes, printing card stock, or other unusual print jobs. The document feeder can help you automatically process up to 50 sheets of unattended scanning and copying, so you don't have to waste time babysitting the scan process. And those scans include automatic duplex 2-sided prints for saving paper with a professional touch.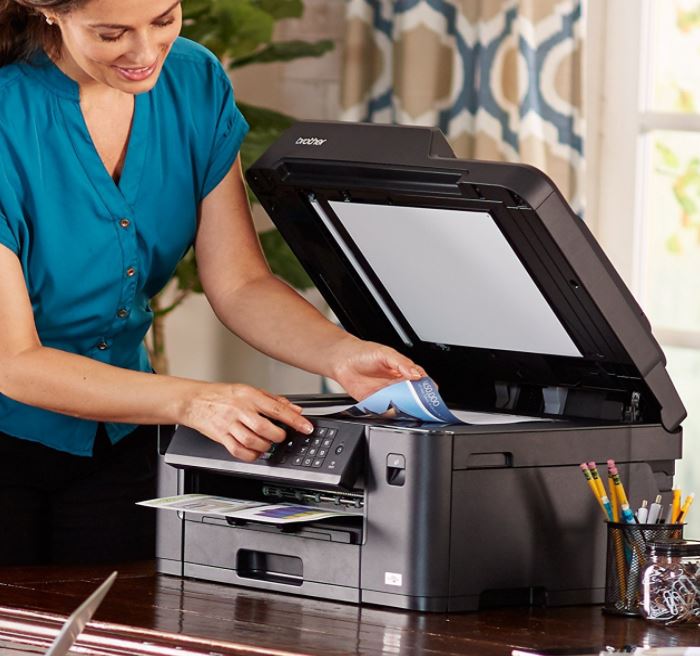 You won't find any burdensome cables to connect to this device, so you'll need a wireless connection to connect to the printer. You can connect through your tablet, smartphone, or through Google Cloud Print, AirPrint, Wi-Fi Direct which allows you to print wirelessly without a computer, mobile device, or router.
Navigation is easy with a 2.7'' touchscreen display, so you can tap your way through each of the printer's features with ease. Among them you'll find access to cloud services without using your computer, including Dropbox, Google Drive, Facebook, OneNote, and others. You can cut out those middlemen entirely with Brother's own cloud app, where you can print and convert data straight through your copier.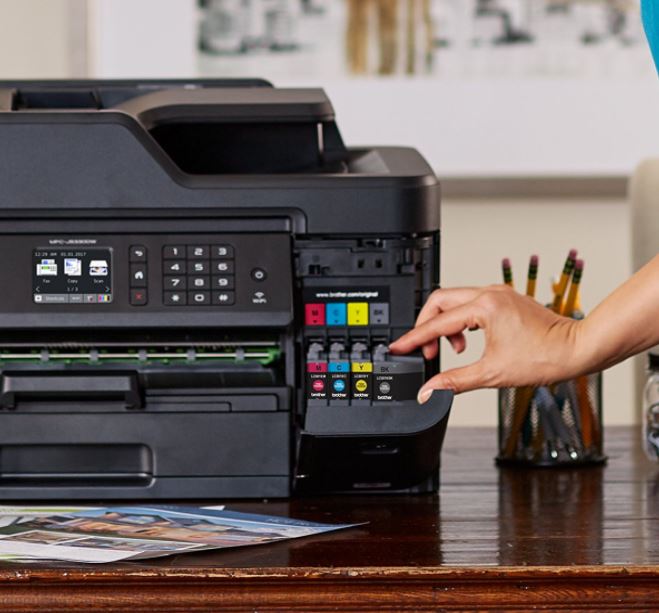 Technical Notes
This copier includes four super high-yield XL ink cartridges, rated to handle 3,000 black and white pages, or half as many in color. The 22 page per minute printout speed isn't miraculous, but the fact that color printing stays as high as 20 pages per minute is nothing short of impressive. Those sheets feed out from a standard 250-sheet tray. 600 pixel copy resolution and 512 MB memory are ideal for text, and underwhelming for colorful graphics.
Whether you're running this printer out of your office at home or a workplace shared by half a dozen people, this Brother is ready. And if you hit a bump in the road along the way, you'll be pleased to know Brother includes a two-year warranty and free support on the phone.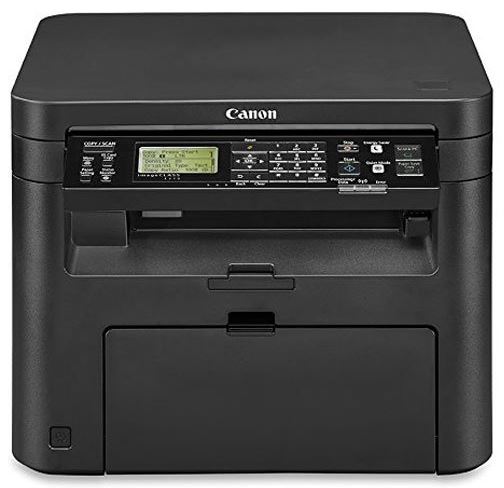 Canon imageCLASS D570
In the D570, Cannon has created a uniquely strong combination of features for printing, coping, and scanning. This is a device that knows exactly what it wants to do, and exactly who it's designed for. Focused specifically on black and white prints, its compact design allows it to occupy a small amount of space while still maintaining all the essential features your small business needs. Short only of color, it's versatile enough to handle whatever print needs arise, and intuitive enough to master using the machine after only a few prints.
Important Features
As opposed to standard Wi-Fi connections that go through routers, this device connects with Wi-Fi direct, enabling you to directly engage your compatible devices with the printer without a router. The spirit of their support for wireless continues with support for Mopria Print, Google Cloud Print, Cannon Print Business, and Apple AirPrint.
Although the navigation display isn't as intuitive as the Brother printer above, the D570's simple LED display still gets the job done. It uses the tried-and-true tillable 5-line text display that you've seen on most printers for the past 20 years, so you shouldn't have a hard time navigating through the menus and finding your most commonly used features.
In addition to the basics, this device has an ID card copy feature that helps you quickly create copies of ID cards or other small documents. And using as little as 2 watts of energy in energy saver mode, there's nothing to complain about the design.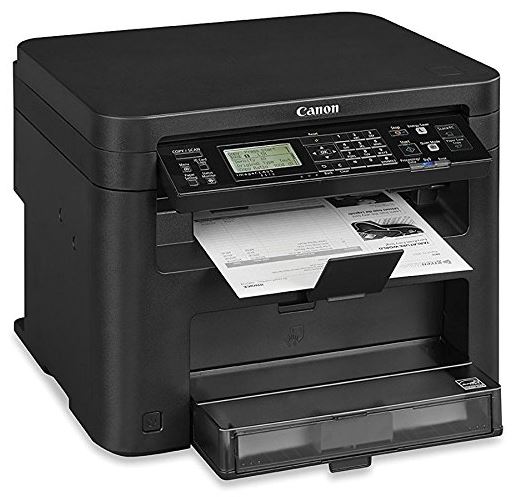 Technical Notes
Built to tackle as much as 15,000 pages per month, the D570 churns out prints at a reasonably swift 28ppm. The tray capacity is a standard 250 sheets, and the sizeable ink cartridges are designed to last for 2,400 sheets each. 512 MB of memory may not sound like anything to write home about, but is more than enough for black and white text. And the copier takes images at 600-pixel resolution, which is perfectly fine for a black and white text setup.
While the imageCLASS D570 does have a duplex function, it only supports printing. If you want duplex copying, you'll need to look elsewhere. This device also includes one toner cartridge, and one-year warranty card.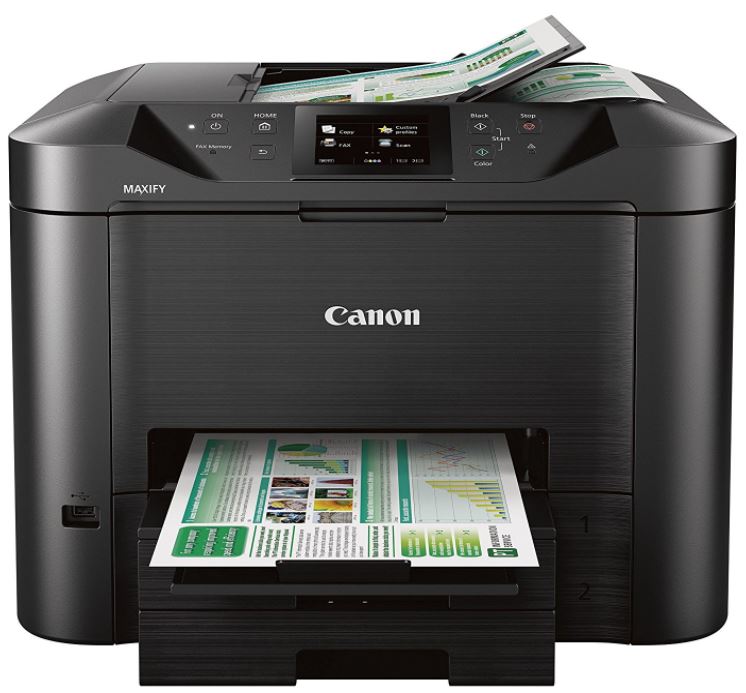 Canon Office and Business MB5420
Printers designed for business fill a special need, somewhere between the needs of an industrial printer and the needs of an individual. In the Canon MB5420, you find the absolute center of those two points. Designed to be used in offices with as many as 10 people printing, this copier doesn't disappoint with its premium features, like duplex copying and printing.
Important Features
The most prominent feature of this device is single-pass duplex scanning and copying, made possible by an innovative design that scans both sides of a document at the same time. You'll be able to make professional duplex prints, or make copies virtually twice as fast. You can connect through AirPrint, Google Cloud Print, Canon Print app, or wirelessly through Wi-Fi. And using XL cartridges like with the Brother printer above, you'll definitely end up saving on ink.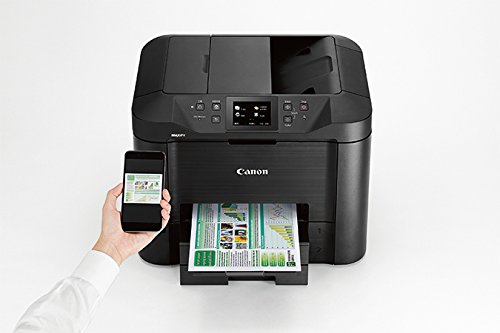 Like with the Brother MFCJ5330DW, Canon has included an interactive touch LCD screen, so you'll never have a hard time finding the features you're looking for. Setting it apart from Brother's 2.7'' display, Canon's larger 3.5'' screen is much easier on the eyes. Among the many options in that LCD screen, you'll find the ability to establish restrictions and passwords to access the device itself. Furthermore, this copier helps keep a records of what's been printed, to help you avoid waste and keep all printer-users accountable.
Technical Notes
Designed to handle twice as much traffic as the Cannon D570, this device is rated to handle 30,000 pages per month. In other words, it's not going to break down on you just because you're putting it to work. The 24 page per minute print speed, or 15 for color, won't slow you down.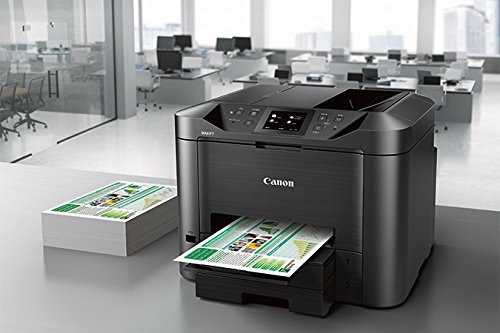 If you need to scan colorful graphics, this is the machine for you. Supporting an impressive 19,200 x 19,200 scanning resolution, you don't have to worry about hitting memory limits with the help of Canon's memory cards. Clearly built with large jobs in mind, you'll also get two independent 250 sheet trays making an impressive 500 sheet total capacity, and free US-based phone support.
Choosing Between 3 Great Options
If you're running an office of five or six people and you don't need color prints, then you'll be served well by the Canon D570. There's no need to pay for features you won't use. In The D570 you get all the office essentials without the cost of a machine with every bell and whistle. Plus, you'll get Wi-Fi direct, which means more convenient ways for people in the office to do their printing.
If you're looking for an all-purpose machine that's as ready to print businesses cards and color brochures as it is to make copies, then you're looking for the Brother MFCJ5330DW. Between the seamless navigation options and the full duplex capacity, small businesses built around five or six people will find a smart balance of every important feature.
And if you're looking for a printer ready to help fill the needs of an office filled with nearly a dozen people, then you want the Canon Office MB5420. The massive 500-sheet capacity combined with its full support for color content ensures this machine can do absolutely everything you expect and more.
Meet Derek, "TechGuru," a 34-year-old technology enthusiast with a deep passion for tech innovations. With extensive experience, he specializes in gaming hardware and software, and has expertise in gadgets, custom PCs, and audio.
Besides writing about tech and reviewing new products, Derek enjoys traveling, hiking, and photography. Committed to keeping up with the latest industry trends, he aims to guide readers in making informed tech decisions.