High-quality portable audio is an essential part of most active lifestyles. Whether you're someone who enjoys the outdoors, travels frequently or even wants to be able to entertain guests at your home with some tunes, a reliable audio device will certainly have a place in your day-to-day life. Nowadays, portable audio doesn't just mean a pair of snazzy headphones. There are hundreds of products and options for listening to music on the go, but sometimes choosing one can be a little overwhelming.
Everyone has different needs and expectations for their audio gear, and finding a device that does exactly what you want it to do is crucial before you go ahead and make that purchase. Sound quality, portability and design are all things that should be considered before making our decision.
In this review, we're going to be taking a look at the AOMAIS GO Waterproof Speaker. We'll be giving you a comprehensive breakdown to see what it can really do so you can see if it's the right choice for your listening needs.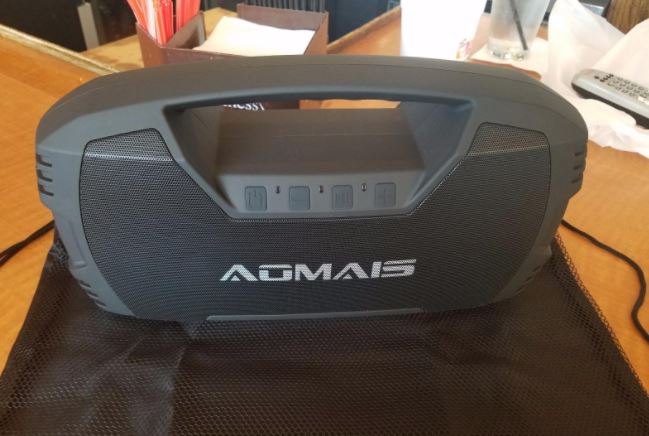 First Impressions
At first glance, the AOMAIS GO Speaker has kind of a sporty, futuristic, boom-box look. The body is square-shaped, and on the top there is a handle so the unit can be easily transported. On the front side of the body we found the speakers themselves behind a mesh grill with the AOMAIS logo stylishly imprinted onto it. The entire unit is covered in thick, protective rubber, weighs in at only 8 ounces and measures 13.5 x 7.5 x 3.8 inches, making it small, lightweight and easy to carry. We also found some rubber stoppers on the bottom of the unit which helped with keeping it stable on a desktop or table.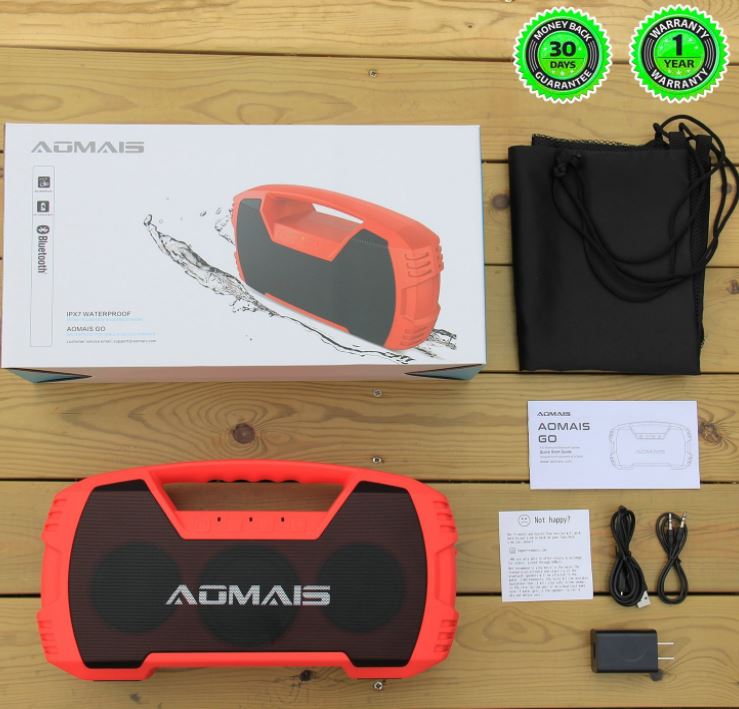 As far as portability is concerned, the AOMAIS GO is certainly the kind of device that you could take to a park, on a camping trip or to the beach. However while it was an advantage, the small size did make us wonder just how impressive the actual speaker would be when we turned them on. The speaker also comes in three basic colors: black, blue and orange. This only applies to the rubber section. No matter which color you choose, the grill only comes in black and is not removable.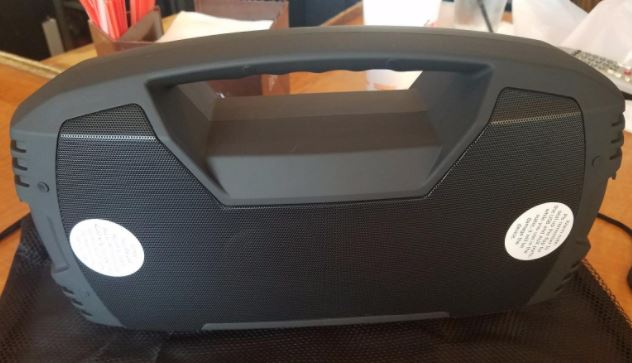 On the front of the exterior are fairly standard rubber buttons. We noticed a power button, a play and pause button and volume controls that doubled as forward and back controls. Also, on the left side of the speaker, we discovered a small compartment containing a line in port, a charging port, as well as a USB charging port for devices like smartphones or tablets. On the right side we found a 3.5mm microphone port and a volume adjustment dial.
The AOMAIS GO doesn't come packed with a ton of accessories, but had everything you'll need to get started. In the box, you'll find the speaker itself, a micro USB charging cable, an AUX cable, an AC adapter, the instruction manual and a cloth carrying bag. We weren't particularly impressed by the carrying bag, but the shell of the AOMAIS GO felt sturdy enough that a hard case didn't feel entirely necessary. To us, the carrying bag is just a bonus.
Right out of the box, the AOMAIS GO is certainly durable, highly portable and appears to be made well enough for either traveling or keeping in the home.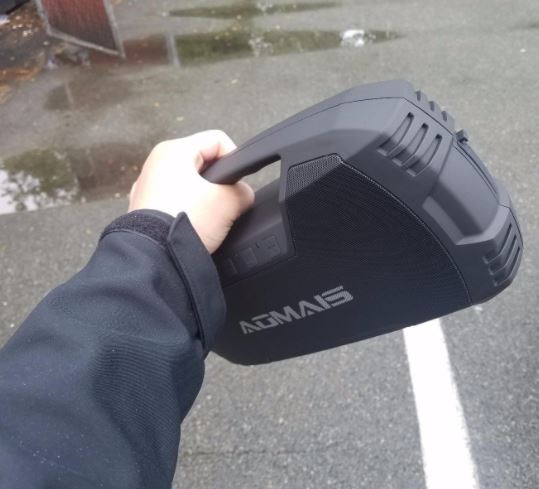 Features
After taking a look at the manual we found that the AOMAIS GO actually had a ton of features that weren't immediately obvious when we took it out of the box. Of course, the most unique and valuable feature is the fact that the speaker is waterproof. AOMAIS claims that they can be submerged up to 33 feet for 30 minutes. We didn't push it to that limit, but we were able to pour a few glasses of water on it without any noticeable changes in sound quality or damage to the components. AOMAIS also boasts that the GO speaker is dust-proof, snow-proof and mud-proof and can even be dropped without incurring any damage. This only added to our feeling that this speaker is truly the kind listen anywhere device that has applications in a variety of settings.
The speaker uses Bluetooth 4.2 and can connect to any compatible device like a tablet, smartphone or Bluetooth enabled PC. We found that it worked best with Apple, Samsung and HTC devices, but as long as your device has at least Bluetooth 4.2, you should have no problem syncing. Just be sure not to walk more than 33 feet away from the speaker with your device, or your connection may get lost. Connecting was pretty easy, and the signal stayed strong regardless of which device we used to play our music. There is also a powerbank built right into the speaker so even when your phone or tablet starts to run low on battery, you can charge right from the speaker's USB charging port.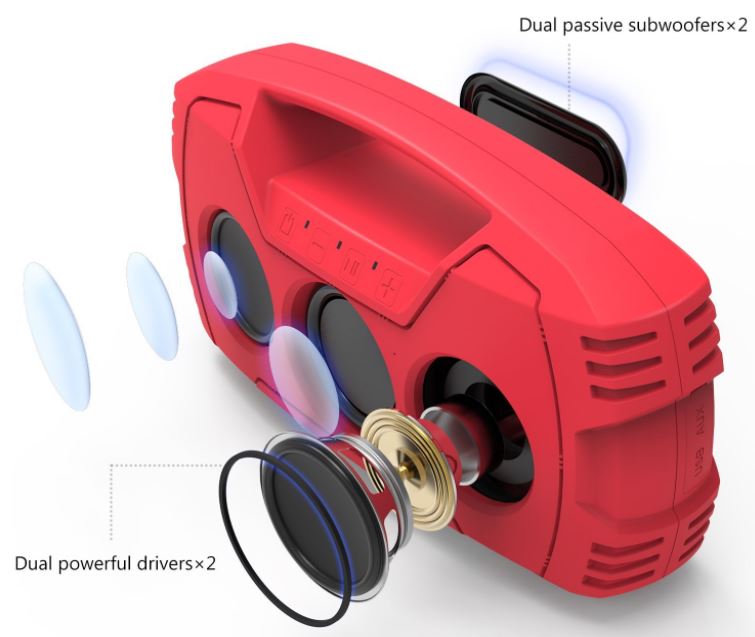 With 30W of power, this speaker isn't going to fill huge rooms, but they contain a feature that allows them to pair up to one another and play music from the same device. By owning two speakers and linking them together, you'll have 60W of power, as well as a surround-sound feel to your music. It isn't ideal to have to purchase two sets of speakers, but it remains an option for those who like the sound quality, but just want a little more power
.
The unit is rechargeable and has a 7200mAh rechargeable battery built in that will yield up to 30 hours of play on a single charge. There is even a backup battery installed to prevent losses in power or fadeouts during use. We did find that the charge time was a little long at 3 hours, but in comparison to how long the speaker lasted once they were charged, it was pretty reasonable. This, of course, depends on how hard you push the speaker. We noticed that at higher volumes the battery life was slightly diminished.
Some other nifty features were the auxiliary mode, which allows you to plug your device into the speaker with a 3.5mm cable in case you'd rather not connect with Bluetooth, and also a karaoke option. By using a 3.5mm external microphone, you can sing right through the speaker along with your favorite songs. For use parties and social gatherings, we thought this was a cool little extra.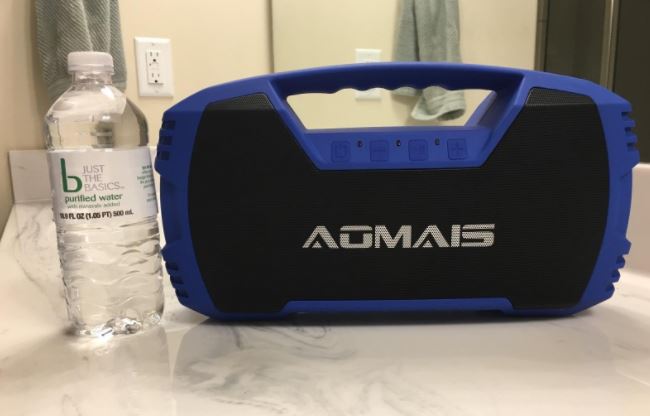 Sound Quality
We found that the sound quality of the AOMAIS GO was good, but came with some limitations. The bass was certainly noticeable but wasn't particularly outstanding for a speaker this size. At best, the bass was average. However, the mids and the highs are excellent, and in medium-sized rooms the speaker was more than powerful enough to deliver some crispy, full sound. There is some good separation between each audio channel, and playback appeared balanced, even with the dual passive subwoofers located on the backside. The volume was not a factor, and the sound quality was pretty consistent whether we used the speaker at high or low volumes.
We did notice that in large spaces with reverberation or echo, some of the sound tended to get drowned out or lost. The AOMAIS GO is sold as an indoor/outdoor speaker, but there was a noticeable difference between its performance in both settings. Once we brought the speaker inside, there was a dramatic improvement in sound quality, while outside the sound was about average. Granted, there are only 30W of power contained in the device divided between two 15W drivers, and AOMAIS does give you the option to purchase two and sync them together for a better listening experience. We still would have preferred for the speaker to be able to stand alone when it came to sound performance, mainly because we felt that for the price of two AOMAIS GO speakers, you could just purchase one larger, louder speaker.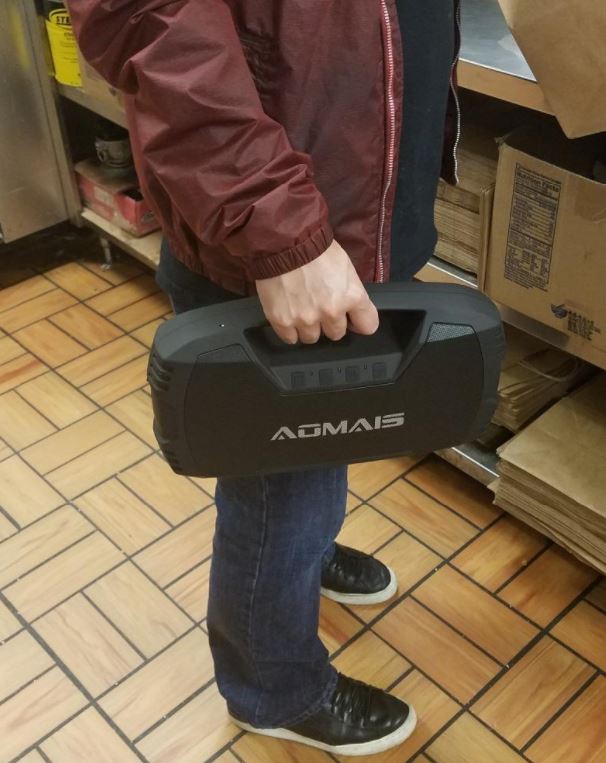 Final Thoughts
In general we really liked the AOMAIS GO Speaker because of its portability, durable design and waterproof capabilities. The built-in handle, rubber exterior and true waterproof design made them the kind of portable audio device that could go with you anywhere without the worry of them getting damaged.
The secondary features like karaoke mode, the built-in powerbank and auxiliary line-in were also a nice touch that we felt set these apart from other speakers on the market. However, we weren't thrilled with the linking feature, mainly because we thought it would have been better to just make the unit more powerful, rather than suggesting that customers buy two units in order to improve sound quality. Basically, we didn't feel that this feature was as essential as a single stronger speaker would have been.
That being said, as a standalone device, the AOMAIS GO Waterproof Speaker can work well as a carry-along piece of portable audio gear on the beach or while hiking, but it can also find its place in small social gatherings.