Personal listening devices are becoming more and more important to our daily lives. They go with us when we're out running errands, at the gym, or while we're on our way to work. We depend on them to give us a private, high-quality listening experience no matter the situation. A good pair of headphones has become just as integral as a high-quality smartphone or tablet, and it pays to take your time when looking for the right one. There are hundreds of options for personal audio devices on the market that each fill a specific need, and finding one to fit your lifestyle is as daunting as it is important. From wired to wireless, to waterproof to noise-cancelling, having the right pair of headphones can make or break your daily routine.
In this review, we're going to be taking a look at the Rioddas Wireless Headphones With Retractable Earbuds. We'll be examining things like the design, durability and style, as well as taking the sound quality into account in order to give you a fully comprehensive look at just what this headset can really do. We'll also be checking for any special features that may set the Rioddas Wireless Headphones apart from similar items on the market.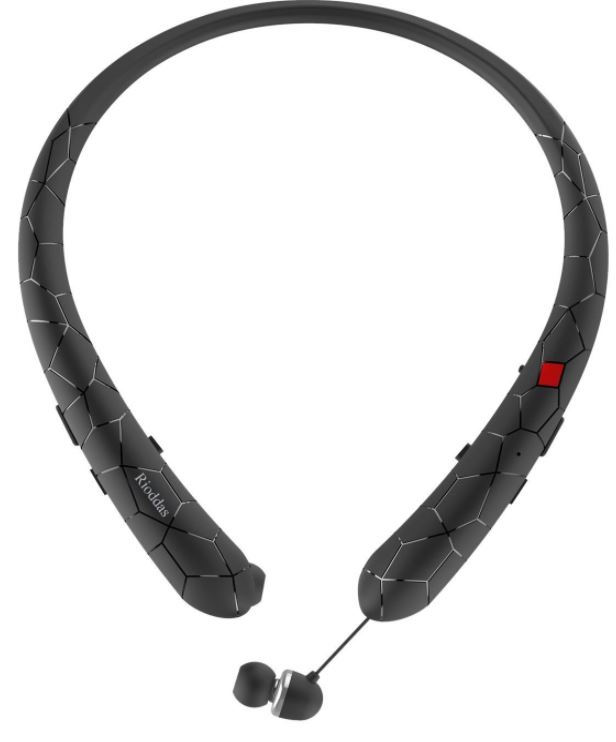 First Impressions
The first thing we noticed about the Rioddas HX831 Wireless Headphones were how cool they looked. They have a matte, snakeskin-style texture around the band, and the pattern comes in both white and black. We were a little disappointed that there wasn't another brighter color to choose from, but the snakeskin design was impressive and eye-catching enough that it wasn't too much of an issue.
On the right side we found small, but easy-to-locate play and pause buttons, as well as a skip forward and skip backward button. Inside of both the left and right sides of the headset were additional buttons that allow for you to retract the earbuds or choose a length that you prefer during use. On the left side we also found the charging port, a charging indicator light the on/off switch as well as volume and call buttons. Despite the large number of controls, we didn't find that it took very long to remember where they were all located. They were placed appropriately and once we used the headphones for a bit, seemed pretty easy to find. That being said, we thought that the call and hang up button could have been combined with the play and pause button to maximize efficiency and save space. While they layout is user friendly, reducing the amount of buttons would have made it even simpler.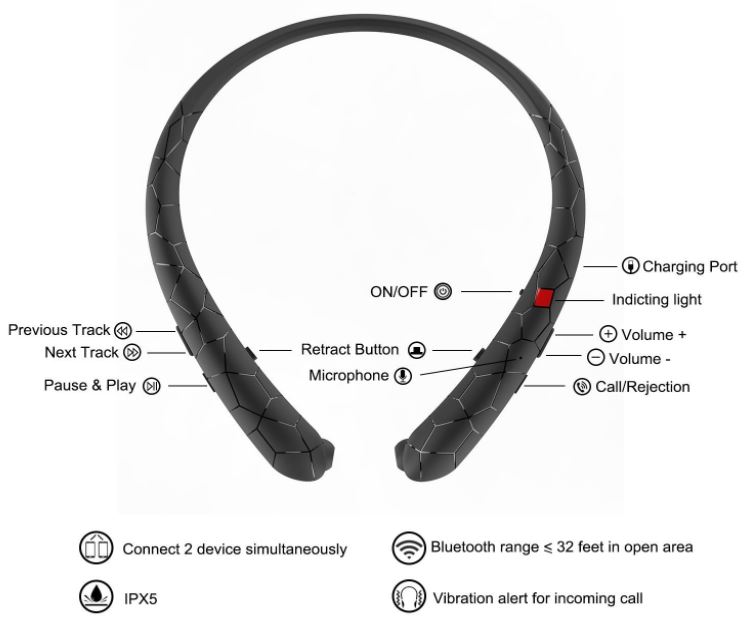 The band itself is comfortable and while it isn't exactly snug around the neck, it stays in place while walking, jogging or running. The sport design and fit made us think that this is a headset that would work great for fitness enthusiasts or even someone who works outside. The entire headband weighed in at 0.8 ounces, which made them lightweight, but also had us wondering about their durability, at first. We found that the lightweight material was highly flexible, and we were able to bend the headphones practically in half. Despite the headphones not having a ton of weight or feeling particularly sturdy, the material was, in fact, so durable that it didn't break when we folded it or twisted it.
The wires connecting the earbuds to the main headset felt strong, but we weren't sure they were thick enough to withstand being snapped or tugged on. This had us a little concerned with respect to tangles or the earbuds getting caught on something while they hang out of the headset, especially since you'll likely be using these during times of heavy physical activity.
In general, the Rioddas Wireless Headphones felt well-made and were certainly a, stylish eye-catching device. At first glance, we felt that they had the right look for a fitness enthusiast, but could also be the kind of headset you could wear to work, while studying, or while just relaxing at home.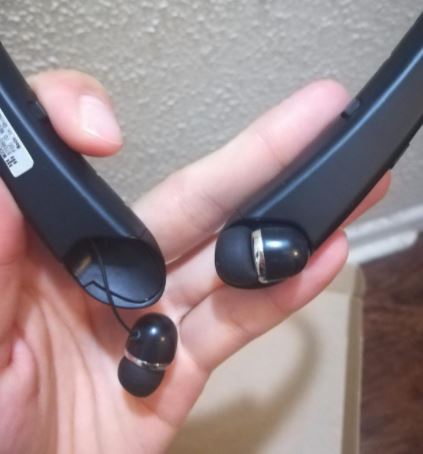 Features and Accessories
The Rioddas Wireless Headphones don't come packed with a ton of accessories. Inside the box, you'll find the basics: the headphones themselves, a charging cable, some replacement eargels in small, medium and large and the user manual. However, what the headphones lack in accessories they make up for in features.
First and foremost, we thought the retractable earbud feature was a great addition because it made the headphones more customizable. With the retractable earbuds, you can select a length for each wire that fits best for you but there was one drawback. When the earbuds were pulled out of the headset, they did leave a lot of slack on the wire, which got a little bit distracting during running or physical activity. A big selling point of many Bluetooth devices is that the lack of a wire, but in certain instances while using these headphones, we found the wires had a tendency to get in the way.
The entire unit is sweat-proof, which is a nice addition for those who may want to use them exclusively for exercising or in hot climates. That being said, they resist moisture well enough that they won't get damaged in a light drizzle. They also have an impressive battery life. The 150 mAh battery will yield up to twelve hours of talk or play time on a single charge of just two hours. And when you're not using them, you can expect 350 hours of standby time.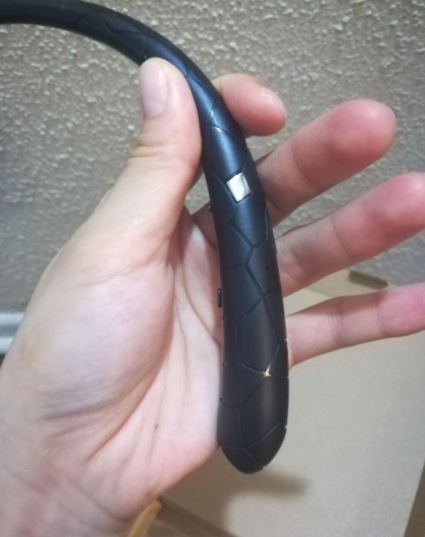 We found that the range on the headphones was about the same as printed in the manual. You can operate the headphones up to thirty feet away from your smartphone or tablet before the Bluetooth connection cuts out, but for a pair of headphones that seems meant to take with you when you're on the go, we didn't really see this is that big of a downside.
You can also connect two devices at once, and switch back and forth between which one you want to play your music from. This created a small advantage for those who might want to access certain content on a specific device, but we didn't think it was totally necessary. For a pair of headphones that seem more like an on-the-go listening option, the ability to pair two devices was a nice idea, but ultimately didn't feel necessary.
Some other noteworthy features were the voice alerts for incoming calls or low battery, as well as the option to choose from English, Chinese, Japanese or Korean as your preferred language.
Sound Quality
For the price point and for their purpose of being a pair of headphones for the gym, we thought that the Rioddas Headphones had some decent sound quality. Each speaker itself is 10mm in size with 32ohm high output drivers, making them a solid contender with other items on the market. Like most listening devices of this size, they were light on bass, but still had a full, impressive sound. They aren't going to give you the kind of totally immersive experience you would get from a pair of bigger headphones, but for listening to music during a workout or on the train, they can certainly hold their own.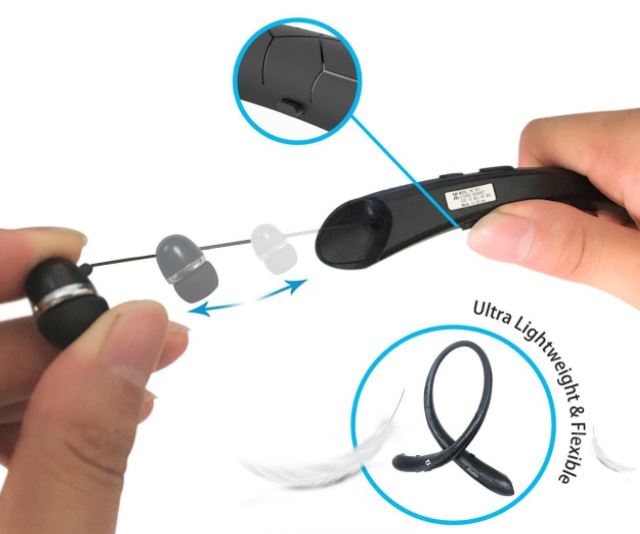 The key, for us, was finding the right size ear gel from the ones included in the box. This helped drown out some background noise, as well as helped the headphones stay in our ears while we walked around with them. They function equally well at both high and low volumes, and we didn't notice any real vibration during play, even with the wires hanging loose off the band itself. Just be sure you know what to expect if you give these a try. They are convenient, small and comfortable to wear, but due to their size, aren't going to yield the same sound quality as something a bigger that covers your entire ear. Given the price, the sound quality seemed very appropriate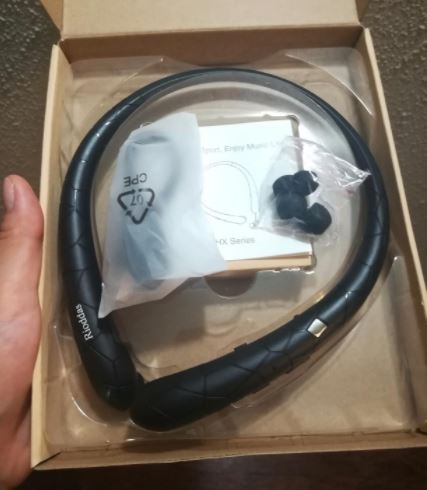 Final Thoughts
The Rioddas HX831 Wireless Headphones with Retractable Earbuds are a solid choice for those looking for a durable, lightweight listening device that they can take anywhere. At first, we felt that they were a little too lightweight, and that this made them feel flimsy, but we realized that the material used is meant to be flexible, making the minimalist design actually more of an advantage. The retractable earbud feature was a nice bonus, but the potential for the wires to hang too low seemed like it could pose a problem if they got caught on something during a workout. The key is to find a length that is appropriate and to not leave too much slack on each wire.
The Bluetooth connectivity was strong and stayed connected, as long as we were within the 30 foot radius specified in the manual. The sound quality wasn't outstanding, but given the size of the headphones, the price, and their purpose as a pair of earbuds for the gym, we found that they performed sufficiently.
For those with an active lifestyle who are looking for a pair of headphones that will last, the Rioddas Wireless Headphones are certainly a solid choice.