Sometimes you need an extra boost from your audio gear without sacrificing style, durability or convenience. However, finding a pair of headphones that can successfully bridge the gap between looking cool and delivering quality sound is no easy task. There are hundreds of listening options on the market and each one comes with its own design and unique features. Even though there are plenty of quality choices in audio gear, matching the right device to your specific needs is integral to long-term satisfaction. Whether you're someone who produces music, or the kind of person who just has a very sensitive ear when it comes to sound quality, it pays to be picky when choosing your headphones.
In this review we're going to be taking an in-depth look at the newly-released Mpow H1 Bluetooth Headphones. We're going to be checking out the design, comfort, special features and sound quality in order to give you a fully-comprehensive idea of just what these headphones can really do.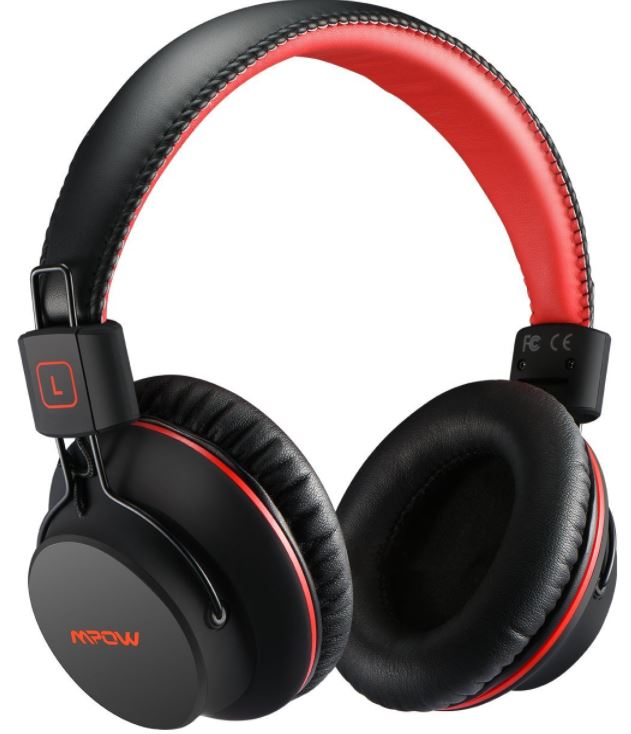 First Impressions
At first glance we thought that Mpow H1 Headphones had an intense, edgy look with some very cozy looking earpieces. The headband was covered in red and black leather that had some really intricate stitching along the edges, and the plastic earpieces were black with a thin red trim. We liked the color scheme, but thought that, for some, it might be a little intense. We would have liked to see a lighter, more relaxed color choice, just to make the H1 more versatile in their style.
The ear cushions were surprisingly thick and lightweight. Just from looking at the cushions we could tell they would easily block out environmental noise, while also being comfortable enough to wear for long periods of time. This is crucial, especially if you're the kind of person who may want to wear these headphones during a long workday, or in a situation that requires you to be plugged in for a few hours or more.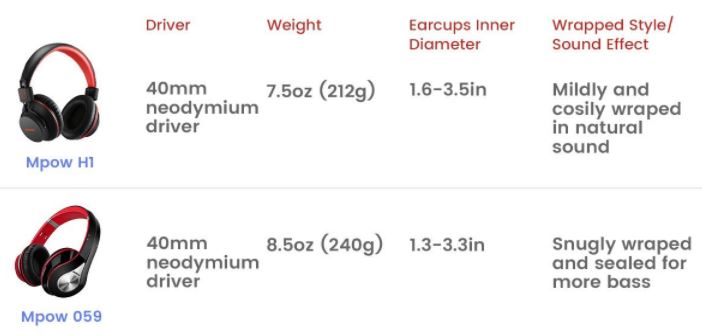 The Mpow H1 is also lighter than some of its predecessors like the Mpow 059. They weigh in at just 7.5 ounces and measure 6.5 x 5.9 inches, making them the kind of device you truly can wear all day. They are big enough to notice you have them on, but aren't going to put your neck under any strain while you use them.
Both earpieces are adjustable as well as foldable, and are fastened to the leather headband with plastic sliders on a sturdy gunmetal black connector. It's pretty easy to find the right fit, and we found that once we adjusted them, they stayed snug.
On the left earpiece we found the Mpow logo printed in sleek, red lettering, and on the right we found a play and pause button, as well as skip forward and skip backward buttons. We were also able to locate a line in jack and a small opening for a microphone.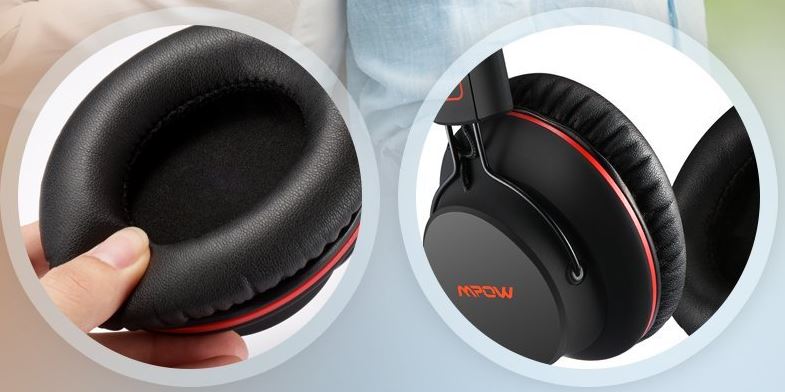 The headphones are a true wireless model and connect to smartphones and tablets via Bluetooth 4.1. We were pretty pleased to see that the only wires on the unit were hidden by the leather, and were almost not even noticeable when we took it out of the box.
In our opinion, these headphones aren't best suited for those with very active lifestyles or people who may want a portable listening device to throw in their gym bag. They're on the larger side and, while they are adjustable, they seem like they could easily slide off during a hard workout. That being said, their larger size and thick ear cushions did make us think that they were comfortable enough to wear around the house or in an office for long periods of time. The bigger size of the earpieces also gave us some pretty high hopes for the sound quality.
Our initial feeling is that the Mpow H1 would be best used by busy professionals, musicians or those who are looking for a fully-immersive listening experience. Just be sure to note that the H1 is mainly going to deliver comfort and audio-quality over convenience and portability.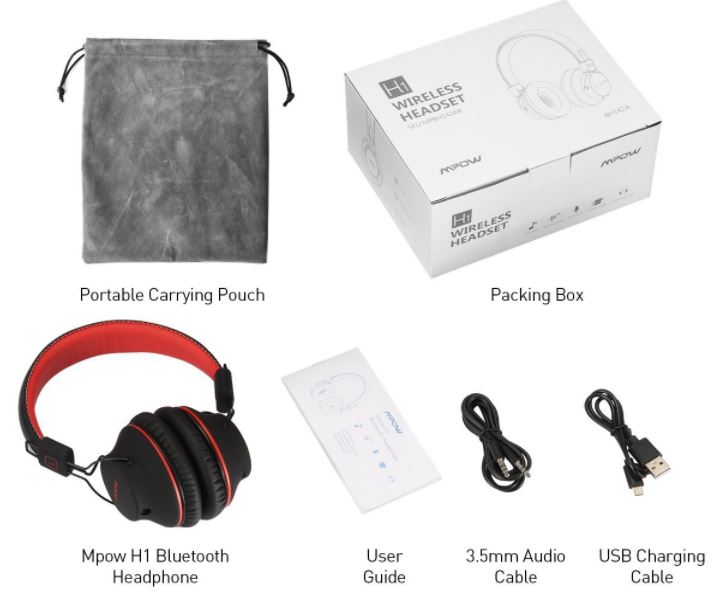 Features and Accessories
When you open the box to the Mpow H1 you'll find some basic accessories. You'll get the headphones themselves, a 3.5mm audio cable, a USB charging cable, a carrying bag and the user manual. It doesn't seem like much, but these accessories are actually pretty nifty. By including the 3.5mm cable, it tipped us off to the fact that these headphones could also be used in a home audio system if need be or as a wired device for a smartphone or tablet. The carrying bag was made of soft, protective material and is strong enough to protect the headphones if you choose to take them traveling or to work. While there aren't a lot of dazzling accessories included in the box, the H1 does have some cool features.
First and foremost, they are completely wireless and you can synch them to any Bluetooth enabled device with Bluetooth 4.1. This includes phones, tablets, laptops and even Bluetooth enabled televisions. We were especially pleased to find that there were absolutely no loose wires coming off of the headphones, unlike some other similar wireless headphones. The wires we did see were neatly tucked under the leather of the headband, and didn't create a distraction while we used the H1.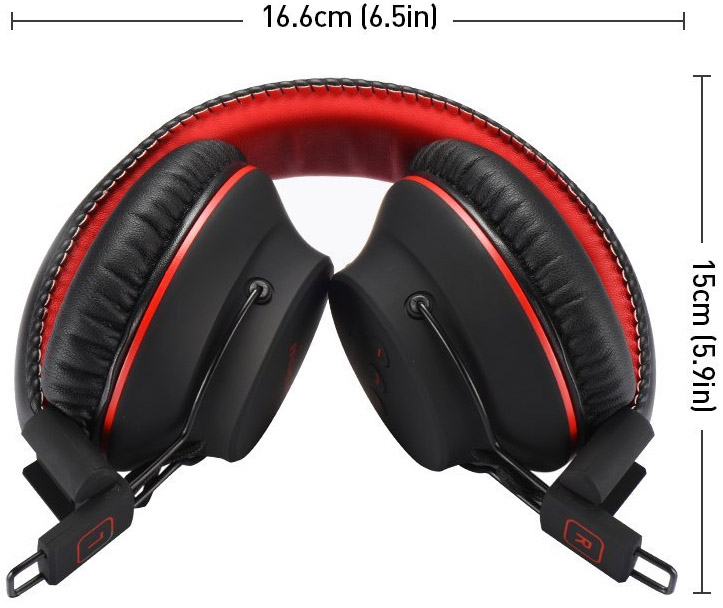 The H1 also allows you to take calls totally hands free. With the built-in microphone, all you have to do to answer an incoming call is use the buttons on the right earpiece, and do the same when you're ready to end the call. The music will automatically stop when you answer a call, and resume when you hang up. We found the clarity during calls to be clear, and the Bluetooth connection held up extremely well with almost no interruptions. However, this feature is only available when the H1 is being used in wireless mode. While using the auxiliary cable, you won't able to take calls.
The headphones also had a very impressive battery life. From a three hour charge, the H1 will yield fifteen hours of either play or talk time. Also with the included auxiliary cable, we found that you could continue to use them as a wired device, even if the battery is completely drained. We found this to be a very useful feature, especially for those that may find themselves traveling for long periods of time.
Sound Quality
The sound capabilities of the H1 are probably the biggest selling point of this piece of audio gear. The 40mm stereo driver and the thick over-the-ear pads made for a truly private listening experience that blocked out almost all background noise. The ear pads were excellent for noise-canceling because of both the fit and the material, and we started to feel the overall experience was less inhibited by the large size. Once we turned them on and started listening, we knew why they had to be on the bigger side.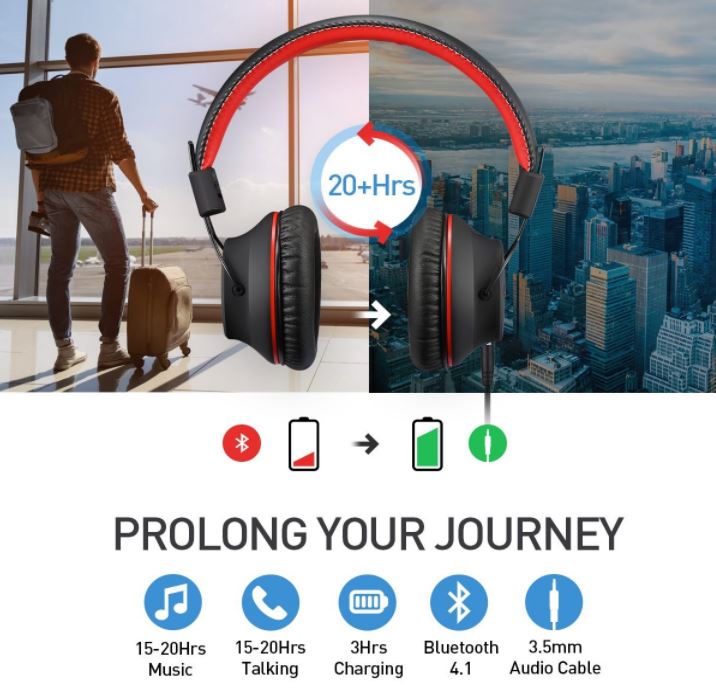 The bass was impressive and came through very clearly during play, and even speaking voices in things like audiobooks and podcasts came in crisp and clear. While the bass was outstanding, it's not the kind of feel you might expect from a home speaker or subwoofer. Since these are still only a pair of headphones, the sound was limited to the size of the 40mm drivers. However, for a pair of headphones, the power and quality still blew us away.
One thing we did notice was that, at high volumes, there was a slight vibration in the earpieces. It wasn't a huge problem, but was definitely noticeable enough to be a little distracting at certain times.
The H1 performed well at both low and high volumes, and while playing a variety of different types of audio. We found the sound to be evenly balanced and that the H1 made for a fully immersive listening experience.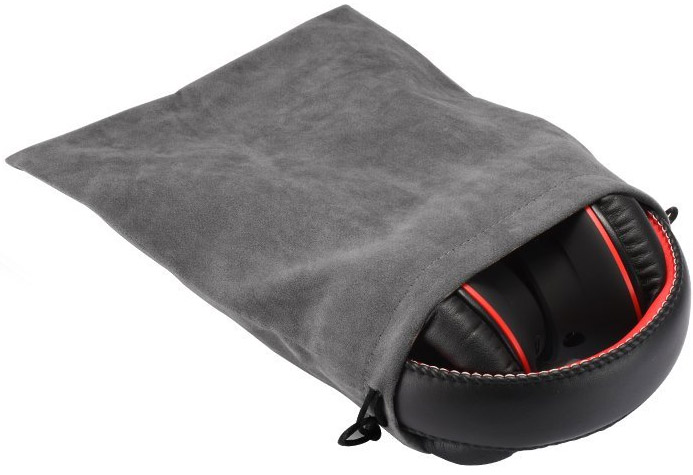 Final Thoughts
Overall, we really liked the Mpow H1 Bluetooth Headphones, but felt that they were more for those who were concerned with sound quality over convenience and portability. They are on the bigger side and cover the entire ear, but the foldable earpieces did make them somewhat easy to transport if necessary. We also thought the leather around the headband was a good way to bridge the gap between style and quality.
The fact that they are truly wireless, lightweight and comfortable were also huge selling points, and we were also impressed with the crystal-clear Bluetooth signal. The option to plug in the included auxiliary cable was also a big bonus because it made the headphones usable even when they ran out of battery.
Above all else, the sound quality is the most attractive part of the H1. For a personal listening device, we were really impressed with the fullness and noise-canceling capabilities of each earpiece. The H1 is not a pair of headphones for those looking for a personal listening device to wear during strenuous activity, but is definitely a good choice for someone traveling who is also in need of high-quality sound in an affordable package.
Meet Derek, "TechGuru," a 34-year-old technology enthusiast with a deep passion for tech innovations. With extensive experience, he specializes in gaming hardware and software, and has expertise in gadgets, custom PCs, and audio.
Besides writing about tech and reviewing new products, Derek enjoys traveling, hiking, and photography. Committed to keeping up with the latest industry trends, he aims to guide readers in making informed tech decisions.