A Bluetooth speaker doesn't always have to be a futuristic, bulky device that looks like it came out of a sci-fi movie. Bluetooth audio devices can be small and portable with a variety of designs that make each one unique. Also, the overall size of the a Bluetooth speaker is less important than you think when it comes to performance; nowadays it's possible to get big, full sound from a speaker that you can hold in your hand and the applications for this kind of device are really endless.
You can keep them at your desk, in your car, in your kitchen and even use them as a way to play music during small gatherings or parties. With so many of these kinds of speakers on the market, finding one that has the look and performance you want just takes a little searching.
In this review we're going to be taking a look at the Archeer A320S Bluetooth Speaker. The newly released A320S stands out against other Bluetooth speakers mostly because of its natural design made entirely of recyclable material, but we're also going to be taking a look at the sound quality, technical specifications and portability to give you a full 360 degree view of what this device can really do.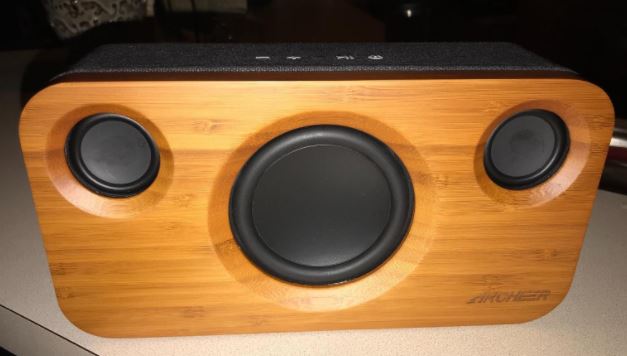 Design and First Impressions
The Archeer A320S is most unique because of what's it made out of. The outer shell is made of high-quality natural bamboo and completely natural materials. It has a beautiful wood finish with the Archeer logo engraved into the front side, a soft but durable mesh that surrounds the edges and the entire unit feels sturdy enough to take with you on car rides or to the beach.
The speaker measures 9.8 x 3.1 x 5.1 inches and weighs in at 3.1 pounds. We thought this was a little on the heavier side, but it still didn't make carrying the A320s around difficult or tedious. It's also small enough to fit in a backpack or suitcase. On the front of the device you'll find the speakers themselves. There are three in total, and on the top portion you'll find the evenly-spaced dual 5W drivers, as well as a 15W subwoofer in the center to provide some added bass.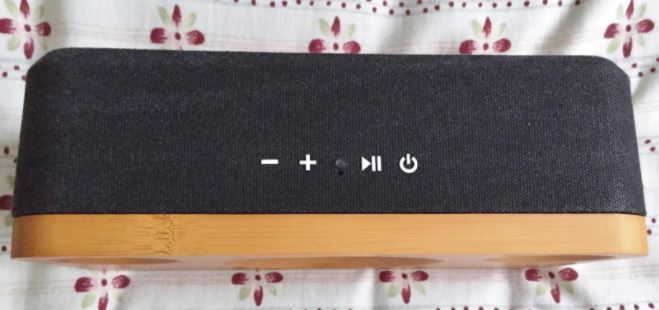 There weren't very many controls on the Archeer A320S, but the ones that it did have can be found on top of the device. You'll find a power button, a play/pause button, as well as a volume control. There is also a built-in mic located near the controls, as well as a blue indicator light. Last but not least, the back of the device is home to an AUX line in, a reset button, a charging indicator light as well as a DC IN port for charging.
Our first impression of the Archeer A320S is that it was a unique, relaxed-looking speaker that almost doesn't even look like a piece of audio gear at all. The bamboo finish made us think that the A320S could blend in well on a bookshelf or on a nightstand. If you're looking for something that is more understated than eye-catching or flashy, you'll be very pleased with this chilled-out design.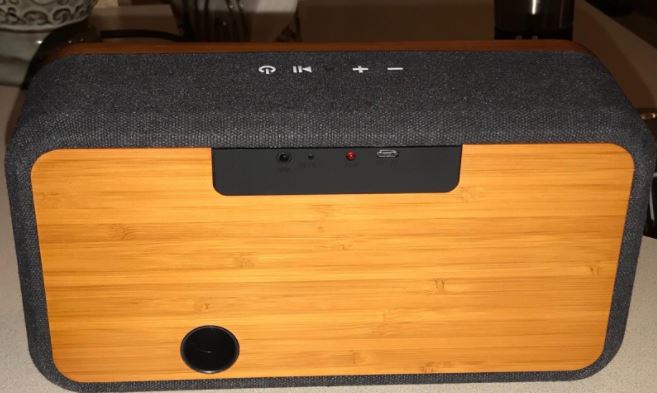 Special Features, Accessories and Specs
The A320S has some convenient features, but nothing that we found revolutionary or groundbreaking. It is totally wireless and, as you might have guessed, uses Bluetooth 4.1 to connect to smart devices like tablets and phones. There are also two built-in 4400 mAh batteries, for a total of 8800 mAh—a major upgrade from the A320, the predecessor to the A320S. This upgraded battery takes about 6.5 hours to charge, but will yield a whopping 20 hours of play time at a volume of about 50 percent. 20 hours of play time is definitely impressive, but we found that this was greatly reduced if we used the speaker at higher volumes. It was a slight drawback, but the speaker was powerful enough at 50 percent that it didn't detract from overall performance too much.
The built in microphone was a nice feature, but we didn't feel like it was completely necessary, mainly because you have to be right next to the A320S to use it during a call. It almost reminded us of a landline telephone, and while it didn't take away from the speaker, we didn't feel that it earned it any extra points either.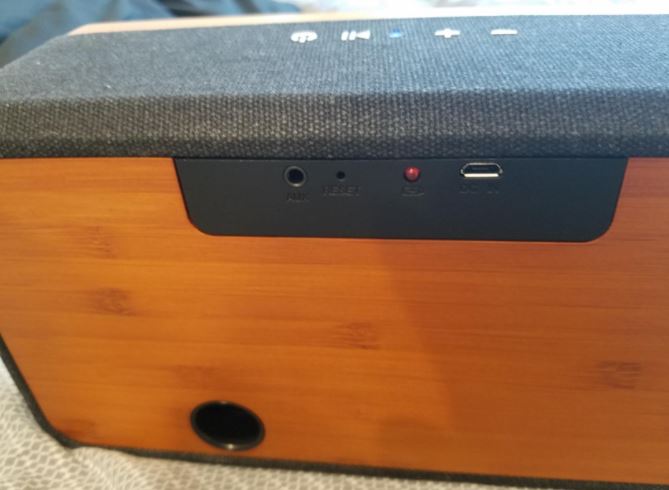 One feature we really loved was the built in TWS mode. In TWS mode, you can pair two A320S speakers together for a fully surround-sound experience. Of course, you'll still have to purchase another unit to use this feature, but it was still a great addition when I came to providing music for larger gatherings. We were able to use two A320S speakers in different parts of the room, while linking them to the same Bluetooth device. Even at 50 percent volume, the sound was immersive and was more than powerful enough to impress us. One thing to note: you won't be able to pair the A320S with its predecessor the A320. You will two of the same units in order for this feature to work properly.
The operating range of the A320S is about 33 feet, and held up very well when we tested it out. It also automatically searches for the last device that was used, so you won't have to worry about re-pairing your device every time you want to use it. The speaker will also work with any Bluetooth device, including both Apple and Samsung products.
Lastly, there was an option to use the A320S as a wired device through the AUX line in port. This was also a good addition, but it had us wondering how frequently it would really be used. You'll still have to have the speaker fully charged, and most people keep their audio on a Bluetooth device so the AUX line in didn't appear totally necessary.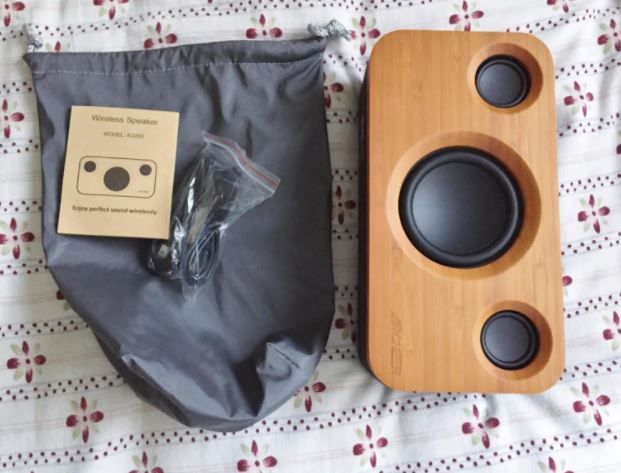 As far as accessories are concerned, the A320S comes with the basics. In the box you'll find the speaker itself, a carrying bag, a USB charging cable, a 3.5mm audio cable and the user manual. We found the carrying bag to be the most valuable of the included accessories, mainly because the speaker is light enough to travel with, so having an extra way to keep it safe was essential. Keep in mind, the bag is sturdy enough to protect the speaker from moisture or dirt, but won't save it from being dropped or crushed by luggage or any other heavy objects. In order to take the A320S with you on the go, you'll still have to be fairly careful with it, especially with its wooden construction.
If nothing else, the A320S is a big improvement over its predecessor the A320. With the added TWS feature, as well as an improved battery life, Archeer has made a lot of advancements in this new model, making it well worth the slightly higher price point than its older brother.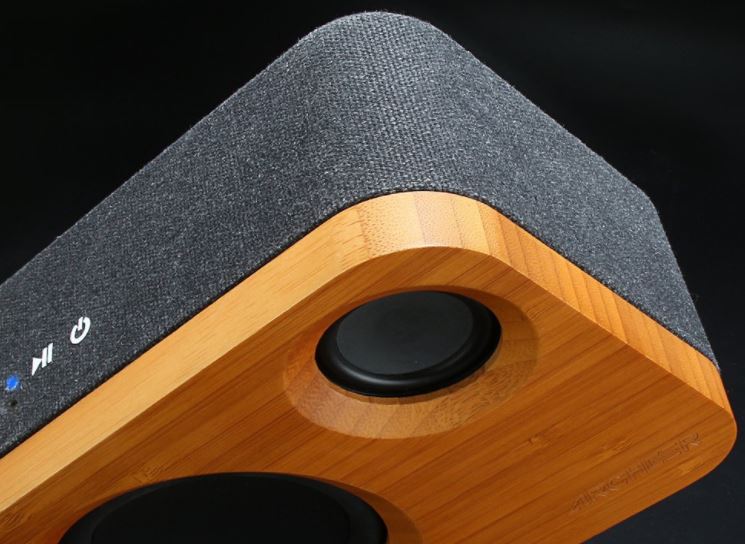 Sound Quality
When it came to sound quality the A320S really blew us away. We were able to crank up the volume almost to the maximum, with very minimal vibration or sound distortion. The dual 5W tweeters made for very crispy and sharp trebles no matter what kind of tracks we played, and the 15W subwoofer was fully capable of giving us the kind of thumping bass we were looking for from a speaker this size. The sound quality was even better when we paired two units together in TWS mode for a surround sound feel. With over 50W of power coming from a pair A320S speakers, you'll be able to produce enough sound for small parties, medium-sized rooms as well as small outdoor events.
The A320S won't be able to fill a concert hall and even at full volume can be drowned out by large crowds but, given the size of the speaker, it was certainly able to hold its own against other similar audio devices on the market.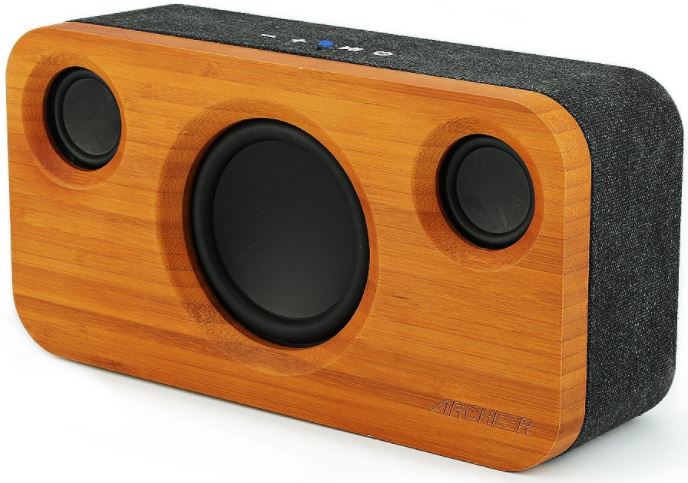 Final Thoughts
Overall, we were really impressed by the Archeer A320S. From the understated, earthy design to the outstanding sound quality, we felt that this speaker was well worth the price. It can easily have a place on bookshelves or in bedrooms, but was also powerful enough to be a speaker for small groups. It didn't have anything revolutionary in the way of features, but the TWS pairing mode was a huge bonus that we felt made the already impressive sound quality even better.
There were some features that we could have done without like the AUX line in, as well as the built in microphone, mainly because they weren't all that useful; however, having them on board didn't take away from the performance of the A320S in any way. Removing excessive features, to us, would have mostly been a way to preserve the capabilities that mattered like the TWX pairing and outstanding audio hardware while possibly even lowering the total price of the unit.
Regardless, if you're looking for a portable speaker with surprisingly high-quality performance, you likely won't be disappointed by the A320S.