Selecting the right pair of headphones can be a long and somewhat frustrating process. There are literally hundreds, if not, thousands of different ones to choose from. In addition, there are several different varieties – over ear, in-ear, neckband, etc. Needless to say, it can get confusing very quickly. It always helps to do a little bit of research.
Here at NerdTechy we're always on the lookout for the latest and greatest new-release headphones. We love trying out different brands and models to see whether or not they're worth purchasing. Most recently, we were invited to checkout the AH07 Bluetooth Headphones from Archeer. We've previously reviewed their A320 Speaker and were genuinely impressed with the sound quality and high-end craftsmanship. It set our standards fairly high, so we expected a lot out of their AH07 headphones.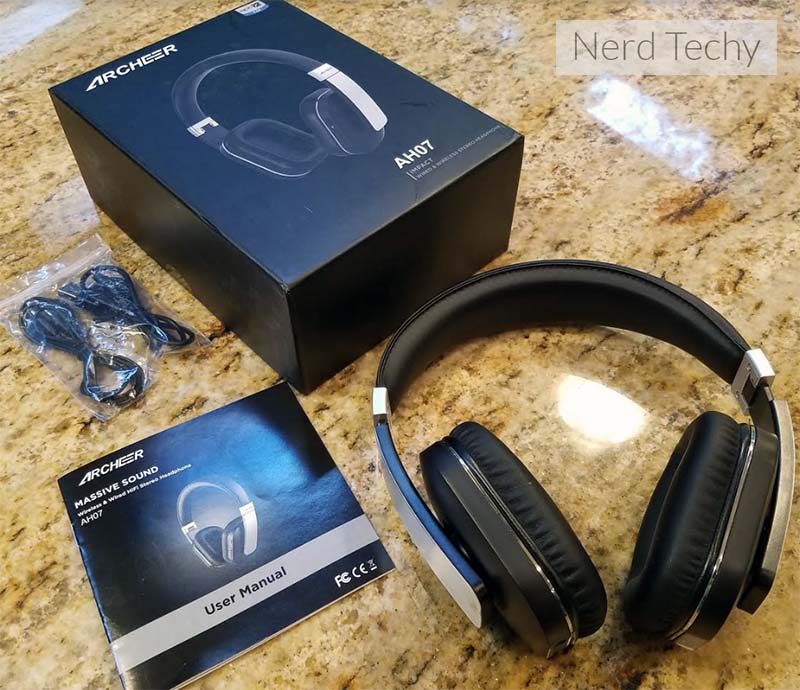 Unboxing & Pairing
Upon placing our order, the Archeer AH07 Bluetooth Headphones came safe and sound within just two days. Once opened, we noticed that there were only a couple of accessories included. Along with the user manual, there's a micro USB cable and a 3.5mm auxiliary cable and of course, the headphones themselves. They come folded up and with a minimal charge – just enough to pair them and give them a good test.
These are wireless headphones so you'll need to pair them to a Bluetooth enabled device, such as your smartphone or tablet. To pair them, simply press and hold the "call" button (located on the right earcup) for five seconds. It will then intermittently blink blue/red, giving you indication that the headphones are looking to pair with your device. Next, browse the available Bluetooth connections on your device and select "AH07". If prompted, enter "0000" as a PIN.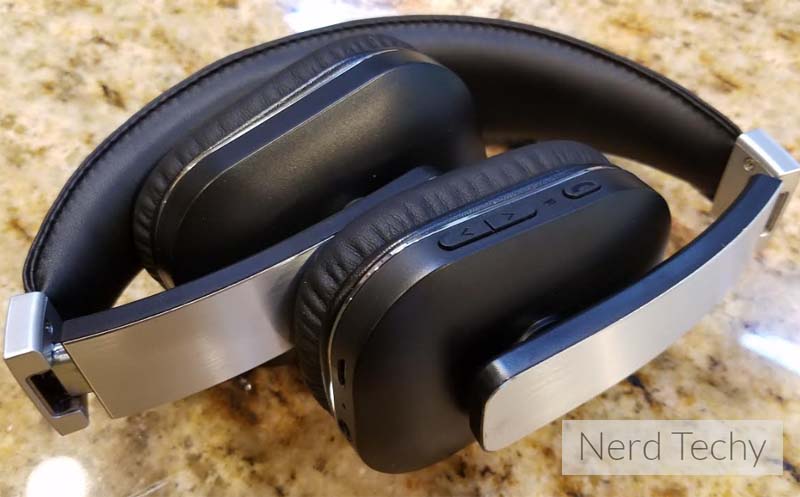 First Look
One of the first things we noticed about the Archeer AH07's was their build quality. They're built with a stiff headband that seems to apply an ideal amount of pressure against your ears. Although this "pressure" isn't necessarily adjustable, we feel that it's set to a perfect level.
In addition, each earcup is extremely padded and plush, giving you lasting comfort for hours on end. And of course, you can extend and "click" each earcup to select the proper headband length needed for your specific sized head. Also, the earcups don't completely rotate, but they do swivel. The swiveling action is great for making a plush and secure seal on the contoured surface of your unique head shape.
We love the incorporation of metal accents throughout the headphones, but it would be nicer if they utilized metal for the frame. It seems to be made out of a rigid plastic, although it's quite stiff and still seems ample.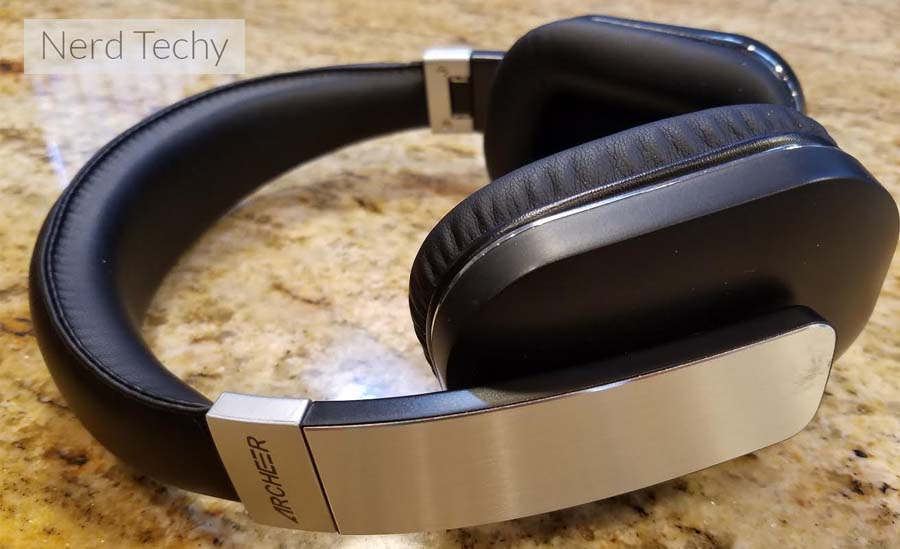 Sound
We've tested quite a bit of headphones in the past and we must say, the AH07's provide exceptional sound. Utilizing the latest in APT-X technology, they seem to imitate headphones that cost twice as much. The sound truly is remarkable with an exciting vibrance of clarity throughout the high and mid tones, with a fine addition of bass for the lows. What's more is that they seem to work equally well with all genres of music. Rock, rap, country, etc. all sound amazing!
One thing worth noting is the passive noise reduction. Basically a fancy way of saying that they block out unwanted background noise without active noise cancellation. This is achieved through a proper fit, so make sure to adjust them as necessary before using them to their full advantage.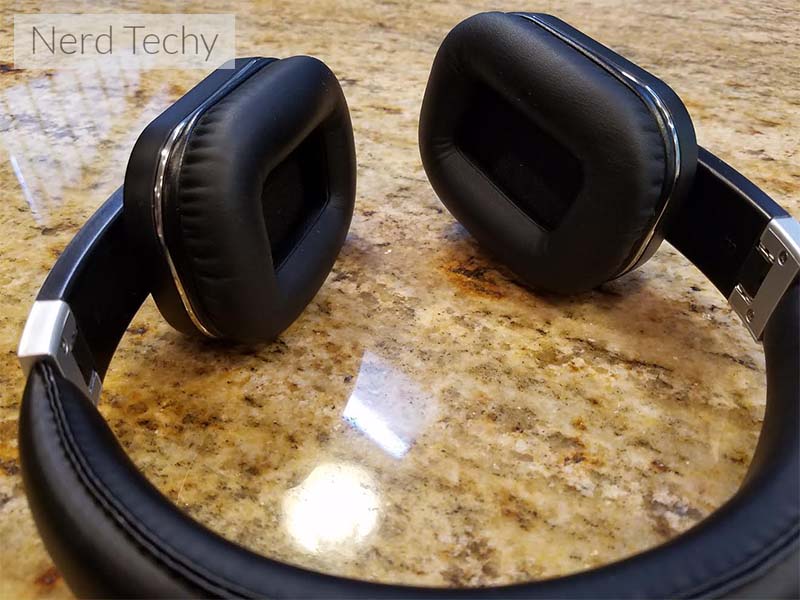 Battery
Since the Archeer AH07's are wireless, they rely on an internal, built-in battery that will need to be charged every once and a while. We previously mentioned that they arrived with a partial charge, so we connected the micro USB cable for roughly 2 hours. In that time, they were fully charged and ready to go. However, when the battery is completely empty, it may take closer to 3 hours for a full charge. One good thing is that you can use the included auxilery cable to use them wired when the battery isn't charged up. However, keep in mind that draining the battery isn't very good for the longevity of headphones. Lithium-ion batteries should never be completely drained or left on the charger for extended periods.
With a full charge, you can expect anywhere from 10 to 14 hours of use. This range is determined on how loud you have your volume set and other factors like your wireless range. We used them for a solid 11 hours before the low battery indicator turned on. You'll know when you need to charge it because the LED on the right earcup will begin to flash red. Overall, the battery life is pretty amazing!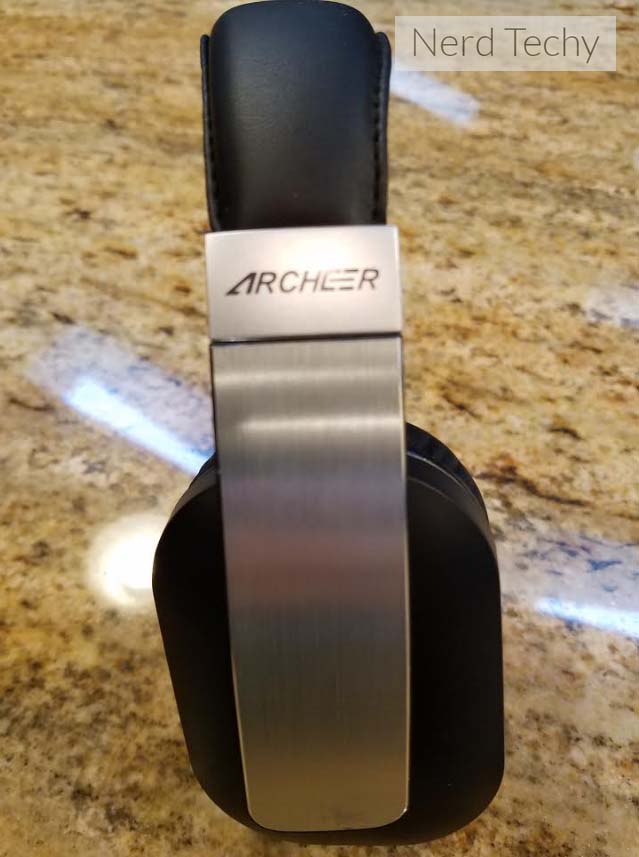 Wireless Range
The AH07's are limited to a wireless range of around 10 meters or 33 feet. This is fairly standard since just about every pair of wireless headphones utilize Bluetooth version 4.0. This is the latest available version and it's limited to 10 meters of wireless communication.
We found the advertised wireless range more accurate in ideal situations where there wasn't objects or walls in-between. Once you put a solid wall between your device and the headphones, you can expect the range to decrease. However, even with 20 feet of wireless range, that's typically plenty for most individuals.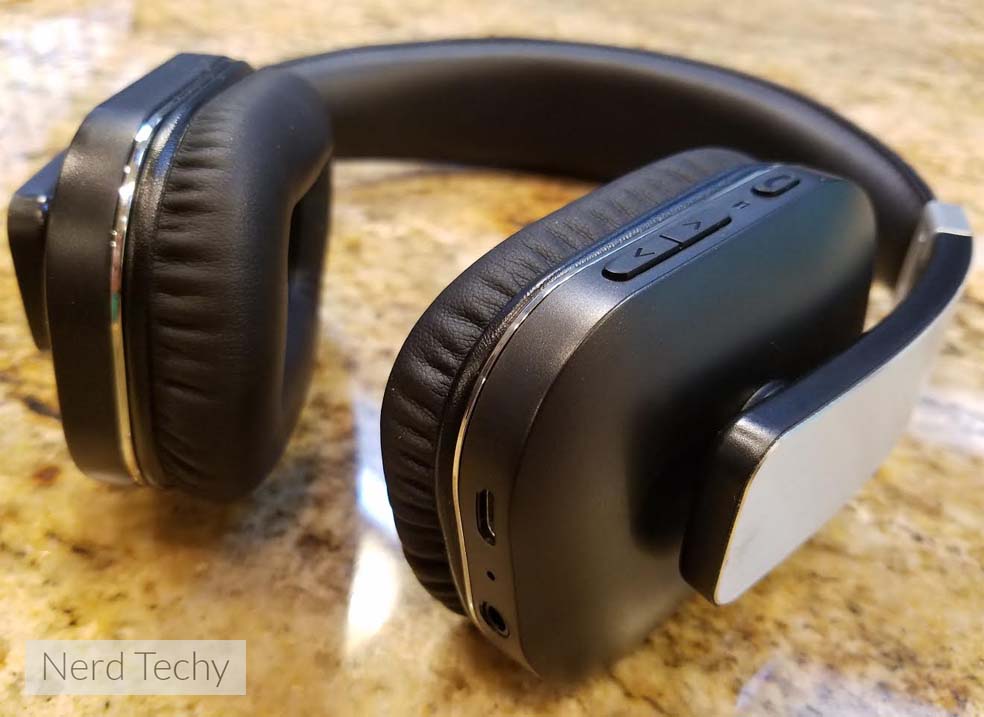 Microphone
If you take a close look at the base of the right earcup, you'll notice a tiny "pinhole". This is the integrated microphone that makes it easy to take calls when the headphones are paired with your device. It can be used for basic phone calls or Skype, FaceTime, or other voice messaging platforms. Now this isn't a feature that everyone will take advantage of, but it's nice that it's included. We tried the microphone on a few different phone calls through our iPhone and found it to work quite well. In fact, you couldn't even tell that the call was over a pair of headphones – crisp and clear clarity all around.
Disadvantages
One thing that we really loved was their ability to fold up in a more-compact size. Each earcup bends into the headband so you can store them a bit easier. Unfortunately, Archeer doesn't include a protective carrying bag or case. You'll probably want to stow them away in a bag so they don't get dirty or damaged when they're not in use. This really isn't that big of deal to some, but we're used to over-ear headphones including an accessory like this.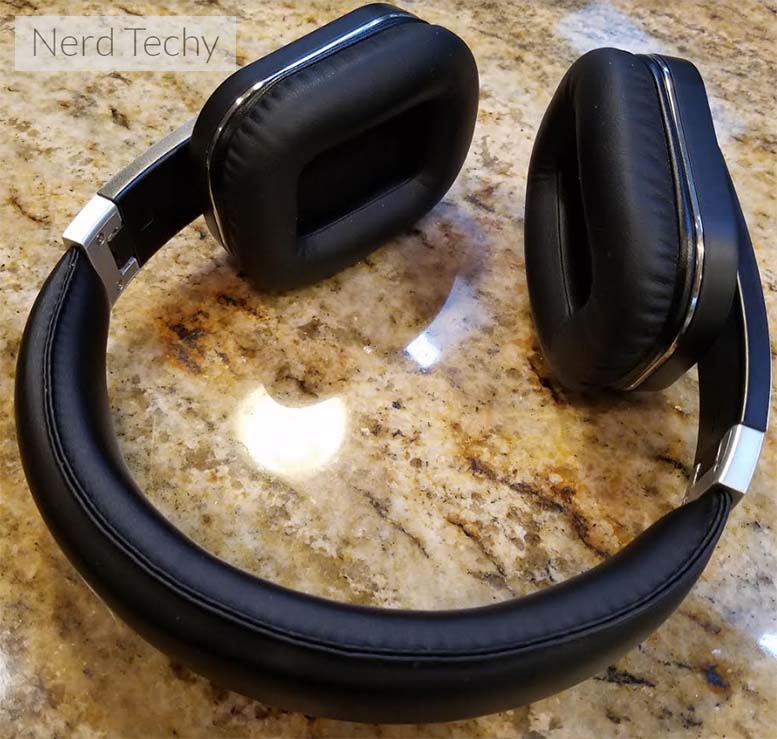 Final Thoughts
To sum it up, we really fell in love with the Archeer AH07 Bluetooth Headphones. They're a perfect compromise between affordability and high-end quality. With exceptional comfort and incredibly rich sound quality, it's easy to fall in love with them. Their lightweight yet simple design keeps them comfortable for those long listening sessions, with sound quality so nice that it's sometimes difficult to stop listening.
While these headphones are excellent for comfort and stationary listening, they wouldn't be ideal for those looking for a minimalistic workout headphone. They're more crafted towards the individual looking for a mid-range studio grade model. If you're looking for earbuds or a smaller design that stores a bit easier, be sure to check out the Treblab XR500's.