With consumer camera equipment increasing in performance and decreasing in price, manufacturers are looking for new ways to give themselves an edge. One way to do so is through video. In the past, you'd have needed a dedicated video camera if you wanted high quality video. The feature was built in to many digital cameras, but the results were simply underwhelming.
With the FZ80, low quality video is a thing of the past. If you're struggling to find 4K content to play on your brand new TV, Panasonic's FZ80 will let you create your own. Coupled with a beefy image sensor and 60x optical zoom, this point and shoot camera looks like it's competing against much more expensive DSLR cameras.
Note: At no extra cost to you, we may earn a commission for purchases using our links. Learn more.
While this camera looks pretty impressive on paper, most of us know that specifications only tell part of the story. To see how this camera performance in the real world, we had to try it out for ourselves.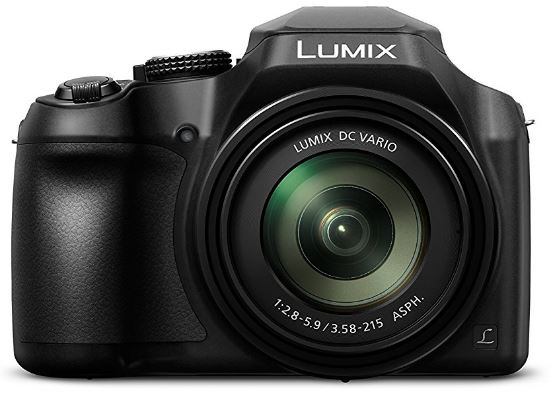 First Look
While the form factor bears a strong resemblance to most DSLR cameras, the Panasonic LUMIX FZ80 is actually a point and shoot. This is especially evident once you hold in in your hand. The shape might be the same, but it is much smaller than you'd expect. Fortunately, it's ergonomic form means that it's comfortable to hold in the hand, but you still get some of the advanced controls you'll find on professional grade cameras. These types of cameras are commonly referred to as 'superzoom'. Unlike compact cameras where size is the primary factor, the larger lens is usually a clear indicator that the main focus of the camera is quality.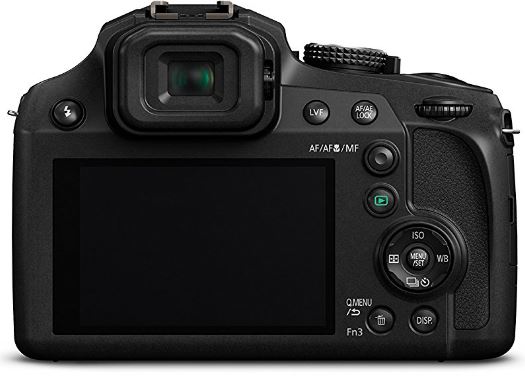 Image Quality
With an 18.1-megapixel sensor, this camera doesn't seem that much more powerful than you standard point and shoot. But this is no ordinary sensor. This 1 by 2.3 inch CMOS sensor is a little larger than most point and shoots, allowing you to take images of up to ISO 3200 with minimal noise. During the bright daylight, we found the images to be exceptional. Only at 100% zoom can you detect even a hint of noise, with our prints coming out smooth and crisp.
Of course, the image sensor can't take all the credit for the high-quality images it produces. The 20 to 1200mm equivalent lens is made from high quality coated glass, reducing distortion. As with most high-zoom lenses, an image stabilization system is included. This serves two purposes. First, you'll be less likely to encounter blue at the far end of the zoom range. Even without a tripod, our images still came out sharp.
But another advantage of image stabilization is the low light performance. At night, the camera wants to keep the shutter open for longer periods of time, allowing additional light to travel in. If your hands move while the shutter is open, the image can blur. In our low light tests, the IS system had a huge impact on image quality. Although the sensor goes up to 3200 ISO, there is a lot of digital noise at this range. We were able to keep the sensitivity down to 1600, which produced good looking night shots.
With that being said, part of the reason this camera performs so well is the advanced noise reduction software built in. This does produce some minor artifacts. When compared to a high end DSLR, the camera holds its own at low ISO speeds. But when you're buying a camera that's half the average price for a professional model, you need to expect some compromise.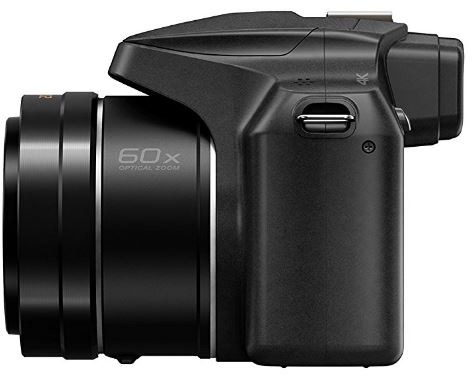 Video Quality
There is no doubt that 4K video is one of the selling features of this camera. We were concerned that the high resolution would be ruined by aggressive compression and filtering, but we were pleasantly surprised to find that the video is saved at 100Mbps. Although this makes for larger file sizes, it means that the video looks just as good as professional cameras. It shoots at 30 Fps, so it's nice and smooth. Because 4K is slightly lower resolution than still images, the noise we saw at higher ISOs wasn't an issue with video.
Controls & Ergonomics
Measuring 5.1 x 3.7 x 4.7 inches, this camera can easily be held with a single hand. The rounded right side of the camera makes it easy to wrap your fingers around, and the textured case allows you to maintain a firm grip. Your finger rests on the top, directly over the shutter button. When you first depress the shutter, the camera will autofocus the image. Press it one more stop down, and you'll actuate the shutter. In front of the shutter is a zoom ring. Pulling it to the right zooms in, and pushing it out zooms out.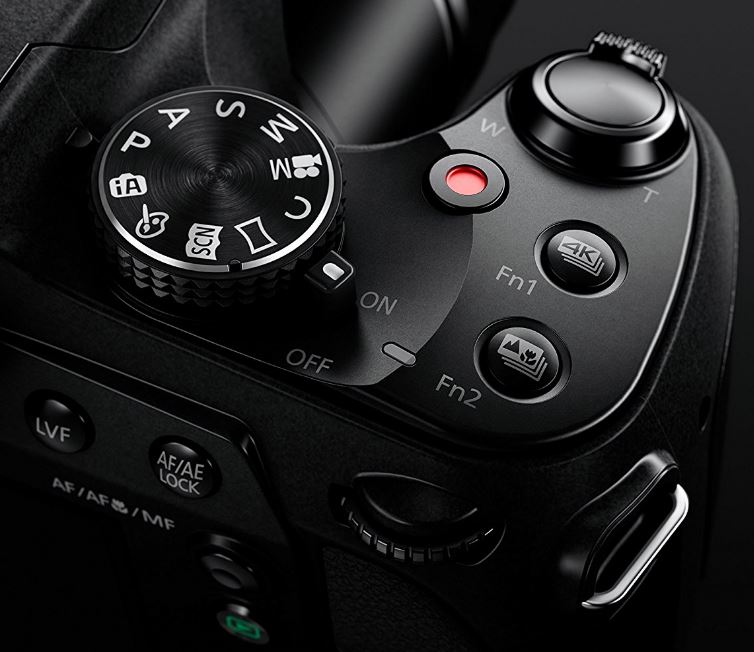 Just to the left of the shutter, you'll notice a small red button. This starts and stops video recording. While you're taking video, you can press the shutter at any time to capture a still frame. These three controls are easy to operate with your pointer finger. But more advanced options are located on the back of the camera.
ISO speed, white balance, autofocus range, can capture settings can all be navigated with the dial-style control on the back. Pressing the center menu button brings up a large touchscreen interface, where more advanced settings can be changed.
The last control you'll be interacting with is the settings dial on top. This allows you to chose between one of several different modes. The A option is for auto mode, ideal for beginners. The camera will choose all of the settings for you, and regularly took a pretty good image. P is for program mode. You can pick the settings you want, and the camera will attempt to figure out the rest for you. This still works pretty well, but if you don't know what you're doing it's possible to choose settings that don't work well together. For experts, there is manual mode, where all of the settings are configured yourself and the camera does not attempt to change them. There are a few other settings for specific environments, which is a nice added bonus.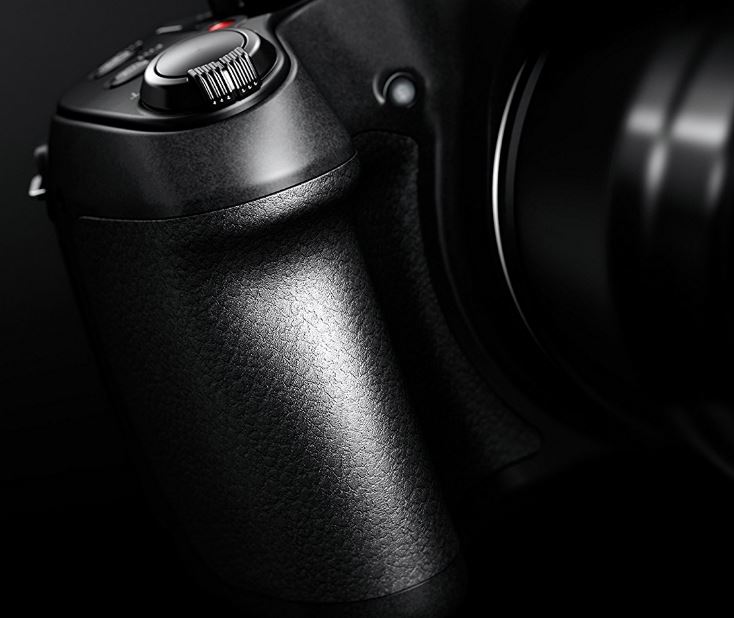 Connectivity
One of our favorite features of this camera was that the charger is built right in. You can plug in a standard Micro-USB cable and charge it right up, giving you one less thing to carry while travelling. That being said, charging is one of the only times you'll need a wire at all.
The camera has built in WiFi. This allows you to download the images directly to your phone after shooting, making them easy to share through email or on social media. If you want to kick things up a notch, you can use the remote shooting feature. This uses your cellphone as the view finder, allowing you to control all of the image settings from your Android or IOS device. This lets you go hands free, allowing you to easily capture group portraits without fiddling with the timer.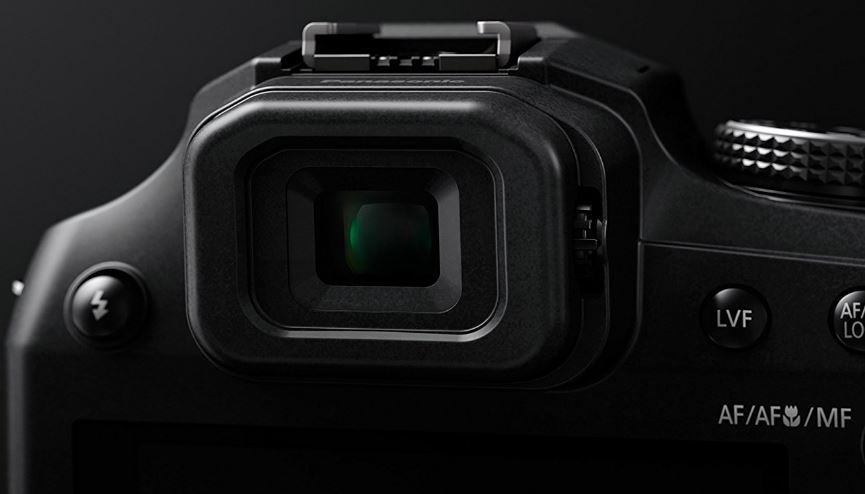 Disadvantages
4K is still a very new technology, and all those pixels take up a lot of space! If you're going to be shooting a lot of 4K, you're going to need a very large SD card. You can fit a few hours onto a 32gb card, so if you can't download your video every day you might have to buy a couple.
Final Verdict
The Panasonic FZ80 sits in between the top most popular camera styles. It's a bit more expensive than your standard point and shoot, but provides some major improvements. 4K video is rare to find at this price point, and the image sensor is well above what we expected to see in this price range. The camera has a lot of different imaging settings, making it suitable for experienced photographers. But most impressive was the optics. 60x optical zoom is among the best on the market, something that wildlife or sports photographers will really appreciate.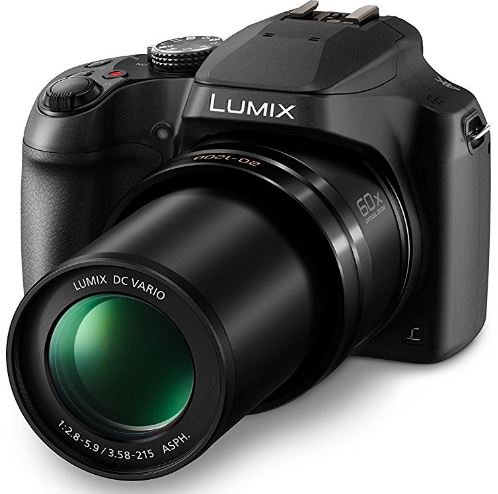 But with everything this camera has to offer, it might not be for everyone. If you're looking for something with image quality more comparable to a DSLR, the Fujifilm X-A3 might be a good choice. It's a little more expensive, but performs very well in low light conditions – an area that is very challenging for most cameras.
If you don't need the high zoom range, you might also want to consider the more compact Canon PowerShot G9 X Mark II. This camera is a little smaller than the FZ80, but it still offers above average image quality in its class.
No matter what you choose, the Panasonic FZ80 is still an impressive camera. In our eyes, spending a little extra for performance is always a great investment.
Please consider sharing:
Note: At no extra cost to you, we may earn a commission for purchases using our links. Learn more.