With our internet connections increasing year by year, we're starting to get to a point where company provided cable modems just can't keep up with the sheer amount of bandwidth available to us. If you're looking to give a little boost to your internet connection speed, perhaps calling up your local ISP and upgrading your package isn't always the best option. Instead, you might want to consider upgrading your cable modem to make the most of the connection you already pay for.
If you're on the market for a new modem, you'll notice that there are a lot of different options. Some vendors are still selling old models that can't really perform in today's modern standards, while others are simply inexpensively produced. But the SBG7580AC cable modem looks to be a strong contender, so let's take a look and see how it stacks up to the competition.
First Impressions
Although the ARRIS SURFboard SBG7580-AC is sold as a modem, it's really three different products in one. First, you've got a blazing fast modem rated at 1.7 Gigabits. Next, you've got the blazing fast 1300 Mbps dual band wireless router. Finally, a Gigabit Ethernet switch for any computers that you want to hard-wire into your network. This is certainly a large modem, much more so than the compact models that are often provided by your cable provider. Let's go in-depth and see how this modem performs.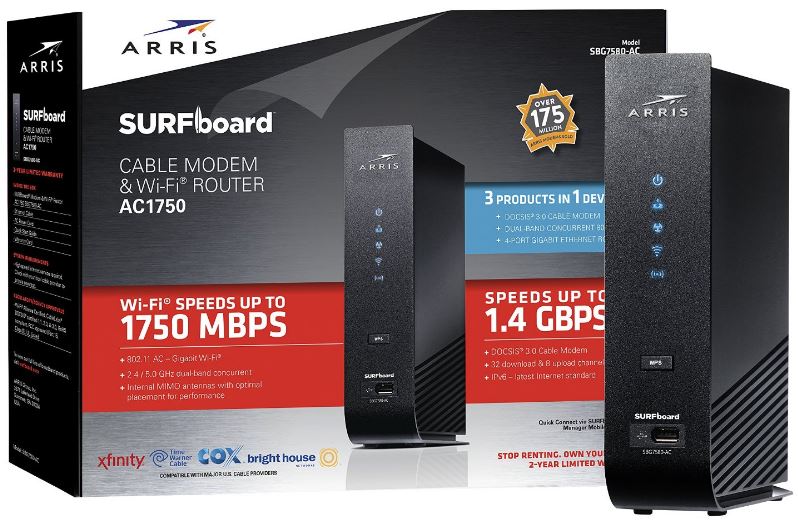 Modem
Possibly the most important component of all, the modem is the backbone of your entire internet connection. If your modem isn't capable of using all the bandwidth available, then every device down the chain will suffer. Fortunately, the one included in the ARRIS SURFboard SBG7580AC is a powerful little unit. Using the DOCSIS 3.0 standard, it's capable of speeds 3x greater than the theoretical limit of DOCSIS 2.0.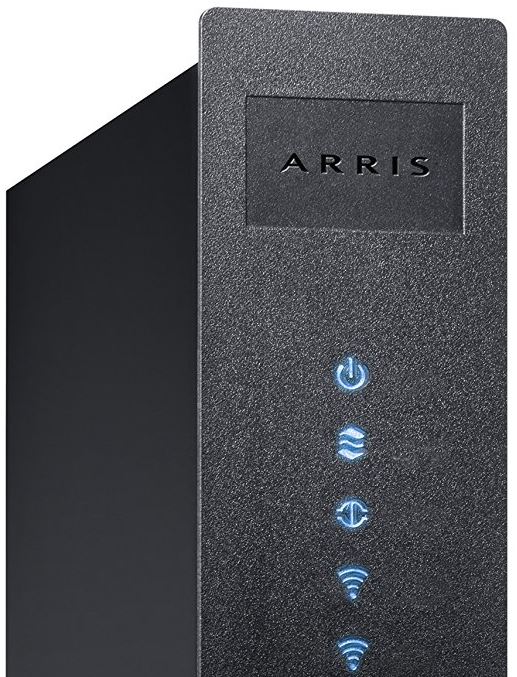 This modem is technically rated for speeds of 1400 Mbps, although you will rarely see this in the real world. The primary reason for this is that internet speeds simply aren't that fast yet. Consumer connections usually cap out around 300Mbps. This doesn't mean, however, that such a fast router is useless. There are two main reasons why you would want a high speed router.
First, you have more resilience to noise. The further you get from your ISPs distributor, the lower quality your signal is. You might have a router that is capable of 300Mbps and a 300 Mbps connection, but if your signal is poor quality then your connection will lose 20 to 40% of its maximum theoretical speed. With a modem like the one in the SBG7580-AC, you'll be able to maintain a high speed connection even in a challenging environment.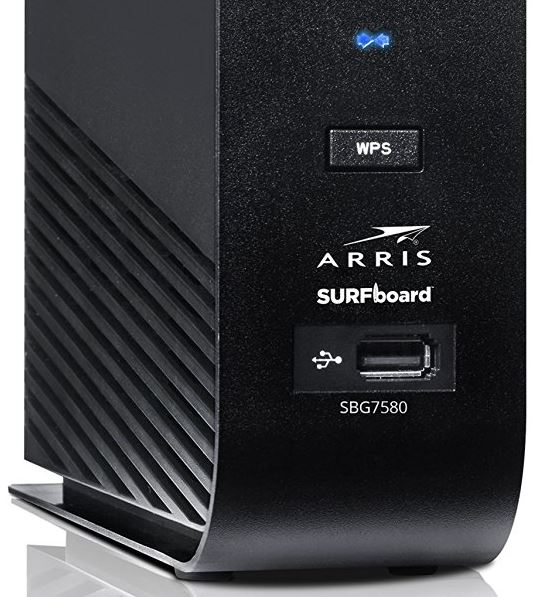 Next, you'll have a modem that can be upgraded as internet speeds improve. Just because 300Mbps is the fastest connection you can get now, doesn't mean that it will be the fastest one available next year. By purchasing a modem now that can support high speeds, your upgrade will just be a phone call away since you already have the appropriate hardware in place.
Router
The ARRIS SURFboard SBG7580-AC has built in dual band 802.11AC wireless router. If you've done any research on routers, you'll see countless reviews that urge you to stay away from the routers included with your ISPs modem. In many cases they are right, as these routers tend to be inexpensive and of poor quality. But with the SBG7580AC, the router is a strong contender against even high end consumer wireless technology.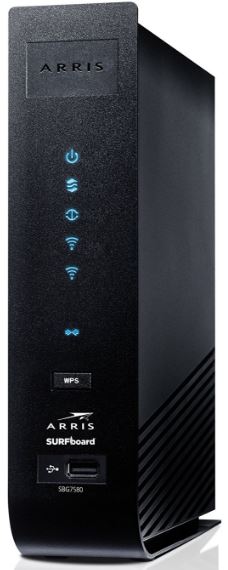 What makes the built-in router great is it's 802.11AC dual concurrent band technology. Wireless networks can exist on one of two frequencies: 2.4GHZ and 5GHZ. Each of them have their own pros and cons. 2.4GHZ is capable of going through walls with less degradation. 5GHZ offers a much higher throughput. When you are just using a single computer, you can actually open up two connections to the router over both of these channels. Not only can this theoretically triple your maximum throughput when compared with a single 2.4GHZ connection, but your card will be able to pick and choose the appropriate frequency if you are very far away from the router.
There is another important benefit to having the router integrated into the modem. If you connect an external router, you'll be forced to use the built in Gigabit Ethernet port. After factoring in overhead, Gigabit Ethernet can sustain a maximum throughput of around 800 Mbps. Wireless connections are already faster than their wired competitors. If you are able to score a Gigabit internet connection in the future, you'll never be able to take advantage of this connection speed with a wired connection. But with this modem, you'll be fully equipped. Because the wireless router is connected directly to the modem, there is no bandwidth restriction from Gigabit Ethernet.

32/8 Channel Bonding
Equipped with 32/8 channel bonding, the ARRIS SURFboard SBG7580-AC is built with some of the best and most recent advancements in this technology. Channel bonding is a unique way of aggregating both upstream and downstream channels to deliver improved speeds. This means that there are 32 individual download channels and 8 upload channels that work cohesively to provide transfer speeds that are in fact faster than any cable ISP (Internet Service Provider) currently offers. It's definitely a bit of a sales gimmick, but it's a sure-fire way to "future-proof" your connection so that you get several consistent years with this modem/router combo before you'll need to replace it.
Operator Compatibility
This modem uses the DOCSIS 3.0 standard. It's already approved for use with Charter, Time Warner, and Brighthouse Networks. Certification is also pending for use with Comcast, Cox, and several other US cable operators. If you're using service from one of the companies that have certified the modem, setup can be as simple as plugging it in and making a quick phone call. Even if your cable provider is not on the list, there is no reason that this modem shouldn't work. It supports every commonly used DOCSIS 3.0 standard, so the only reason that it wouldn't technically work is if your cable provider restricts the use of third party modems.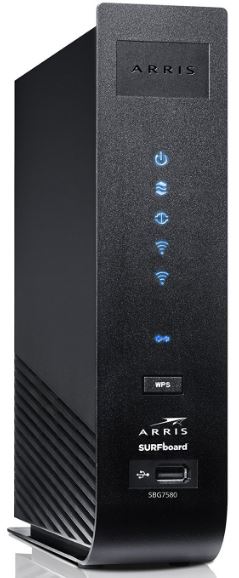 Performance
We found that the modem performed incredibly well in all of our tests. Previously we had a connection advertised as 300Mbps through Cox. As I'm sure anyone with cable internet can relate to, we rarely reached the peak speed. Most of the time, our connection averaged around 220Mbps. With this router, our speed tests indicated that we were getting 293Mbps. This is a pretty serious improvement, even though the connection speed is much lower than what the router can handle.
Aside from that, the SURFboard is simply a great router. We found that our wireless signal was strong and high quality throughout our house with not dead zones. Transferring files between PCs was lightening quick, often reaching speeds of upwards of 400Mbps. We're sure that it's capable of faster speeds, but ISP technology hasn't quite caught up to everything this modem is capable of.
Value
If you're still renting your cable modem, picking up the SURFboard can offer incredible value. Some providers charge as much as $10 per month for hardware rental. Considering that this modem is powerful enough to last many years, it's an investment that will pay for itself.
It's also important to consider the replacement cost of your hardware. You could probably save 50% and get a much lower quality modem, but how long would it last you? If you pick up a modem that is only rated for your current internet speed, you'll need to replace it the moment you want to upgrade to a new package.
Final Thoughts – Is the ARRIS SURFboard SBG7580-AC Worth It?
In our opinion, the ARRIS SURFboard SBG7580-AC Cable Modem/Router Combo is an excellent value for anyone who wants to get the most of their internet connection. It's advanced enough that you'll be able to keep it for many years without having to upgrade. The fact that there is such a high quality router installed in the modem is just the icing on the cake. Usually the wireless routers found in modems are just an afterthought, and provide only the bare minimum service required to keep consumers happy. With it, the router is just as good as any mid to high level consumer router available on the market.
Another reason we love the SBG7580-AC is that it uses the DOCSIS 3.0 standard. Many modems use a modified version of DOCSIS and are only compatible with certain ISPs. The SURFboard, on the other hand, is theoretically compatible with every cable ISP in the United States. If you aren't sure, give your cable provider a call. As long as they use DOCSIS, there is no reason that this modem won't work.
Is this modem a great purchase for everyone? Not necessarily. In many parts of the country, 50 Mbps is still considered an extremely fast internet connection. Unless you have a connection that exceeds 200 Mbps, this modem is probably a waste of money. It would be a bit like installing a Ferrari engine in your Ford Focus. But for anyone who wants a long lasting investment and a router that will support lightening quick internet speeds, we can't recommend the ARRIS SURFboard SBG7580-AC enough!