4K televisions are all the rage these days, but the largest problem facing early adopters is that there is simply not very much 4k content available. Now that 4K Blu-Ray movies and players are hitting the market, consumers finally have some Ultra HD content they can enjoy at home.
Until quite recently, the Samsung UBD-K9800 was really the only Ultra HD Blu-ray player on the market. Finally, the Microsoft Xbox One S gaming console and Philips' BDP7501 have come out with their own, diversifying the choices available to consumers. If you're not much of a gamer, the Philips BDP7501 just may be the most affordable way to enjoy Ultra HD content. Let's take a look at see how it stacks up against the competition.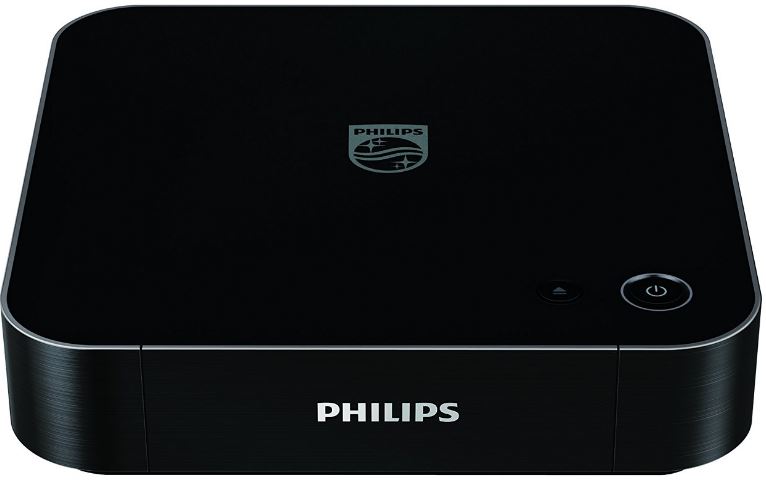 Connectivity
Let's start with the basics. The Phillips BDP7501 comes with all the input and output options you'd expect from a Blu-Ray player of this caliber. As is required for Ultra HD content, HDMI 2.0a with HDCP 2.2 copy protection is used. Other players are capable up upscaling content to 4K televisions, but if they don't have the HDCP 2.2 copy protection they won't be able to play new releases.
If you pair the BDP97501 with an audio processor that doesn't support these new standards, it also comes with one HDMI 1.4b for discrete audio output to legacy AVRs. There is also a USB you can use to access locally stored media, and an Ethernet port for internet access. For wireless internet, it combines wireless LAN 801.11ac with MIMO antennas for high bandwidth throughput.
Design
Phillips went much more compact than Samsung with the design of the BDP7501. It much more closely resembles an Apple TV or Roku than a Blu-ray or DVD player.
The BDP7501 is square in shape, only 2.25 inches tall and 8.75 inches wide. Considering how powerful this player is, it's compact size is a little surprising. It's a sleek, all-black, discreet looking unit with a brushed aluminum finish on the sides and a matte black rubbery top that has a soft feeling to it.
There is nothing particularly flashy about its exterior. It has a straightforward layout, the only buttons being the power button and eject button which are located on the top. To insert a disc, the front panel opens, exposing a disc tray that easily slides out. It's everything you'd expect to see in your average DVD or Blu-ray player, but compact and unassuming enough to fit into any home theater set up.
Remote
The remote is always such an important component of any DVD or Blu-ray player. A bad remote can interfere with the whole experience, from functionality down to ease of use, so we were especially analytical of the BDP7501's remote control.

It's large in size, which we always prefer over unnecessarily compact remotes that try to cram everything into a cramped space. The size means the buttons are nicely spread out and easy to use, and you don't accidently click multiple buttons simultaneously all the time.
There is no backlighting on the remote which makes it harder to see in the dark. However, the large size of the remote makes it easy to operate it in the dark without having to look at it.
The material on the top of the remote matches the soft, matte plastic on the Blu-ray player which is a nice tactile feature. The power and home buttons are right at the top and easy to see, something that a surprising number of remotes fail to value.
There are also buttons specifically dedicated to each YouTube and Netflix, making it extremely easy to navigate those functions on your TV. It's a very straightforward remote with no frills, and all of the buttons appear to have a single, obvious function. All in all, it's the kind of remote we wish all DVD and Blu-ray players had.
Setup
For many people, setting up a new unit is a nightmare. Sometimes we kind of expect our equipment to do things for us, only to begrudgingly spend an hour trying to figure out how to make everything work. The setup is extremely important, however, because choosing the right setting can be the difference between enjoying your player to its full advantage, and thinking it doesn't work at all.

Not surprisingly, a good setup process that is both comprehensive and easy is highly valued. In this regard, the BDP7501 did quite well. The first power up takes around 20 seconds, then you're run through the basics: selecting a language, checking the connection with your TV to find the proper resolution and subsampling rate, setting up Quick Start (on or off), and setting up your network connection. It's handy that you can opt for a wireless connection, but you will probably get a more stable, higher quality connection from the BDP7501 if you chose wired.
Feature Set
The Phillips BDP7501 has a ton of great features. Starting with its primary selling point, the 4K Ultra HD video quality allows you to watch movies in crystal clear Ultra HD. But this isn't restricted to Blu-ray movies, you can also access the 4K versions of Netflix and YouTube. No longer do you need to connect a computer to access this content, you can stream the 4K Ultra HD video right from the BDP7501.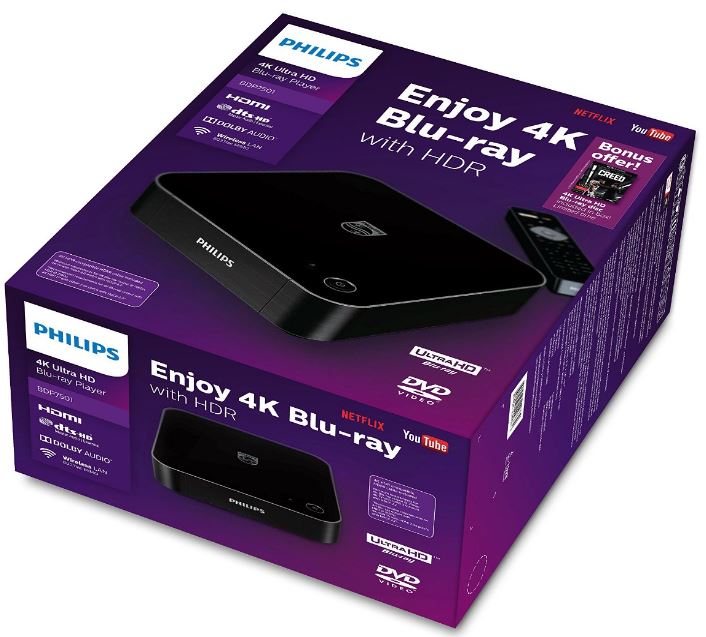 One of the frequent frustrations of Blu-ray players is the fact that many are limited to playing only physical copies of content. Fewer and fewer people use DVDs, and almost everyone uses a streaming service as their primary go to for movies and TV. The Phillips BDP7501 allows you to enjoy 4K Ultra HD video quality regardless of whether you are streaming or have a 4K quality disc.
Outside of 4k, it supports playback of an impressive range of discs including Blu-ray, 3D Blu-ray, DVD and CD. However, it does not support playback for SACD or DVD-Audio discs. That being said, it also has DLNA multimedia playback and USB multimedia playback, so you can stream high quality audio files from your computer.
It has internal Dolby TrueHD and DTS-HD Master Audio decoding, and you can pass bitstream audio output to send Dolby Atmos and DTS:X soundtracks to your AV receiver. These formats are increasingly popular in high quality physical media, and an essential for any high grade media player.
Video Quality
The visual definition of the Phillips BDP7501 is obviously one of its greatest qualities. The 4K Ultra HD offers you the best definition available, which you can experience first-hand with the bonus 4K Creed DVD they've included.
There is more to the Phillips BDP7501 than that, however. It also boasts an HDR10, which gives the visual quality greater luminosity and color representation than standard photography or digital imaging.
The Phillips BDP7501 can pass up to 12-bit color and the BT.2020 color space. You can also choose from a range of resolution options depending on the quality of the video source. The BDP7501 can do Auto, 4K, 1080p, 1008i and 480p. Having these options is great for lower-quality movies like DVDs so the movies can still look their best.
For those who have an older UHD TV that doesn't support 4K/60p output, you have the option of turning that output off to make the player compatible with your TV. You can even enable and disable Deep Color and the HDR in the HDMI settings. If you have an old UHD TV, The Phillips BDP7501 forces you to set it properly the first time during the initial setup, which is actually wise and saves a lot of headache down the road.
Audio
The Phillips BDP7501 has great audio specs, with internal Dolby TrueHD and DTS-HD Master Audio. With this kind of decoding, you can send the signal directly to your receiver and take advantage of any advanced DACs you might have. Even if you're using the onboard DAC, the player is still capable of producing extremely high quality sound that is perfectly suited for use even with high end audio setups.
Final Thoughts
If you're looking for an Ultra HD compatable Blu-Ray player, the Philips BDP7501 is one of the best on the market. It's a lot more than just a simple Blu-Ray player, allowing you to access content from Netflix and YouTube. This makes it the singular device that will upgrade your home media center with 4k content.
If you're a gamer and don't already own a console, you might want to consider the Xbox One S. But if you're a PlayStation gamer or already own an Xbox console, you'll save a pile of money by simply adding this Blu-Ray player to your media center instead of replacing perfectly good components. If you have a 4K television and don't yet have access to a media player, the Philips BDP7501 is a must have to help you take advantage of the features that your TV offers.