When it comes to your wireless network, investing in a high quality, top-performing router from a reputable brand is essential if you want the fastest speeds, best coverage, and most security. Asus has been a leader in the networking industry and they've proven it yet again with their latest release, the RT-AC5300 Gaming Router. It's new to the market and packed with some fantastic features that boost speeds, improve security, and improve the overall access and experience of your network. Ideal for gaming, it's equipped with the most advanced technologies to make your experience latency-free for multiple devices at once.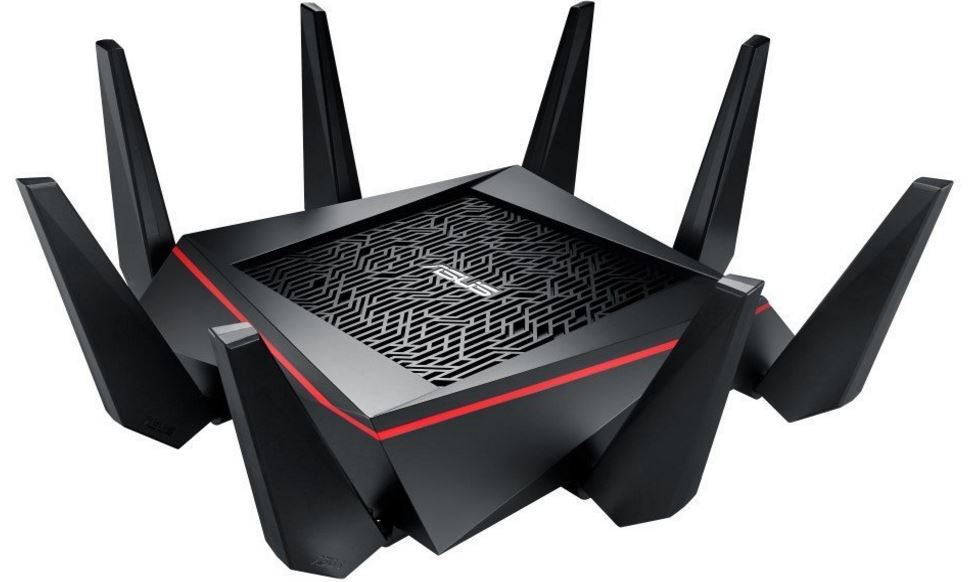 Speed and Hardware
Since the Asus RT-AC5300 Tri-Band Wireless Gaming Router utilizes the latest 4×4 802.11ac MU-MIMO technology, it's ready for a combined data rate of 5334 Mbps to offer plenty of insane speeds to every device connected to your network. Equipped with a 1.4 GHz dual core processor and 512 MB of RAM, it won't have any issues with efficiency or transfer speeds.
Asus designed the RT-AC5300 to outperform anything that's currently on the market, making it a top choice for 2016. Thanks to NitroQAM Technology, users will experience a seamless experience without any buffering. Whether you're streaming your favorite movies or playing your favorite game on the highest settings, the combined transfer speeds of 5334 Mbps offers a 67% faster improvement over the previous generation tri-band. Additionally, it's also built with an internal game accelerator that automatically optimizes the wireless signal to lower the ping time by 30 to 60% and make way for minimal packet loss with 70 to 90% efficiency. This technology will optimize the route in which your signal is received and make sure that there's always a proper connection without having to deal with poor signals or dropped connections.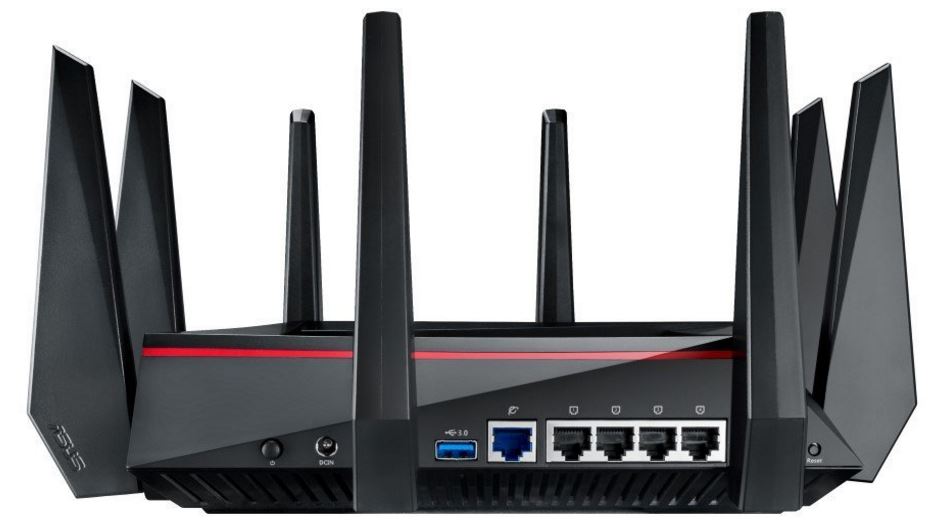 Cross-Platform
Nowadays, most networks are made up of multiple connected devices that are often based on different operating system and/or platforms. The Asus RT-AC5300 Tri-Band Wireless Gaming Router was built with cross-platform compatibility so every feature will work equally well whether you're on Windows, Mac, Linux, or your favorite Game Console. Even smartphones and tablets are able to benefit from all of the exciting features that the RT-AC5300 has in store.
Adaptive QoS
You can tell that Asus made this router with hardcore gamers in mind. With Adaptive QoS, you'll get an extra boost in your gaming bandwidth so that you can prioritize certain packets over others. With it, you can turn on "Solo Mode" which will give full dedication to the game at play. This makes the perfect solution for gaming in areas of your home where the signal is far from the router and your game is the top priority.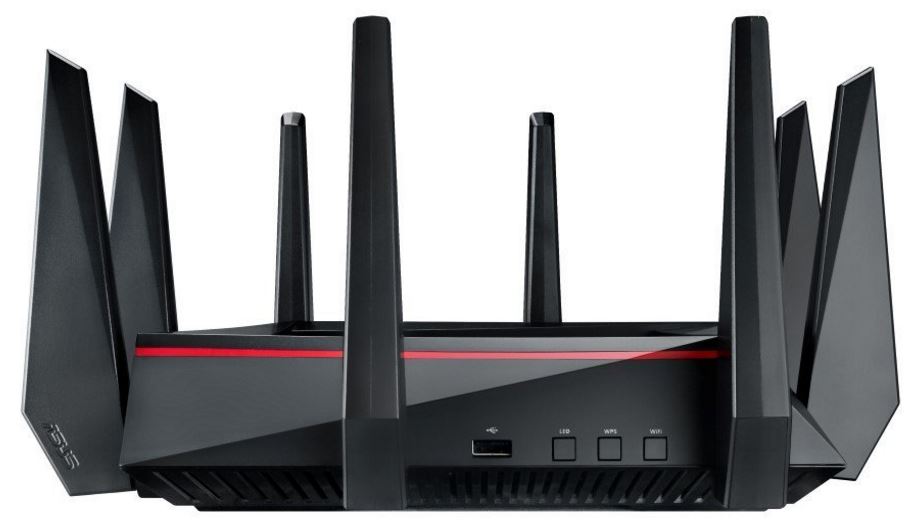 Security
Thanks to AiProtection powered by Trend Micro, you're always safe from threats that would normally leave your devices vulnerable to hackers and infections. It combines a multiple array of features that includes parental controls, malicious website blocking, and automatic vulnerability detection. It's enterprise-level security that comes standard and built in right out of the box. Additionally, the parental controls give you access to monitor and restrict internet use for any user that's using the network. This way, your children's devices can be easily configured to automatically block adult websites or content that you never want them to come into contact with. It also filters out certain restricted apps that have no business being installed by your children. And best of all, you can setup intuitive time scheduling to configure time restrictions for certain devices.
Link Aggregation
Asus added a really cool feature that can significantly upgrade data transfer speeds called "Link Aggregation". With it, you can use two Gigabit Ethernet cables (one in each port) to connect to any network attached storage device that has this feature unlocked. It gives you faster transmission speeds that are no less than 1 Gigabit and no more than 2 Gigabits. This significant speed upgrade isn't available on all network attached storage devices, but if it's available on yours, this is a great thing to take advantage of.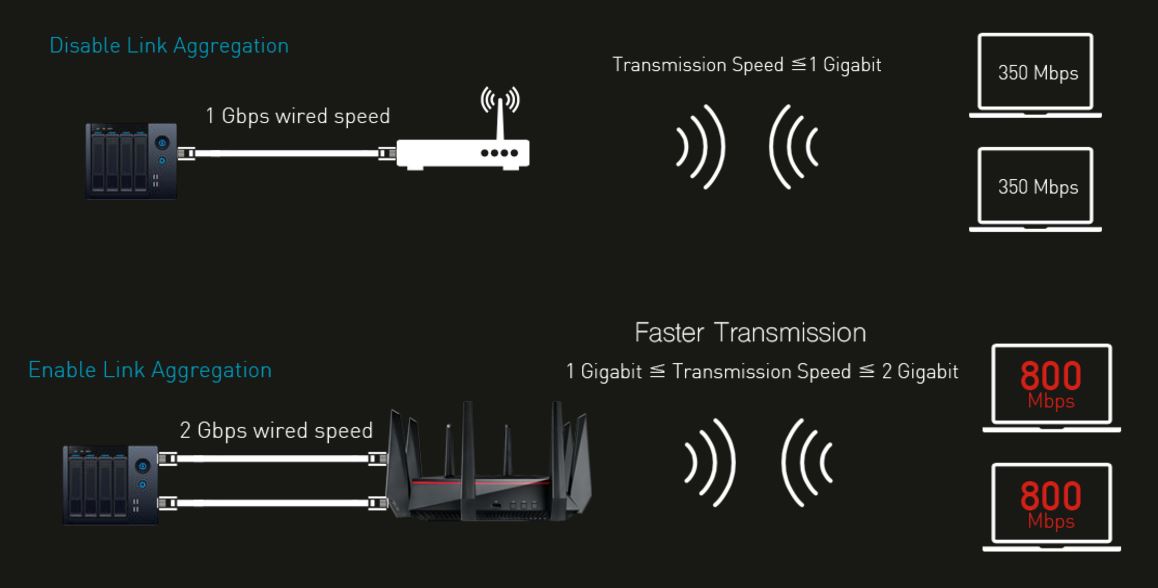 Coverage
The wireless coverage is absolutely fantastic thanks to eight massive antennas that are setup to improve the signal range and stability. Four antennas are dedicated to receive, and the four other are dedicated to transmit. These antennas are large and quite obvious, but give the router a godlike appearance that's ready to impress. Additionally, there's a technology called "AiRadar" that "beam forms" your WiFi signal so it can handle large obstructions that may be between your device/computer and your router. Overall, it makes for a clearer, stronger, and more reliable signal in all areas of your home or office.
ASUSWRT Software
Asus equipped the RT-AC5300 with their own "ASUSWRT" software interface that gives you the in-depth controls of your network right at your fingertips. This makes the initial setup process a breeze by offering a dashboard interface of all the configurations you're able to work with. From a basic network map to advanced LAN, WAN, IPv6, AiProtection settings and more, you're given total control over how your network is configured.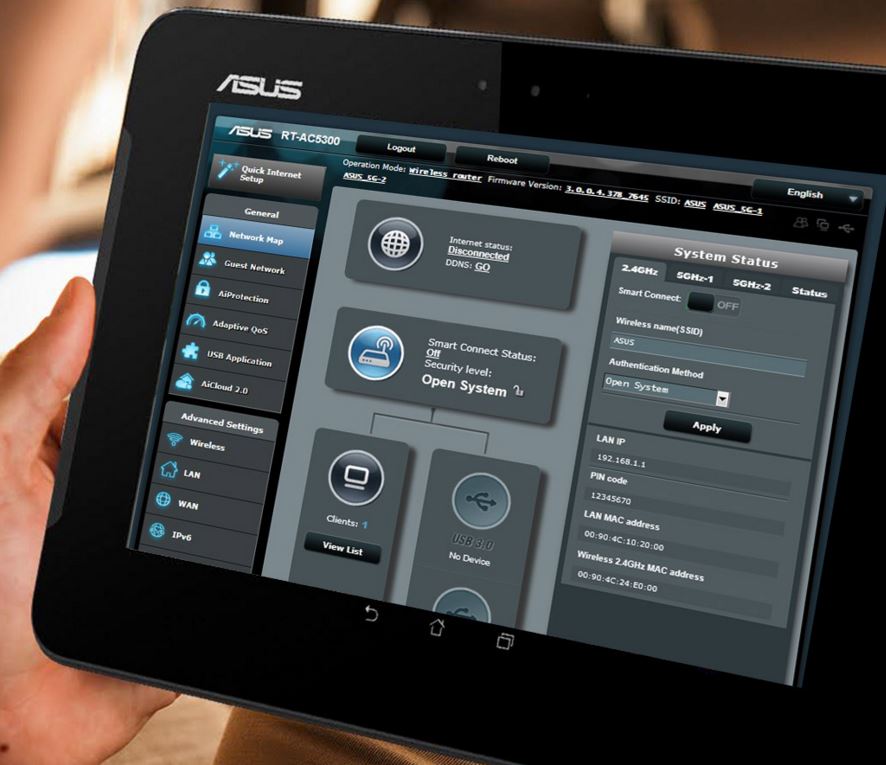 Sharing Center
The RT-AC5300 makes it easy to share and connect all sorts of peripherals to enable things like file sharing, printer sharing, 3G/4G sharing, and backups. Since there's a USB 3.0 and a USB 2.0 port, just about any device has the ability to directly connect onto your network for devices on your network to use. The most common use for these USB ports are printers and hard drives. Since both a hard drive and a printer can be connected via USB simultaneously, it can add a significant upgrade to your overall home or office network layout.
What's Included?
There are a few additional accessories that come included in the box when you purchase it. The quick start guide will give you a brief run-down of what needs to be done to get the router up and running for the first time. There's a support CD that includes the user manual and utility application for manual configurations and setup. Also, an RJ-45 network cable, power adapter, and the external detachable antennas are all included. One last key piece is included and that's the warranty card. Asus covers their product with a generous 2 year warranty period and offers 24/7 technical support in case you have any trouble setting it up for the first time.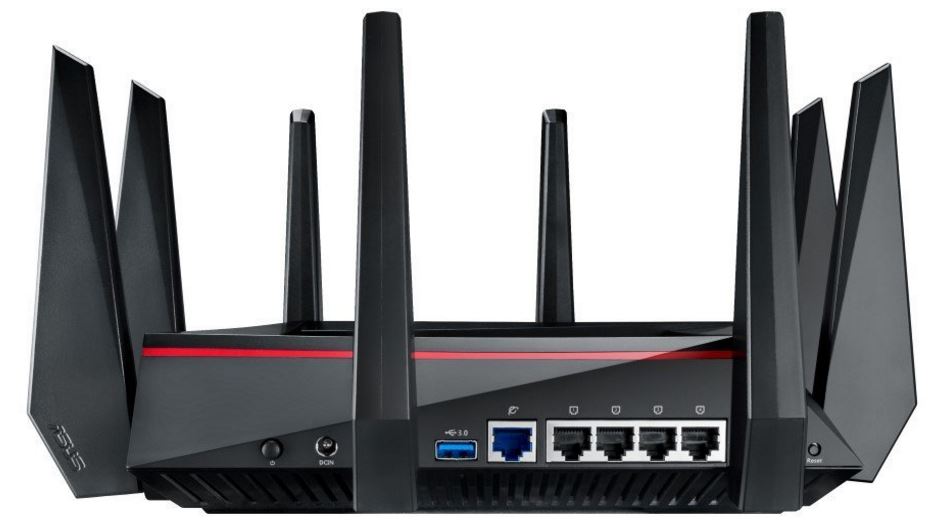 Overall Thoughts
The Asus RT-AC5300 Tri-Band Wireless Gaming Router has a lot going for it. With incredibly fast speeds, fantastic security, and a wide range of useful features, you can add a significant upgrade to your home or office network by investing in this router. It's no secret that it's quite expensive, but there are plenty of ways to justify the somewhat steep price tag. As a top pick for 2016 and one of the fastest and most incredible gaming routers we've ever laid eyes on, we highly recommend it to anyone that requires the fastest network speeds.