Overall Design -

9/10

User Control -

9/10

Connectivity -

9.5/10

Versatility -

9/10
Summary
The ATEZR V35 Plus is not just any laser engraver. This is a true masterstroke in engineering. It brings reliability, precision, and power, setting a new benchmark for what to expect in the engraving world. If you're seeking a machine that elevates your engraving game, your search ends here.
Pros
Stellar speed and accuracy
Exceptional material versatility
Comprehensive connectivity options
User-friendly setup and safety
Cons
Slightly steep learning curve
It's pricey
In the modern age, where customization isn't just a desire but almost a demand, the ATEZR V35 Plus 160W Laser Engraver comes into its own. Far from being a run-of-the-mill addition to the engraving landscape, this device breaks fresh ground as the world's first 35W laser engraver.
Whether you're a seasoned pro or just venturing into the captivating world of laser engraving, our review promises a comprehensive rundown. Join us as we dissect its features, performance, and whether it can add value to your engraving projects.
What's Included? The Total Package
Before we closely examine this technological marvel, let's perform a quick inventory audit to see what we're working with. The box arrives replete with:
ATEZR V35 35W Laser Engraver Kit
ATEZR KR PRO rotary chuck
Laser rotary roller set
ATEZR KA Air Assist
Rubber tube
Safety goggles
3x acrylic sheets
USB card and card reader
3x wood chips
Manuals
More than just throwing you a device and wishing you the best of luck, this package comes meticulously curated to ensure you have everything – yes, everything – you need to hit the ground running. The only thing you need to provide is a surface to engrave.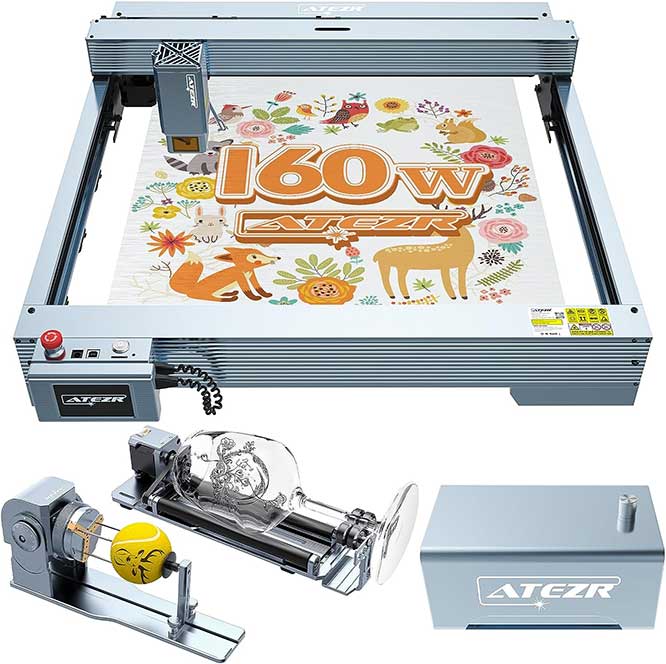 First Impressions
The first encounter with this unit is something else. Crafted from all-aluminum alloy, it exudes a unique blend of durability and style. With dimensions of 25.35 x 26.77 x 6.61 inches and a weight of 19.32 pounds, this engraver finds a middle ground between portability and substance. In other words, it offers enough size to handle ambitious projects but won't require you to rent out your garage. A perfect fit for both hobbyists and dedicated professionals.
Laser Power
The era of wimpy lasers is officially behind us. The ATEZR V35 Plus comes thundering onto the scene with a robust 160W machine power, complemented by a laser output oscillating between 34-36W. Forget amateur hour; you've got a front-row seat to the laser engraving equivalent of a Broadway show.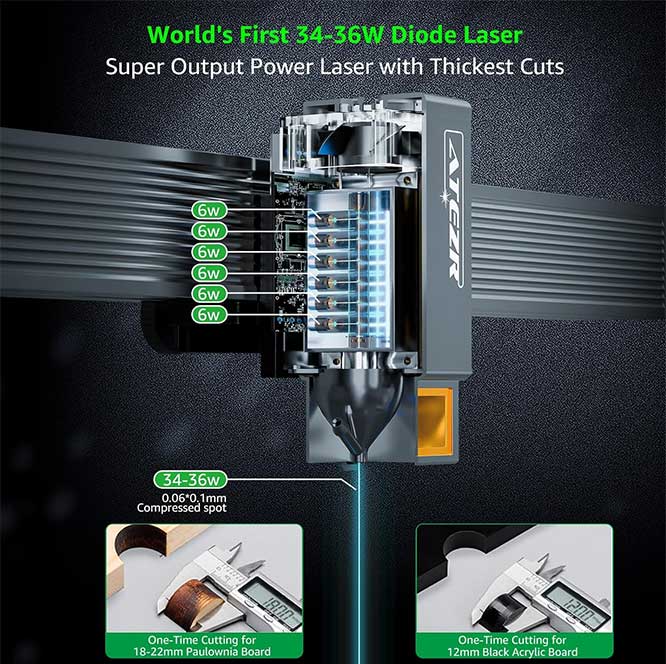 And the versatility it offers is nothing to scoff at either. In addition to cutting through 18mm of paulownia wood, it also cleanly slices 12mm black acrylic – both in one pass. Not only does this cut down your project times, but it also serves as your official invitation to explore a diverse portfolio of materials. Imagine all the new projects that just became feasible.
Spot-on Accuracy
You've heard it right, "accuracy" isn't some marketing ploy or empty promise – it's the headline feature. And when you're in the realm of customized engraving, let's face it, precision is king. The spot coupling technology isn't just a fancy term; it's the very reason you can now achieve minuscule laser compression spots as tiny as 0.06 x 0.1 mm.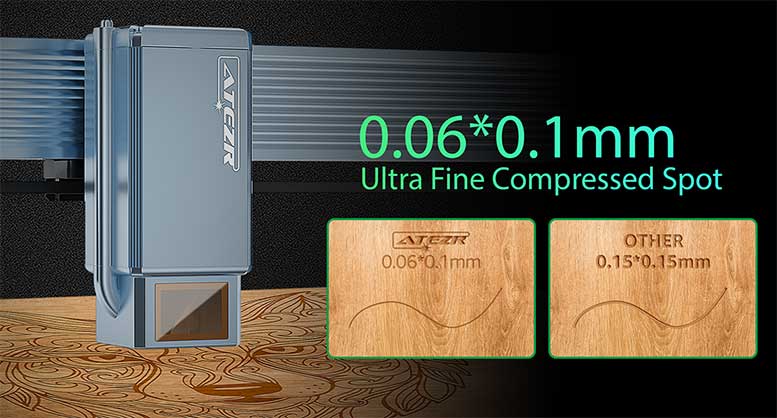 So, what does that mean for the average user? No more exasperating smudges, scorch marks, or blurred lines ruining your masterpiece. Instead, what you have is a clean, professional, and yes, accurate rendering of your envisioned design. It's the kind of finesse that even a jeweler would envy.
Unbeatable Speed
Welcome to the future with the ATEZR V35 Plus and its eye-watering movement speed of 24,800mm/min. This machine genuinely moves at a pace that makes many other competitors look feeble. In numbers that actually mean something to you: that arduous 10-hour project you've been dreading? Done in just 4 hours.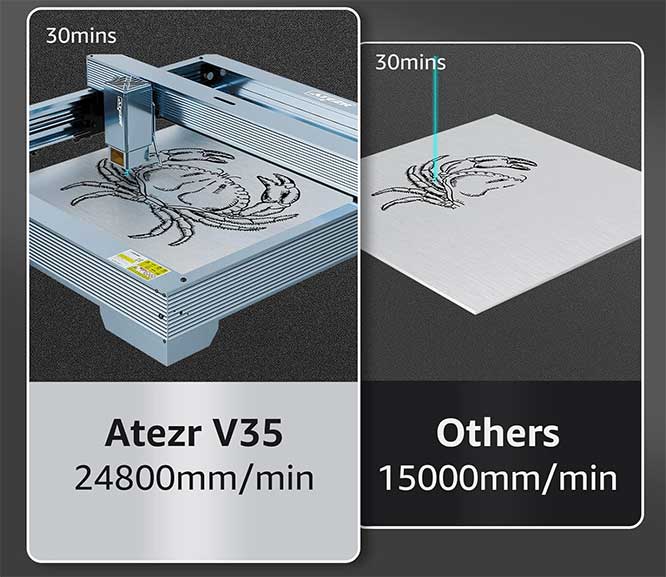 Whether you're charging by the hour or trying to hit a tight deadline, this speed demon turns the impossible into the doable. The benefits here span far and wide. Whether you're a hobbyist or a small business owner who relies on engraving, you can likely already envision the savings this thing will afford you.
Wide Range of Applications
Yes, versatility is the name of the game here. This isn't a one-trick pony; it's more like an entire circus of capabilities. Sporting a beefy 160W of machine power and a laser output that dances between 30W to 36W, this machine doesn't just talk the talk; it etches the etch. Here's a quick peek at the results we go testing various materials:
Wood: To gauge its mettle, we began with 22mm paulownia board. For the uninitiated, this is a softwood that's commonly used for lightweight furniture. This wood often has the frustrating tendency to scorch or burn with less capable engravers. With the ATEZR V35 Plus, not only did it cut through like a hot knife through butter, but it also managed to do so without leaving any unsightly burn marks. Quite the impressive feat and a testament to the machine's precision.
Acrylic: Next, we tackled 12mm black acrylic, a material notorious for melting or warping if the laser isn't finely tuned. The result? The machine made a clean, clear cut and perfectly divided. We were amazed at the glass-like finish of the cut edges. And that's a big deal in itself. Lesser machines leave dangerously sharp and jagged edges post-cut. But not here. It's really remarkable just how perfect these cuts are. But acrylic is still rather soft compared to metal. So let's see how it handled stainless steel in our testing.
Metal: Last up, we were curious to see how it handled a 0.1 mm stainless steel sheet. Admittedly, we were skeptical. Yet, it left us quite impressed in the end. Not only did it cut through the stainless steel, but it did so with expert precision. Thus, you can expand your creativity to surfaces that perhaps were not possible on your older laser engraver. If you've never owned one, the V35 is a great place to get your foot in the door.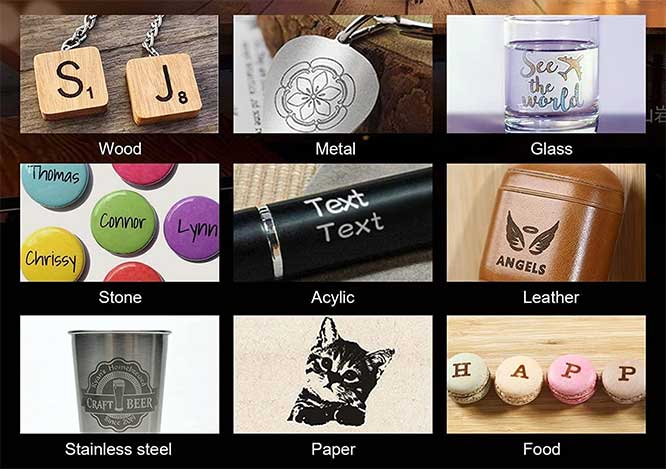 Breaking Down the Numbers
You've read the accolades, but let's translate that into real-world metrics. Compared to a standard 20W laser engraver, the cutting speed and depth outperform its competition by a staggering 50% and 25%, respectively. You're not just doing more; you're doing it faster and better.
Whether you're a weekend warrior of engraving, a professional production house, or somewhere in between, the ATEZR V35 Plus has the adaptability and the raw power to tackle whatever you throw its way. It's not just breaking the mold; it's reshaping the entire landscape of what a laser engraver can do.
Easy to Use and Designed for Safety
Intimidation factor? It's practically non-existent here, and that bodes well for newcomers who might be afraid to start out with such a robust machine. This high-power, versatile laser engraver is certainly a complex piece of tech, but that doesn't mean it's overly complicated to set up. Sound too good to be true?
A Smooth Assembly Experience
We've all been there – excitedly unboxing a new gadget only to find a novel-sized instruction manual and a labyrinth of parts. That's not the story here. Our team clocked the full assembly at 18 minutes flat. The step-by-step guide is straightforward, eliminating the usual techno-babble and providing clear visual cues. Even if you've never seen a laser engraver up close, you'll find the setup process remarkably pain-free.
A Frame that Lasts, a Module that Adapts
Of course, life happens, and sometimes a laser module needs replacing. Most engravers would require an entire teardown. Not this one. It has a modular design, meaning you can replace the laser without disassembling the entire unit. The frame remains as sturdy as ever, so you're back to engraving in no time.
Safety
Let's talk safety – a subject that's often treated with minimal enthusiasm. But with this machine, safety is top priority. The laser module's protective glass isn't just some marketing gimmick; it filters out an astounding 98% of harmful UV rays. In layman's terms, you can actually supervise the laser in action without worrying about your eyes turning into mush. And because you can keep an eye on the machine while it's working its magic, you have the opportunity for real-time adjustments.
That means more accurate designs and less material waste. It's a win-win that keeps both your projects and your eyeballs in top form. So, no, you don't need a degree or even a weekend course to operate this beauty. All you need is an imagination and a modest slice of time, and the ATEZR V35 Plus takes care of the rest. It's as close to plug-and-play as laser engraving gets, with a safety net that gives you the confidence to work in peace.
Connectivity
From desktops to mobile devices, this machine ensures a hassle-free user experience. We ran an extensive testing phase to bring you this vital information. We started by connecting the engraver to a Windows 10 desktop running LaserGRBL. This free software is beginner-friendly and makes the process of data transfer via USB smooth.
On the other end of the spectrum, we tested a MacBook running LightBurn. Though the software comes with a price tag, the performance justifies the cost. In both instances, it executed commands flawlessly. For those accustomed to orchestrating life through a smartphone, ATEZR has you covered. We installed the AtezrLaser app – available on both Android and iOS – and sent designs directly to the engraver. The app is intuitive and performed impeccably during our tests.
All File Types Welcome
File format limitations? Not here. During our tests, we found it capable of handling multiple file types – NC, BMP, JPG, PNG, and DXF. This versatility allows you to work with your preferred software and be confident that the engraver will process your design accurately. And should you find yourself in a location without immediate access to a data connection, the TF card slot provides an alternative. Our team tested this by transferring designs to the engraver without any cables, and it worked seamlessly.
At the end of the day, ATEZR gives you a multitude of connectivity options that cater to every type of user. Whether you're on a Windows or Mac system, prefer free or paid software, or even if you like to work from your smartphone, this machine accommodates you well.
Final Verdict
The ATEZR V35 Plus is not just any laser engraver. This is a true masterstroke in engineering. It brings reliability, precision, and power, setting a new benchmark for what to expect in the engraving world. If you're seeking a machine that elevates your engraving game, your search ends here.
Meet Derek, "TechGuru," a 34-year-old technology enthusiast with a deep passion for tech innovations. With extensive experience, he specializes in gaming hardware and software, and has expertise in gadgets, custom PCs, and audio.
Besides writing about tech and reviewing new products, Derek enjoys traveling, hiking, and photography. Committed to keeping up with the latest industry trends, he aims to guide readers in making informed tech decisions.