In today's fast-paced world, staying connected is essential, even when we venture beyond the comfort of our homes. Whether you're hosting an outdoor event, setting up a workspace in your garden, or simply enjoying a relaxing day on your patio, having access to reliable electricity outdoors is a game-changer. However, the great outdoors can be a challenging environment for electronic devices, making it crucial to protect them from surges, rain, and other environmental hazards.
That's where outdoor power strips, also known as surge protectors, come into play. These versatile devices are designed to provide you with the power you need while safeguarding your valuable electronics from the unpredictable elements. From rain-soaked barbecues to impromptu backyard movie nights, outdoor power strips have become an indispensable tool for modern outdoor living.
Quick-view of the Top 5 Picks: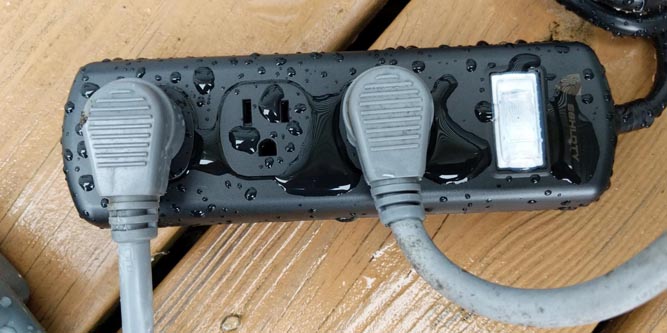 Top Reasons to use an Outdoor Power Strip:
Convenience: Outdoor power strips provide accessible electricity in your garden, patio, yard, or any outdoor space. They eliminate the need for lengthy extension cords, ensuring that power is readily available in weather-prone areas.
Weather Resistance: They're specifically designed to withstand the elements, including rain, snow, and high humidity. Their weatherproof features ensure that your electronics stay protected even in adverse outdoor conditions.
Safety: They often come equipped with safety features like surge protection, which safeguards your valuable devices from voltage spikes and power surges, reducing the risk of damage or fire.
Versatility: With multiple outlets, outdoor power strips can power a variety of devices simultaneously. They're ideal for lighting, sound systems, power tools, outdoor appliances, and yard decorations.
Best Overall: EIGSO Outdoor Power Strip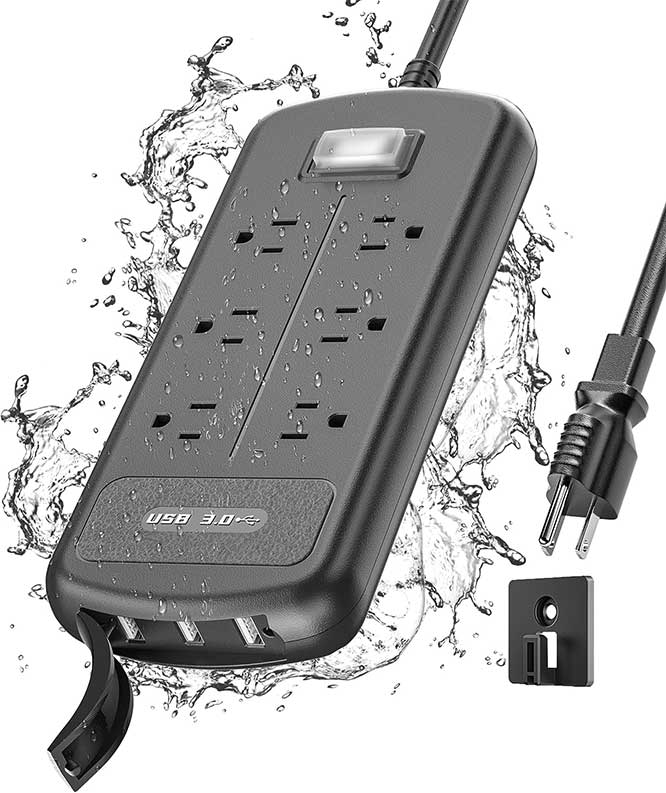 Key Features:
IPX6 water resistant.
6 grounded AC outlets rated up to 1875W/15A.
Unique patented design ensures water ingress does not damage it.
Equipped with 3 USB ports rated up to 5A/2.4A/12W.
As another popular choice, the EIGSO Outdoor Power Strip is a robust and feature-rich solution. Available in both 6ft and 10ft lengths and offered in black or white color options, it offers flexibility to cater to various scenarios.
It boasts six grounded AC outlets, providing a substantial power output of up to 1875W/15A. In addition, the inclusion of three USB 3.0 ports on one end, protected by a waterproof rubber flap, adds convenience for charging your USB devices without the need for adapters. While these are rated for 5A/2.4A/12W power output, it's suitable for charging/powering all sorts of devices.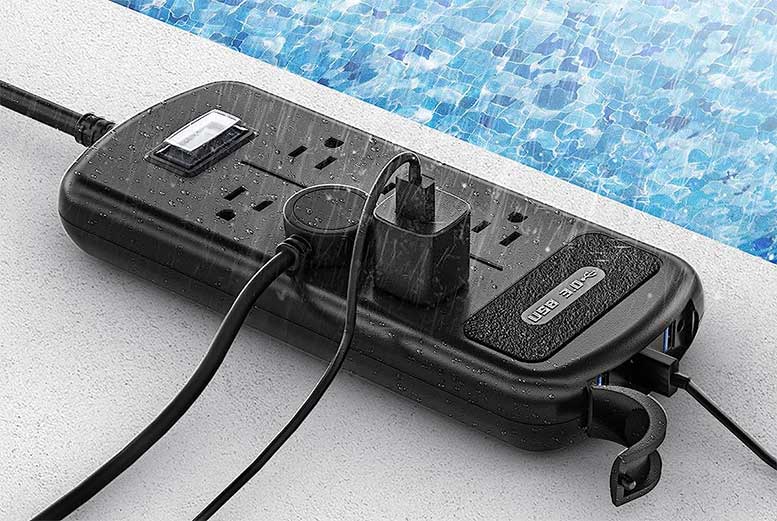 The EIGSO power strip holds an IPX6 waterproof rating, making it highly resilient against rain and splashing water. While it cannot be submerged, its unique patented design ensures that if water were to enter the sockets, it poses no threat to the protected inner circuit. Instead, water flows out through designated drainage holes on the back, preserving the safety and functionality of the power strip. That's pretty cool!
Safety is paramount with the EIGSO. It features six shockproof outlets, which offer protection in case foreign objects are accidentally inserted into any of the sockets. Moreover, the built-in circuit breaker is a crucial safety feature that automatically shuts off when overloaded, preventing overheating and potential fire hazards. Furthering this benefit, the casing is constructed from 1382°F heat-retardant ABS+PC material. The 16AWG heavy-duty swivel extension cord adds durability and flexibility for positioning the strip as needed.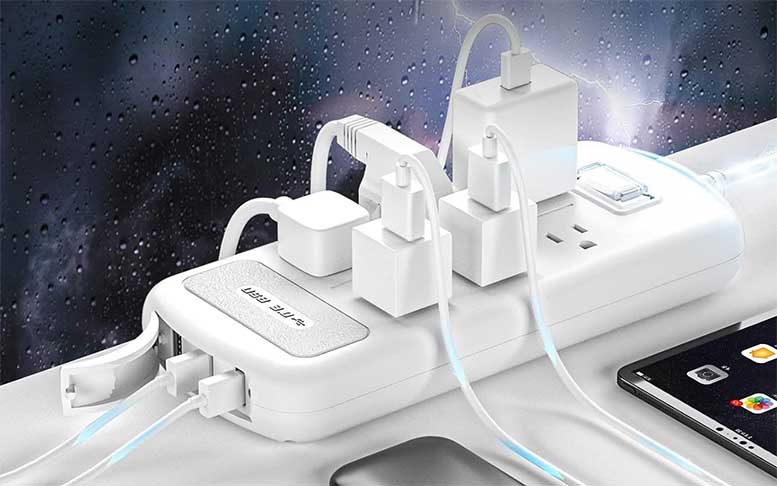 Furthermore, the EIGSO power strip includes a handy hanging bracket, allowing for easy installation either vertically via 3M sticky-back or with a screw. This adaptability ensures you can place it in the most convenient and accessible location for your outdoor activities. Although the dimensions come in at 9.06 inches long x 3.94 inches wide x 1.18 inches tall, it's suitable for nearly any space.
One potential drawback noted by some users is that the plugs can be very tight to plug in. While this ensures a secure connection, it may require a bit of effort when initially connecting devices. This is a fairly common complaint when it comes to outdoor power strips, but definitely worth noting.
Pros:
Comprised of heat-retardant materials.
Comes with a bracket that allows easy vertical hanging.
Extension cord swivels for easy manuevering.
Excellent build quality.
Cons:
Only available in two cord lengths; 6 or 10 feet.
Outlets are somewhat tight and hard to plug-in.
Best Runner-Up: CCCEI Outdoor Power Strip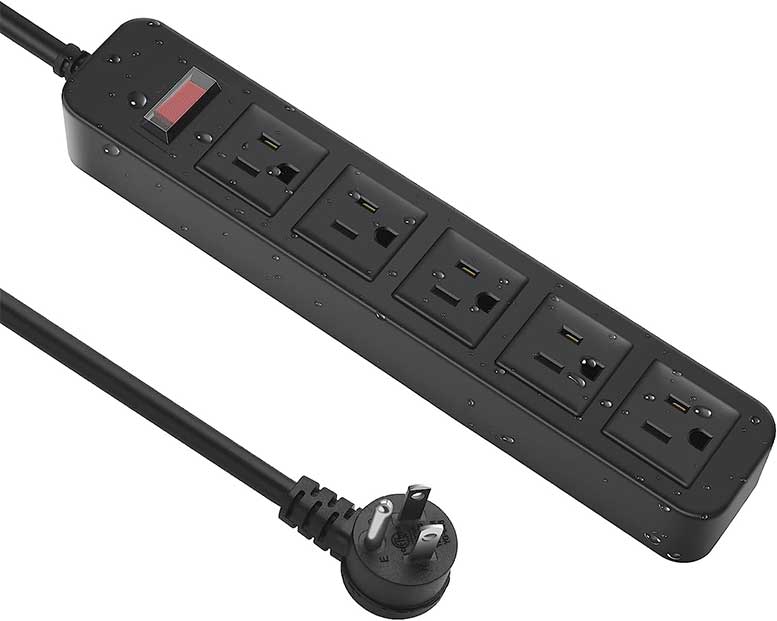 Key Features:
IPX4 Water resistance rating.
16AWG power cord.
1700J surge protection.
5 grounded outlets.
Available in many cord lengths.
The CCCEI Outdoor Power Strip is a well-made and dependable solution for all your outdoor power needs. Available in multiple lengths, including 6ft, 10ft, 15ft, and 25ft, this power strip offers flexibility in positioning your devices, ensuring they reach the power source conveniently. While it's only available in black, this color choice gives it a sleek and discreet appearance in any outdoor setting.
The CCCEI power strip is well-suited for high humidity environments, thanks to its IPX4 waterproof rating, providing essential splash resistance. This ensures the power strip can withstand exposure to rain and moisture, a crucial aspect of outdoor use.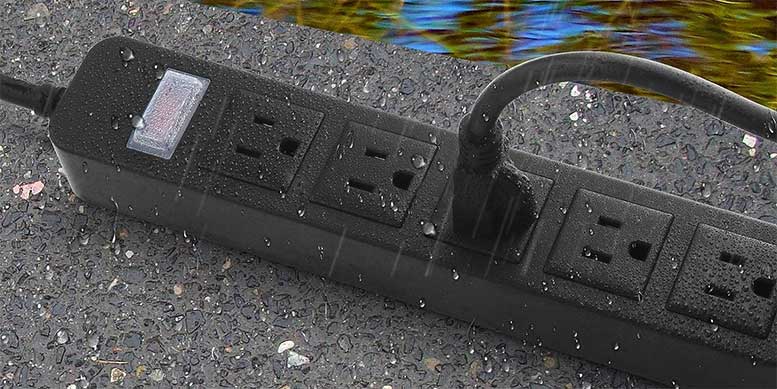 Safety is a top priority. It's ETL listed, assuring users that it meets rigorous safety standards to prevent electric shock and short circuits. The inclusion of a 16AWG heavy-duty power cord reinforces its durability and capability to handle multiple devices simultaneously.
With five outlets, this power strip provides ample connectivity for a range of outdoor devices, from garden lights and electric grills to power tools. It also offers substantial surge protection at 1700J, safeguarding your connected electronics from power surges and voltage spikes, prolonging the life of your valuable equipment. That said, its maximum AC output of 12A, 110-220V, and 1500W ensures compatibility with various devices, making it a great addition to your outdoor setup.
The main switch is enclosed in a rubberized shell, enhancing its durability and protecting it from outdoor elements. The tight-fitting plugs ensure a secure connection, but they may be a bit cumbersome for those who aren't able to push-in plugs with a lot of force.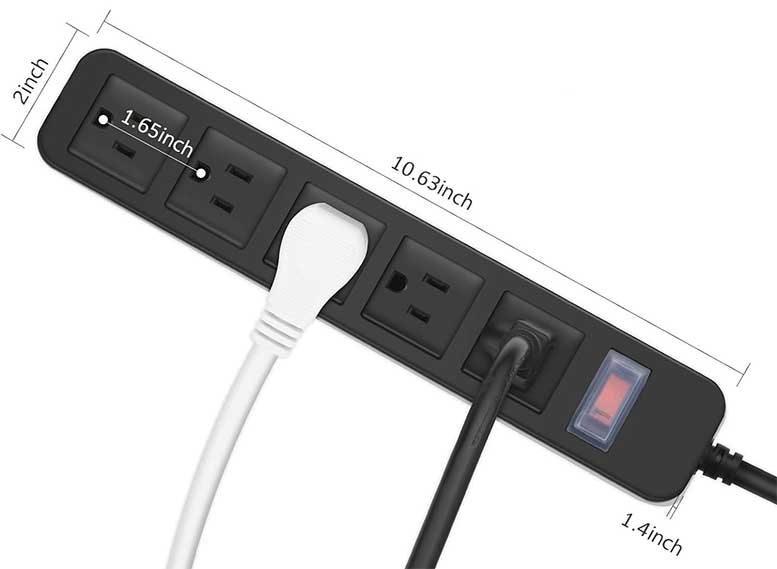 Measuring at 10.8 inches long, 1.9 inches wide, and 1.3 inches tall, the CCCEI Outdoor Power Strip boasts a compact and unobtrusive design. One of the standout features of this power strip is its flat plug with a low-profile. This allows for easy placement even in tight spaces, ensuring it doesn't obstruct pathways or create unsightly cable tangles. However, the plug is locked in a 45-degree sideways position against the plug plate, preventing you from fitting another plug of the same configuration in the adjacent outlet. This may be troublesome in certain scenarios.
Pros:
Excellent build quality.
Highly water resistant for permanent outdoor use.
Low profile plug for space-saving.
Comprised of ABS+PC Fireproof materials.
Cons:
Plug is locked in a 45-degree angle; may be difficult to plug-in certain outlets.
Only available in black.
Best In-Ground: DEWENWILS Outdoor Digital Power Stake Timer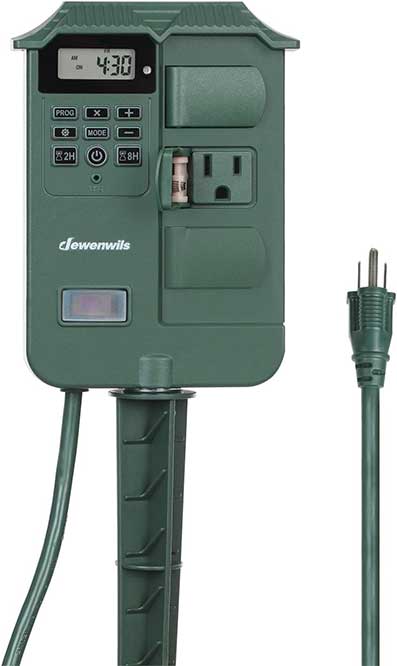 Key Features:
In-ground stake style design.
Total of 6 outlets, each covered by their own water-tight door.
Various timing programs allow for precise control.
Digital screen with physical control buttons.
Maximum power output of 13A/1625W
The DEWENWILS Outdoor Digital Power Stake Timer is another dependable outdoor power strip that has a timer built right into it. As an in-ground unit, it offers an array of features that make it an excellent choice for those seeking flexible placement and precise control over whatever is plugged into it.
With a total of six outlets, three on each side, this stake-style power strip timer provides ample connectivity. Each outlet is individually covered by a waterproof door, ensuring that it can be used safely in all weather conditions, whether it's rain, snow, or shine. While it doesn't have a specified IPX rating, it's specifically made for permanent use outside.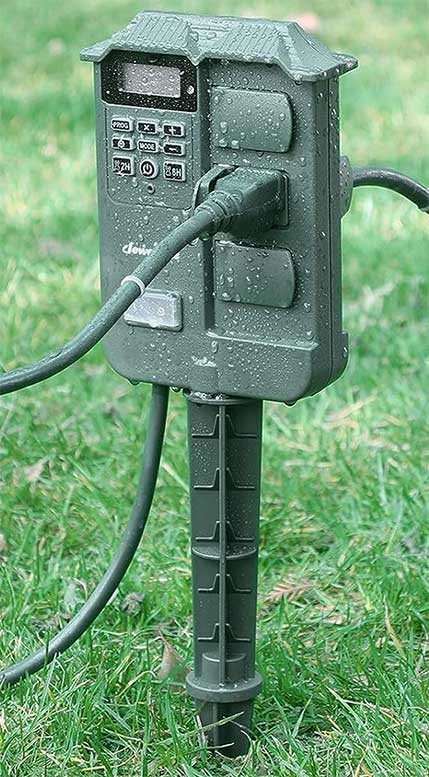 One of its standout features is the variety of programs it offers, including the ability to set specific on/off times, keep devices always on or off, implement a random mode for added security, and even utilize dusk to dawn settings for automatic operation. The 2/8-hour countdown and repeat weekly functions provide even more customization options.
Operating and programming is a breeze, thanks to its digital screen and user-friendly physical buttons. The built-in backup battery is a thoughtful addition, as it can remember all your settings for up to three months in case of a blackout. This eliminates the need for unnecessary and frustrating reprogramming.
Thankfully, it boasts UL certification with overload protection, ensuring that your devices are shielded from power surges and voltage spikes. In fact, it's constructed from fireproof PPE materials, enhancing its durability and safety.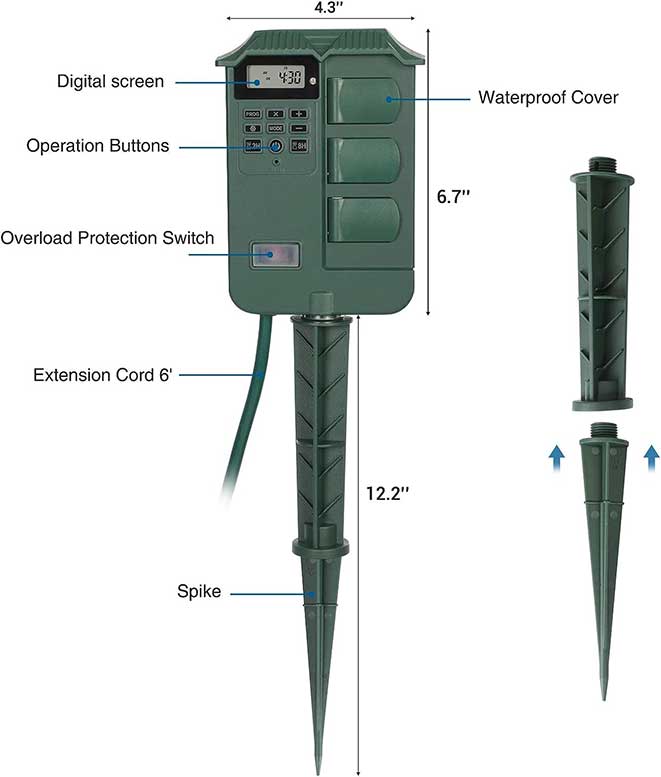 Measuring at 4.3 inches wide, 6.7 inches tall, with a 12.2-inch spike for easy ground placement, the DEWENWILS timer is designed to blend seamlessly into most outdoor areas. While it's only available in green, this color typically complements outdoor environments quite well.
Unfortunately, some users have noted that setting the timer can be a bit complicated. It may require a bit of patience during the initial setup. Nevertheless, once programmed, it provides reliable and convenient control; perfect for yard decorations or devices that may need specified on/off times.
Pros:
Offers access to outlets on both sides.
Easy to stake almost anywhere in your yard.
Constructed from fireproof materials.
Built-in battery backup for saving settings.
Cons:
No water resistance rating given.
Configuring the timer can be confusing at first.
Only available in one color scheme.
Most Compact: APS Outdoor Power Strip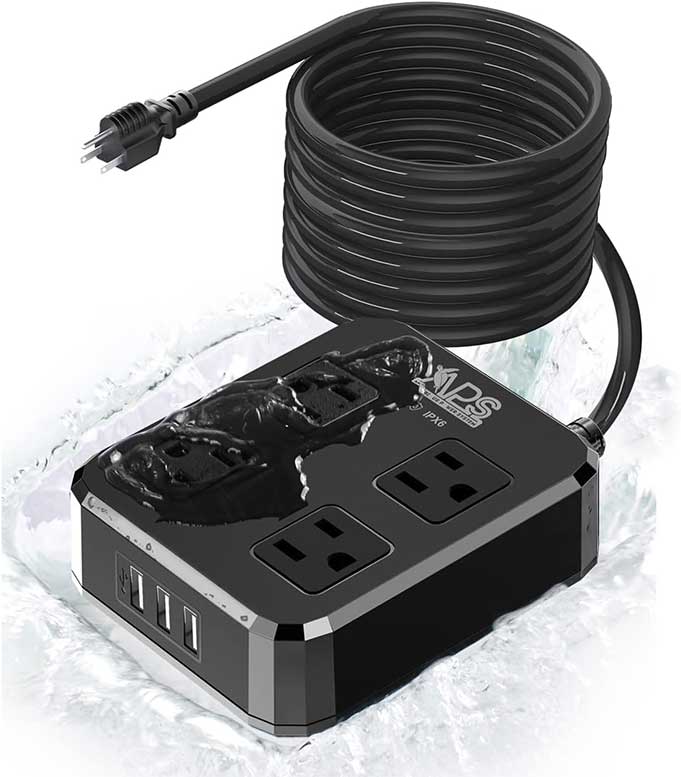 Key Features:
Smallest size compared to any other option.
IPX6 water resistance rating.
10-foot 16AWG extension cord.
Maximum outdoor power of 15A/1875W
Unique safety-lock mechanism.
The APS Outdoor Power Strip is a compact solution designed to meet a range of power needs while ensuring safety and resilience in outdoor environments. With a thoughtful combination of features, this power strip is a practical choice for those needing a small-sized unit.
It features a combination of four AC outlets and three USB charging ports. The generous spacing between the outlets allows for accommodating large AC adapters or chargers without overcrowding, making it a user-friendly choice for various devices. Its compact design, measuring a mere 4.0 x 4.6 inches wide and 1.2 inches thick, ensures it won't take up much space while providing ample power connectivity.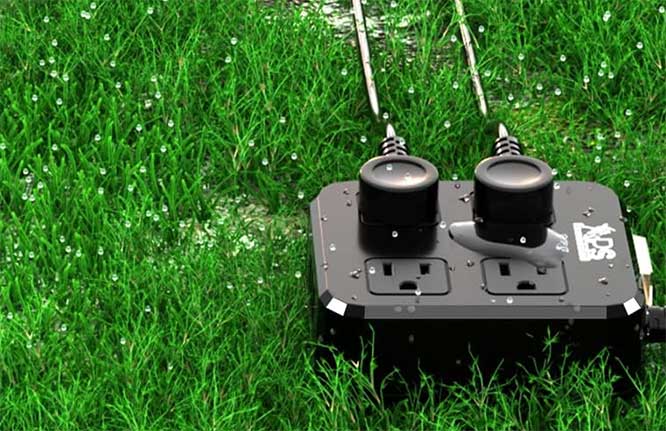 The APS Outdoor Power Strip is equipped with a 10-foot 16AWG extension cord, offering flexibility in placement and reach. With a maximum power output of 15A/1875W, it can handle the power demands of multiple devices simultaneously.
One of its most impressive features is its IPX6 rating, signifying its exceptional resistance against rain, water splashes, and even flowing water. Water that may enter the sockets is efficiently channeled out through drainage holes on the back, preserving the functionality of the power strip. This is a unique feature that you don't see on many other devices.
Safety was taken into high consideration while it was designed. The sockets are equipped with a safety lock mechanism that prevents them from being opened with a force below 75N unless both prongs of a standard US plug are present. This feature ensures protection against foreign objects, reducing the risk of electrocution and enhancing overall safety. In the event that something is stuck-in to any of the inputs, it won't give off a shock.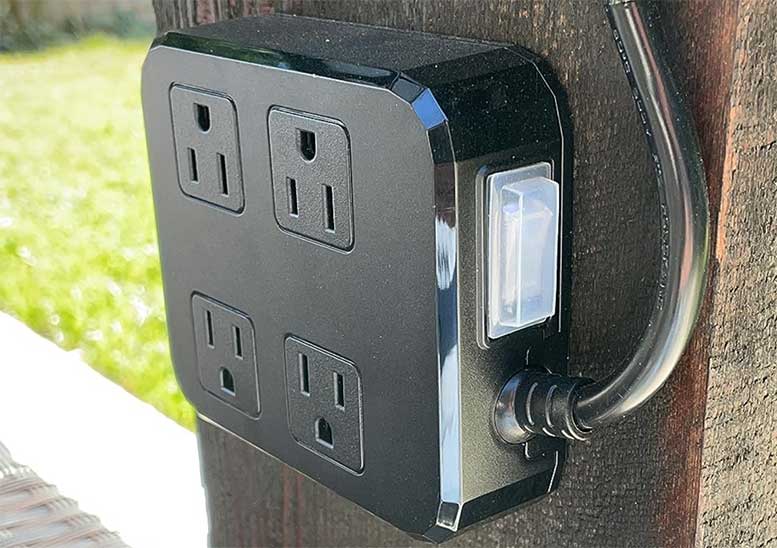 Like the others, installation with the APS is a breeze with built-in mounting holes. This allows the power strip to be easily hung on walls or other suitable surfaces. The construction is also noteworthy, as it's made from 1382°F heat-retardant ABS+PC material, adding an extra layer of durability and fire resistance. Best of all, the extension cord is designed to swivel and is reinforced with a crack-resistant junction, further enhancing its longevity and flexibility.
Pros:
Extremely portable, space-saving design.
Outlets are spaced far apart to accommodate large plugs and AC adapters.
Comprised of heat-retardant material.
Extension cord swivels for added maneuverability.
Available in either black or white colorways.
Cons:
USB ports are uncovered.
Does not offer as many outlets as other options.
Best Alternative: Hrensaw Outdoor Electrical Box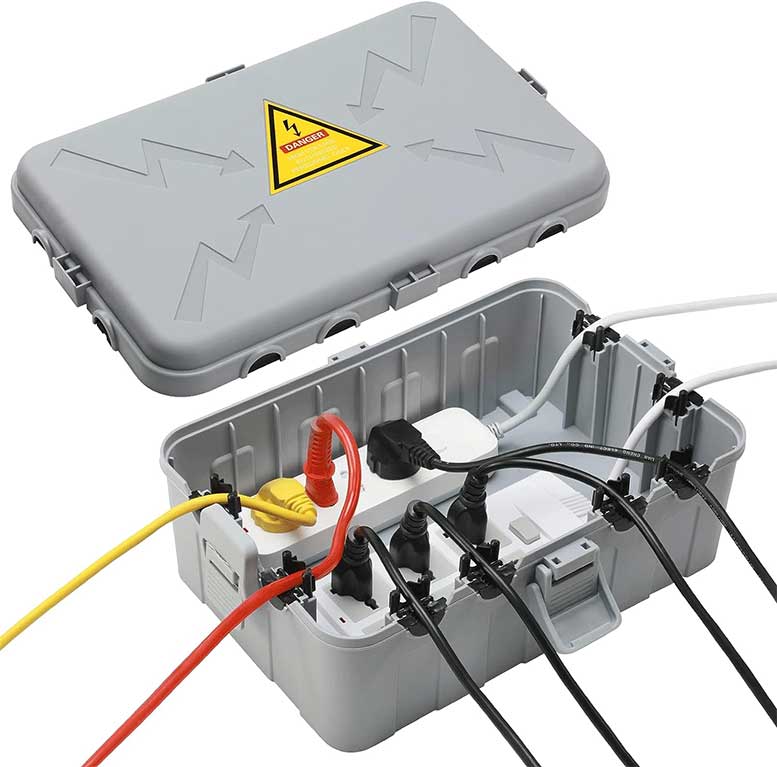 Key Features:
Box-style unit for using existing power strips.
IP54 waterproof rating fully seals against the elements.
Comprised of high quality polypropylene.
Available in two sizes and three different colorways.
As an alternative pick, the Hrensaw Outdoor Electrical Box is a unique solution designed to protect your power strips and electrical connections from the harsh outdoor elements. Unlike traditional outdoor power strips, this innovative box allows you to place any power strip inside, sealing it securely to shield it from weather-related damage.
One of its key features is its ability to neatly seal cords and cables of various sizes, including 12/14/16 gauge cords, braided cables, and flat wires. Once properly set up, it achieves an IP54 waterproof rating, ensuring that your power strip remains safe and dry even in wet conditions. This protection extends to guarding against rain, snow, water, and dirt, preserving the integrity of your connected devices.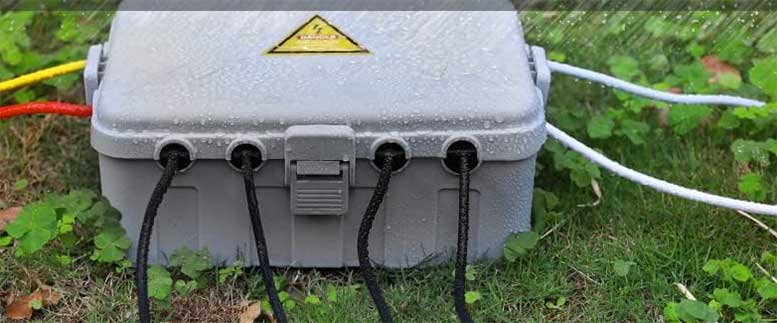 Constructed from durable Polypropylene, the box is built to withstand extreme conditions. It can endure temperatures as low as negative 40 degrees Celsius and can handle an impressive 300 pounds of force. This robust design ensures long-lasting protection in virtually any outdoor setting.
Thankfully, it offers flexibility in size, with both large and small options available. The large size measures 12.5 x 8.5 x 5 inches, accommodating larger power strips and multiple cables, while the smaller version measures 7.87 x 3.93 x 3.15 inches, offering a compact solution for more modest setups.
To simplify installation, the box is equipped with two hanging holes, allowing you to mount it securely on a wall, tree, or any elevated surface. This placement not only ensures protection but also keeps your electrical connections easily accessible when needed. While you can always simply place it on the ground, it's nice to see that upright installation is an option.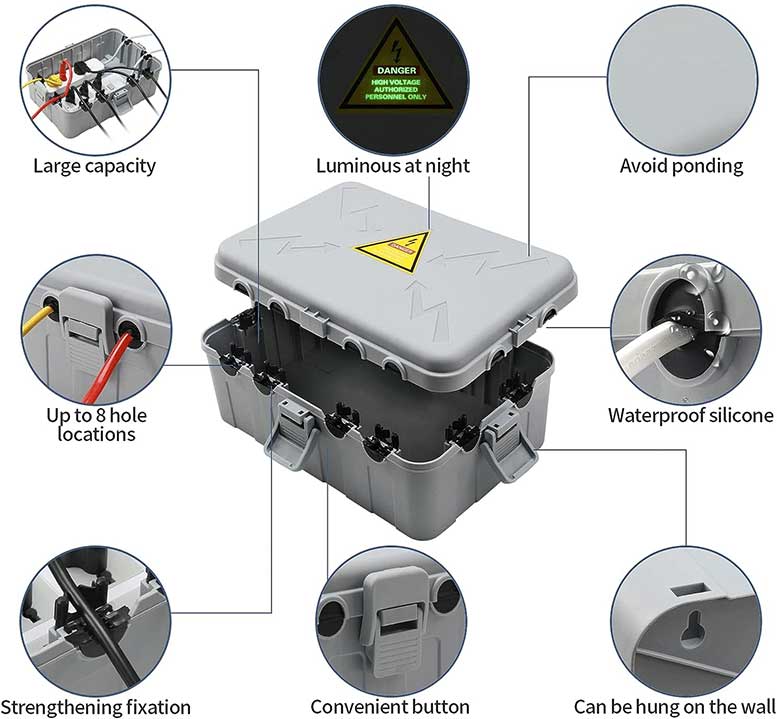 Lastly, the Hrensaw Outdoor Electrical Box offers a choice of colors, including gray, green, or black. This allows you to select the one that best blends in with your specific outdoor environment or your own personal preference. For those who'd like to use an existing power strip outdoors, without needing to buy an outdoor-specific one, this is a great alternative.
Pros:
Easy to use for a wide range of electronics.
Fully sealed from all weather, once properly configured.
A bit more affordable than an outdoor-specific power strip.
Enough capacity for up to 8 extension cords.
Easy to hang vertically.
Cons:
Not an actual power strip; just a water-tight box.
Some complain about the clip being hard to latch.
Meet Derek, "TechGuru," a 34-year-old technology enthusiast with a deep passion for tech innovations. With extensive experience, he specializes in gaming hardware and software, and has expertise in gadgets, custom PCs, and audio.
Besides writing about tech and reviewing new products, Derek enjoys traveling, hiking, and photography. Committed to keeping up with the latest industry trends, he aims to guide readers in making informed tech decisions.