The Beelink EQ12 is an exciting new release for those who want a workhorse computer in a compact case. It's powerful enough to run your everyday programs at work or home and is small enough to use wherever you need it.
Coming in at an affordable starting price of $239, it's a seemingly great choice for those who want a capable mini PC without the high price tag.
Powerful Internal Components
The technical capabilities of the Beelink EQ12 are great. Internally, it features an Intel N100 Processor capable of running at a maximum of 3.4GHz. With four cores and four threads, it was able to achieve a Cinebench 20 multi-core score of 1116. Best of all, it also comes with Intel UHD Graphics, with a max dynamic frequency of 750 MHz.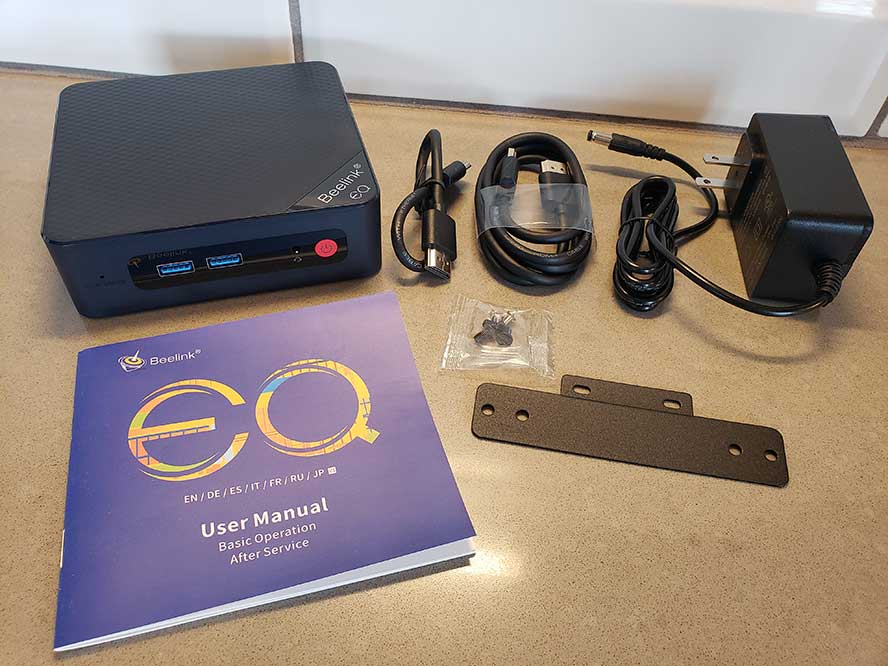 Beelink's EQ12 comes standard with 500GB of storage with an M.2 NVMe SSD. The SSD can be replaced with up to 2TB alternatives. It can also add 2.5-inch HDD storage if you want to expand its capabilities. As for RAM, it supports up to 16GB of single-channel DDR5. In fact, it can be purchased with either 8 GB or 16 GB from Beelink.
The cooling capabilities straight out of the box are near perfect for this computer. It has dual fan cooling, featuring one for the CPU and one for the system as a whole. These fans work together to keep the system as cool as possible no matter what program you want to run on it. For example, in testing CPU temperatures, Microsoft Word was between 57-63 degrees Celsius, while Adobe Illustrator was between 60-67 degrees Celsius.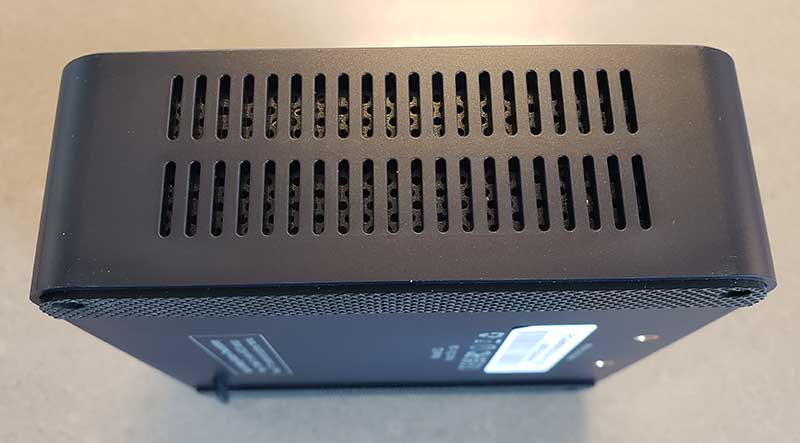 All these components should lead to a loud computer, right? Nope! In testing, the EQ12 was in the range of 28-36 decibels. For perspective, whispering softly is between 20-40 decibels. The silent operation of this device is sure to keep it from disturbing anyone around you.
In our opinion, the internal components make this a great option for home office or regular work use. Running programs such as Microsoft Word, Excel, or Photoshop is all possible. It can run your favorite internet browser with no issues, and may even handle some light gaming use. When used in the right scenario this computer will be a great choice.
Variety of Connections
All of that performance needs an output. Straight out of the box, Beelink's EQ12 supports up to three different displays. It comes standard with two HDMI ports and one USB-C port. Each display can be a maximum of 4K resolution at a 60Hz refresh rate.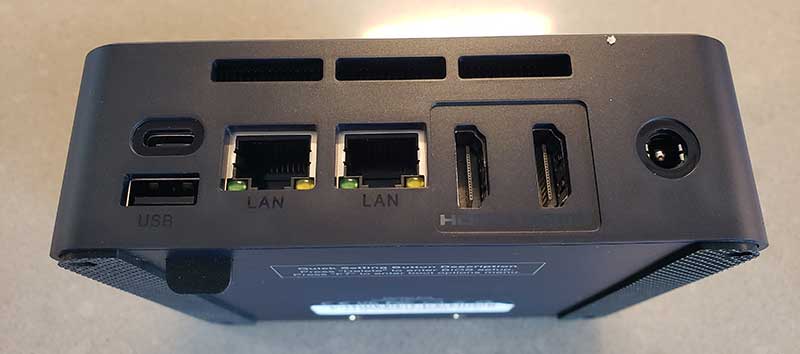 To connect to the internet, it has two options. The first is via WiFi using the latest standard of WiFi 6. It can support speeds up to 600 Mbps depending on the network you connect it to. If you prefer a wired connection, you can do that as well. It has dual 2.5 Gbps ports to plug an Ethernet connection into. These ports also allow the EQ12 to be used as a soft router, firewall, or gateway.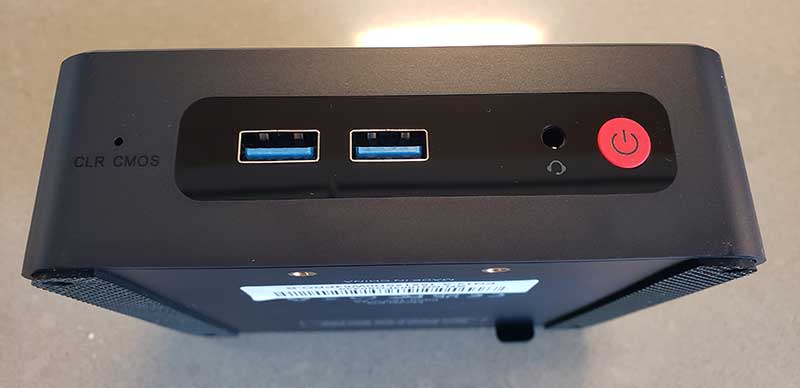 Multiple devices can be connected to it as well. It comes equipped with three USB 3.2 ports. Two are located on the front and one is on the back. The USB-C port can be used for multiple purposes, enabling you to use it as a display or as a connection for other devices. It also has an audio jack on the back to plug in your favorite headphones. Additionally, if you prefer a wireless connection, it features Bluetooth 5.2.
All of the various ways of connecting set the EQ12 apart. It offers options that even some premium rigs don't have, so you can't go wrong with choosing it to use as your next workstation computer.
Compact Design That Looks Great
The size of the EQ12 makes it perfect for any setup without a lot of room. It's only 4.44 x 4.88 x 1.53 inches, ensuring you can save as much space on your desk as possible.
But what if even with that compact size you can't have it sitting out? It comes with a mounting bracket in the box. It can be used to attach the computer to the wall, under the desk, and even on the back side of a monitor. This ensures you can keep it safe and out of the way of your desk if you want to.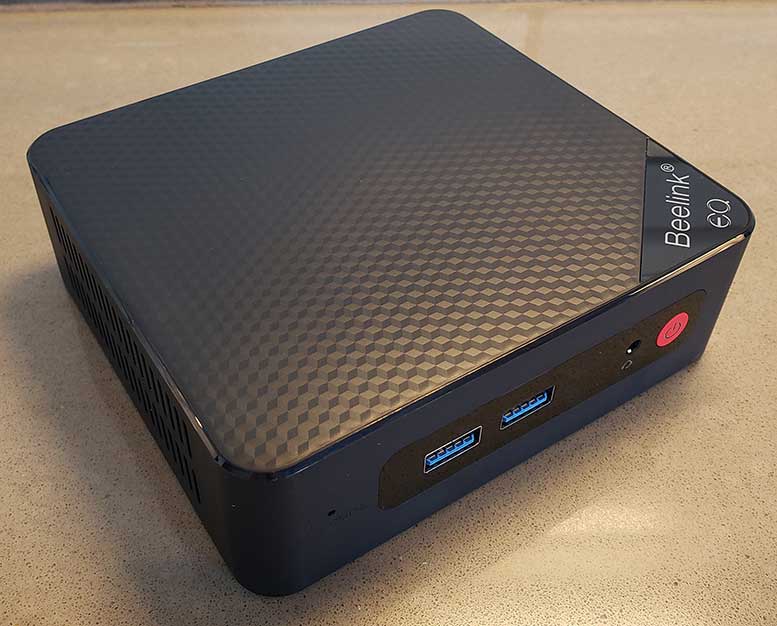 Even if you don't want to hide it, the design of the EQ12 makes it a great piece to have sitting out. It's made out of ABS high gloss plastic. Laser faceting on the upper panel and acrylic lenses make the overall looks stand out (in a good way).
To It's available in four different colors. You can choose from Senior Grey (dark grey), Millennial Grey (light grey), Pearl White, and Navy Blue. This allows you to match it to the looks of your setup, room, or office and complement what you already have.
Efficient Power Consumption
Something to always consider with Mini PCs is power consumption. Some options require a lot of power to run, while others require much less. The EQ12 falls into the lower power use category. In fact, it only consumes between 6-25W in order to function. It's designed to have very little energy consumption even with continual usage.
This is mostly achieved through the CPU being extremely efficient. Additionally, you can set up the computer to auto-power on. The computer is powered by a typical DC input. For worldwide compatibility, it comes with your choice of US, EU, or UK power plug-in configurations.
Is The Value There?
So you're probably thinking, "That's all great, but what does it cost?". For what you're getting, it's a great value. The Beelink EQ12 with 8 GB of RAM is $239.00, while 16 GB of RAM is $259.00.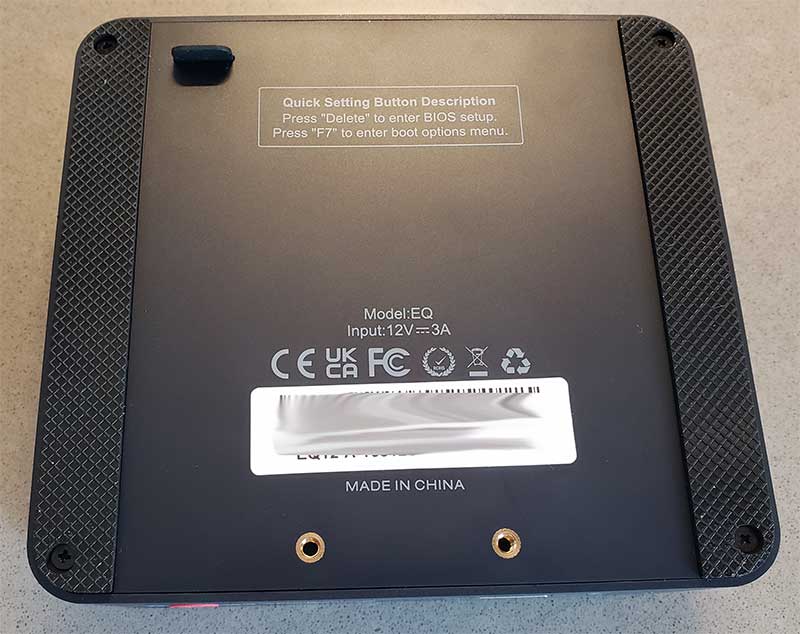 This is an extremely competitive price for the performance you get in return. It's not easy to achieve the performance capabilities of the EQ12 while pairing it with a compact case that looks great. It's even harder to take all of that and sell it at a very attainable price point.
In our opinion, this computer is a great option for your home or work use. Included in the box is the mini PC itself, a user manual, mounting bracket, one HDMI cable, and a power adapter. This makes the EQ12 easy to set up and start using quickly, right when it arrives at your doorstep.