Whether you're giving presentations to a large audience or trying to watch the latest movies, very few products can match the screen size and viewing angles of a digital projector. The biggest drawbacks to these digital projectors is cost – many of them sell for thousands of dollars and require expensive bulbs that need to be replaced regularly. This BenQ MW529E DLP Business Projector is now available, and appears to be a very economical option. Let's take a look at the specs and figure out if this is a solid, economical investment or if it falls short of expectations
First Impressions
BenQ is a longterm player in the projector market. This particular model comes in an unassuming white case, and is relatively lightweight. The projector features a WXGA resolution, 1280×800, and has most standard inputs available. 13,000:1 contrast ratio is impressive for a projector, hopefully providing sharp image quality without having a washed out look. The biggest selling point of the MW529E is the lamp life. With up to 10,000 hours of operational time per bulb, the replacement cost is relatively low.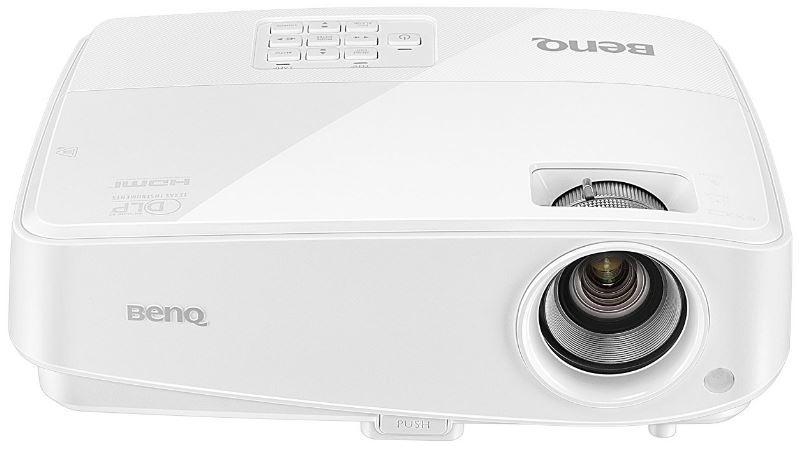 Connectivity
On the rear of the projector, you've got ports for all common video connections. Standard definition video can be plugged in via the composite or S-Video inputs. These ports are not commonly used anymore, but many office and educational environments are still using DVD players. For this purpose, it's handy to have them so you know it will work for any purpose. For HD Video, a computer can be connected using either analog VGA inputs or one of the dual HDMI ports. Some users might want to connect both a computer monitor for their own viewing, while using the projector as a second display.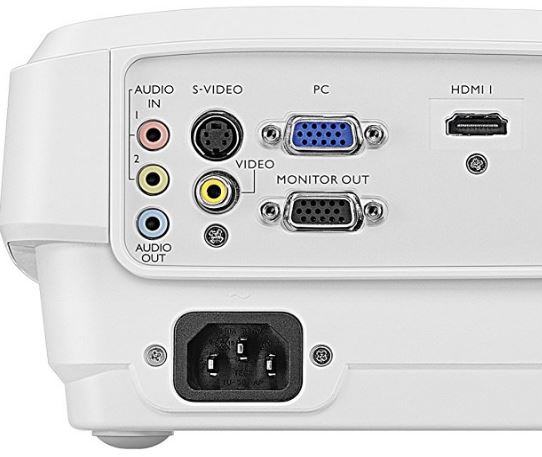 Even if you don't have an expensive dual-head video card, the projector features a second VGA input. This allows you to daisy-chain monitors and view on both screens at once. The monitor also has an RS-232 serial port, generally used for computer based or remote control. The USB port also allows you to view images from a storage device using the built in software, or connect one of the newer model remotes compatible with these kinds of devices.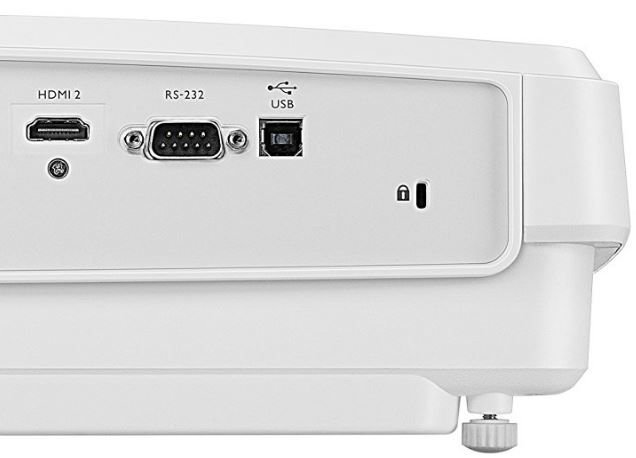 BenQ opted to go for the more uncommon USB type B connectors, similar to the ones used in printers. This is an unusual choice and will restrict the types of devices you connect via USB. The projector also has three audio ports. Two are inputs used for sound and a microphone. The final audio port is an output to connect external speakers. Finally, there is a security port to connect your lock.
Imaging Technology
The BenQ MW529E DLP Business Projector takes advantage of DLP technology to produce crisp images. DLP stands for "digital lightweight processing". In essence, the projector uses three monochrome displays and combines the output to result in a composite image of red, green and blue. Image from the lamp is split into a prism, and directed to each of the three displays. While the displays are monochrome, the light is passed through a filter to colorize each display with the respective hue.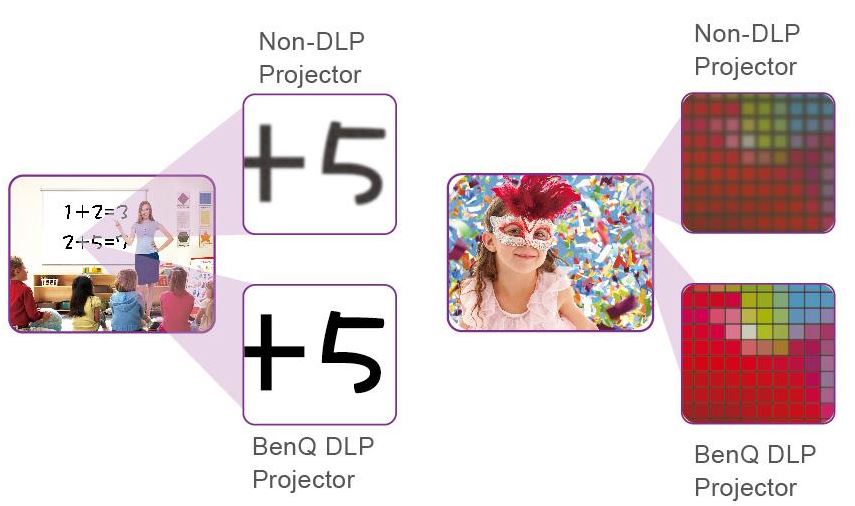 Finally, a very complex lens (often with a microscopic pitch) recombines the images into the image you see on your screen. DLP projection technology is used in everything from high end movie theater projectors to low end consumer televisions. When high quality parts are used, the image quality is impeccable. But with these more inexpensive units, color reproduction is often sub-par. It's marketed for business use, so it's unlikely the color accuracy will be good enough to enjoy movies or television on. But for the purpose of spreadsheets, presentation and text based documents, the image quality should be fine.
Brightness
The lamp that it's equipped with is quite bright at 3300 lumens. This means that the projector is technically bright enough to be used even in a light room. Ideally, however, using the projector in a dark room will produce a much clearer image.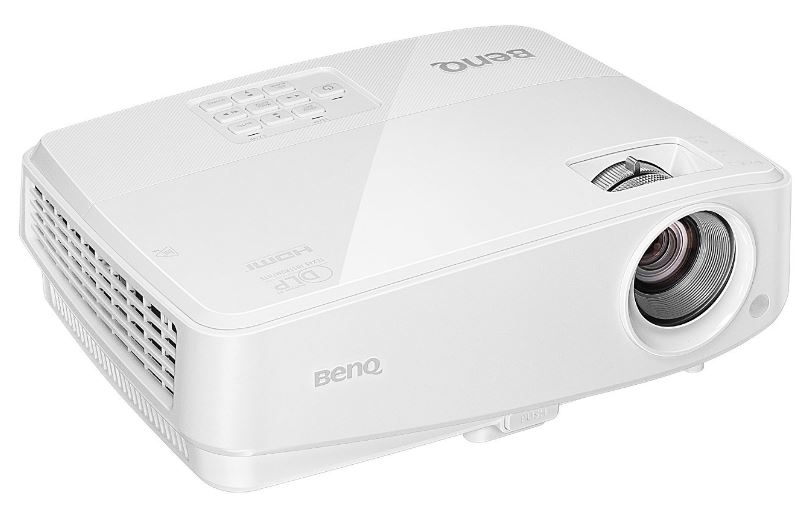 Contrast
The contrast ratio refers to the difference in brightness between the darkest black the projector can product and the brightest white. At 13,000:1, this projector has one of the better contrast ratios on the market. This is especially important when you are displaying text. A projector with poor contrast will appear washed out and will be hard to read. Fortunately, high contrast is one of the strengths of DLP projection, and one of the areas this model excels.
Resolution
The BenQ MW529E is a WXGA projector. WXGA is an imaging standard that means wide extended graphics array. Generally used to describe laptop and desktop displays, this means the projector has a resolution of 1280×800. This is almost identical to the 720p standard, although there are a few more pixels vertically. Given the potential size of the screen, this means that some of the pixels will be visible. You probably won't find a 1080p projector at this price range, at least not a good one, so this resolution is acceptable for business use.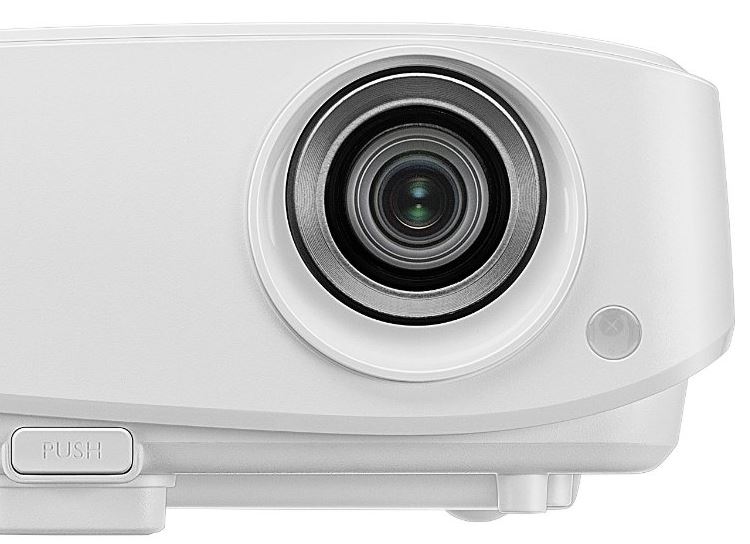 Throw Distance
This projector has a throw ratio of 1.49 to 1.79. This means that for ever meter of distance between the projector and the screen, you'll receive between 1.49 and 1.79 meters of screen space. The variance is due to the focal length, as you'll have to adjust the focus in or out to get a clear image. In real world use, you can expect to get a 100" display provided the projector is set 3.2 meters back from the screen. In total, this projector is capable of delivering a screen size anywhere from 60" all the way up to 300", although you're going to need a very deep room to reach the upper end of that scale.
Power Saving Features
Since the bulbs cost hundreds of dollars to replace, you're going to want to use them as little as possible. Since this projector is being marketed as eco-friendly, there are several built in features designed to help extend the life of your bulbs. Eco-blank mode will automatically blank the screen when it has not been used for a long time.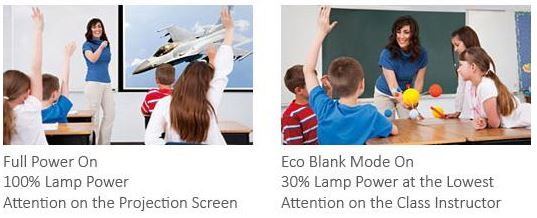 Auto power off does exactly what it says, and turns off the projector after an extended time remaining inactive. Finally, the SmartEco power saving mode can dynamically adjust the lamp brightness depending on the room conditions. In a dark room, a lower bulb power means an extended life without compromising picture quality.
Portability
Weighing a relatively light 6.2 pounds, the BenQ MW529E is one of the lighter models on the market. Measuring 15.3 x 12.4 x 6.4 inches, it's surprisingly compact. There are lot of carrying cases available for projectors of this size, so if you're a professional on the go this is a light and portable model.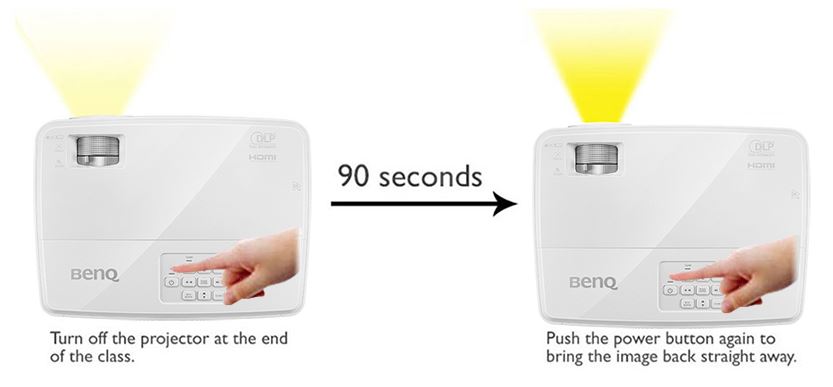 Reliability
While it's hard to say how reliable a brand new product is, BenQ is a very well-known manufacturer of projectors. It's built on the same platform as many of its other business oriented models, which have been known for offering reliable performance for a long period of time. In fact, it does include a 1-year warranty, so you can rest assured you won't have any immediate problems. But the DLP projection technology does require several delicate lenses, so this product will not stand up to being dropped or abused.
Final Verdict
If you're looking for an inexpensive projector well suited for giving presentations, BenQ has released another strong contender. High contrast ratio means text is sharp, while the high throw ratio means you'll be able to get a large screen even in environments where space is limited. There's a large variety of inputs, so you probably won't run into situations where you are unable to connect the device to whatever image sources you have on hand.
The BenQ MW529E DLP Business Projector is very affordable, among the cheapest on the market. Aside from the initial purchase cost, the projector uses a common bulb with a long life. Combined with the eco-friendly features of the built in software, this unit should have a low operating cost.
It's important to keep in mind that this unit is probably not suitable for all purposes. The low resolution screen is great for text, but not ideal for watching high definition movies. With a screen size of 100+ inches, you're sure to notice pixilation in films. The high contrast ratio also is fantastic for text or visual aids, but this model lacks the dynamic range that will really make vibrant photos and video stand out.
In short, this is a perfect solution for professionals who need something portable on a budget. But consumers who desire color reproduction and high definition image quality will need to spend a bit more if they don't want to be disappointed.