Whether you're a designer, a hardcore gamer, or just someone who spends any amount of time on the computer, you probably know the important of a high quality monitor. Some of the latest and greatest are now being designed with Ultra High-Definition capabilities with supported resolutions up to 3840 x 2160 pixels to offer unmatched clarity, vibrant colors, and realistic effects that are simply visually jaw-dropping. Although we've previously covered some of the best 34 inch LED monitors, we're now going to cover the best 27 inch LED monitors that support 4K ultra HD for a drastic improvement over any other kind of monitor.
ASUS PB279Q
Designed specifically to deliver 4K quality in a 3940 x 2160 ultra HD resolution, the ASUS PB279Q 27-Inch LED Monitor provides up to 163 pixels per inch for unmatched performance. With 100% sRGB and 10 bit color, you're assured remarkable visual quality while maintaining a true 178 degree wide viewing angle. This way, you'll always be able to achieve the best field of view, even when you're far across the room.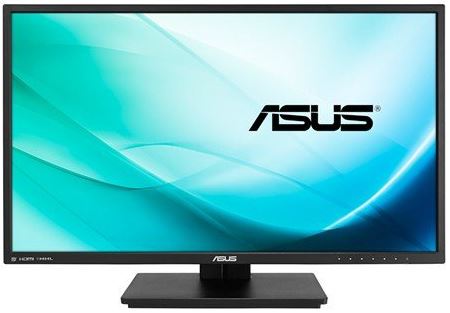 Connection Options
Designed exclusively to support the latest 4k resolution quality, you can hook up just about any kind of computer, laptop, or device that you'd like to. With a Display Port 1.2, Mini-Display Port, and four HDMI 1.4/MHL ports, you're left with a wealth of connection options. Supports both Mac, PC, Linux, and virtually any and every operating system with it's easy plug and play ability.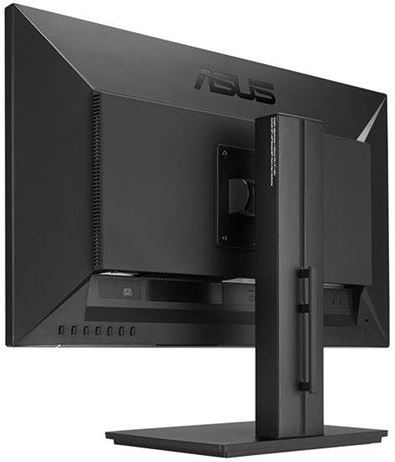 Picture in Picture
When you're enjoying a motion picture or an intense battle in your video game, you can turn on the picture in picture mode to enable a small inner screen that keeps you multitasking when you need it most. In fact, the ASUS PB279Q supports up to four individual 4K ultra high definition sources simultaneously.

Full Adjustments
Everyone knows that achieving a proper position can mean the difference between enjoying your new monitor or having some issues with it. Luckily, Asus equipped with PB279Q with a wide range of adjustments that gives you the ability to tilt, swivel, pivot, and adjust the height within a matter of seconds. The easy adjustments are all effortless, and they make it so you can achieve a custom-like fit without having to break out any tools. Additionally, you have the option to wall-mount it, since there is the standard four-screw VESA mount located on the back.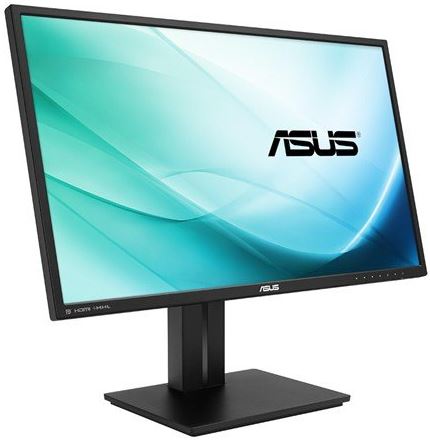 Fantastic Guarantee
Packaged with Asus's Rapid Replacement program, the PB279Q is covered by a generous 3 year (36 month) warranty period that assures it'll work without flaws for years to come. Also, they offer completely free two-way shipping so you can make a return or receive a replacement with no pain or money out of your own pocket.
Samsung UE590
Designed specifically to deliver a comfortable and detailed viewing experience, the Samsung UE590 28-Inch LED Monitor provides a 3840 x 2160 pixel resolution for stunning 4K image quality. With one look, most users fall in love right away. It's easy on the eyes, free from any flickering issues, and even incorporates an "eye-saver mode" for those who need to reduce strain on their vision while improving their computing experience with all of the vibrant colors, incredible details, and enhanced viewing capabilities that you're likely craving.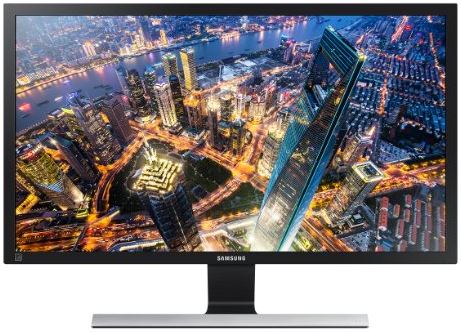 Realistic Image Quality
Offering up to four times the resolution of standard 1080p, 4K brings new life to an area where many previously have said, "why would it need to be any clearer?". With first glance, you'll notice a huge upgrade in the overall clarity and visual quality. Packed with 8 million pixels, the Samsung UE590 delivers lifelike effects that will likely have you on the edge of your seat. Ultra HD is a hue bonus for those who enjoy fast paced video games, photography, video-making, designing, and more.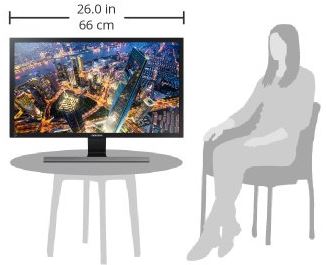 AMD FreeSync
Thanks to the latest version of AMD FreeSync, the UE590 works in a dynamic way to sync the refresh rate with the frame rate. This works wonders for improving latency and making sure that there is never any delay between your controls and the screen in front of you. Additionally, it boasts an impressive 1ms response time so you're positively assured that everything is clear and blur-free at all times. An ideal choice for gamers who rely on the quickest speeds.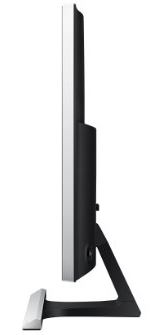 1 Billion Colors
As a massive improvement over any conventional monitor, the Samsung UE590 is equipped with over 1 billion individual colors. This ensures that the color blends, transitions, and overall visual effects appear more-stunning and lifelike – right out of the box. Enjoying Bluray movies or first person shooters with 64 times the color of a standard monitor brings out visual effects that most individuals didn't even realize they were missing.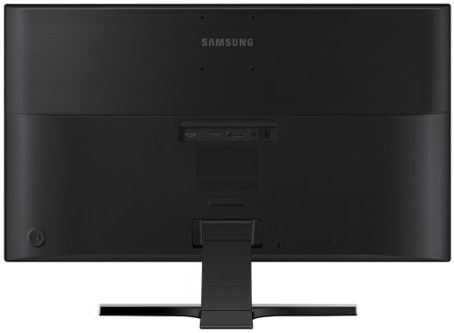 PIP 2.0
Rather than having to purchase and setup two monitors to get things done, Samsung made it easy to multitask and do two things at once with the PIP 2.0 mode. This mode will split your screen while maintaining the original, high resolution in order to give multi-tasking abilities to those who want it. Best of all, you can adjust the screen size of the second view so you can have it as little or as large as you need it.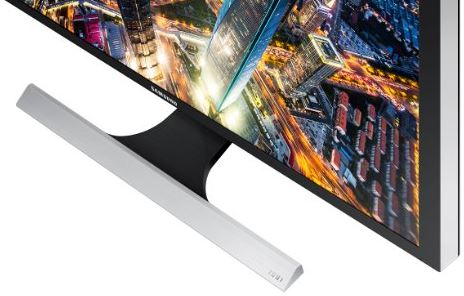 Connection Options
Hooking up virtually any computer, device, or gaming console is possible with the Samsung UE590, thanks to the multitude of input options that are available. Equipped with two HDMI inputs and a Display Port input, there's support for both Mac, Windows, Xbox, PS4, or any system or computer that utilizes HDMI or a Display Port.
Dell P2715Q
Dell has been a long-time contender for designing and manufacturing some of the most highly anticipate LED monitors on the market. This hold's true with the Dell P2715Q 27-Inch LED Monitor. Delivering incredibly 4k image quality at a Ultra HD resolution of 3840 x 2160 pixels, you're assured quality viewing with bright, responsive, and instantaneous speeds. Packed with over 8 million pixels, you'll likely be able to get more done, and in greater detail than ever before.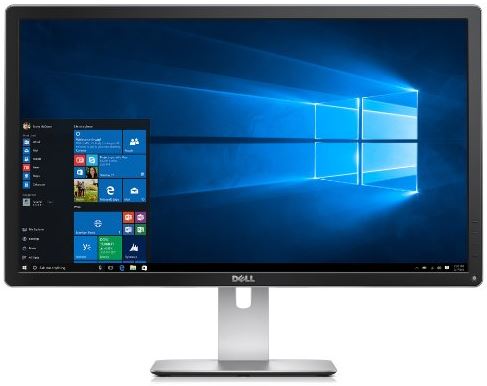 Perfect Color Accuracy
Each and every monitor that Dell ships out has been manually factory tuned at 99% sRGB with advanced color calibration to make sure it emits only the most beautiful and ideal colors. In fact, it comes out of the factory with a full report that certifies each monitor has a deltaE less than 3. This means that you're guaranteed that there's little to no distinction between two individuals who are enjoying the monitor at the same time. (deltaE is an advanced metric that's used for understanding how the human eye perceives differences in color.)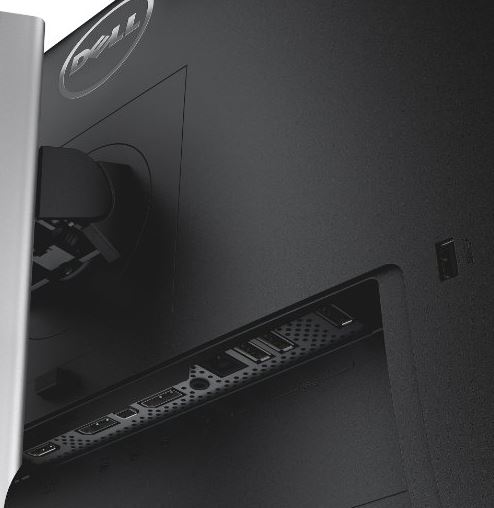 Digital Connectivity
With the amount of inputs that the Dell P2715Q has, it's easy to see that virtually any device can connect in a matter of seconds. Equipped with HDMI-in and Display Port 1.2, you even have the ability to daisy-chain multiple monitors using the DP-in and DP-out on each monitor. The perfect solution for those who enjoy multiple monitors and want to get the most out of their screen space. This reduces clutter and opens up options for the way you have it connected to your PC. Additionally, this monitor is equipped with MHL, offering an easy and effortless way to connect and configure your smartphone or tablet to display in a higher resolution.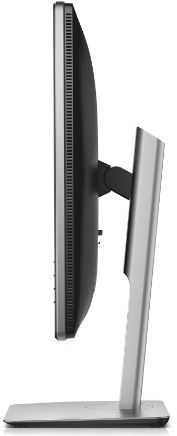 Efficient Energy-Usage
If you're like most, you'll probably be using your new monitor for many consecutive hours in the day. There's no secret, but keeping any electronic device on for a long duration can increase your utility bills dramatically. Dell knows this, so they've gone the extra mile in making the P2715Q as energy-efficient as possible. In fact, it's Energy Star Qualified, EPEAT Gold Rated, and TCO Certified. Also, it's free from BFR/PVC, arsenic, mercury, and the exterior is even made from 25% post-consumer recycled materials.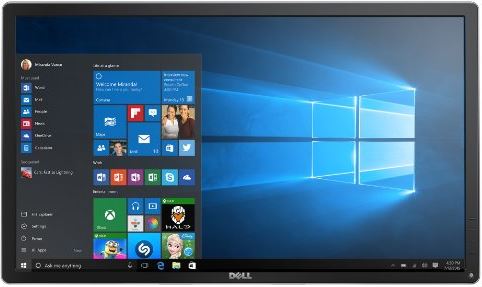 Adjustability
Designed to provide maximum comfort for your home or office workspace, the Dell P2715Q is designed to be fully-adjustable for a custom-like fit. Included with a tilt-able stand, it can move 5 degrees forward, 21 degrees backward, and pivot and swivel freely. The stand can even be adjusted to a different height if you find that it's too tall or short. And of course, just like every monitor we're reviewing today, it supports the standard VESA 100mm x 100mm mount if you'd like to mount it to your own bracket on the wall.
ViewSonic XG2700-4K
Catered specifically to gamers, the ViewSonic XG2700-4K LED Monitor is packed full of gaming-specific features that excel for not only gaming, but for movie-watching, designing, video-making, or really anything that you throw at it. As a new release for 2016, this monitor delivers stunning quality in true 4k resolution with SuperClear IPS panel technology to make your screen pop with color like you've never seen it before.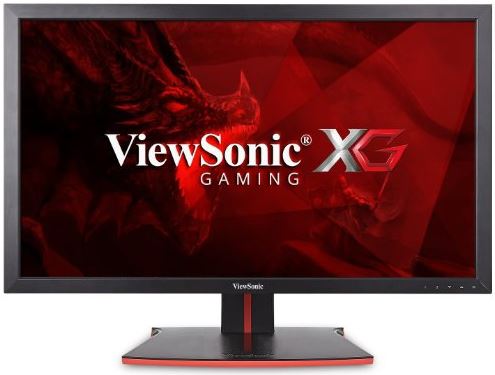 Wide Viewing Angle
With a 178 degree ultra wide viewing angle, you're assured that you see a consistent level of colors and brightness from just about any angle you're enjoying it from. More than 8 million pixels are packed into an insanely tight density with over four times the clarity of any standard 1080p high definition monitor. Because of this, you can expect improved viewing with more productivity, more screen real-estate, and an exciting viewing experience that words simply can't explain.
AMD FreeSync
When you're playing a video game, there's a lot going on with your components. To achieve perfect lag-free clarity, you'll need your graphics card and monitor to work hand-in-hand to provide exceptional frame rates. ViewSonic equipped the XG2700-4K with AMD's FreeSync Technology in order to create a dynamic refresh rate that gets rid of any latency, lag, or stuttering to make for fluid, error-free game play that you can easily enjoy all day long.

Low Input Lag
Sometimes when you're in the heat of the game and there's a lot going on, the game can demand quite a bit from your hardware. The XG2700-4K is equipped with an ingenious process reducer that decreases the delay between all of the inputs of your keyboard, mouse, or game controller as soon as they happen. This can give you a clear advantage over competitors or AI that seems godlike and insanely difficult to overcome.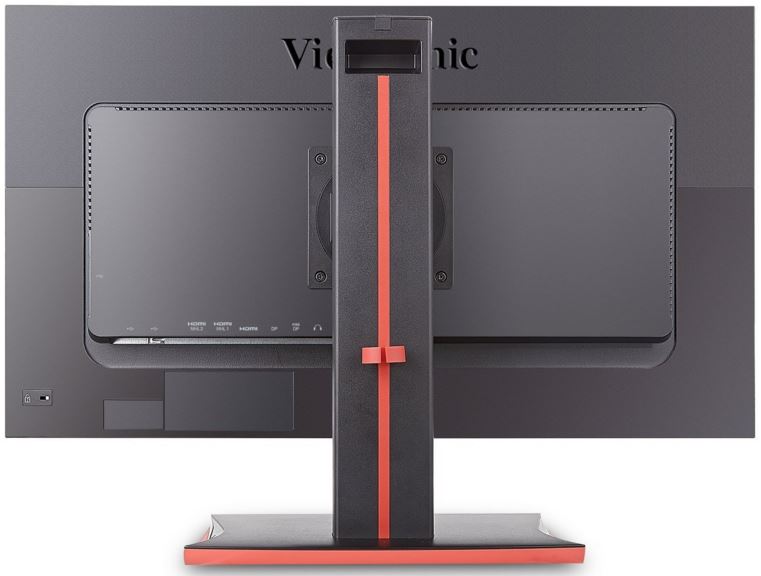 Increased Visibility
It's no secret that dark colors on the screen can make it difficult to determine the details and what exactly is going on. With Black Stabilization, you'll easily achieve excellent visibility, even in the darkest of scenarios. It works by heightening the visibility in dark scenes so you have a clear view of the action at night, in an alley, or in another in-game setting that can throw you off.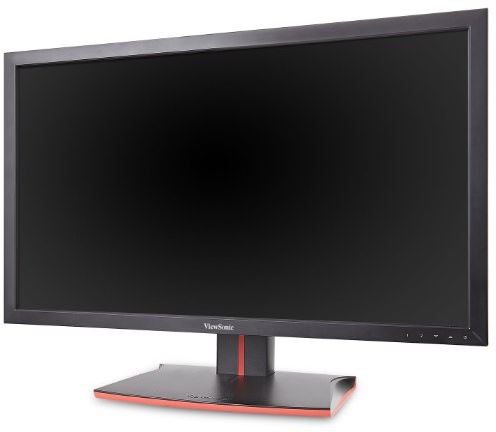 Final Thoughts
Upgrading your monitor to one that supports 4K Ultra High Definition with 3840 x 2160 resolution can bring a great deal of enhancement to the enjoyment of your video games, movies, designing, or casual browsing. Whether you're a hardcore gamer or just an everyday, average computer user, you'll likely wish you had upgraded your monitor sooner when you see what true 4K UHD can offer. We've uncovered some of the best rated, top-performing, and well-made 27 and 28 inch LED monitors for 2016 – which one will you go with?