For many, music is a crucial component to any daily workout or exercise routine. But the hassle of your typical wired headphone and tangled mess that it can create may be holding you back. That's why we strongly recommend a pair of fully-wireless Bluetooth Headphones that give you the best of both worlds. Although there are many different headphones to choose from, achieving a proper fit is possibly one of the most important factors.
Many wireless earbuds rest in the ear using a standard ear-hook design, but this doesn't provide the most optimal fit for many individuals. Luckily, there are options like the Bluephonic Cobra Wireless Over-Ear Headphones that provide a stiff, rigid, but comfortable fit that stays in better than most every other pair of wireless headphones we've tried in the past.
Note: At no extra cost to you, we may earn a commission for purchases using our links. Learn more.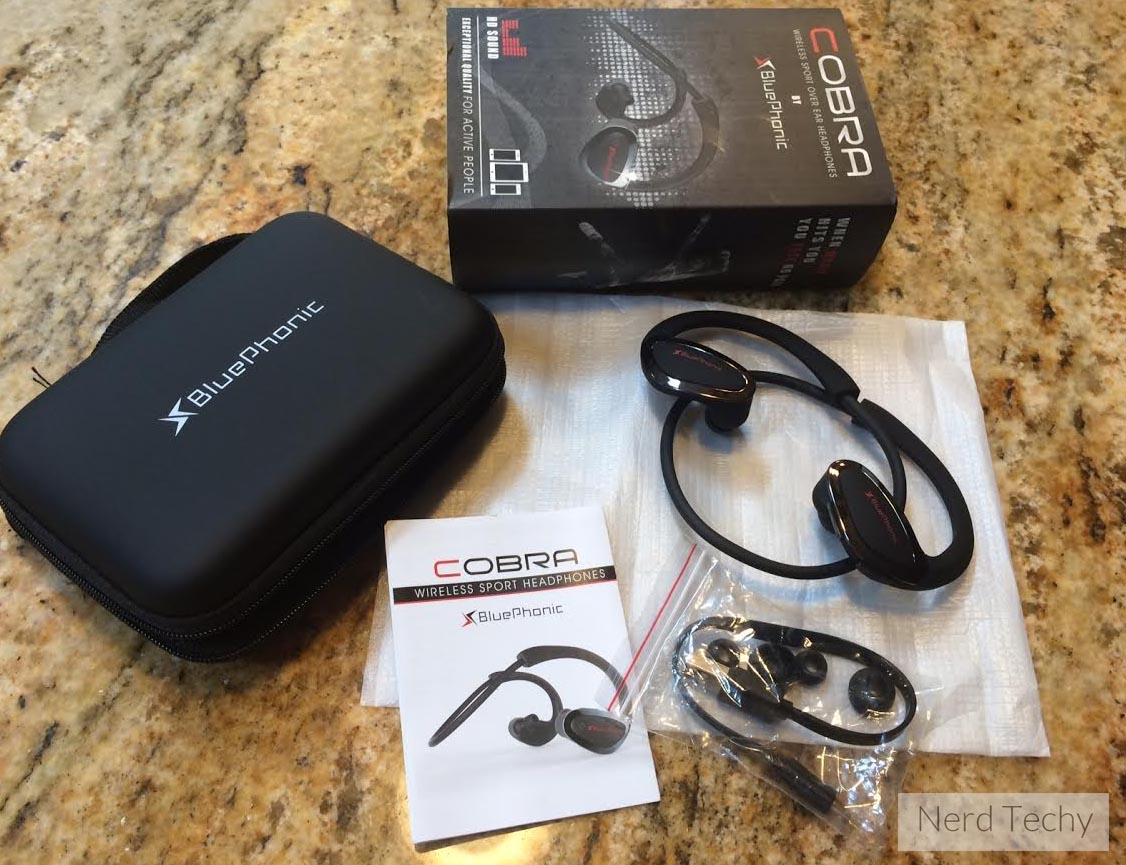 We were presented with an opportunity to try them out and give our honest opinion about them. We couldn't pass it up, so we placed our order and within a few days they were waiting in our mailbox.
Unboxing and Pairing
The headphones come securely enclosed in a free padded carrying case with a zippered closure. Inside is an included micro USB cable, three different sized ear pieces, and a set of instructions that go over just about every detail you can imagine.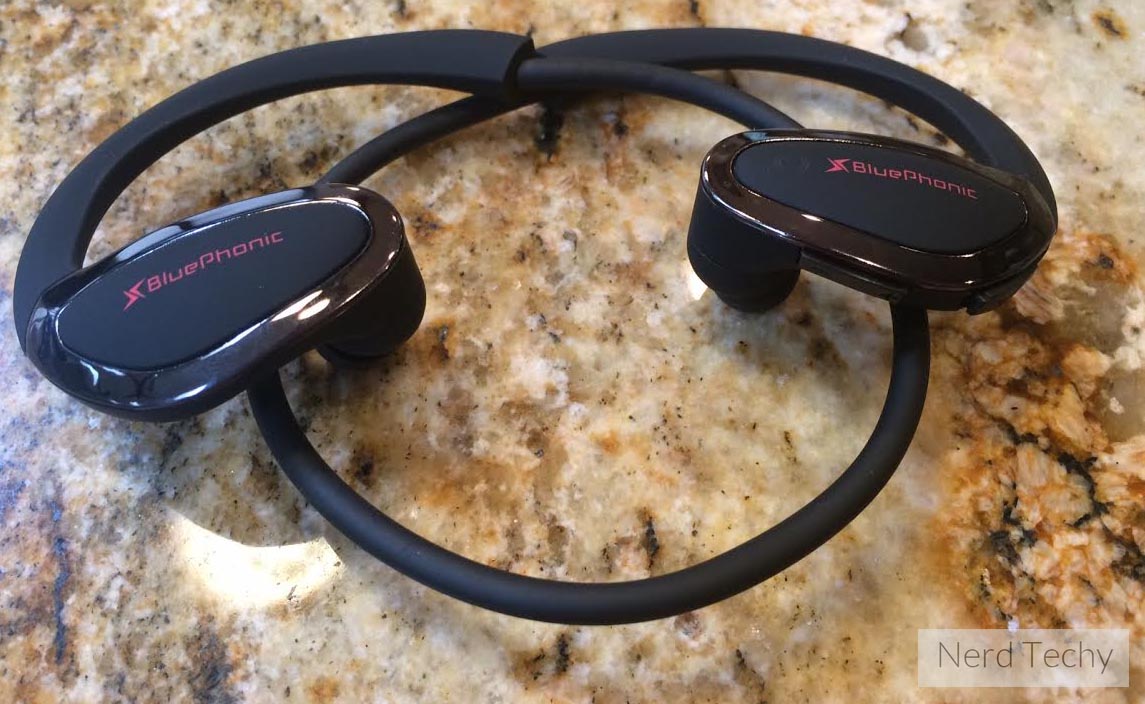 First things first – we had to achieve a connection by pairing it to our smartphone. This was a painless and simple process that took only a few seconds. We turned on the headphones and then browsed the available Bluetooth connections under the smartphone settings. After selecting the Bluephonic Cobra connection, we were listening to our music playlist right away.
Since the Cobra Headphones use the standard Bluetooth 4.1 connection, you can pair it with virtually any smartphone, tablet, or other Bluetooth-enabled device.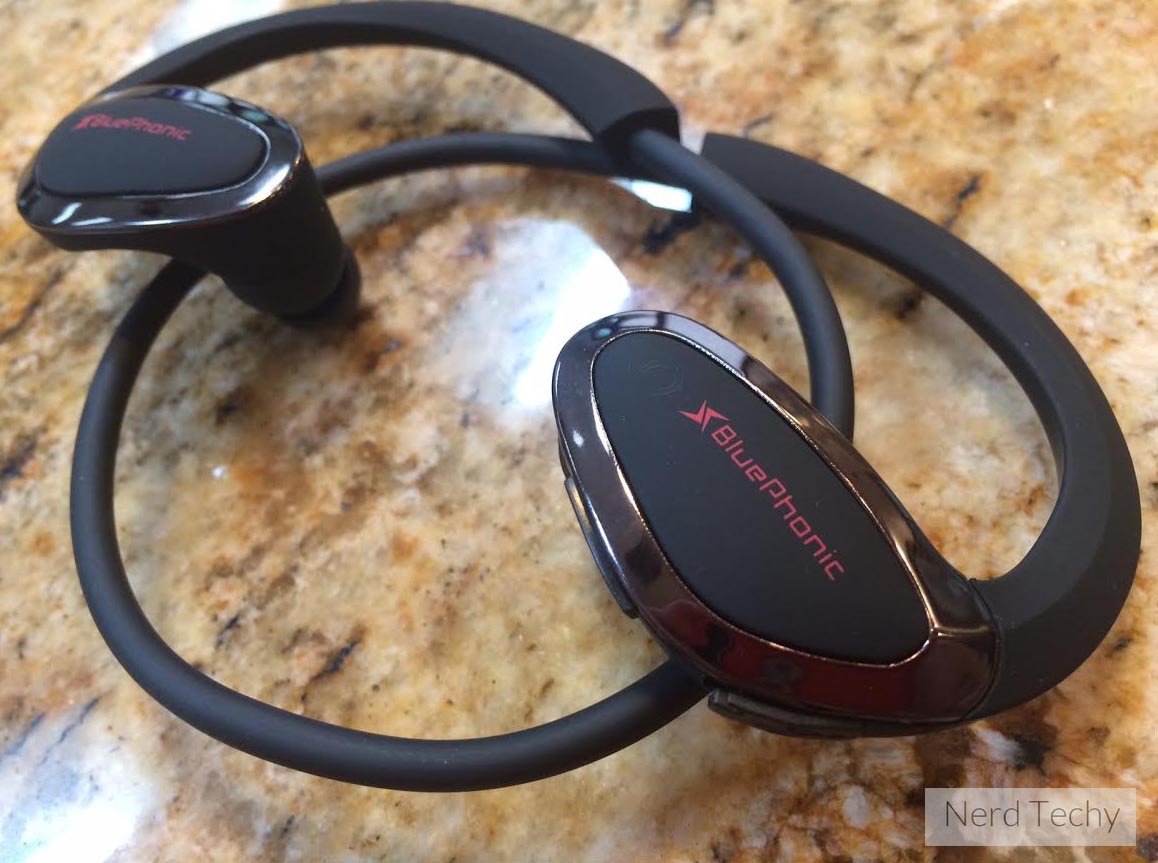 Comfort and Fit
Right as we unboxed them, we noticed that they had a stiff neckband design that provided a bit of resistance. At first we were a bit reluctant, but we soon realized why they were built like this. By providing a slight amount of pressure between the earbuds, they stay in MUCH better than typical earbuds that need to be wedged in and plugged into your ear canals. Needless to say, this makes them stay in very snug so they stay still and don't fall out with repetitive or sudden movements.
Best of all, the Bluephonic Cobra Headphones are very lightweight and have a minimalistic design that copes well with any active lifestyle. Although they're specifically designed for working out, there's no reason you couldn't enjoy them for any other occasion.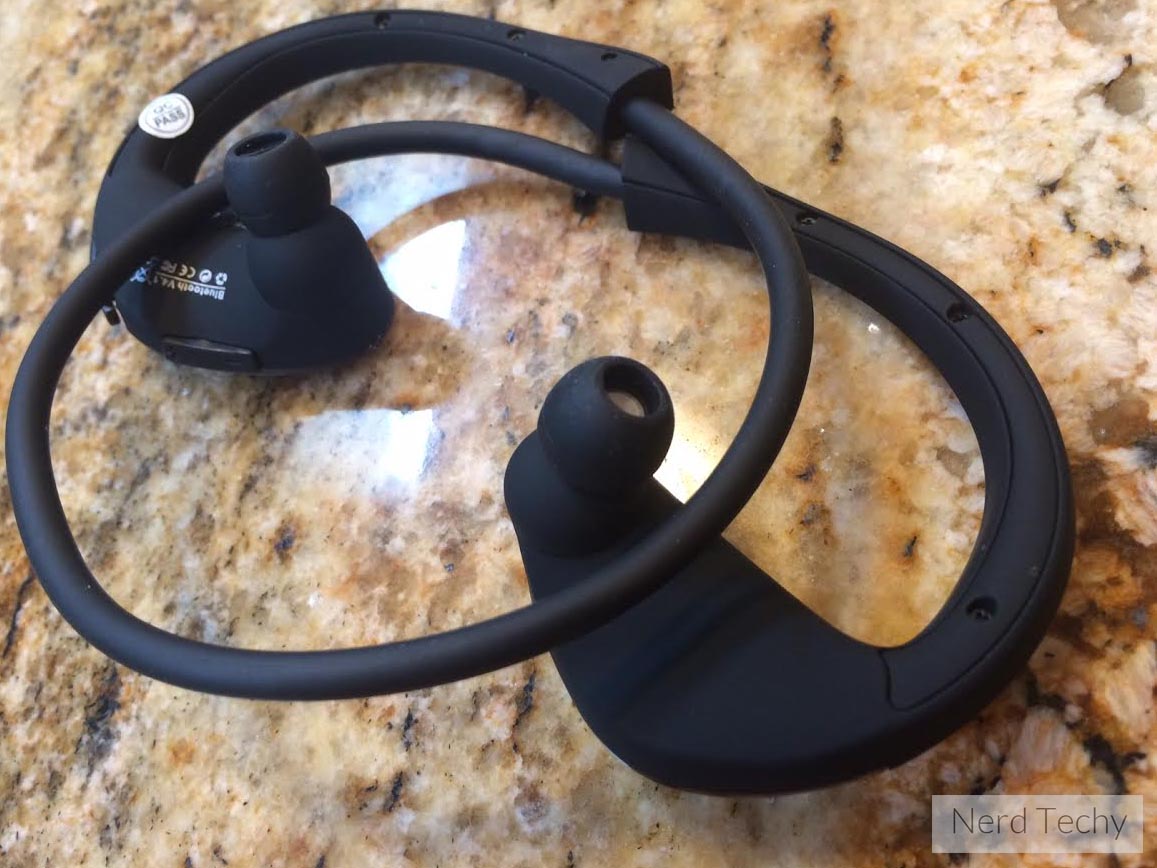 Sound
They do a surprisingly good job keeping out unwanted background chatter and noises that can become a nuisance if you're trying to tune into your favorite music. This is in part because of the great fit, but also because Bluephonic incorporated the CVC 6.0 noise cancellation feature.
But more importantly, the sound quality is to be noted. With all kinds of music, they truly excel. Aptx beats technology with EDR audio give a realistic sounding experience that's rich in detail. Bass is never overpowering, and distortion never seemed to occur – even when we cranked them up to their maximum volume level.
As far as sound goes, there's really no complaints! We've spent double on a pair of Sony headphones and we can't tell the difference.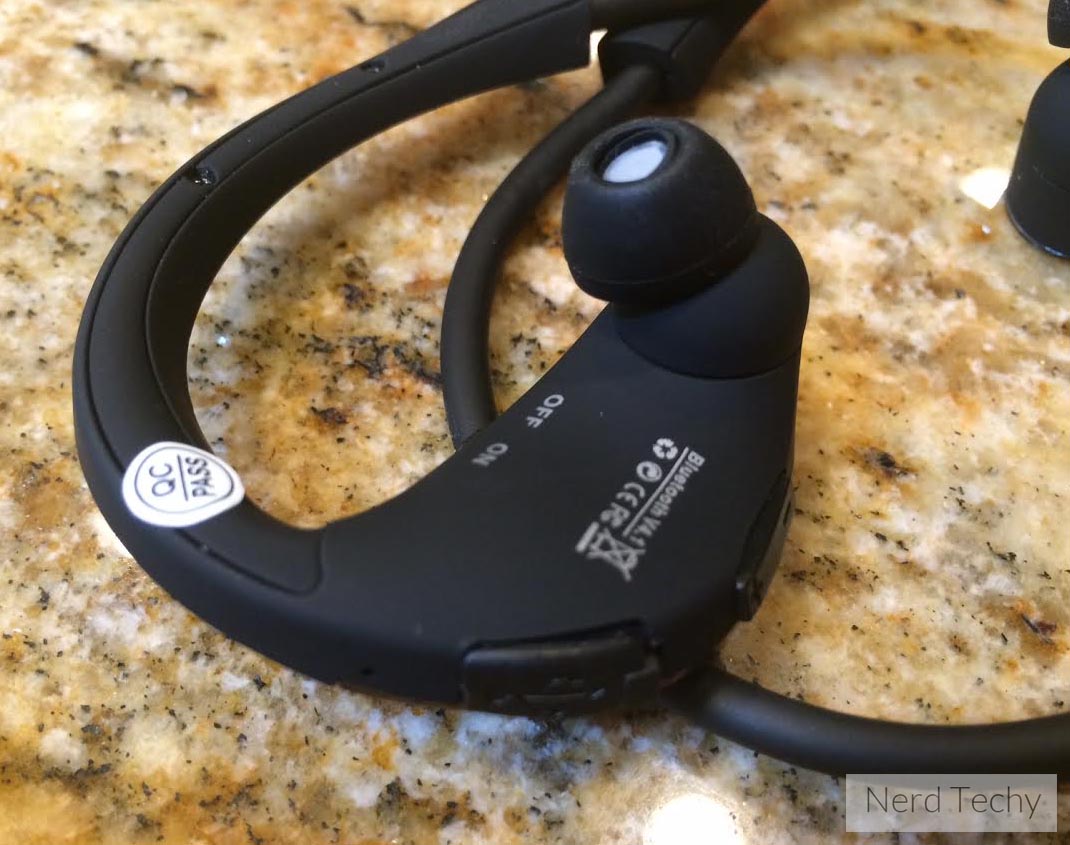 Integrated Mic
Discreetly located on the headphones is a microphone that allows you to take hands-free phone calls. We tested it a few times and it seems to pickup a clear, audible voice while minimizing the background noise. It's a great feature to have if you're one who often gets interrupted by someone calling when you're in the middle of a workout.
Battery
When you're working out, the last thing you want to do is have to charge a battery to keep your wire-free listening a reality. That's why Bluephonic built-in battery that offers up to 8 hours of continuous play time. Best of all, the included micro USB cable charges it up very fast – in about two and a half hours.
Things We Didn't Like
For the most part, we fell in love with the Bluephonic Cobra Headphones right away. However, there were a couple of quirks that we feel needed to be noted. One – the rubber panel that covers the micro USB charging port doesn't seem to want to stay closed that well. Two – we noticed a very quiet but slight rattling noise that occurred when we initially used them. Upon further inspection, the exterior volume buttons were doing this. Although this doesn't affect the listening experience, we were just glad that this wasn't the noise of something broken or damaged.
These two very minor setbacks aren't really a big deal for most, but we are here to give an honest review of them!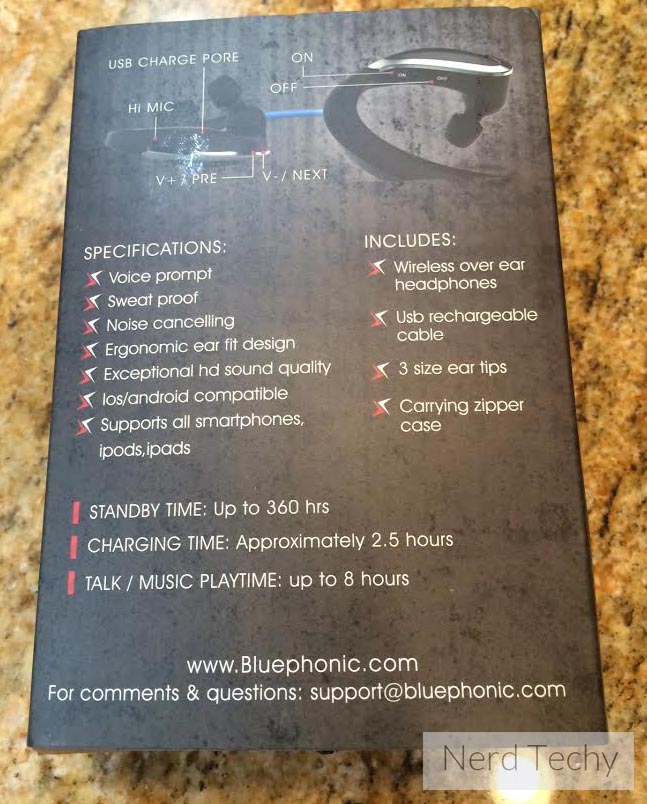 Overall Thoughts
Available in either black or white, there's a pair of Bluephonic Cobra Headphones for anyone looking for excellent sound quality, and an exceptional fit. With full wireless freedom, and up to 10 meters of range, they're a durable and great-sounding choice for those needing to improve their workout regime with a great pair of Bluetooth Headphones.
Priced around $50, the Cobra's come in at a reasonable price point that's affordable for most everybody. Best of all, they're covered by a 100% satisfaction guarantee that assures you'll be truly happy with your purchase.
Please consider sharing:
Note: At no extra cost to you, we may earn a commission for purchases using our links. Learn more.