Home security is a huge importance to many households around the globe. Being able to monitor and record your property is a huge benefit and it can offer a great amount of peace of mind when you're away or alone at night. Whatever your reason for wanting to invest in a home security camera, you're going to want one that's built with top of the line features that give you the most value for your dollar.
If you've spent some time looking around for wireless security cameras, you may have come across the Trivision NC-335PW. We had the opportunity to get our hands on it and test it out for ourselves to see if it was a viable option. To say the least, it impressed us right away, and continues to do so today. It's a well-built, high definition, wireless security camera that's packed full of great features. We'll show you what we mean.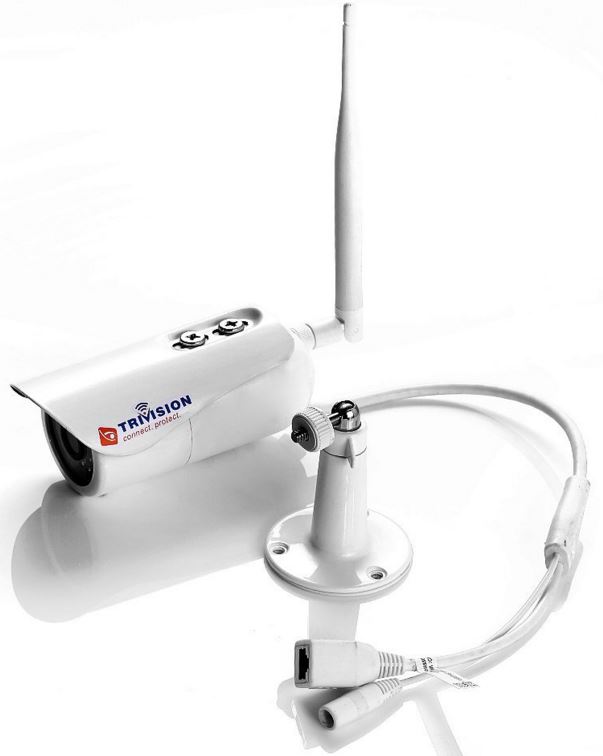 Setting it Up
Upon it's arrival, we were quick to open it up. The packaging was great and everything we needed seemed to be included. There was a power supply, mount with screws, antenna, CD with software, and an instruction manual.
Right off the bat we were impressed with the quick and painless setup process. We used our PC to install the supplied Camera Live program. From there, we plugged in the camera to a power outlet, and within a matter of minutes, we had it setup and recording. The program was very easy to use and opens up a wide range of features for you to delve into. It enables you to monitor multiple cameras, adjust settings, and configure several options that give you full customization over all of the major and minor details.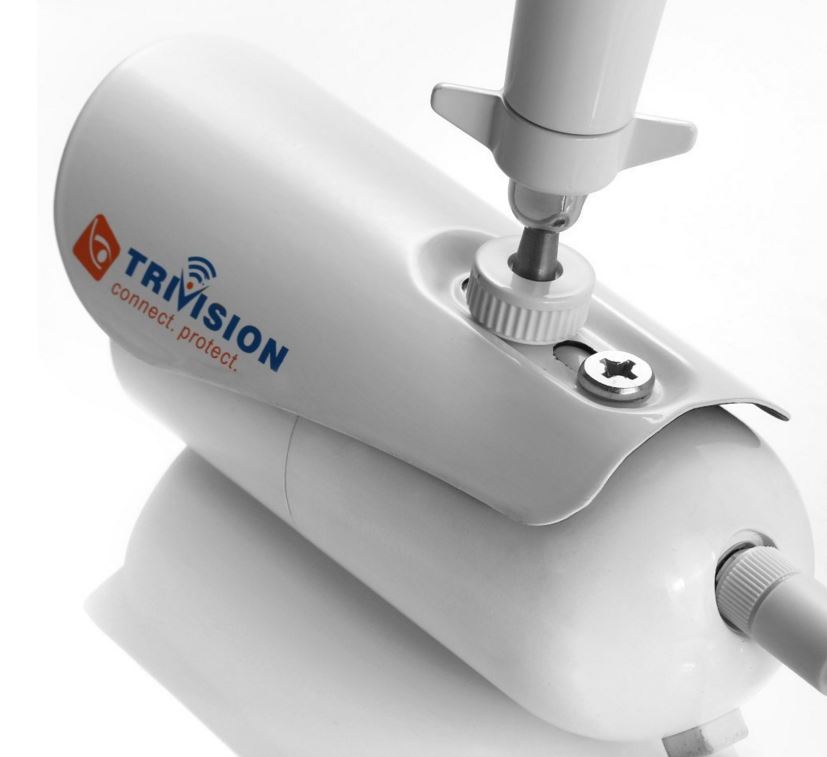 Video Quality
With the ability to record videos in full high definition at 1080p, the Trivision NC-335PW assures pristine quality that you need to capture all of the fine details. Grainy, fuzzy, and hard to distinguish videos are a true thing of the past, but only if you plan on investing in a security camera that records in true HD. Additionally, it has a 90 degree wide angle lens that lets you have a broad field of view that let's you see more of the setting and what's going on.
Night Vision
Equipped with several infrared lights near the lens, it records in full darkness from a distance up to 30 feet away. Best of all, you don't need to manually turn this setting on – the automatic IR Cut Filter will kick in and turn the night vision on or off depending on the current light levels. We tested this Night Vision and were impressed for the most part. Although in some areas we'd like to have a bit more range.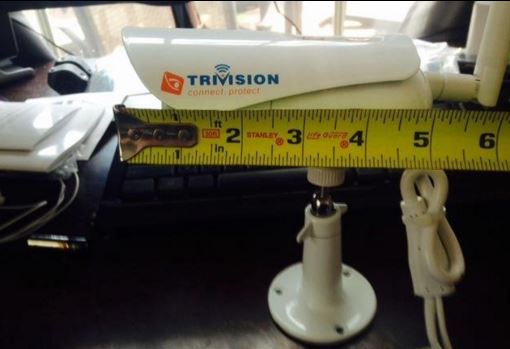 Audio Quality
With the integrated microphone, you're given high-clarity audio with every video capture. This mic is truly phenomenal – it can pickup a whisper from over 100 feet away – literally! We were blown away on how sensitive the microphone was as we could hear our neighbors from a few houses away! Although you can freely adjust the sensitivity if need be, the amount of small noises it can pickup is truly awesome. Needless to say, the audio quality excelled any of our expectations.
Storage
Users are given a wide range of options on how they'd like their video files to be saved and stored. There's an onboard micro SD card slot that is expandable up to 128 GB, but for some – remote storage is the absolute best option. The Trivision NC-335PW can remotely store recordings via FTP (file transfer protocol) to any server that you configure it to connect to, or you can have the data saved to a NAS (network attached storage) that may be connected to your secure network. All of the storage options offer their own benefits, but we're really happy to see such a variety of options.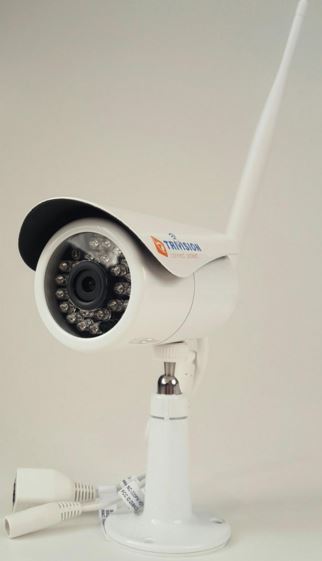 Durable Design
Being that the Trivision NC-335PW is designed for outdoors, you probably already have assumed that it's built for the elements. You're right – from top to bottom, the camera is sealed up in an all-metal anti-rust casing that is specifically designed to hold up in rain, snow, wind, humidity, and both hot and cold temperatures. In fact, it's IP-66 rated for weatherproofing standards that have been rigorously tested for keeping out moisture, dust, and debris. Since it's so durable, you can place it just about anywhere you'd like and not have to worry about it.
Remote Viewing
One of the best and most sought after features that the Trivision NC-335PW Wireless Security Camera offers is the ability to remotely view from anywhere that's connected to the web. From literally any Internet-connected place in the world, you can check in on your camera remotely with the free mobile app with your smartphone or tablet. Alternatively, you can connect via web browser and view and configure your cameras from anywhere.
Notifications
Setting up an instant email or mobile notification is a simple and painless process that only takes a couple seconds. When your camera detects motion, it can send you a notice that lets you know something is going on. This way, you can monitor any event in real-time and watch what's happening within a couple of seconds.
Power Options
Although it's labled as a wireless camera, it still needs to be powered. You can do this by either plugging it into an outlet with the included power adapter, or use the power over Ethernet feature that utilizes a wired connection. One thing to keep in mind is that the camera itself is waterproof, but the AC adapter may need to be underneath an eve or inside a closed space like an attic where it keeps dry. However, we've had our camera plugged into an outlet in a super-humid and damp environment for over a year, and have experienced no issues whatsoever.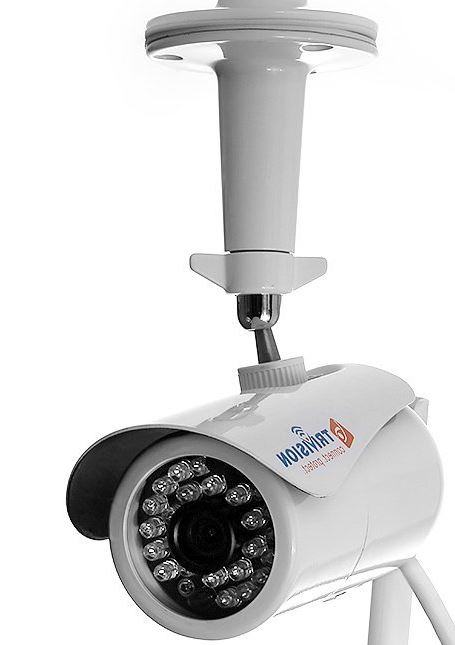 Final Thoughts
For the money, it really doesn't get any better than the Trivision NC-335PW Wireless Security Camera. With full 1920 x 1080p high definition recordings, live remote viewing, an incredible microphone, infrared night vision, and a wireless, durable design, it's easy to see why it's become a favorite. Whether you need to secure your home or office, business or workplace, we feel that it would make a wise investment for virtually anyone looking to "beef" up their security.
Available in 4mm or 6mm focus lengths, you can select the right camera for your specific environment. 4mm offers a wider angle that's ideal for shorter distances, whereas the 6mm focus length is better suited for longer distances that require a narrower angle. Both are excellent choices, and affordably priced too!
Meet Derek, "TechGuru," a 34-year-old technology enthusiast with a deep passion for tech innovations. With extensive experience, he specializes in gaming hardware and software, and has expertise in gadgets, custom PCs, and audio.
Besides writing about tech and reviewing new products, Derek enjoys traveling, hiking, and photography. Committed to keeping up with the latest industry trends, he aims to guide readers in making informed tech decisions.