Cell phone coverage is often "hit or miss" with some residences. If your home or office are known "dead-zones" when it comes to a 4G cell phone signal, you know how difficult and frustrating it can often be to attempt to make a call when you need to. Poor cell service isn't always something that's easy to solve, but with the right 4G cell phone booster kit, you'll achieve a stronger signal and drastically improved reception in those hard to reach areas.
weBoost Connect 4G-X Cell Phone Booster Kit
Improve 4G Coverage for your entire Large Home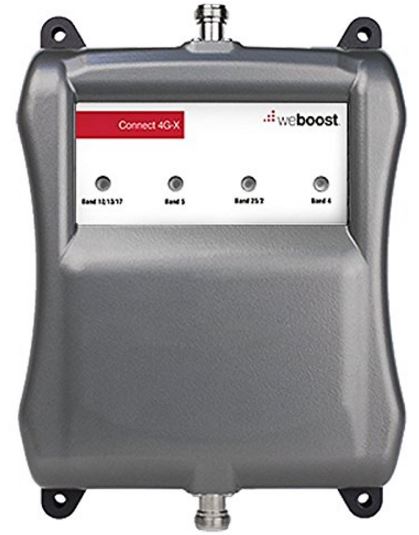 The weBoost Connect 4G-X Cell Phone Booster Kit provides some of the best coverage and improved 4G signal strength that we've seen. Designed for large homes between 3,500 and 5,000 square feet, it can improved the connection for up to 100 devices at the same time.
Comes with everything that's needed including the outside antenna, the connect 4g-x, power supply, and inside panel antenna.
The outside antenna is a wide band directional antenna that captures the 4G signal outside and sends it to the Connect 4G-X device. This device then amplifies the signal to the interior panel antenna where it's available in a stronger form to use inside your home or building.
Installation is easy and can be completed with standard household tools. It involves mounting which encompasses drilling, stud-finding, and some easy cable running.
Compatible with all carriers in both Canada and the United States. You won't have to worry about it miscommunicating with any cell companies, even obscure ones.
Backed by an impressive two year warranty period and a 30 day money back guarantee if you aren't happy with it.
weBoost is a company that stands proudly behind their products as they offer United States based customer support in case you have any direct questions or concerns about the kit.
weBoost Home 4G Cell Phone Booster Kit
Improve 4G Coverage for 1-2 Rooms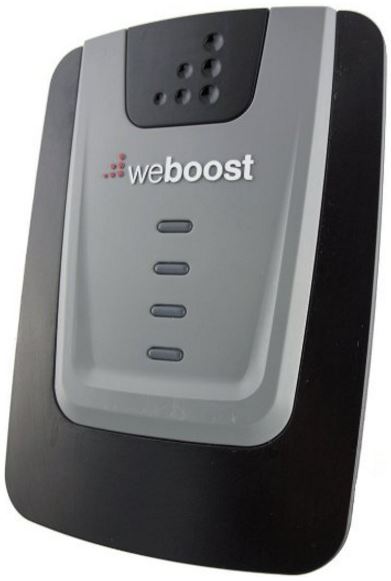 The weBoost Home 4G Cell Phone Booster Kit offers a total solution to improve your indoor cellular voice and data signals. Ideal for home or office, it can make a substantial improvement to bring new life to dead zones.
Offers enough coverage to improve the signal in 1 to 2 rooms. Although it won't necessarily reach a coverage area of your entire 3,500 to 5,000 square foot home, this is usually enough coverage to drastically improve most people's signal situation.
Works equally well for smartphones, tablets, and notebooks – any devices that require a high speed 4g network signal to process data and calls without cutting out or dropping half way through.
Functions both in Canada and the United States for all cellular carriers that use 4g voice and data signals.
Comes included with everything you need for a DIY installation. First, hook up the outside antenna in a good location on the exterior of your home. Then, connect the 4g amplifier desktop antenna and connect the two together with the provided cable. Lastly, connect the inside panel antenna to whatever area of your home/office that you'd like to see a signal boost. And then of course you'll need to plug in the power supply and you're good to go.
Effectively extends the battery life of your devices since they won't have to work as hard to achieve a good signal.
zBoost TRIO SOHO Tri Band 4G Cell Phone Signal Booster
Improve 4G Coverage for 2,500 to 5,500 sq. ft.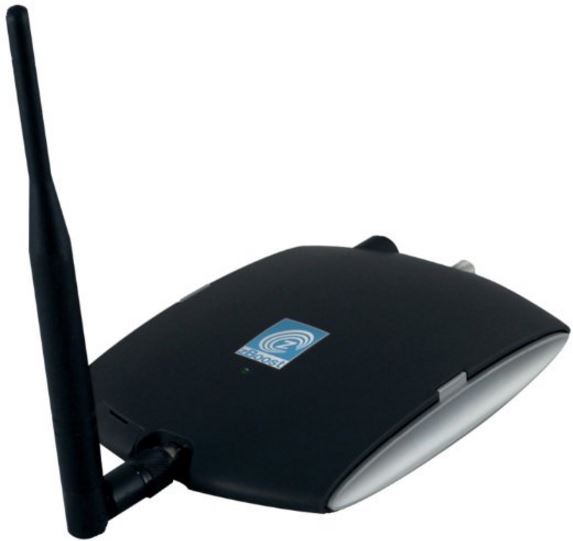 The zBoost TRIO SOHO Tri Band 4G Cell Phone Signal Booster is a high performance device that's fully compatible with all major carriers to improve voice, data, and text.
Ideal for homes who have terrible service inside their home, but have a decent signal outside their home. Those who have structural signal difficulties may gain the most from this.
Easy to improve your signal in 4 easy steps. First, you'll need to mount the external antenna on the roof or inside the attic of your home. Pick an area where you know you can achieve a decent signal. Then, connect this antenna to the base unit using the supplied RG-6 coaxial cable. You may need to route the cable a bit, depending on where you mounted the antenna, but try to keep at least 15 feet of vertical feet between the base unit and the external antenna. Lastly, power the unit on with the power supply, and you're good to go.
Works with all networks out there including CDMA, GSM, GPRS, EDGE, EVDO, 1xRTT, UMTS, HSPA, 3G, and LTE.
Since your phone naturally uses less energy when the signal is good, you should notice an improvement in your cell phone's battery life.
No manual updates or configurations are needed. It's designed to automatically operate at the maximum gain (up to 70 dB).
Incredible low power consumption of 3 watts standby and 7 watts maximum. You won't notice an increase in utilities, it hardly uses any energy.
Protected by a one year manufacturers warranty period.
Final Thoughts
We all know how frustrating it can be to deal with the difficulties attached to having a poor cell signal where you live or work. Dropped calls, missed calls, or slow connection speeds are all good reasons to seek improvement in the finicky world of mobile technology. Whether you have AT&T, Sprint, Verizon, or another carrier, the devices we've shared with you are all solutions that can provide real benefits. Although do keep in mind that you are required to register any of these units with your wireless provider so that you have their consent. You must register with them although all major carriers have already given recognition that they allow boosters on their network. With that in mind and our recommendations that we've given, you can now make an educated decision on the best 4G cell signal boosters of 2016.
Meet Derek, "TechGuru," a 34-year-old technology enthusiast with a deep passion for tech innovations. With extensive experience, he specializes in gaming hardware and software, and has expertise in gadgets, custom PCs, and audio.
Besides writing about tech and reviewing new products, Derek enjoys traveling, hiking, and photography. Committed to keeping up with the latest industry trends, he aims to guide readers in making informed tech decisions.