Gamers and computer users everywhere have one thing in common. They (probably) have to use a keyboard. However, there are countless styles, sizes, and designs to choose from depending on your use case. One of the more popular options out there are 75% keyboards.
What is a 75% keyboard?
A 75% keyboard is just like a standard keyboard, except a bit smaller. Full-size keyboards typically have around 108 keys, including a full set of numbers and letters, function keys, arrow keys, a number pad, and more.
Why is a 75% keyboard good to have?
There are lots of reasons why a 75% keyboard is good to have! They are in a sweet spot of size and versatility. Standard keyboards are capable of the most diverse set of functions but also have the largest size. Smaller keyboards improve on the space taken up on your desk but lack many useful functions. 75% keyboards are right in the middle, taking up less space on your desk while still being workhorses for your computer needs.
What are some features I should look for in a 75% keyboard?
There are lots of features to pay attention to when picking the right keyboard for your needs. Different options will have different kinds of switches, keycaps, and build materials. In addition, some boards are hot-swappable, meaning you can change switches whenever you want to. Connectivity is another key aspect, as you'll need to know your options for connecting your keyboard to your computer.
Best Overall: ASUS ROG Azoth 75% Wireless DIY Custom Gaming Keyboard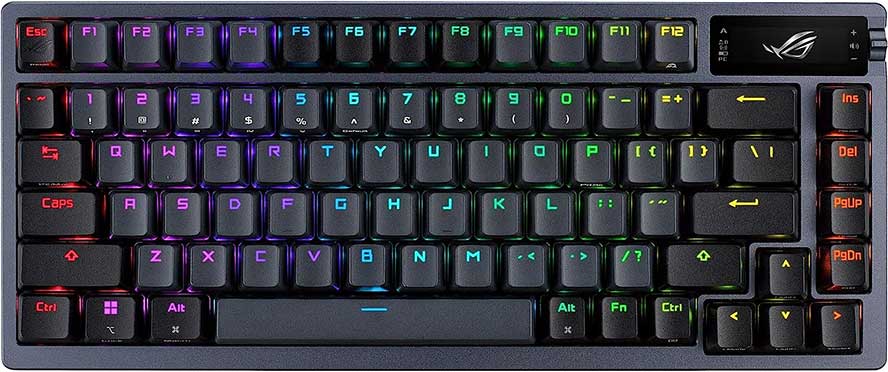 Key Features:
75 keys
Multiple sound-dampening layers
OLED Display
In our opinion, the ASUS ROG Azoth is the best 75% keyboard on the market. It features 75 keys. This includes arrow keys and a full top row of function keys. As for switches, you have three different types to choose from, including:
ROG NX Blue
ROG NX Brown
ROG NX Red
Additionally, these switches are hot-swappable, so you can change them out at any time.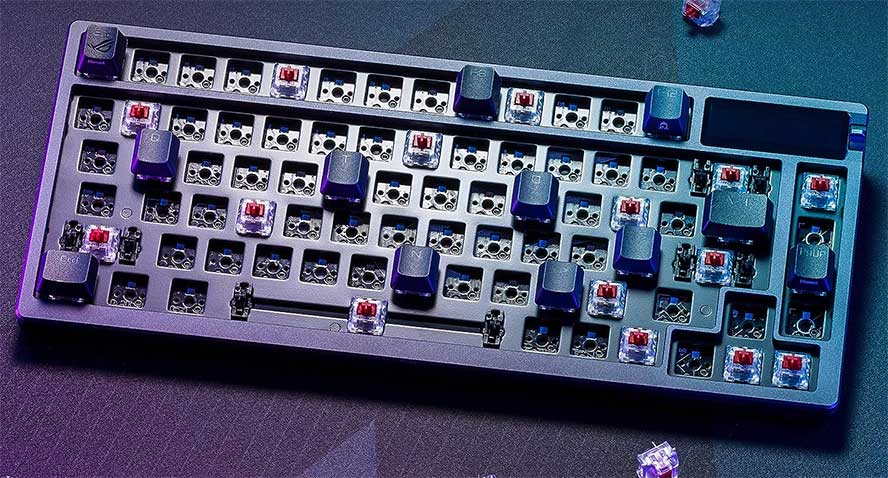 As for looks, the ROG Azoth is a great-looking device. It comes in an all-black colorway with full RGB backlighting. The keycaps used are textured PBT material and are also all black. Best of all, the top right corner has a small OLED screen. In our opinion, this is a great minimal-looking board with some extra looks to set it apart.

As for build quality, this is a solid keyboard. ASUS used all premium materials in the construction of it. This board has multiple layers of silicone gaskets and foam to help with sound dampening while in use. When it comes to connecting this keyboard to your computer, you have three options. It can use a wired connection, Bluetooth, or 2.4 GHz wireless. While in Bluetooth mode, you can connect it to three different devices at the same time. While in wireless mode, this board can last for up to 2,000 hours.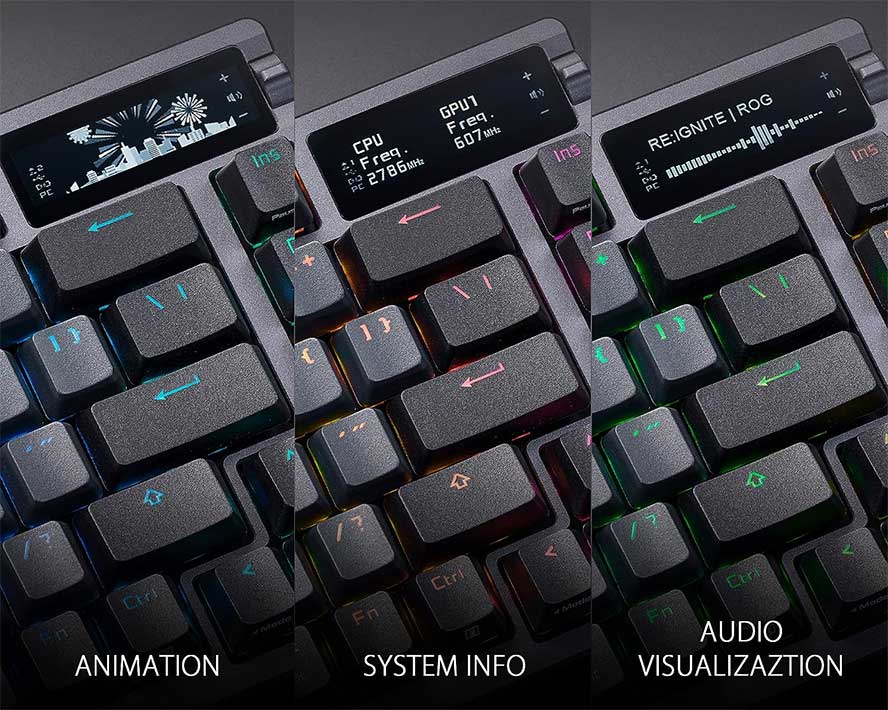 The coolest extra feature of this keyboard is its included OLED display. This screen measures 2 inches and displays many different pieces of information. This information includes battery level, multimedia info, communications, CPU temperature, and more. Settings for this screen can be changed with a three way control know and side button next to the screen.
Pros:
Three ways to connect
OLED info display
Full RGB backlighting
Cons:
Best Runner-Up: Keychron K3 Ultra-Slim 75% Mechanical Keyboard

Key Features:
84 keys
Durable plastic and aluminum construction
Ulta slim design
The Keychron K3 is a great 75% keyboard with an ultra-slim body. There are 84 total keys, with a full function row and arrow keys. Saving space was key in this build, as every key is close together in a rectangular body with no wasted space. Thankfully, there are two different switch types to choose from. They include:
Low profile Gateron Brown
Low profile Gateron Red
As for hot swapping, these switches aren't compatible, so make sure to know which type of switch you want before buying.

As for looks, this is a great modern looking board. There is only one colorway available. It features a mix of dark grey, light grey, and orange plastic keycaps. In addition, there is RGB backlighting. This can be customized to show 18 different lighting profiles. This mix of looks makes the keyboard great for minimalist and gaming setups alike.
This keyboard is constructed out of durable plastic and aluminum to ensure a long lifespan. This is complemented by durable keys and switches as well. As for connectivity, there are two different options. The first is to connect to your device via the included USB-C cable. The other option is Bluetooth 5.1. While in Bluetooth, this keyboard can operate for up to 34 hours on a single charge of the 1550 mAh battery. The Keychron K3 can be used with Windows, Mac, and mobile devices alike.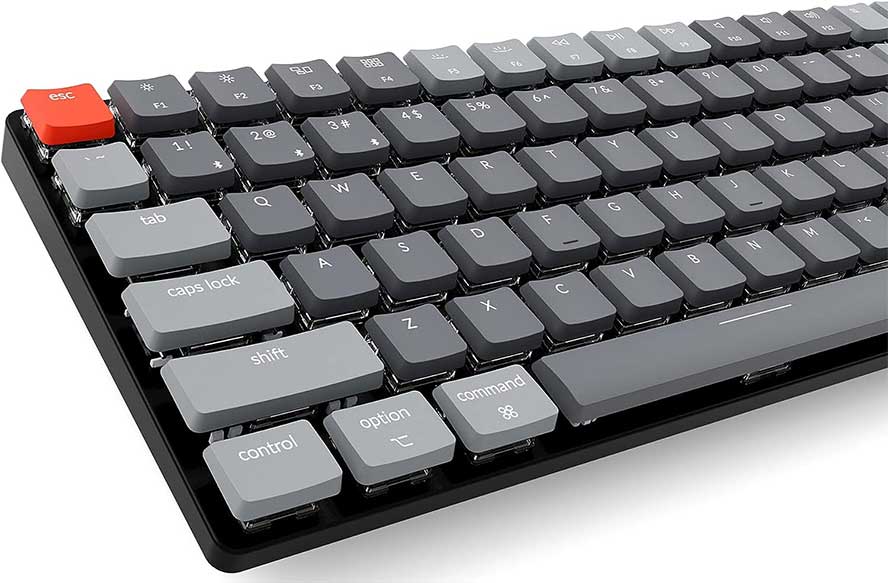 The best extra feature of the Keychron K3 is its slim design. The entire board is only 22 mm thick at its thickest point and 17mm thick at its thinnest point. This is possible due to the low-profile switches, which are 40% slimmer than conventional switches. Additionally, there are fold-out feet on the back of the board that create either a 6 or 9-degree angle for a more comfortable typing experience.
Pros:
Slim profile
84 total keys
18 RGB lighting profiles
Cons:
Limited switch options
Not hot swappable
Best Alternative: EPOMAKER TH80 Pro 75% Hot Swap RGB Mechanical Keyboard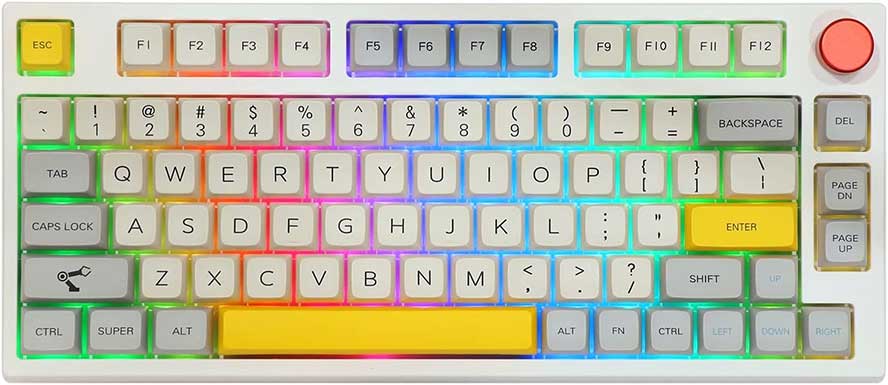 Key Features:
80 keys
Plastic body construction
Control knob
The EPOMAKER TH80 Pro is a great alternative to any of the other 75% keyboards we've introduced. It has a total of 80 keys included in the body. They include all the regular keys you'd expect, the function row, arrow keys, and even a control knob. The keycaps included are made out of MDA PBT material. Best of all, there are a variety of switch types to choose from. They include:
Epomaker Bluebird Switch
Epomaker Budgerigar Switch
Epomaker Flamingo Switch
Gateron Pro Yellow
Wisteria Linear
In addition, this keyboard is hot swappable, so you can always change switches if you ever want to.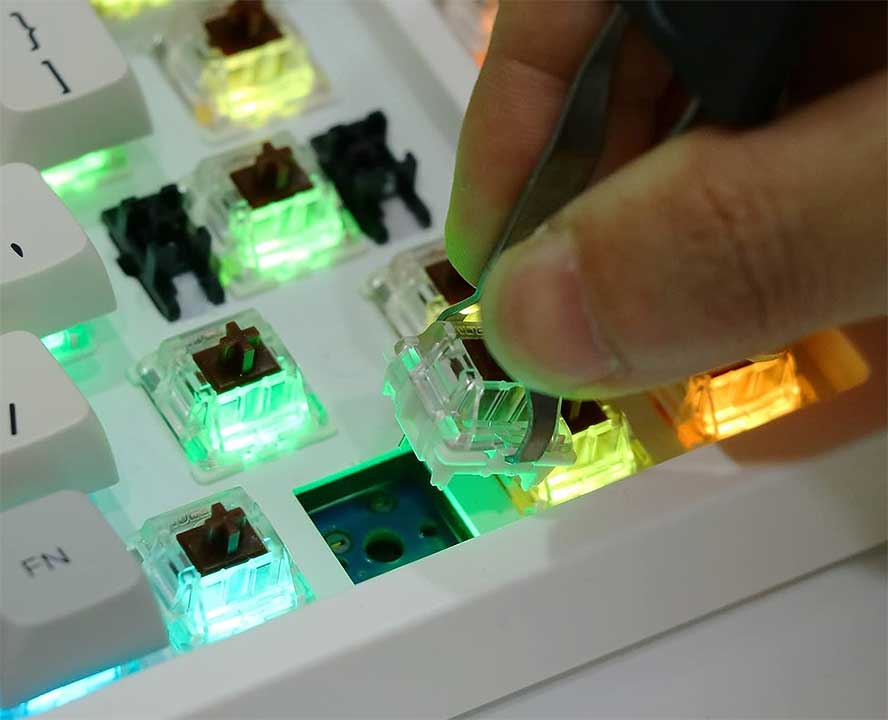 As for looks, there is quite a bit of variety on the EPOMAKER TH80 Pro. There are four different colorways to choose from, all coming with RGB backlighting. They are:
Black with black and purple keycaps
White with white, green, and blue keycaps
Black with black and grey keycaps
White with grey, yellow, white, and red keycaps
The overall construction of the TH80 Pro is a plastic body with PBT keycaps. However, durability shouldn't be an issue. As for connectivity, there are three modes to choose from. You can use Bluetooth 5.0, 2.4GHz wireless, or USB-C. Internally this keyboard has a 4000 mAh battery to provide power while in wireless modes. These modes also allow you to use the keyboard with Windows, Mac, PS5, PS4, Xbox, and mobile devices.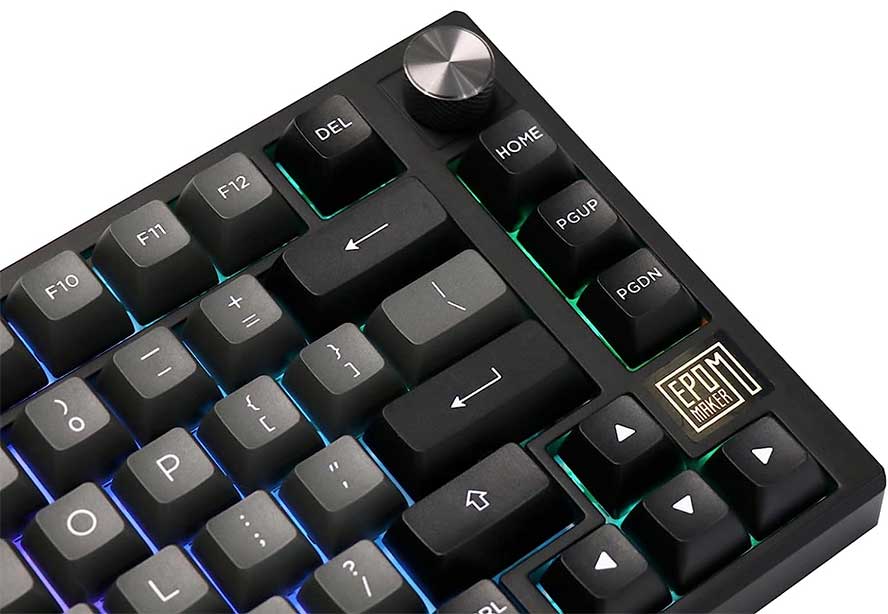 The best extra feature on the TH80 Pro is the metal control knob. This knob allows you to control various features and functions of the keyboard. They include volume up, volume down, play, and pause out of the box. Additionally, you can custom program its functionality to perform other actions such as copy, paste, and search functions.
Pros:
Custom control knob
Three methods of connectivity
Wide variety of key types
Cons:
Some reviewers don't like the customization software
Best 2nd Alternative: keydous NJ80-AP Wireless 75% Mechanical Keyboard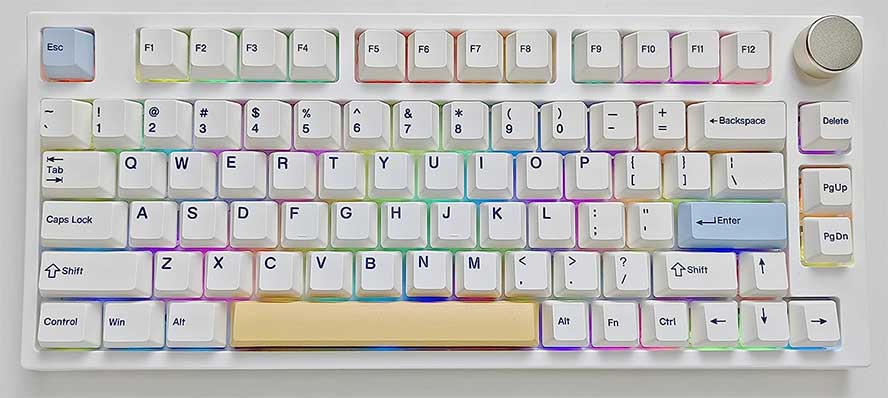 Key Features:
82 keys
Multiple base plate material options
Control knob
The keydous NJ80-AP is another great choice for a high quality 75% keyboard. It has a total of 82 keys with pretty much the same layout as the Epomaker TH80. The keycaps used are made from a durable PBT material. The switches are hot swappable with most 3 or 5-pin options on the market, so you have a ton of customization options. However, there are plenty of switches to choose from directly out of the box as well. They include:
BOX Blueberry Ice Cream Pro
BOX Strawberry Ice Cream
Gateron Pro Brown
Gateron Pro Milky Yellow
Aesthetically, this is a great-looking keyboard. It has two different color choices to choose from. The first is a white baseplate with white, blue, and yellow keycaps. The second is a grey base plate with grey, purple, and silver keycaps. Both options also come with RGB backlighting.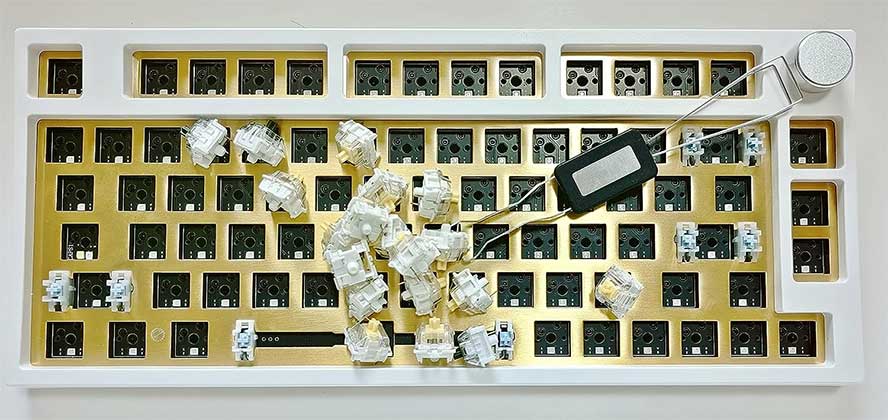 As for build quality, this is one of the better choices on the market. There are two different base plate materials to choose from, including steel and brass. Internally, there are multiple features to improve quality, such as poron PCB foam and poron case foam. As for connectivity, there are three different methods. You can choose between Bluetooth 5.0, 2.4G wireless, and wired. While in wireless modes, you can connect the board to up to 5 different devices simultaneously. These devices can include computers, laptops, smartphones, and tablets. These devices can also use various operating systems, such as Windows, Mac, iOS, Android, and Linux.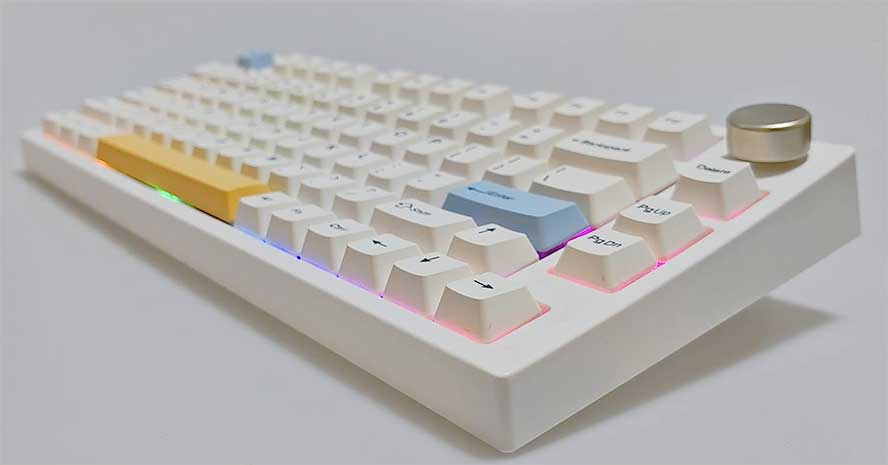 The best extra feature on the keydous NJ80-AP is the control knob. This knob functions pretty much the same as the control knob on the TH80 from Epomaker. It's made out of aluminum to help with durability and can be rotated infinitely to the left and right. By default, this knob controls the volume settings on your devices. As like many others, it can be programmed by the keyboard software to perform other operations.
Pros:
Metal case materials
3 or 5-pin hot swap capabilities
Three ways to connect
Cons:
Some reviewers note issues with key stabilizers
Best Budget: MageGee 75% Mechanical Gaming Keyboard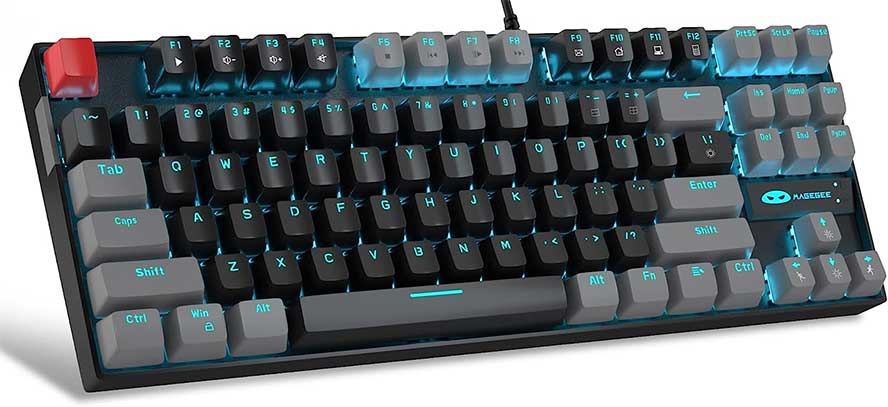 Key Features:
87 keys
Alloy metal panel construction
Anti-ghosting keys
The MageGee 75% mechanical gaming keyboard is one of the best options when looking for a great keyboard on a budget. It uses double shot injection keycaps to provide a durable and enjoyable typing experience. As for switches, there are four choices, including:
Red Switch
Blue Switch
Brown Switch
Yellow Switch
Unfortunately, this keyboard is not hot swap compatible.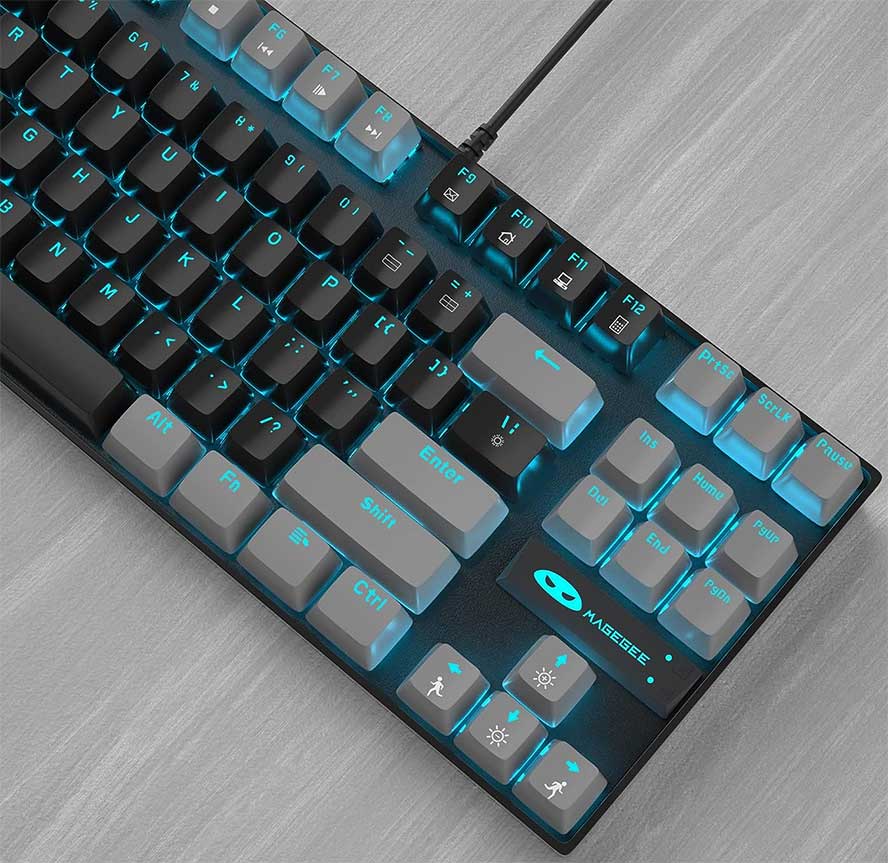 There are multiple different styles and colors to choose from with the MageGee. Each color option is limited to one or two different types of switches. The different colors are:
Black body with black, grey, and red keycaps
Black body with black, white, and orange keycaps
White body with white and blue keycaps
Pink body with pink and white keycaps.
Thankfully, this keyboard has 21 LEDs to provide backlighting. However, this isn't RGB backlighting, so customization is limited. As a bonus, there are also 16 extra included keycaps in various colors, depending on which colorway you choose.
As for build quality, this is a solid board at its price point. It's constructed with durable plastic materials, as well as an alloy metal panel. This should help keep it working for a long time, even with heavy gaming use. To connect to your devices, you must use a wired connection. As for compatibility, you can use it with Windows and Linux devices without any issues.

The best extra feature on the MageGee is the anti-ghosting technology. On some budget boards, pressing multiple keys at once can prove to be a real issue, with some not registering. However, this board has technology that allows you to press multiple keys simultaneously without causing any issues.
Pros:
Budget price point
Anti-ghosting technology to allow simultaneous key use
Multiple switch and color options
Cons:
No wireless connection options
Not hot swappable