Overall Design -

8.5/10

Performance -

9.5/10

Audio & Video Quality -

9/10

Compatibility -

8.5/10
Summary
After diving deep into our review, we can boldly declare that the Mini Lite emerges as a true star in the cutthroat realm of video conferencing tools. However, like any product, it isn't perfect. The premium quality and features come with a price tag that might not fit everyone's budget.
Pros
Exceptional 4K resolution capture
Intelligent AI Tracking
High compatibility range
High-quality electret microphone
Cons
Higher-end pricing
Limited niche software integration
If your remote work life has been a cavalcade of blurry video calls, shaky frames, and tinny audio, relief is here. Say hello to the COOLPO AI Huddle Mini Lite – a device so packed with features it leaves your old webcam in the dust. This nifty little gadget isn't just about taking video conferencing up a notch; it's about reinventing the whole darn game.
So whether you're a busy professional trying to keep the digital office running smoothly or an educator aiming to make your virtual lessons as vibrant as your in-person ones, buckle up. Our comprehensive review is about to take you on a journey through every aspect and feature of the COOLPO AI Huddle Mini Lite.
Unboxing: What's Inside?
Upon receiving the package, the Coolpo AI Huddle Mini Lite (40% discount code: 40SIJ7AK) reveals itself in a sleek and compact box. Inside the box, not much is present. You get the main camera unit, which measures just 6.1 x 3.66 x 3.03 inches and weighs only 15.5 ounces.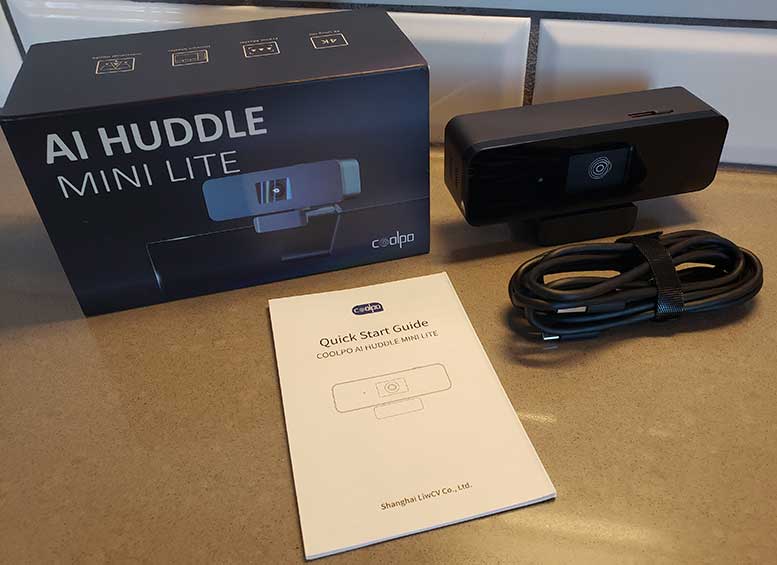 And apart from it, there's also a quick start guide and USB-C cable included – a welcome sight that caters to the growing prevalence of this versatile connector in many modern devices. The included components are limited, yes. But sometimes, less truly is more.
First Impressions
The Coolpo AI Huddle Mini Lite makes a strong first impression. Its minimalistic design and compact size reflect its utility for both remote and hybrid meetings. Designed with portability in mind, this sleek device is ready to accompany you wherever your work takes you. From co-working spaces to cozy coffee shops, its dimensions make it effortlessly portable. The build quality feels robust, and it is evident that there's been significant consideration given to its aesthetic appeal.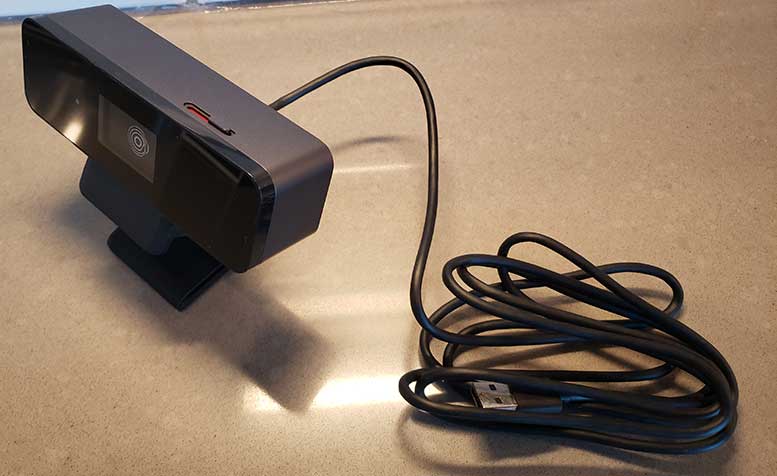 It seamlessly blends into any modern office or home setup, effortlessly complementing the surroundings. The initial setup is a breeze, thanks to the inclusion of the USB-C cable, offering plug-and-play convenience. And with the user-friendly CoolpoTools software, you can rest assured that the design of this device prioritizes an exceptional user experience. Overall, our first impression of the Coolpo AI Huddle Mini Lite suggests a device that sets the bar high.
Design and Build Quality
Emanating a sleek and modern appeal, the overall design is quite impressive. It adopts a sleek and minimalist design, effortlessly blending in with various desktop setups to create a harmonious visual experience. There's a certain understated elegance to it that speaks to its professional nature. The build quality doesn't disappoint, either. Holding the device in your hands, you'll feel the robust construction and weight distribution that attests to the premium quality of materials used.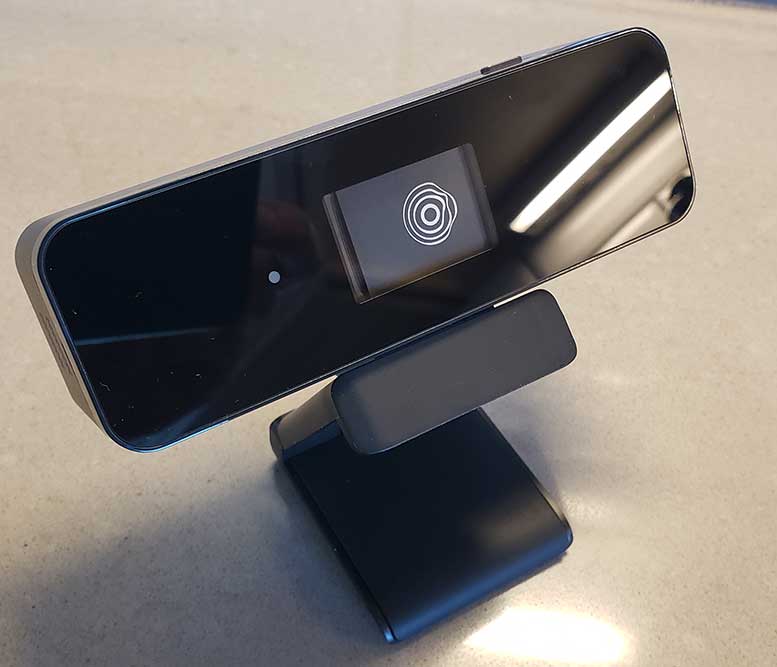 With its robust construction, this gem is built to withstand the rigors of daily use and travel, making it a must-have for professionals on the move. From the sleek exterior to the meticulous attention to detail, every aspect exudes precision craftsmanship. There are no loose parts or unnecessary embellishments, reinforcing Coolpo's commitment to functionality and elegance. This also hints at its potential longevity and reliability.
Usability and Performance
We put the Mini Lite to the test to truly gauge its usability and performance. From the serene confines of our home offices to the lively ambiance of bustling coffee shops, this little powerhouse proved its mettle time and time again. Getting set up is only a matter of plugging it into your computer. You're all set to kick off your meetings. The CoolpoTools software is easy to navigate, too, allowing even the most tech-challenged users to configure the different AI and non-AI settings without hassle.
In Frame Master Individual Mode, it excelled at keeping the speaker at the center of the frame, regardless of background movements or distractions. And then there's AI Tracking. It is perhaps the biggest shining star of the AI Huddle Mini Lite, and rightfully so. It not only helps in keeping track of a single individual but also a whole group. Stay tuned as we dive deeper into these exciting features and many more in the upcoming sections.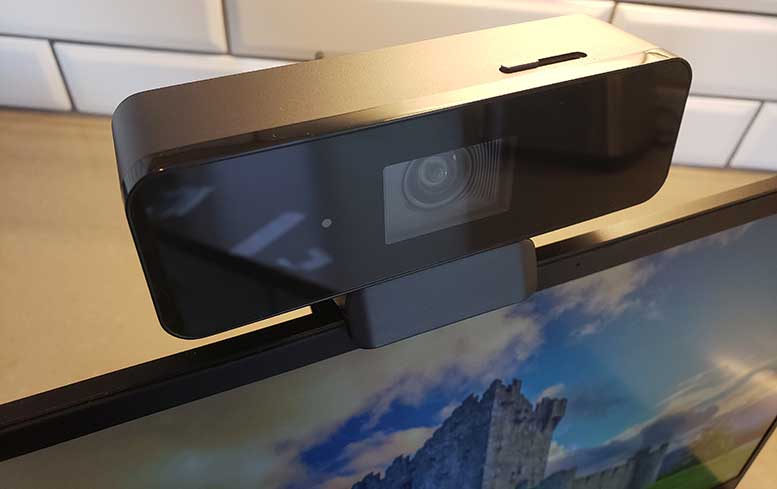 But as you can probably already tell, this isn't your average face cam. This is not just another webcam. It's the next evolution in technology, bringing forth a whole new level of user experience that is nothing short of amazing. Get ready to be blown away by its incredible usefulness. Let's dig into each of the features and modes that make the Mini Lite such a key player in the modern digital landscape.
AI Tracking
The AI Tracking feature is truly mind-blowing, taking the camera system to a whole new level. This brilliant feature harnesses the power of advanced AI technology to effortlessly detect and track the movement of participants in the room. Its true potential shines in scenarios with multiple individuals, each adding their own dynamic presence to the conversation. In such scenarios, the Mini Lite's AI Tracking truly shines.
In our tests, the AI Tracking functioned flawlessly, smoothly transitioning between participants without any abrupt jumps or awkward pauses. The outcome? A seamless, captivating, and polished video conferencing experience that authentically mirrors the dynamics of an in-person meeting. AI Tracking takes away the stress of manually adjusting your camera or worrying about positioning – you can just focus on your meeting, knowing the camera has you covered.
And this is where the Real-Time Presenter Tracking mode stands out. True to its name, this incredible feature guarantees that the presenter remains in the spotlight and perfectly focused throughout their captivating presentation. No matter how much movement occurs in the presentation or how crowded the surroundings may become, this mode maintains focus on the presenter.
We eagerly put this feature to the test in a myriad of exciting scenarios. We concluded that its intelligent framing capability indeed allows for a smooth, uninterrupted video experience. It effectively enhances the professionalism and efficacy of your meetings or presentations. The presenter can move freely, knowing they will remain the center of attention. That's huge in the modern boardroom.
Division Master: Enhancing Group Collaborations
In group scenarios, the Division Master feature shines brightly. In today's world, where meetings often involve a mix of remote and in-person participants, framing everyone adequately can be a challenge. Division Master, or Group Target Mode, handles this seamlessly. Whether it's a room filled with participants or a few individuals spread across different locations, the camera automatically adjusts the frame to include everyone.
Experience a whole new level of immersion and inclusivity in your meetings! With our innovative feature, no one gets left behind, no matter where they are in the room. Say goodbye to manual adjustments and hello to seamless focus on what truly matters: your meeting. This mode is a game-changer for classrooms, brainstorming sessions, and board meetings, ensuring you capture everyone's reactions and valuable input. Get ready to elevate your collaboration to new heights!
Privacy Mode
In the digital age, protecting our privacy has become a matter of utmost importance; safeguarding it is crucial to ensure our security and peace of mind. Coolpo tackles this concern with its Privacy Mode. This feature includes a privacy cover that can be manually controlled with a switch located on top of the webcam.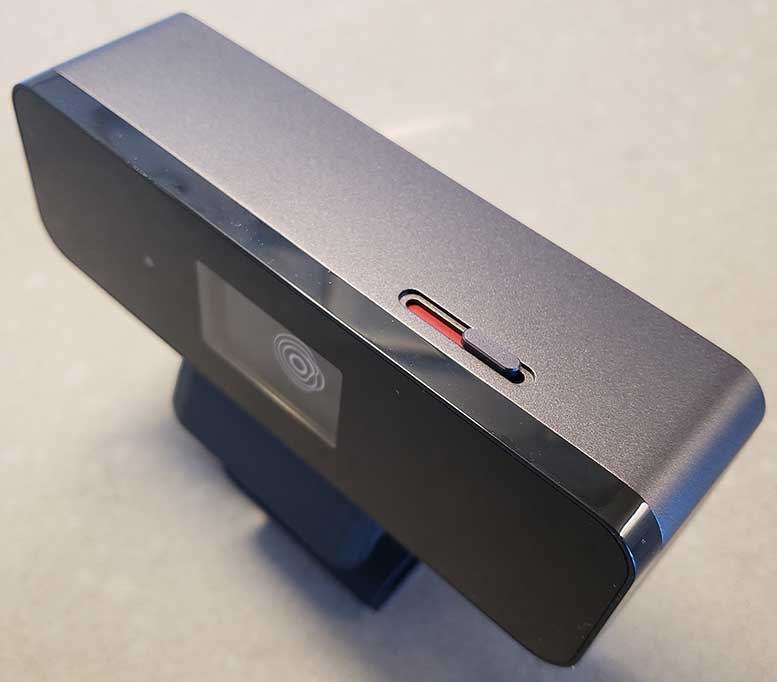 This grants you complete control over your privacy, alleviating worries about unwanted viewers or potential hackers. Experience peace of mind as you conduct your meetings, knowing that your privacy is protected with this amazing feature.
Electret Microphone
The Mini Lite doesn't just excel in video quality; it ensures your audio is equally impressive. Experience crystal-clear sound recordings with the built-in electret microphone of this webcam. With its remarkable ability to minimize background noise, every audio detail is captured for an immersive and high-quality experience.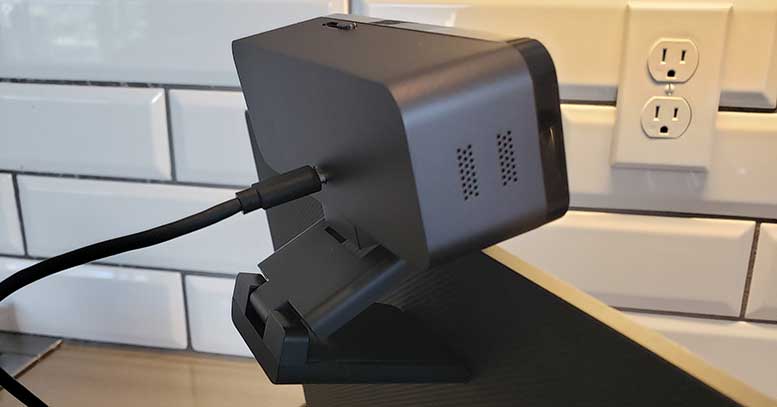 Without pesky distractions, you can look forward to more effective communication during your meetings, fostering greater engagement from all participants. Remember, productive meetings rely on exceptional listening as much as they do on clear visuals.
The 4K Experience
Another major highlight is undoubtedly the 4K resolution capture. It can make the difference between an ordinary meeting and a truly immersive and engaging encounter. Here, the Mini Lite truly shines. You get video in unparalleled detail with support for up to 4K@30FPS – that's four times the richness of Full HD.
You'll be able to pick up on minute facial expressions, subtle gestures, and even the texture of materials, adding a level of realism that elevates your remote meetings to almost in-person interactions. Moreover, low-light performance is exceptional. Even in challenging lighting conditions, it works its magic, capturing and delivering stunningly sharp, crystal-clear, and perfectly balanced video.
That means no more graininess and noise that typically plague low-light recordings – now, your meetings will always be professional and captivating, no matter the lighting. In our tests, the 4K experience left us utterly impressed. This level of quality effectively takes clarity and immersion to the next level, making communication a total game-changer.
We've grown so accustomed to lower-definition presentations that witnessing and experiencing 4K is truly mind-blowing. The Mini Lite's 4K resolution capability is not just a feature; it's a game-changer. It's a mind-blowing standard for video conferencing, delivering a level of realism and immersion that will leave you in awe. It's a clear testament to the camera's commitment to delivering an exceptional communication experience.
Compatibility
The Mini Lite scores high on compatibility. It seamlessly integrates with various popular conferencing software and systems. Whether you're a Zoom user, prefer Skype, or work with Microsoft Teams, Google Meet, BlueJeans, Webex, or others, this webcam is designed to function flawlessly across all platforms.
This broad compatibility expands its usability, making it a versatile addition to any professional or educational setup. No matter what your preferred platform is, Coolpo's little camera is designed to deliver an exceptional experience.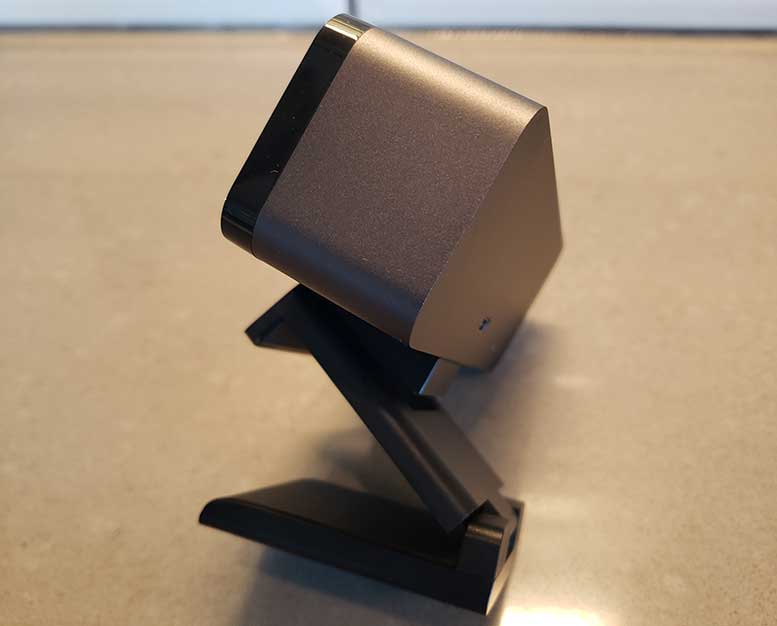 Final Verdict
After diving deep into our review, we can boldly declare that the Mini Lite emerges as a true star in the cutthroat realm of video conferencing tools. However, like any product, it isn't perfect. The premium quality and features come with a price tag that might not fit everyone's budget.
And because it caters to more popular software, getting it to work with more specific or less common platforms might require some troubleshooting. However, these minor challenges pale in comparison to the overwhelming benefits. Coolpo's AI Huddle Mini Lite is more than a webcam. It's a must-have tool that promises to redefine your video conferencing experience. Don't forget to use the discount code 40SIJ7AK for a 40% off savings when you purchase it.