For those who spend countless hours at their computer, mechanical keyboards are the way to go. They often have the most premium feel, design, and typing experience available on the market. They also have various clicking sounds that are created while typing. These can be super clicky, more dull sounding, or anything in between. For some, finding a quiet option is the better preference. However, for others, the best choice is the keyboard that makes the most noise.
What is a loud mechanical keyboard?
A loud mechanical keyboard is the kind that makes the loudest clicking noises. They function just like other mechanical boards but make way more awesome (or annoying to others) noises.
How do they get so loud?
The noise produced comes from the switches used in the board itself. Not all switches are designed to create noise, so paying attention to the various options is important. Beyond that, other components inside the board body, as well as the materials used to build the body, can enhance the sounds created by the switches.
Do I have to use mechanical switches to get a loud keyboard?
Not necessarily. However, they do offer the widest range of loud options. The alternative is membrane keyboards, and those are more well-known for their quiet typing and squishy feel.
Why would I want a loud keyboard?
They sound awesome! In addition, they tend to provide the best tactile feedback – both audibly and physically. While it's simply an opinion, most individuals love the unique sound of an ultra responsive keyboard. Whether you're a programmer or a highly experienced gamer, the sound of a loud keyboard is simply unmatched.
Best Overall: DROP ALT Mechanical Keyboard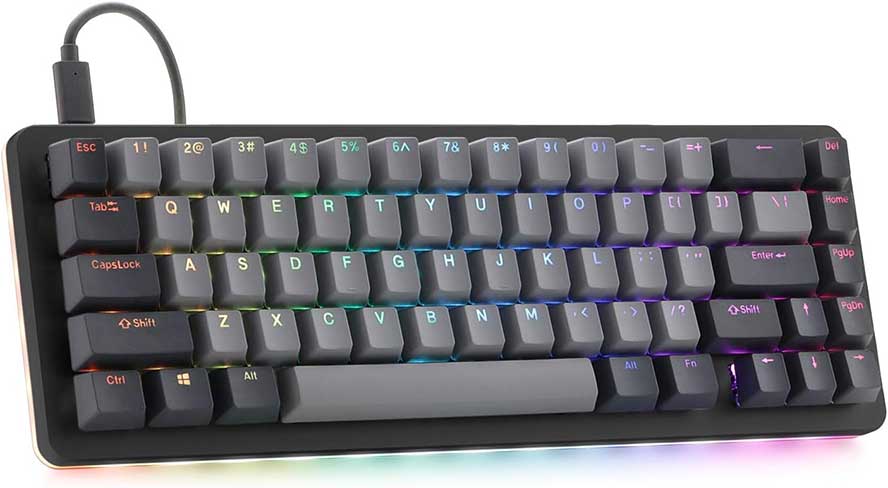 Key Features:
67 keys
Aluminum frame
Multiple RGB features
The ALT from Drop is the best overall option on this list. It features doubleshot shine through PBT keycaps to ensure maximum durability. It's fully hot-swappable and comes with a variety of switches to choose from by default. They include:
Halo True
Cherry MX Blue RGB
Cherry MX Brown RGB
Halo Clear
Kaihua Box White
Kaihua Speed Silver
The loudest switch available of the choices is the Cherry MX Brown RGB.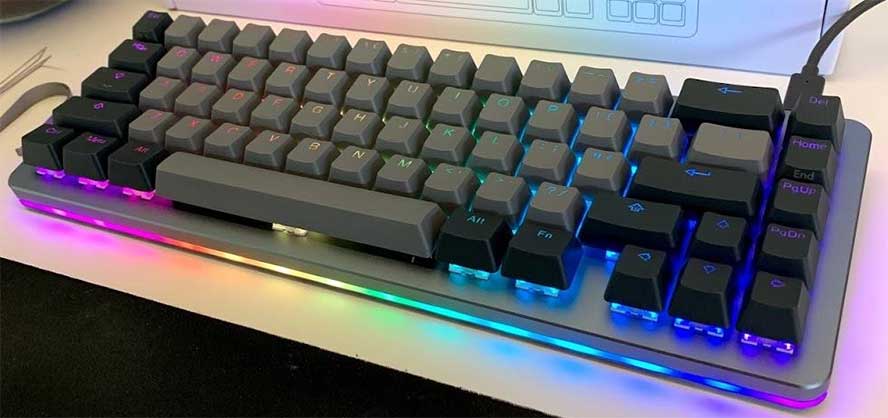 The body is made from aluminum to improve durability while also staying lightweight. It also comes with magnetic feet that are removable. This lets you have it lie flat on your mousepad or sit up for more ergonomic typing. It also has USB-C ports on both sides to allow easy cable management, no matter which side of the desk your PC is on.
Aesthetically, this is a great-looking board available in both black and grey. Each key is individually lit by RGB with millions of colors to choose from. It also has RGB effects along the side of the body. There are multiple pre-programmed lighting effects, but they can also be custom programmed to match your own style.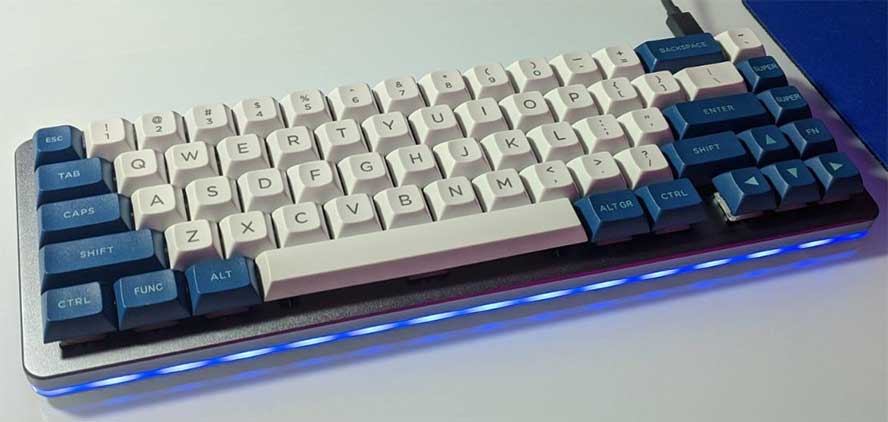 You can use the ALT with both Windows and Linux operating systems. Additionally, it also has the ability to be custom programmed. Using QMK firmware, you can create custom macros or remap the entire board.
Pros:
Multiple key choices available with various levels of loudness
RGB back and side lighting
Doubleshot PBT keycaps
Cons:
Best Runner-Up: Ducky One 2 Pro Mini Classic RGB

Key Features:
60% board
Durable body
RGB backlighting
The Ducky One 2 Pro Mini Classic RGB is a solid runner-up choice for a loud mechanical keyboard. It comes with black PBT double shot keycaps, as well as ten additional random color ones as backup. As for keys, there are four choices. They include:
Kailh BOX Brown
Gateron Yellow
Kailh BOX Red
Kailh BOX White
The loudest option of the four is the Kailh BOX Brown.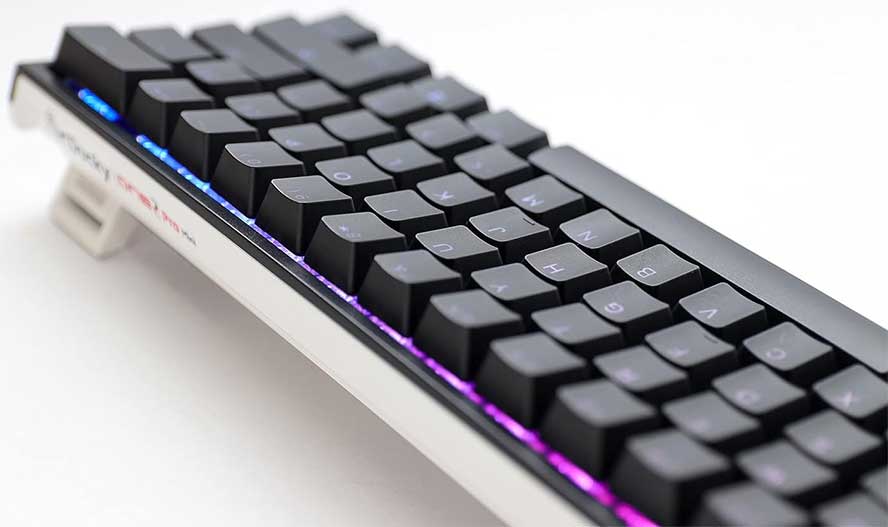 Aesthetically, this is a pretty normal-looking board. It has a white plastic bottom frame with a black plastic top. The included keycaps are all a normal black color with translucent lettering. Within the board, you can find RGB LED lighting that shines through while in use. There are multiple different RGB modes and profiles to choose from.
Ducky makes some of the best keyboards around, and this board is no different. You can expect an extremely solid construction for every part of it. To connect it to your computer, you'll need to use a USB-C cord. The one that comes with the keyboard is 60 inches long, giving you plenty of cord to fit in your setup.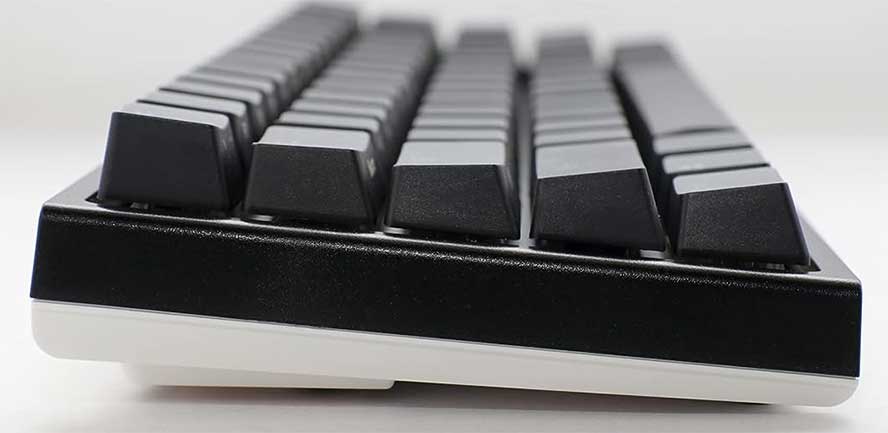 The overall size of the Ducky One 2 Pro Mini is 60%, meaning it will easily fit on your desk. It will lack some of the functionality of larger boards. However, the loud noises it produces make up for it, in our opinion.
Pros:
High-quality construction
Great RGB backlighting
Kailh BOX Brown switches sound great
Cons:
No wireless connectivity option
Best Wireless: Keychron K6 Wireless Mechanical Keyboard

Key Features:
68 keys
Multi-color keycaps
Works wirelessly and wired
The Keychron K6 is one of the best wireless loud keyboards out there. It has a total of 68 keys and curved OEM profile keycaps. As for switches, there are three choices. They include:
Gateron G Pro Brown
Gateron G Pro Blue
Gateron G Pro Red
For the loudest typing experience, go with the Gateron G Pro Browns.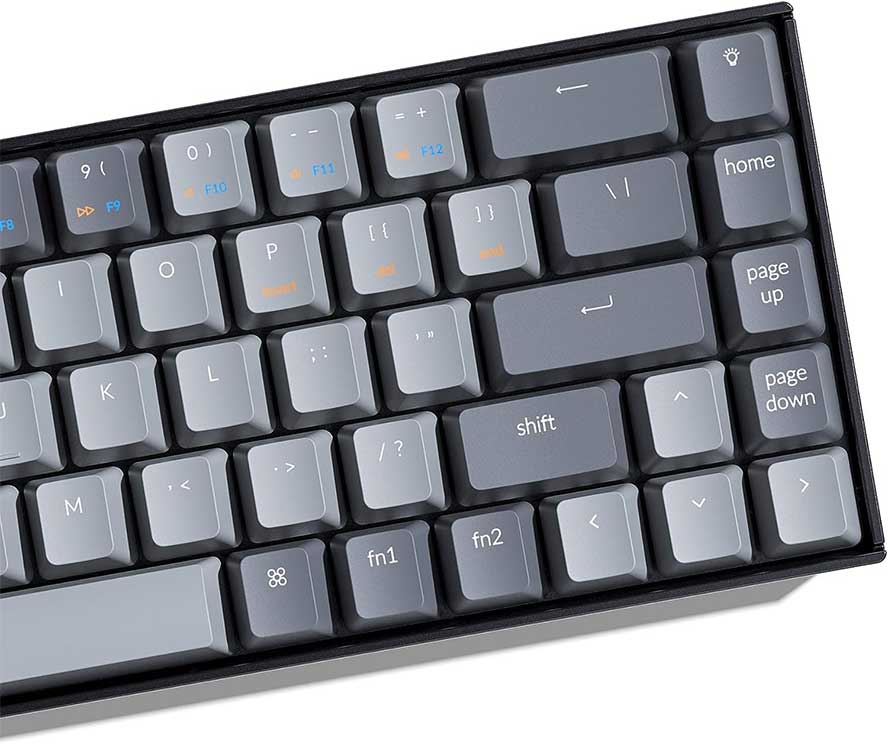 Aesthetically, this is a cool-looking board. The body is a solid black material. The keycaps that come in the box are a mix of dark grey, light grey, and orange. While some boards have RGB, this board doesn't. However, it does have a solid white lighting feature that makes it stand out just a bit more.
This is a solidly constructed keyboard. What sets it apart is the various ways to connect it to your computer. It's capable of connecting using a cord, just like most keyboards. However, it's also able to connect via Bluetooth 5.1. While operating in wireless mode, you can expect a battery life of up to 200 hours with the backlight off. This is possible due to an internal 4000 mAh battery.

The awesomeness of its connectivity doesn't stop there, though. While in Bluetooth mode, it can connect to more than just computers. Tablets and mobile devices are compatible as well. Best of all, it can connect to three devices at once and switch seamlessly between them. Overall, it can be used with both Windows and Mac devices, so you are likely able to connect to whatever device you plan on using it with.
Pros:
Bluetooth 5.1 connectivity
Connects to three devices at once
200-hour battery life
Cons:
Best for E-Sports: FL ESPORTS FL980 96% 1800 Layout Wired Mechanical Keyboard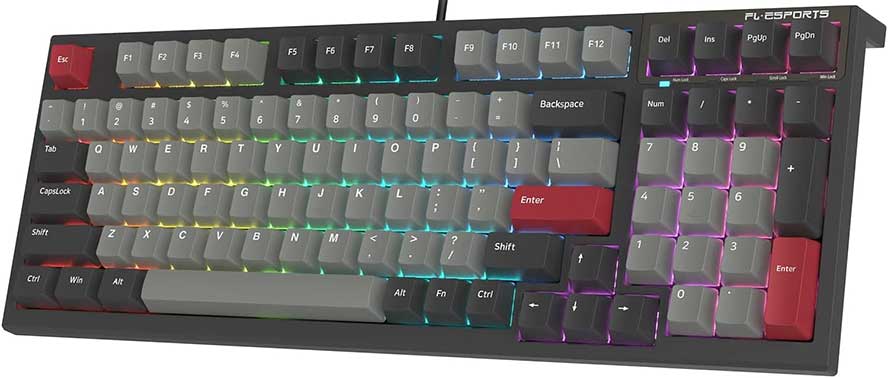 Key Features:
98 keys
Compact size
Noise-canceling materials to focus only on the good loud sounds
The best loud keyboard for people focusing on E-Sports is the FL ESPORTS FL980. This board has a total of 98 keys, all covered by durable PBT keycaps. This keyboard only has one option for switches; the Kailh Box Whites. Additionally, there are multiple layers of sound-dampening and canceling materials within the body of the board. This doesn't make a negative impact on how loud the board is, however. Rather, this eliminates poor-sounding effects, leaving you with just the great sounds of the Kailh Box Whites.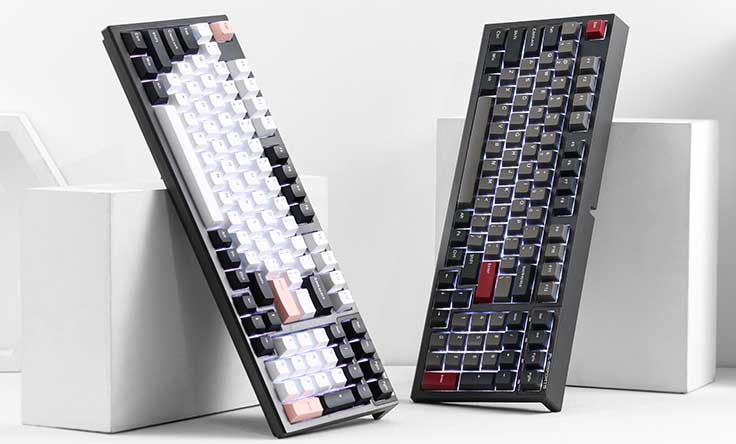 As for looks, there are two different color options to choose from. The first is a black body with black, grey, and red keycaps. The second is a black body with black, white, and pink keycaps. Both are helped with the addition of RGB backlighting. There are a total of 16.8 million different colors and multiple preset modes. Additionally, you can individually assign each key a color option through software.
The overall build of this board makes it very durable. This is especially true with the keycaps, as they are oil-resistant and made from a textured PBT material. The FL980 is also hot-swappable, so if you plan to change switches to something louder down the road, you can do so.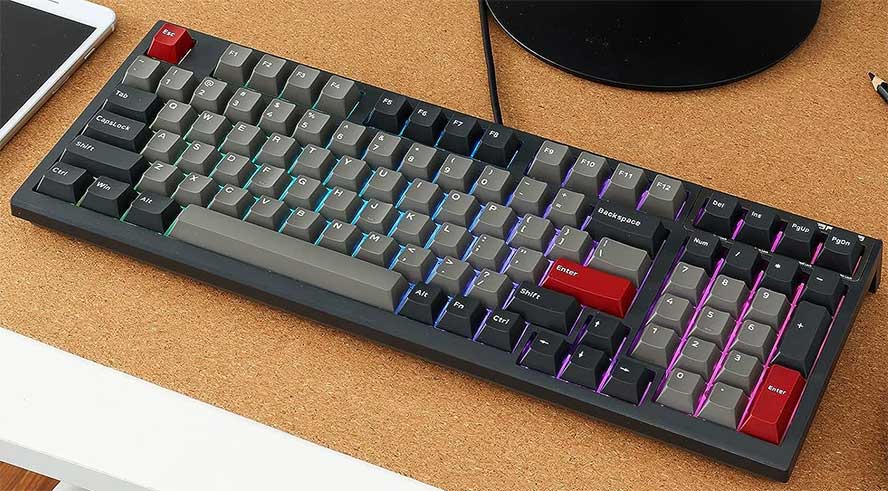 The overall size of this keyboard really sets it apart. Rather than opting for a more form factor size and sacrificing functionality, this board keeps 98 total keys and puts it in a compact body. To connect it, simply plug in the USB-A or USB-C cable to your Windows or Mac device and get to gaming loudly.
Pros:
96% size
Two color options
Fully customizable RGB
Cons:
Difficult to initially install the software to customize it
Best Budget: Redragon K552 Mechanical Gaming Keyboard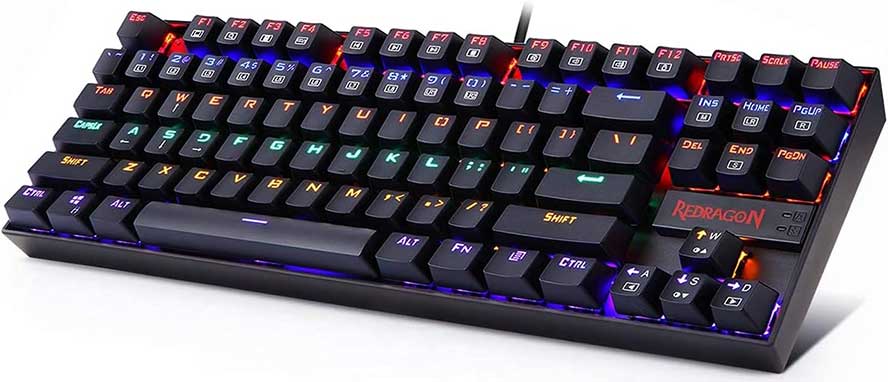 Key Features:
87 keys
Metal and ABS construction
Full anti-ghosting
If you're looking for a loud keyboard without breaking the bank, then the Redragon K552 is a great pick. It has a total of 87 keys, all covered by precision-engineered keycaps. As for switches, you have three different options. They include:
Outemu Blue
Outemu Red
Outemu Brown
For the loudest switch, go with the Outemu Blues.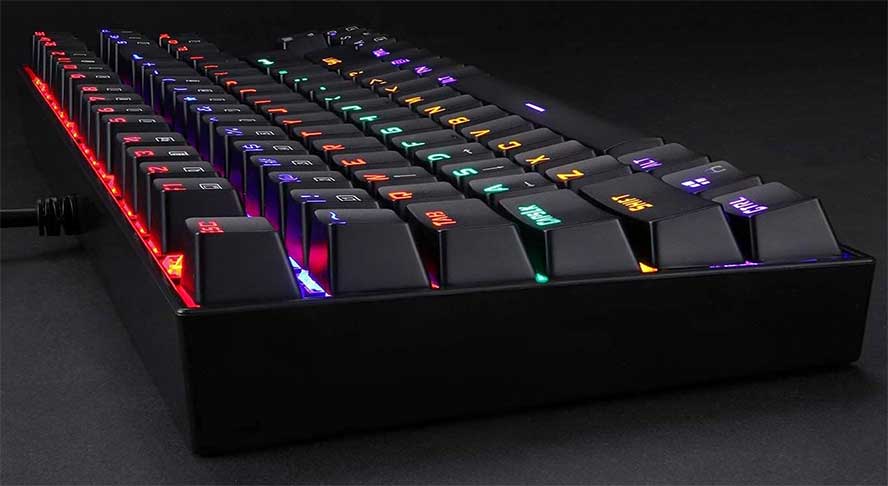 Visually, you have two different colors to pick from. You can go with either a black body keyboard with black keycaps or a white body keyboard with white keycaps. Each option has full RGB backlighting to shine through the keycaps. There are 19 different lighting modes to choose from, plus an additional two user-customizable modes. This gives you plenty of great RGB modes to show off.
The K552 is made of a mix of metal and ABS materials. The outer casing is a metal alloy and ABS that protects all the internals. To connect to your computer, you can plug it in via the USB cord. One downside to the cord is that it's hard-wired into the board rather than being removable, like most keyboards are.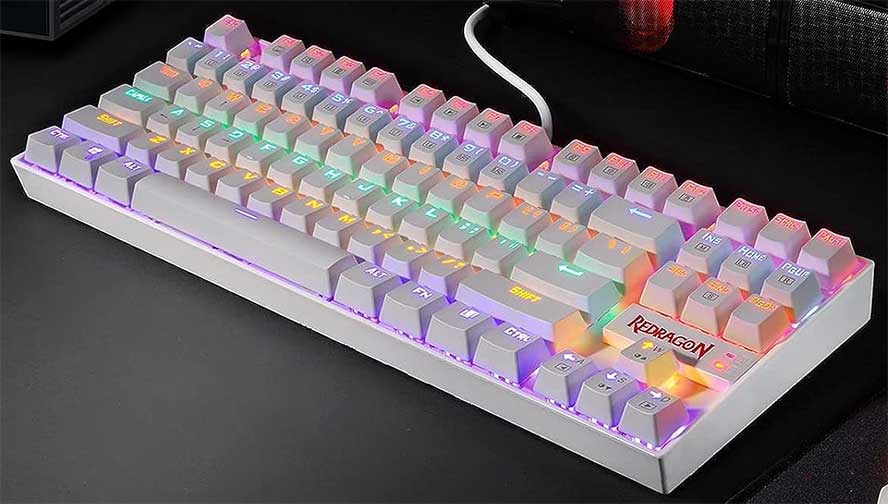 One great feature of this keyboard is its anti-ghosting switches. This allows you to use multiple keys at once (which is common in gaming) without the board having issues of the board not registering your key presses. Overall, this is a great pick that comes in at an even better price point for loud keyboards on the market.
Pros:
Extremely budget friendly
87 total keys for more functionality
21 total RGB lighting profiles
Cons:
The power cord isn't removable