When it comes to emergency vehicles, the sirens are not only a critical aspect of the vehicle's function but also a primary means of communication. They warn the public of an impending approach, effectively allowing for quick and safe navigation through traffic.
If you're in the market for such a siren, we've conducted extensive research and hands-on tests to provide you with the best options. Here's a preview of what's to come:
In the following sections, you'll find a detailed analysis of each of these products' features, usability, and any quirks we discovered during our tests. We believe that by the end, you'll have a pretty good idea as to which kit best fits your needs.
1. ThunderWave 200W Emergency Police Siren Kit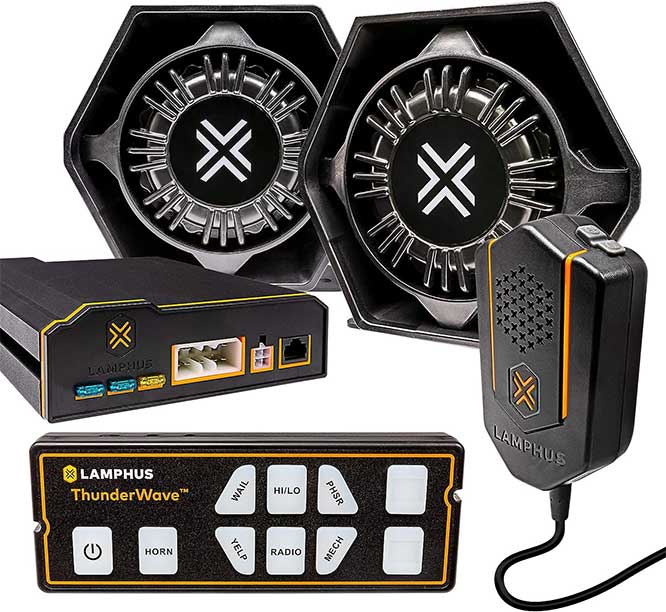 Key features:
Powerful dual 100W speaker setup
Customizable LED backlighting
Quick access 3.5mm audio jack
Radio rebroadcast and two 15A circuits
When we're talking about must-have equipment for emergency vehicles, the ThunderWave 200W Emergency Police Siren Kit packs a punch. It's a comprehensive kit designed to cater to the nuanced needs of professionals in this demanding field. First off, this kit doesn't compromise on power. It's loaded with a SAE J1849-rated amplifier siren and a set of compact 100W siren speakers. We blasted it on our testing grounds, and the sound reached a stunning 134 dB.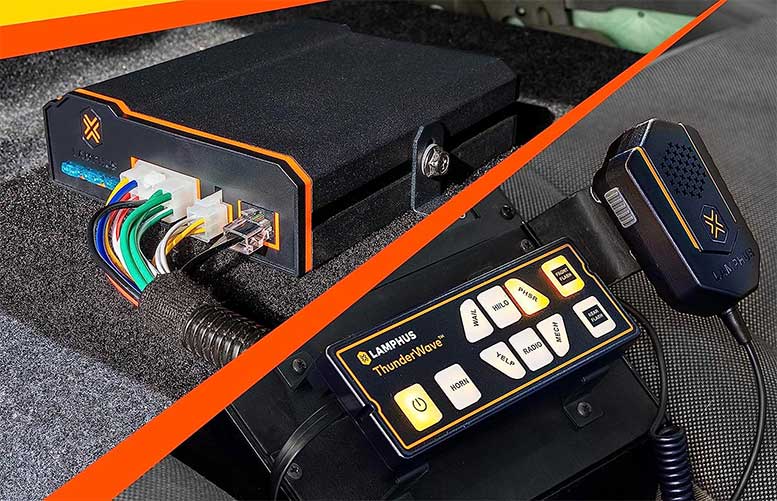 The dual speaker setup offers an impressive frequency range of 500 to 5000 Hz, ensuring you're heard loud and clear, whether you're cruising through city streets or rumbling down country roads. This unit gives you a personal touch with customization at its core. The manual or automatic power-up option provides flexibility, and we loved the tweakable LED backlighting – perfect for matching your vehicle's cockpit aesthetics.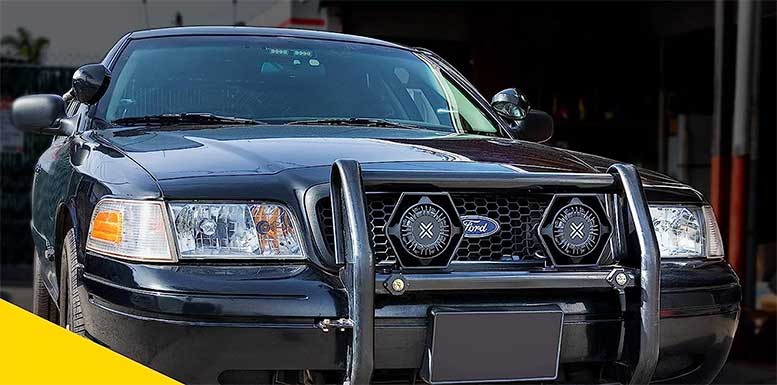 Connectivity hasn't been overlooked, either. The system is equipped with a 3.5mm audio jack, allowing us to patch in audio from an external source like a cell phone or tablet. This little feature can be a real game-changer in critical situations when you need to broadcast specific messages. We were impressed by the control the kit offered. Along with the volume-control enabled PTT mic and optional horn override, the remote-mount controller comes with five siren tones and two 15A auxiliary circuits. The radio rebroadcast feature is a nifty addition that can be invaluable in some scenarios.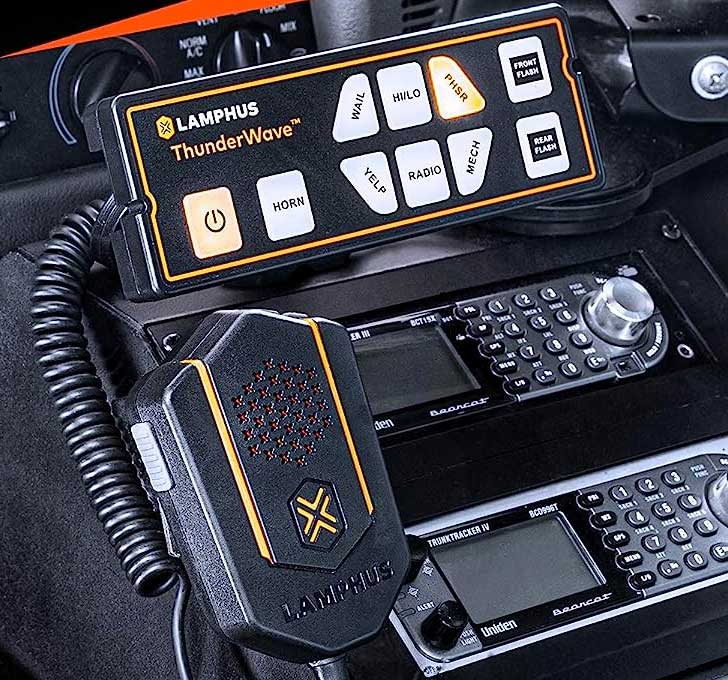 The physical specifications were impressive too. With dimensions of 7.50 x 3.50 x 6.75 inches, the system was relatively compact. Plus, the mounting options – U-brackets, double-sided tape, and 360-degree swiveling mount – meant that fitting this into any vehicle was no problem at all, even with limited space. In our real-world testing, we found the ThunderWave siren kit to be a sturdy, adaptable, and powerful tool for any emergency vehicle. It's a setup that's hard to beat.
What we liked:
Impressive loudness at 134 dB
Offers manual or automatic power-up
Flexible mounting options
Broad frequency range
What we didn't like:
May be too complex for beginners
Requires careful installation
2. YHAAVALE 400W (Wireless Amp) Car Police Siren PA System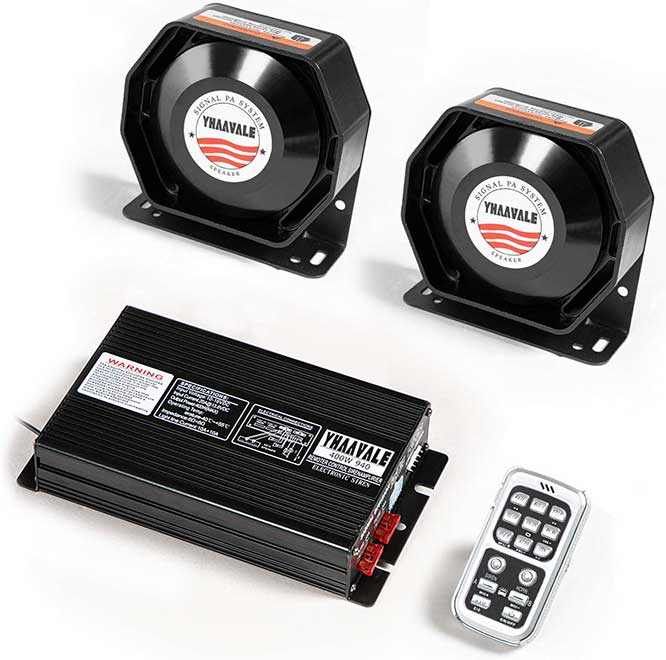 Key features:
Powerful 400W wireless control system
Over 20 different alarm sounds
Remote-controlled LED light operation
Built-in microphone for PA functionality
From YHAAVALE comes their 400W (Wireless Amp) Car Police Siren PA System. It's an exceptional police siren kit featuring an impressive 400W signal division wireless control system. This unit stands out for its powerful audio performance, ability to control two-channel 12V LED lights and an inclusive range of alarms. It's a well-rounded solution for emergency personnel looking for a reliable, robust, and efficient audio warning device. When we tested the siren, its loudness proved to be a defining characteristic.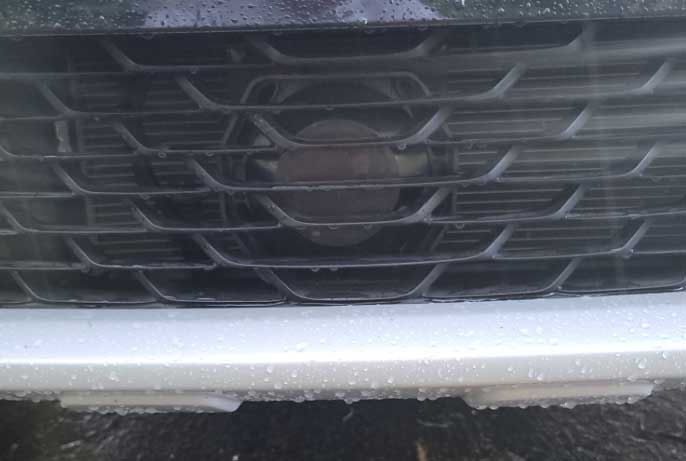 Hitting a whopping 122 dB, the Car Police Siren PA System ensures your presence is heard from a significant distance. The included ultra-slim metal speakers boost this sound, making it an excellent choice for high-traffic, noisy environments. Our hands-on trial revealed a wealth of over 20 different alarms, including the treble siren, bass whistle, and special ones like fire and ambulance warnings. The remote control, which thankfully comes with the package, gives you the power to select the right warning sound for your specific needs.
One of our favorite aspects was the capacity to control LED lights using the A and B buttons on the remote, adding an extra layer of signaling power. This feature was particularly appreciated during our nighttime testing, where visual signals are as critical as audio ones. Measuring 10.31 x 9.61 x 7.83 inches and weighing just over 15 pounds, it's compact enough for effortless installation yet substantial enough to deliver the performance you need.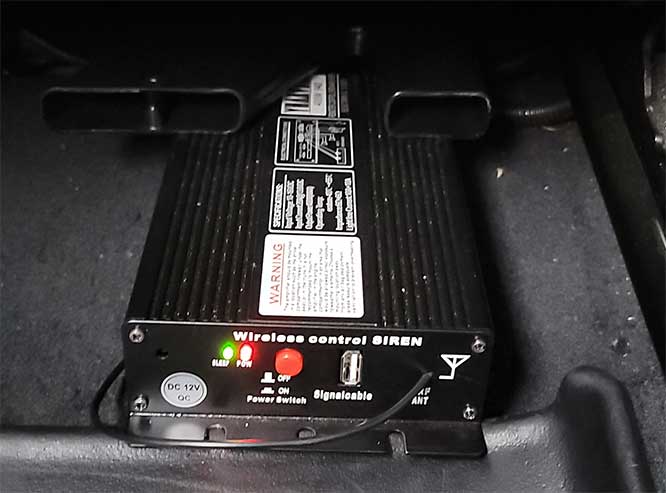 With its built-in microphone, this kit doubles as a PA system, enhancing communication in emergency situations. Although it didn't come with clear instructions for operations, it was relatively straightforward to set up. We did notice that the names given to sounds on the remote control didn't align with industry standards, causing some confusion. Nonetheless, the this is a robust, powerful, and versatile emergency warning siren kit that promises to serve well in the line of duty.
What we liked:
Loud and clear sound
Wide variety of warning sounds
Easy installation process
Doubles as a PA system
What we didn't like:
Confusing alarm naming
Lack of clear operation instructions
3. SoundAlert 12V 100W Police Siren PA System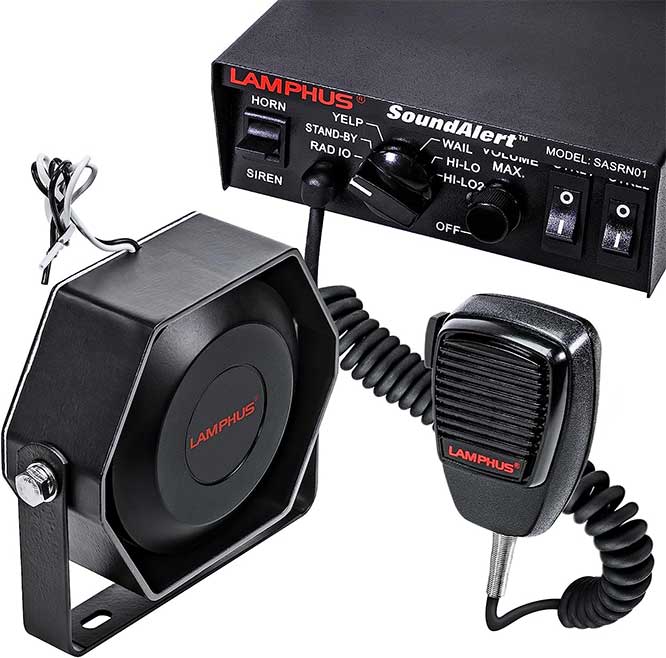 Key features:
Multiple operational modes
100W power output
Hands-free control
Additional auxiliary switches
When it comes to emergency warning sirens, LAMPHUS's SoundAlert 12V 100W Police Siren PA System stands out with its sheer auditory power and versatility. Measuring a snug 10.25 x 8.25 x 5.37 inches and weighing in at just under 10 pounds, the compact form factor may be deceiving. Its size belies a beast of a warning system that's packed with features. We put this kit to the test, and we were blown away by its 100W power output and robust speaker.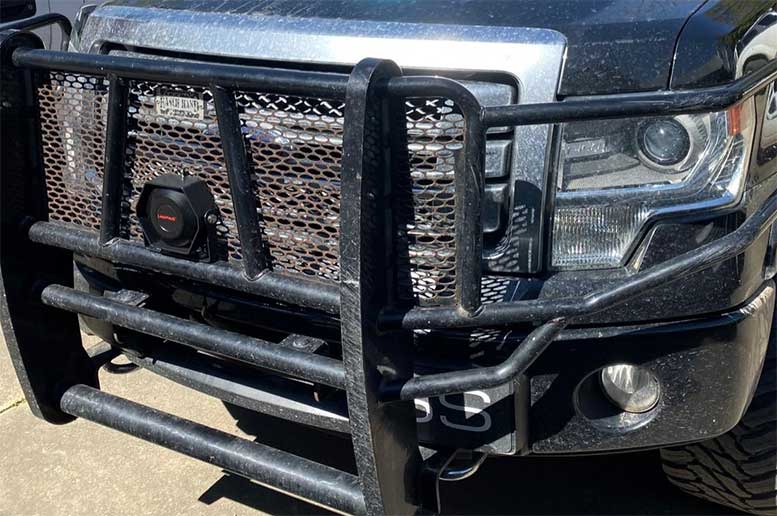 It cranks out an impressive 118 to 124dB sound, ensuring its audibility from a substantial distance. The audio clarity was a standout, providing crisp, loud warnings that won't be missed. Perhaps one of the most attractive features of this siren system is its range of operational modes. From Horn to Radio to Siren, we had plenty of ways to use the system. Notably, the Siren Mode offers various alerts such as Yelp, Wail, and Hi-lo, broadening its use for different emergency scenarios.
The kit also impressed us with its additional auxiliary switches. These two 16A switches were helpful in powering other external devices, showing their ability to integrate with existing systems. Alongside this, the external sound input is another commendable feature. Broadcasting from other sources through the radio mode was an unexpected bonus. To add to its list of assets, it is also designed with hands-free control.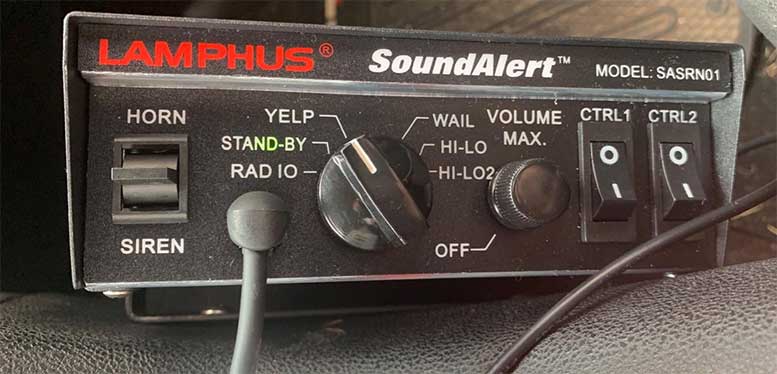 Connect it to your car's horn button, and activate the siren system with the push of a button – a practical feature that any user would appreciate. The kit also includes user manuals, installation instructions, and mounting accessories, making the installation process straightforward. This entry isn't without its quirks, though. There were instances of occasional static noise over the PA system when the vehicle was started, which could become a slight annoyance. And despite its compact size, it does carry a bit of weight, which might be a con for some users.
What we liked:
Audible from a distance
Versatile operation modes
Powers external devices
Easy to control
What we didn't like:
Occasional static noise
Heavier than expected
4. BooYu 12V 200W Police Warning Emergency Siren PA System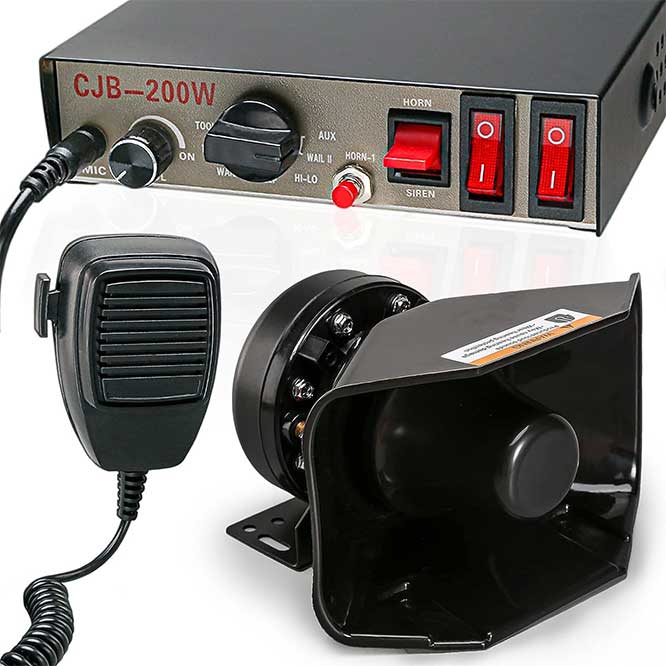 Key features:
Nine distinct siren tones
Hands-free with PTT override
180-degree sound dispersion
Two additional 10A switches
BooYu's 12V 200W Police Warning Emergency Siren PA System is a reliable piece of equipment that fits universally across a variety of vehicles. With dimensions of 8.25 x 6.5 x 5 inches and a weight of 6.89 pounds, it's compact and lightweight enough to fit comfortably on most vehicles, from trucks and SUVs to ATVs and UTVs. The system boasts nine unique siren tones, making it versatile for different emergency scenarios.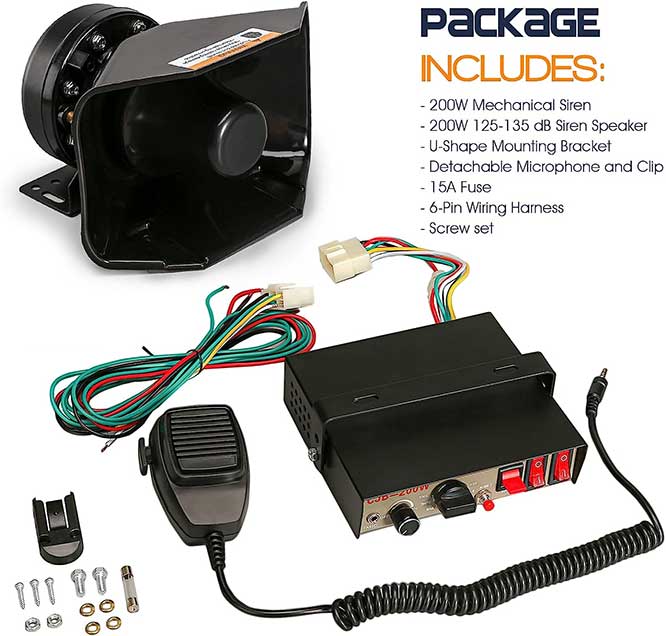 We tested each of these tones during our review and found them all to be clear and distinctive. Plus, the system's 200W speaker delivers a sound compression level of 125 to 135dB, ensuring it can be heard over substantial distances. Interestingly, it's engineered for a 180-degree sound dispersion, which boosts the range of warning sound propagation. In real-world testing, we observed that this indeed amplifies the sound, making it easier to get people's attention in an emergency situation.
The system's hands-free feature is also quite handy. During our tests, the PTT (push to talk) button easily overrode the siren, allowing for clear communication. However, we noticed the PA system sound was a bit garbled, making it occasionally hard to understand. The siren system also includes two 10-amp switches for powering additional equipment like traffic warning lights. It's made from corrosion-resistant heavy-duty steel and ABS bodies, and it's rated IP66 waterproof, which means it can stand up to some pretty rough weather.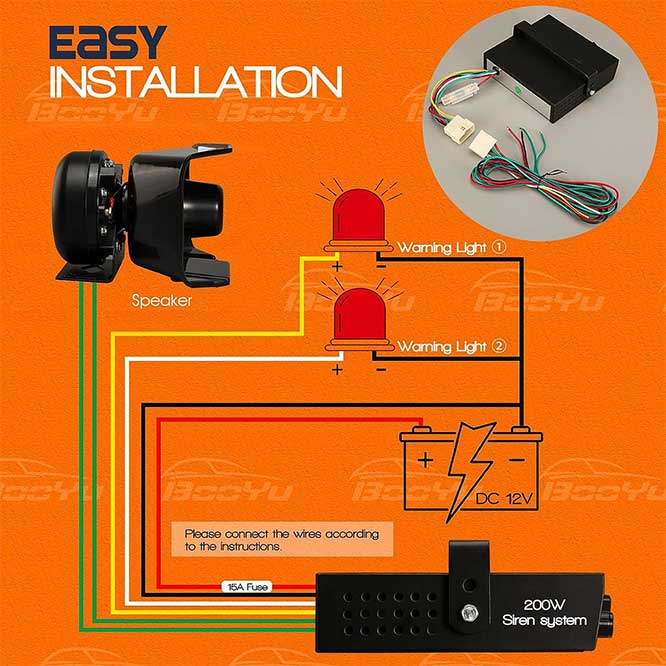 One downside we noted is the absence of mounting hardware for the speaker, which means you'll have to get creative with your installation or purchase additional hardware. During our test, the speaker's volume also seemed quieter than expected, especially when on the road, suggesting that there might be room for improvement in terms of sound projection.
What we liked:
Versatile for different vehicles
High-quality build material
Great sound range
Extra switches for additional gear
What we didn't like:
PA system can be garbled
Lacks mounting hardware for speaker
5. BTSHUB 200 Watt 12V Police Siren Emergency Loudspeaker Amplifier System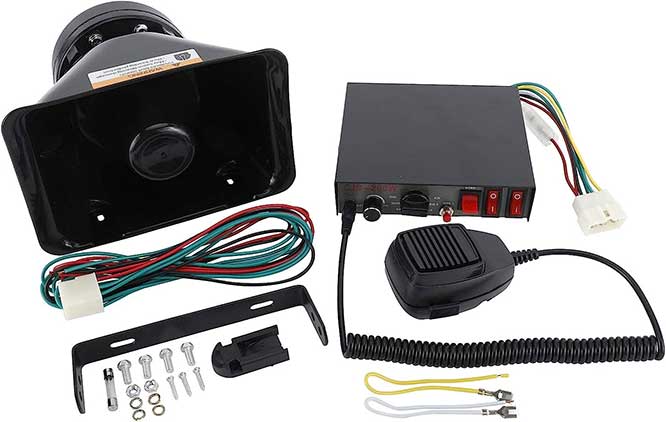 Key features:
200W amplifier output
8 unique warning tones
Auxiliary switches for external devices
Push-to-talk microphone override
Our last entry comes from BTSHUB with its 200 Watt 12V Police Siren Emergency Loudspeaker Amplifier System. It's a compact offering measuring 3.94 x 3.15 x 2.36 inches and weighing 6.89 pounds. Despite its small stature, it proved itself to be a formidable tool in our tests. Constructed with heavy-duty, rust-resistant material, it is tailored for endurance and longevity, a trait we saw in action during our rigorous testing phase. Its universal fit feature is a game-changer; whether it's a police cruiser, ambulance, or an engineer's vehicle, this unit integrates seamlessly.

Its power output is no joke, either. The system is driven by a robust 200W amplifier, boasting sound pressure of over 120 dB. During our field tests, the siren was clearly audible from a considerable distance, making it an essential tool for emergency situations where visibility might be compromised. Where it truly shines, however, is in its variety of warning tones. This system offers eight unique tones, each distinct and pure.
In practical situations, this diversity can be invaluable, allowing for switching between fire alarms, ambulance wails, traditional police sirens, and more. The system also features two auxiliary switches, a feature we found quite beneficial during testing. These switches provide the ability to power additional external devices, such as strobe lights, offering a multifunctional use case for various situations. The pre-wired, push-to-talk microphone was another feature we appreciated.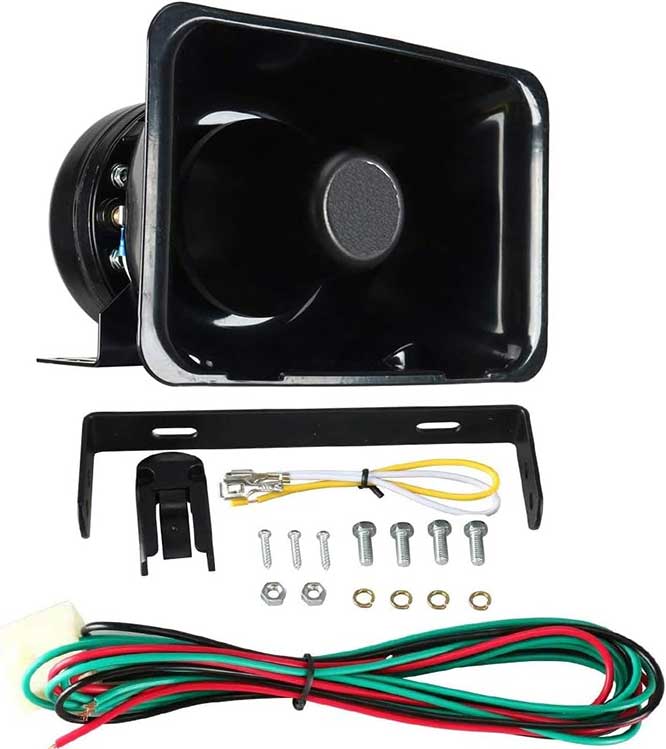 It serves as an override function, allowing users to communicate effectively in high-stress situations, a feature that came in handy during our tests. On the flip side, some labeling issues might cause minor confusion. For example, during our setup, we noticed that the labels for "Yelp" and "Wail 1" were mismarked, and the siren/horn switch seemed to be labeled backward. However, with some familiarization, these faults become easy to navigate.
What we liked:
Heavy-duty, rust-resistant construction
Distinct, clearly audible siren tones
Multi-vehicle compatibility
Effective communication with pre-wired microphone
What we didn't like:
Minor labeling issues
Learning curve for sound switching
Emergency Warning Police Siren Kit FAQs
Can I install a police siren in my personal car?
In most places, it is illegal for private citizens to install or use police sirens in their personal vehicles. These devices are specifically designed for use by law enforcement and emergency services. If you choose to misuse this kind of equipment, you'll likely find yourself facing legal consequences.
How loud are these police sirens?
The loudness of police sirens varies depending on the model and manufacturer, but most fall within the range of 100 to 200 decibels. This level of sound ensures they can be heard over substantial distances.
What are the different types of sirens available in these kits?
Siren kits often come with various siren tones, including wail, yelp, hi-lo, air horn, and sometimes specific tones for fire or ambulance alerts. Some advanced systems may also include options for PA announcements or broadcasting from an external source like a radio.
Final Verdict
We looked at several potential top picks, but these are the kits that made the cut. First up, the ThunderWave 200W Emergency Police Siren Kit proved itself to be an all-rounder, offering excellent output, compact design, and ease of use. YHAAVALE 400W (Wireless Amp) Car Police Siren PA System, with its powerful audio performance and inclusive range of alarms, is a fantastic choice for high-traffic, noisy environments.
The SoundAlert 12V 100W Police Siren PA System is a versatile tool, ideal for emergency scenarios due to its range of operational modes and the capability to power external devices. The BooYu 12V 200W Police Warning Emergency Siren PA System excels in the variety of warning tones it offers, and the BTSHUB 200 Watt 12V Police Siren Emergency Loudspeaker Amplifier System shines with its robust build and distinct, clear tones. Each of these systems has its strengths and specific use cases, which is why they've each found a spot in our top picks.