When the Apple AirPods were first released, they changed how people thought about wireless earbuds. Prior to that, wireless audio had a reputation for low quality. Wireless earbuds could be used for hands-free calling, but most other uses were out of the question. Audio quality was tinny, and you could only listen in mono. With the AirPods, Apple took advantage of a new technology called True Wireless Stereo (TWS). They weren't technically the first TWS earbuds. But by eliminating the 3.5mm audio jack on the iPhone 7, Apple funneled their users into buying AirPods.
But even nowadays, with thousands of wireless earbud models available, AirPods remain hugely popular. This is because, like most Apple products, they're exceptionally well-designed. Not only are they comfortable to wear, but they provide top-tier audio quality. Your music comes through as if you were listening to a live band, and you get an excellent sense of space. People may have bought their first AirPods because they thought they had no other option. But people keep buying new AirPods because they love the audio and the performance. Unfortunately, AirPods are expensive, so it makes sense to keep them as safe as possible. When your AirPods get scratched, it's a real bummer.
That's why were about to review the best AirPods skins for the AirPods Gen 1, Gen 2, and Pro. We've dealt with replacement AirPod and AirPod Pro charging cases before, so we know how important a good fit is. For this reason, we've chosen to focus exclusively on ultra-slim skins that fit in the case. We've also tried to look at different designs, from stick-on protectors to slip-over sleeves. Some are designed for texture, while others are smooth. And some are available in many colors, while others are plain. Regardless of your needs, at least one of these AirPods skins should have you covered. Let's take a closer look at all five of today's options.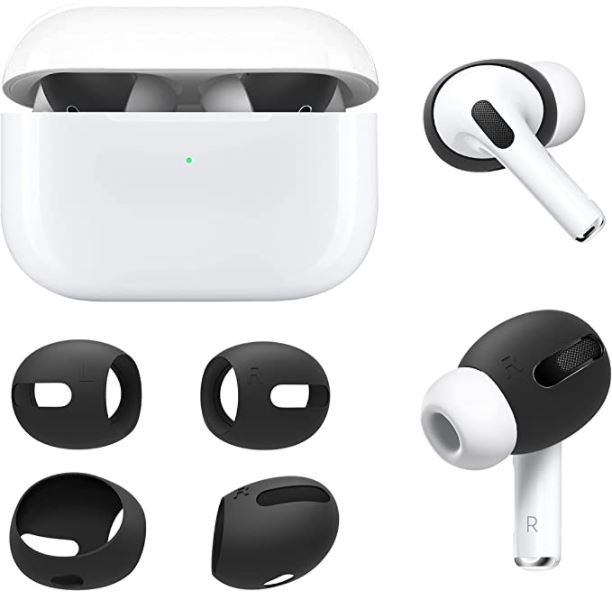 Best for Airpods Pro: DamonLight
The DamonLight AirPods Pro Cover is designed to cover the main shell of the earbud. It covers everything from the bottom of the ear tip back around the sides of the shell. There's even a little slot for the AirPod Pro's in-ear mic, which helps maintain good noise isolation. One thing we liked about it is that it's available in black or white. You can choose white to match your earbuds' existing color scheme, or go black for a slick contrasting look.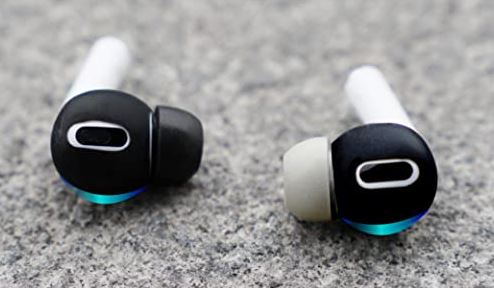 These covers are made from stretchy rubber, and they're easy to put on. You just stretch them around your earbud and let them snap into place. Give them a little twist if needed to line everything up, and you're ready to go. The material is very thin when it's stretched out, thin enough to fit in the AirPods Pro charging case. For all of that, it still provides very good protection. It's not going to stand up to extreme drops and blows. But it's more than good enough to protect against everyday scratches and abrasions. This ensures that your earbuds' finish remains intact and undamaged.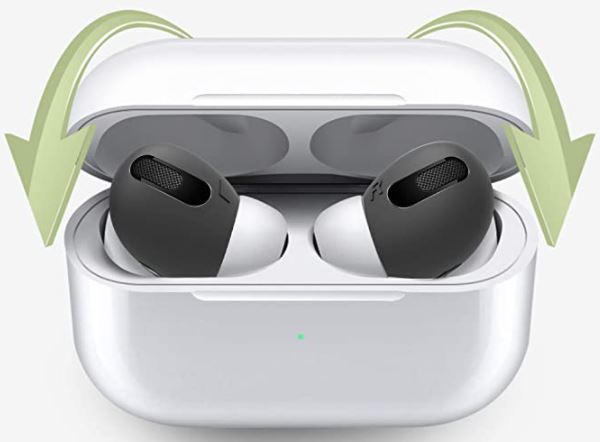 The material itself is designed with a sticky finish. This can stick to your ears, and keep the buds from moving around. If you have trouble with your AirPods Pro staying in, you're going to love this finish. Then again, the sticky surface also collects dust, so you'll do a little more cleaning than you used to.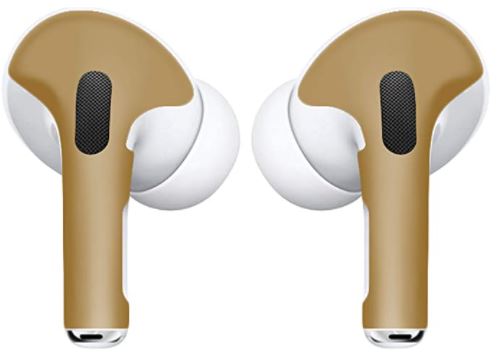 Best Runner-Up for Airpods Pro: APSkins Skins
The main attraction of the APSkin Skins for Apple AirPods Pro is color – lots and lots of color. In fact, you can choose between 16 different colors, including three shades of blue, two reds, and two greens. You also get options like orange, gold, grey, as well as a classic black and white. Some options have a matte finish, while others have a more metallic look. All of them are smooth to the touch, and won't collect a lot of dust. If it weren't for the lower gloss, you wouldn't even be able to feel that you had a skin on.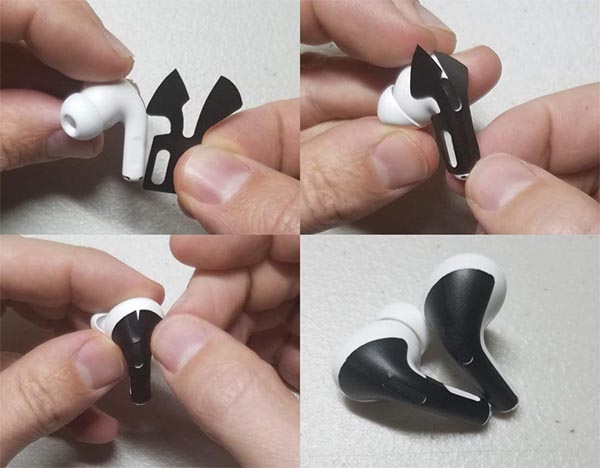 The design of these skins is noticeably different from the last one. Instead of covering the part of the shell that goes in your ear, they cover just about everything else. They wrap around the stud, and cover most of the back of the earbud shell. There's a cutout for the external mic, so you don't have to worry about hands-free calls being muted. The material is an ultra-thin vinyl, and it applies with an adhesive. Application is pretty straightforward, although you'll want to make sure it's lined up properly first.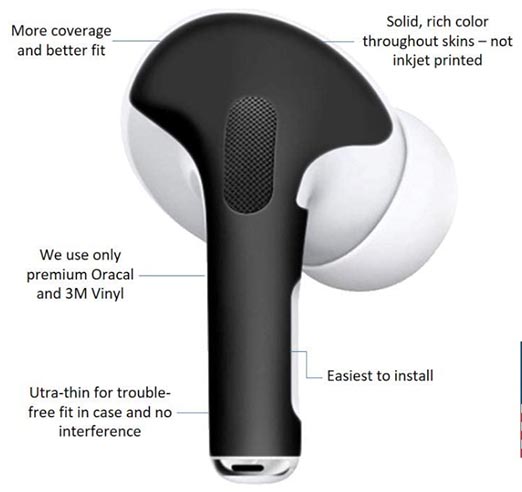 This skin provides adequate scratch protection, and it doesn't affect the fit. This is true both in your case and in your ears. So if you love the AirPods Pro right out of the box, you don't have to mess with the fit. Not only that, but there's a 100% lifetime replacement warranty. If the skins fail before your AirPods do, you're entitled to a free replacement.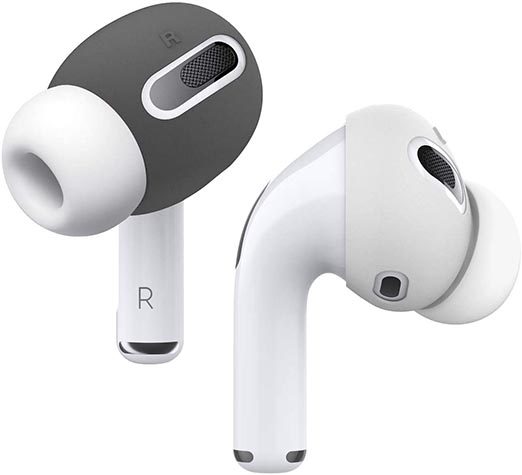 Best Alternative for AirPods Pro: elago Ear Tips Cover
The elago AirPods Pro Ear Tips Cover comes as a four-pack, with two separate sets of ear tip covers. In any given set, the two pairs will be different colors. There are three color pairing options: dark grey and white, rose and pale blue, and pale pink and lavender. The neat thing about this is that you can mix and match. If you want a dark grey left earbud and a white right earbud, just take one half of each pair.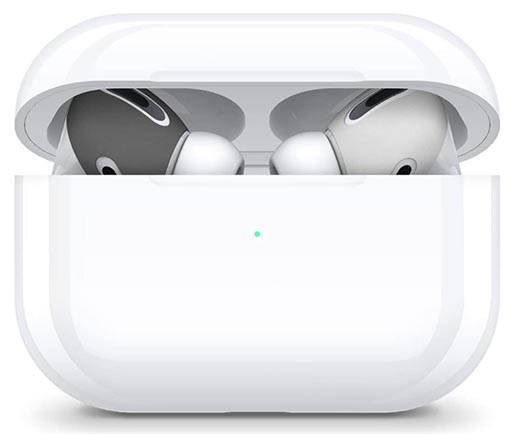 These skins fit a lot like the DamonLight covers. They wrap around the part of the shell that goes inside your ear, and fit snugly to the shell. There's a slit over the in-ear mic, so once again you'll have no trouble with your noise cancellation. The silicone material is very comfortable on your ears, and feels soft and slightly squishy.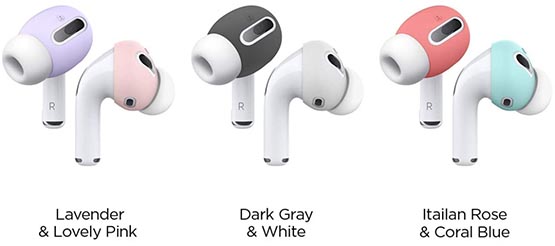 That said, this is a very thin material. While it stretches easily, it's also relatively easy to tear while you're stretching the covers over your buds. Along the same lines, while it's somewhat scratch-resistant, it can eventually get damaged from everyday use. Then again, considering that this is a very affordable set of covers, you're getting an excellent bargain.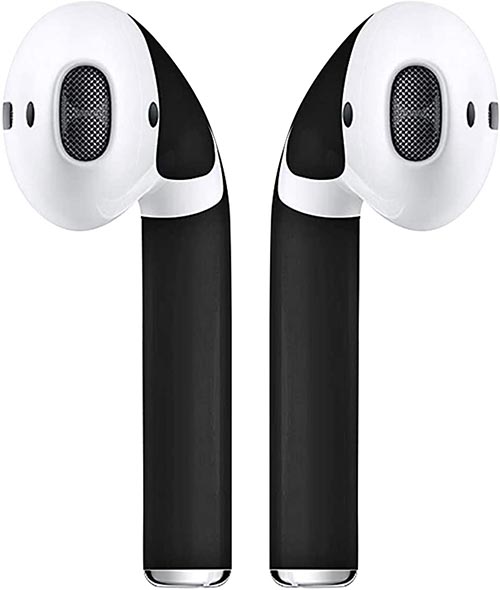 Best for AirPods Gen 1 & 2: AirPod Skins Protective Wraps
The AirPod Skins Protective Wraps (for AirPods Gen 1 & 2) are designed for your solid-tipped Apple AirPods. These wraps come in one color, black, which doesn't give you a ton of options. But it does give you a nice contrast to the AirPods' standard white shell. The material is an adhesive vinyl that's about as thick as a single sheet of tinfoil. As a result, you don't have to worry about it messing up the fit in your charging case. In fact, the fit is so snug that you can use all kinds of AirPod accessories. Aftermarket slings and ear wings will fit right over the top without any issues.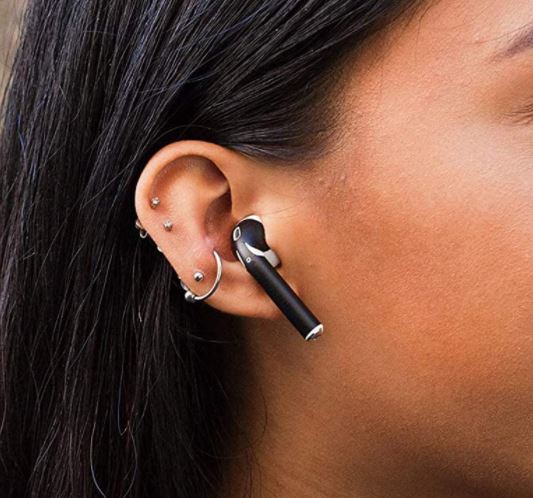 This thin layer of vinyl doesn't provide any shock protection. But it does a good job of protecting against scratches and abrasion. The adhesive application is relatively straightforward. That said, it's important to line up the material correctly. You don't want to accidentally cover your external mic. You also want to be careful not to tear the material, which is easy to rip if you're not very gentle.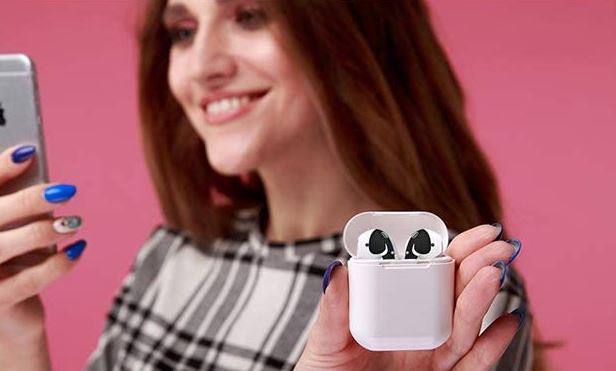 Thankfully, you're not entirely out of luck if you do tear one of these wraps. For one thing, they come in a 4-pack, with two wraps for each ear, so you've already got a backup. Moreover, AirPod Skins provides a lifetime replacement guarantee. If one of them fails, you'll get a free replacement.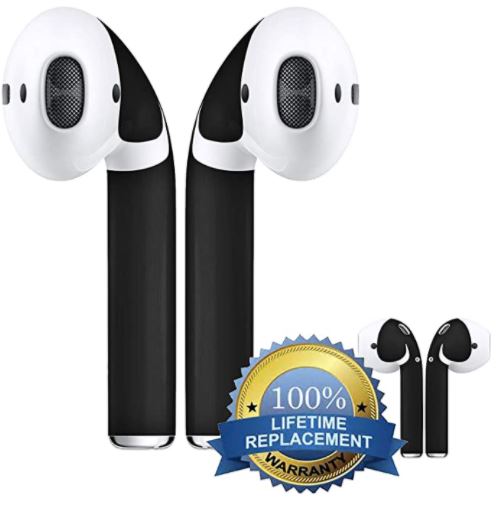 Best Runner Up for AirPods Gen 1 & 2: APSkins Wraps
The APSkins Wraps (for AirPods Gen 1 & 2) are a lot like the APSkins AirPod Pro covers. To begin with, you get a huge selection of colors. In addition to matte and gloss black, there are various purples, blues, greens, and other options. If you're looking for a particular color, there's a good chance you'll find it.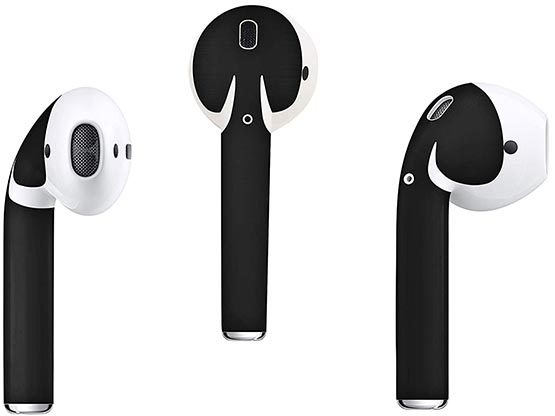 This material is an adhesive vinyl, and it wraps around the studs and the backs of your shells. One thing we liked about these skins is that they use a quality 3M adhesive. This adhesive isn't just exceptionally reliable; it also doesn't leave any residue when you remove the skins.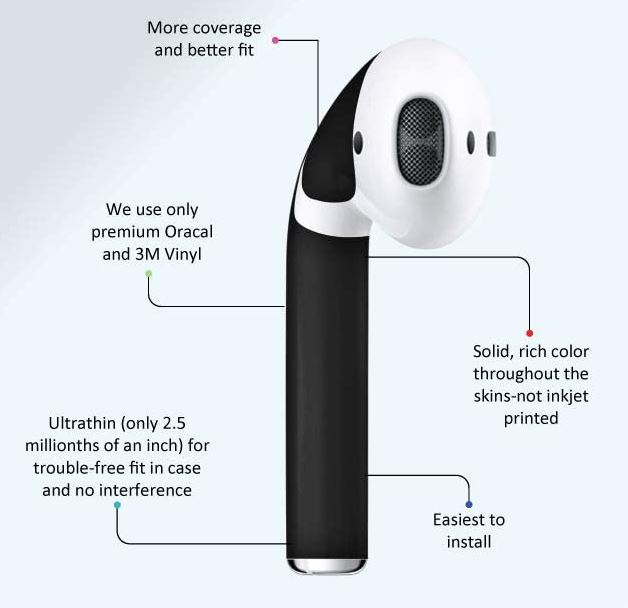 These wraps provide reasonably good scratch protection, and have no effect in your earbuds' fit. They'll still charge just fine, and you can use accessories like straps and ear hooks. And just like the last wraps we looked at, they come with a lifetime replacement guarantee.
Final Verdict
Which of these AirPods skins is the best choice for you? Let's go over them all in order.
The DamonLight AirPods Pro Cover are a rubbery, protective skin that's suitable for the AirPods Pro. They're available in black or white, and provide very good scratch protection. They also sport a sticky finish, which helps them to stay in, although it also attracts some dust.
The APSkins Skins for Apple AirPod Pro is a beautiful choice for cosmetic reasons alone. With 16 color options to choose from, you'll have the right match for any fashion tastes. And with a lifetime guarantee and easy application, you know you're well protected.
The elago AirPods Pro Ear Tips Cover actually comes with two sets of covered, in two different colors. This lets you mix and match to create a truly unique look. The fit is snug and comfortable, and won't interfere with your case. While durability is a concern, these covers are still a solid value.
The AirPod Skins Protective Wraps (for AirPods Gen 1 & 2) are simple adhesive vinyl wraps. They only come in black, but they have an ultra-thin design that allows you to use accessories like ear wings. And with a lifetime replacement guarantee, you're well protected against any failures.
The APSkins Wraps (for AirPods Gen 1 & 2) are similar to the previous wraps in many ways. They're an adhesive vinyl, with an ultra thin material. But these come in 14 different colors, and boast a 3M backing adhesive that leaves zero residue. They also come with a similar lifetime replacement guarantee.
Meet Derek, "TechGuru," a 34-year-old technology enthusiast with a deep passion for tech innovations. With extensive experience, he specializes in gaming hardware and software, and has expertise in gadgets, custom PCs, and audio.
Besides writing about tech and reviewing new products, Derek enjoys traveling, hiking, and photography. Committed to keeping up with the latest industry trends, he aims to guide readers in making informed tech decisions.