In today's world, CR123A batteries are still widely used in security systems, smoke alarms and even high-lumen flashlights. You may have not realized it, but they're actually a lot more common than you may think. Needless to say, there are seemingly endless options when it comes to the best CR123A batteries. How do you know which ones to purchase?
We created this helpful product guide for choosing the best CR123A batteries. With each of them readily available on Amazon, we'll direct you to the brands and specific ones that are worth consideration. Whether you want a name brand performer, a budget-friendly option or a set of rechargeable CR123A batteries, look no further.
Choosing the Best CR123A Batteries
If you're in the market for high quality CR123A batteries, there are certain qualities you should look out for:
Brand Name: Chances are, you're aware of more than one battery manufacturer that will be featured. Selecting CR123A batteries that are made from a reputable brand may cost a few more dollars, but they typically boast better performance.
Battery Life: How long will a battery last? Well, that all depends on what electronic device you're powering and the capacity it requires. Keep in mind that other factors like ambient temperature and constant usage can detrimentally affect battery life.
Shelf Life: How long will a battery last if it sits on a shelf and isn't actually used? Shelf life is an important consideration, especially if you purchase in bulk. When batteries sit around, they tend to lose voltage. Knowing the shelf life can make you aware of when they'll expire if they aren't actually used.
Compatibility: Some devices won't accept rechargeable batteries. If you decide to buy a set that can be recharged, be aware of the device you're powering. Take note on any requirements it may have; some may say "not for use with rechargeable batteries."
Power Consumption: The amount of power a device uses will ultimately determine how often you will need to replace the batteries. If you are powering a high-output flashlight or something that's always being used, it's smart to have some to spare or opt for a rechargeable type.
Price: Brand names will typically cost more. But if you buy in bulk, you'll typically save more in the long run.
Best Overall: Energizer 123 Lithium Batteries
For those who want the best in terms of longevity and quality, look no further. The Energizer 123 Lithium Batteries are a tried and true pick. Ideal for high-energy, high tech devices, they're the best choice for digital cameras, security equipment and anything else that needs dependability.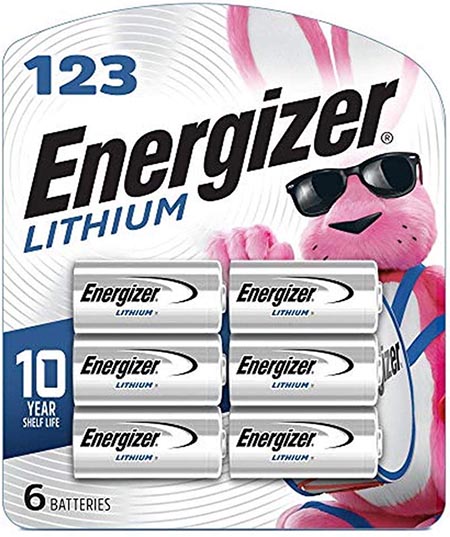 Available in multiple quantities, the more you buy, the more you save. With a 10 year shelf life, they're seen as the most reliable according to several consumer sources. In fact, they're also a direct replacement for DL123A, CR17345, CR123A, K123LA batteries.
Best Runner-Up: Duracell CR123A Lithium Batteries
Said to be the number one trusted brand, the Duracell CR123A Lithium Batteries are our best runner-up pick. Priced slightly lower than Energizer, these have nearly the same qualities. Although they're available in large quantities for additional savings.
Perfect for cameras, security systems and lighting equipment, they're designed to provide reliability when you need it most. Hence the "trusted" tagline. Best of all, they also have a 10 year shelf life. There's really no way to go wrong with the Duracell brand. We've had nothing but good luck in regards to their performance in recent years.
Best Alternative: Panasonic Lithium CR123A
Panasonic is another name brand that we can't forget about. Their Lithium CR123A batteries are their take on high-performance that shouldn't be overlooked. Since they've been in business for 91 years, Panasonic has the same reputation as Duracell and Energizer. In fact, we'd agree that they're worthy of a top-3 spot.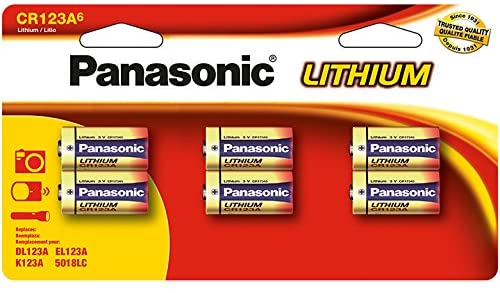 Since they're fully manufactured in the USA, quality is assured. Known as a direct replacement for DL123A, EL123A, K123A and 5018LC, they're ideal for all electronics that need reliability. Cameras, flashlights and security systems are what the Panasonic Lithium CR123A are ideal for. Although they can be used for virtually any application you need. With the same 10 year shelf life as others, you're getting the longevity of other name brands while saving a buck or two.
Best for Flashlights: Streamlight CR123A Lithium Batteries
Streamlight is a brand name that you may not be familiar with. If you are, you know they're one of the best manufacturers when it comes to high-output flashlights. The Streamlight CR123A Lithium Batteries are the obvious choice for replacement with some of the world's brightest flashlights. Designed to give a steady voltage even when bogged down with high-energy demands.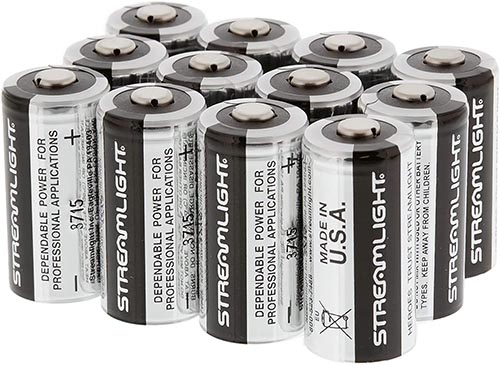 The price is favorable, too. Sold in a 12-pack, the price per battery is more affordable than both aforementioned options. They even have the same 10 year shelf life. But don't get the idea that these can only be used with flashlights, they're compatible with virtually anything else. In fact, they're also a direct replacement for 123A, CR123A, CR123, CR17345, K123A, VL123A, DL123A,5018LC, EL123AP, SF123, and SF123A 3V.
Best Value: Tenergy 3V CR123A Lithium Batteries
The Tenergy 3V CR123A Lithium Batteries offer the most bang for your buck. As the most economical option, they're priced affordably and sold as a 16-pack. Priced considerably less than others, they're ideal for those who need to buy in bulk.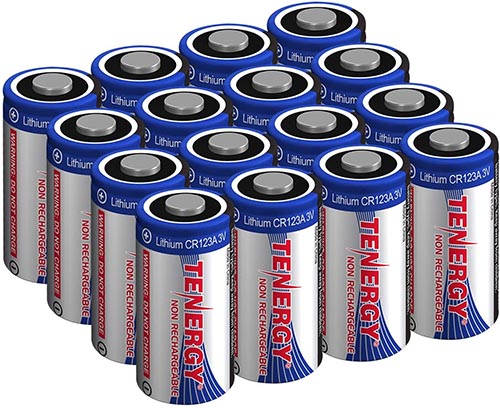 With the same 10 year shelf life as others, they're long lasting even if you don't use them all right away. In fact, they're even equipped with PTC protection. This stands for pressure, temperature and current protection. Simply put, they're meant to offer reliability with safety standards for added peace of mind.
Best Rechargeable: DULEX CR123A Lithium Batteries
Saving money is easy with the right set of rechargeables. This holds true with the DULEX CR123A Rechargeable Lithium Batteries. Sold as a set of 4 batteries and a charging dock, you get everything you need to fully recharge them when needed.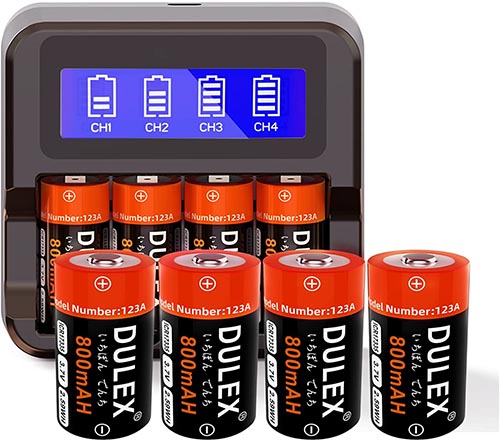 FYI, the 800mAh capacity is slightly less than most of the other one-time-use CR123A batteries. This isn't too big of deal, however, since you have the ability to recharge them when they're low on voltage. The charger is designed with safety and reliability in mind. Simply pop each battery into it and you'll see the capacity indicated in the LCD screen. In a matter of just 2 hours, each battery will be fully charged and ready to go. In fact, the charger has several advanced features that are constantly working in the background. These include protection against over-current, over-charging, over-discharging, over-heating, over-voltage, over-power and short-circuit protection.
Best Rechargeable Runner-Up: EBL CR123A Lithium Batteries
Although they have the exact same capacity as the previous option, the EBL CR123A Lithium Batteries are another top-pick. Priced better than the DULEX, they're more affordable but carry a completely different design. Rather than including a charging station, the EBL batteries plug-in individually into the provided 1 to 4 split USB charger. While charging, a tiny LED will emit on the positive terminal. If the light is red, it's currently charging. Once it turns blue, it's fully charged and ready to go.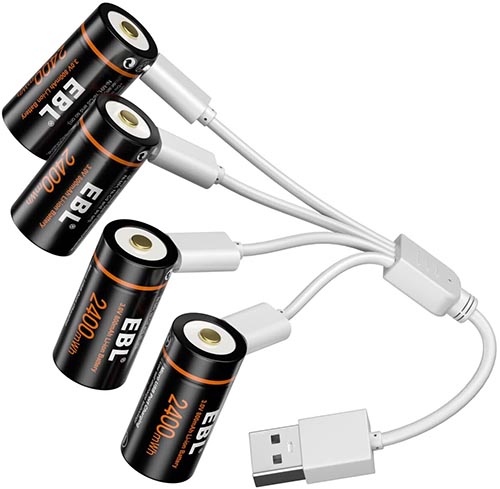 The method of using a USB cable is very compact. There's no added bulkiness or charging bricks to bring around. Each battery has its very own micro-USB charging input. Simply insert the cable into the side of each battery. In fact, since these contain the same PTC protection as the DULEX, they're virtually identical; with the only difference being the method of charging.