The best types of technology are the ones that save you time. Yes, everyone gets excited about the latest smartphones and game systems. But the technologies that have really shaped the world have been the ones that save time and energy. The automobile allowed us to get from place to place much faster than a horse. Without the air conditioner, we wouldn't have high-rise buildings or big server farms. And without the vacuum cleaner, carpeting would be way different than it is today. Before vacuums, you had to take rugs outside and literally beat the dirt out of them. It was hard work, and it could take all afternoon.
But modern vacuums are a far cry from the first models. Thanks to further advances in technology, you no longer need a huge external canister to get plenty of power. Motors have gotten smaller and smaller, and nowadays, a stick vacuum can be all you ever need. The same is true for battery technology. Older wireless vacuums were notorious for running dry after just a few minutes of use. Even if you didn't need a ton of power, you wouldn't be able to vacuum a larger area. But nowadays, cordless stick vacuums are really coming into their own. Even if you need a vacuum for your entire house, there are solid options out there.
We're about to review the Lubluelu Stick 202: Self-Stand Cordless Vacuum Cleaner. This is a brand new vacuum – so new, in fact, that you can't have one yet. Don't worry, though. It's an Indiegogo campaign, and the prototyping stage is over. They're now accepting pre-orders, and they plan to begin shipping by the end of June. As a result, it's a great time to become an early backer, and take advantage of one of the backer discounts. Of course, that's assuming that the Lubluelu vacuum is worth owning to begin with. We've taken a close look at the prototype, so we'll go over what we've learned. At that point, you'll have enough information to make an informed decision. Let's get started!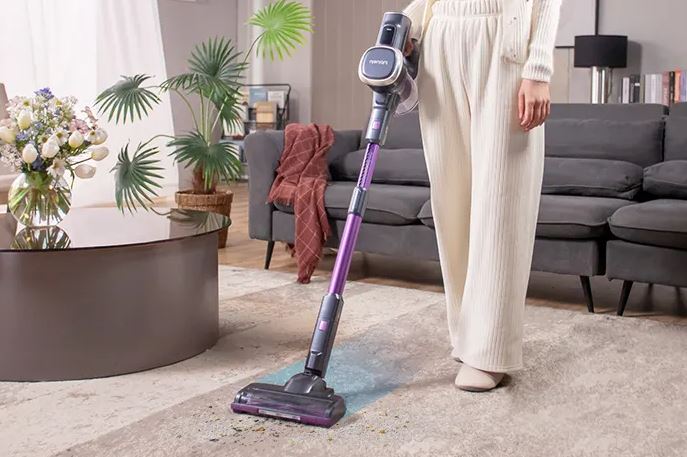 Design & Construction
The first thing we noticed about this vacuum is in the name. The Lubluelu Stick 202: Self-Stand Cordless Vacuum Cleaner has a free-standing design. Other stick vacuums are designed to be hung on a wall mount when they're not in use. This isn't a terrible thing, but it can cause some issues with storage. For example, suppose you want to keep your vacuum behind your sofa. With a wall mount, you've got an ugly mount up on the wall in your living room. With a free-standing vacuum, you just set it on the floor and come back to it when you're ready.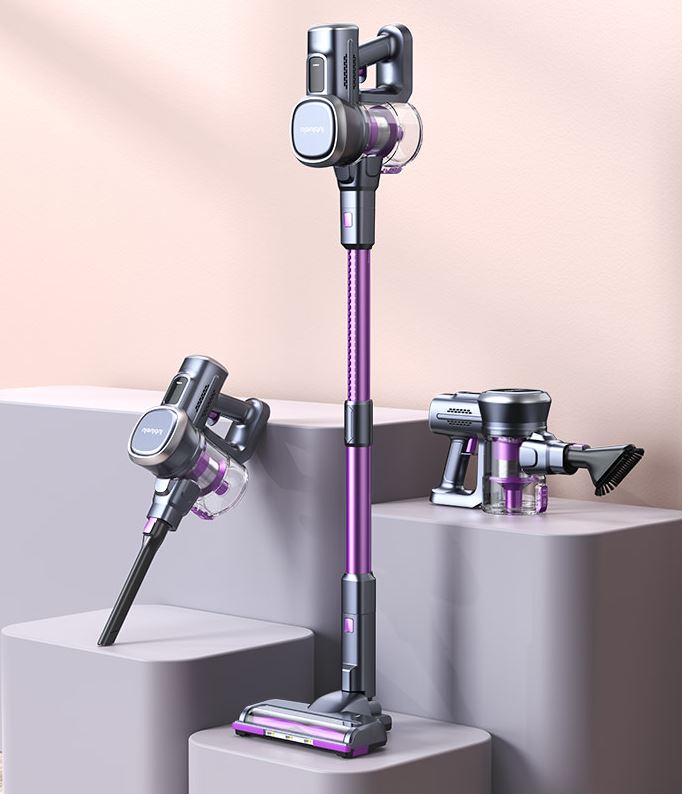 The main housing is grey, with bright purple switches and highlights. The motor is housed in a rectangular section, which is located vertically just in front of the hand grip. It sits directly on top of the dust hopper, which is transparent and cylindrical. You can easily see when it's getting full, and empty it as necessary. It has a capacity of 500ml, which is about standard for today's cordless vacuums. There's a little purple latch on the side, which is used to open the bottom. Just hold it over an open trash can and let the latch loose. Snap the cover shut again, and you're back in business.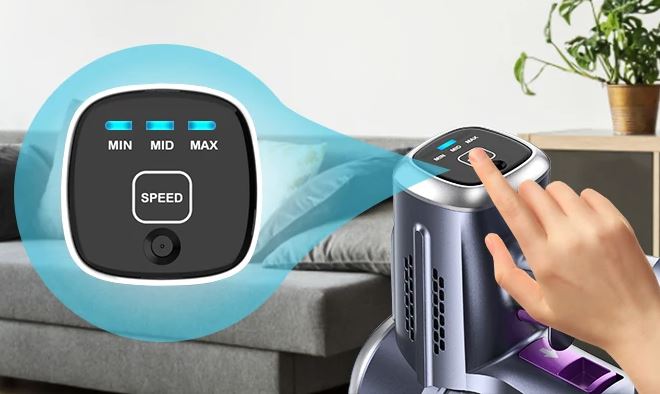 Behind this, you'll find a pistol grip, which is angled slightly forwards. This grip is comfortable and easy to hold onto, regardless of what attachment you're using. To use the vacuum, just squeeze the trigger, and the motor will spin up. Let go, and it will shut right off.
The rest of the controls are located on the black back panel. This panel is actually the back of the battery, which can be pulled entirely out of the unit. By locating the battery here, Lubluelu helps counterbalance the weight of the motor. The result is a well-balanced vacuum cleaner that's easy to operate. There's a single large button in the middle, which controls the motor speed. Press it, and you'll cycle through the different speeds. Above this button, there's a row of three green LED lights, which display the current motor speed.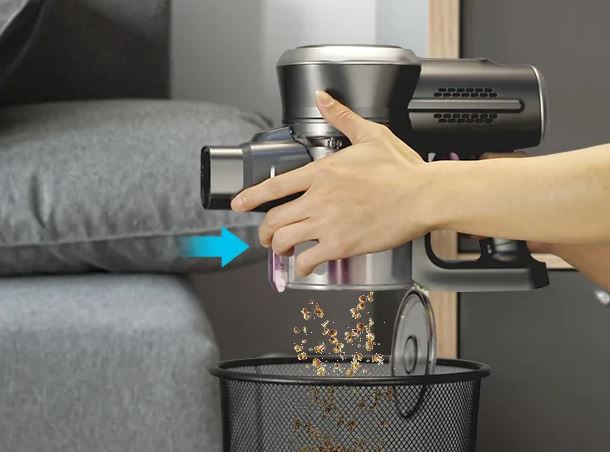 Beneath the speed button, there's a round power port for charging the battery. The kit includes a barrel-style charging adapter, which plugs into any ordinary wall outlet. You also get a multi-function cleaning tool. There's a brush for clearing out dust and other debris. And on the sides, there's a couple of picks that are used to help remove tangles. Everything is covered by a 12-month manufacturer's warranty, so premature failure isn't a concern.
If you want even more functionality, you should consider a vacuum that does the cleaning by itself. The Yeedi Vac Station is an excellent example. This is a robot vacuum that cleans your house on a schedule or on demand. It even has a self-emptying function, although it's nowhere near as powerful as the Lubluelu.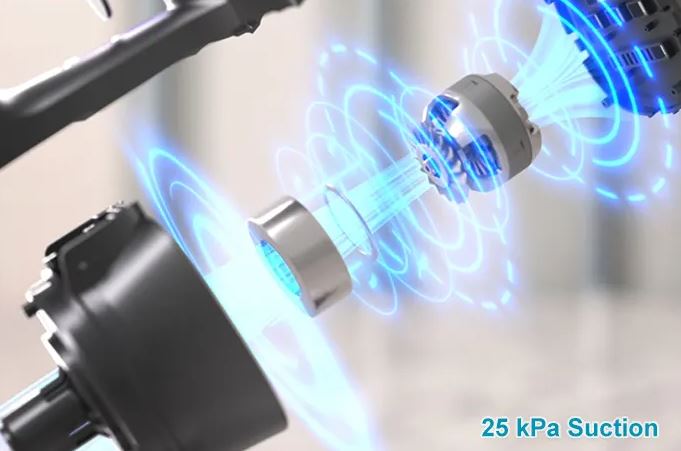 Cleaning & Accessories
Ultimately, a vacuum is only as good as its suction power. In that regard, the Lubluelu Stick 202 vacuum performs very well. There are three suction settings in total, with a maximum power of 25,000 Pascals (Pa). That's more powerful than many full-sized canister vacuums, and far more powerful than the average upright. In fact, it's the highest level of suction we've ever seen on a battery-powered stick vac. You can clean large debris and deep pile carpet without leaving anything behind. For more mundane tasks, the 9,000Pa and 16,000Pa settings will ordinarily be more appropriate.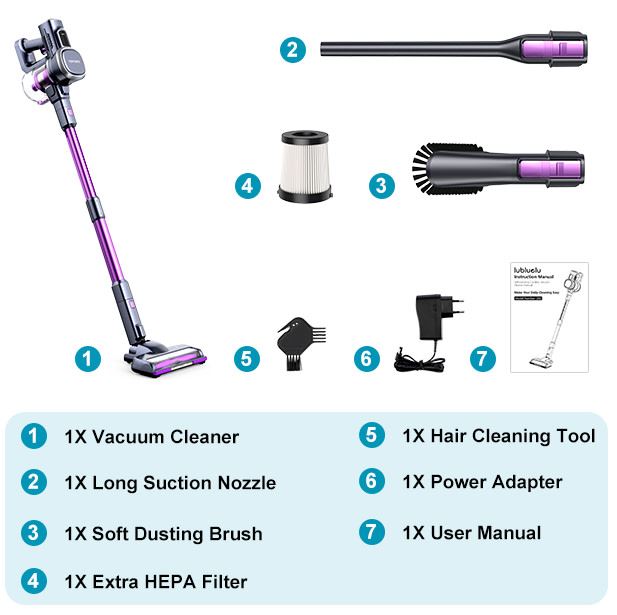 The vacuum comes with three attachment, along with a purple aluminum extension rod. The attachments can be used with or without the extension rod. If you're standing, the rod makes it easy to vacuum the floor. If you're on your hands and knees, a direct attachment can be an easier configuration. The vacuum is only really self-standing with the rod and main roller, so it's wise to keep them handy regardless.
The main roller is broad, with a mostly dark grey housing. The front panel, however, is completely transparent. This gives you a clear view of the roller brush, so you can quickly identify any tangles or snags. The brush itself has a spiral design, and is stiff enough to penetrate deep pile carpets with ease. On the front, there are three LED lights, arranged in a horizontal row. These give you a clear view when you're vacuuming under shelves or lower furniture.
The second attachment is the crevice tool. This is made of black plastic, and has a tapered, rectangular profile. It's longer than many comparable crevice tools, which makes it easy to access hard-to-reach places. You can vacuum the gaps in an overstuffed sofa, or reach into narrow gaps between appliances.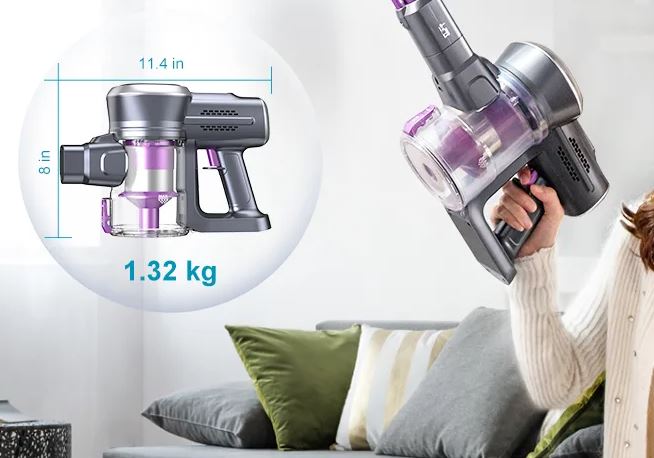 The last attachment is a brush attachment, for vacuuming delicate surfaces. It's designed for cleaning curtains, electronics, and other areas where another attachment would be too intense. It's made from a similar black plastic to the crevice tool, and it also has a little purple release tab. The brush itself is positioned at a 45-degree angle, which is useful for many applications. It's easier to maneuver than a straight or 90-degree brush.
One thing the Lubluelu Stick 202 vacuum doesn't include is a mini roller, for upholstery and automotive use. If you're looking for a vacuum for those things, take a look at the Dreametech P10 Pro. It comes with multiple slick attachments, including a mini roller. It also provides almost as much suction, albeit with a little bit less battery life.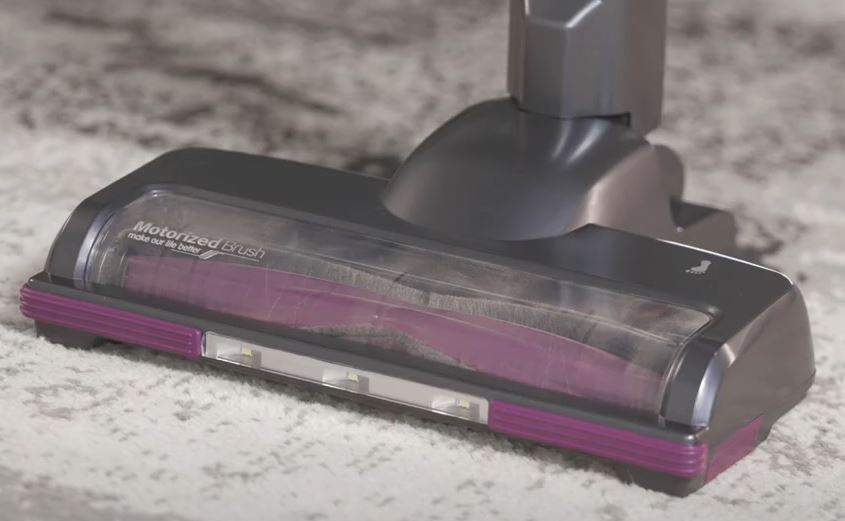 Battery & Filters
As with any battery-operated vacuum, the exact amount of time the battery will last is variable. Mostly, it will depend on the suction level you're using. On the most powerful setting, the Lubluelu vacuum will last for around 15 to 20 minutes. This isn't all that long, but it's enough to clean a couple of rooms with deep pile carpets. On the other end of the scale, the lowest suction level will work for around 45 minutes. This is more than enough to clean large areas, especially if you're vacuuming a solid floor. The middle, 16,000Pa setting will run for a little over 25 minutes on a full charge.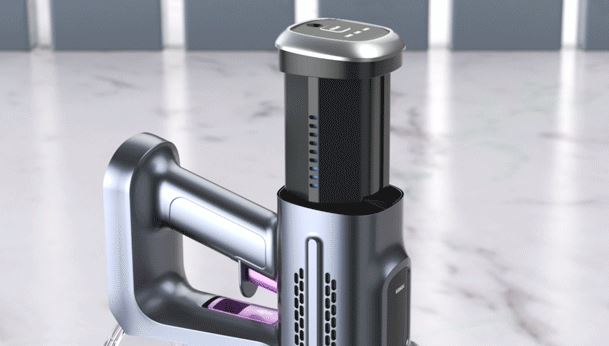 One thing we liked about this battery system is how easy it is to charge. Because of the charging port's location, you can charge it inside or outside of the vacuum. This means that it's easy to keep a backup battery charged for even more power. As a matter of fact, the Indiegogo account gives you the option to order a discounted extra battery. If you need enough stamina to clean a very large house, you're going to get it.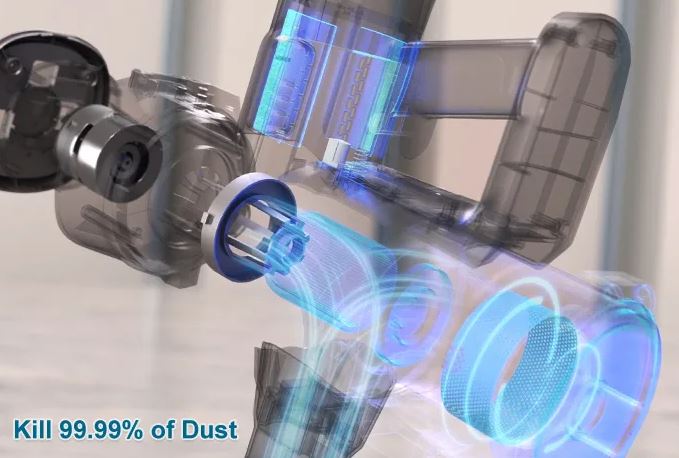 This vacuum has a four-stage filtration system, which starts with the canister itself. As air swirls around, heavier and larger debris automatically drops out. Next, the air passes through an outer mesh filter, which catches dust, hair and other junk. After that, it flows through a true HEPA filter, which removes almost all particles as small as 0.3 microns. The HEPA filter is washable, and there's a spare included in the kit. The foam ring filter is also washable. This is actually less effective than the HEPA filter. But it provides a layer of protection around the outside, where un-filtered air might otherwise leak through.
One thing you can't clean with this vacuum is any kind of wet mess. If you need a portable wet/dry vacuum, check out the ILIFE W100. It can handle wet or dry messes, and it has a built-in mopping roller. Then again, it's much less powerful than the Lubluelu vac.
Final Verdict
The Lubluelu Stick 202: Self-Stand Cordless Vacuum Cleaner is a powerful, well-engineered vacuum. With up to 25,000Pa of suction, it's exceptionally strong for a battery-powered vacuum cleaner. The attachments are well-designed, and the controls are simple and straightforward. The dust bin is easy to empty, and of course, you get a convenient free-standing design.