Over the past few years, more and more devices have started connecting to the internet. In the early days of the internet, you might have one or maybe two computers connected. Then came smartphones, gaming systems, and streaming services. Now, with the advent of smart home devices, the number of online devices is increasing even further. We have smart TVs, smart appliances, cameras, doorbells, and all kinds of interconnected gadgets. This Internet of Things has made all of our lives more convenient, as well as more safe. But it's put a lot of stress on our existing home routers.
The last generation of routers used 802.11ac technology. This was great for devices of the 2010s. It's a reliable format for streaming, gaming, and other high-demand applications. But it begins to fall short when you're connecting a lot of devices. 802.11ac will allocate large slices of bandwidth to devices that are simply sitting idle. The newer technology, WiFi 6, allocates bandwidth of a dynamic basis. If a device is idling, it will only have a tiny amount of bandwidth allocated to it. When that device needs to send or receive a signal, the amount of bandwidth is increased. This allows you to connect dozens of devices without negatively affecting your internet speed.
Today, we'll be reviewing the RockSpace AX1800 WiFi 6 Router. This is a powerful WiFi router with a dual-band signal and WiFi 6 support. It comes with a wide variety of security features, along with parental controls to keep your kids safe online. But those are just a couple of the features we'll need to touch on. We'll have to talk about the physical design, and how you set up the router. We'll need to talk about the signal range, and how much multi-device support you get. At the end, we'll also have to look at the control app, and discuss the safety features in more detail. At that point, we'll have a well-rounded understanding of this router. Let's begin!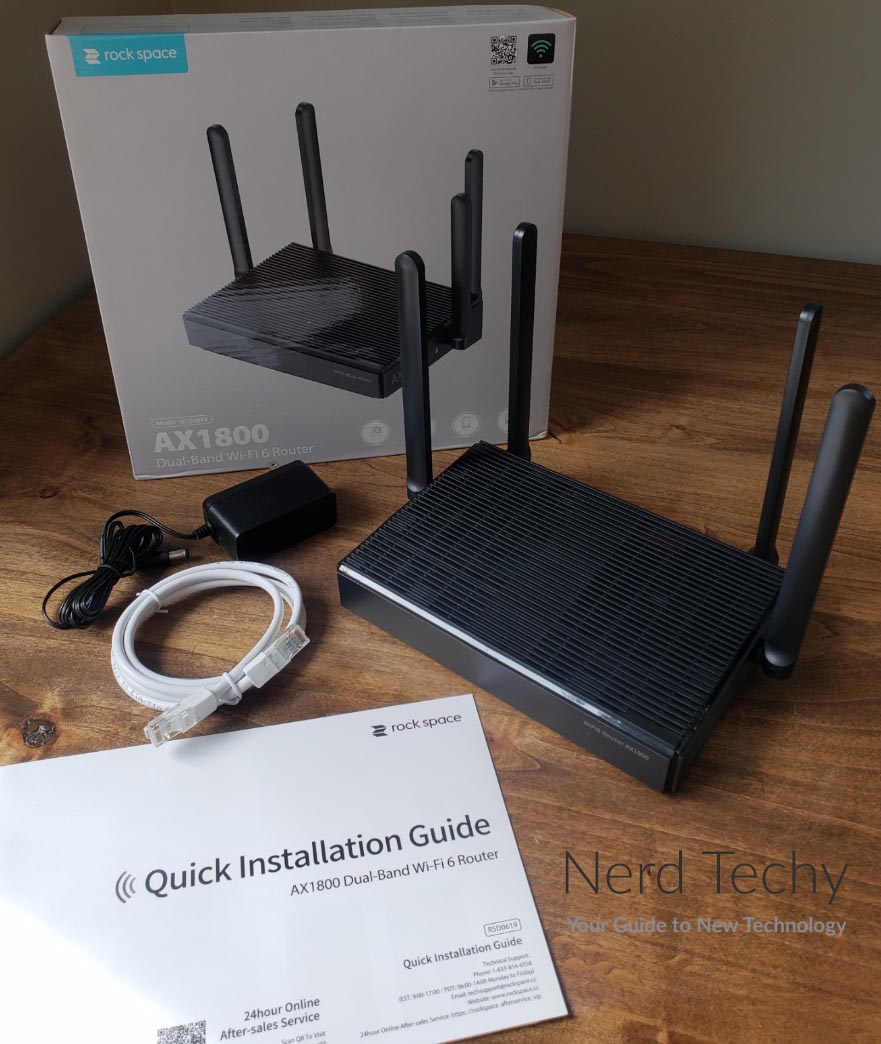 Design & Installation
The RockSpace AX1800 WiFi 6 Router has a rectangular design and a flat profile. It's constructed from a durable black plastic, with an attractive satin finish. This finish is easy to keep clean, doesn't attract dust, but has enough shine to look good on your desk. The bulk of the housing is smooth and bare, with the model number printed on the front in white. The top surface is slotted, with vents to allow for easy cooling. This is the one part of the design we were less fond of, since dust can collect in the grooves. Even so, it's easy enough to keep clean. There are four pivoting antennas mounted on the edge, two on the sides and two on the back.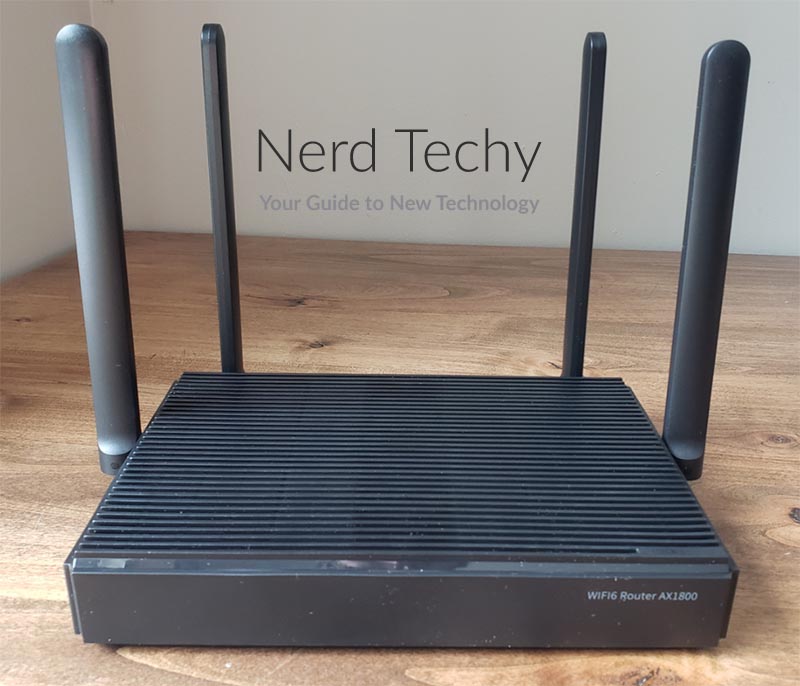 The only other physical features worth noting are on the back side of the housing. At the left, there's a small button that's used for WPS pairing. This same button also serves as a reset in case the router ever locks up. Next, you'll see a row of five Ethernet ports, packed close together. The four orange ports at the left are your LAN ports. These can connect to computers and other online devices in your home. The fifth gold port at the right is the WAN port. This is used to connect to your modem. All of the ports have their own individual indicator lights. These can be used to diagnose network issues or loose connections. To the right of the Ethernet ports is a power supply port, which accepts a barrel-style adapter.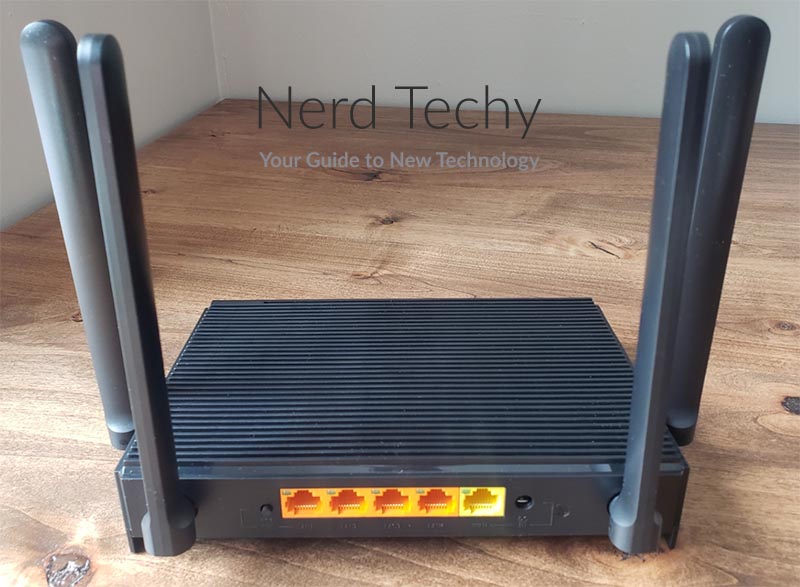 To set up the router, you'll first need to wire it up and power it on. After that, you can follow the instructions in the packaging to set things up using your computer. Create a network name and set your password, and you'll be ready to go. Alternatively, you can use the smartphone app to set up the router. This requires you to download and install the app, but that's a minor inconvenience. Not only that, but the app allows you to adjust your security features and parental controls. We'll discuss those more in a little bit, but it's worth keeping in mind.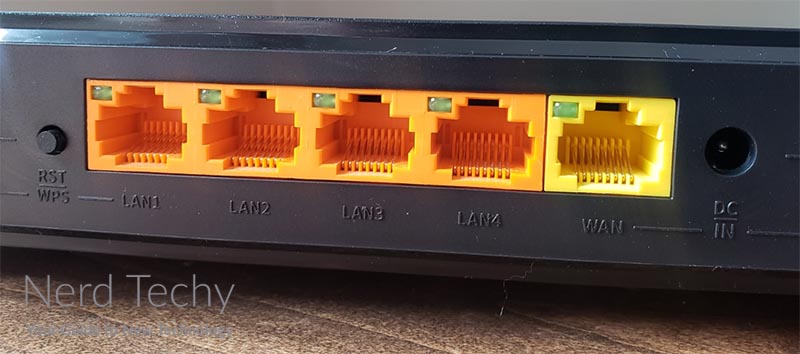 But what if you already like your router, but you want to extend your range? In that case, take a look at the Connectize G6. It's a bit faster than the RockSpace, and it doubles as an access point to extend your coverage. It doesn't support WiFi 6, though, so you won't be able to connect as many devices.
Speed & Coverage
The RockSpace AX1800 is a dual-band router. This means it utilizes both the 2.4GHz and 5GHz wireless bands. The 2.4GHz band has a lower bandwidth, but this goes along with a much longer range. The 5GHz band has a shorter range, but much faster speeds within that range. In total, the 2.4GHz band has a maximum bandwidth of 600Mbps. This is unusually fast for a 2.4GHz signal, which is good news if you have a lot of dispersed devices. That said, the 5GHz band still provides much more bandwidth, with up to 1.2Gbps of speed. This works out to a total theoretical maximum of 1.8Gbps.
This is more than fast enough for most people's needs. But if you need more bandwidth, you've got some options. Take the Speedefy K7W, for example. It has a total maximum bandwidth of 2,033Mbps, which is pretty impressive. It also has some similar security features, although it doesn't offer WiFi 6 support.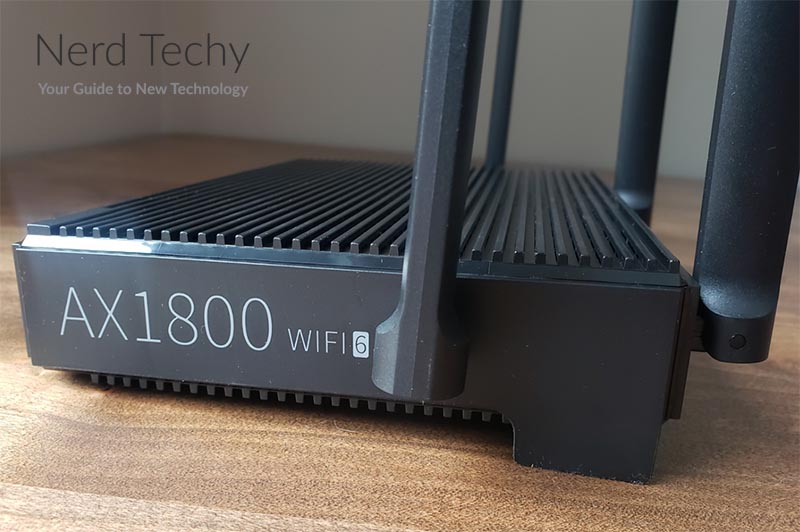 The AX1800 supports OFDMA. OFDMA is short for "orthogonal frequency division multiple access", a feature only available on WiFi 6. Traditionally, routers have dedicated data packets to each individual device. Imagine a delivery service that used a separate truck for each cross-country delivery. With OFDMA, data from multiple devices can be packaged within the same packet and sent to the modem. This is analogous to multiple packages being sent on the same shipping truck. In fact, 802.11ac routers are limited to 64 devices, one for each subcarrier band. Because these bands can be shared via OFDMA, you're getting support for almost limitless connected devices.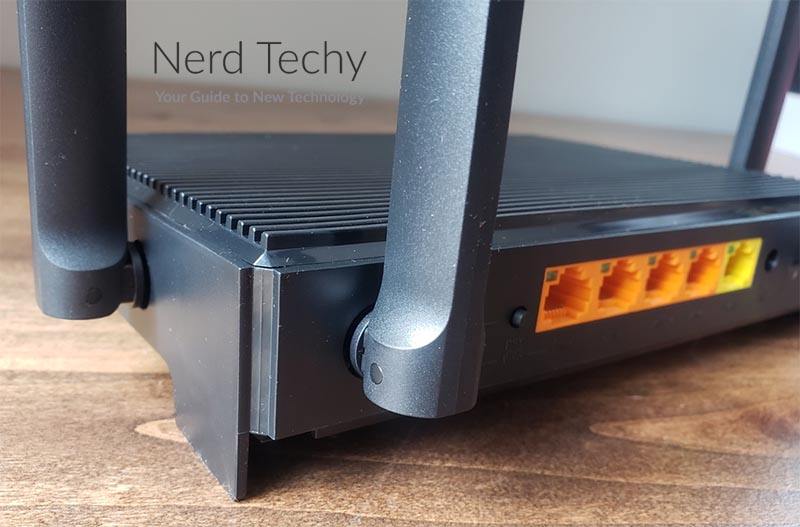 This router also supports 4X4 MU-MIMO technology. MU-MIMO is short for "Multiple users, multiple inputs, multiple outputs." This is a fancy way of saying that it can seamlessly handle data transmission within the network. There's no need for it to switch tasks between handling LAN and WAN traffic. The result is slightly improved performance during periods of high activity.
The AX1800 is rated to cover an area of 2,500 square feet. That's larger than the average suburban house, so you should be just fine. Then again, the wall penetration seems to be a little bit on the weak side. If your router is on one side of a large house, you may not get a very strong signal at the other side. This can lead the signal to cut out occasionally at longer ranges.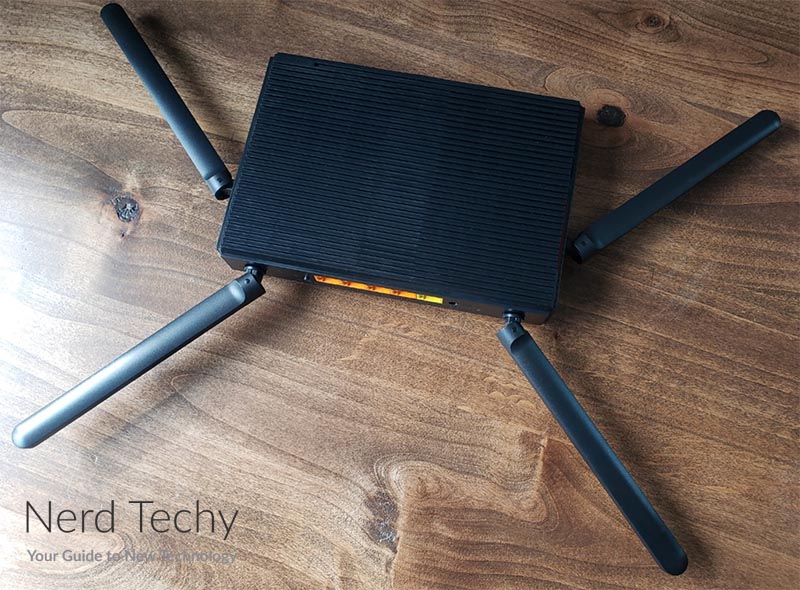 So what do you do if you've got a larger home and need significantly more coverage? If that's what you need, the Speedefy KX450 is a solid choice. It has similar speeds, but can double as a wireless repeater. You can use more than one of them to extend your network over a wider area. On the downside, it doesn't support as many devices.
Control & Extras
As we mentioned at the outset, you'll have access to a number of control options through the smartphone app. To begin with, you'll be able to adjust your parental controls. This lets you restrict certain types of websites, and also block the internet entirely during certain hours. You can also relax the rules for certain devices, so mom and dad can still have unlimited access.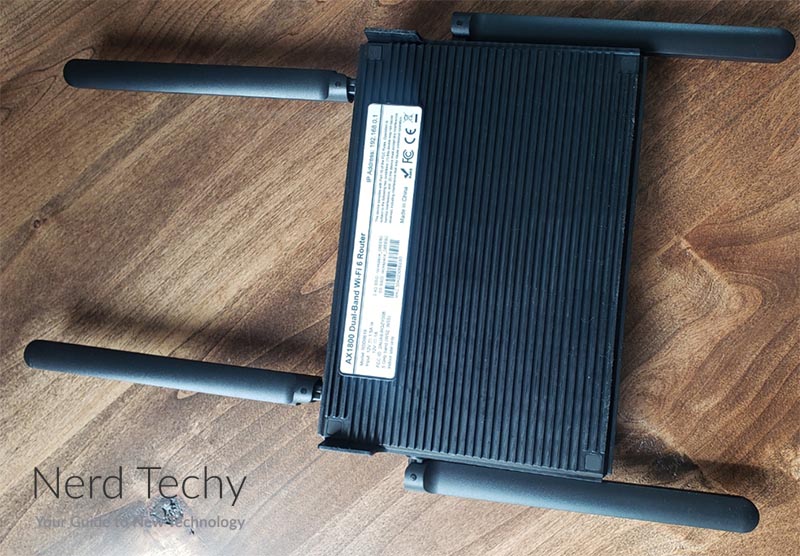 The app also allows you to set up a guest network. A guest network is a secondary network that runs in tandem with your regular network. Devices on the guest network can access the internet, but they can't see devices on the regular network. This way, you can share your internet without sharing your own personal password. Guest networks are particularly useful for businesses who want to provide free WiFi. Your company machines are safe from hackers and prying eyes, and your customers get their internet.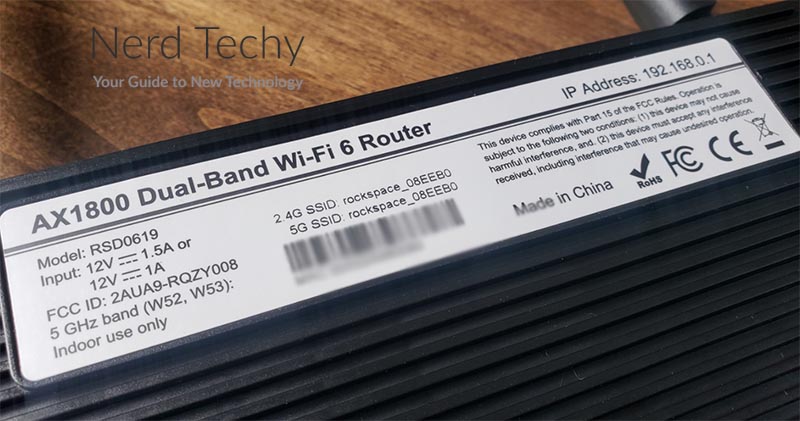 Regardless of whether or not you use the app, you'll be protected by WPA3 security. WPA3 is the current gold standard for wireless protection, so you're as safe as possible from intruders. It's not foolproof; no security protocol is. But WPA3 helps your router to remain totally private, and to detect intrusions before any damage is done. On the downside, you won't be able to change the router channel in the settings. Except for some obscure applications, this is not often necessary. That said, you won't be able to use the Amazon Fire Tablet HD8 or HD10. If you're using one of those systems, you'll need to choose a different router.
One last thing we should note is that the RockSpace AX1800 supports BSS coloring. This is another technology that's unique to WiFi 6. Coloring is just a metaphor, but it's a good explanation for what's going on. Each router applies its own unique tag, or "color" to its signals. A router can recognize when another router's color is on its bandwidth. As a result, the RockSpace router will automatically avoid interference from neighboring WiFi networks. Your data will simply be shifted to subcarrier bands that are not in use.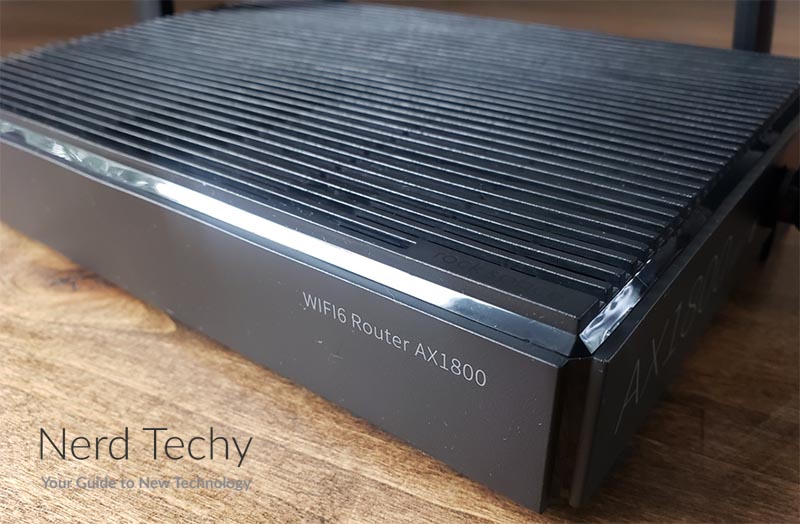 Final Verdict
As you can see, the RockSpace AX1800 WiFi 6 Router has a lot going for it. This is a powerful router, with a particularly impressive 2.4GHz band. We had some concerns about signal penetration, especially over larger areas. That said, as long as you're not too far away, you get plenty of speed. The security features are well thought out, and provide plenty of protection for most purposes. The parental controls and guest network offer added versatility. And with support for dozens of devices, you'll be all set for the Internet of Things.
Meet Derek, "TechGuru," a 34-year-old technology enthusiast with a deep passion for tech innovations. With extensive experience, he specializes in gaming hardware and software, and has expertise in gadgets, custom PCs, and audio.
Besides writing about tech and reviewing new products, Derek enjoys traveling, hiking, and photography. Committed to keeping up with the latest industry trends, he aims to guide readers in making informed tech decisions.