Over the past several years, phone technology has changed quite a bit. Traditional analog phone lines still work the same way they have for decades. Audio is transmitted as a series of analog pulses, similar to the signal going into a speaker. This can sometimes be advantageous, since the phone doesn't require a separate power supply. So if your power is out and you need to call for help, you can. But analog signals are also relatively low quality, and the signal often sounds fuzzy.
A digital telephone line is completely different. Instead of sending analog audio, it converts the audio to a digital signal. This digital signal is then sent in packets, like other internet data. When the packets arrive at their destination, the digital signal is decoded back into regular audio. Because the data was digital, there's less fuzz and interference. Unfortunately, implementing digital phones can get expensive if you're trying to upgrade an entire business. With an analog telephone adapter, you can get all the benefits of digital phone calls without replacing your old phones.
Today, we'll be reviewing four of the best analog telephone adapters we could get our hands on. These include the Grandstream GS-HT802, the Grandstream HT813, the Cisco ATA 191, and the Yeastar YST-TA800. We'll take a deep dive into all of their features, functions, and even their drawbacks. Once we've gotten a complete picture, we'll deliver our final verdict.
1. Grandstream GS-HT802 Analog Telephone Adapter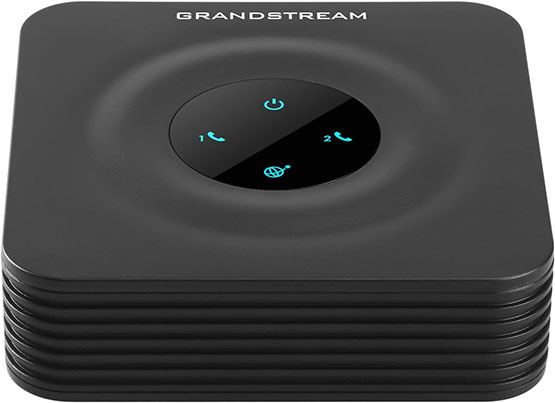 Key features:
One phone port.
Supports two phone lines.
Supports 3-way teleconferencing.
Backup SIP server in case of primary server outage.
The Grandstream GS-HT802 Analog Telephone Adapter has a small footprint. Its square black housing measures just 4 inches to a side and an inch thick. You can easily tuck it away at the back of a desk without it taking up much space. The sides are ribbed to increase the surface area and improve heat dispersal.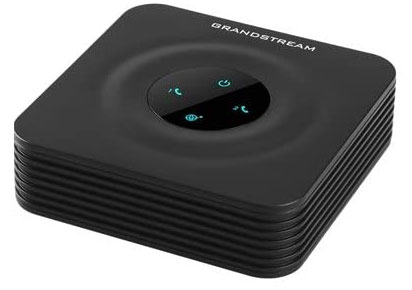 Most of the relevant parts are located along the back edge. There, you'll find a Micro USB power port, which corresponds to the included power adapter. At the right is an RJ11 phone jack, with a green outline around it. At the left is an RJ45 Ethernet jack, with a blue outline. You plug in your phone, connect an Ethernet cord to your router, and you're ready to go.
On top of the housing is a circular indicator panel, divided into four quadrants. Each quadrant has an indicator light that lets you know the system's status. The top power indicator indicates that the power supply is connected and the adapter is active. At the left and right are lights indicating whether your phone line is connected. Since the system supports 2 lines, there are 2 lights. At the bottom is a fourth light that lets you know you're connected to the internet. Near the back is a white Grandstream imprint, printed onto the surface.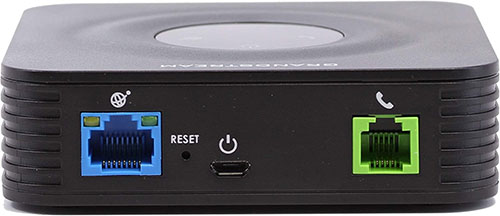 As we mentioned, the GS-HT802 supports 2 phone lines. There's only a single phone port, but if your phone supports 2 lines, both of them will work. Along the same lines, it supports both Tl and SRTP security encryption, which helps keep your calls private. If that's not enough, you get support for three-way conferencing. So if you want to patch someone into a call, you'll be able to.
As an added bonus, there's a failover SIP server. You won't notice this under ordinary circumstances, but if the main server goes on, it will seamlessly switch over. You don't have to worry about your calls getting dropped because the server has an outage.
2. Grandstream HT813 Hybrid ATA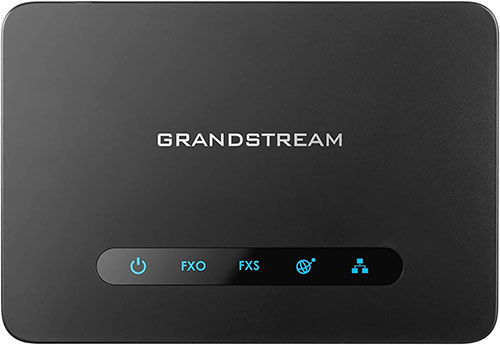 Key features:
One phone port.
Supports two phone lines.
Digital phone signal will revert to analog in the event of a power outage.
The Grandstream HT813 Hybrid ATA has a similar small, low-profile design. It's slimmer and more elongated, at 5.14 inches wide, 3.56 inches long, and 1.14-inch thick. The corners are rounded, which makes it tougher and more durable. And the finish is a matte black plastic, which makes it easy to keep free of dust and fingerprints.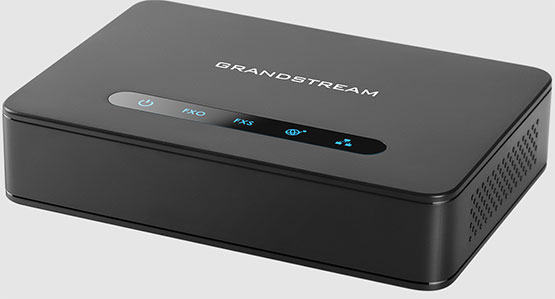 On the back side of the housing is a Micro USB power input, similar to the other Grandstream adapter. You'll also find an RJ11 phone port and an RJ45 Ethernet port. Plug in your phone and connect to your router, and you're ready to start making calls. On the top of the housing is a white "Grandstream" imprint, with a row of indicator lights in front of it. The leftmost shows your power status, while the next two show your FXS and FXO connection status. Next is a light that shows whether you're online, followed by a LAN connection indicator.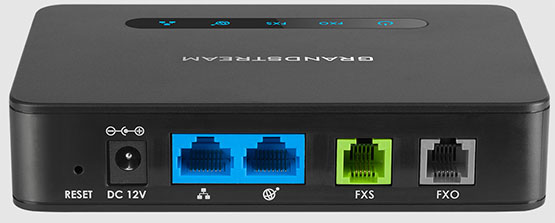 Like the GS-HT802, the HT813 Hybrid can support a phone with two separate lines. This makes it easy to use office phones that have multiple phone numbers. Better yet, the FXS port automatically changes over to the FXO port when the power goes out. So in the event of an outage, you won't totally lose your phone capabilities. You'll just revert to an old-school analog signal until power comes back on.
3. Cisco ATA 191 Multiplatform Analog Telephone Adapter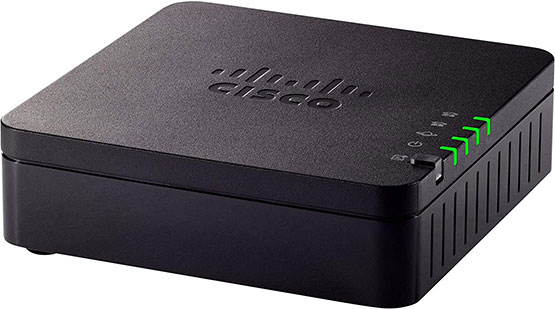 Key features:
Two phone ports.
Supports two phone lines.
Secure, encrypted transmission.
Advanced voice processing and echo cancellation
The Cisco ATA 191 Multiplatform Analog Telephone Adapter has an all-black plastic housing. Like the last two adapters, it has a small profile, measuring 3.9 inches to a side and only 1.1-inch thick. The top features an embossed Cisco logo, along with a row of indicator lights along the right side. These green lights let you know whether the phone lines are connected, and indicate your web and power status. There's also a physical button that can be used to power cycle the unit.

The sides of the housing are grooved to allow for air flow and cooling. There's also a set of rubber feet on the bottom, which keep the adapter from sliding around. The ports themselves are located on the back of the housing. There's a pair of RJ11 phone ports, along with a single RJ45 Ethernet port for connecting to the web.
The audio signal is excellent, thanks to Cisco's proprietary built-in circuitry. Before your voice is converted to digital, the electronics remove echoes and background noise. The system also boosts the sound of your own voice in order to make it more clear. In addition, it uses Transport Layer Security (TLS), Secure Hash Algorithm (SHA-2), and Secure Real-Time Protocol (sRTP). Without getting too far into the weeds, these are all encryption systems that keep your calls secure. You don't have to worry about some low-rent hacker snooping on your communication.

Best of all, Cisco backs the ATA 191 with a 12-month manufacturer's warranty. If it fails prematurely due to a defect in parts or labor, you'll be compensated.
Cisco is one of those brands that needs no introduction. They're experts in networking technology, and we recently reviewed their Dual WAN Router. This is a powerful 4-port VPN router with cloud-based management, and we were pretty impressed. So it was only logical to check out their phone adapter.
4. Yeastar YST-TA800 Analog Telephone Adapter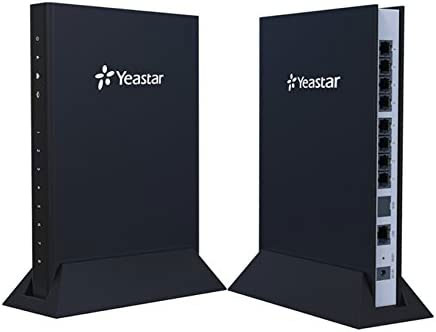 Key features:
Eight phone ports.
Supports eight phone lines.
Slick design with a vertical stand.
The Yeastar YST-TA800 Analog Telephone Adapter is a bit beefier than the others. The black housing measures 12 inches tall, 10 inches long, and 4 inches thick. It's constructed from aluminum, with a recessed grey edge where the ports are located. It also comes with a wedge-shaped stand with a groove in the top, so it sits vertically rather than horizontally.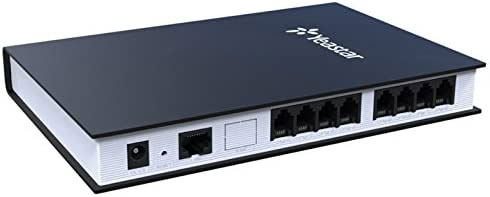 As with the other adapters, the ports are located along the back edge. To begin this, there are a whopping eight RJ11 ports. This allows you to connect up to eight land lines via the same adapter. There's no need to buy individual adapters for every phone. All the lines connect to the web via an Ethernet port. Power is supplied by a barrel-style AC/DC adapter, which is included in the package.

A row of indicator lights on the front of the housing keep you posted on the system's status. There are lights for all eight phone ports as well as the Ethernet connection. Separate lights indicate when your system is online and the power is connected.
Analog Telephone Adapter Basics
Before we wrap up, we should talk more about analog telephone adapters. Why are they beneficial, and what are the features you should be looking for?
To begin with, analog phone calls are expensive. Even if you're only paying pennies per minute, those pennies add up. Across a large enough business, you could be spending absurd amounts of money on your phone calls. By comparison, you're already paying for your internet service. Adding a few more devices costs you nothing, while saving money on your phone service.
Of course, you can get all of those benefits by just using a digital or VoIP phone. The neat thing about an analog adapter is that you don't have to replace all of your phones. This is hugely beneficial, because most adapters are far cheaper than a digital phone. So you can get the same results without spending as much money on your equipment.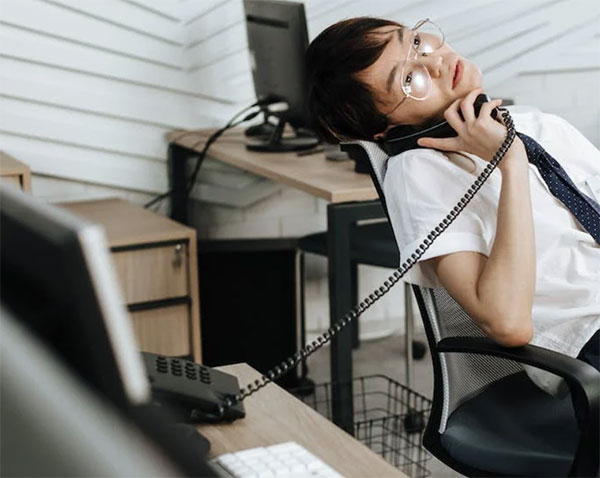 Analog Telephone Adapter Types
There are two main types of analog telephone adapter. The first is FXS to USB. FXS is short for "Foreign Exchange Station," and refers to a standard RJ11 phone jack. The signal from the phone jack is then converted to digital and sent out via USB. You then connect the USB cable to your computer, which handles the phone call. This type of system is pretty straightforward, but it has a glaring weakness: you need a computer to make your call.
All the adapters we looked at today use the second type of technology – FXS to Ethernet. This type of adapter does all of the work in converting your analog signal to VoIP. There's no need for a computer or any extra software. All you have to do is plug your phone into the adapter and plug the adapter into your router. Then you can use your old analog phone the way it was designed to be used.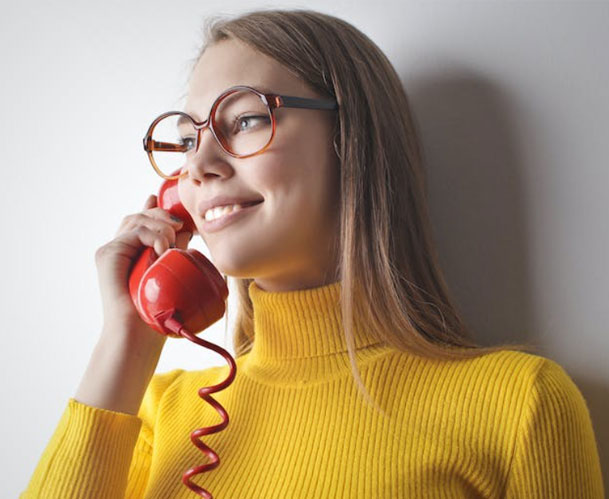 Final Verdict
As you can see, these are all good quality telephone adapters. But which one is the best choice for your needs? Let's recap what we've learned about each of our options.
We started out our day by looking at the Grandstream GS-HT802. This adapter is small and lightweight, and can seamlessly connect a single phone. It supports two lines on the same phone, and is powered via a Micro USB power adapter. It also has a failover SIP server, so your phone will remain functional in the event of a primary server outage.
Next, we checked out the Grandstream HT813. This system is similar to the other Grandstream adapter in many respects. It supports a single phone with two lines, and uses Micro USB for power. However, it has different fallback features. Instead of a backup SIP server, it reverts to an analog connection in the event of a power outage.
Third on our list was the Cisco ATA 191. This adapter has incredible security capabilities, with TLS, SHA-2, and sRTP encryption. It supports two phone lines through two separate ports, and has a very small footprint. It's also backed by Cisco's 12-month warranty, so you'll be protected if it turns out to be defective.
Last but not least, we reviewed the Yeastar YST-TA800. This is a larger adapter than the others, and can support eight phones simultaneously. This makes it the ideal choice for offices with many phone lines. Instead of shelling out money for an adapter for every phone, you can use one adapter for all your needs.