Your router is the lifeline between your local network and the broader internet. If you want a good connection, you need a good router. This is especially true when you're running a business. When your home internet goes out, it's bad enough, but let's get real.
You're missing out on Netflix or video games. But when your business internet is down, it's a big deal. Depending on the nature of your business, you can lose a small fortune – or even lose some customers. Without a good quality router, a network outage is almost inevitable.
We've written about a lot of routers over the years, many of which are suitable for enterprise-grade use. But they all share a common weakness; they rely on your internet connection. If your ISP goes down for whatever reason, it doesn't matter how good your router is.
You're still going to be dead in the water. One solution is to use a dual WAN router. By connecting to more than one ISP, you'll have that much more reliability. That way, your business will stay online even under the worst circumstances.
Choosing the Best Dual WAN Load Balancing Router
Today, we're going to review three of the best dual WAN load balancing routers that money can buy. All of these routers are designed to connect to at least two different WANs, and sometimes more. They're also designed for easy setup, so you won't have to spend a ton of time configuring them.
That said, there's a lot that goes into making a good router. To compare these, we'll have to take a closer look at the build and design. We'll need to talk about how you can connect to them, and how they in turn can connect to the web. We'll also discuss their speed, firewall functions, and other noteworthy features. After that, we'll have more than enough information to render our verdict. Let's begin!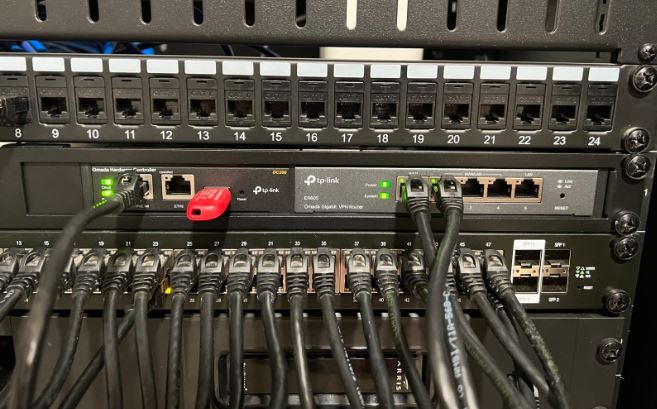 What is a Dual WAN Router?
Before we begin, we should talk about what a dual WAN router actually does. In the simplest terms, a dual WAN router connects to more than one ISP simultaneously. If the primary ISP experiences an outage, the router will automatically roll over to the secondary ISP.
But that's not all this kind of router is good for. They're also useful for load balancing. Let's say you have huge traffic demands that sometimes exceed your maximum bandwidth on one ISP. You can configure a second ISP for overflow traffic.
Depending on the router, you may have even more options. For example, you could direct different devices or types of traffic to different ISPs. For example, suppose you run a small hotel. You could route streaming traffic through one ISP, and other types of traffic through another. This would keep either one from getting overloaded.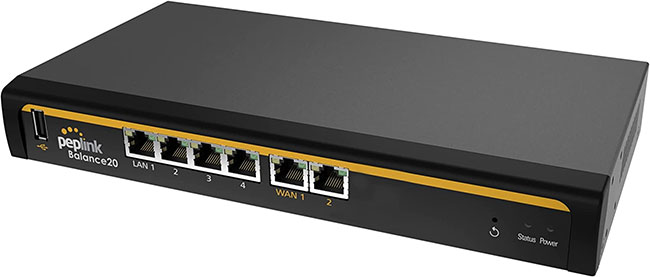 Peplink Balance 20 Dual-WAN Router
The Peplink Balance 20 Dual-WAN Router has a flat, wide housing. It's constructed from black plastic with an inner metal frame, with protective rubber feet on the bottom. In total, it measures 10.2 inches wide, 1.37 inches tall, and 5.24 inches deep. It's also rack-mountable, and you can even order it with an optional rack shelf.
Like most rack-mount hardware, you'll find most of the important stuff on the front. There's a row of four LAN ports near the middle, with a pair of WAN ports to their right. At the far left is a single USB port for attaching a cellular modem. To the right is a pair of lights that indicate status and power, as well as a pinhole reset button.

The back of the housing is a little bit simpler. There's a DC power port, where you plug in the barrel-style DC power adapter. There's also a Kensington locking slot. If you have a Kensington lock, you can cable the router directly to a deck or rack. This doesn't make it theft-proof, but it makes it nigh impossible to steal discreetly or quickly.
Peplink backs the Balance 20 router with a 12-month warranty. You can purchase added coverage for one or two years at a time, and extend the warranty indefinitely. This is obviously only reasonable to a certain point. But it's nice to have the option for extended coverage if you want it.

Capabilities and Extras
How fast the Peplink router is depends on what you're doing. If you're just using it as a vanilla router, you'll get regular Gigabit Ethernet. However, there's a powerful built-in firewall that you can use or not as you like it. With the firewall active, you'll be limited to 150Mbps of throughput. That's not very fast, but it's normal for firewalls to slow down your internet.
Device support is no issue. The Balance 20 can support up to 60 users simultaneously, which is good enough for most applications. In addition, it will support up to 10 access points. So if you want to spread wireless coverage over a large area, feel free!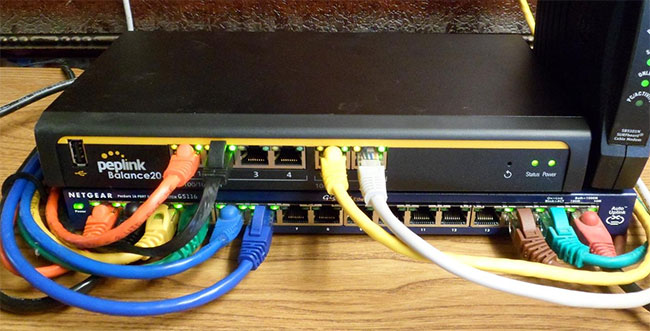 If you're looking for a good access point, consider the EnGenius ECW220S Wireless Access Point. It has a powerful signal and extra long range, as well as a free cloud-based management suite. It's designed to work as part of a mesh system, and has several great security functions of its own.
Along with the router itself, you get a free 1-year subscription to a program called InControl. This is a cloud-based application that makes it easy to configure your network. You can manage traffic, assign different devices to different WANs, and perform other useful functions. Like the warranty, you can use this subscription indefinitely with 1- or 2-year license extensions.
Another useful feature of InControl is what's called a Captive Portal. A Captive Portal can limit the bandwidth for individual devices and impose data limits. It can also limit connections to a certain period of time, or put limits on certain apps. A Captive Portal can also be used to gather demographic data, which is useful on public WiFi networks.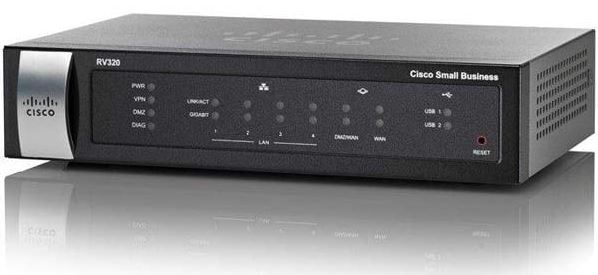 Cisco Rv320 Dual Wan VPN Router
The Cisco Rv320 Dual Wan VPN Router is a little bit different. It's a desktop model, with a black plastic housing and silver highlights. And at 8.1 inches wide, 5.2 deep, and 1.7 thick, it's reasonably compact. But don't let that fool you. Despite the small package, you're still getting a ton of connectivity.
As befits a desktop router, all of your ports are located across the back. To begin with, you'll find four 10/100/1000 Gigabit LAN ports. There are also two Gigabit WAN ports, one of which can function as a DMZ port. We'll explain the DMZ function more in a minute.
Across the front of the housing, you'll see an array of indicator lights. These lights show a surprising amount of detail. For each port, you'll see not only its current status, but also the speed. This gives you a ton of information at a glance, reducing the need to log into the control system.
The Rv320 runs on 12-volt DC power, with a barrel-style plug. The adapter is included in the kit, so you have everything you need to get started.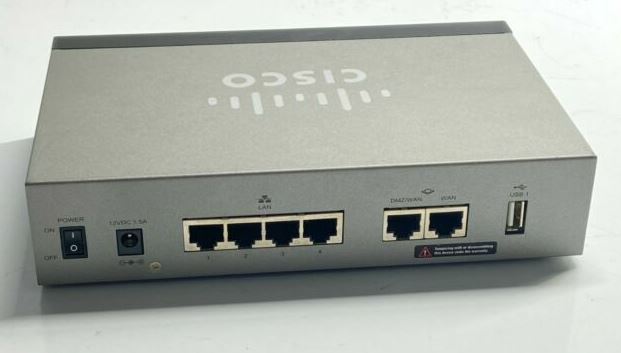 Capabilities and Extras
The Cisco Rv320 normally provides Gigabit Ethernet service. But as before, you get a slower connection when you turn on the VPN firewall. There are actually two options here. With the ordinary VPN, you get 100Mbps of throughput. With the even more powerful SSL VPN, the throughput drops to 20Mbps.
This router can support up to 30 access points, which can cover a substantial area. It can also support up to 20,000 simultaneous connections. That's more than you'll probably ever need. However, it's great for large venues where many people gather and want WiFi access.
If you want this kind of powerful multi-device capability but don't need a new router, there are other options. Take the EnGenius ECS2512FP, for example. It's a cloud-controlled switch that can support a lot of traffic. Just plug it into your existing router, and you're good to go.
The Rv320 has a cloud-based management system that you access through your browser. In addition to traffic management, you can also take advantage of different logging features. In addition to the basic system logs, you can set up email or text alerts. That way, you'll be in the loop immediately when there's a network issue.
Remember that DMZ port we talked about earlier? "DMZ" is short for "demilitarized zone," which is an advanced IT feature. It's a special buffer zone between your network and the outside internet. If your IT department uses a DMZ, this will be your most secure connection port.

TP-Link ER7206 Multi-WAN Wired Gigabit VPN Router
The TP-Link ER7206 Multi-WAN Wired Gigabit VPN Router is constructed from durable black aluminum. It's a rack-style housing, but it's a bit small for a standard storage rack. At 8.9 inches wide, 5.15 deep, and 1.38 thick, it's better sized for a shelf or drawer.
The LAN and WAN ports are located across the front, but the setup is unique. The leftmost Ethernet port is WAN-only, while the second and third can be either LAN or WAN. The fourth and fifth Ethernet ports are LAN-only.
To the left of the Ethernet ports is an additional SFP port, which is also a WAN connection. So in total, you can have up to four WAN connections, with two to four LAN connections. Far to the left is a set of indicator lights which let you know the router's status.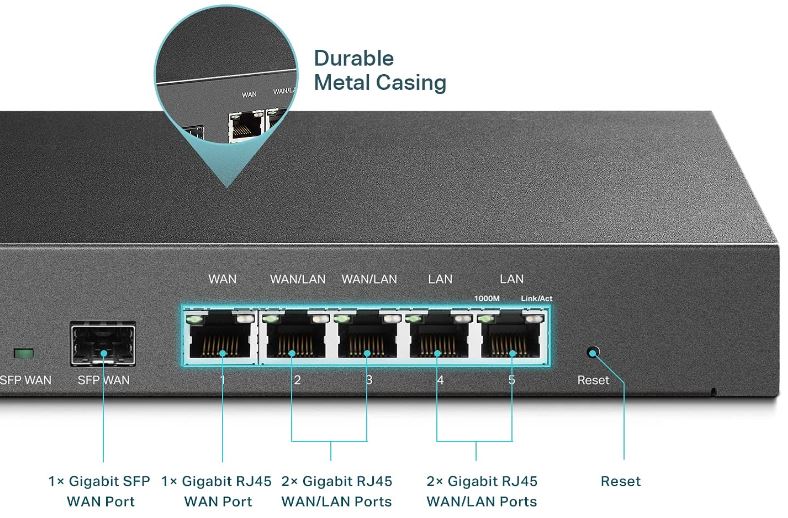 Capabilities and Extras
The TP-Link ER7206 operates at full gigabit speeds. This is despite the fact that it boasts a powerful firewall. The firewall features advanced filtering of IP, MAC, and URL addresses. It also offers enterprise-grade device support. You can connect up to 150,000 devices, which is more than you'll need on all but the largest local networks.
There are two ways to control the ER7206. First, you can access the cloud controls via your browser. Or, you can use the smartphone app to manage your network from anywhere you want. The same cloud controls and app can control multiple TP-Link devices. If you're trying to manage multiple locations, you can do it all from the same place.
Within the app, you can apply bandwidth and session limits to individual devices. You can also supply different usage rights to different IP or MAC addresses. If you want to manage your network at the device level, you'll be able to do so.
Final Verdict
All three of these dual WAN routers could be an excellent choice under the right circumstances. Let's go over what we've learned about each one, so you can decide which is the right choice for you.
We kicked things off with the Peplink Balance 20 Dual-WAN Router. This is a great choice for any small business and some medium-sized businesses. While device support is a bit limited, it still provides all the features you expect from a pro-grade router. The cloud suite leaves absolutely nothing to be desired.
Next, we looked at the Cisco Rv320 Dual Wan VPN Router. This is a more powerful router with support for up to 20,000 devices. It also has a simple, desktop-style design. And while the controls aren't as advanced as the others, the security features are top tier.
Third up on our list was the TP-Link ER7206 Multi-WAN Wired Gigabit VPN Router. This is the most powerful of the bunch, with support for a whopping 200,000 devices. It also has a number of configuration options for advanced users. And with the ability to control multiple TP-Link devices simultaneously, it's a great choice for enterprise-scale networks.