EnGenius ECW220S
Pros
Powerful signal and long range.
Free cloud-based management suite.
Multiple powerful security features.
Can work as part of a mesh system.
Dual concurrent 802.11ax architecture.
Cons
Less bandwidth than we would have preferred.
No AC power adapter.
A bit expensive.
These days, pretty much every home or business has a WiFi network. But even the most robust routers have a limited range. If you have a large venue like an office building or a mall, you want to extend that coverage even further. This is particularly true in today's modern world, where everyone expects WiFi coverage at all times. One solution would be to set up multiple routers. But this can be prohibitively expensive, as well as confusing. You end up with multiple overlapping networks, and people have to switch as they move around the space. What you really need is a way to expand the footprint of your existing wireless network.
A wireless access point is like an extension of your router. It's a device that connects via Ethernet, and provides wireless coverage to the surrounding area. With a router and a set of access points, you can significantly expand your network coverage. But not all access points are equally secure. A poorly-designed or insecure access point can be a major vulnerability in your network. This can be especially bad news if you're concerned about your network's security. At the same time, you don't want to forego internet access altogether. Instead, you want to find a wireless access point with the right security features.
The EnGenius ECW220S is built from the ground up with security in mind. It has several major security features, including intrusion detection and mediation technology. Additionally, it supports WiFi 6, with plenty of support for smart devices. It's also easy to set up and install, with free cloud management software. But those are just a few of the things we'll need to look at. To really understand this access point, we'll have to go much deeper. We'll talk about how it's built, and how you install it. We'll talk about how the software works, and the various security functions. After all of that, we'll be able to offer a balanced judgement. Let's begin!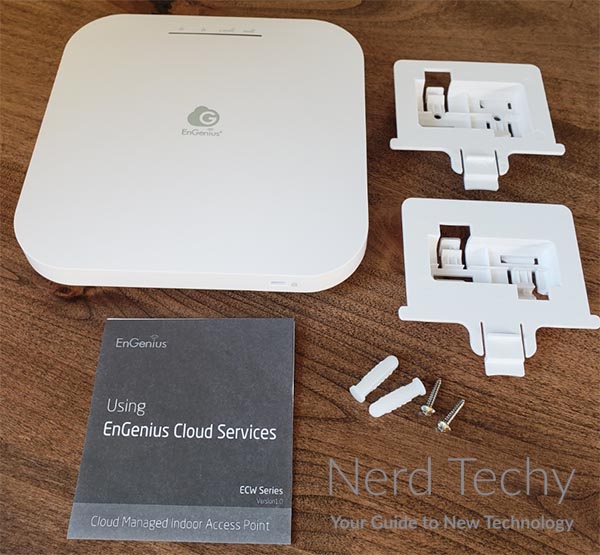 Design & Construction
The EnGenius ECW220S has a minimalist design. Its square white housing measures 6.3 inches to a side, and is only 1.31 inches thick. The subdued matte finish is easy to keep clean, and doesn't attract a lot of attention. The only branding is a small grey EnGenius logo smack dab in the center. Near the top, there's an LED indicator bar with a series of lights, similar to the lights on your router. The first is a power light, while the second indicates whether you're connected to your router. The third and fourth lights indicate the status of the 2.4GHz and 5GHz bands, respectively.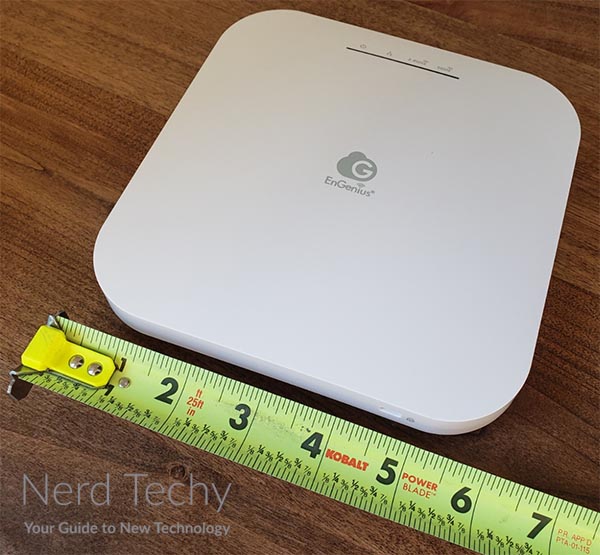 One thing you'll notice is that there are no obviously visible ports or plugs. These are located on the back of the housing, where it sits against your wall our ceiling. There's a cutout in the back of the housing, with space for an Ethernet port, along with a DC power input. There's also a reset button, the kind you need a paperclip to press. Ultimately, there's plenty of clearance for cords to go through, thanks to the mounting bracket. The bracket is a grey panel attached to the back of the main housing, with a pair of screw slots in it. It's easy to hang, and the kit even includes a pair of screws and drywall anchors. If you want even better security, there's a Kensington lock slot on the side, so you can use a cable tie.
The ECW220S is covered by EnGenius' 2-year manufacturer's warranty. If there are any premature failures, you'll get a replacement or a refund. But one thing it won't do is go outside – this access point is not weather-resistant. If you want to cover an outdoor area, consider the EnGenius ECW260 instead. It has similar coverage and cloud control, but it's also water-resistant.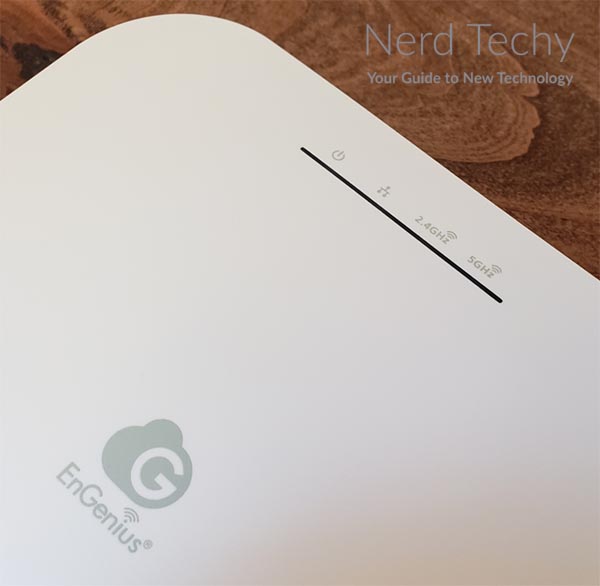 Setup & Controls
Installing the EnGenius ECW220S requires two things: an Ethernet connection, and a source of power. The simplest way to do this is to use a Power over Ethernet (PoE) cable. You can supply power either via an injector, or via a PoE switch like the EnGenius ECS1112FP. Or, you can use a barrel-style AC/DC adapter and plug it into a wall outlet. Just be aware that there's no adapter included in the kit. The maximum installation distance is 328 feet. So even if you need to reach a very long way, you'll be able to. Even at that range, you'll still have a full-speed Gigabit connection.
At that point, you'll have to download and install the EnGenius smartphone app. It's available for free on both Android and iOS, and it's easy to install. Once you've installed the app, you'll need to pair with the access point. To do this, you simply scan a barcode on the back of the housing. After that, it will only take a few minutes to get the rest of the settings configured. Everything is straightforward, and the setup software is intuitive. And if you do have any trouble, EnGenius' 24/7 customer support is always available to help. Once the initial setup is complete, you won't be limited to a smartphone app. You can also control the ECW220S from a desktop computer, via the cloud-based control software.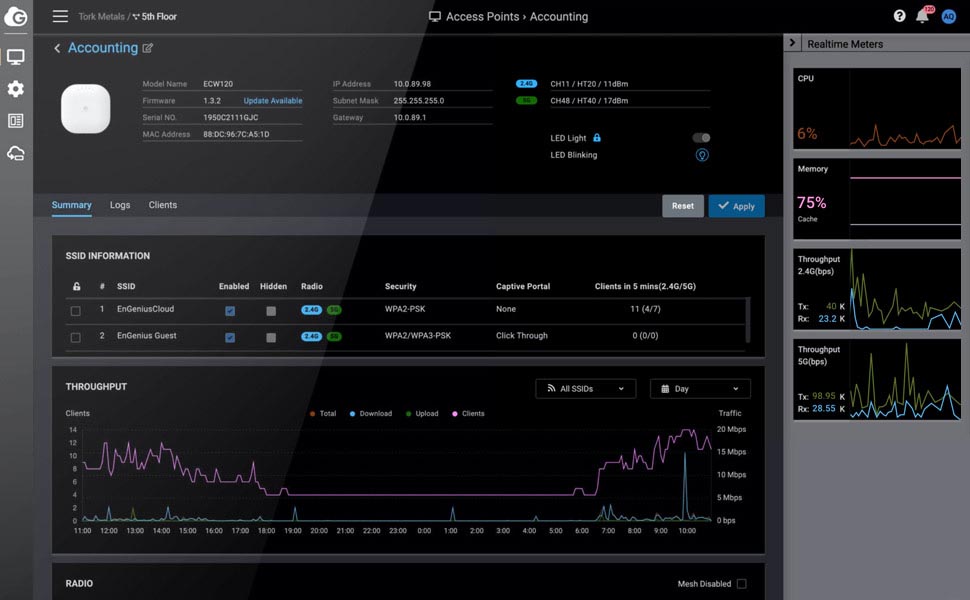 You're never locked in to your initial settings. Using the app or the cloud-based suite, you can make all kinds of changes, as well as monitoring your network. If you're an experienced network administrators, you're going to love some of these features One of the most useful features is the Layer 7 DPI engine. This engine tracks the use of network resources by app, and gives you a visual display. You can see which apps, like Netflix and Spotify, are using most of your bandwidth. And you can do this without installing extra hardware and introducing a bandwidth bottleneck. If that's not enough, you can also view network usage by device. If a particular device has turned into a bandwidth hog, you'll be able to diagnose the problem.
In addition to that, you get the array of security features we've already mentioned. These include wireless intrusion detection and protection systems. If your network comes under attack, the software will automatically identify and shut down the attack. There's a built-in RF analyzer, which can detect devices with phony SSIDs. And all of this is 100 percent free. There's no subscription, no licensing fee, and no other charges. This is particularly surprising since we're talking about enterprise-grade cloud software. This is a huge added value, whether you're a business or an individual consumer.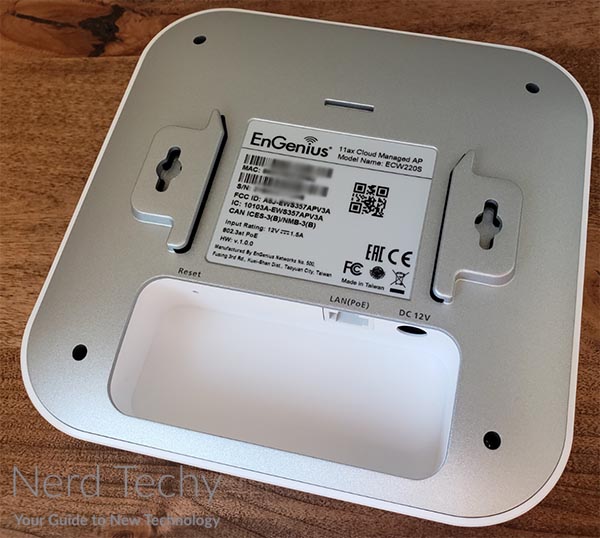 WiFi 6 Connectivity
The EnGenius ECW220S uses a WiFi 6 connection. But what exactly does that mean? WiFi 6 is the latest WiFi version, with nearly triple the maximum bandwidth of 802.11ac. In fact, it can theoretically support speeds up to 9.6Gbps. In practice, though, you're not going to see those kinds of speeds on today's market. For one thing, even the fastest routers max out at around 4Gbps. And Gigabit Ethernet is still the gold standard for a "fast" internet connection. The average American, meanwhile, is surfing on a 100Mbps connection. As you can see, there's a lot of wiggle room here.
This access point supports speeds of up to 1,200Mbps on the 5GHz band, and 574Mbps on the 2GHz band. This give you a maximum bandwidth of 1,774Mbps. That's more than you get from a Gigabit Ethernet connection, but remember that 5GHz has a shorter range. So at any significant distance from the access point, your speeds drop to 574Mbps.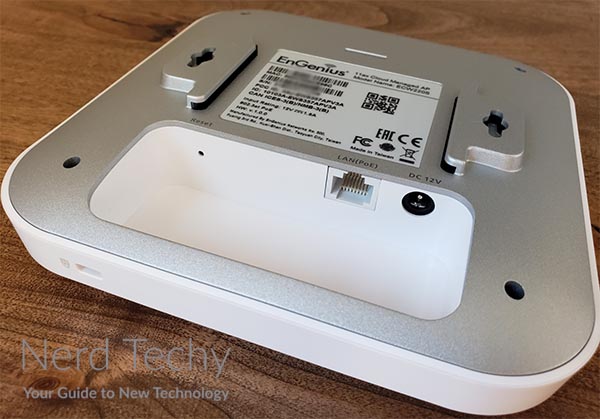 This is less than we would have liked, but think about how an access point works. The ECW220S is not designed to be the backbone of your WiFi network. It's designed to be an access point for some of your devices. The traffic is still going through your router, including other traffic from around your network. So it would make little sense to use an access point with the same total bandwidth as your router.
Another major advantage of WiFi 6, and a big advantage of this access point, is the sharing capability. In earlier versions of WiFi, the bandwidth sharing was highly inefficient. Many devices only transmit data in short bursts. Take a WiFi smoke detector, for example. Unless there's a fire, it's only checking in occasionally. It's sending periodic, short-term bursts at 20Mbps. Even though it barely uses any traffic most of the time, the router would reserve 20Mbps of bandwidth for it. If you've got a bunch of smart home devices, this can significantly slow down your internet speed. A WiFi 6 router would instead allocate a tiny amount of bandwidth to the smoke detector. When the smoke detector became active, the router – or access point – simply increases the bandwidth as needed.
To make this process more efficient, the ECW220S uses a technology called 2×2 Mu-MiMo. This is short Multiple Input, Multiple Output. Without going too far off track, this technology is designed to make your access point switch between devices more quickly. If you've got a lot of smart home devices, you'll notice much better performance.
What if you're a home user who loves the idea of WiFi 6, but doesn't need the advanced security features? If that's what you need, take a look at the EnGenius ECW120. It's much more affordable, and it even has the same cloud control suite, minus the security features.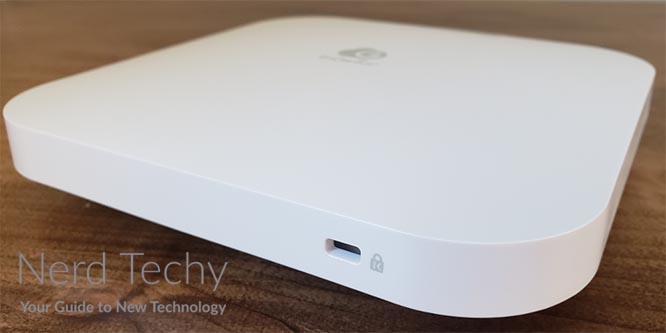 Final Verdict
The EnGenius ECW220S is a powerful little access point. With support for WiFi 6 and 2×2 Mu-MiMo, it's ready for the internet of things. The cloud-based control software isn't just free; it's enterprise-grade. The management capabilities alone are worth the investment, but the security features are equally impressive. If you're worried about people gaining unauthorized access to your network, you'll be pleased. Not only that, but everything is easy to set up and install. There's a lot to like here, and not much to complain about.