Over the past couple of decades, our living rooms have changed an awful lot. A lot of this has come from the transition from old-school CRT TVs to modern-day flatscreens. Simultaneously, screens got a lot wider, even as they got slimmer and lighter overall. This was bad news if you had an old-school entertainment system. There was simply nowhere to fit your TV. Nowadays, it's more or less standard to mount your big TV on the wall. At the same time, a lot of our other entertainment equipment has gotten smaller. So instead of a big entertainment people, many people use a short cabinet or shelf for their electronics.
This has given our living rooms a cleaner, more organized appearance. But it's also been a challenge for console gamers. Now that your TV is on the wall, where do you put your console? How do you run your wires, and keep things both attractive and organized? There are a number of options, but one is to use a wall mount. With a wall mount, you can attach your console to the side of your TV, or even around the corner. This keeps everything on the same level, as well as freeing up shelf space. This can be especially helpful in shared spaces. By keeping your controller off a shelf, you can keep it out of harm's way.
Today, we'll be reviewing three of the best wall mounts for the Xbox Series X and S. We'll start out by evaluating the TotalMount. This is a sturdy plastic wall mount with a built-in level and fan vibration blocker. Next, we'll check out the HideItMounts. This is a barebones metal wall mount that can be positioned vertically or horizontally. Last but not least, we'll take a look at the ALIENERGY. This is a vertical metal wall mount with a built-in controller bracket. But which one is the optimal choice for your living room? To answer that question, we'll need to take a closer look at each one. We'll have to look at the design and durability, as well as the installation process. We'll discuss the mounting position, as well as how much airflow each one allows. After that, we'll have a clear picture. Let's begin!
Why Use an Xbox Wall Mount?
Before we look at any particular mount, why not start with the basics? What are the benefits to mounting your Xbox console on the wall? What features should you be looking for, and what should you avoid? There are a number of features and benefits, so let's cover them each briefly. That way, we'll have a solid understanding of what we need to be looking for.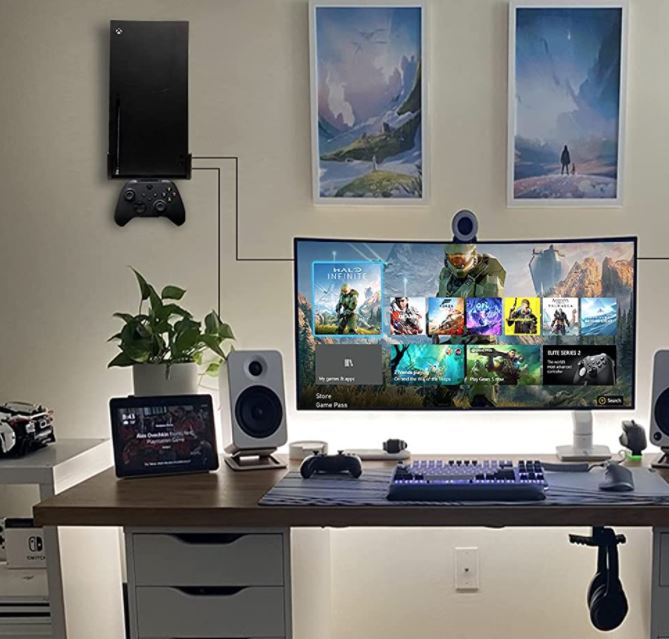 Flexible Console Placement
The main benefit of a wall mount is that you have some options for positioning your console. For example, let's say the nearest outlet is way off to the side. You could put your Xbox right under the TV and run an extension cord, but that's ugly. Instead, you can put the console off to the side, and use the standard cord. The same principle applies when your TV is high up, or where there's simply no shelf space for a console. Essentially, you've got more options and more freedom.
Improved Cable Management
Along the same lines, an Xbox Series X/S wall mount helps you keep your cables organized. Take a look at your current setup, and see where all the wires are coming from. If you're like most people, these cables are all coming from directly under the TV. If you've got a soundbar, an AV controller, and a set top box, there's already a bunch of cables. Do you really want to add more to the mix? With a wall mount, your console cables are separate from the others. This can give you a cleaner look, as well as making it easy to keep track of which cables are which.
Better Use of Your Space
As we mentioned at the beginning, the main benefit of a console mount is space. For most people, space around the TV is limited, so it can be tough to find a good place to put your console. Unless you've got an old-school entertainment center, space is liable to be at a premium. By putting your console up on the wall, you get it out of the way. This frees up space for other things, like a soundbar or media controller. It can even create a remarkably cleaner look. Depending on your setup, you might be able to mount your console behind the TV, making it disappear entirely.
Improved Ventilation
At first, this might sound like an odd benefit. Surely an Xbox does better on a shelf than it does on a wall mount? Isn't that it was designed for? Well, yes… And no. It's true that the Xbox Series X and S are very well-designed for cooling. If they're sitting out in the open, they'll get plenty of air flow. But that's not how many of us use our consoles. If you're on a crowded entertainment center, you've got multiple devices packed together. This can restrict air flow, and even produce added heat in the vicinity of your console. With a well-designed wall mount, you keep your console unobstructed and free to breathe.
It's Safer for Your Kids
As any parent knows, small children have a way of damaging nice things. And let's be honest, a game console is inherently attractive to children. They make chimes, they have bright lights, and on the Series X, there's a disc drive to play with. If your Xbox is within easy reach, you're practically asking for it to get damaged. The same can also be true for pets. Cats are notoriously curious, and some dogs wag their tails furiously, no matter what's in the way. With a wall mount, you don't have to worry about any of those things. Your Xbox Series X or Series S is safely out of reach, and secured to the wall.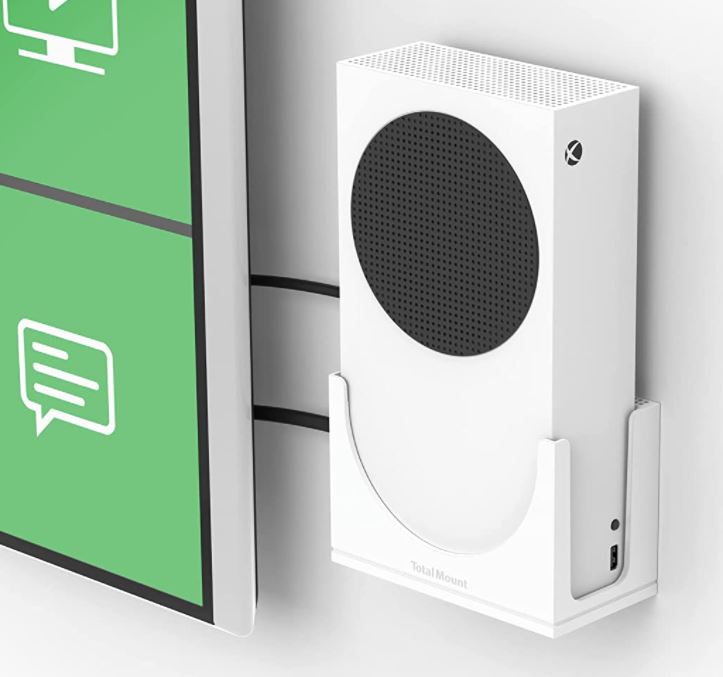 TotalMount Xbox Series X/S Wall Mount
TotalMount is a respected manufacturer of various wall mounting brackets. Not long ago, we reviewed their PS4 wall mount, and it performed very well. So when we found out they also made Xbox Series X/S mounts, we were excited to take a look.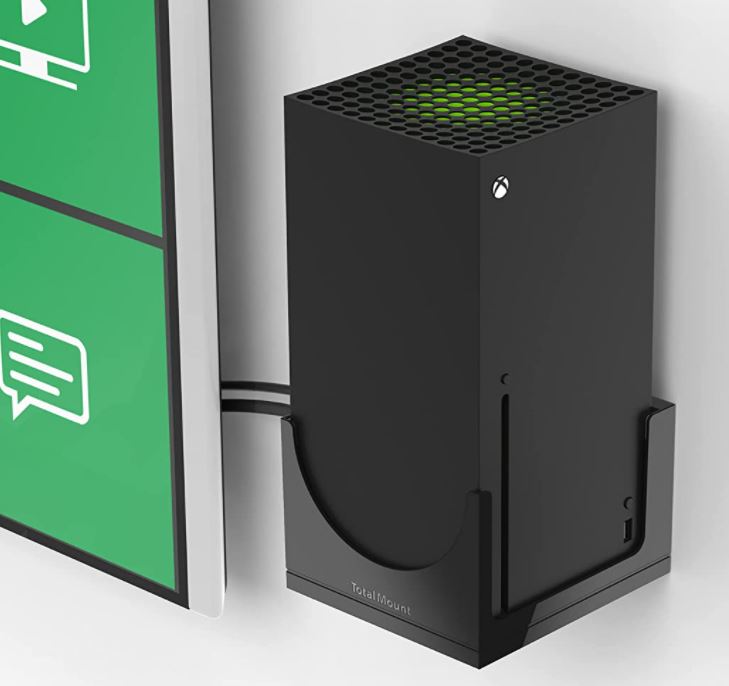 The TotalMount bracket is constructed from a durable plastic. Available either as an Xbox Series X mount or an Xbox Series S mount, This plastic has an easy-to-clean matte finish, and comes colored to match your console. The Xbox Series X version comes in black, while the Series S version comes in white. Keep in mind that these, and all of today's brackets, are for the Series X and Series S. We're talking about the current generation of consoles. This can get confusing, since Xbox also made the One X and One X. Those are last-gen consoles, and will not fit in these brackets.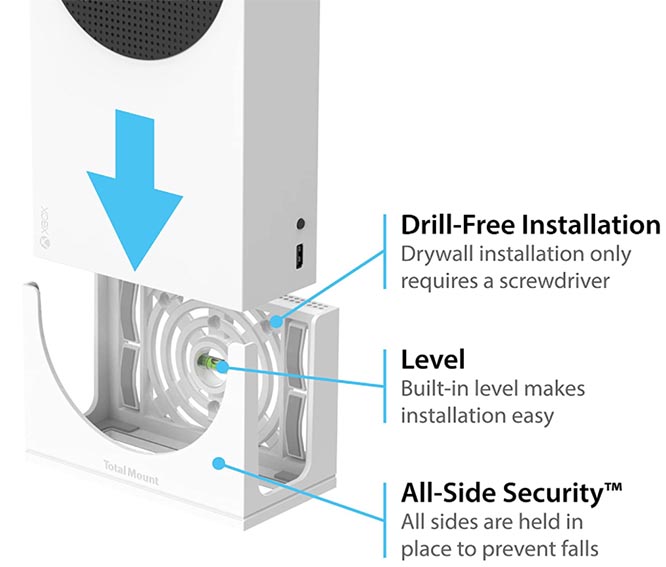 When used with the correct console, the TotalMount bracket fits very snugly. It's a plastic base, which supports your console from the bottom and sides like a cup. The design is slightly different between the two consoles. For the Series X, the bottom has a huge circular vent. For the Series S, there's a similar circular vent, but it's on the wall side. These vents are designed to allow plenty of air flow, which keeps the consoles cool. Along the same lines, both brackets are engineered so as not to block any of the ports or buttons. And the one for the Series X doesn't block the optical drive.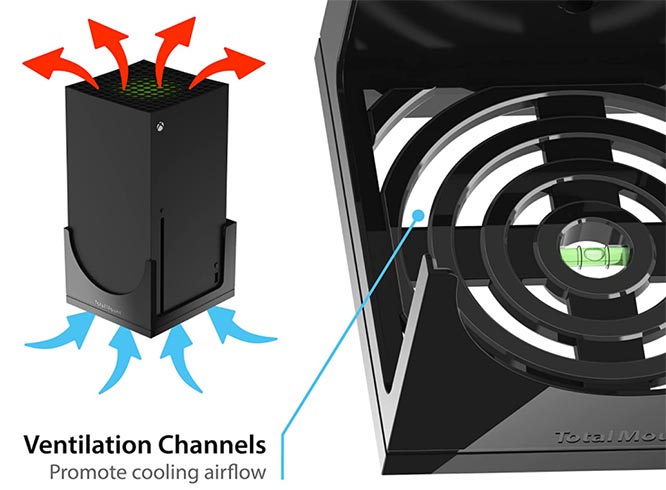 This mount has a built-in level, which allows for easy installation. You don't have to use a standard level or draw lines on your wall. TotalMount says that the installation is "tool-free," and that's technically true. You can simply use a screwdriver to install it via the included drywall screws. That said, your console is an investment, and you want to take care of it. As with anything wall-mounted, we'd always err on the side of using an anchor or screwing into a stud.
One last thing we should note about the TotalMount is that it's very quiet. Both versions have rubber dampers built into the housing. These minimize fan vibration, so you won't hear any buzz. If you find fan noise annoying, this is excellent selling feature.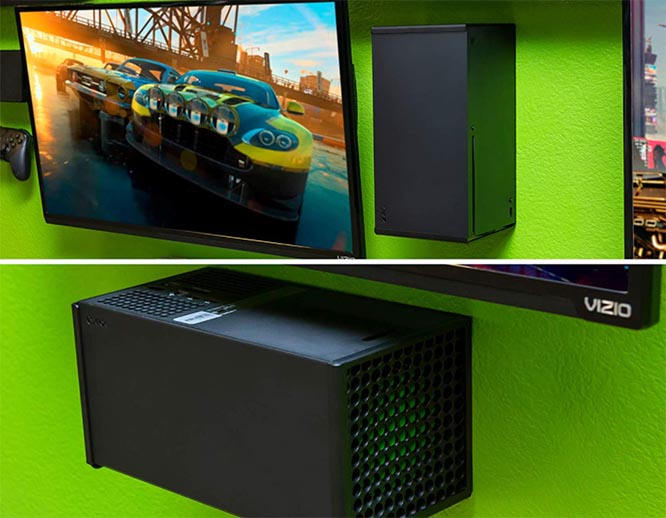 HideItMounts Xbox Series X/S Wall Mount
HideItMounts is another well-known console mount manufacturer. In the past, we've looked at their PS5 wall mount, and we liked it. For this reason, it was only logical to give their Xbox Series X/S wall mounts a look as well.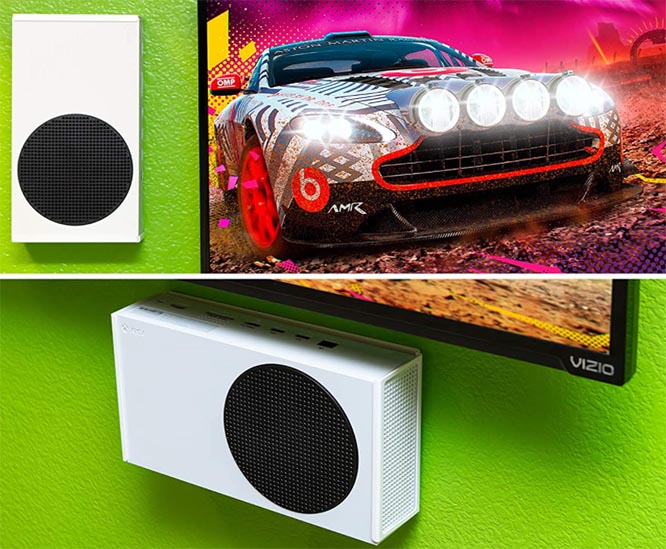 Like the TotalMount bracket, this one comes in black or white to match your console. It's also available for either Xbox Series X or Series S. But this isn't just a plastic support. This is a tough, rugged bracket manufactured from heavy gauge cold-rolled steel. It's powder coated, which helps to keep it from getting dinged or rusty. More importantly, the powder-coated finish won't scratch your console, which is always a concern with metal brackets. The Series S version also has a built-in Xbox Pro Controller mount. This is really just a bent, rubber-dipped hook, but it's a nice added touch.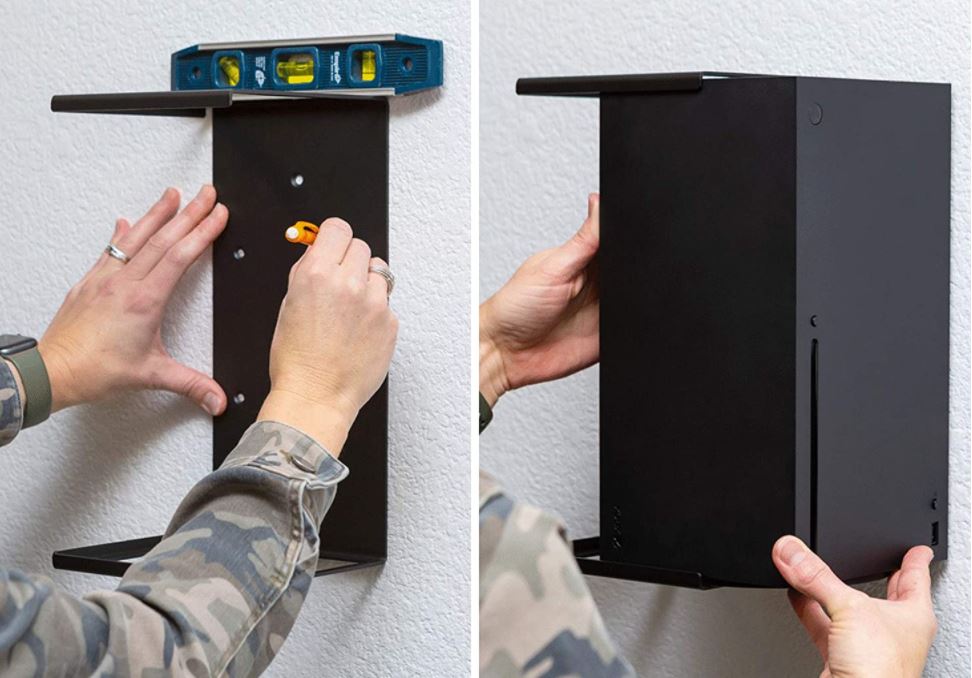 The main attraction of this bracket is just how minimalistic it is. Because the steel is so tough, only a very thin frame is needed to surround your console. It wraps around the top and bottom edges, and your console slides in from the side. Conversely, you can rotate it 90 degrees and drop the console in from the top. This gives you plenty of versatility to mount your Xbox in any position you like. The frame-style design also has another benefit. It doesn't block any of your air vents, ports, buttons, or other important console features.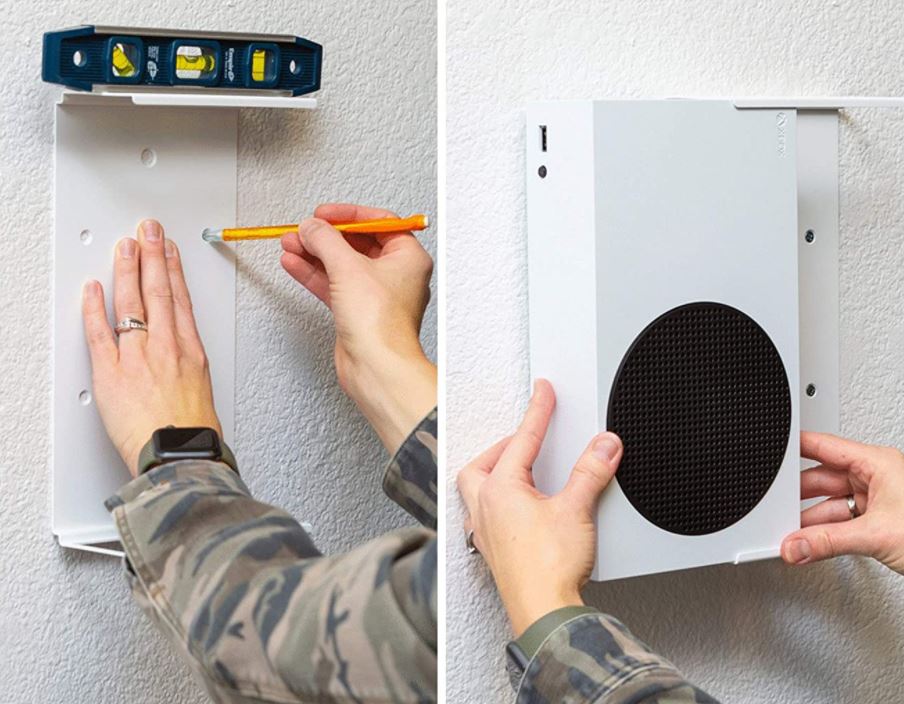 The HideItMounts bracket is engineered to install easily. Because of the open design, you can use the holes on the back as a template to mark your holes. The kit includes a set of drywall screws, as well as anchors. Once again, there's technically no drilling required. But we would highly recommend using the anchors or screwing into a stud.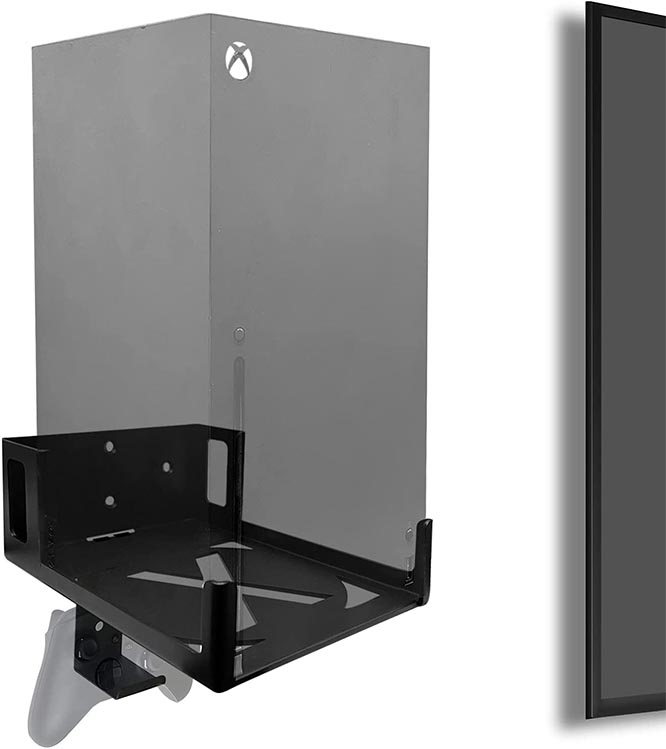 ALIENERGY Xbox Series X/S Wall Mount
The ALIENERGY Xbox mounting bracket is somewhat of a cross between the last two. Also available as an Xbox Series X or an Xbox Series S version, like the TotalMount, it's a bottom support, with side flanges to keep it in place. But like the HideItMounts bracket, it's made out of durable steel. It's also available in black or white, with a powder-coated finish that matches your console.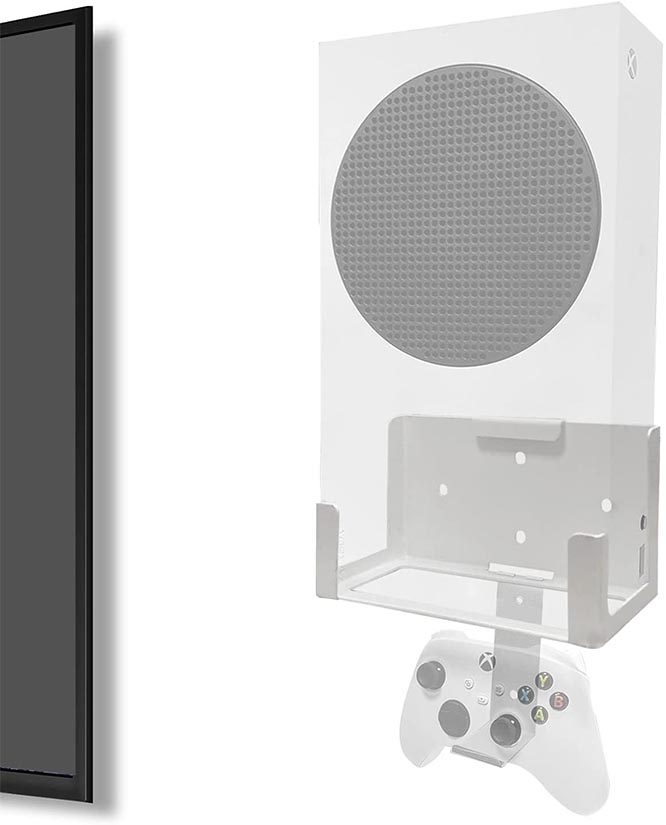 The bottom panel is vented on the Xbox Series X version, in order to provide plenty of air flow. The bottom of the Series S bracket is actually entirely open, with just a metal lip around the base. This leaves the top, bottom, and sides completely clear. You don't have to worry about cooling or your console's safety. There's also a little controller bracket underneath, so you can store your controller when it's out of use. The kit includes mounting screws, anchors, and a small level – everything you need for installation.
Final Verdict
All three of these wall mounts have their own strengths and weaknesses. But which one is the right choice for your needs?
The TotalMount, available for either Xbox Series X mount or an Xbox Series S mount, it's a great choice if you value ease of installation. With the built-in level, it's easy to make sure you're attaching it correctly. Not only that, but this is an exceptionally quiet mount. The rubber dampers do a great job of eliminating sound. If that's an essential feature for you, you'll be very pleased with this mount.
The HideItMounts bracket's spare metal design is both durable and reliable. Available for either Xbox Series X or Series S, it's also wide open, allowing for easy air flow. And if that's not enough, it can be used both horizontally and vertically. This gives you more flexibility than the other brackets.
The ALIENERGY stand has the simplest design of the three. Also available as an Xbox Series X or an Xbox Series S version, its drop-in design is uncomplicated, and it's easy to insert and remove your Xbox. That said, its all-metal design is tough and durable, and can take some abuse. We also liked the built-in controller bracket, which is a great added touch.
Meet Derek, "TechGuru," a 34-year-old technology enthusiast with a deep passion for tech innovations. With extensive experience, he specializes in gaming hardware and software, and has expertise in gadgets, custom PCs, and audio.
Besides writing about tech and reviewing new products, Derek enjoys traveling, hiking, and photography. Committed to keeping up with the latest industry trends, he aims to guide readers in making informed tech decisions.