Finding the right dock to expand the capabilities of your ASUS ROG Ally can be a time-consuming and laborious task, given the wide range of options available. Whether you are seeking a seamless gaming experience on your TV or external monitor or need additional connectivity options, we've got you covered.
After in-depth research and testing, we've compiled a list of the top five ASUS ROG Ally docks to enhance your gaming experience. Here's a quick preview of what's to come:
Now, let's take a closer look at what each of these docking stations offers and find out which one suits your needs best.
iVANKY Dock with 60W Power Supply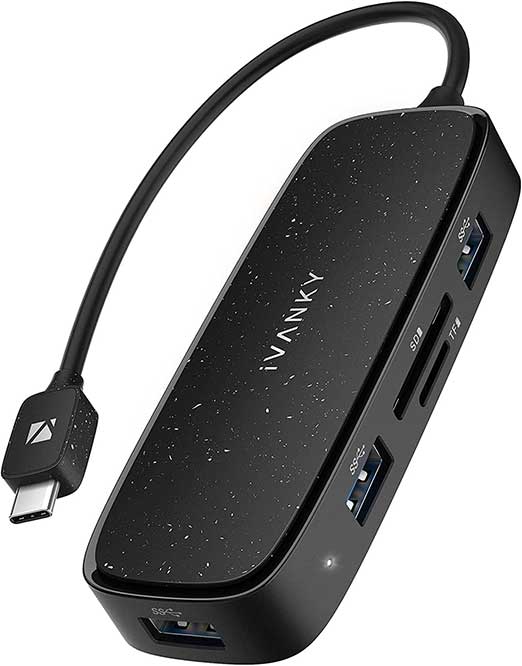 Key features:
The iVANKY Dock offers robust connectivity options with a seamless blend of utility and convenience. This tarnish-colored dock serves as a multi-function hub, providing extensive compatibility not only with Steam Deck but also iPads and Android phones that feature USB-C ports. An essential feature is its 4K@60Hz HDMI 2.0 output, which allows for ultra-high-definition, smooth visuals on an external 4K monitor.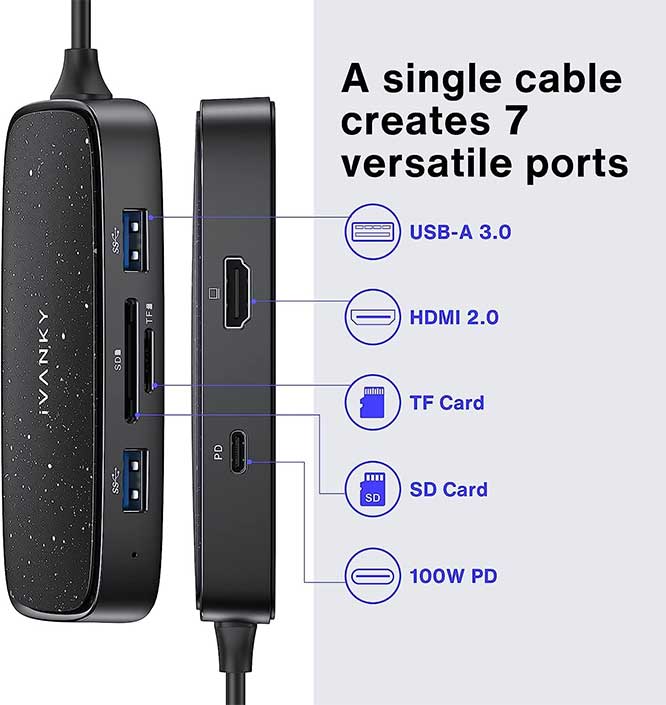 When it comes to charging, the dock employs a 60W power supply capable of charging the Steam Deck at its full speed of 45W. It also supports the ROG Ally with a max charging speed of 65W, ensuring your devices never run out of power. A big plus here is the integration of three USB-A 3.0 ports. Having access to these ports provides the capacity to connect a variety of peripherals, like a mouse, keyboard, and joystick. As such, it significantly enhances your gaming experience.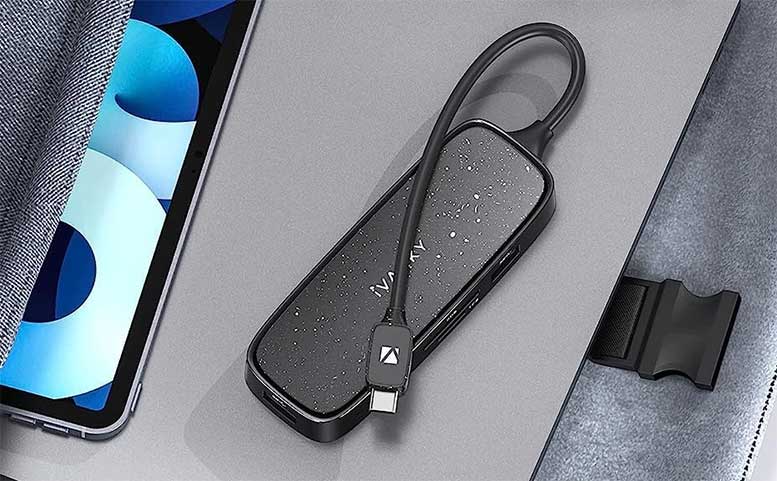 Furthermore, with a built-in Gigabit Ethernet Port, it ensures a stable and high-speed internet connection. A combination of functionality and thoughtful design, the dock also serves as a stand, bringing tidiness and organization to your setup. Its dimensions are 7.4 x 5.3 x 2.4 inches, and it weighs a mere 1 pound, so it's plenty compact and portable. The only real drawback is that it's incompatible with a protective case.
What we liked:
Extensive device compatibility
Multi-function hub and stand
Durable nylon braided cable
Compact and portable
What we didn't like:
Doesn't support protective cases
Limited to USB-C devices
iVoler Docking Station for ROG Ally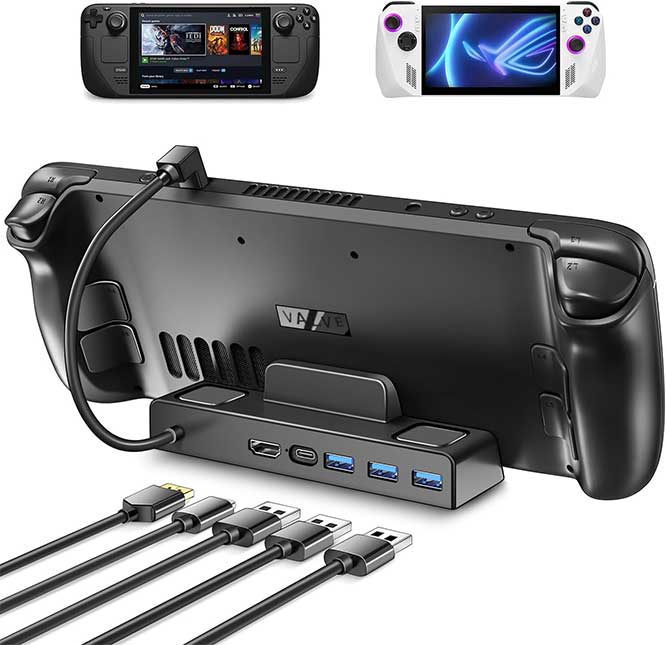 Key features:
4K@60HZ HDMI output
Triple 65W QC 3.0 USB-A port
Portable and lightweight
5-in-1 connectivity
The iVoler Docking Station for ROG Ally proves to be a versatile and essential companion to maximize your gaming experience. Small and lightweight at just 3.87 ounces and measuring 3.15" x 1.57" x 0.39", it's easy to carry and barely takes up any desk space. This compact powerhouse boasts a 5-in-1 feature set, acting as a comprehensive hub for your gaming needs. The device delivers a range of connectivity options that notably includes an HDMI 2.0 output capable of 4K@60HZ.
Whether you're streaming content or immersing yourself in a game, you can expect sharp, smooth visuals when connecting to an external 4K monitor. The HDMI port, however, is limited to a 4K 30 FPS output, with no HDR capabilities, a downside that can be overlooked considering the current hardware limitations of the Steam Deck. What sets this unit apart is its triple 65W QC 3.0 USB-A fast charging port. It provides a substantial power input, enough to juice up your ROG Ally at full speed, provided you use the original charger.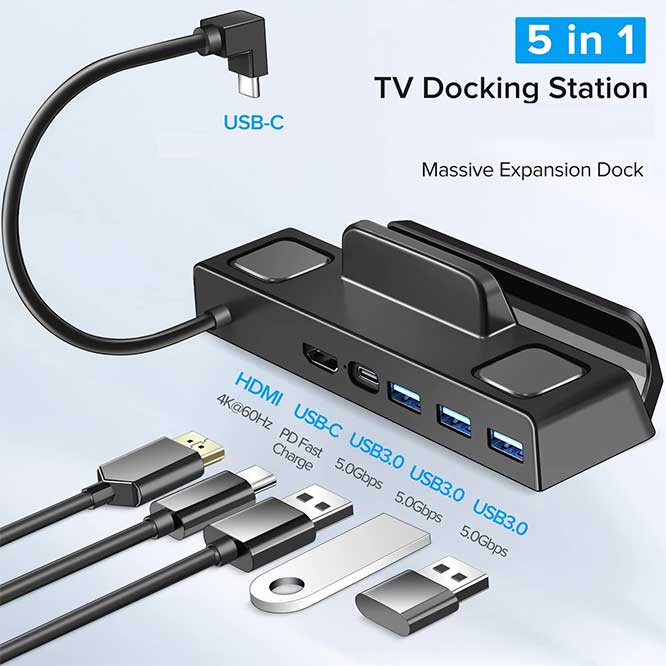 Further enhancing its utility, this dock doubles as a stand for your device, merging functionality and convenience. While the hub doesn't include an SD card slot or Ethernet port, its range of features makes it a substantial tool for your gaming needs. And while we found the number of USB ports more than adequate, user feedback suggests that there are gamers who want more. This is, of course, only a minor nitpick that didn't affect our tests in any way. Overall, this is an A+ dock.
What we liked:
Compact yet versatile
Full-speed charging capacity
Serves as device stand
Plug and Play ease
What we didn't like:
No SD or Ethernet port
Some users may want more USB ports
Syntech ROG Ally Docking Station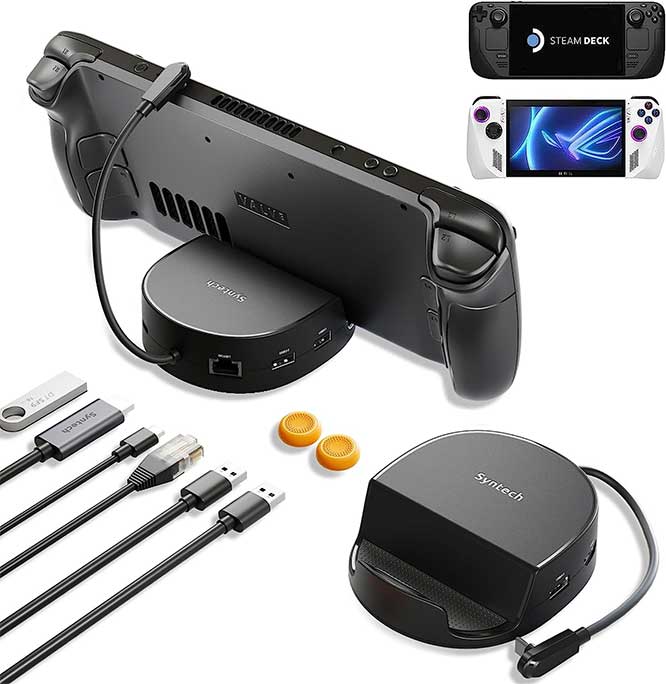 Key features:
Innovative round base design
6-in-1 multifunctional docking station
High-compatibility smart chip
Eco-sustainable construction
Syntech's ROG Ally Docking Station is an innovative addition to the gaming setup, making it a worthy inclusion in the ASUS lineup. The first thing that stands out about the unit is its groundbreaking round base design. This non-traditional design enhances the device's stability while increasing the port pitch, allowing easy plugging and unplugging of cables. The round curvature design also ensures better heat dissipation as it avoids blocking vents, addressing potential overheating concerns.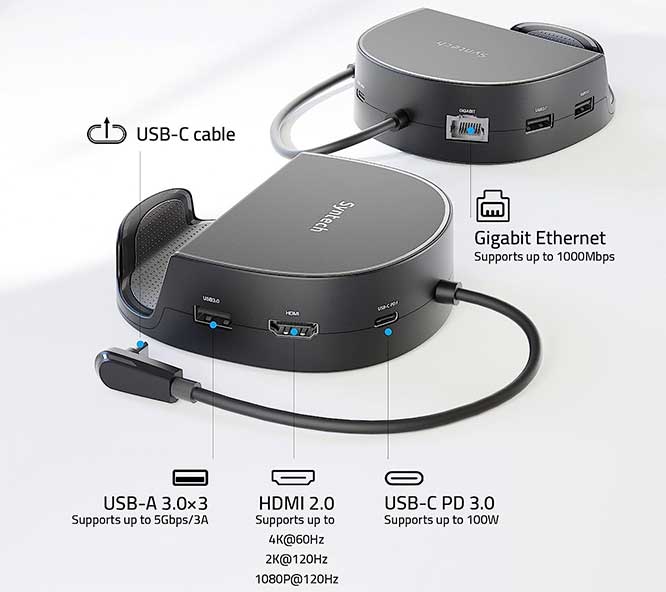 Beyond its design, the multifunctional dock proves its worth with a 6-in-1 offering. You get 4K@60Hz HDMI 2.0, Gigabit Ethernet, USB-C 3.0, and three USB-A 3.0 outputs. These make it a robust choice for extending the functionality of your gaming setup. One of the more impressive aspects of the dock is the built-in smart chip that enhances compatibility with a variety of Type-C devices.
That means it works with other portable gaming devices, as well. With that in mind, it's worth noting that it doesn't support the AYANEO handheld console. But we're focusing on ROG Ally here, so that's only an issue if you own both devices and want a universal dock for them. Incidentally, to ensure the dock remains sturdy and durable, it's constructed from eco-sustainable, recyclable ABS+PC material, making it both environmentally friendly and long-lasting.

During testing, we found the dock to be quite versatile, able to connect with a variety of monitors and peripherals. However, some potential buyers may find the placement of the HDMI output on the right side of the dock a bit inconvenient for cable management. This is especially so if the HDMI cable comes from the left side. Syntech's dock weighs 5.4 ounces and has dimensions of 4.24 x 3.62 x 1.25 inches, adding to its lightweight and portable design.
What we liked:
Enhanced stability and heat dissipation
Wide range of connectivity options
High compatibility with Type-C devices
Lightweight and portable
What we didn't like:
Right-side HDMI output placement
Some users may find vent locations inconvenient
BINBOKPLAY RGB Docking Station for ROG Ally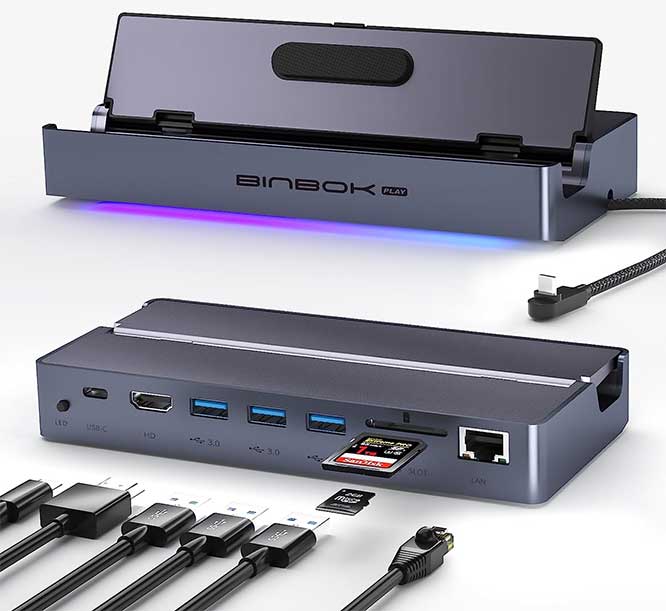 Key features:
4K@60Hz HDMI output
Nine-color LED lighting
Fold-in design with integrated cable storage
Fast Gigabit Ethernet support
The BINBOKPLAY RGB Docking Station is purpose-built for ROG Ally users, enhancing your gaming experience with its 8-in-1 functionality. Our team ran rigorous tests, including connecting it to external monitors and gaming peripherals. We even tried it with a Steam Deck, just for grins. In all instances, it performed admirably – there were no issues related to power supply or compatibility. A nice feature is the inclusion of HDMI 2.0 output. Thanks to it, you can look forward to a rich 4K@60Hz output for a sharp and fluid visual experience.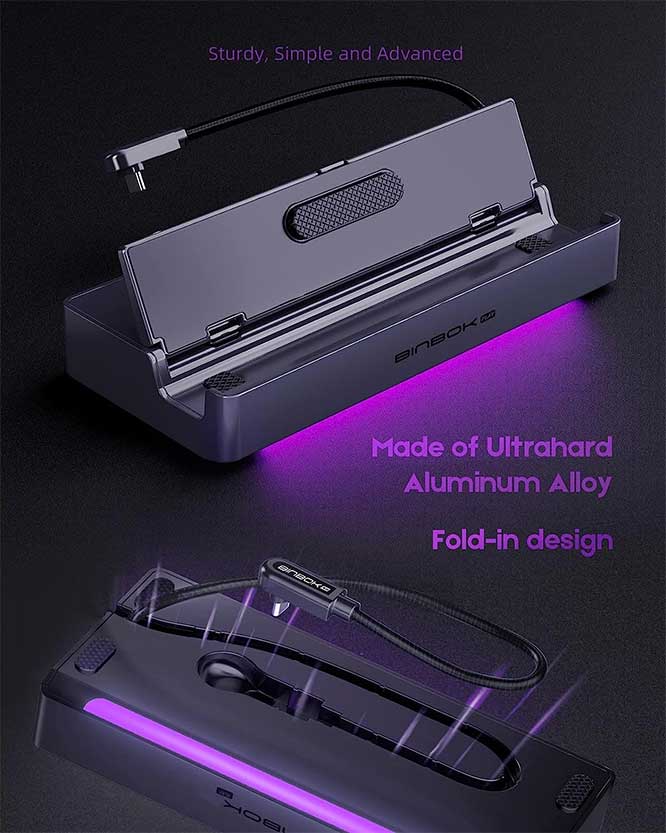 When connected to a 4K monitor, the graphics were lifelike and detailed, bringing a whole new depth to our gaming. Another impressive feature is the nine-color LED cycle. It adds a unique, immersive touch to the gaming setup, transforming the gaming room into a vibrant and atmospheric space. Equipped with three high-speed USB 3.0 ports, this device ensures smooth data transfers up to 5Gbps, whether you're connecting a keyboard, mouse, or external storage.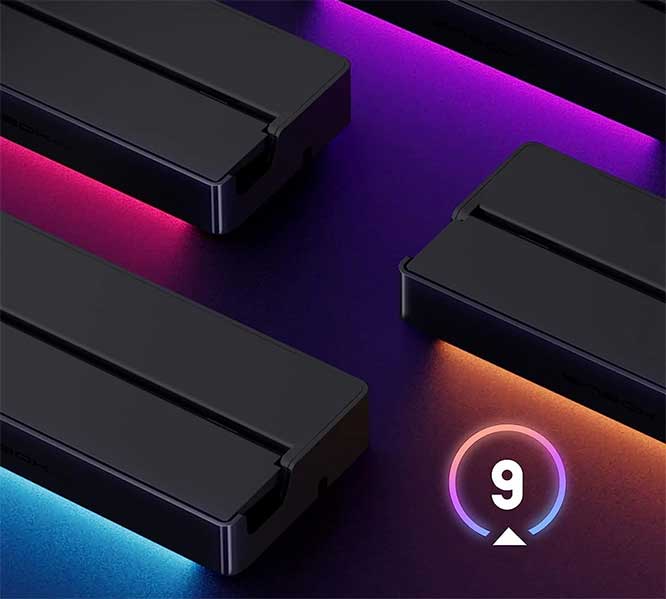 The fast Gigabit Ethernet support is another big plus, providing a reliable and smooth online gaming experience free of lag and WiFi limitations. Its fold-in design and integrated cable storage maintain a clean gaming environment. We appreciated this when moving around, as the compact size (8.5 x 4.53 x 1.18 inches) and lightweight build (9.9 ounces) make it a practical choice for mobile gamers. Crafted from sturdy aluminum alloy, it also offers edge protection, ensuring longevity.
What we liked:
Compact and lightweight
High-speed USB 3.0 ports
Robust aluminum construction
Immersive gaming experience
What we didn't like:
Fit may be tight with some devices
LED light cannot be fixed on one color
LISEN Docking Station for ROG Ally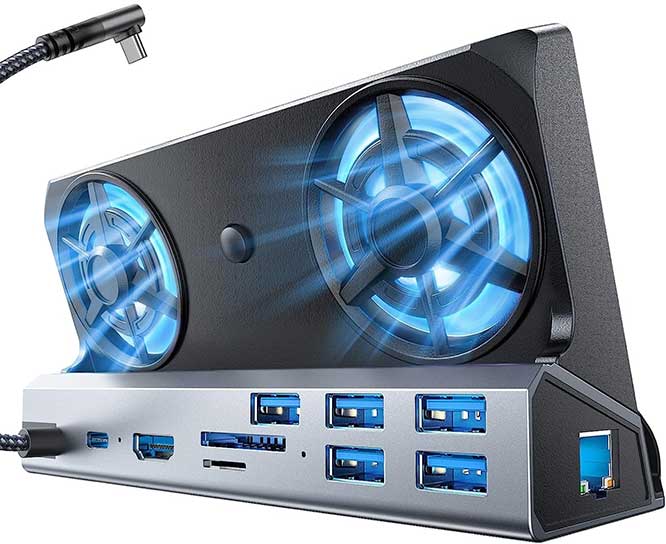 Key features:
Compact design with 10 ports
4K@60Hz HDMI 2.0 output
Integrated dual cooling fan
Includes an additional 40Gbps adapter
The last of our top picks is LISEN's Docking Station. It's proven itself to be a vital accessory for users of the ROG Ally. We like how its sleek gray finish blends effortlessly into any setup. And with a generous offering of 10 ports, it easily transforms a single USB Type-C port into a myriad of connection points. These include HDMI 2.0, Gigabit Ethernet, and even a 100W USB-C PD charging port. It's compact, too, measuring 12.6 x 3.27 x 5.91 and weighing just 11.7 ounces. This results in it being convenient to transport or fit into tighter desk spaces.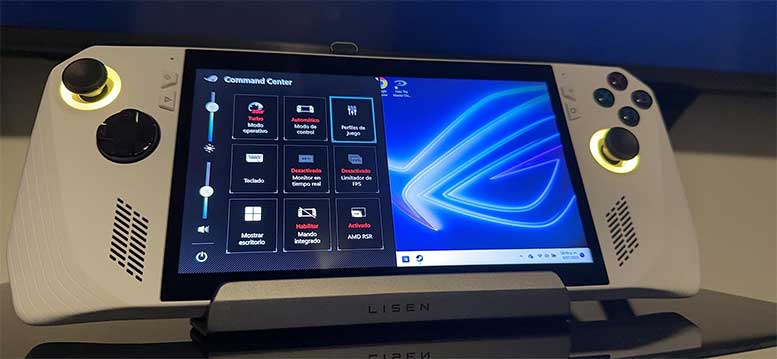 As with the previous entries, LISEN's dock offers a 4K@60Hz HDMI 2.0 output, which we tested on an external 4K monitor. It effectively showcased the dock's ability to deliver a stunningly clear and fluid gaming experience. To get the most out of this feature, you can adjust your game settings accordingly. We pumped up our gaming resolution to the highest for maximum impact. Another significant advantage is the integration of a dual cooling fan.
During our testing, this feature was instrumental in rapidly dissipating heat and enhancing the performance and longevity of the ROG Ally (or Steam Deck if that's your platform of choice). The inclusion of an additional 40Gbps adapter further impressed us, as it ensures maximum power, even with a protective cover on your gaming device.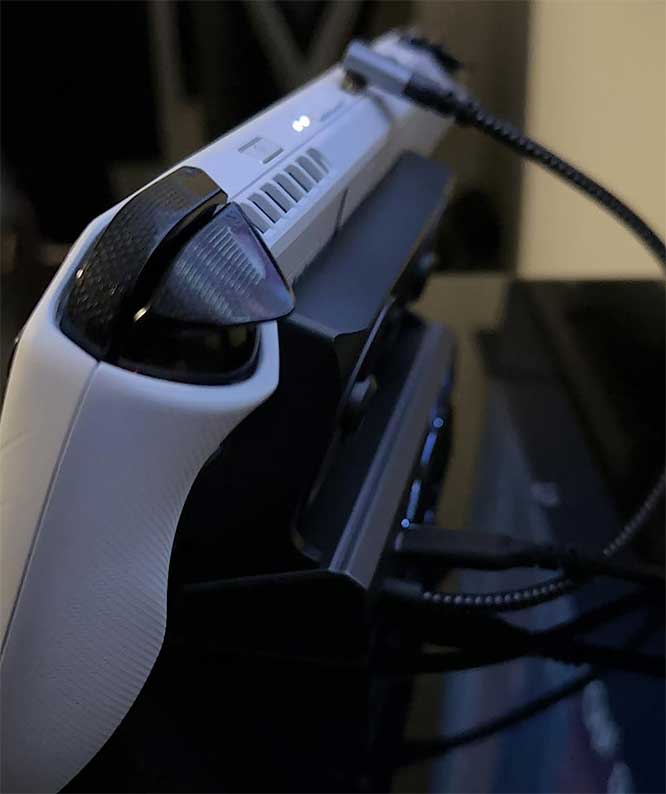 While this dock generally performed admirably, we did encounter a limitation regarding the ROG Ally's turbo mode. Due to an ongoing upgrade of the ROG Ally driver, the turbo mode could not be activated. This was admittedly a bit of a bummer. The good news, however, is that a future driver update may rectify this.
What we liked:
Enhances gaming with 4K output
Rapidly dissipates heat
Additional adapter ensures power
Supports a variety of devices
What we didn't like:
Turbo mode currently unavailable
Does not include cables
ASUS ROG Ally Docks for TV and External Monitor FAQs
Why do I need a dock for my ASUS ROG Ally?
A dock can expand the functionality of your ASUS ROG Ally by providing additional ports for connectivity, enabling connection to TVs and external monitors, and offering features like fast charging and efficient cooling.
Can I connect my ASUS ROG Ally dock to other devices?
Yes, most ASUS ROG Ally docks offer a high degree of compatibility with other devices, including other gaming consoles, Android phones, and iPads. However, this can vary between models and manufacturers, so always check the specs before you buy.
Can an ASUS ROG Ally dock improve my gaming experience?
Definitely. A dock can significantly enhance your gaming experience by providing high-definition visual output, stable internet connections, fast charging, and more. It can also connect additional peripherals like a keyboard and mouse, further elevating your gaming experience.
Final Verdict
After extensive testing and analysis, our top picks each proved themselves in their own unique ways. iVANKY's Dock offered robust connectivity options and multi-function capabilities, proving an ideal choice for those needing to connect a variety of devices. Meanwhile, iVoler's Docking Station for ROG Ally delivered an impressively compact yet highly functional dock, making it a perfect pick for gamers on the go.
The Syntech ROG Ally Docking Station's innovative design, combined with a broad range of connectivity options, easily earned it a top choice for those who need extended functionality from their gaming setup. BINBOKPLAY's RGB Docking Station for ROG Ally impressed us with its vibrant LED lighting and robust aluminum construction. If you're looking for an immersive gaming experience that boasts slick aesthetics, this is one to watch.
Lastly, LISEN's Docking Station for ROG Ally is a clear winner for those who require a dock with lots of ports and an effective cooling mechanism. As you can see, each dock brings something unique to the table. So whether you're a casual gamer or a seasoned pro, there's something in this lineup for everyone.