In the not-too-distant past, globes were commonplace in homes and classrooms alike. It's not hard to understand why. In the pre-digital age, if you wanted to see a map, you needed something physical. And if you wanted a map of the entire world, a globe was the most convenient way to have one.
Not only that, but a globe is superior to a paper map. Because the Earth is curved, mapping any large area on flat paper will distort the image. Cartographers have figured out ways to preserve the right dimensions, but those projections distort shape. Conversely, map projections that preserve the right shape of land masses will distort their size. Areas near the equator will appear artificially small, and areas near the poles will be stretched out. Because a globe is round, it can show a true-to-life depiction of the Earth.
In today's world of digital maps, an old-school globe might seem out of place, except as decoration. But an illuminated LED globe brings the humble globe into the 21st century. For instance, some can show extra details, and others will have maps of the constellations. We've reviewed indoor star projectors in the past, so we figured we'd give these LED globes a go.
Now, we're going to review three of the best illuminated LED globes on the market. We'll start out with the USA Toyz LED Illuminated Globe. This is an educational globe that doesn't just glow – it also has a companion app. Next, we'll review the TTKTK Illuminated World Globe. The TTKTK globe has a more classic appearance, with a wood base, and it's writable and erasable. Finally, we'll review the Waypoint Geographic Light Up Globe. This globe is the most detailed of the bunch, with thousands of points of interest. But which one of these globes is the right choice for you? Let's take a closer look, and find out!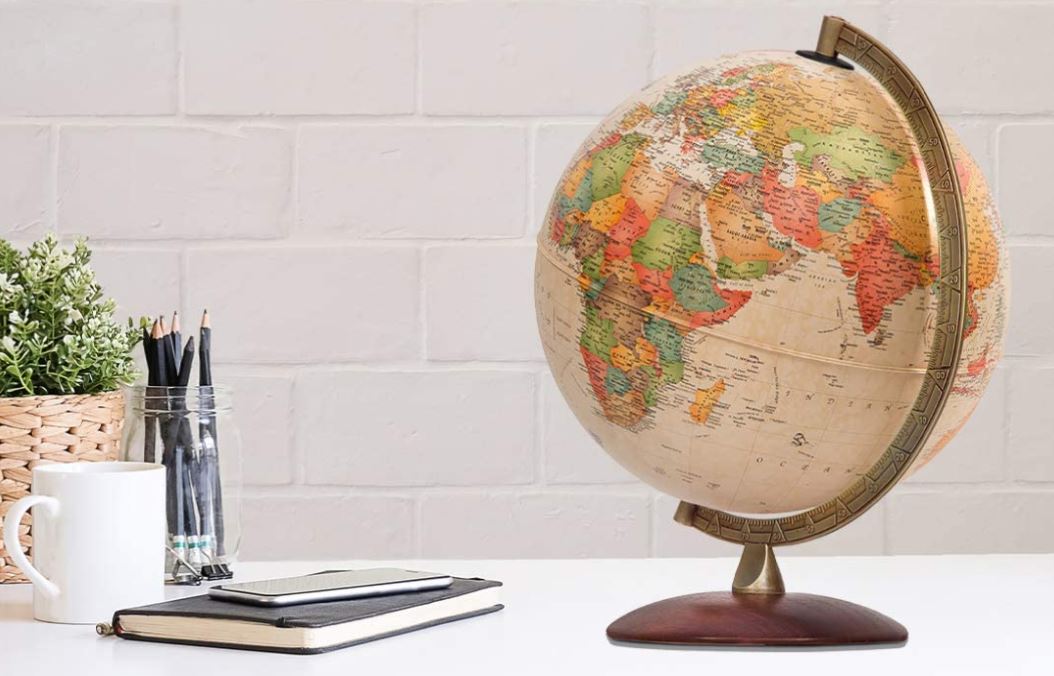 Features to Look For
When you're choosing a globe, the first thing you should ask yourself is whether it's educational or decorative. These two things aren't mutually exclusive. There are plenty of beautiful educational globes, and plenty of educational uses for decorative globes. That said, look for more than just the outlines of the continents. Are major cities marked, not just national capitals? What about minor cities of historical significance? These and other details aren't necessary if you just want a globe that looks cool. But they're useful if you want to use the globe as a study aid. The same goes for LED constellations. Are they stylized, strictly accurate, or some combination of the two?
For LED globes in particular, LED brightness is a major consideration. Bright bulbs can be easy to see in daylight. On the other hand, they can be too harsh for use at night. Most LED globes are dimmer, more like a nightlight than a normal light. All the globes we're looking at today are just fine for sleep. But much as with LED window candles, you need to be careful.
The last thing you'll want to think about is the physical construction. Obviously, a globe is going to be round, and it's going to be mounted on a frame or stand. But that's like saying all cars are the same because they have four wheels and a motor. Some globes are well-built, and can withstand a little rough handling. Others are extremely fragile. Similarly, stands can be made of different materials, and can be plain or formal. Not only that, but the globe itself can be a different size. Smaller globes take up less space, but larger ones allow you to see more detail. The optimal size will depend on what you need.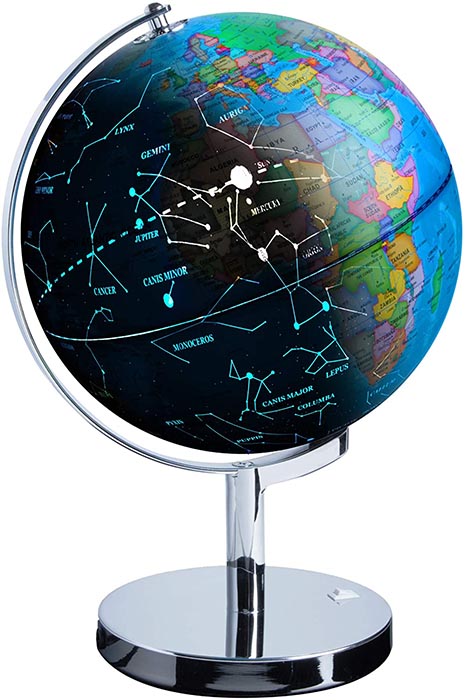 USA Toyz LED Illuminated Globe
The USA Toyz LED Illuminated Globe is a mid-sized globe, measuring nine inches in diameter. Including the stand, it's 13 inches tall, about the same height as a small desk lamp. This size makes it suitable for most locations, while still large enough to show a reasonable amount of detail. In addition to national borders and capitals, you'll also see many other major cities. Rivers, deserts, and reefs are also clearly marked. Now, this level of detail isn't absurd, but it's not negligible, either. It's certainly enough detail for an elementary school student. And the USA Toyz globe is, first and foremost, made for education.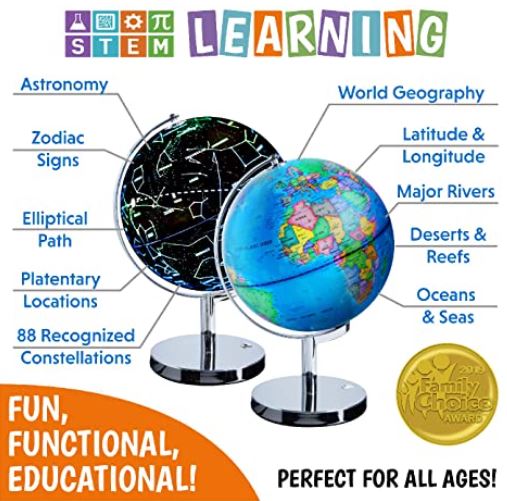 When the LED switch is activated, the globe lights up with several constellations from the night sky. The light is bright enough to see by, but not excessive. It makes an excellent night light that is not just soothing, but also educational. You can also install the companion app on your smartphone. Combined with the included booklet, your child can learn all about astronomy. Moreover, the app has a series of interactive geography lessons. These are great for kids who are hands-on learners, since they can follow along on the physical globe.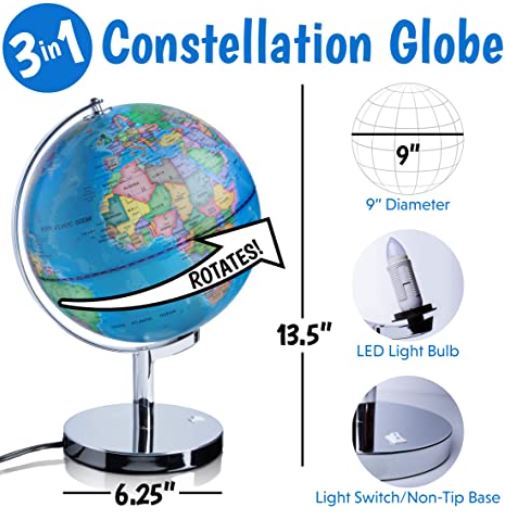 The stand and base are shiny aluminum, with a polished, mirrored finish. The base is wide and thick, and bottom-heavy enough to keep the globe stable. It's smooth and disc-shaped, without any ornamentation, and a power switch on the front. This switch toggles the globe's built-in LED light, which is powered by a standard AC cord. The stand is located in the center of the base, and mounted on a vertical post. This gives it a little boost, so the globe seems to float in the dark. The mounting arm is very slim, and can almost disappear when you look at it sideways. It secures the globe at a slight angle, with top and bottom posts that allow for smooth, easy rotation.
The physical construction of the globe is also up to par. The material is reasonably thick, so it won't get easily damaged. All of this is covered by USA Toyz' satisfaction guarantee. If you want to return the globe for any reason, they'll give you a full refund, minus the cost of shipping.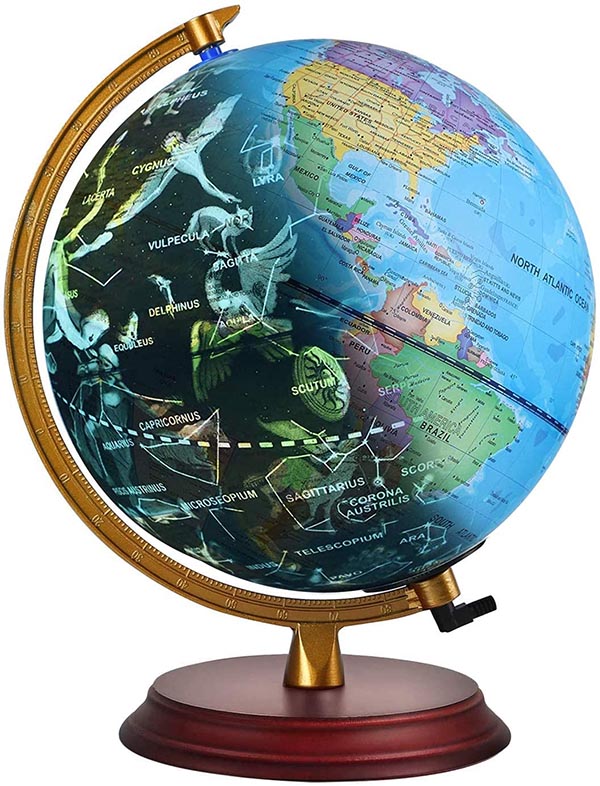 TTKTK Illuminated World Globe
At eight inches in diameter and eleven inches high, the TTKTK Illuminated World Globe is the smallest on our list. But just because it's small in size doesn't mean it's a lightweight. The surface is smooth, and it's made to be written on, much like a whiteboard. Obviously globes are delicate by nature, but it's reasonably tough. The TTKTK globe isn't going to cave in just because it got bumped.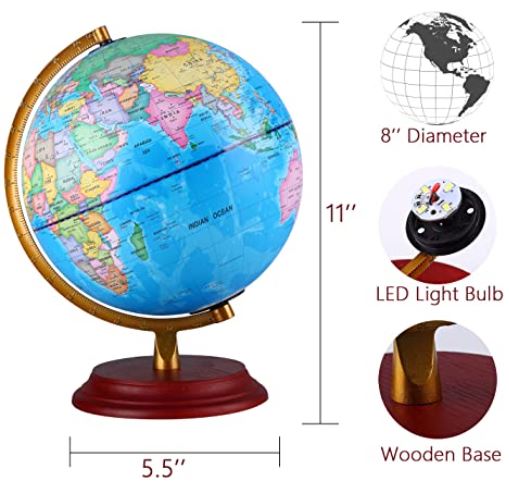 It's also erasable, but you'll need to be careful. Use only a gentle whiteboard cleaner for wiping it down. If you use something harsh like acetone, it will discolor the globe, and void your warranty. Speaking of the warranty, this globe is covered for 24 months, which is quite impressive. It also comes with a 90-day no-questions-asked return window. If you decide you don't like it for any reason, you can just send it back.
At eight inches in diameter, the TTKTK globe isn't quite as detailed as the others. That said, it's still surprisingly detailed. In addition to major cities, you'll also see deserts, major rivers, and other significant geographic features. There aren't quite as many details as you'll find on the USA Toyz globe, but there's plenty here to look at.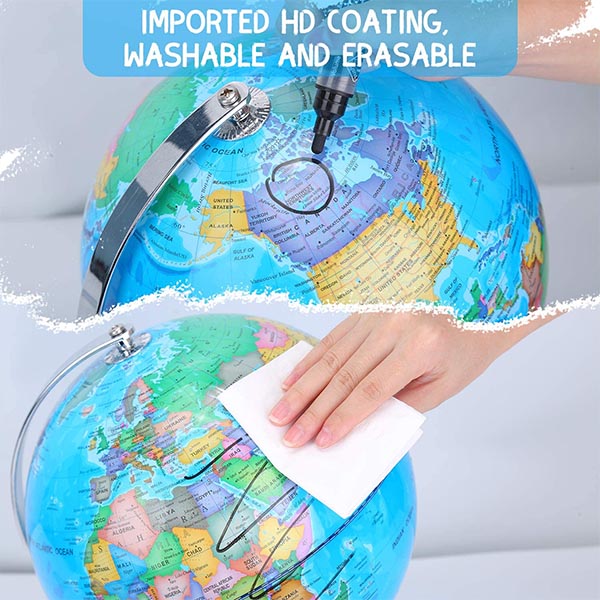 At night, the surface of the globe can be turned into a constellation map. In this mode, the globe illuminates in a glorious set of stylized images, with the actual stars also marked. This isn't just educational. It's a stunning piece of decor that makes a beautiful night light. This function is powered by a USB cord, rather than a standard AC cord. Of course, you'll need a USB port or AC adapter to make this work. But you'll have more options than you do with an ordinary AC-powered globe.
The base is also attractive, and is constructed from solid wood. This gives it a classic appearance, like something from your parents or grandparents' classroom. The support arm is a classic dull bronze, with an embossed scale showing the degrees of latitude. It allows the globe to rotate freely, and the cord plugs discreetly into the bottom of the arm.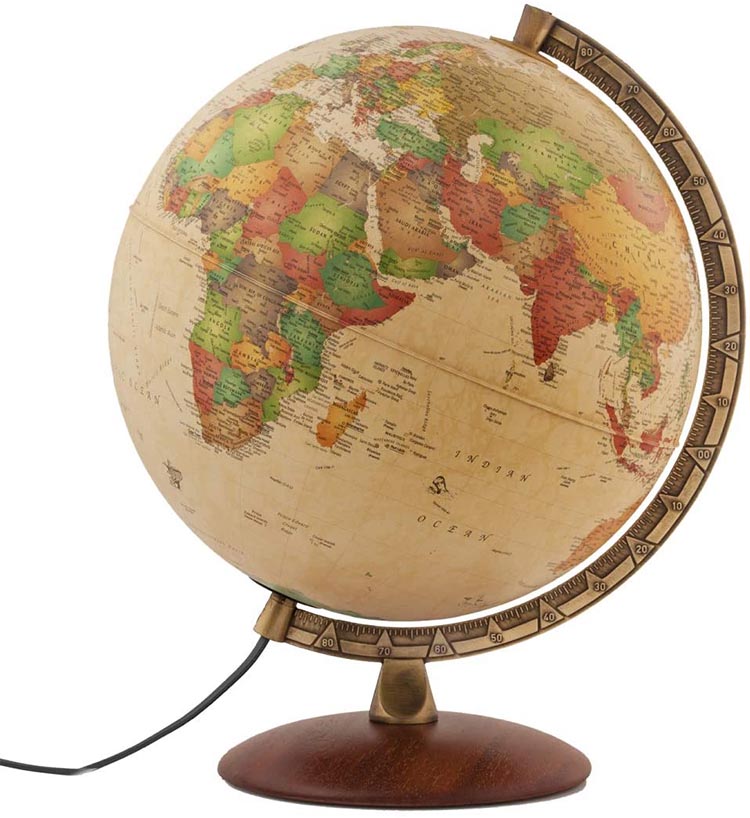 Waypoint Geographic Light Up Globe
The Waypoint Geographic Light Up Globe is by far the most decorative on our list. It's also the largest, measuring 12 inches in diameter. This leaves plenty of space for literally thousands of geographic highlights. Many of the features are nautical. Small port cities, reefs, and other important coastal features are shown in minute detail. Moreover, the surface of the globe has a nautical appearance. Instead of blue, the oceans are shown in an old-school parchment color, which has an antiqued look.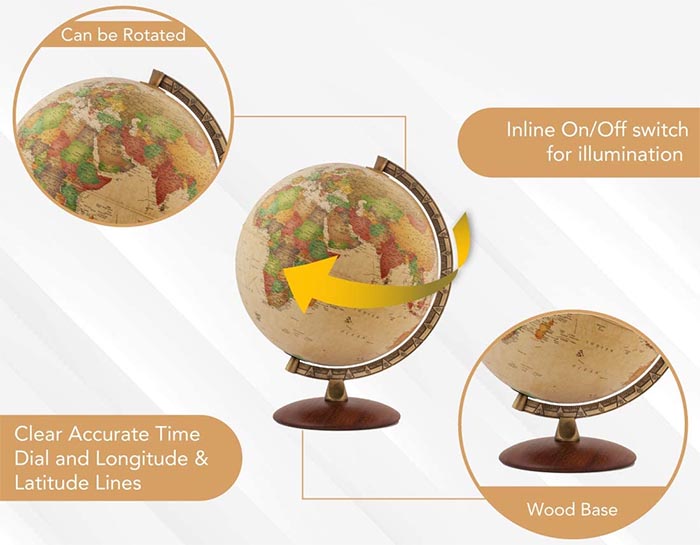 One neat thing about this globe is that it's constantly being updated. Waypoint Geographic is constantly creating new versions as geographic boundaries change. When you buy one, you can rest assured that you're getting the latest version. As a result, the globe isn't just decorative; it has some significant educational value.
The illumination function of the Waypoint Geographic globe is a bit different from the last two. It doesn't show any constellations. Instead, when the bulb lights up, you see a bunch of extra details on the map. Topographic details come to life, revealing more details than either of the other globes. Not only that, but in keeping with the nautical theme, you also see a bunch of old shipping routes. It's details like that that make a beautiful globe truly worth owning.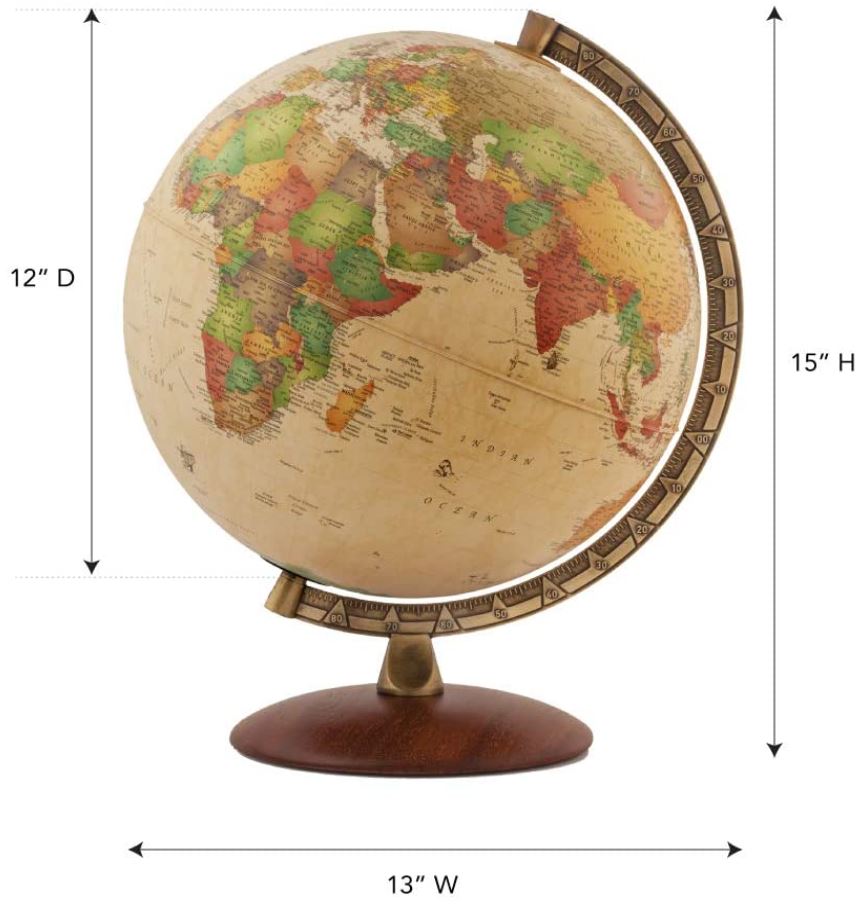 The light is soft and gentle, suitable for sleeping. At night, it casts a pleasant glow, enough walk by but not to read by. It's also easy to operate. It has an inline switch, so you can operate it from a few feet away. Like the TTKTK globe, the Waypoint Geographic globe has a wooden base and bronze metal stand. The wooden base has a slightly domed shape, complimenting the curved lines of the rest of the globe. The stand is marked with latitude lines, which are functional as well as attractive. It also has smoothly-rotating mounting points at the top and the bottom.
Final Verdict
As you can clearly see, each of these globes brings a lot of value to the table. That said, we should consider some of the differences between the different models. We started out by looking at the USA Toyz LED Illuminated Globe. This is the best choice if you want something purely educational. Its main attraction is the companion app, which has lessons on both geography and astronomy. But don't let the high-quality app distract you from the quality of the globe itself. It's well-engineered, and it's just the right brightness to make a good night light. Moreover, the surface is reasonably detailed for most needs.
Next, we looked at the TTKTK Illuminated World Globe. The main feature of the TTKTK globe is that it's writable and erasable. You can use a whiteboard marker to draw all over it for a lesson, then wipe it clean afterwards. This globe also has a more traditional appearance. The wood base and bronze stand aren't anything special, but they're attractive enough to look at. Moreover, the USB-powered design makes it easy to position. You can power it from a laptop or even a power bank if you need to, so access to a power outlet is no issue. The surface is less detailed than the other globes, but it still shows plenty of highlights.
Last but not least, we reviewed the Waypoint Geographic Light Up Globe. This is a more decorative globe, designed for looks as much as for function. It features antique parchment-style oceans, so it looks like an old map. At 12 inches, it's also fairly large, with plenty of room for details, which it offers in spades. This is particularly noticeable around the coasts, which are jam-packed with highlights and features. When the globe lights up, you see even more details. To be fair, this comes at the expense of any kind of astronomy function. But with everything else it does, that's only a minor drawback.