As we increasingly rely on our smartphones for a plethora of tasks, the scope for useful accessories also expands. Among these are thermal imaging cameras, highly practical tools for a variety of fields, from home inspection to electrical troubleshooting and even outdoor adventure. In this review, we're sharing our top five picks of the best thermal imaging cameras designed for iOS and Android devices. Here's a preview of what's to come:
The in-depth reviews that follow will provide a closer look at the key features, strengths, and weaknesses of these high-performing thermal imaging cameras.
InfiRay P2 Pro+ Thermal Imager for iPhone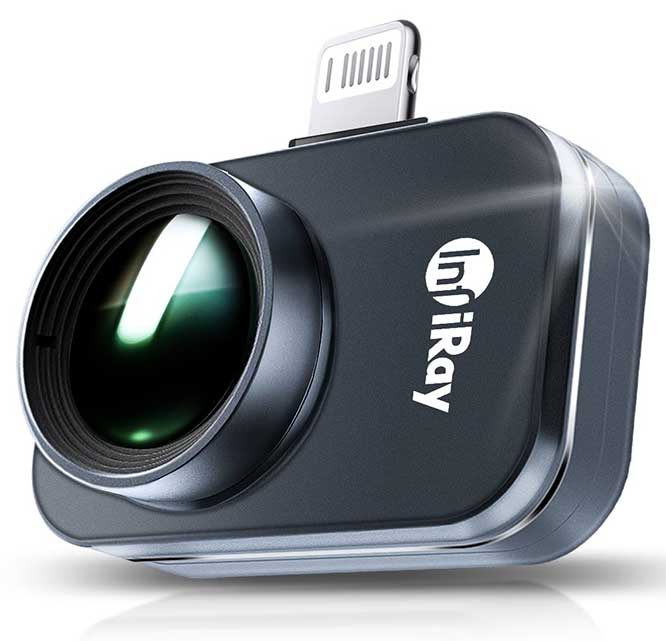 Key features:
High IR resolution
-4°F to 1,122°F temperature range
Dual-mode operation with macro lens
Long operating time
The InfiRay P2 Pro+ Thermal Imager for iPhone offers a uniquely compact solution for iOS users interested in high-quality thermal imaging. Boasting an exceptional ultra-high 256×192 infrared resolution, it delivers exceptionally clear images. And coupled with a smooth 25Hz refresh rate, it ensures lag-free performance for both professional and personal use. The enhanced temperature range that this camera is capable of is impressive.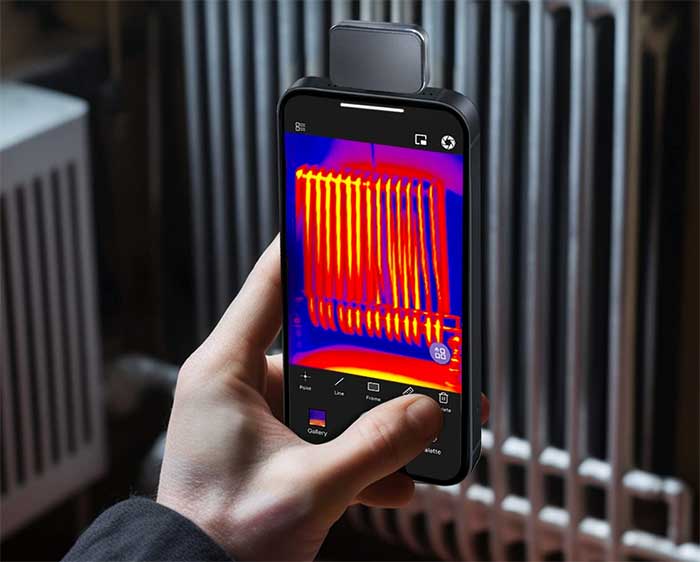 It can handle accurate measurements between -4°F and 1,122°F. With a sensitivity of 40 mK, it ensures precision up to 0.1°C. This capability shone in our testing, tackling complex work environments with ease. Adding to its versatility, it offers dual-mode operation. In normal mode, the effective range extends to around 16.4 feet. Alternatively, a macro lens attachment provides even greater detail at close range. The camera's 11 different imaging modes and 3-point temperature measurement offer ample customization.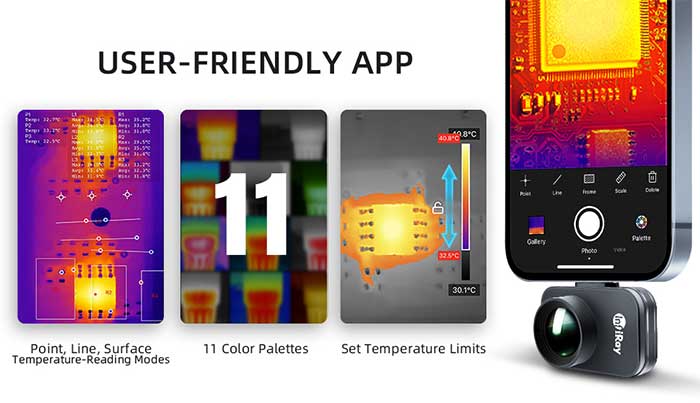 Physically, the P2 Pro+ measures 1 x 0.7 x 0.38 inches and weighs a mere 0.3 ounce (9 grams), adding barely noticeable weight to your iPhone. Its battery-free design and low power consumption allow for an impressive 6 to 8 hours of operation on a fully charged iPhone and 8 to 10 hours on an iPad. While it's undeniably impressive in terms of hardware, the P2 Pro+ does have some software issues.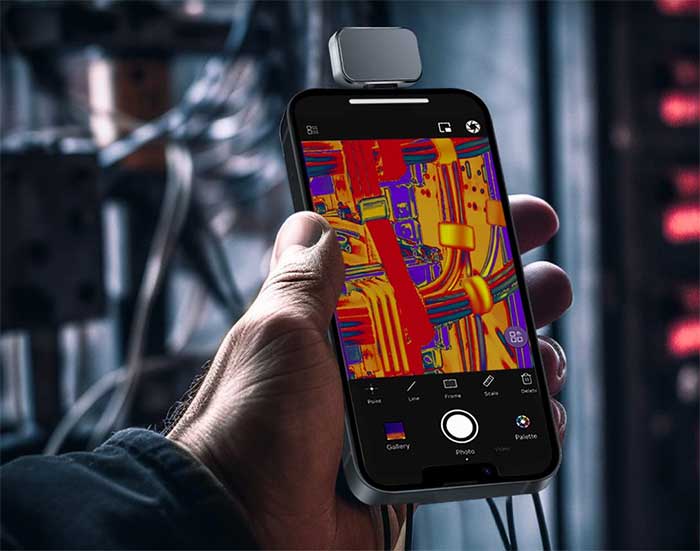 If our tests are anything to go by, you might experience occasional freezing, and the temperature range locking function seems to be unreliable. Despite these, the comprehensive customer service and continuous software improvements make it a robust choice for thermal imaging.
What we liked:
Extremely portable and lightweight
Battery-free design with low power consumption
Strong customer service and warranty
Versatile with multiple imaging modes
What we didn't like:
Occasionally freezes during use
Inefficient temperature range locking feature
InfiRay P2 Pro Thermal Camera for Android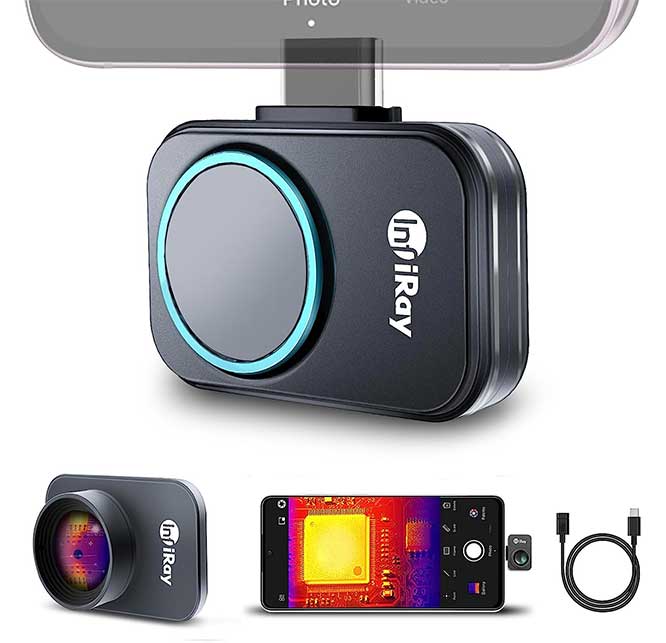 Key features:
256×192 IR resolution with 25Hz frame rates
Supports Android 9.0 and above
Battery-free, plugs directly into smartphone
Robust full metal body, ultra-compact design
The InfiRay P2 Pro Thermal Camera makes an impressively robust entry into the thermal imaging market, providing the user with an optimal combination of functionality and compactness. Despite its featherweight of 6.35 ounces and compact dimensions of 8.27 x 1.38 x 1.38 inches, the camera maintains an astoundingly sturdy feel with its fully metal body. This mini thermal powerhouse demonstrates a fine equilibrium between portability and strength.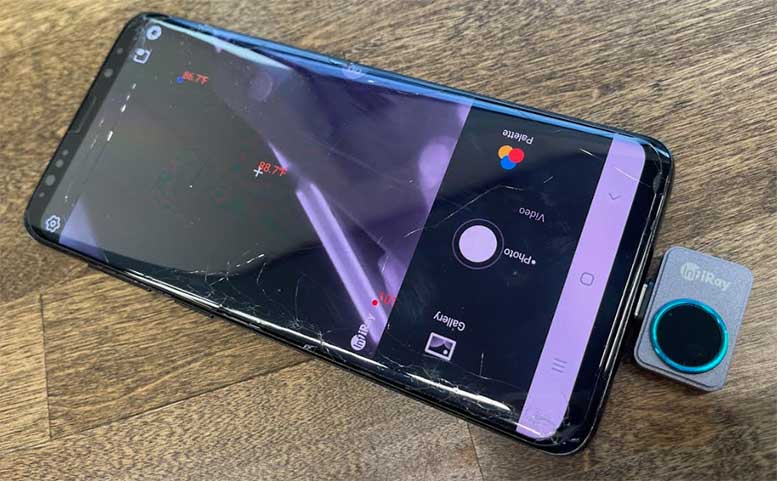 One of its notable features is the 256×192 resolution, delivering precise and clear thermal images aided by a fast 25Hz frame rate. The wide temperature range from -4°F to 1,112°F (-20°C to 600°C) augments its performance even further, allowing users to conduct a detailed analysis of different environments with accuracy and ease. Notably, the device supports Android 9.0 and above, making it a versatile gadget for many smartphone users.
The unit showcases a thoughtful battery-free design, utilizing the power from your smartphone. This convenience, coupled with its impressive secondary analysis capabilities, makes it an ideal tool for various applications, from troubleshooting electronic components to home inspections and HVAC issues. However, our tests did reveal a peculiar lens issue causing some pixelation and distortion on the image's side.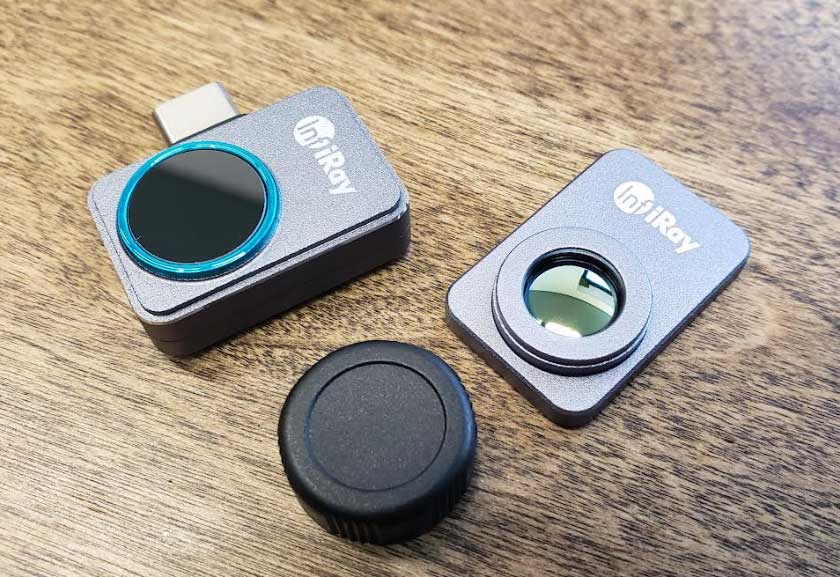 While this didn't compromise the camera's overall performance, it did slightly mar the image quality. Also, the camera's strong contrast and sharpening effect may not appeal to all users. But overall, the InfiRay P2 Pro Thermal Camera stands out as an ultra-compact, powerful, and user-friendly thermal imaging tool, albeit with a few areas that could be improved.
What we liked:
Great resolution and frame rate
Wide temperature range
Direct smartphone plugin, no battery needed
Compact and robust
What we didn't like:
Minor image distortion due to lens
Strong contrast and sharpening effect
FLIR ONE Pro iOS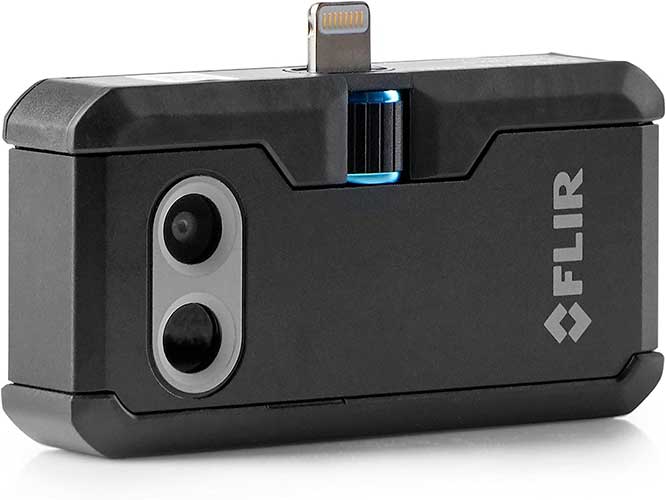 Key features:
Crisp 19,200-pixel IR images
Thermal sensitivity of 70 mK
Measures temperatures up to 400 C
Adjustable OneFit connector
As an ultracompact and sleek addition to the thermal imaging market, the FLIR ONE Pro iOS confidently stands up to its description. This tiny unit weighs a mere 1.27 ounces and has slim dimensions of 2.68 x 0.51 x 1.77 inches, making it impressively portable and convenient. As we tested it in various environments, it demonstrated exceptional effectiveness across the board. For one, it gives the user an impressive level of detail and clarity.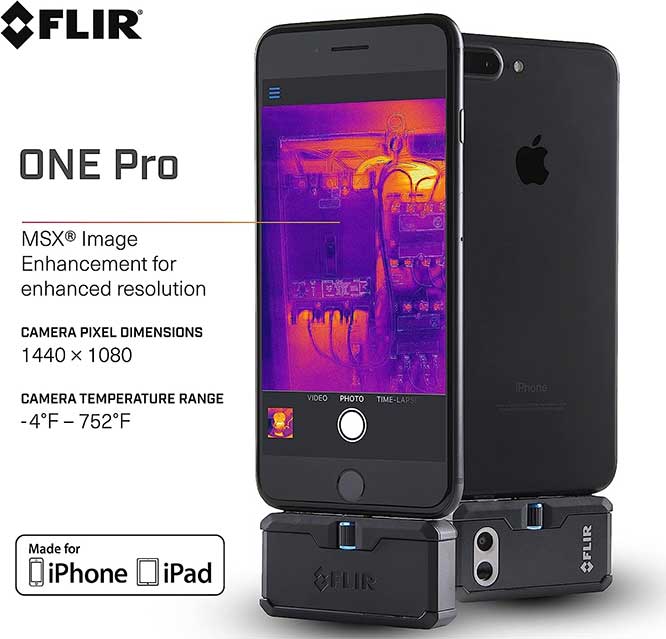 Its infrared camera records in a crisp 19,200-pixel resolution, which is a significant improvement from its predecessor. This enables the device to provide in-depth insights into hidden issues such as electrical problems, water damage, and energy loss. Its power is further enhanced with its vividIR image processing technology, which combines with MSX to significantly enhance resolution and accuracy. Its thermal sensitivity is as low as 70 mK, and it can measure temperatures up to a scorching 752°F.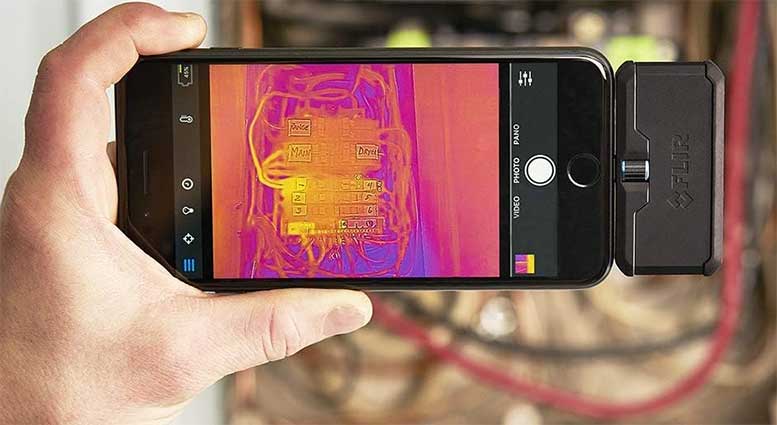 It further allows for three spot temperature meters and six temperature regions of interest, broadening the camera's measurement scope. It attaches seamlessly to any iOS device, thanks to its battery-powered operation. We also appreciate that it comes equipped with an adjustable OneFit connector. The connector even extends by up to 4 mm, accommodating your mobile device, even when it's in a protective case. The end result is a professional-level thermal imager right at your fingertips. Our only real complaint is the limited battery life of a mere 1 hour. Thankfully, 20 to 30 minutes gives it a full charge.
What we liked:
Exceptional image detail and clarity
Enhanced resolution with vividIR and MSX
Compact and lightweight design
Wide measurement scope
What we didn't like:
Requires user understanding of thermography
1-hour battery life is disappointing
FLIR ONE EDGE PRO Wireless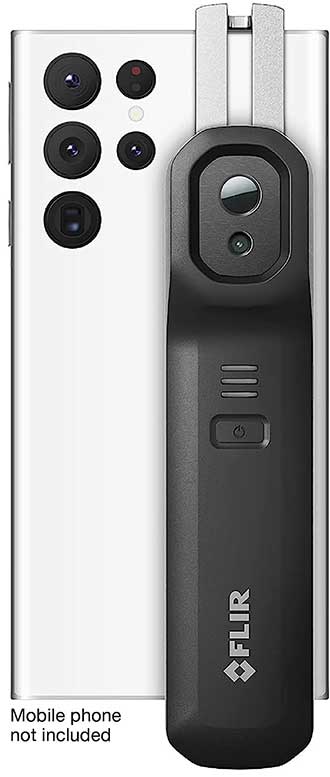 Key features:
Wireless Connectivity for iOS & Android
FLIR MSX Image Enhancement
Robust Battery Life
IP54 Protection Rating
The FLIR ONE EDGE PRO Wireless is an innovative thermal imaging camera that revolutionizes how we use smart devices. Its wireless connectivity effortlessly links to both iOS and Android platforms, eliminating compatibility issues. It also supports future device upgrades, which is always a welcome addition to any investment.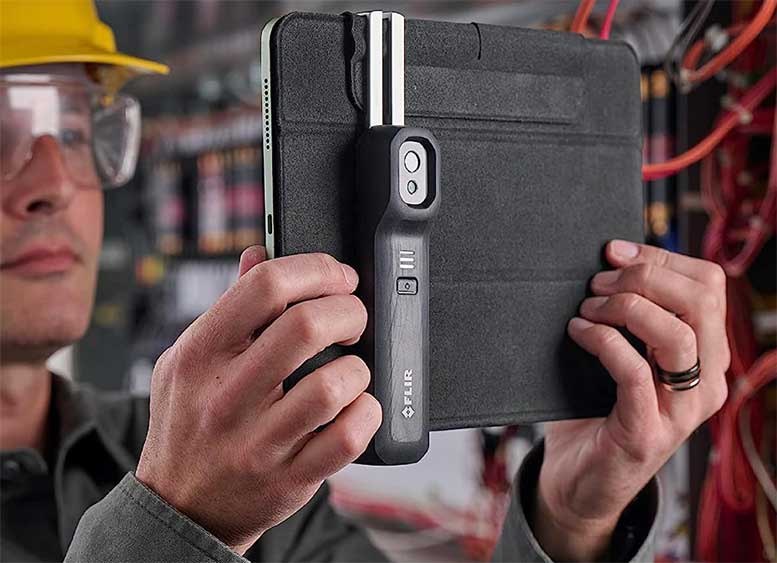 Measuring 5.87 x 1.38 x 1.48 inches and weighing a mere 5.3 ounces, it is highly portable. What's more, it can seamlessly inspect hard-to-reach areas up to 16 feet away. Factor in the IP54 protection rating, and you've got a thermal imaging camera that's resilient against dust and light water. It can even survive a 6-foot drop, further adding to its durability. Performance-wise, we like that it enhances thermal images by embossing visual details onto them.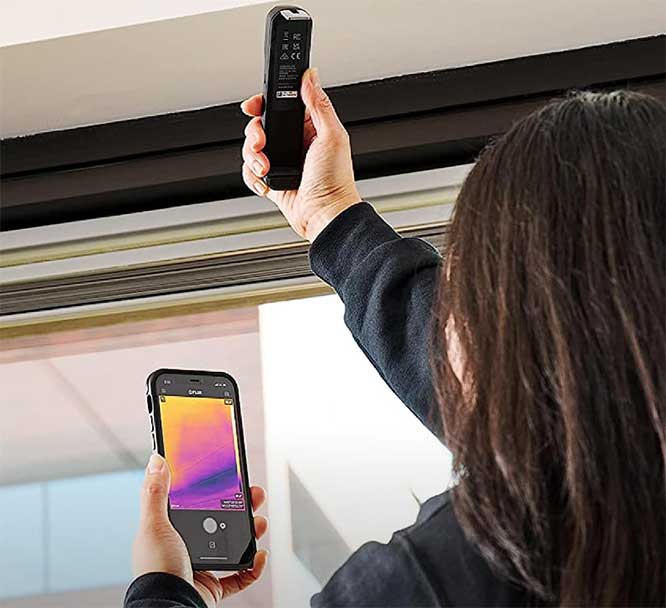 As a result, problem areas are considerably easier to identify. Even better, the FLIR Ignite cloud service allows for easy editing, storing, and wireless file transfer. Though it can take some getting used to, we really appreciate its versatility. There's also a larger internal battery this time around. It's rechargeable via USB-C and provides up to 2.5 hours of continuous use. While that may seem short, it's worth noting that it's an improvement over the ONE Pro iOS, which provided only 1 hour.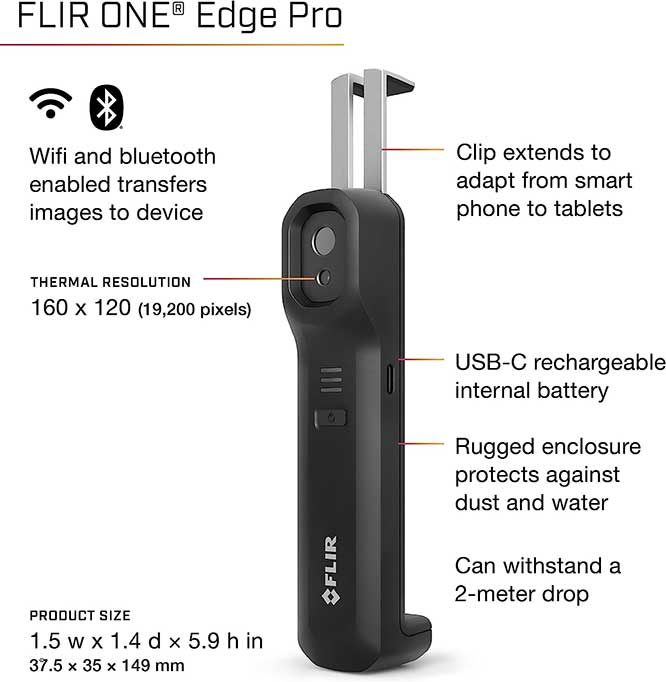 Furthermore, despite its compact size, the FLIR ONE Edge Pro Wireless does not skimp on power. Its thermal resolution is 160 x 120, yielding 19,200 pixels. It supports digital-only, thermal-only, and MSX image modes, capturing images and videos in various formats, including JPG, MPEG-4, .MOV (iOS), and .MP4 (Android). The camera's remote operation further extends its utility, allowing thermal inspection from a safe distance.
What we liked:
Effortless cloud connectivity
Exceptional thermal resolution
Wide compatibility with smart devices
Compact and lightweight
What we didn't like:
Short battery life for continuous use
No physical manual included
TOPDON TC001 Thermal Camera for Android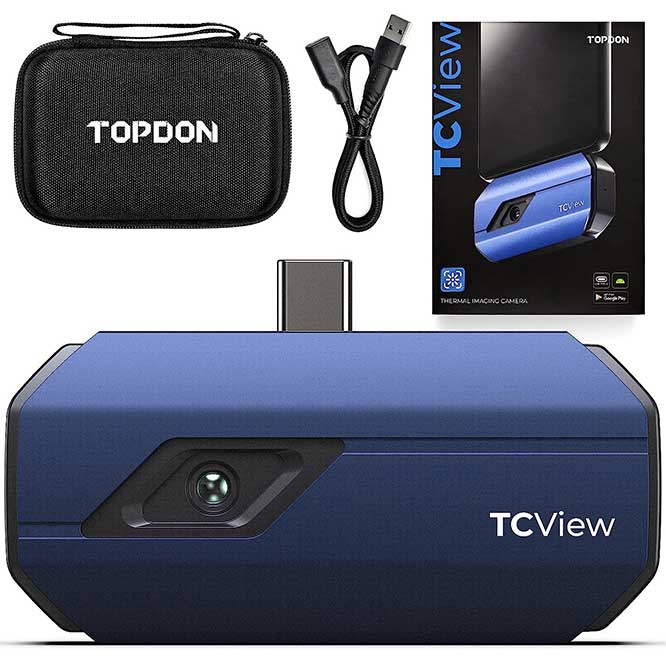 Key features:
High infrared resolution of 256×192 pixels
Precise temperature detection between -4°F and 1,022°F
Image enhancement technology for sharp images
Compact and lightweight for easy portability
The TOPDON TC001 Thermal Camera for Android promises and delivers high accuracy. For starters, it boasts an ultra-high infrared resolution of 256×192 pixels, enabling it to display sharp thermal images of your target area. But it doesn't just stop at high-resolution imaging; it also offers precise temperature detection from -4°F to 1,022°F. It's accurate within 3.6°F, or 2% of the object's actual temperature. Adding to its precision, it offers a manual selection of three dimensions (Point, Line, and Surface) in the TC001 App, enabling temperature readings in up to 9 areas simultaneously.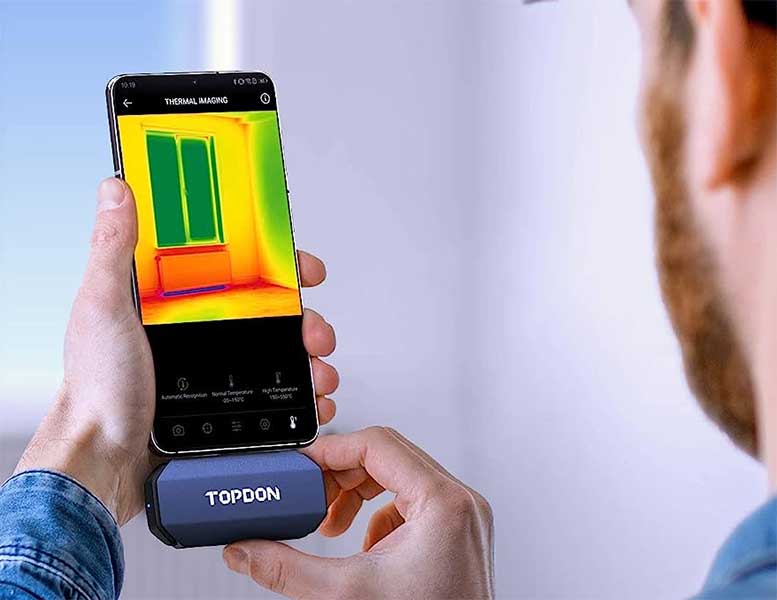 Its image enhancement technology afforded us a clearer and more detailed field of view simply by adjusting the image's sharpness and contrast. This function also allows rotation of the temperature view at different angles without needing to move your phone. With its compact dimensions of 2.8 x 1.65 x 0.55 inches and a weight of just one ounce, this thermal camera is truly portable in every sense.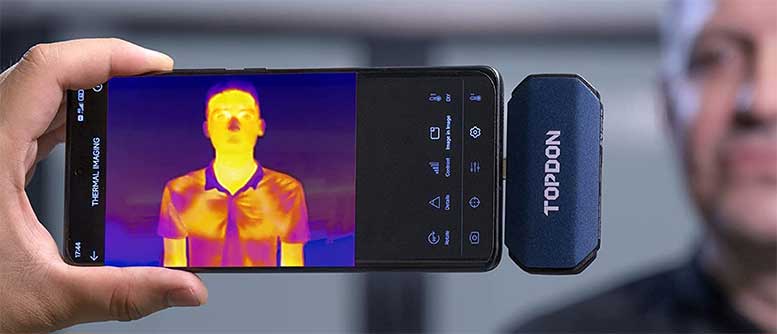 It easily pairs with Android phones supporting OTG functions, thus proving to be a handy tool whenever and wherever you need to monitor temperature. That said, iOS users will have to look elsewhere for their thermal imaging needs. It's worth noting that you may experience crashes with the app. While this doesn't directly affect the quality of the camera, it's still annoying when it happens. Though we will say that it's not a consistent thing. Despite that, this is a quality device that's worthy of your attention.
What we liked:
Highly accurate temperature detection
Clear and detailed thermal images
Handy dimensions for ease of use
Compatible with Android phones
What we didn't like:
Limited to Android compatibility
Occasionally crashes
Thermal Imaging Camera for iOS & Android FAQs
What are thermal imaging cameras used for?
Thermal imaging cameras capture variations in temperature by detecting infrared radiation. They can be used in a wide range of applications, such as home inspections, troubleshooting electronic devices, HVAC diagnostics, and even wildlife spotting in low-light conditions.
Can thermal imaging cameras work with any smartphone?
Not all thermal imaging cameras are compatible with every smartphone. Each device typically specifies the smartphone operating systems it works with, such as iOS or Android. That said, some models, like the FLIR ONE EDGE PRO Wireless, offer compatibility with both platforms.
How do I care for my thermal imaging camera?
Care for a thermal imaging camera involves keeping the lens clean and free of dust or smudges. Most manufacturers recommend using a soft, lint-free cloth or compressed air to clean the lens. Avoid touching the lens with your fingers, and store the camera in a safe, dry place when not in use.
Final Verdict
Choosing the best thermal imaging camera is highly dependent on your specific needs. The InfiRay P2 Pro+ and P2 Pro models offer high resolution and a broad temperature range, while the FLIR ONE Pro iOS impresses with its advanced imaging capabilities and adjustable connector. On the other hand, the FLIR ONE EDGE PRO Wireless extends the compatibility to both iOS and Android, boasting improved battery life and added durability with an IP54 protection rating.
The TOPDON TC001, a newcomer to the Android platform, makes a strong case with its precise temperature detection and high-resolution imaging, showing great promise for future improvements. Each of these thermal imaging cameras excels in its own right, and choosing between them ultimately comes down to assessing your individual requirements and preferences.