Your keyboard is perhaps the most important part of your computer. While all the parts are essential, your keyboard is how you interface with the machine. Along with your mouse, it's the primary way you control your computer.
And if you're like a lot of people, you may have invested a lot of money into your keyboard. Maybe you've got a mechanical keyboard, or something with RGB backlighting. No matter what you're using, you've probably put a lot of thought into it. And now that it's yours, you want to take good care of it.
One major factor in keyboard maintenance is cleaning. To begin with, there's the ordinary buildup of finger oils that will happen over time. You'll need to clean your keyboard from time to time, more often if you have sweaty hands.
You can do this with a cotton ball and some rubbing alcohol. On a mechanical keyboard, you can also pop the keycaps off and wash them in dish soap and water. Just make sure to dry them thoroughly before you put them back.
But cleaning away your finger oil might be a once a year affair. Dusting, by comparison, will be necessary on a more frequent basis. On the surface, this might not seem like a big deal. You just dust off the keys with a cloth or a feather duster.
Unfortunately, dust has an annoying way of getting down between the keys and into the keyboard itself. On some keyboards, this can eventually cause keys to malfunction. On a backlit keyboard, the dust will be clearly visible, spoiling your keyboard's appearance.
That's why many people use a keyboard cover. A keyboard cover protects your keyboard when it's not in use, and keeps dust from building up. Good covers can also prevent against damage from spills.
Choosing the Best Keyboard Dust Covers
Today, we're going to review three of the best keyboard dust covers we could find. These are all well-designed, and will do a good job of keeping dust off of your keyboard. They're also made to be easy to put on and remove. This is important, since you probably want to access your keyboard frequently.
That said, we'll also need to talk about the differences between the keyboard covers. We'll have to talk about the materials they're made from, and how well-constructed they are. We'll need to discuss how you put them over your keyboard, and how well they cover it. After all that, we'll have enough information to make a fair judgement. Let's get started, and see what we find!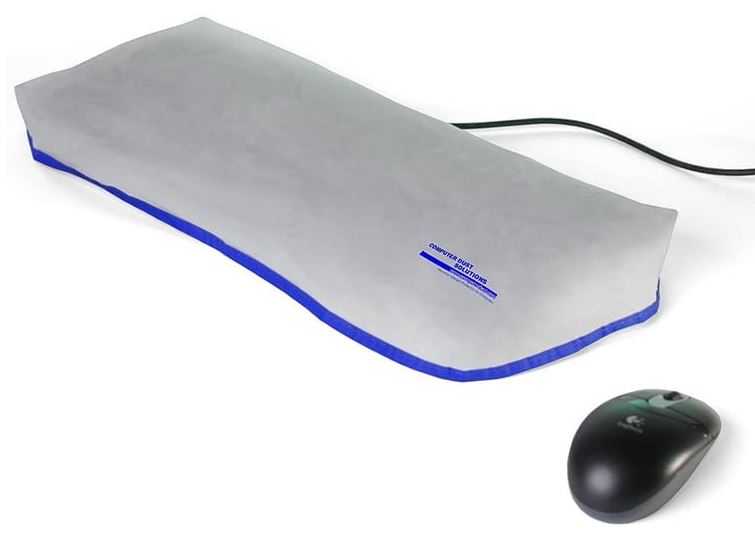 Computer Dust Solutions Keyboard Dust Cover
The Computer Dust Solutions Keyboard Dust Cover is a mostly white cover that sits over the top of your keyboard. It's crafted from a copolymer material that's only 0.2mm thick. The material is used for its antistatic properties, which repels dust and keeps it from collecting on the cover. It's also very flexible, and water just rolls off it.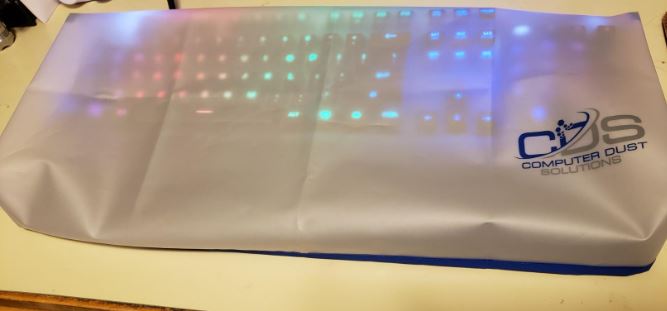 The cover is almost entirely white, but there's an attractive baby blue band around the bottom. This is a nice visual touch that we very much appreciated. That said, it has bright blue "Computer Dust Solutions" branding at the bottom right. This mars the appearance somewhat, and it's a bit disappointing.
A keyboard cover is great for your home PC or office keyboard. But what if you want to protect your laptop while you're on the road? In that case, check out our list of the best MacBook Pro leather sleeve cases. They're slick and stylish, and they do a great job of keeping your laptop safe from damage.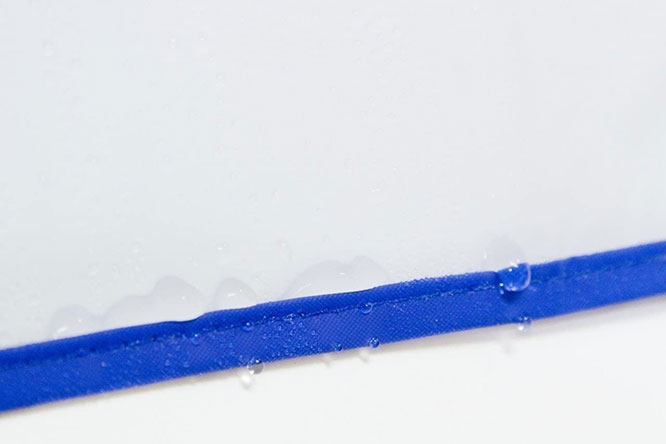 Fit and Fitment
The Computer Dust Solutions dust cover is available in two different sizes. The larger measures 20 inches wide, 9 inches deep, and 2 inches tall. That's enough for almost any full-sized keyboard, even if the keys sit up high. The smaller version is just as tall, but measures 18 inches wide and 7 inches deep. That's perfect for a tenkeyless board.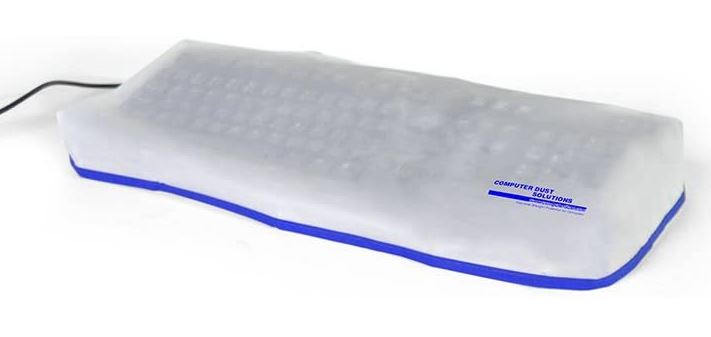 The stitching is fairly minimal, as you might expect given the thinness of the material. There's some at the corners, which helps it to stand up tall at the edges. But there's no stitching along the top or bottom. As a result, it has a very loose shape and tends to sag and drape over your keyboard. Whether that's a good thing or a bad thing is a matter of taste.
Because of the design, this cover is perfect for wireless keyboards. Just drop it over the top to cover the board, then pick it up when you're ready to use your computer. For a corded keyboard, the bottom edge will fit unevenly over the cord. Then again, this is easy to fix. Just cut a slit in the material where your cord goes, and the cover will drop easily into place.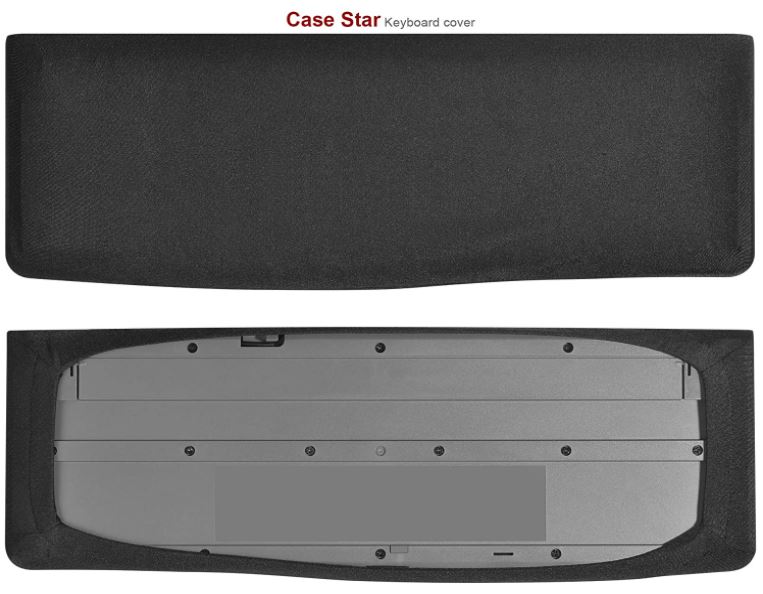 Case Star Stretchable Computer Keyboard Dust Cover
The Case Star Stretchable Computer Keyboard Dust Cover is as lightweight as they come. This is a black fabric with a very smooth finish, and it's also highly stretchable. This makes it easy to fit over a variety of keyboards. The only drawback of the lightweight design is that the material is semi-transparent. If your keyboard has backlighting, it will shine through the cover.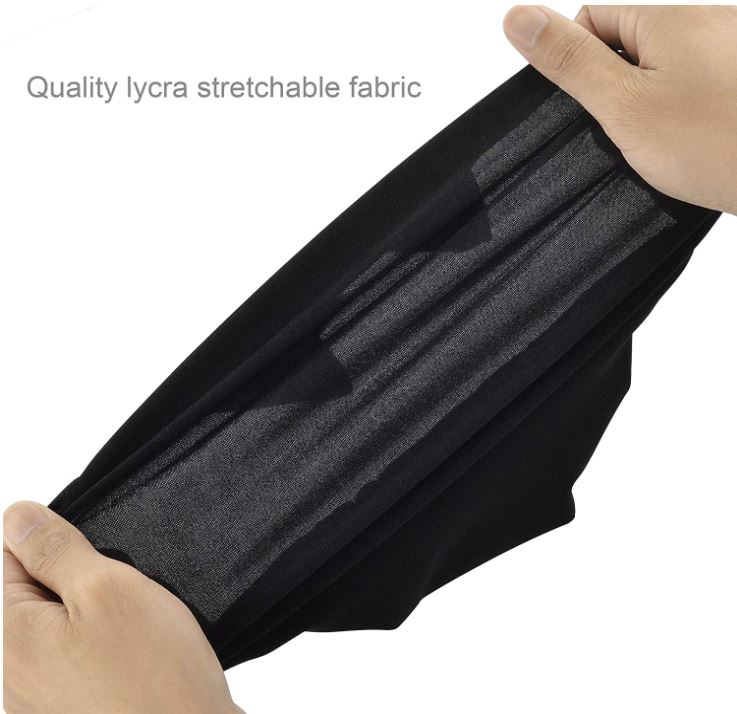 Keep in mind that this material is not designed to be water-resistant. If you spill water on it, some will get onto your keys. That said, it's very easy to store, since it folds up to a tiny size. It's also machine-washable, which makes it much easier to keep clean.
Case Star warranties their dust cover for 12 months. If it fails before then, you'll receive a free replacement or a refund.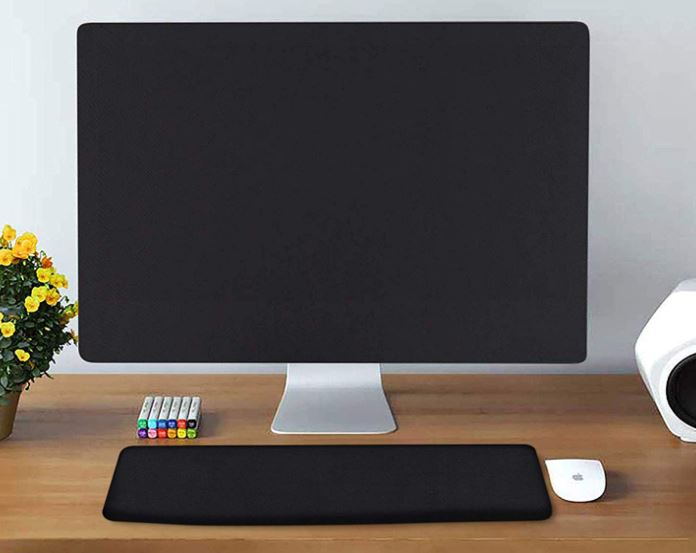 Fit and Fitment
The Case Star keyboard dust cover is designed to stretch over the top of your keyboard. It's basically shaped like a pouch, and the opening will be on the bottom of your keyboard. Stretch it out to put it on, then let it compress into place. Stretch it out again to take it off. Just keep in mind that this design won't work with a wired keyboard.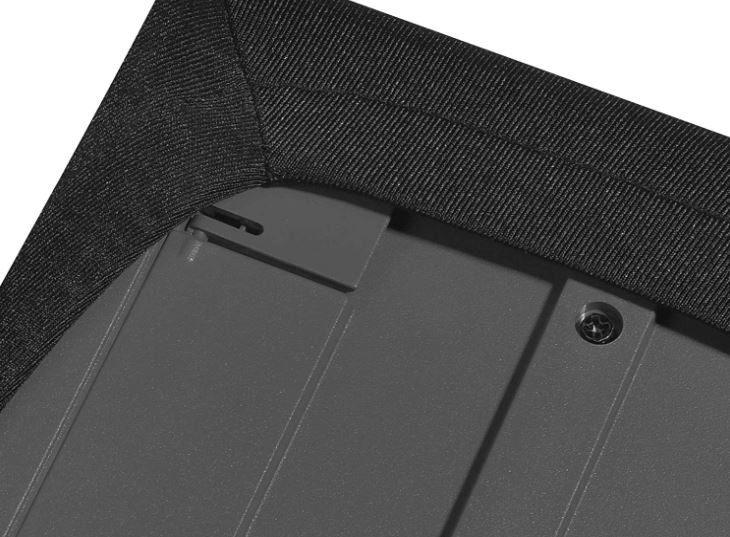 Like the last dust cover, this one comes in two sizes. The smaller can fit a 16.9-inch by 5-inch tenkeyless keyboard. It can stretch to accommodate a mid-sized 19.5 by 7.8-inch keyboard. The large size starts out at 17.9 by 6.3 inches, and stretches to 20.5 by 8.7 inches.
While you're protecting your keyboard, why not take a minute to think about your smaller devices? If you're using an Apple AirTag, for instance, it could easily be exposed to damage. A good leather AirTag sleeve will keep it safe and in style.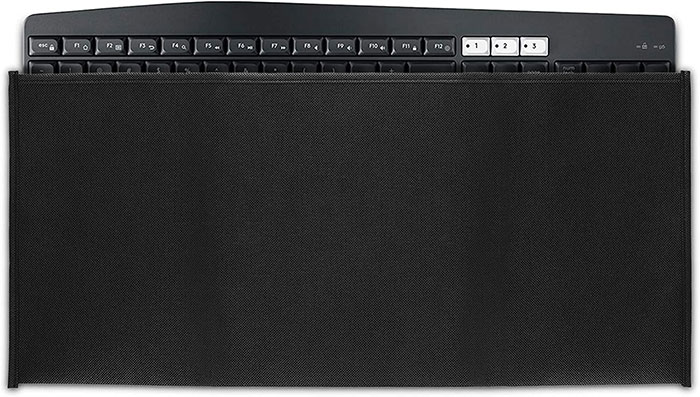 kwmobile Keyboard Cover
The kwmobile Keyboard Cover is made of a tough nylon material. It has a dense weave, with extra stitching around the edges to reinforce it. When we think of nylon, we usually think of plain black. But this cover is also available in five other colors: blue, light grey, dark grey, red, and pink.
Besides being very tough, nylon is also water-resistant. Spill a little water on the surface, and it will just roll off. This is great for anyone who likes to eat and drink around their keyboard. The nylon also keeps dust off your keyboard. And when you want to clean it off, you can just wipe it down with a damp cloth.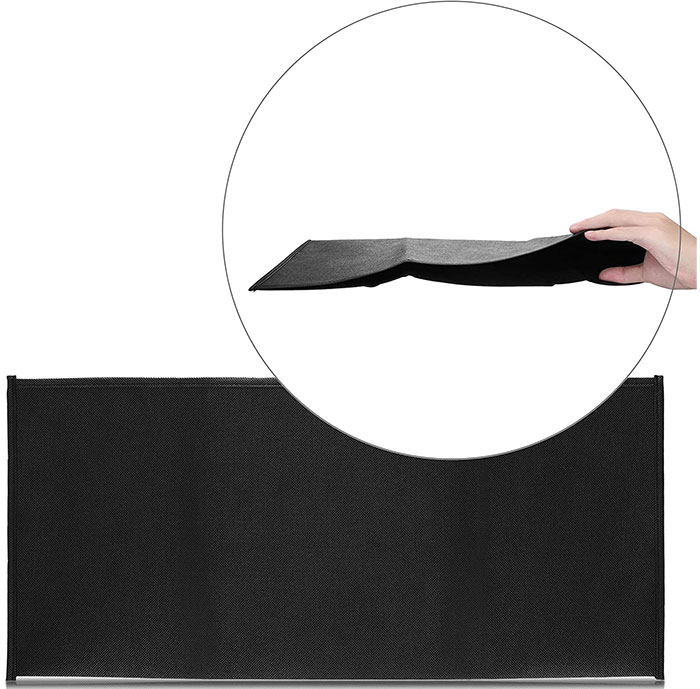 On a list of the most vulnerable devices, the iPad would be near the top. So while you're thinking about covers and cases, consider the Pitaka FlipBook case for iPad. It's a modular case with a built-in storage pocket and carrying handles. It even has a hinged, magnetic cover for your camera lens.
Fit and Fitment
The design of the kwmobile Keyboard Cover is simple. It's a flat, wide pocket with a horizontal opening at the back edge. This is perfect for wired keyboards, since it won't get in the way of your cord. That said, there's nothing stopping you from using it with a wireless keyboard.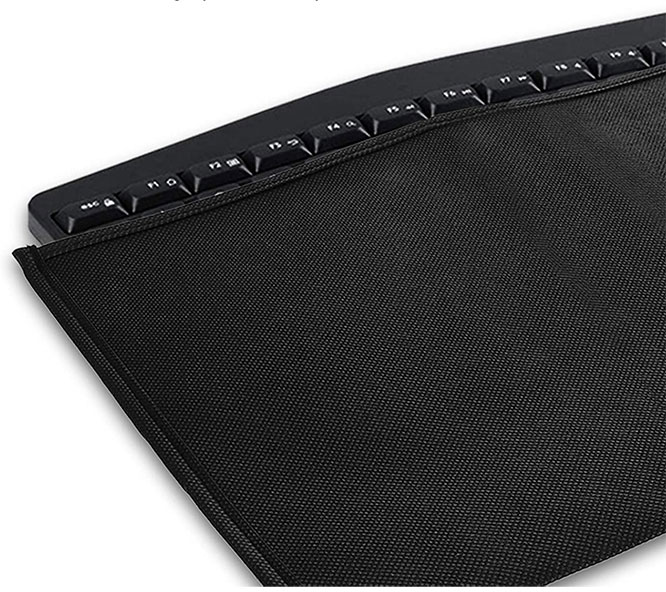 As far as sizing goes, it measures 20.5 inches wide and 9.6 inches deep. That said, it's not very thick, only about a hair over an inch and a half. This isn't a huge deal, and won't be a problem for most people. But if you have a fat, M-style keyboard, it's going to compress some of your keys.
What Makes a Good Keyboard Cover?
Before we wrap up, let's talk about what makes a good keyboard cover. First and foremost, think about the size and fit. This is important, because your cover needs to fit your keyboard and accommodate your cable, if any. If it doesn't, nothing else really matters.
The type of material is also important. Does it seem to be reasonably durable? Is it dust-resistant? Is it water-resistant? These are all important things to consider.
Finally, think about the aesthetics. We're not saying you should choose a keyboard cover for its looks. But it's going to be sitting on your desk whenever you're not using your computer. So it's nice if it at least looks halfway decent.
Final Verdict
So, which one of these keyboard dust covers is the best? A lot depends on what you need. Let's go over what we've learned.
We started out by reviewing the Computer Dust Solutions Keyboard Dust Cover. This keyboard cover is ideal for wireless keyboards, and easily fits even the largest board. Its antistatic material does a great job of keeping away dust, and it's also water-resistant. Barring some cosmetic concerns, we were very happy.
Next, we examined the Case Star Stretchable Computer Keyboard Dust Cover. This cover is the simplest of the bunch, and is basically a stretchy fabric pouch. Because of the fit, it's not great for wired keyboards. It's also not water-resistant. But if all you need is a quick and dirty dust cover, it's a great choice.
Finally, we looked at the kwmobile Keyboard Cover. This is the toughest of the bunch, with durable nylon material and six color options. It's water- and dust-resistant, and can cover most keyboards. While it will struggle with some very fat keyboards, it's otherwise good to go. And since it's open at the back
Meet Derek, "TechGuru," a 34-year-old technology enthusiast with a deep passion for tech innovations. With extensive experience, he specializes in gaming hardware and software, and has expertise in gadgets, custom PCs, and audio.
Besides writing about tech and reviewing new products, Derek enjoys traveling, hiking, and photography. Committed to keeping up with the latest industry trends, he aims to guide readers in making informed tech decisions.