The GEEKOM AS 5 is a Mini PC equipped with some powerful hardware. The system is designed around AMD and their Ryzen 9 59000HX CPU. This is paired with ample graphics, memory, and storage to give you a very capable computer.
Mini PCs have the benefit of being sleek and easy to keep out of the way. With its various ways of connecting via WiFi and Bluetooth, there shouldn't be any problems If you're someone who has been looking for a powerhouse of a computer wrapped in a tiny package, then this may be of interest to you.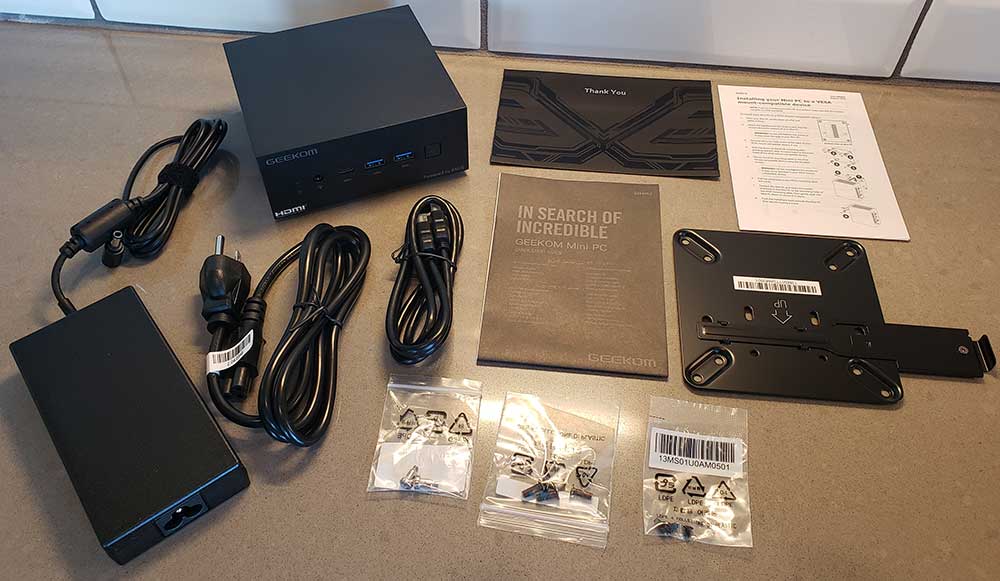 Components to Power Most Workloads
When you think of a mini PC, you may think that there will be shortcuts in its capabilities to handle what you need it for. In some cases, sure that could be true. However, it's not true with the GEEKOM AS 5. Everything revolves around the CPU, and this PC uses an AMD Ryzen 5 5900HX. This CPU has 8 cores and 16 threads. It's built on the Zen 3 core architecture and has a base clock speed of 3.3 GHz. Additionally, it can be boosted to a maximum of up to 4.6 GHz.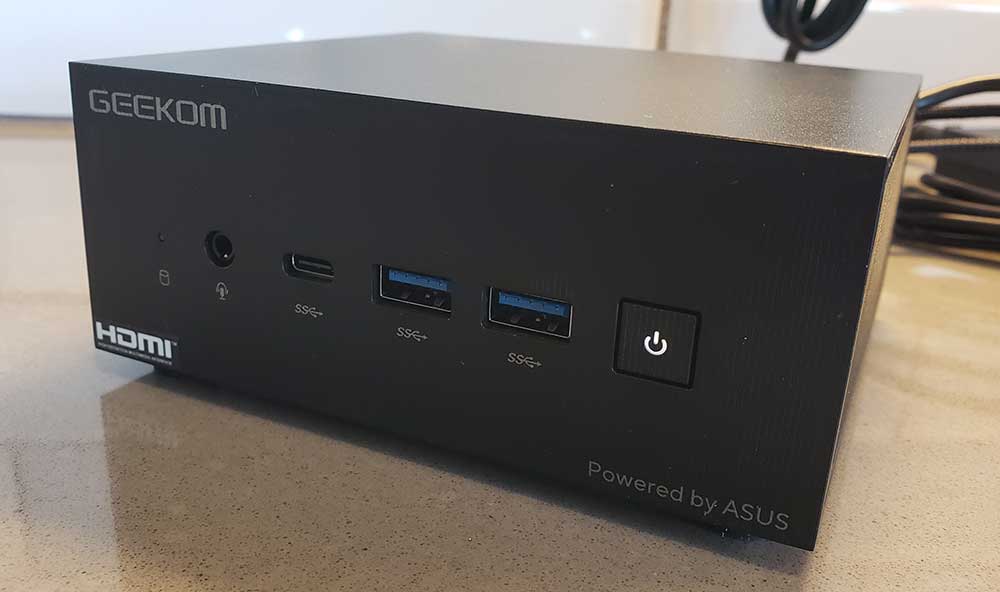 While it doesn't have a graphics card like some of your larger gaming PCs has, it does have good internal options for graphics. Included is AMD Radeon Vega 8 Graphics. This can help power through multiple use cases. It's great for those looking for powering basic design software. If you're a gamer, you can expect to play games requiring light workloads. Titles such as League of Legends and DOTA 2 shouldn't have any problems.
As for memory, the AS 5 has dual-channel DDR4. This memory runs at 3200MHz and comes with 32GB included in the PC. If you choose to expand the memory later you can do so up to 64 GB. For storage, there are two M.2 PCIe Gen 3×4 SSDs included. While there is support for up to 2TB of storage via M.2, this computer comes with 1 TB. Additionally, if you want to further expand its storage capabilities there is a 2.5" HDD bay that supports up to 2 TB.
Compact Design with Durability in Mind
When looking for a Mini PC, chances are you want it to be compact enough to stay out of the way of things on your desk. The GEEKOM AS 5 handles this well. Its dimensions are 4.7 x 5.1 x 2.3 inches and it only weighs 1.7 pounds. This size makes it easy to put out of the way, or even stored somewhere completely out of sight.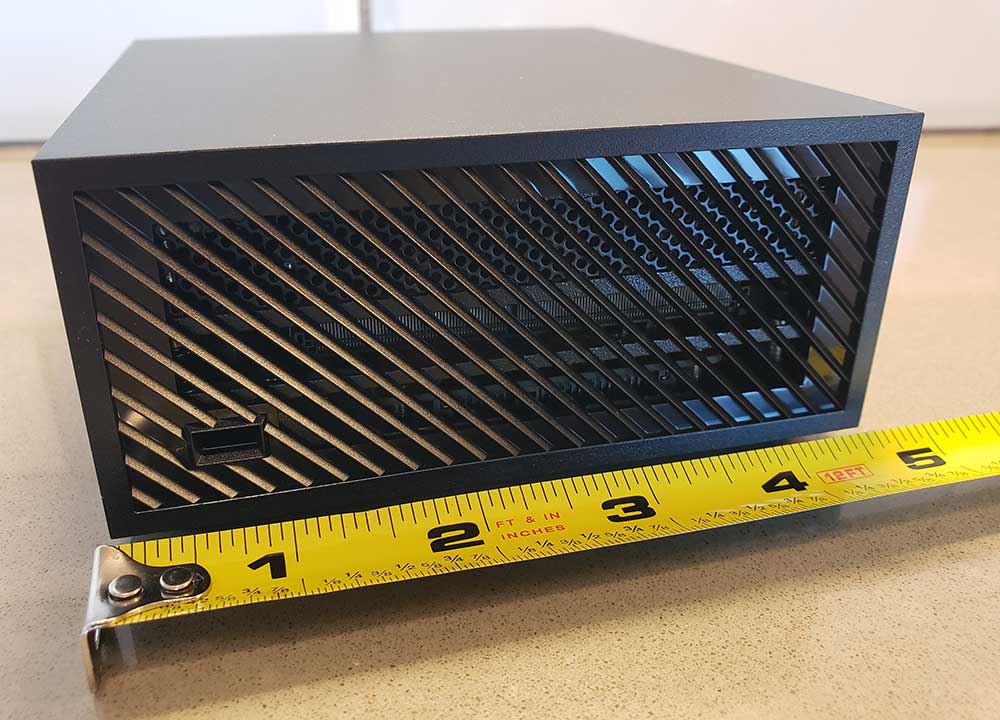 Better yet, it's built to be military-grade durable. This PC has been tested to meet the MIL-STD-810H* standard for durability. This means it can withstand extreme temperatures, altitude, humidity, and even drops and vibrations. The performance of this device won't skip a beat even with those bad conditions thrown at it.
A Multitude of Connections
Any good PC should have multiple ways to connect to it, and the GEEKOM AS 5 has a wide variety. The back of the device has multiple ports to choose from. These include:
2 HDMI 2.1
1 Display Port 1.4
1 USB-C 3.2 Gen 2
1 USB 3.2 Gen 2
2 USB 3.2 Gen 1
DC Power Input
5G RJ45 LAN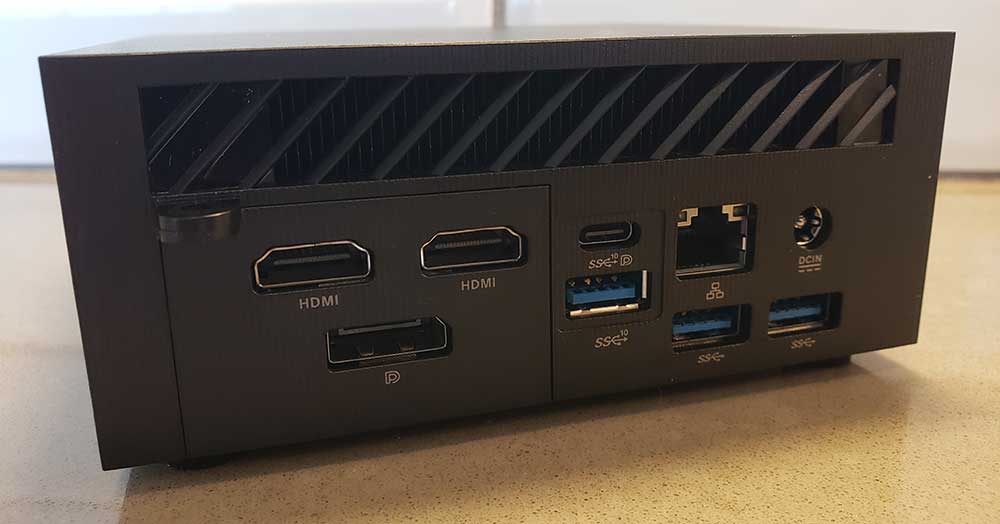 As for the front of the device, you can find the following:
Audio Jack
1 USB-C 3.2 Gen 1
1 USB 3.2 Gen 1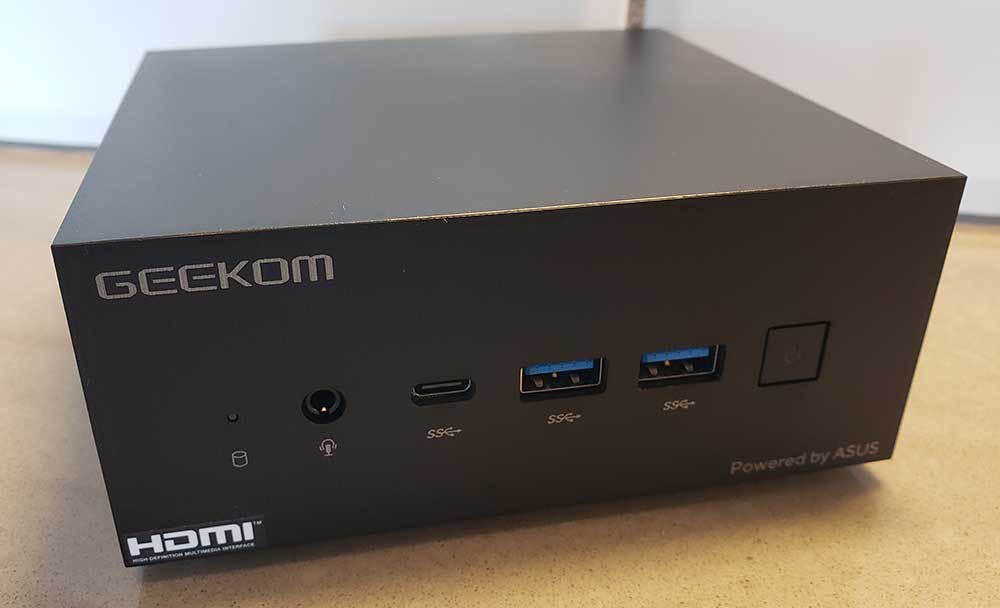 The various USB ports are perfect for connecting and powering your mouse, keyboard, and more. As for the display outputs, they are capable of powering multiple displays. Each HDMI port can be used with monitors up to 4K at 60Hz. The display port can be used in up to 8K at 60 Hz. The USB-C Gen 2 can also be used in 8K up to 60Hz. This gives you at least 4K capabilities for 4 monitors all at once.
Powerful Options for WiFi and Bluetooth
When connecting to the internet, you have two options on the AS 5. For WiFi, it uses WiFi 6E. This operates at 6GHz to provide speeds of up to 2400 Mbps. Additionally, you can connect via the LAN port on the back. When using LAN, it can achieve speeds of up to 2500 Mbps. As for Bluetooth, the AS 5 uses Bluetooth 5.2. This allows you to easily connect various wireless devices to the PC. With Bluetooth and lightning-fast WiFi, you can eliminate unnecessary cords and keep a very clean setup.
Innovative Cooling and Cleaning System
Two big problems with powerful PCs are overheating and dust collection. Most larger PCs stuff multiple fans into different parts of the case to move air around and cool things down. Some even require liquid cooling. The GEEKOM AS 5 utilizes an innovative cooling system to keep it cool without adding tons of bulk.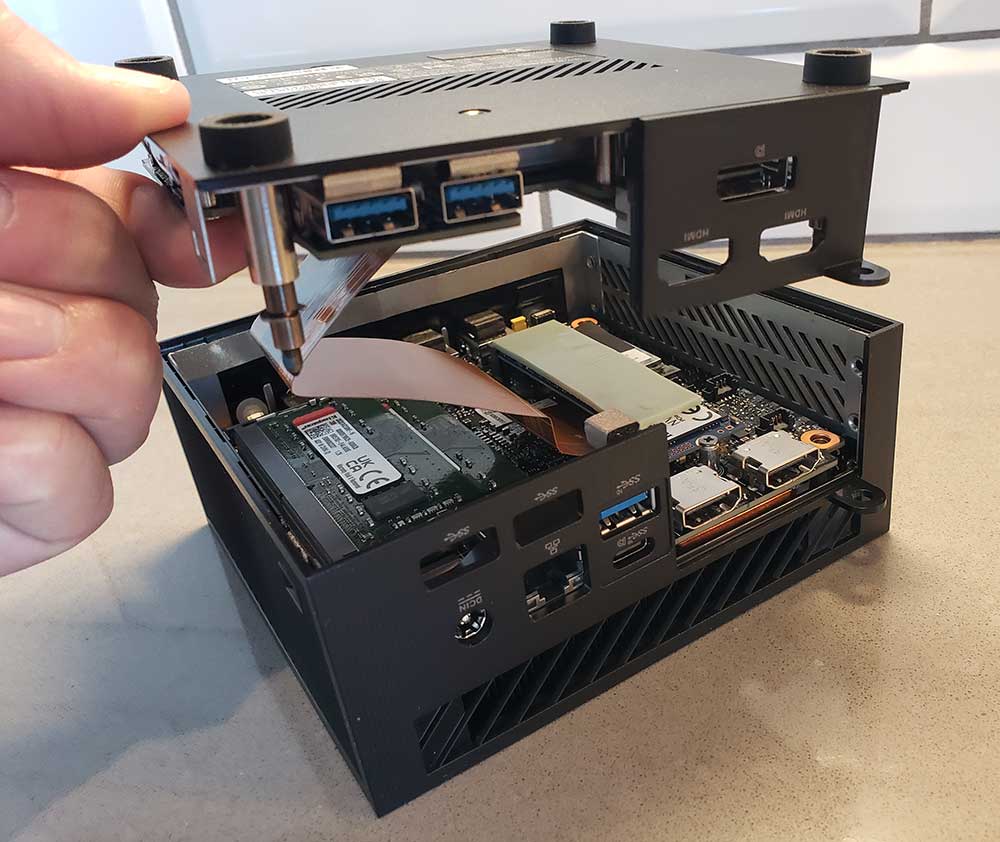 It features a new thermal module to provide improved heat dissipation. There is also an aluminum heatsink to help provide enhanced conductivity. When paired with the smart fan control on the system fan, it can provide desktop levels of cooling capabilities.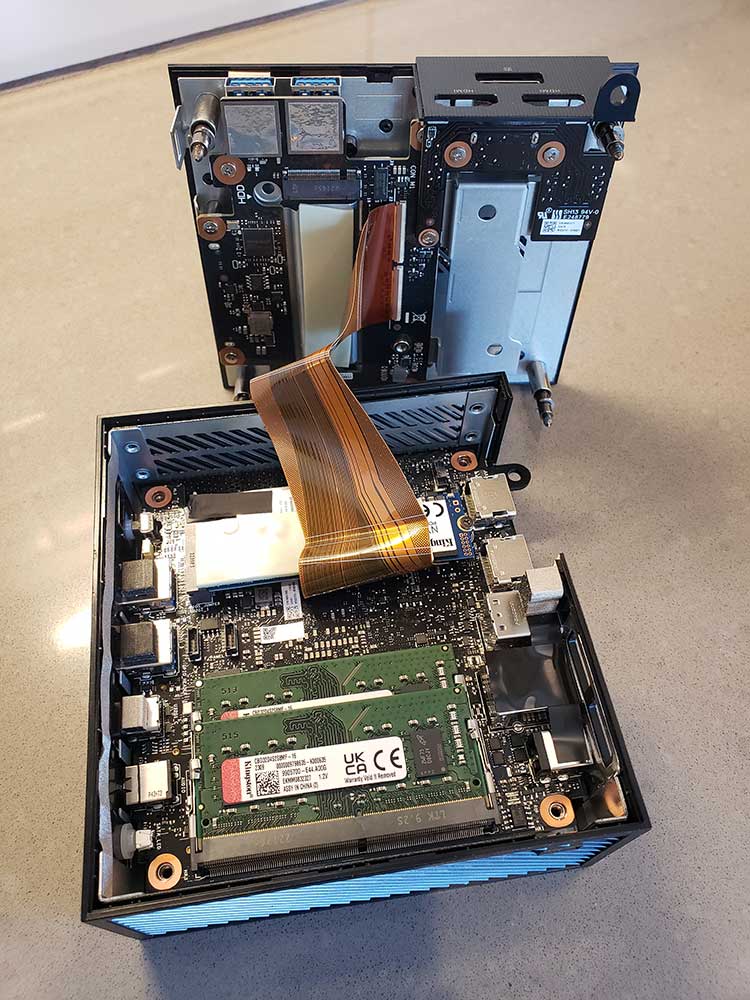 Better yet, it has a built-in anti-dust self-cleaning system. This helps to capture dust from the intake and filter it out separately from the air before it can get into the computer. Doing so helps reduce the amount of times you'll need to pull it apart and clean it. This extends its lifetime and helps give you peace of mind. Another cool feature of the fan is how quiet it is. While some system fans can ramp up and create a ton of noise, the fan used in the AS 5 won't do so. The entire computer generates less than 35 decibels of noise when fully running, and even less while idle.
Final Thoughts
The GEEKOM AS 5 is certainly worth considering if you're in the market for a Mini PC. Whether you'd like to use it for emulation, mid-range gaming or as a workstation. While trying to stay compact they could have cut corners and kept components out, limiting performance. Instead, they put in a state-of-the-art CPU, capabilities for 4 TB of storage, capabilities for 64 GB of ram, and even onboard graphics. This makes it a fantastic machine for design work, light gaming, and general office usage.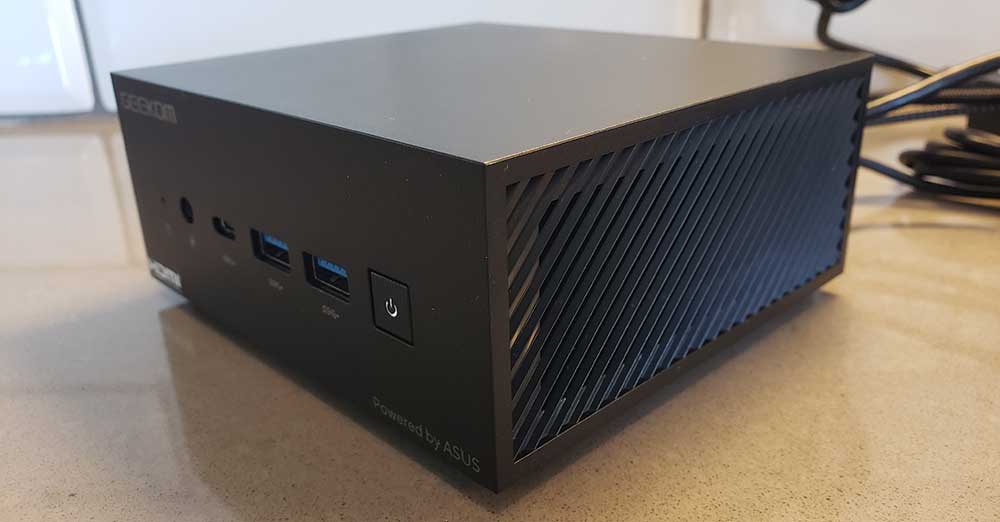 Even better, it stayed small, only taking up a tiny amount of space on your desk. To further enhance the minimalistic design, there are a number of ways to connect wirelessly. However, if you prefer wired connections, the included ports are robust enough to allow you to connect to plenty of monitors and other devices to power your workstation needs.