Whether you've lost your luggage or misplaced your laptop, it's no fun not having access to your stuff. Worse yet, you're often going to be reliant on strangers. Does someone find your missing bag, or does it end up in the trash somewhere? If they do find it, are they the sort of person who returns it, or do they decide to keep your valuables? Until recently, that was all there was to it. Unless you lost your belongings in your own house, it was completely out of your hands. But nowadays, there are ways to keep tabs on your laptop and other valuable gear.
In April of 2021, Apple released the AirTag. This is a small, Bluetooth-enabled chip that's designed to track your things. And when we say "things," we mean the term as broadly as possible. The AirTag is insanely small, and can be attached to practically anything. The most obvious application is for keys, and most AirTag sleeves have some kind of keychain attachment. But they can be attached to laptop bags, clothing, electronics, and even left in your vehicle. The applications are endless.
AirTags work by pinging off of devices in Apple's Find My network. This network has over a billion participating devices worldwide. When a device detects your AirTag, it anonymously sends location data to Apple's network. If you log in to the Find My app to locate your AirTag, you'll see it's most recent location. When you're within range, iPhones 11 and later can also use their U1 chip for more precise detection. If your keys have fallen down into the couch cushions, you'll be able to find them.
Choosing the Best Leather AirTag Sleeves & Cases
In and of themselves AirTags are pretty fragile. They're just little RFID tags. That's why many people use AirTag sleeves and cases. Today, we're going to look for the best available protective cases for your Apple AirTags. All in all, we made five selections. These come in all shapes and sizes, and with different individual quirks that make them unique.
To find out which one is best for you, we'll have to look at all the various aspects of their design. We're focusing on leather sleeves, but there are different types and grades of leather. There are also different colors, not to mention different shapes and thicknesses. We'll also need to look at how the AirTag is secured inside. And of course, we'll need to consider how the sleeve is secured to whatever you're tracking. After all that, we'll be able to deliver a fair verdict. Let's take a closer look!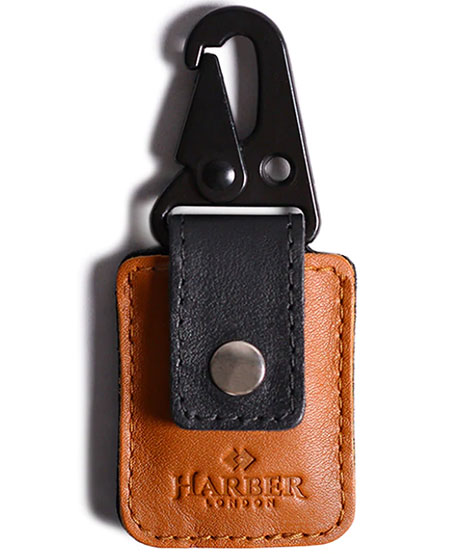 Harber London Leather AirTag Case
Harber London is a manufacturer that specializes in high-quality leather accessories. A while back, we reviewed their leather desk pad, a wide leather desk pad that's very high-quality. Considering their expertise in leatherworking, we were excited to take a look at their AirTag case.
The Harber London Leather AirTag Case has a rectangular shape, slightly taller than it is wide. It has a two-tone design, with black on the back and brown on the front. This two-tone appearance is further enhanced by the snap strap, which comes partway down the front. The result is a broad black stripe down the top middle of the front.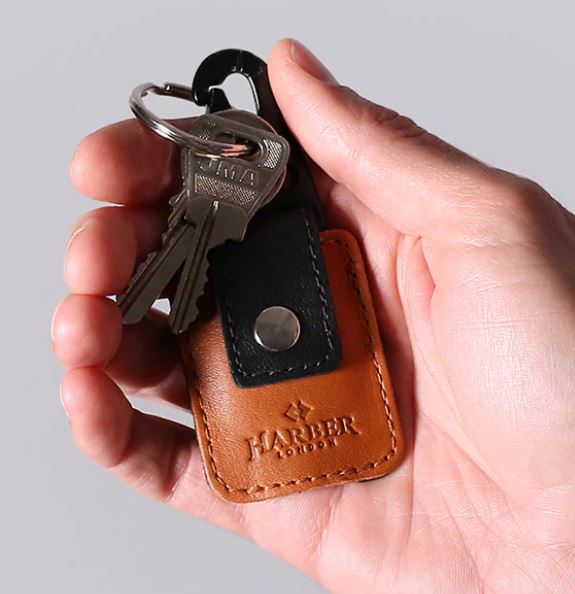 The leather itself is a full grain leather. This is the highest grade of leather, and it includes the full thickness of the cowhide. It has the strength of the lower layers, along with the smooth, fine finish of top grain leather. It feels soft and supple between your fingers, and it pairs well with fine leather fashion accessories.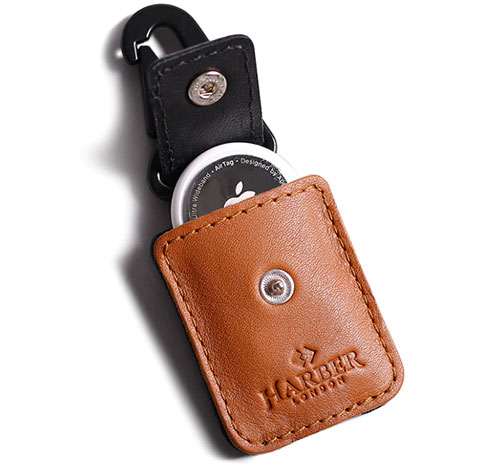 On the front, beneath the snap closure, there's an embossed "Harber London" imprint. Around the edges, there's brown stitching, with fine threads that nonetheless give the impression of strength.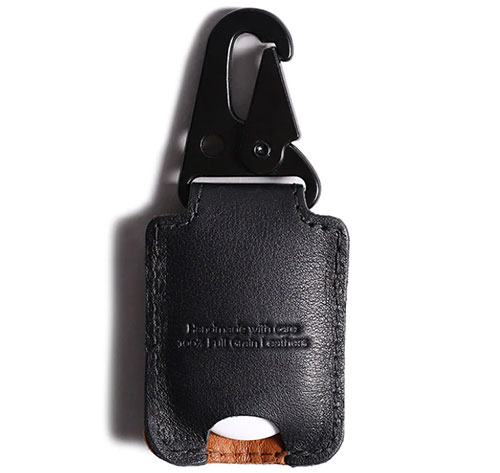 This case is designed in such a way that it's both secure and easy to remove your AirTag. Thanks to the snap strap, your AirTag isn't going anywhere. At the bottom of the back, there's a little cutout for your thumb. When you want to take your AirTag out, just press up through the cutout.
The leather snap strap runs through the bottom of a black latch. This latch is flat at the base, with a roughly triangular overall shape. One side opens from a hinge near the base, so you can attach it to your keychain. It can also be attached to a clip on a laptop bag or laptop.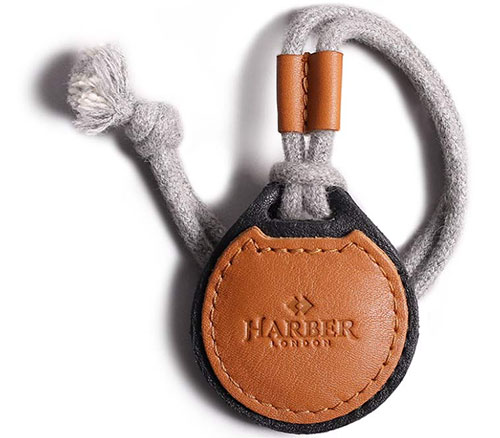 Harber London Leather AirTag Sleeve
Harber London is so good at leatherwork that we decided to include two of their AirTag caddies. The Harber London Leather AirTag Sleeve has a similar two-tone design. The back portion is black leather, with a tan colored circle on the front. The overall shape is round, and fits fairly snugly to the sides of your AirTag.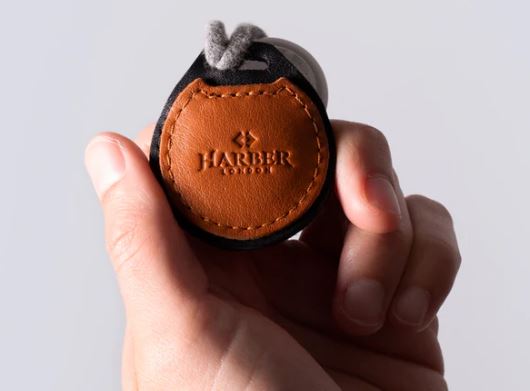 Besides the shape, this sleeve has a lot in common with the last one we looked at. It's made from full grain leather, which is both beautiful and durable. There's a Harber London imprint on the front. And the brown stitching around the edges blends right into the tan leather on the front surface.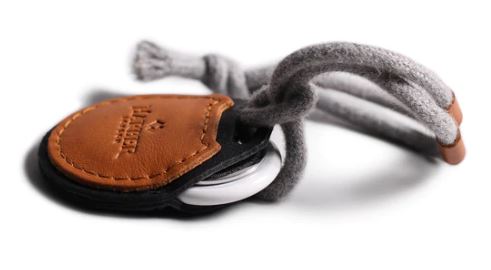 The thing that stands out most about this AirTag sleeve is the way it closes. Instead of a snap, there's a simple drawstring closure at the top. The drawstring is soft, but surprisingly strong, and it can be attached to just about anything. This little drawstring makes the sleeve more versatile than many other options.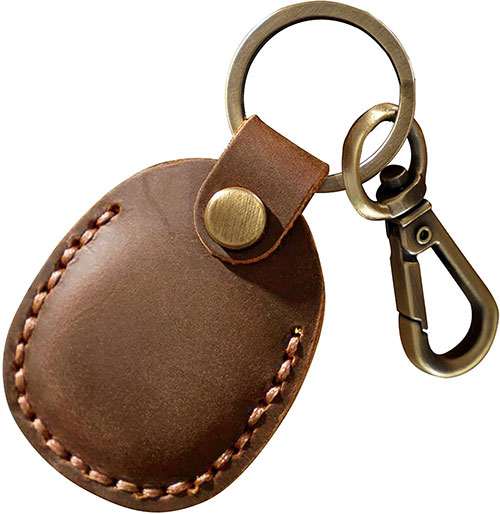 Q1T5 Leather AirTag Case
The Q1T5 Leather AirTag Case has an oblong shape, much like the shape of many key fobs. It's designed to fit right in on your key ring, along with whatever else you're carrying. It's made from genuine leather, which is a catchall term that includes just about any kind of leather. That said, it seems pretty sturdy, and the grain is soft and smooth.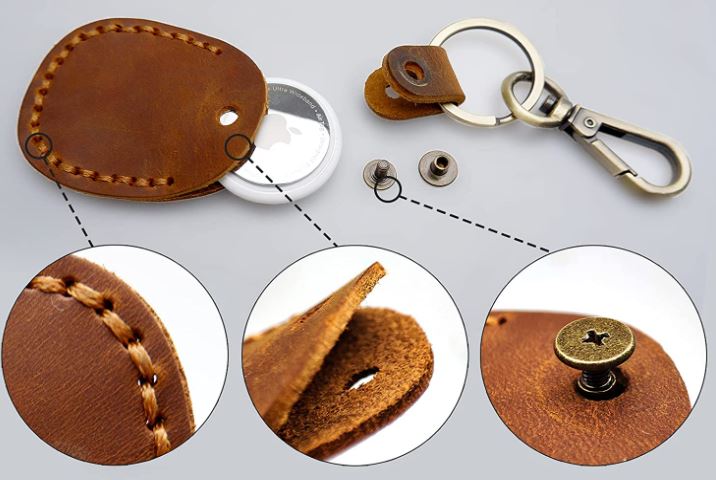 There are six color options available, all of which are a solid color. There's black, light brown, dark brown, red, blue, and green. All the colors are rich and deep, with muted tones that aren't too flashy. Not only that, but the stitching is perfectly matched to the color of the leather itself.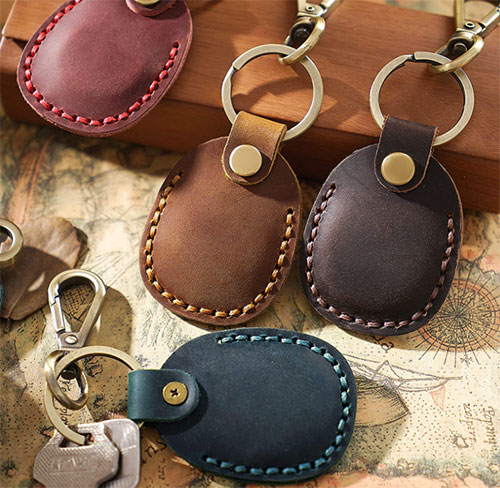 The case is well-sized for the AirTag, and holds it snugly and securely. To help make sure the AirTag doesn't come out the top, there's a wide leather snap closure. The snap itself is a brushed bronze, which matches the key ring at the top. The key ring, in turn, attaches to a matching bronze clasp. This can be clipped onto your keychain, or onto anything else with a clip or a loop.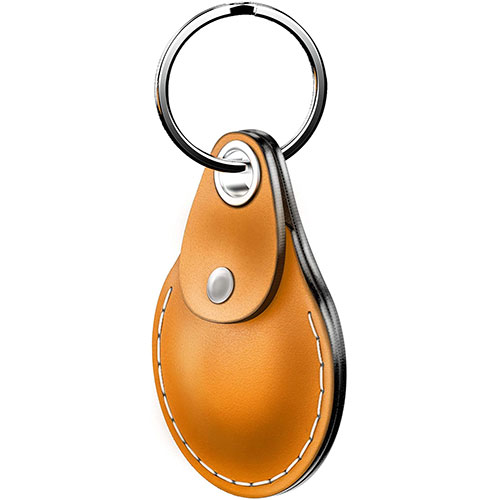 VogDUO Genuine Leather Case for AirTag
VogDUO is famous for marrying modern technology with classic leather design. Not long ago, we reviewed their 65W USB-C charger. This is an effective, efficient charger that's wrapped in an attractive leather sleeve. When we saw that they made an AirTag case, we were excited to try it out.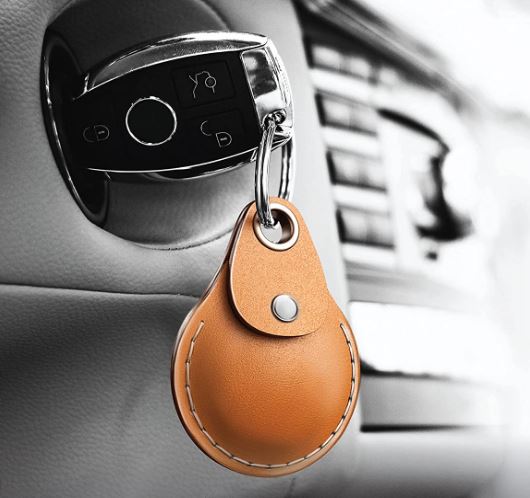 The VogDUO Genuine Leather Case for AirTag has a round profile, designed to hug tight to the sides of your AirTag. It's made from genuine leather, which once again isn't that reassuring, but it seems tough enough. It's also easy on the eyes, with a smooth finish, and three different color options. It comes not just in tan, but also in black or camo, and all three varieties have white stitching.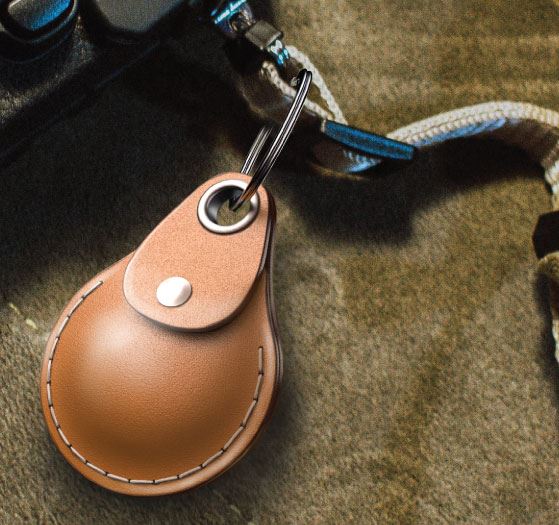 The top of the case closes with a snap, with a broad closure flap that's almost as wide as the entire case. Just above the closure, there's a grommet, which attaches to the bottom of a small lanyard. The lanyard is somewhat flimsy, with a slender little wire attaching it to the fob. Then again, it's not like you're going to be yanking on your AirTag case to begin with. Meanwhile, the lanyard is easy to attach.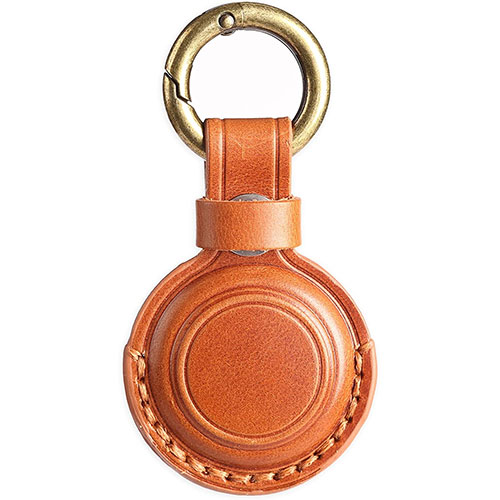 KEEPXYZ Genuine Leather AirTag Holder
The KEEPXYZ Genuine Leather AirTag Holder is made from genuine leather, like the name implies. It's tan in color, with a smooth, soft finish that seems to be of reasonably good quality. The profile is round, with a ribbed front that conforms to your AirTag's concave shape.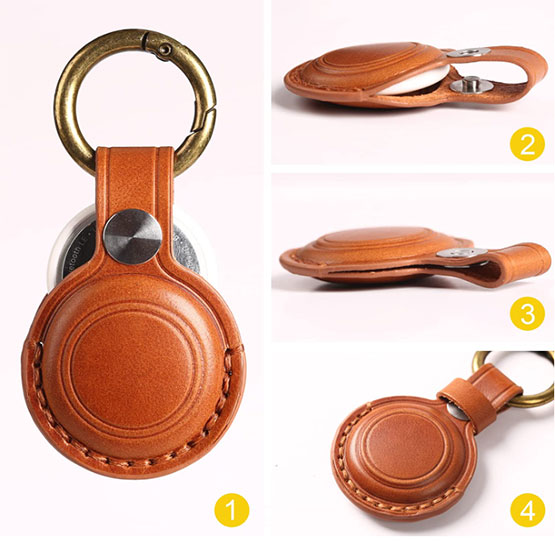 The closure on this case is very unique. Instead of being stitched all the way around, the fat stitches only go around the bottom half of the circumference. At the top, there's a snap closure, which can be used with any keychain. However, there's also a little leather ring that matches the case. It slides over the snap strap, and wraps around the snap to keep it shut.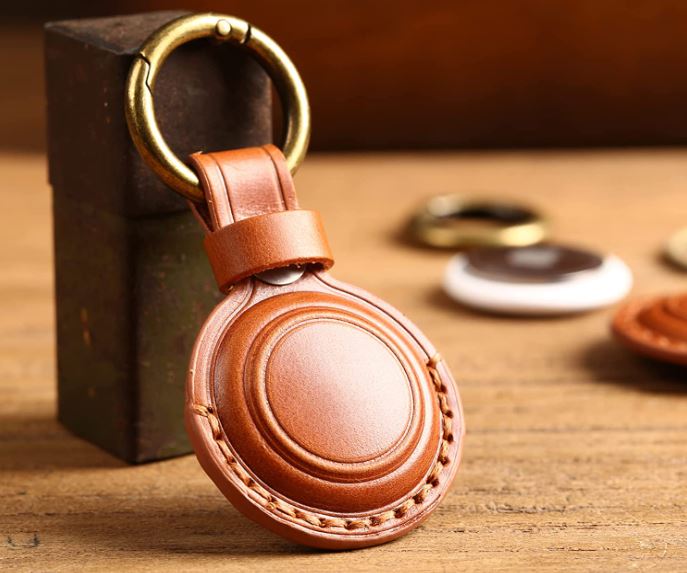 To use the ring closure, you'll need the special hinged key ring that comes with the case. There's also a matching ordinary key ring, which can be used without the ring closure.
Which AirTag Sleeve is Best?
All five of these AirTag sleeves and cases are well-designed. But which one is the ideal choice for you?
We started out by reviewing the Harber London Leather AirTag Case. This is a quality rectangular case with a rugged metal clip. It's also very attractive, with its black-on-tan snap strap.
The Harber London Leather AirTag Sleeve has a beautiful round design. In most ways, it's similar to the other Harber London case, including the full grain leather construction. However, it has a drawstring closure that's pretty unique. It's also easy to attach to bags and luggage.
The Q1T5 Leather AirTag Case gives you the most color options. With red and green, among others, it's a bit more playful than our other choices. It's also well-designed, with attractive brushed bronze hardware. And with the easy-to-use clip, it can be attached to almost anything.
The VogDUO Genuine Leather Case for AirTag has a form-fitting circular design. The three color options are all attractive, as is the contrasting white stitching. We also liked the grommet at the top, and the lanyard, while slender, is a nice added touch.
The KEEPXYZ Genuine Leather AirTag Holder is notable mostly for its unique closure. With both a snap and a ring, it's much less likely that your AirTag will accidentally pop out. We also liked the hinged key ring, which is perfect for use with the closure mechanism.