If you're a dog owner, you probably already know how much they love to burn energy. Whether it's a long walk, a fun day at the beach, or just running around outside they have a blast. One of the most common things they love is to play fetch.
Some dogs are pretty good about fetch. They'll wait for you to throw the ball, chase it down, and bring it back a few times. Other dogs want to play this game over and over and over. Regardless, it can be a bit tiring to try to get the ball from them, throw it, and wait for them to bring it back. So what's a good solution to the issue? An automatic dog ball launcher.
What is an Automatic Dog Ball Launcher?
These are some seriously cool machines. They are compact devices that can hold various kinds of balls within them. When in use, they take one ball and launch it in the opposite direction. Your dog gets to chase it down and bring it back to the machine rather than you. These machines also have a cool feature in that the dogs can reload them themselves. Each device has a curved hole in it for the dog to drop the ball in. Then the ball gets loaded back into the machine to prepare for another launch.
How Far Can an Automatic Dog Ball Launcher Throw a Ball?
One concern with a ball launcher is just how far it's going to be able to throw the ball for your pet. However, most machines won't have any issues. The average distance they can throw a ball is between 10 to 80 feet. Different models can let you set how far you want it to go, while others have it completely random to keep your dog guessing. Regardless of having a small yard or an open field, these launchers are sure to keep your dog happy.
How Does an Automatic Dog Ball Launchers Powered?
There are a few different ways these devices are powered, all of which will vary depending on the model you choose. Some use a power cord that needs to get plugged into the wall or an extension cord. These are great to keep from forgetting to charge them but do require you to be relatively close to a power source. Others are operated on rechargeable batteries. This is great for portability or use where power isn't available. Just keep in mind that they will die eventually and need recharging, so your pet may have more energy than they do.
Can I Use Any Ball With an Automatic Ball Launcher?
That depends. Each model will come with different specifications for what is compatible to be used. Many of them come with balls included to use. However, as we all know dogs tend to destroy their toys over time. Each model will have different size compatibilities listed so you can easily go online or to your local pet shop and get them some replacements.
Safest and Smartest: Uahpet iRetriever Automatic Dog Ball Launcher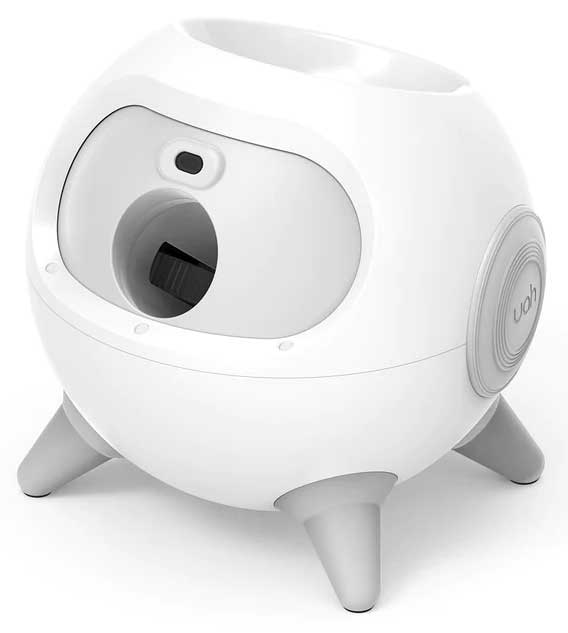 Key Features:
Launches up to 80 feet
Powered via plugin or rechargeable battery
Intelligent dog avoidance system
Launch Distance:
The Uahpet iRetriever is an innovative new automatic ball launcher. There are multiple settings for distance, starting at 10 feet and going all the way up to 80 feet. This makes it perfect regardless of the play area available for your dog. This launcher can shift left and right to give additional angles for your dog to chase. It's compatible with tennis balls and other styles as long as they are 2.5 inches in diameter.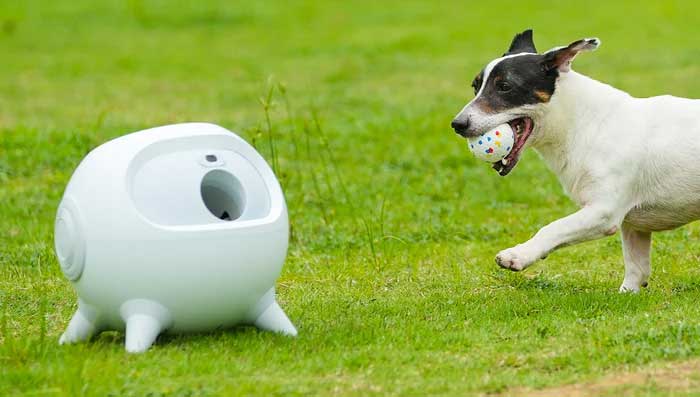 Safe Pet Avoidance:
One cool feature of the Uahpet is the pet avoidance technology. This innovative system has a sensor on the front that sees when your dog is right in front of it. When this happens, the launcher will shift away from your dog before launching a ball. This helps keep your pet from getting injured.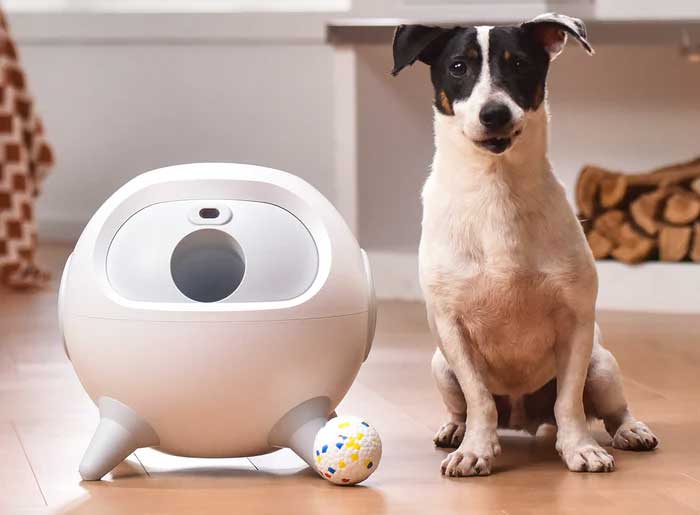 Puncture Resistant Ball:
Another great feature of the Uahpet is the two included E-TPU tennis balls. They are made with puncture-resistant materials that are also tear-proof. This makes sure they can stand up to long hours of play. Additionally, their textured surface allows them to still launch even when wet.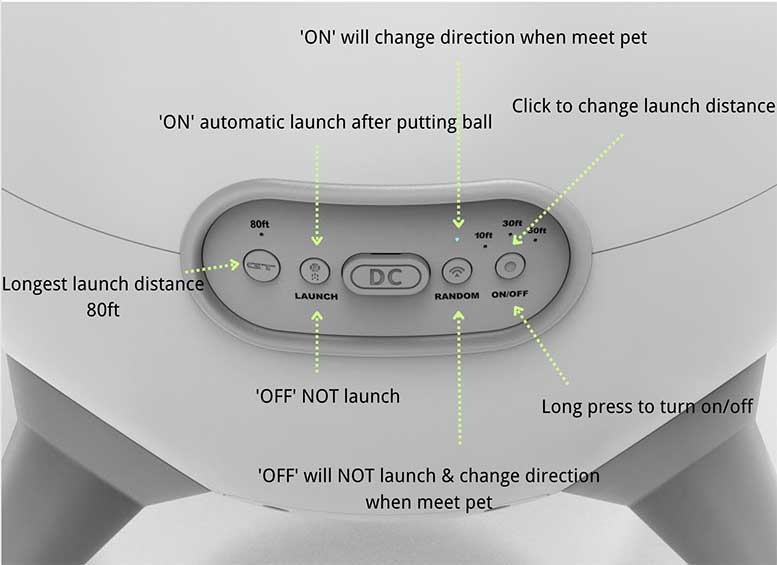 Wireless and Portable:
The Uahpet iRetriever is a relatively compact device. Its dimensions are 11.8 x 12.2 x 11.8 inches and weighs 6.3 pounds. The overall design is spherical with four legs on the bottom. The size and design allow it to easily be stored away and taken with you on the go wherever you want to use it. As for power, there are a couple of options. It can be powered continuously through AC adapter power. If you aren't near a power source, it has an internal rechargeable battery. This battery stores 4000mAh of power. When in continual use, this will allow it to launch over 200 times before needing to be recharged.
The Uahpet Retriever Dog Ball Launcher Campaign will be launching on Indiegogo on June 19th. Don't miss out on this limited-time opportunity! The regular price for this amazing product is $239, but if you act fast, you can grab the early-bird price at just $170. Plus, if you pre-register, you can secure an even better deal at only $150.
Pros:
200 launches of battery life
Included durable balls
Pet avoidance feature
Cons:
May not be suitable for small breeds
Greenvine Automatic Dog Ball Launcher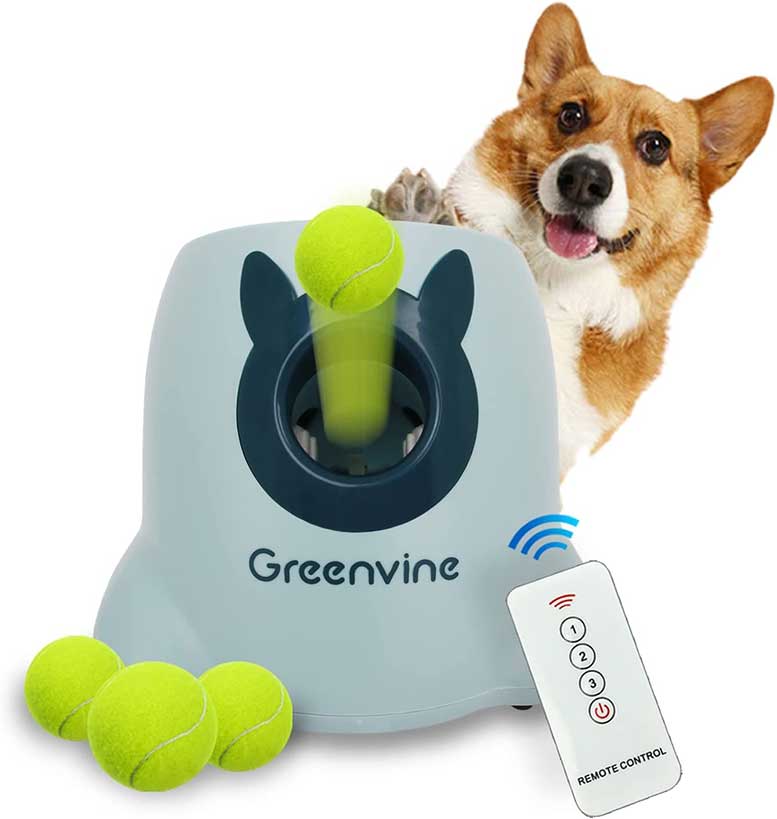 Key Features:
Launches up to 30 feet
Powered via cord or batteries
Included remote for easy control
The Greenvine Automatic Dog Ball Launcher is another great machine with some cool features. It's capable of launching balls up to 30 feet away. There are multiple settings to launch them 10, 20, and 30 feet. There's also a setting to randomly choose between those three to keep your dog guessing each time. Additionally, it's compatible with mini tennis balls up to 2" in diameter. Included in the package are 6 to use right away. However, as these get gross and damaged you'll need to replace them as they will stop working in the machine over time.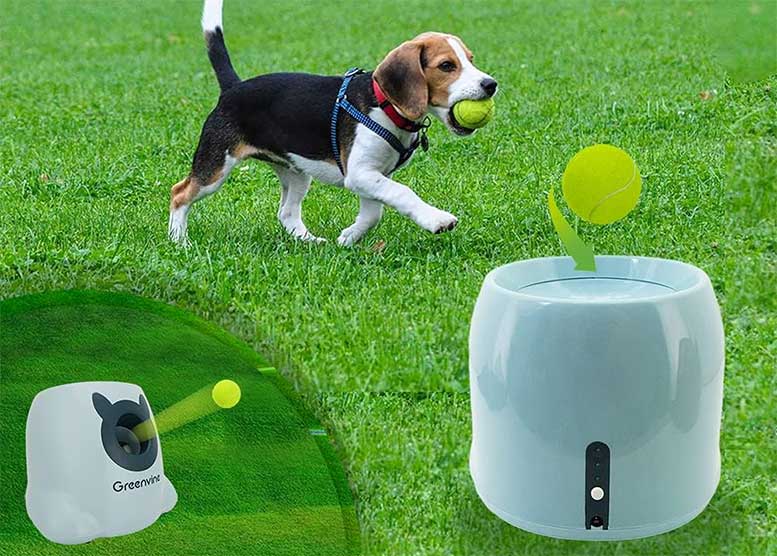 Since it's designed for use with smaller dogs this launcher is compact as well. It comes in at 10.2 x 10.6 x 8.3 inches and weighs just under 3 pounds. As for power, it has two different ways to operate. The first is through the included power cord which is approximately 56 inches long. If you prefer a wireless option it can run on batteries as well. However, these batteries are not included so you'll need to purchase them separately. There isn't an option to recharge straight out of the box.
One great feature of this launcher is its remote control. While you can control what the launcher does via buttons on the device itself, it can also do so via remote. This allows you to change it from its 10, 20, and 30-foot settings easily. However, if you want to use random mode you'll have to do so through the buttons on the back of the launcher.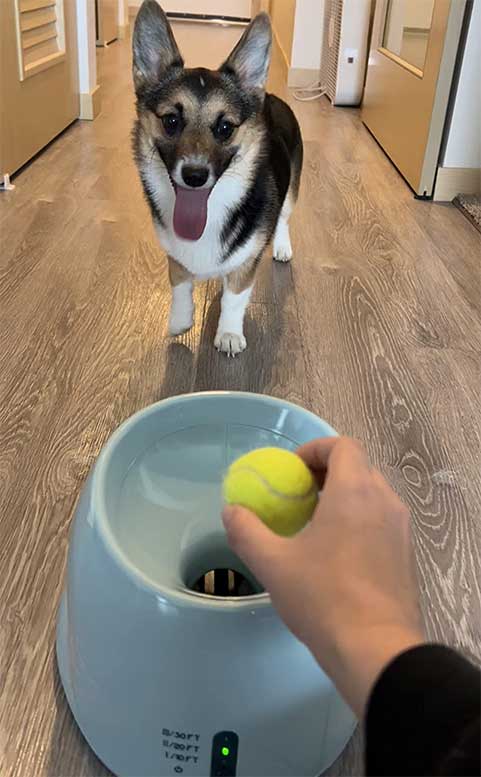 Another great aspect of this launcher is it's designed with small dogs in mind. Where some launchers only think of the bigger breeds, the Greenvine works with the smaller style of a tennis ball. Doing so also allows it to be used more safely indoors where your smaller dogs may spend most of their time.
Pros:
Designed for small dogs
6 tennis balls included
Dual power options
Cons:
Only launches up to 30 feet
IDOGMATE Dog Ball Launcher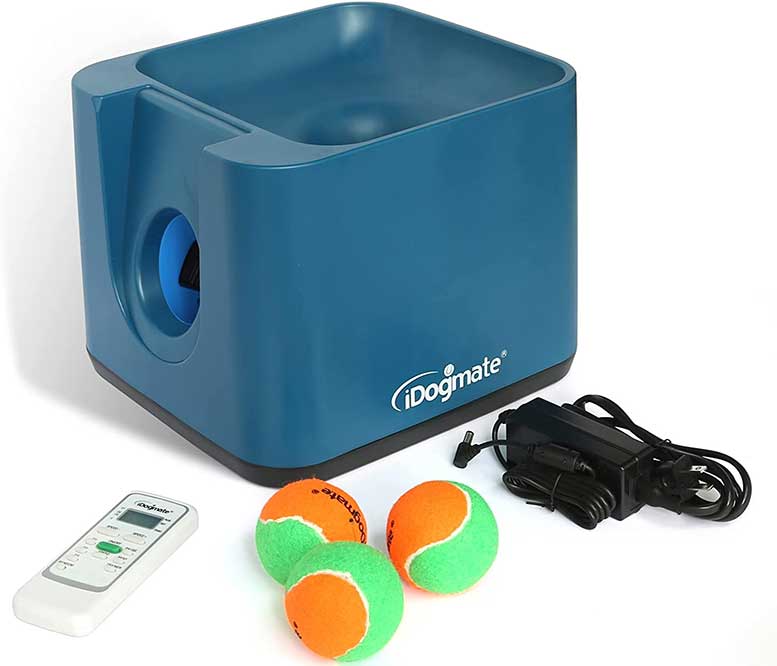 Key Features:
Multiple launch distances
Power cord or rechargeable battery power
Trainer mode to control when it launches
The IDOGMATE Dog Ball Launcher is great for those who want to participate in using it as well. It uses a booster design with dual wheels to launch balls out of it at various distances. While they aren't specific about what the actual distances are, it has three different choices (D1, D2, D3) to choose from. As for ball compatibility, this launcher uses balls up to 2.5 inches in diameter. This makes it great for medium to large-sized dogs. Included in the package are 3 tennis balls for immediate yet.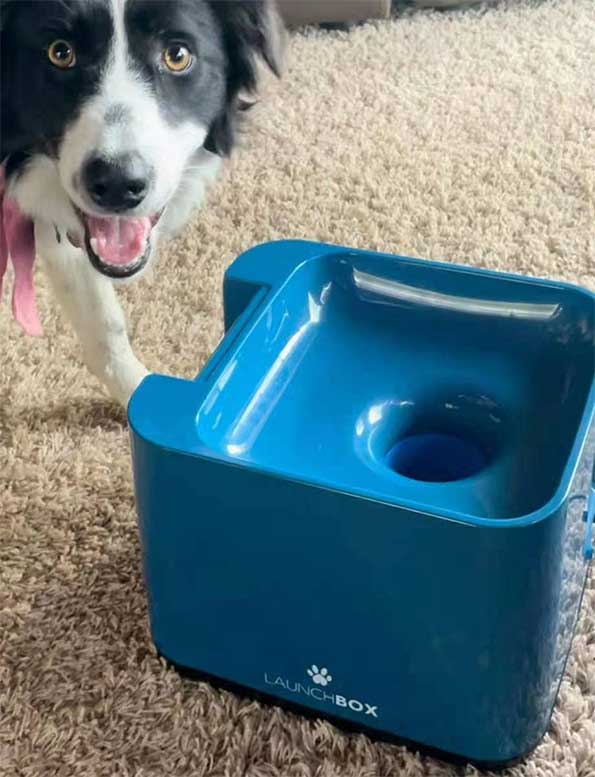 The dimensions of this ball launcher are 11.81 x 10.83 x 8.78 inches and it weighs 6.06 pounds. This makes it slightly larger than the option from Greenvine and almost twice as heavy. However, this size isn't the end of the world and still should be able to be carried around relatively easily. It can be powered via a power cord or batteries. The batteries are included with this launcher and are also rechargeable.
One of the coolest features of this launcher is the robust remote control. It has multiple buttons to control all aspects of the device. You can control functions such as power, distance, speed, pause, and trainer mode. Trainer mode allows you to take control and launch the ball when you want to. This lets you pair playtime with training time, and also keeps your dog from being hit by a ball.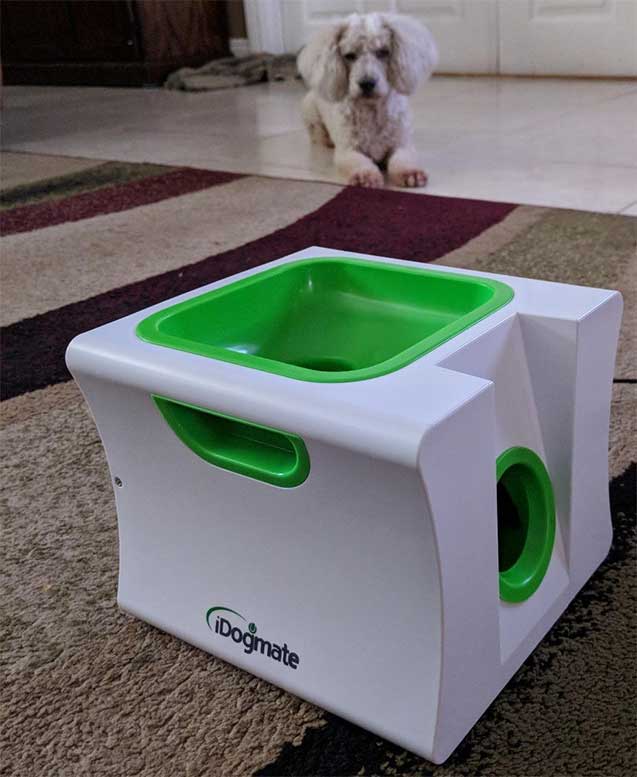 Another great feature of the IDOGMATE is the capability of its launch tube. This design allows it to launch tennis balls regardless of them being wet or slobbery. However, they cannot be warped, twisted, or broken, or else the machine will have performance issues.
Pros:
Robust remote control
Trainer mode
Boosted launch feature
Cons:
Some users note 2.5 inch tennis balls don't always work
Franklin Pet Ready Set Fetch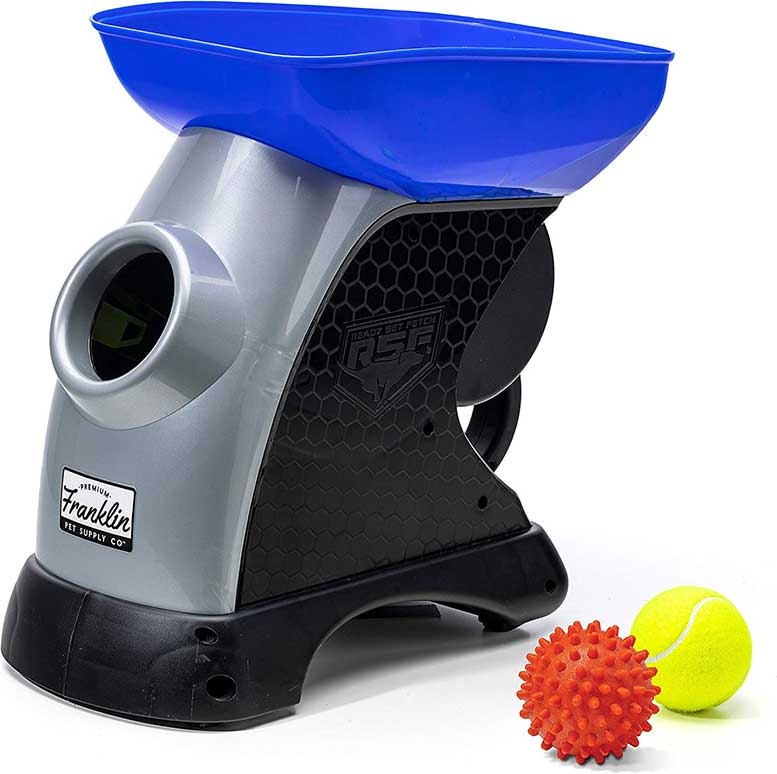 Key Features:
Launches up to 50 feet
Cord or battery powered
Manual launch angles
The Franklin Pet Ready Set Fetch ball launcher uses manual changes to keep your dog entertained. The distance this device can launch tennis balls ranges from 10 to 50 feet. This is controlled by a distance knob as well as angle changing. Angles can be set via the manual setting of feet height on the bottom. As for ball compatibility, it works with up to standard 2.5-inch balls.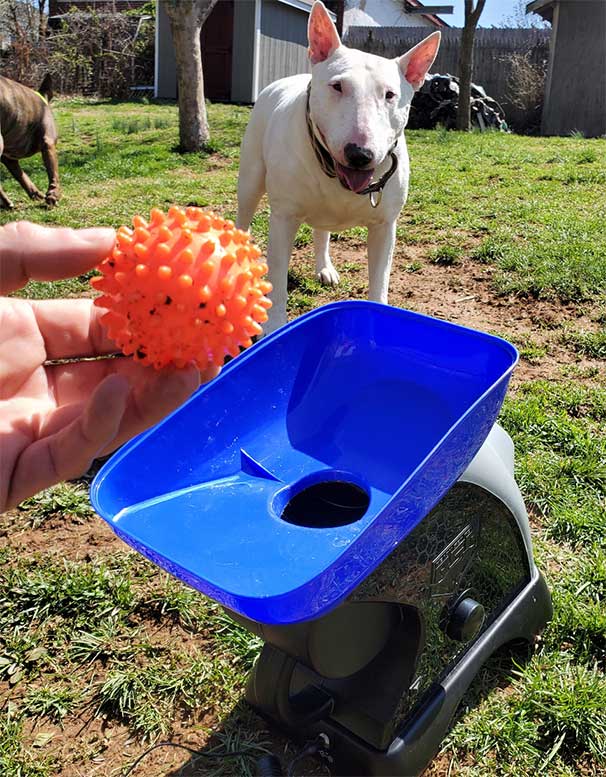 This launcher has dimensions of 12 x 8.75 x 14.25 inches, making it the tallest option on this list. This may make it harder for smaller dogs to reload it on their own. Similar to other options, you have two choices for powering this ball launcher. It comes with a power cord and adapter included in the box. You can use batteries as well if you prefer, however, they are not included in the packaging.
One cool feature of this ball launcher is the balls it comes with. It comes with two options. The first is a standard tennis ball, which is easily replaceable. The second choice is an all-weather ball. This is a red ball of about the same size that has textured spikes covering the entire outside. This is safe to use on days when the ground is a bit wet.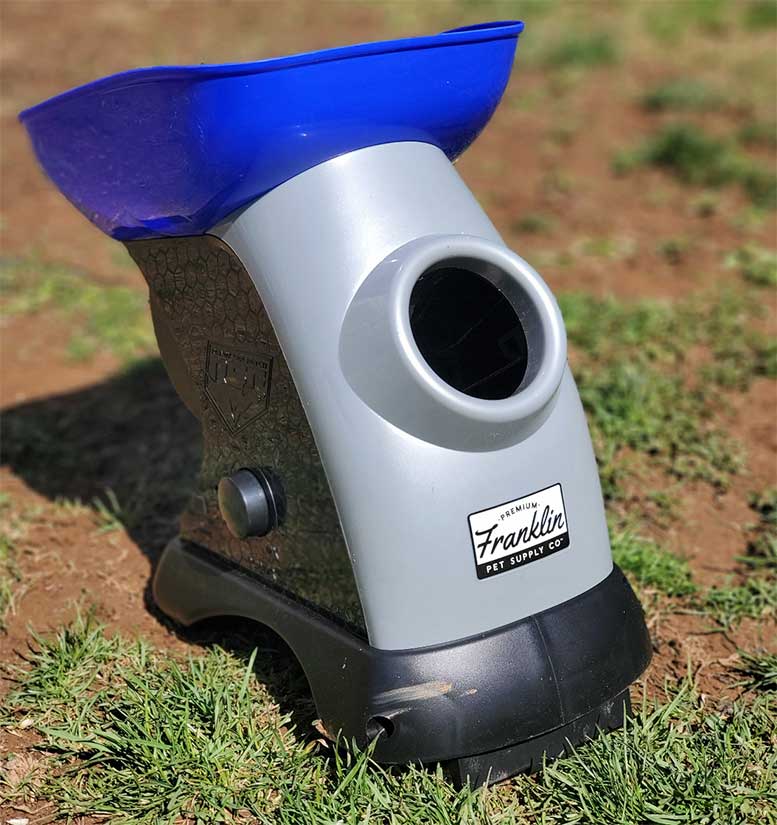 Another great feature that the Franklin Pet Ready Set Fetch has is related to safety. While it can be operated by just dropping a ball in and having it shoot as soon as it's ready, there is a way to warn your dog. There's an optional warning sound that can be turned on to help make sure your dog won't get hit by a ball when they aren't paying attention.
Pros:
All weather ball is included
Manual angle changing
Cons:
May be too tall for some dogs
iFetch Too (Large) Interactive Ball Thrower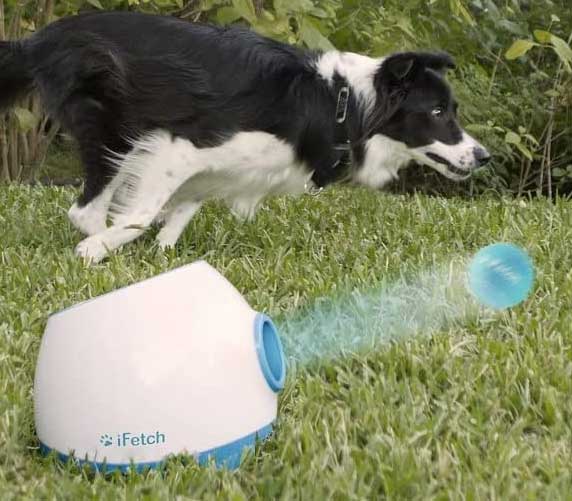 Key Features:
Launches up to 40 feet
Runs on rechargeable batteries
Great for medium to large dogs
The iFetch Too (Large) Interactive Ball Thrower is another solid choice to look at. It can be used with balls up to 2.5 inches in diameter. These balls can be launched either 10, 25, or 40 feet away. These distances can be changed easily along with a random mode right on the launcher itself.
It's one of the larger options out there, with dimensions of 14 x 13.5 x 12.5 inches and a weight of 8.25 pounds. This makes it a bit more difficult to take with you on the go. However, it is designed to travel when it comes to power, It's powered by an internal rechargeable battery to help it last for hours of use.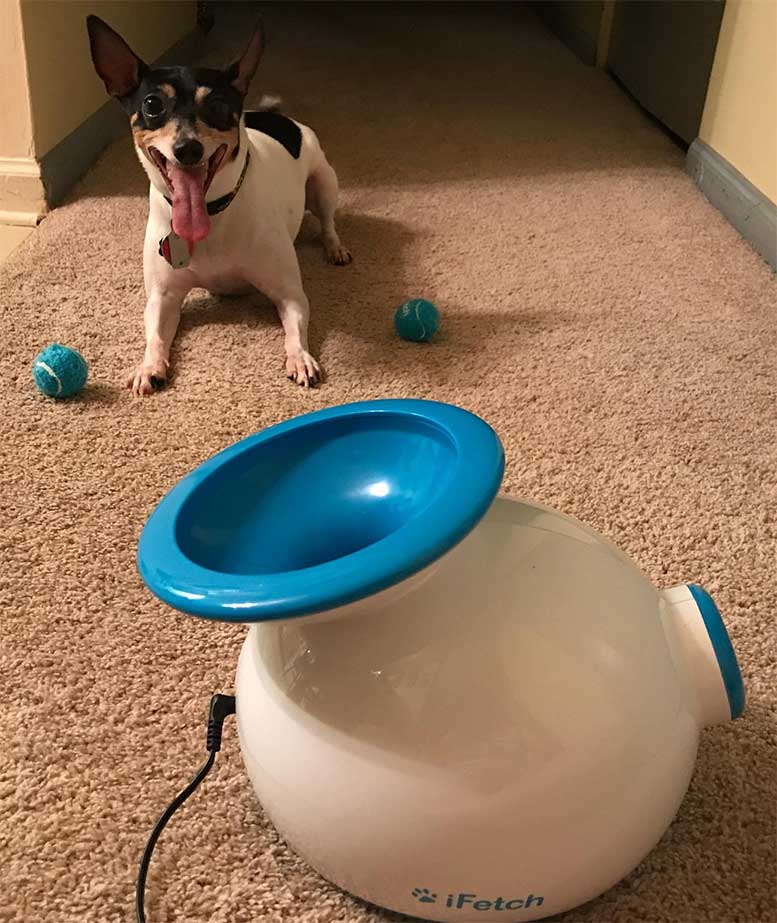 One great feature of the iFetch is its focus on use both indoors and outdoors. When used outdoors, you can be satisfied with up to 40 feet of launch distance. If you prefer to use it indoors, you can set it to only launch the shortest distance possible. This helps to ensure it won't break anything while in use.
There are also 3 non-abrasive tennis balls included in the packaging. They are pet-safe and sure to work well in this machine. When you need replacements, simply look for a 2.5-inch tennis ball that is safe for your pet and keep the fun going.
Pros:
Included rechargeable batteries
Designed for indoor and outdoor use
Random distance mode
Cons: