Traveling is great. Arriving at your destination to discover none of your electronics work, that's not so great. The good news is that choosing the right travel adapter isn't that tough. But if you're trying to make the right selection, you'll want to know some basic things about electrical currents. And you're going to want to think about the types of devices you'll be bringing with you on your trip.
Selecting an International Travel Voltage Converter
With the help of some simple precautions and preparedness, selecting an international travel voltage converter can be fairly simple. But if you don't know anything about electrical current, choosing the right travel voltage converter can be almost impossible. Even if you're just glancing at the box of a travel converter, you'll see about a dozen different specifications and standards listed. Which of those numbers matter, and which don't?
Note: At no extra cost to you, we may earn a commission for purchases using our links. Learn more.
In most of North America, electrical circuits are constructed to support 110/120 voltage with an alternating current (AC) at 60Hz. By contrast, the majority of Europe has an electrical standard of 220/240V. That's a much higher electrical potential, but it's brought down by fluctuating between conductors at a slightly slower rate of 50Hz. And that's just one of many international standards.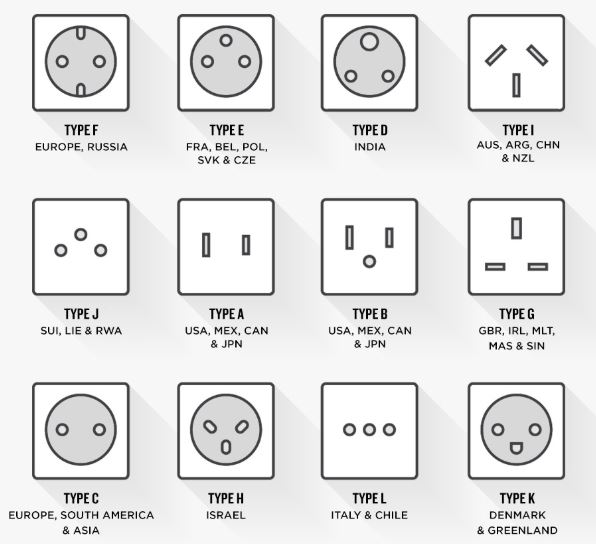 Plug Types
Across the globe, there are 14 plugs which see widespread use, but only six of them are very common. These plug types have a variety of names, most commonly referred to by a single letter designation.
For example, Americans use A and B type plugs. Most of Europe and Russia use F type, but C type is also quite common in Europe. The I type plug is particularly common in New Zealand, China, and Australia. And finally, Singapore, Ireland, Malaysia, and most of the UK use their own Type-G plug.
Other types exist, but are exceptionally rare, and often only used in one country. If you're traveling off the grid, you'll want to be certain that the region you're visiting uses a type matching the travel voltage converter you choose. And keep in mind, the type of plug a converter offers is not imply it's electrically compatible in other ways.
Wattage Requirements
Take a look at the maximum supported wattage of any given travel voltage converter. Many converters will only handle 100 watts or less, which is generally reflective of being cheap and poorly made.
Most worthwhile travel voltage converters offer close to 200 watts. That's not enough to power some types of devices, like hair dryers. For charging or adapting common electronics to work on a different power grid, like cameras, smartphones, and tablets, it's more than adequate. Just don't expect to start running an industrial freezer, at least now without giving up portability in exchange for sizes which are not befitting of traveling.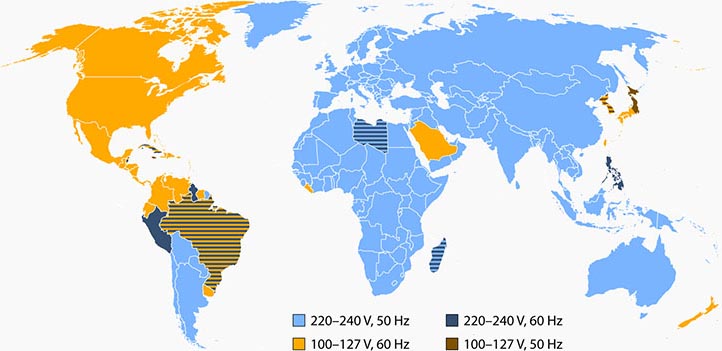 Voltage Requirements
Some travel adapters provide the right plugs for your travel, but fail to actually change the voltage of frequency of the current. Those adapters are for people who have electronics with the appropriate voltage output to begin with, but simply lacked the correct physical plug.
But when you plug in your electronics without voltage conversion, they'll get fried, and you'll get angry. That's why you need to remember, some devices only need a socket adapter, and do not need a voltage converter. For example, many laptops have voltage converters built into to them.
Some of your devices will be fine using either a 240V or a 110V outlet, but don't just assume compatibility. Your stuff will literally fry and break if you run it through inadequate power, even if it seems to be working initially. Fortunately, figuring out the electrical standards of your devices is usually as simple as looking at charging cables, reading labels, or checking out manufacturer websites.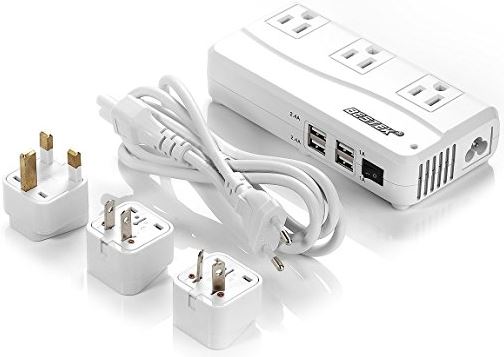 BESTEK Universal Travel Adapter
The BESTEK Universal Travel Adapter provides wide support for more than 150 countries. As long as you're not traveling well-off the beaten path, this adapter can live up to its claims of universality. It includes 1 EU power cable as well as three international adapters.
And its all-in-one design helps convert US standard 110V to 220V, helping you safely charge your stuff while traveling. Across each of its ports, the BESTEK universal adapter supports a reasonably high 200W, which ought to be enough for anyone who isn't bringing along a washing machine on their trip.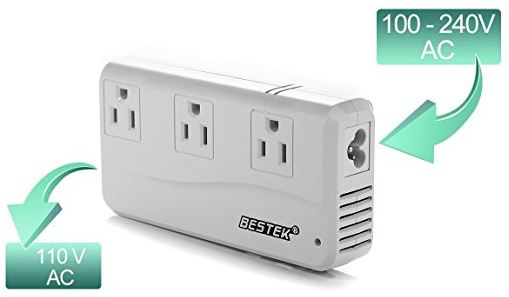 Build & Design
The travel-oriented design of this adapter is clear, as it sits at a modest 6 x 3 x 1.6-inches. The included 5-foot power cable is detachable, which is intended to make it even easier to pack-up and disassemble. And the multi-plug layout of this adapter enables you to charge as many as seven devices at the same time.
There are four USB charging ports, and three standard AC plugs, each offering 6A. The USB outputs are electrically isolated from the AC power, keeping your stuff safe from being fried. And the BESTEK adapter goes on step further, providing protection from overload, overheat, short circuit, and overcurrent protection. The overheating protection is facilitated with the addition of a small fan.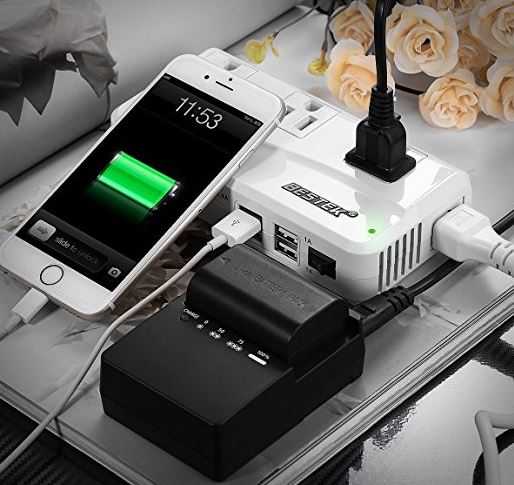 Other Considerations
This adapter weighs about one pound, cable included. As you travel, be sure to not use appliances rated for 220AC and beyond. The AC output is 100-120V. Additionally, be sure not to plug in a hair dryer or curling iron, even if they fall within the 200-watt output provided by this device.
The problem is how these devices work, and their gross consumption of power is a recipe for disaster on all but the bulkiest and most expensive converters. In other words, converters not intended for travel. But if you can follow those guidelines, then you'll be well served by this travel adapter.
Finally, the BESTEK Universal Travel Adapter includes a 2-year warranty. Travel adapters tend to have few parts which are prone to breaking, but the extra security of a warranty is always worth consideration.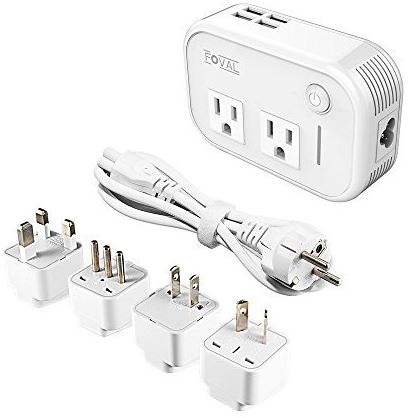 Foval Voltage Converter
As with the BESKEK voltage converter, this Foval Voltage Converter provides a near-universal design, spanning support for over 150 nations across the globe. It has an identical maximum wattage, providing the 200W of power you'll need to charge laptops, smartphones, cameras, and similar devices. But what really sets this device apart is the highly compact design, which is slightly better suited to traveling alone than with others.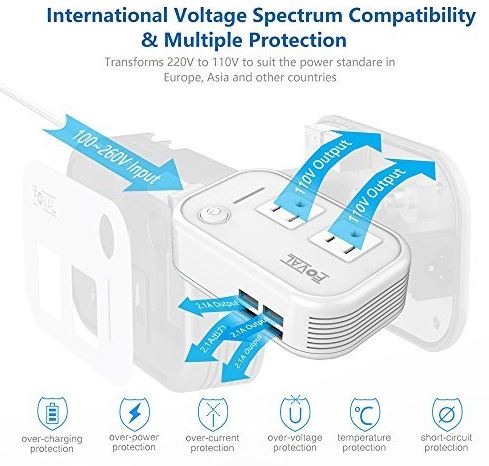 Build & Design
The Foval Voltage Converter rests at 4.8 x 3.1 x 1.5-inches. The Foval Voltage Converter fits inside a suitcase with relative ease. It weighs just short of one pound, which shouldn't push you over the limit for baggage weight limits.
Among other travel voltage converters, it's one of the smallest feature-rich selections on the market. The compact design resembles a power strip that's been cut in half, albeit a little thicker. Along its face you'll notice support for two standard American plugs, as well as four USB 5V/2.4A USB ports.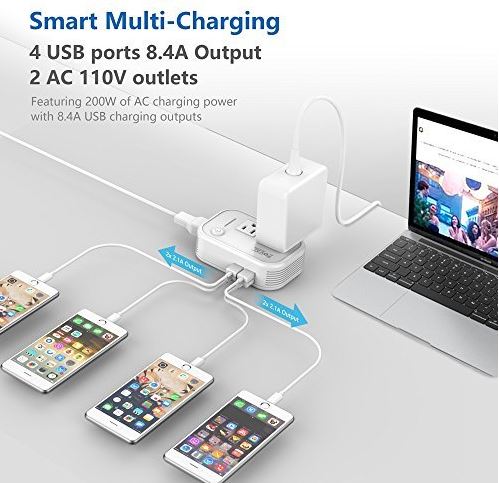 Other Considerations
The Foval converter includes plug F, G, A, and I. Those plugs cover most of Europe, the UK, Oceania, and much of Asia. Along with its cooling fan, this converter provides short circuit protection, surge protection, and all the other modern safety standards. But the Foval Voltage Converter is constructed for 100V-120 V/AC conversion, don't use it for 220V-240 V/AC products.
Voltage converters can get hot. If you're actually pushing up against the 200-watt limit of the device, you'll be glad they've used an onboard fan in the interests of safety. And the fan uses a ball bearing for stable and quiet operation. But you should know that bearing fans have a finite lifetime, and after half a decade of constant use, there's a good chance the fan will start to make more noise.
And after a couple years of having a noisy fan, your overheating protection will be gone, at which point you'll want to replace your travel voltage converter. That or consider moving to the country where you've spent the last decade using a voltage converter before needing to replace it.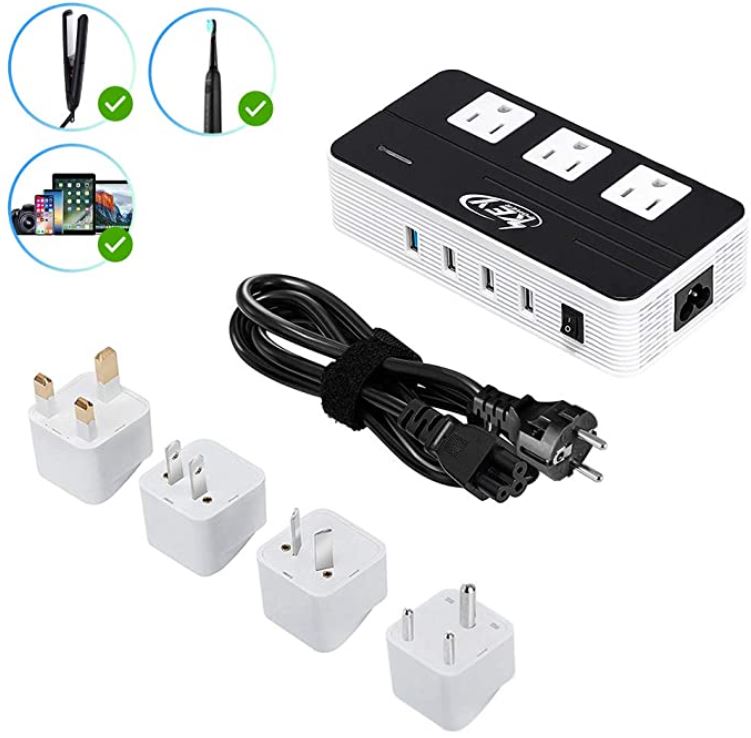 Key Power Voltage Converter
The Key Power Voltage Converter is yet another travel voltage converter that is ready to take your electronics into more than 150 countries. It supports the full 200-watt range most travelers are looking for, the cable can be detached for simpler storage, and is remains continually travel friendly in each little design decision Key Power has made. And naturally, it provides 220V to 110V conversion, providing you the confidence to charge your electronics without having to worry about frying them.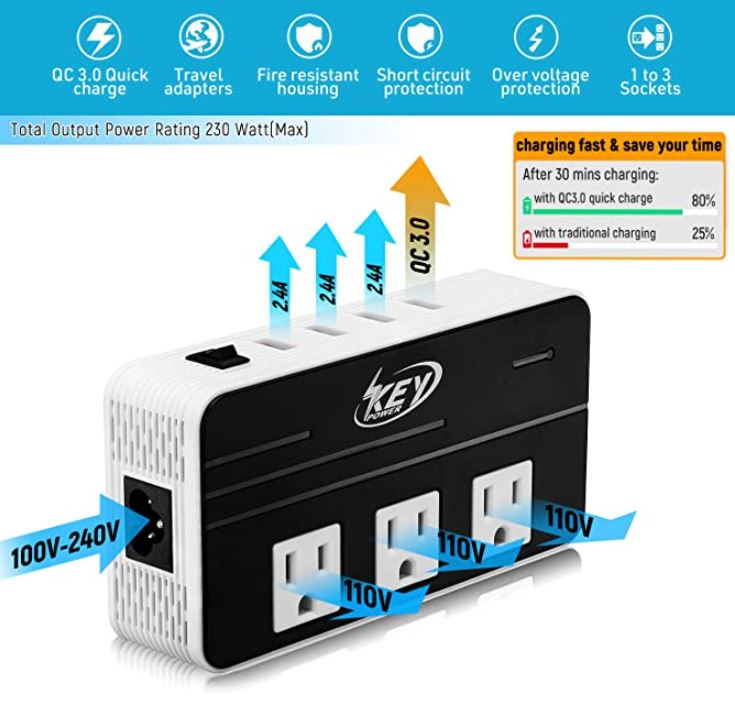 Build & Design
The Key Power Voltage Converter is fairly space conscientious, with a lengthy yet slim 6.2 x 3.2 x 1.6-inch build. It weighs about one pound, making it the heaviest converter on this list, while still remaining lightweight enough for travel. And equally important, it's as simple to use as plugging in your stuff.
Along the face of the device, you'll find three standard AC plugs outlets. Along the topside of the converter, you'll find four USB ports, each providing 5V/2.1A. And the onboard cooling fan is generally too quiet to hear during its operation, but you can hear it if you're within a couple feet of the converter.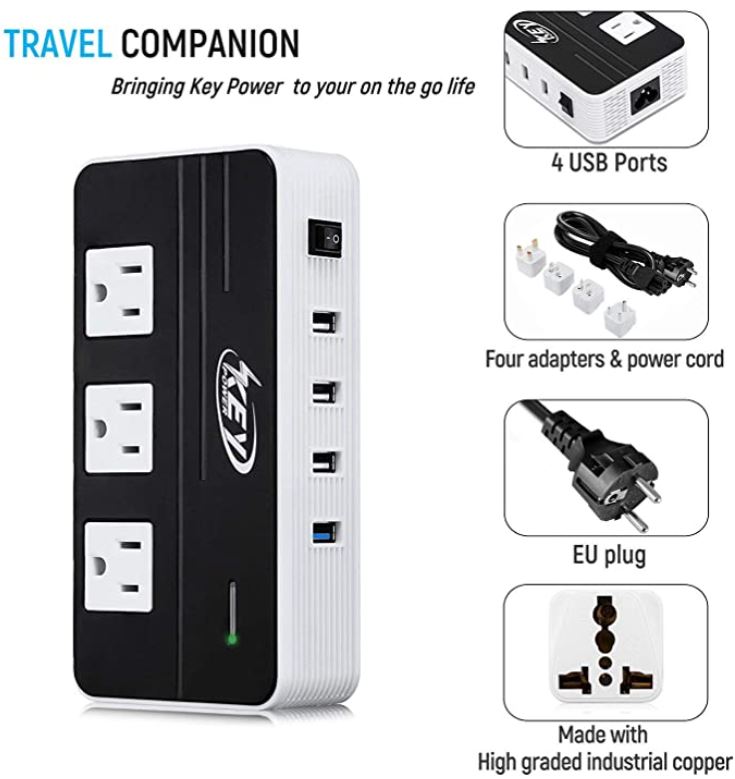 Other Considerations
The Odogo Travel Voltage Converter provides the same short circuit protection overheat protection, silent fan technology, and other safety features. But it goes one step further, providing a blue LED, which is used to indicate the converters protections are online, and it's safe to plug-in your electronics. If your converter happened to break during travel, or happened to wear-down from heavy use, having the extra assurance from the LED could end up saving you quite a bit of money and frustration.
This kit includes the 200W power converter, a protective traveling case, one EU power cord, three universal outlet plugs. It also includes a one-year warranty, and customer support. Note however, it's not equipped for 3-prong outlets in Italy, Brazil, Chile, South Africa, Switzerland.
Choosing Between 3 Great International Travel Voltage Converters
The Foval Power Step Down converter is the most compact of member of this group. It only has two power ports, which makes it better suited to two people traveling light, or one person traveling alone. The 5-foot detachable cable only furthers convenience, and the two-year warranty is hard to miss. It's a great converter for someone who's trying to travel light, can someone who doesn't really plan on traveling with six laptops anyway.
The Key Power Voltage Converter shares the same wide standards, safety, and support features as the other converters on this list. It provides three power outlets and an extensive array of USB ports. The USB ports charge at terribly average speeds due to their 2.1A capacity. But the blue LED smart-light feature does provide an extra layer of assurance that you're not about to fry your electronics by plugging them in. That makes the Key Power converter a good choice for people who want to go the extra mile for safety.
Finally, the BESTEK Universal Travel Adapter is the best choice for travelers who prioritize fast charging. The 6A USB outlets available with this adapter are going to drastically outperform their 2.1A counterparts. Yet the BESTEK adapter includes the same detachable cable design, and the same essential safety features. That makes it a great choice for someone who doesn't know how long they have to finish their next charge, and want to make the most of it whenever they can find power.
Please consider sharing:
Note: At no extra cost to you, we may earn a commission for purchases using our links. Learn more.