For anyone interested in traveling from the US to any international location, the main thing you want to be thinking about is all the cool experiences you'll have. Going to new places offers plenty to be excited about. The last thing you want while traveling to a new place is unneeded stress.
One major pain point while traveling can be figuring out how to provide power to your devices like your phone, laptop, cameras, and more. Different countries all have different voltages of power used as well as many different plugs to connect to power.
If you use the wrong plug or power type you could end up damaging your devices, leaving you high and dry on your trip with no immediate fix. So how do you combat this problem to avoid the stress? That's where step-down voltage converters come to the rescue.
These devices come with multiple ways to plug into the wall and then convert the energy it receives into power that US devices can handle. This eliminates the need to buy new plugs for every country you visit. It also gives you peace of mind that you won't overload your devices on accident.
Factors to Consider
Size and Durability: Since you'll be taking this converter everywhere you go while traveling from country to country, you'll want to make sure it doesn't take up a ton of space. You'll also want it to be able to stand up to that much travel without breaking immediately.
Power Outputs: Having ample power outputs is key. Many of these devices come with normal plugs, USB ports, and USB-C ports. Having enough different places to plug in your devices at the same time helps you charge everything all at once.
Types of Power Plugs: Knowing which countries you plan to visit is important when deciding which converter to get. These converters all come with multiple ways to connect to power in different countries. However, not all of them can do everything, so doing your research ahead of time and planning accordingly is a must.
Extra Features: These converters are all designed a little bit differently from one another. Spend some time checking out each one's unique features to see what they have that sets them apart. These features may make them more or less attractive to you based on your travel plans.
Best Overall: Key Power Step Down Voltage Converter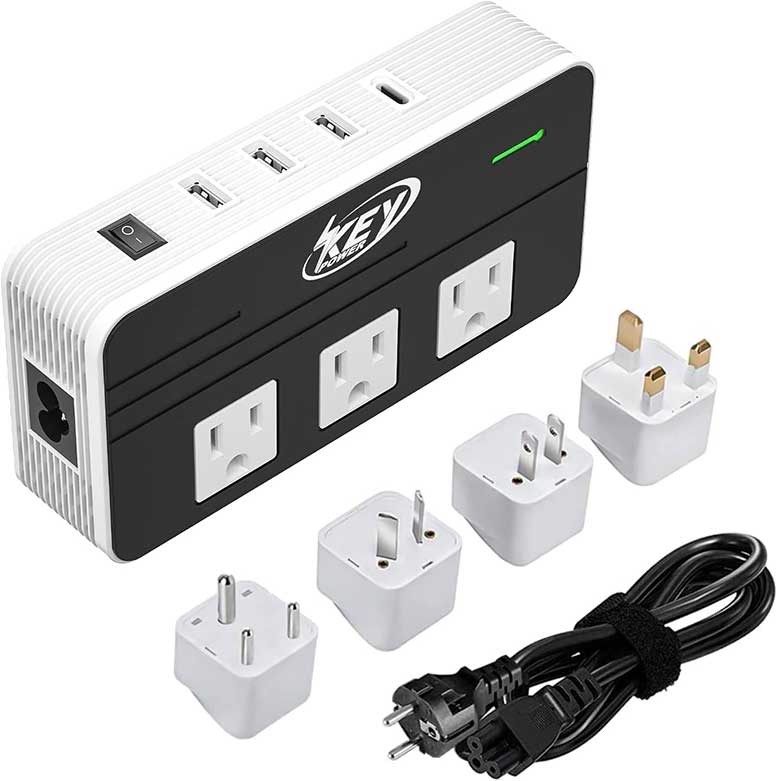 Key Features:
5 power plugs
7 power outputs
Lighted indicator to show power safety
The Key Power Step Down Voltage Converter gives you plenty of versatility for your traveling needs. It's made out of sturdy plastic with metal features.The dimensions are 6.34 x 3.2 x 1.58 inches and it only weighs .78 pounds. This allows you to easily store it in your backpack or luggage while traveling.
When it comes to power outputs, the Key Power converter can power lots of your favorite devices. The face plate has three standard 3-prong plugins, perfect for your laptop and other electronic devices. The side of the converter has three USB ports and a USB-C fast charging port. This is perfect for your various mobile and gaming devices. Additionally, the side has a power switch to turn the power supply on and off.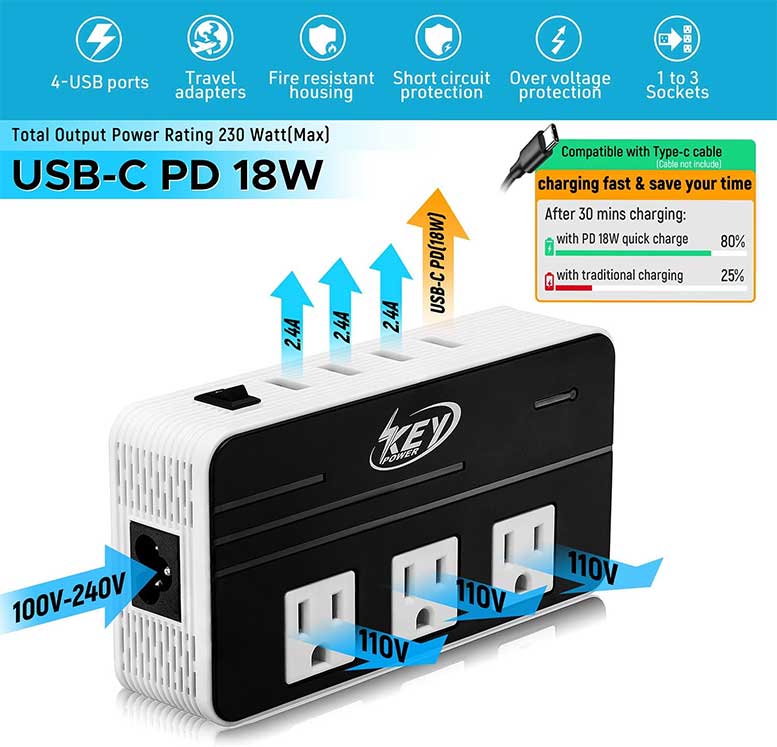 As for power inputs, the Key Power gives a wide range of flexibility. The standard plug has type E/F prongs for EU. There are also 4 more included plugs to help it work in further countries. Type G for the UK, Type A for the US, Type I for AU, and Type D for IN are all in the box. These plug options give it functionality in over 150 countries.
One cool feature is the additional light for safety. This light shows whether the converter is working normally, or if it's protecting from overload threats at the moment. This is an additional step in keeping your devices safe.
Pros:
Compatible in over 150 countries
Safety light feature
Power 7 devices at the same time
Cons:
Doesn't work in South Africa or Italy
Best Alternative: ALLWEI International Travel Adapter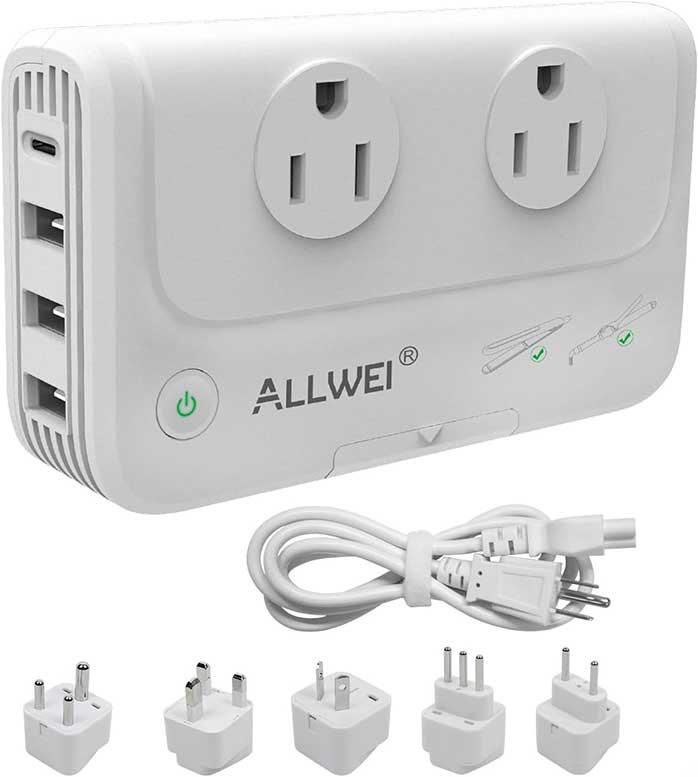 Key Features:
6 power plugs
6 power outputs
Included phone stand
The ALLWEI International Travel Adapter is another solid option for those looking to explore the globe. It's made of all-white plastic, weighs 1.34 pounds, and is 4.9 x 2.9 x 1.2 inches. This size still allows it to travel with you without too much trouble.
The power outputs on the ALLWEI give plenty to be happy about. There are two standard 3-prong plugs on the main faceplate of the device. Additionally, there are three USB-A ports and a USB-C fast charging port on the side. With a total of 6 power outputs, you shouldn't have any issues charging your multiple devices.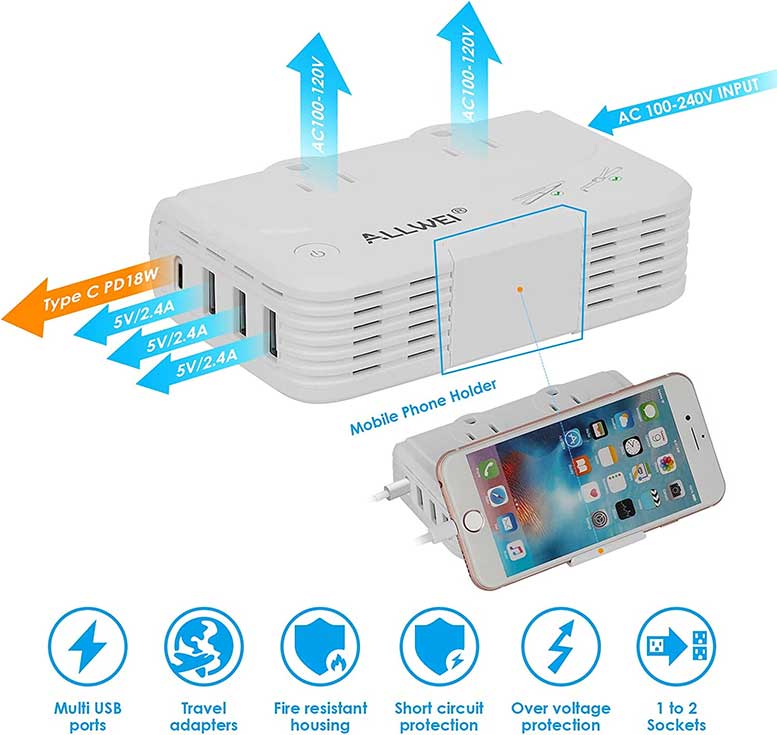 When it comes to power inputs, the ALLWEI has a lot of options. The standard is a US plug, but also has an additional 5 power plugs for various countries. It has type E/F for EU, type D for IN, type L for IT, Type I for AU, and Type G for UK. These plugs make it compatible in over 150 countries across the world.
One nice additional feature the ALLWEI offers is a pop-out phone stand. This stand is located on the side of the converter and gives you room to rest your phone horizontally on it. This makes it convenient to store it while charging or to hold it up while watching a movie or show. With different places to stay across the world all having different accommodations, this is a welcomed addition.
Pros:
Phone stand included
Fast charging capabilities
6 total power plugs
Cons:
Only two standard power sockets
Most Compact: Unidapt Universal Travel Adapter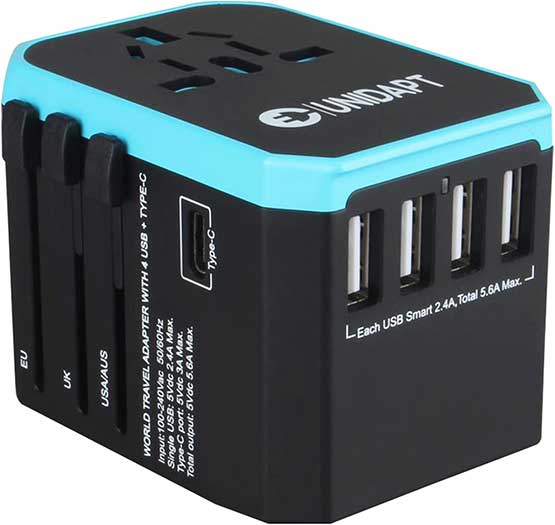 Key Features:
11 plug options
6 power outputs
Unique compact design
The Unidapt Universal Travel Adapter is one of the most unique options on the market. It's very compact at 2 x 2 x 2.8 inches and only weighs .325 pounds. Combine this with its plastic construction and it makes it a perfect item to travel with.
The Unidapt converter leaves a bit to be desired when it comes to power output capabilities. The reason is that it only has one standard socket for power output. However, it also has 4 USB-A ports and a USB-C port. This makes it great for mobile device charging, but less useful for multiple larger devices.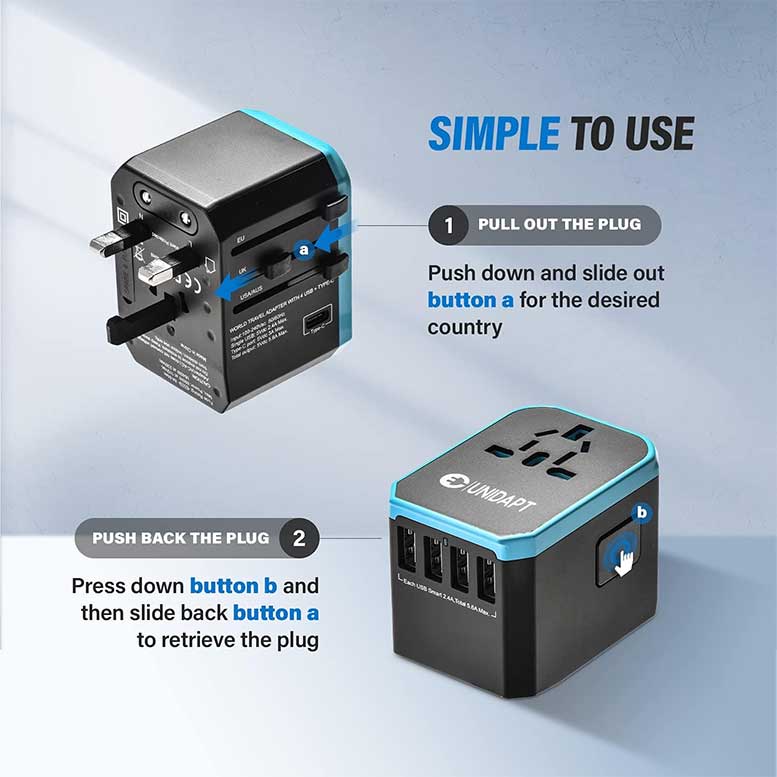 It shines when it comes to the different kinds of sockets it can be plugged into. This converter has 9 different plug options to choose from. It has type A/B for the US, type I for AU, type G for the UK, type C for the EU, type E/F, type J, type K, type L, and type N. These various plugs allow it to be used in over 160 different countries.
Perhaps the best feature of this converter is how the different plug types are designed to work. Rather than being a socket that multiple plugs can be put into, each plug is fully integrated into the body of the converter already. To use them, simply move slides on the side of the converter to make the appropriate pieces become exposed.
Pros:
Works in over 160 countries
Unique power plug design
Lowest cost on the list
Cons:
Best Looking: SOKOO Step Down Voltage Converter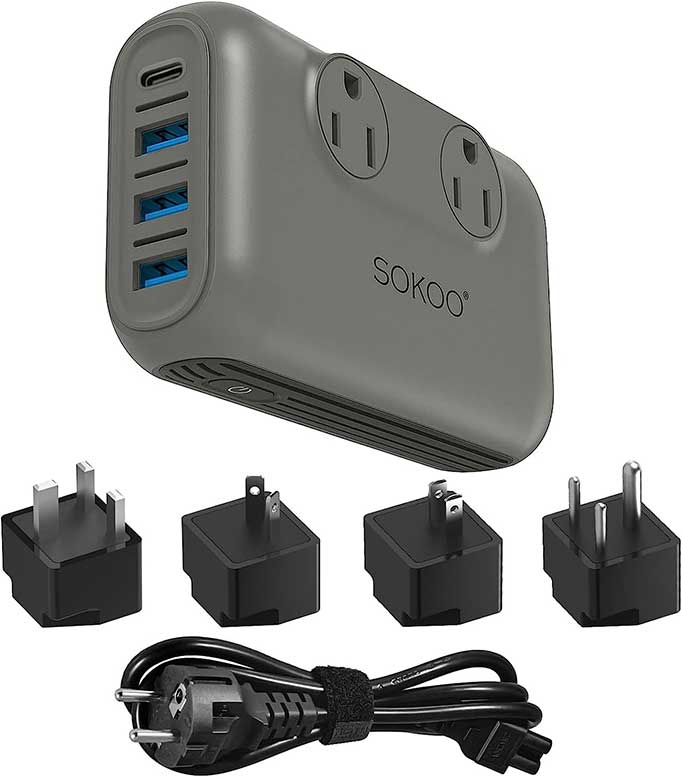 Key Features:
5 changeable plugs
6 power outputs
Fast charging capabilities
The SOKOO Step Down Voltage Converter is another solid option for international travel. It's made with matte-finished plastic. Additionally, it's compact, coming in at 5.05 x 3 x 1.5 inches and weighing 1.05 pounds. This makes it easy to slip into whatever bag you carry your other belongings in.
As for power outputs, you have 6 choices. For standard 3-prong sockets, the face of the device has two options. Similar to other converters on the market, the SOKOO has three USB-A ports and a fast-charging USB-C port. While it isn't the most amount of output on the list, it should still handle most of your power needs while traveling.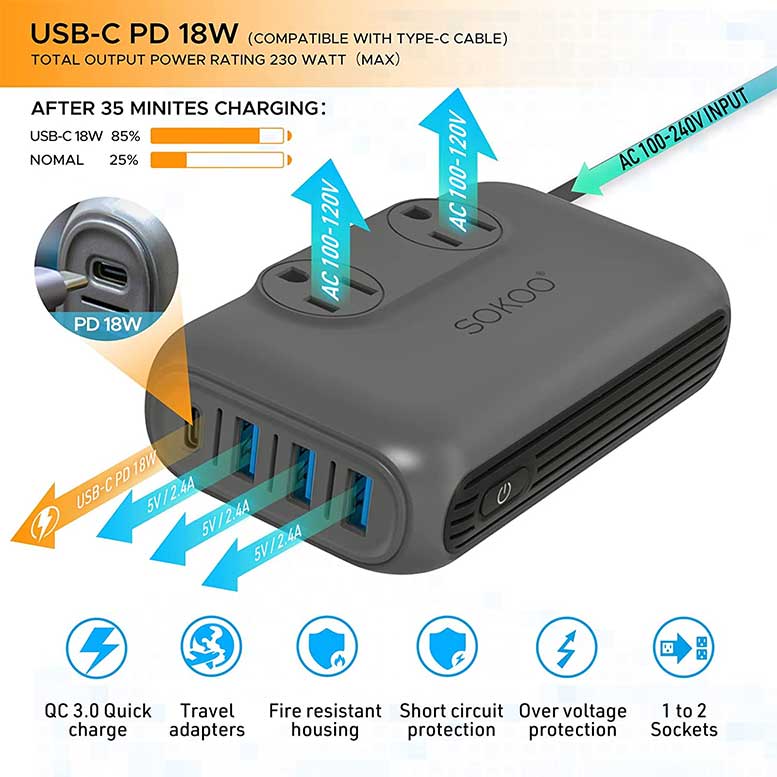 As for inputs, the SOKOO has 5 different plugs included. The normal power cord has a type E/F for EU. Additionally, it comes with type G for the UK, type I for AU, type A for the US, and type D for IN. This makes it compatible with over 150 countries.
One nice extra feature of the SOKOO is the removable power cord. This cord can be detached from the converter easily to store it within your luggage. Removing it helps to make everything more compact, as well as make it safe from breaking while in transit.
Pros:
Removable power cord
5 power input plugs
Cons:
Only two standard sockets
Best for Specific Countries: BESTEK Universal Travel Adapter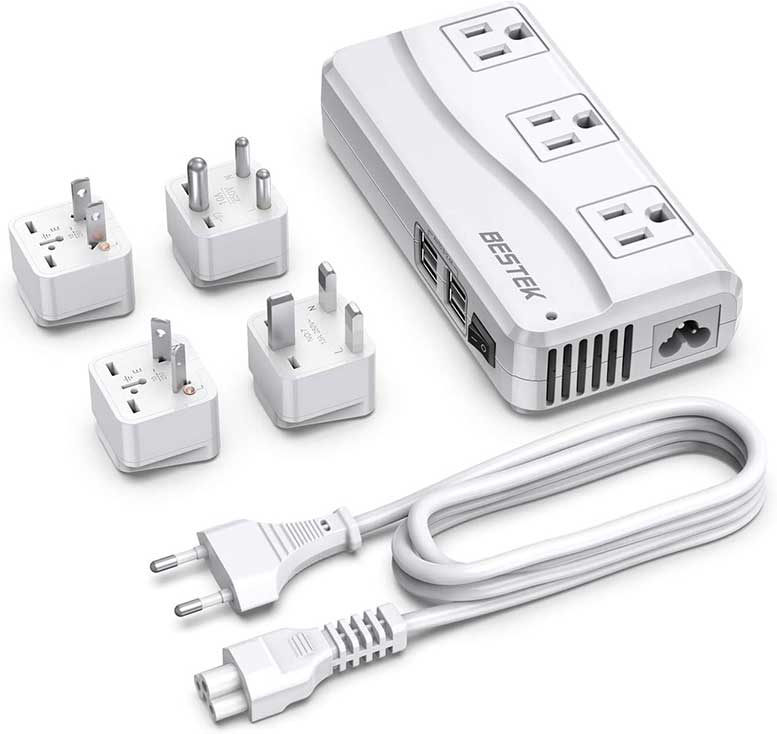 Key Features:
5 power plugs
7 power outputs
USB-A focus
The BESTEK offers some of the most versatility on the market. It's constructed with durable plastic. For dimensions, it's 7.72 x 6.54 x 1.89 inches. It also won't add too much weight, as it only weighs one pound.
Being able to charge multiple devices at once is a focus of this converter. The BESTEK features three standard sockets on the front for your larger devices. In addition to that, the side has four USB-A ports. One notable part missing from this converter is a USB-C port for fast charging.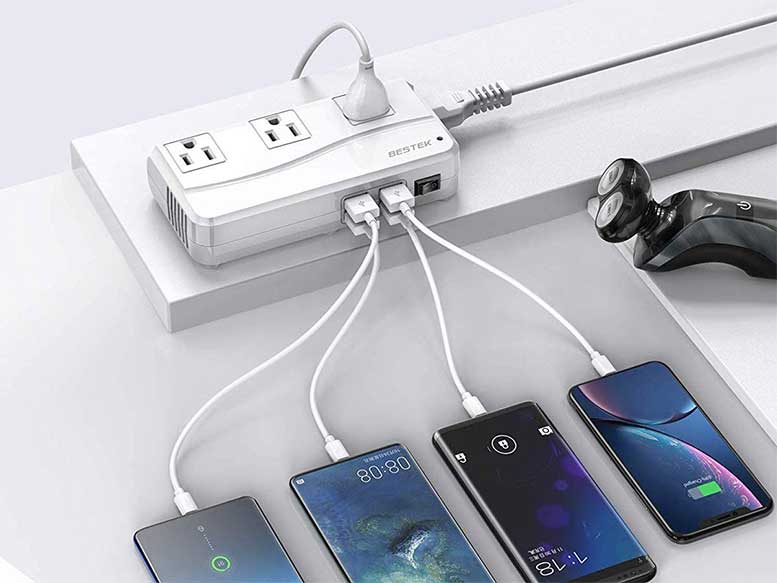 There are three different versions of this converter available, but all three have five different power plugs to choose from. It comes standard with an EU plug, type G for the UK, type A for China, type I for AU, and type D for IN. This puts it right on par with the other converter available that can be used in over 150 countries.
A nice extra feature of this converter is the multiple options available. Depending on where you plan to use it primarily you can get them with the cord being the EU version or the UK version. While both come with the associated plugs as well, having the cords come standard with them is a nice touch. This makes it so you don't have to change plugs all the time.
Pros:
Multiple versions
Removable power cord
7 different power outputs
Cons:
Meet Derek, "TechGuru," a 34-year-old technology enthusiast with a deep passion for tech innovations. With extensive experience, he specializes in gaming hardware and software, and has expertise in gadgets, custom PCs, and audio.
Besides writing about tech and reviewing new products, Derek enjoys traveling, hiking, and photography. Committed to keeping up with the latest industry trends, he aims to guide readers in making informed tech decisions.