Travelling is one of those experiences we all hope to have one day. There is no greater thrill than packing your bags, hopping on a plane, and emerging in a culture that is completely different from your own.
Unfortunately, the trill of finding out that none of your electronics are compatible with that countries power grid is a different kind of thrill. If you're looking to avoid that kind of excitement, a little planning ahead can save you a lot of headache when you get overseas.
Unfortunately, not all travel adapters are created equal. The vast majority of products on the market simply convert one plug type to another. They don't actually change the voltage and frequency as a proper adapter should. There are some electronics that are designed to charge off both 240V and 110V outlets, but others require the voltage to be properly adapted.
Although there's a lot of small technical details involved in this purchasing decision, picking the right voltage converter can actually be easy. We'll be taking a look at the three best travel adapters on the market for 2017-2018. After we explain the differences between them, we'll help you find the one that's right for you.
Understanding Voltages
Voltage is a measure of the potential electric current that can flow through a circuit. Most of North America runs on 110/120V circuits. This is alternating current that runs at 60 hz. This means that the current fluctuates smoothly from one conductor to another, 60 times per second. Most of Europe runs on 220/240V. The electrical potential is much higher here, but the current only fluctuates 50 times per second.
Understanding Plug Types
The typical AC plugs you are used to are only common in North America. Even in countries where the electrical system is similar to ours, different plugs are used. There are 14 different types of plugs in widespread use. They are labeled A though N. In America, we use type A and B plugs. Type F is used in the majority of Europe and Russia, although type G is used in the UK and Ireland. Australia, New Zealand, and China use type I. Type C and F are the most common plugs, used in most of Europe. But the UK, Ireland, Malaysia, and Singapore have their own unique Type G plug.
The remaining types are quite rare, with each of them generally only being used in one country. For world travelers, you'll want to make sure that your adapter supports those main ones. If you're travelling to South America or a 3rd world country, you'll want to confirm to see which type of plug is the most prevalent.
Bestek Voltage Converter
If there's one thing that Bestek knows, it's power. This company manufactures everything you need to keep your devices fully charged while on the go. From portable power packs to car jump starters, customers from all over the world have turned to Bestek when they need high quality electronics at an affordable price. Their experience in this industry lead us to find their high quality wall mounted surge protector, so we thought that we'd give their travel adapter a shot.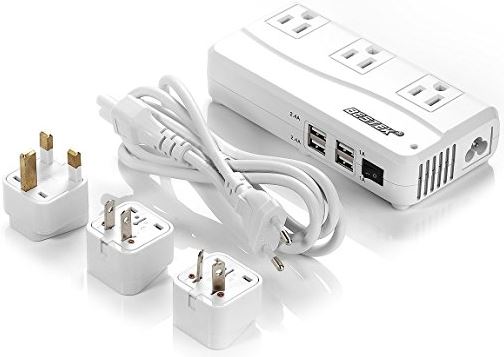 Design
The Bestek Voltage Converter is compact enough that you could slip it into your pocket, but complete enough to provide the full suite of power options you need. To get started, you'll need the compact power cord. This plugs into the three little prongs on the side of the unit, and provides a simple type F connector.
The unit feels durable in the hands. Although it's made from plastic, it's well formed and feels quite reliable. This is something that we'd be comfortable throwing in our bags, even with the knowledge that there is a long journey ahead of it.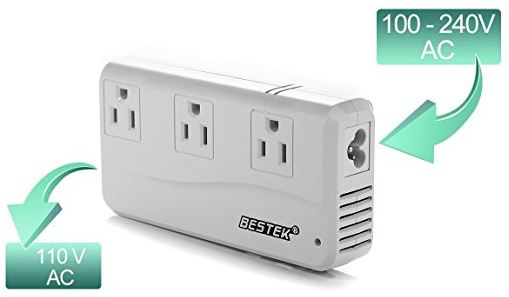 Power Handling
This is a true converter. There is a transformer inside which can convert any voltage in the range of 90 to 220V and produce a clean 110V supply.
Because this inverter is physically changing the voltage, there is theoretical power limit. It's rated for a constantly supply of 200 watts. This measurement is cumulative, covering the total power draw of all the devices you have connected to it. This is enough to charge even the most powerful laptops, along with a few phones or other accessories. It's not something that you could run any large appliances off, but it should be able to handle any electrical load you throw at it.
You do, however, want to be considerate if you are charging multiple laptops. Two Macbook Pro's or basic PCs will work fine. But it's not going to handle a powerful gaming desktop, or two 17" laptops.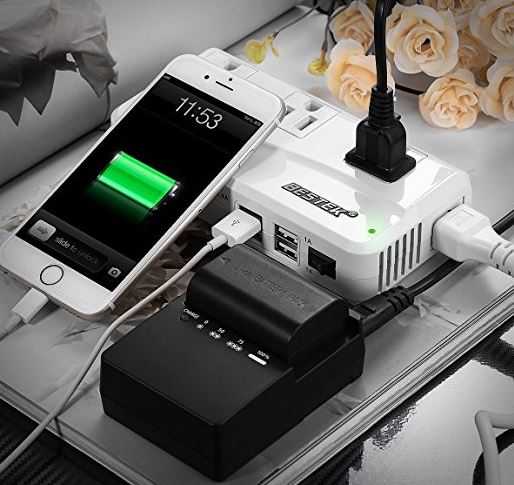 Compatibility
On its own, the included cable uses a type F connector that can be used in countries across Europe. There are two adapters included that change the plug type to be compatible with UK and Asian outlets. Surprisingly, there is a third adapter that can be used in US homes. Although we had never thought about using a product like this domestically, it actually came in handy. It takes a standard two-prong (ungrounded) outlet and allows you to use it with grounded (three prong) plugs. This is handy if you're in an old home. Generally, it's inadvisable to use grounded devices with ungrounded outlets. But at the power draws this adapter is rated for, it's unlikely that you'll have any problems.
Another unique feature is the direct-charging USB ports. You can plug up to four USB devices in. The two ports on the left provide 2A supplies for fast charging, while the ports on the left are standard 1A ports.
Krieger Power Converter
Krieger is a German manufacturer that specializes in portable electronics. Although it's not a brand we commonly come across in North America, their products are very well known in Europe. Here, travelling abroad is a large undertaking. But when so many countries in Europe are only a few hundred kilometers across, being prepared for international travel is important. Since this power converter is relied on by so many people, we thought we'd give it a test and see how it stacks up against domestic offerings.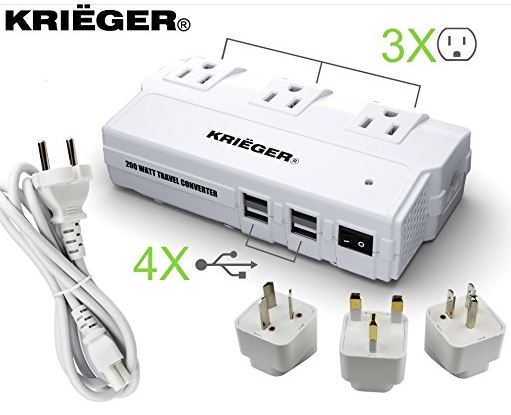 Design
Layout wise, the Krieger Power Converter has a lot of similarities with the Bestek model. You've got the three grounded outlets on the top of the device, four USB ports on the side, a power switch, and an identical power plug. Most of the difference lay in the physical appearance of the converter. Krieger uses an attractive white case that really helps the converter stand out. It's strong lines and sharply angled corners give a sense of rigidity. Once you pick it up, you'll know for sure that it is a pretty beefy unit. It's significantly heavier than the Bestek model. But the extra weight is just enough to be reassuring, and not enough to make it awkward to carry around.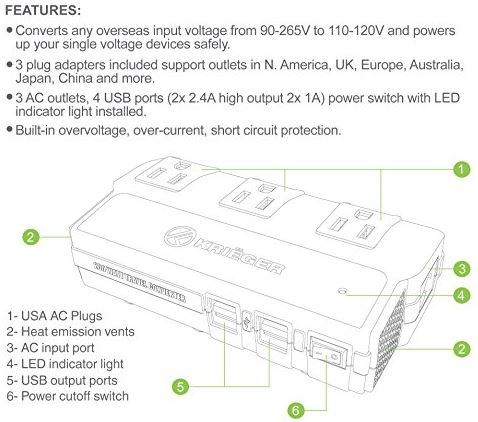 Power Handling
Today, we're not just looking at a single model of the Krieger Power Converter. The unit is available in a wide range of power ratings starting at 150 watts and going all the way up to 1700 watts. Which one you choose will depend on what kind of electronic devices you're looking to use. A typical cellphone only needs 5 to 10 watts. Compact laptops and tablets might use up to 40 watts, while powerful laptops can use 80 to 250 watts. Desktop computers and audio amplifiers often require between 500 watts and 1000 watts. Between 1000 and 1700 watts, you're looking at things like heaters, microwaves, power tools, or high end digital equipment.
No matter which power rating you choose, the input voltage has been extended to cover the entire range from 90 volts all the way up to 260 volts. In many ways, a 260 volt rating is overkill. But there are a few countries in south America and southeast Asia that do not have very well established power grids. In these countries, it's not unheard of to see voltage spikes up to 240 volts. The fact that this power converter is capable of handling these capacities says a lot about how well made the converter is, and opens up a lot of options for you.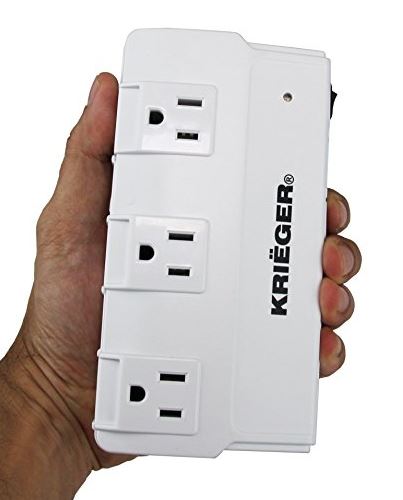 Compatibility
The Krieger Power Converter includes three adapters. It can be used in most European countries, the UK, and North America. Unlike the last converter, we looked at, the US adapter includes a ground. This is important in the higher power ratings, and it's unsafe to draw 1000W and above without a properly grounded connector. While you're home, you can use this as a power strip or USB charger. This adds a little value to the package, making it something that you can keep around the house for a long time.
Bonazza TC009 Travel Adapter/Converter Combo
While Bonazza isn't a company that we commonly review, their 2000W travel adapter serves a unique purpose that many travel adapters aren't suitable for. This adapter is designed specifically for curling irons, hair dryers, and electric heaters that commonly draw too much current to be used with more specific models.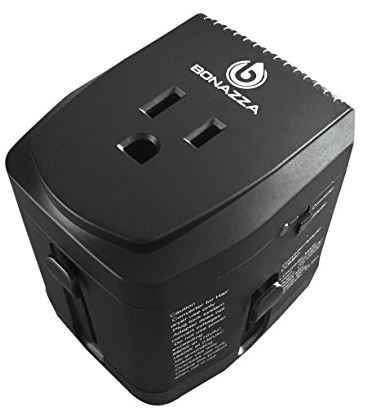 Design
Thie Bonazza TC009 Travel Adapter is one of the most compact of the bunch. Looking a lot like the common "wall-wart" style transformers, it's essentially just a small black box with the plug on the front. There are three different plugs that retract inside the unit when not in use. Just use your thumb to push each side down and the appropriate prongs will pop out.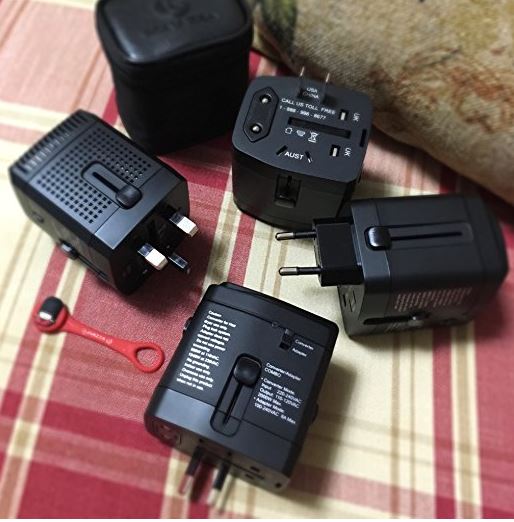 Power Handling
This adapter can put out a consistent 2000W with an input of 220V to 240V. If you're wondering why such a small little adapter can put out so much power, it's all because of the quality. The first two travel adapters we looked at produce very clean power that is suitable for sensitive electronic devices. But when it comes to coil based devices (anything that heats up, essentially) the power quality is not such an issue. While it doesn't produce the cleanest power, it certainly produces the most power.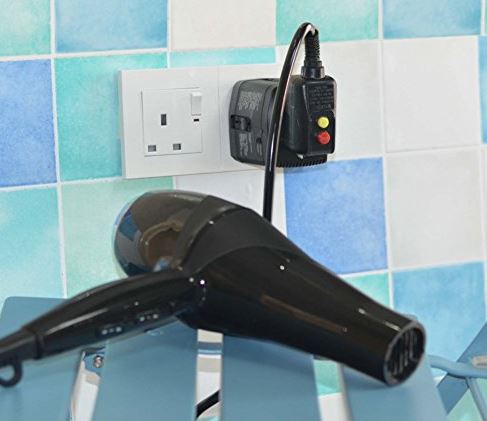 Compatibility
What's unique about this power adapter is that it cannot be used in 110V service. It can only be used to convert 220V power down to 110V. It has three plus that can be used for a North American 220V outlet, and European outlet, and finally a UK outlet.
Which Travel Adapter is Right for Me?
If you're travelling to the Europe or the UK, the choice is easy. For compact, low power electronics the Bestek Voltage Converter is a great choice. If you're travelling with a large family or have multiple power hungry devices, the Krieger Power Converter gives you the flexibility to handle any load that is necessary.
For heaters, hair dryers, and curling irons, the affordable Bonazza TC009 Travel Adapter is designed just for you. It's got the unique power handling requirements needed by these devices, without the hefty price tag that often comes along with it.
Travelling Outside of Europe and the UK?
Earlier, we mentioned that there are a large number of plug types used all around the world. If you have a sharp eye, you'll have noticed that only the three most common types are included with the adapters we reviewed. The real job of these devices is to convert 220V down to 110V. Once you have that, you can use any simple adapter to change the plug type. This Bestten International Adapter Set will upgrade your three plug kit to a nine plug kit that will work with almost every country in the world.
With the right travel adapter, both you and your electronics are ready to head out there and tackle the world. No matter which model you chose, the only thing you have to remember is to enjoy your trip!