Harnessing solar energy has become increasingly important in our pursuit of sustainable, clean energy. A crucial component of any solar installation is the solar panel mounting system. It must be durable, adjustable, and well-suited to your environment to fully maximize the potential of your solar panels. So today, we're discussing some of the best solar panel mounting systems for your consideration. Here's a quick rundown of our top picks:
Each system brings something different to the table, with various notable features. As you explore these reviews, consider what aspects align best with your specific needs.
ECO-WORTHY Solar Panel Dual Axis Tracking System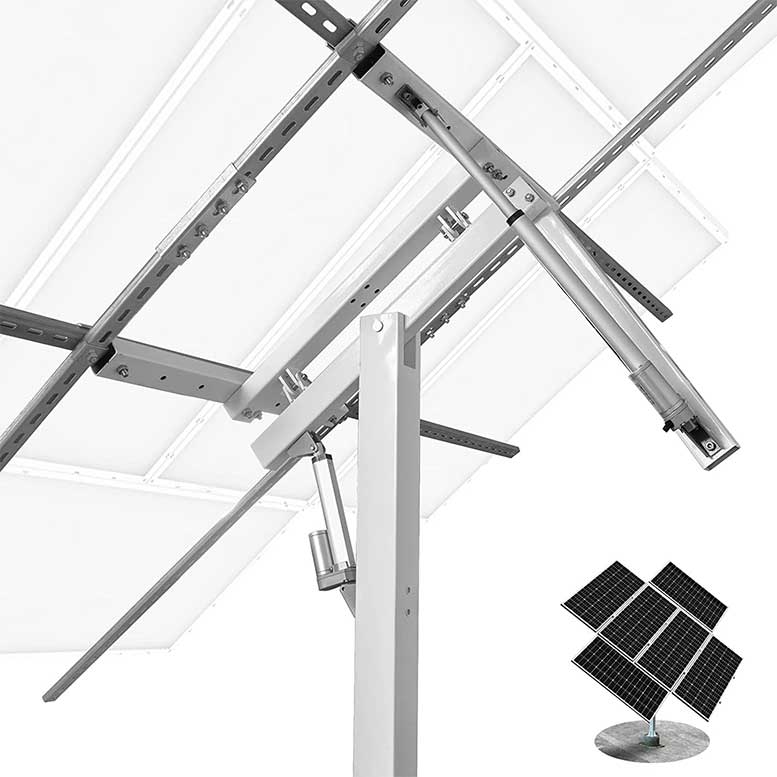 Key features:
Dual-axis tracker for increased power generation
270° rotation for maximum sunlight exposure
Wind resilience with automatic angle adjustment
Compatible with different types of solar panels
Harnessing solar energy with efficiency and reliability in mind, the ECO-WORTHY Solar Panel Dual Axis Tracking System excels. During our assessment, it demonstrated impressive adaptability, using a dual-axis tracker to align panels toward the sun throughout the day. This innovative design can lead to a remarkable 40% boost in energy capture compared to static models. Aiding in this, the system offers 270-degree rotation, facilitated by two-axis driving and a sensitive sunshine sensor.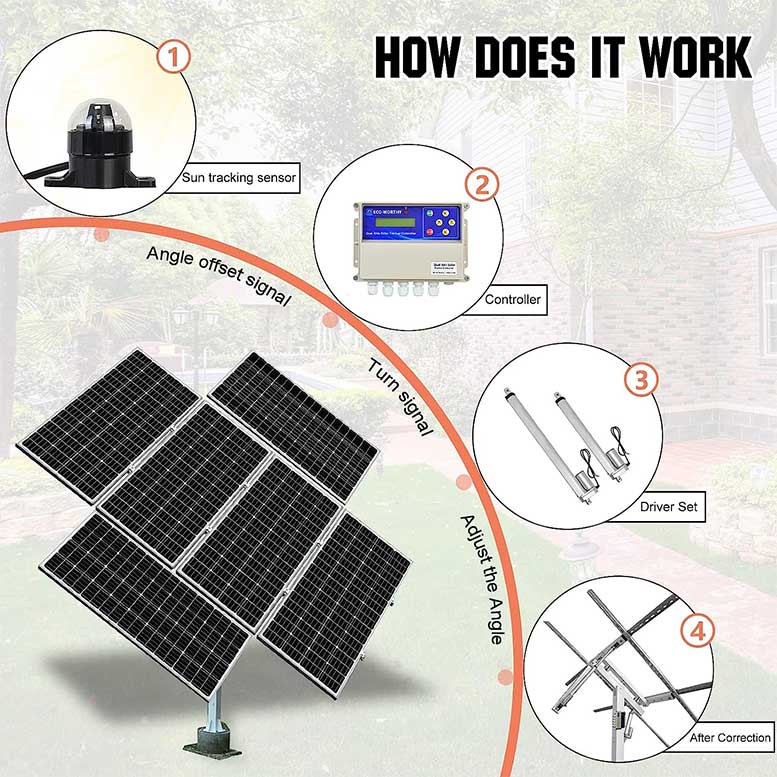 It's designed to maximize exposure to sunlight from all directions thanks to its steady and responsive movement. However, we found the assembly process somewhat challenging due to the lack of clear instructions. It's bothersome for sure, but thankfully, you're given a load of components to help you complete installation. From various drive rods to clamps and bolts, it's all here. Its wind resilience further adds to its appeal.
In testing the mount, we observed that during high wind events, the built-in air speed sensor automatically adjusts the panels to a horizontal position to ensure stability. That's a huge benefit that won't just provide you with convenience; it will aid in the longevity of the system. Additionally, the expanding screws provided robust anchorage, promising resistance to storms and hurricanes. What's more, this system can accommodate a variety of solar panels.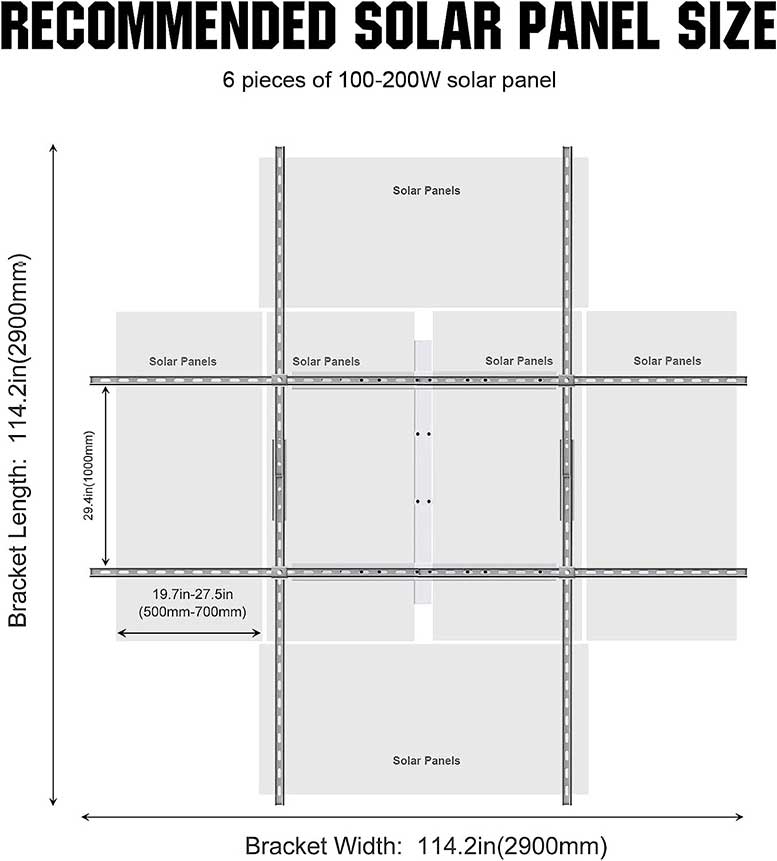 It is designed with a cross rod measuring 114.2 x 29.4 inches and 45.6 x 30.3 inches. Despite its substantial size, it requires a manageable ground space of 114.2 x 114.2 inches x 3.93 feet. As such, it's suitable for everything from farms and fields to yards and flat roofs. While the ECO-WORTHY system demonstrated excellent performance overall, we experienced a slight hitch. It was occasionally "twitchy" during use, with some jerky movements during operation.
As such, you may find that it requires some manual tweaking to optimize smoothness. But even then, this solar tracker system is a versatile and effective solution for boosting solar energy production. And despite the learning curve for assembly and adjustment, it is durable and secure once it's properly installed.
What we liked:
Increased energy capture
Sturdy in high winds
Adaptable to various panels
Requires modest ground space
What we didn't like:
Assembly instructions could be clearer
Some jerky movements during operation
BougeRV Solar Panel Z Mounting Brackets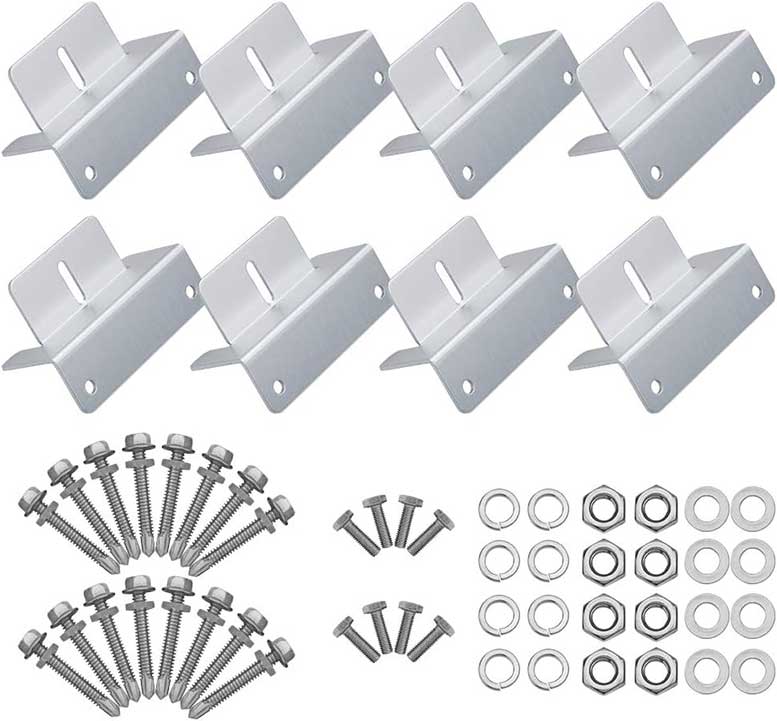 Key features:
Versatile compatibility with up to 600W panels
Durable, corrosion-resistant aluminum construction
Designed for varied surfaces like RVs, rooftops, boats
Comprehensive package with all installation hardware
The BougeRV Solar Panel Z Mounting Brackets offer impressive adaptability and strength. It is designed to be compatible with a wide range of solar panel sizes (up to 600W). These Z Mounting Brackets proved easy to install across different surfaces, from RV rooftops to boats, courtesy of their uniquely bent design that adapts well to uneven terrain. One of our major considerations was the material construction and how it would endure outdoor environments.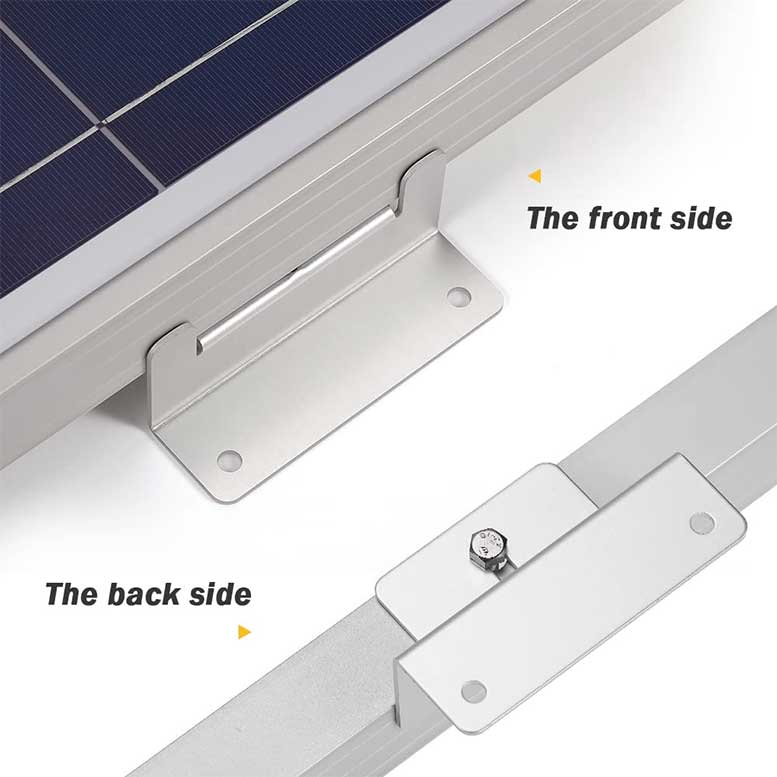 The use of corrosion-resistant aluminum alloy, which is lighter but stronger than stainless steel, was a game-changer. Thanks to this tough material, you're afforded the durability needed without extra burden on our test RV roof. Additionally, we were pleased to note the 0.95-inch mounting hole. This design feature catered to various solar panel specifications we had on hand, indicating a high level of compatibility.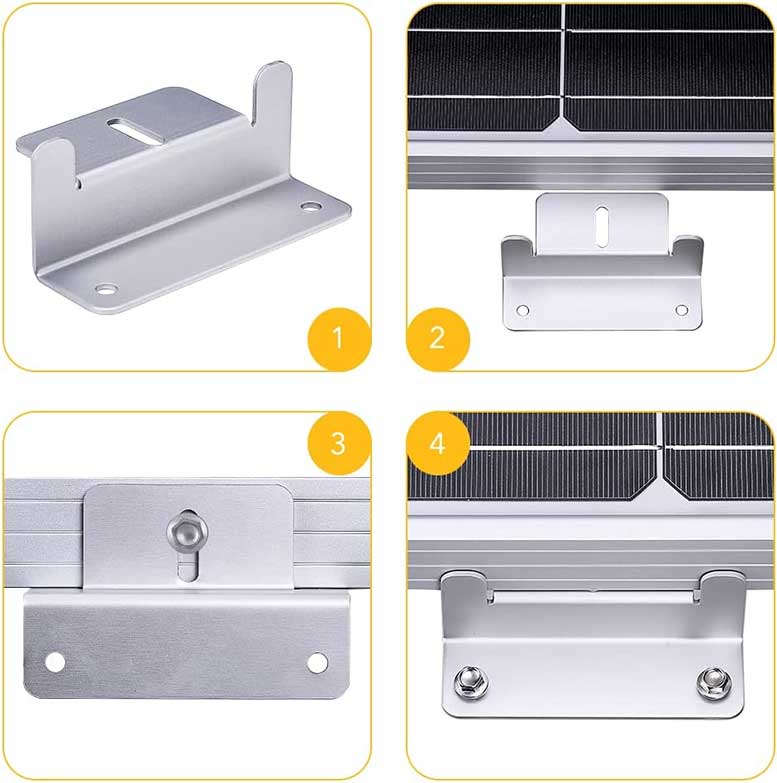 The package comes with a complete set of installation hardware and an 18-month warranty from BougeRV, which adds confidence to the product. During testing, we found the brackets provided reliable stability and support, even in rougher weather conditions. Their lightweight nature (1.1 pounds in total), combined with their compact dimensions (5.94 x 4.37 x 1.77 inches), made the installation process smooth. We could see these being perfect for off-grid living or hobbyist setups. The mounting system did require some extra washers to ensure a secure fit. So a bit of extra tinkering might be necessary depending on the specific solar panel being installed.
What we liked:
Wide range of panel compatibility
Lightweight and easy to install
Strong and durable build
Complete hardware set provided
What we didn't like:
May require additional washers
Slightly tricky setup for certain panels
RENOGY Adjustable Solar Panel Tilt Mount Brackets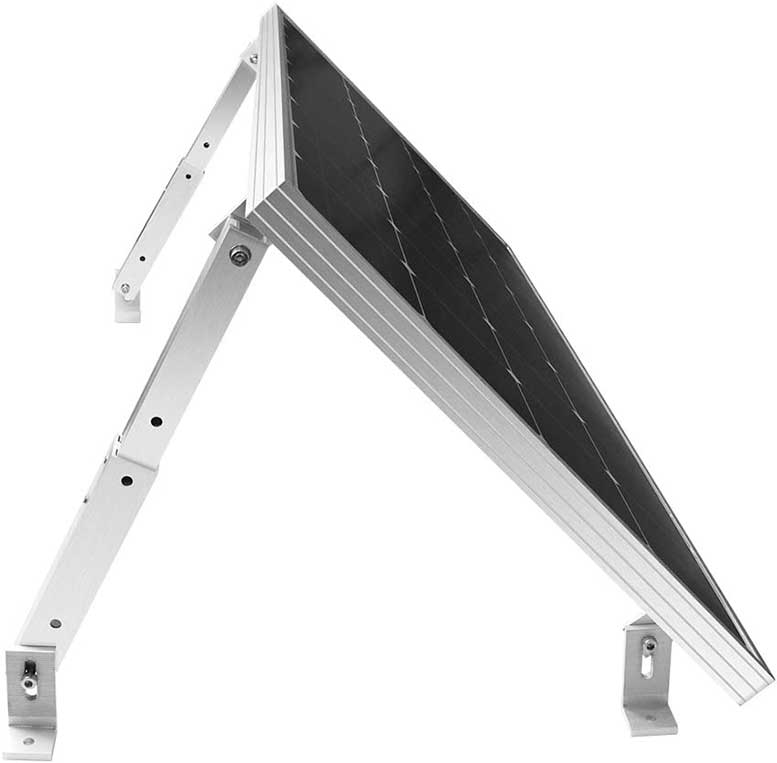 Key features:
Supports up to 150W solar panels
Lightweight aluminum alloy material
Highly adjustable tilt angle
Simple assembly and fastening techniques
The Renogy Adjustable Solar Panel Tilt Mount Brackets present a versatile, efficient, and relatively straightforward option for mounting solar panels, whether on a roof, RV, or boat. In our testing, we found this unit to accommodate solar panels up to 150W, a noteworthy capacity that can suit diverse solar power setups. Built from lightweight aluminum alloy, it weighs a mere 1.4 pounds, with dimensions of 22.9 x 5.1 x 24.1 inches, making it both portable and unobtrusive.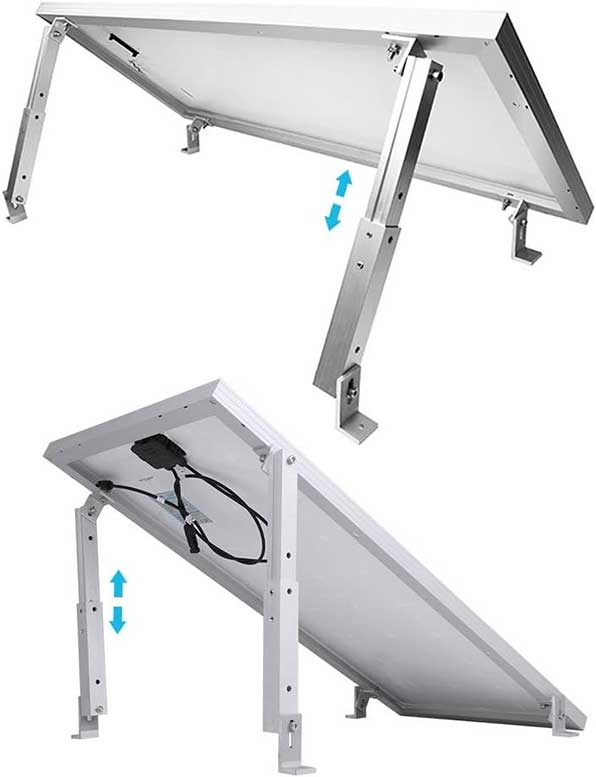 The brackets are highly adjustable, allowing users to position their panels at the best angle for maximum sun exposure, though we did notice that angle adjustability reduced as panel size increased. The device's assembly and installation process was generally simple, supported by a helpful manual with clear instructions for basic fastening techniques. Despite its compact size and light weight, we found the unit robust and sturdy once installed.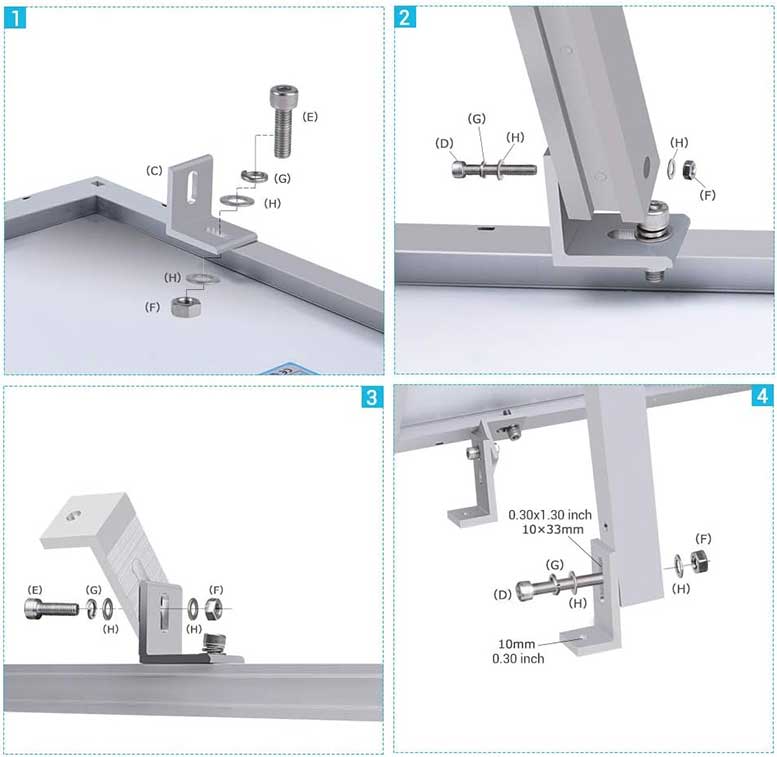 We did, however, encounter a few challenges. The long thread on the knobs proved time-consuming during assembly, and the wingnuts used in the design necessitated two-hand operation, which was somewhat inconvenient during setup and adjustments. Furthermore, storing the prop bars on the mount wasn't straightforward. Ultimately, we were impressed by its potential – the robust and lightweight materials and the versatility of the unit. Although we believe it could benefit from a few design improvements for ease of use.
What we liked:
Versatile mounting options
Robust and sturdy once installed
Clear, helpful instruction manual
High weight capacity for panels
What we didn't like:
Long knob threads slow assembly
Inconvenient prop bar storage
Newpowa Universal Solar Panel Double Arm Pole Wall Mount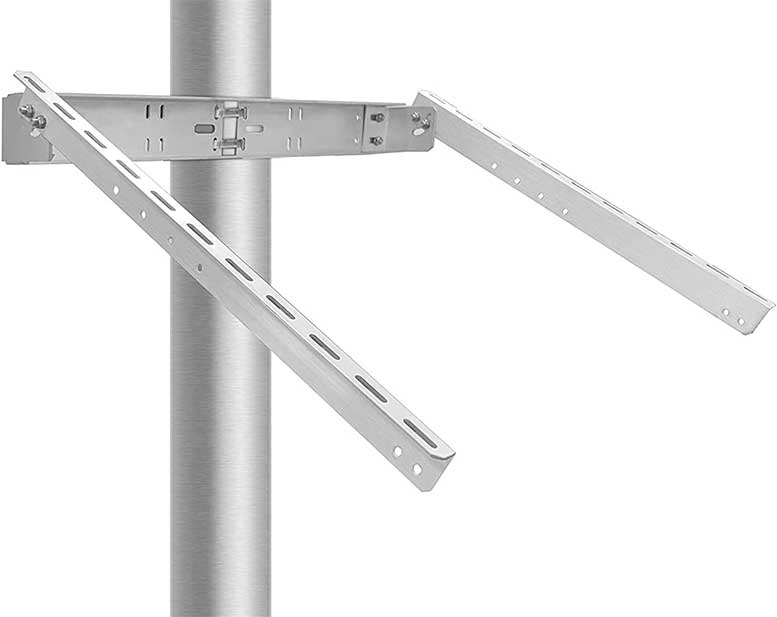 Key features:
Heavy-duty aluminum alloy construction
Mounts to various surfaces
Tilt angle adjustable from 0-90°
Accommodates up to 27.95" width solar panels
The Newpowa Universal Solar Panel Double Arm Pole Wall Mount is a robust piece of equipment designed for mounting single solar panels ranging from 70W to 120W. Measuring 32 x 3.5 x 5 inches and weighing 6.29 pounds, the device showcases a durable construction with its heavy-duty aluminum alloy. It has been engineered to securely fasten to poles, walls, fences – you name it. Basically, if the surface is flat and secure, this will mount to it.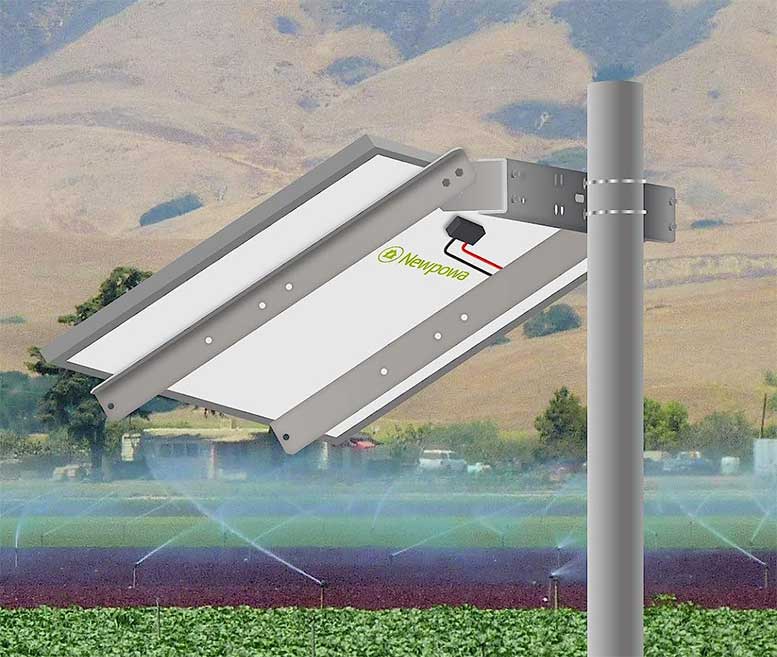 It's also versatile in its functionality, providing a tilt angle of 0 to 90 degrees. This allowance results in optimum solar panel positioning. Our tests affirmed this, as it comfortably handled various mounting positions, enhancing the energy intake from the sunlight. The kit includes all necessary screws, bolts, washers, and steel clamps for a smooth installation process, though a DIY approach might be necessary for panels from other brands without mounting holes.
Unfortunately, the included instructions are slightly confusing. But once we figured it out, the wall mount proved its worth. Concerns about the strength of the provided stainless steel hose clamps were found to be unnecessary during testing. That said, we found it helpful to use pipe clamps. Doing so will give you an even stronger mount, especially on metal posts.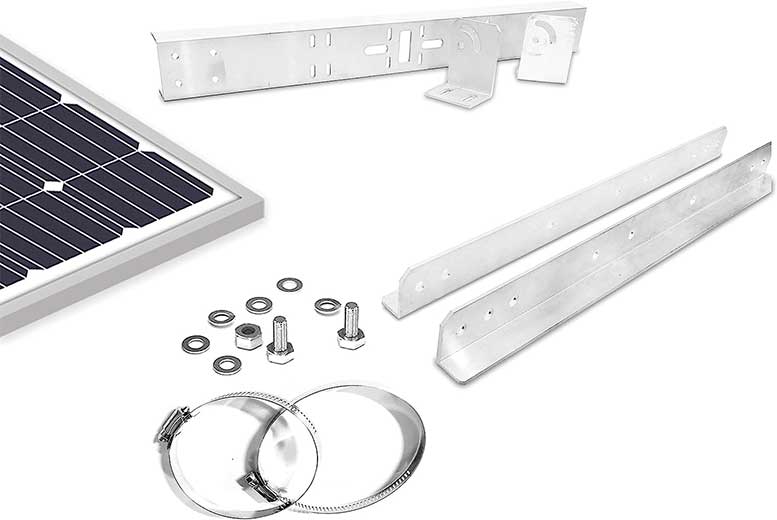 Newpowa's thoughtful design extends to the convenience of maintenance, enabling easy removal if necessary. In all, it's a solid contender that works well on various surfaces. And the use of aluminum alloy serves to provide a long-lasting mount to those looking for a more permanent solution.
What we liked:
Robust and durable
Flexible mounting options
Includes all installation hardware
Promotes optimum panel positioning
What we didn't like:
Instructions could be clearer
May require additional hardware
POWOXI Drill-Free Solar Panel Brackets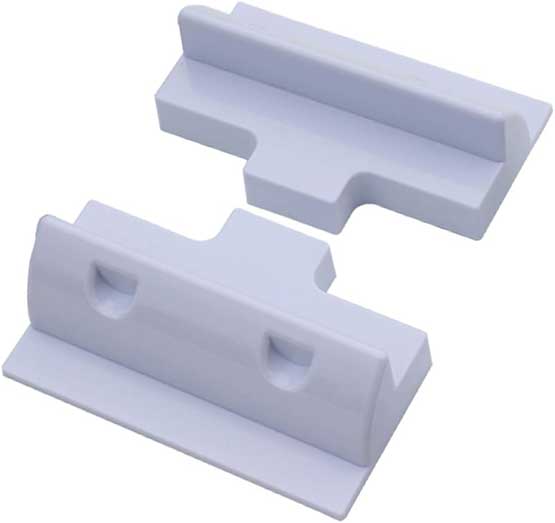 Key features:
Anti-slip slot design for secure bonding
Two rubber ring sizes for diverse wire diameters
Elevated design for efficient heat dissipation
Versatile application for large solar panels
POWOXI's Drill-Free Solar Panel Brackets are a compelling solution for secure solar panel installations, emphasizing durability and ease of setup. Composed of robust thermoplastic, this seven-bracket kit offers a lightweight yet resilient structure that adds longevity to solar panels, handling the heat and maintaining its form even under rigorous conditions. Its ingenious slot design at the bottom prevents slipping and ensures more secure glue bonding.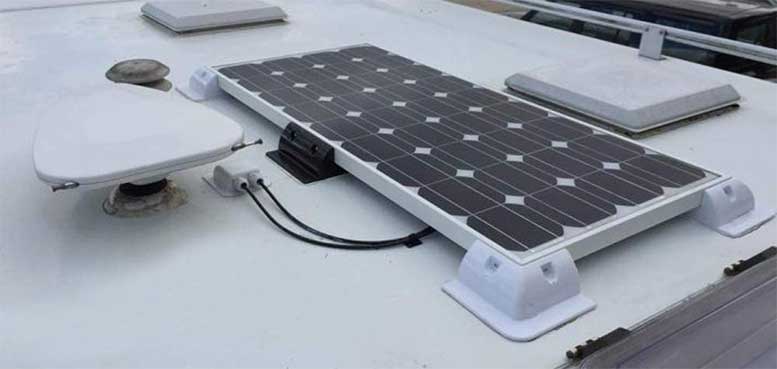 The pre-drilled holes offer additional stability, serving as a helpful guide for setting up the panels. Moreover, it caters to different wire diameters with two distinct rubber ring sizes, making it highly adaptable. The device's protective wide edge and heightened design allow better ventilation and heat dissipation. This distinctive design offers a clean space underneath the panels, enhancing their lifespan and efficiency.

Its 10.04 x 7.48 x 4.72-inch dimensions and 4.03-pound weight allow seamless integration without adding excessive bulk to the setup. Ideal for larger solar panels of 100W and above, it's compatible with any aluminum-framed solar panel with a side length of 11.8 inches or longer. The device demonstrates versatility across various contexts, such as RVs, caravans, roofs, garages, and other flat surfaces. Whether it's fixed with screws or adhesive, it offers reliability and sturdiness.
What we liked:
Robust, lightweight thermoplastic material
Easy setup with drill-free option
Effective protection for solar panel edges
Suitable for various installation contexts
What we didn't like:
Might require modification for perfect fit
Not ideal for curved surfaces
Solar Panel Mounting System FAQs
Can any solar panel mounting system be used on any type of roof?
While many mounting systems are designed to be adaptable, not all systems are suitable for all roof types. Specific mountings are designed for specific surfaces such as tile, metal, or flat roofs. Therefore, it's essential to choose a mounting system compatible with your roof type.
Are adjustable solar panel mounts better than fixed ones?
Adjustable mounts allow you to change the angle of your solar panels according to the season, increasing their efficiency. However, they are typically more expensive and require more maintenance than fixed mounts. The choice between the two often depends on your budget, location, and energy needs.
How important is the material of the solar panel mount?
The material of the mount is crucial as it needs to withstand various weather conditions. Mounts are typically made from aluminum or stainless steel due to their durability and resistance to rust and corrosion.
Final Verdict
Each of our picks has its own benefits and functionality for various uses and needs.
The ECO-WORTHY Solar Panel Dual Axis Tracking System gets our nod for its innovative dual-axis tracker, which boosts energy capture significantly.
BougeRV's Solar Panel Z Mounting Brackets are a versatile and sturdy option, suitable for diverse panel sizes and different surfaces.
RENOGY's Adjustable Solar Panel Tilt Mount Brackets, on the other hand, excel in versatility and ease of installation, proving a strong option for smaller solar setups.
Newpowa Universal Solar Panel Double Arm Pole Wall Mount offers a solid, sturdy solution for those needing a more permanent, secure setup.
And lastly, POWOXI's Drill-Free Solar Panel Brackets provide a user-friendly, resilient, and heat-dissipating option for larger solar panels.
Each of these selections has unique strengths that cater to specific needs, making them clear leaders in solar panel mounting systems.