If you find yourself often needing to heat water in a bucket or a bathtub, an immersion water heater could be the perfect solution. Compact, portable, and incredibly efficient, these devices can provide hot water anywhere you need it – be it your home, an outdoor setting, or even on your travels. In this review, we're discussing five top-tier immersion heaters, so you can make an informed purchase decision.
With an understanding of their key highlights, let's dive deeper into each product to determine their strengths, limitations, and overall utility.
MIXILIN 2000W Immersion Water Heater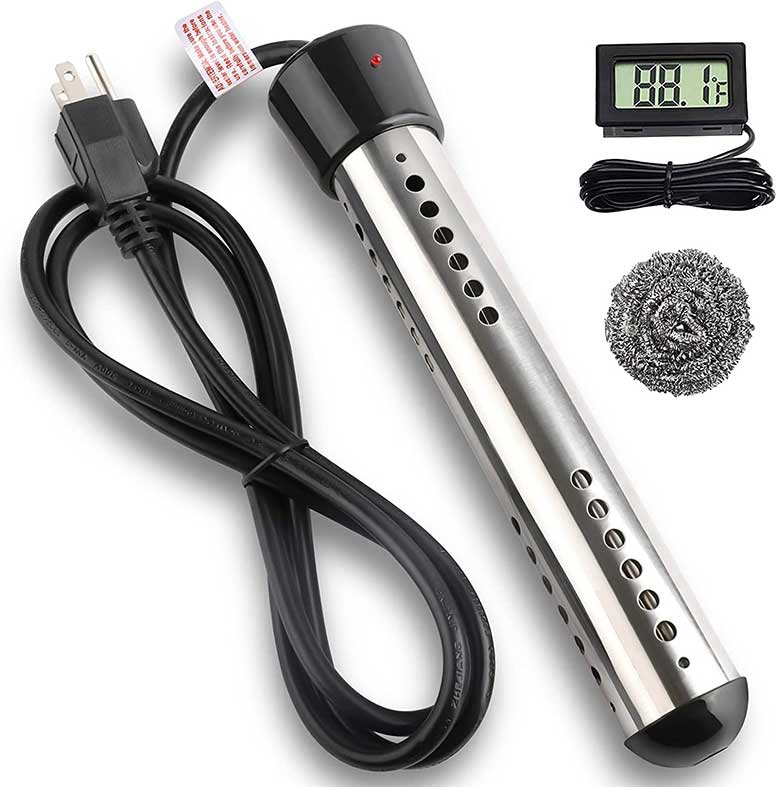 Key features:
Ultra-fast 2000W heating
Portable and lightweight
Digital LCD thermometer included
Dual heating tube system
Featuring a strong 2000W wattage, the Immersion Water Heater by MIXILIN offers rapid heating capabilities to serve various needs. The unit, measuring 10 x 2 x 2.7 inches and weighing a mere 1.32 pounds, showcases efficient portability and easy storage. It was tested in a friend's tiny home that lacked a hot water system. When we used it in a standard bathtub, it elevated the water temperature from 50°F to a toasty 110°F within a 10-hour span.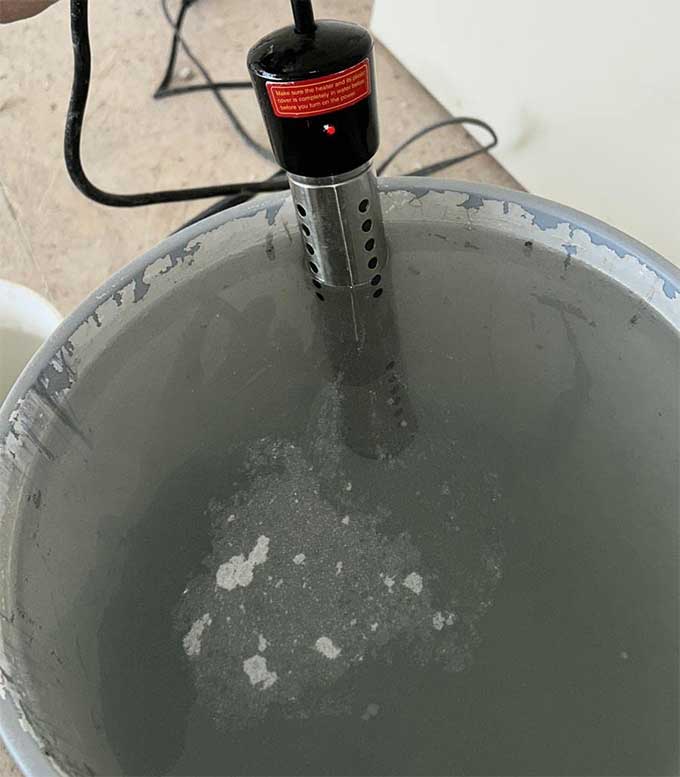 The double heating tube system works to quicken the heating process. It has a stainless steel protective shell for added durability and safety, preventing accidental burns. You also get a digital LCD thermometer to monitor water temperature, adding to its user-friendly interface. Its utility extends beyond mere home use, too, as it is applicable in various outdoor settings like camping and travel. The Immersion Water Heater operates under 110 volts.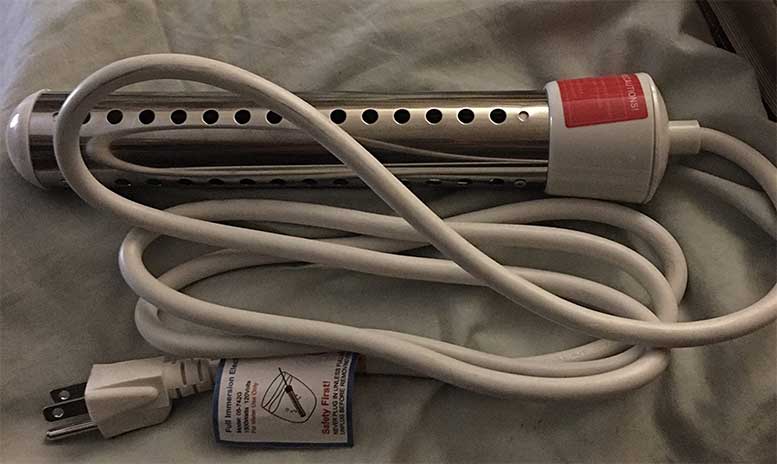 Though it excels in many areas, it is worth mentioning that the heater isn't suitable for larger water bodies, such as hot tubs. That said, it surpasses the other entries in terms of heating power but does take quite some time to heat large water sources. And while it has noteworthy advantages, it doesn't quite match the safety features that heaters like GESAIL and PONG-DANG offer. Still, MIXILIN's 2000W Immersion Water Heater is versatile for different scenarios and is sure to benefit many consumers.
What we liked:
Efficient heating
Versatile for different scenarios
User-friendly design
High safety standards
What we didn't like:
Not suitable for larger pools
Misleading wattage label
GESAIL 1500W Electric Immersion Heater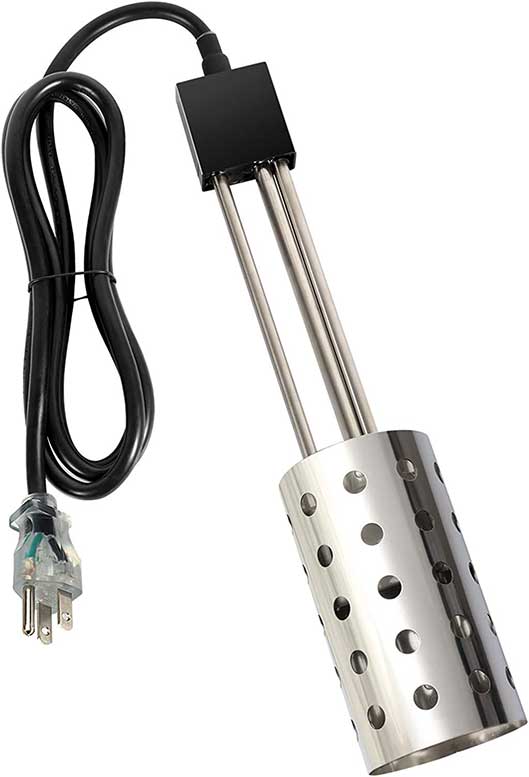 Key features:
1500W, 120V high power heater
Thermostat and auto-shutoff
304 Stainless-steel guard
Easy and safe operation
The GESAIL 1500W Electric Immersion Heater is a bucket water heater crafted with 304 stainless steel. Measuring 17x3x3 inches and weighing 1.87 pounds, it presents an efficient solution for heating water. High power at 1500W and 120V ensures speedy heating. During testing, it managed to heat 5 gallons of water in about an hour. It's worth noting that this is considerably longer than what the manufacturer claims. Still, it gets water hot and works well in larger bodies like hot tubs.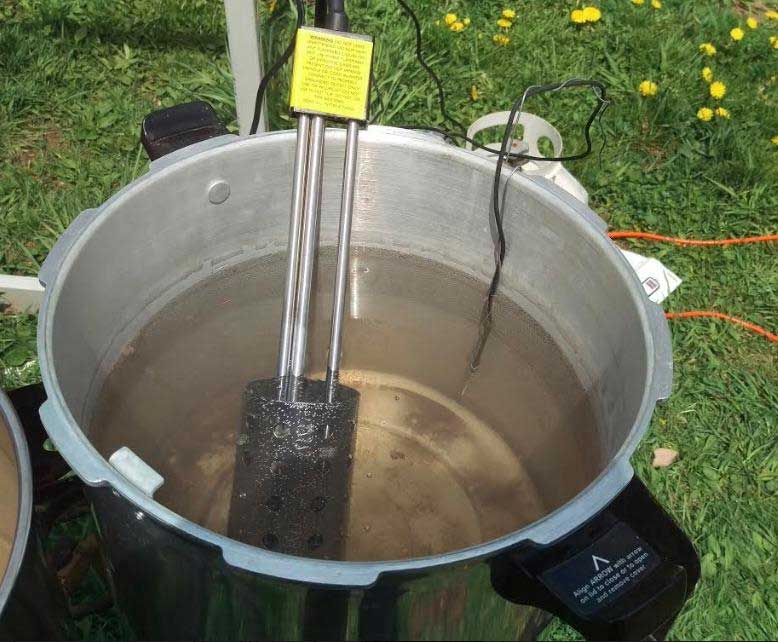 The heater incorporates a thermostat and an automatic shutoff feature for safety. When water reaches approximately 180°F to 194°F, the device cycles on and off to maintain the temperature, effectively conserving energy. If left dry, it will shut off automatically, preventing fire hazards. The 304 stainless-steel guard is a thoughtful addition designed to protect the heating element from direct contact with people or animals and helps distribute the heat into the water more efficiently.
Operation is straightforward: immerse in water, plug into any grounded wall outlet, and check the power indicator light. Simple as it is, the cord and handle cannot be submerged. As a result, it can require some creativity to safely position it in water. That aside, this immersion heater's performance and safety features make it a reliable option for various heating needs.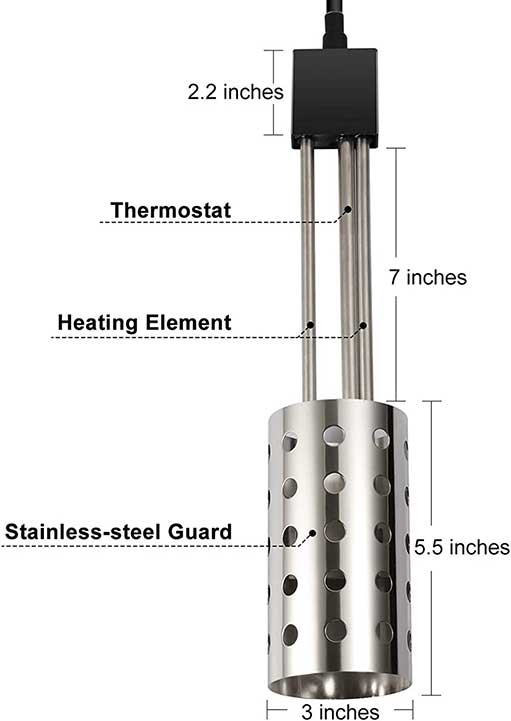 Though not as potent as the MIXILIN in raw power, it excels in energy conservation and safety. Moreover, its heating time is slower than some, but its ability to work well in larger bodies of water gives it an advantage over the MIXILIN. Despite its simple operation, the fact that it has a non-submersible handle and cord might make it less convenient compared to fully submersible heaters like the PONG-DANG.
What we liked:
Heats water quickly
Efficient energy use
Safety features included
Simple operation
What we didn't like:
Doesn't boil water
Cord and handle not submersible
Briidea 1500W Titanium Fully Immersion Water Heater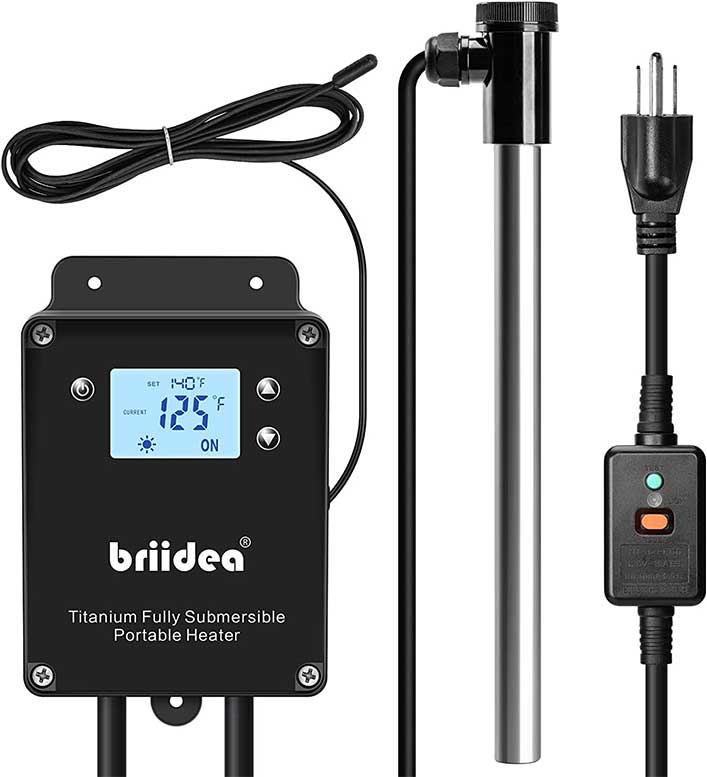 Key features:
1500W titanium immersion heater
Built-in thermostat with auto shutoff
Anti-corrosion and rust-resistant
LCD screen for temperature management
Immersing into the performance of Briidea's 1500W Titanium Fully Immersion Water Heater, its capabilities to heat a diverse range of liquids rapidly caught our attention. The device, measuring 6 x 4 x 5 inches and weighing 3.65 pounds, indeed makes a strong statement in terms of its efficiency and versatility. This unit houses a high-powered 1500W titanium immersion heater that serves to promptly warm liquids.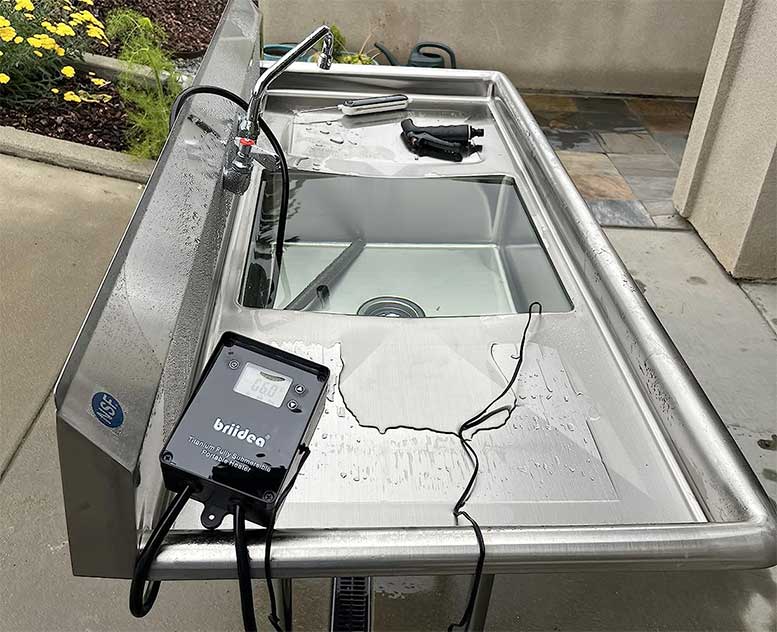 We saw its efficacy when it heated 9 gallons of water to 140°F in a stainless steel sink, taking about an hour. An added feature is the built-in thermostat, controlled by a corrosion-resistant sensor. Not only does it allow you to set desired temperatures ranging from 32°F to 240°F, but it auto also shuts off when the set temperature is reached and reheats when cooling is detected. This intelligent device showcases robust anti-rust and corrosion resistance, prolonging its lifespan, an important attribute when heating varying liquids like fresh water, salt water, or even chemical solutions.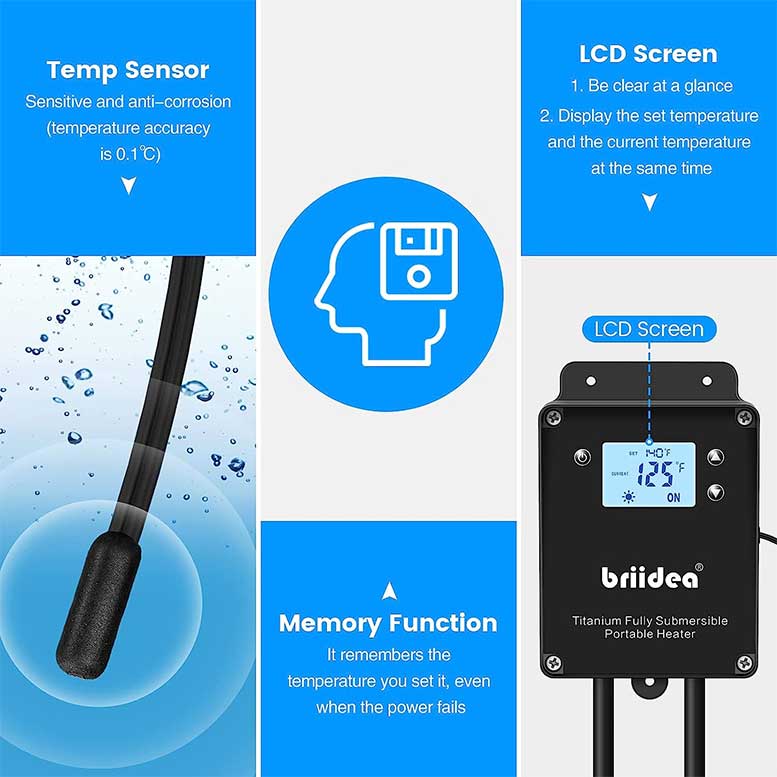 Its straightforward operation and power-off memory function add to user convenience, along with an LCD screen for temperature management. And even though its heat-up time is comparable to the GESAIL, it offers versatility unmatched by others on this list. The auto-shutoff feature adds to its intelligent design, but its lack of clear instructions for unit conversion can be a downside, something not seen with the MIXILIN or GESAIL.
What we liked:
Heats wide range of liquids
Efficient temperature control
Durable build, rust-resistant
Easy to use and monitor
What we didn't like:
Lengthy heat-up time
No instructions for unit conversion
PONG-DANG 1300W Titanium Fully Submersible Immersion Water Heater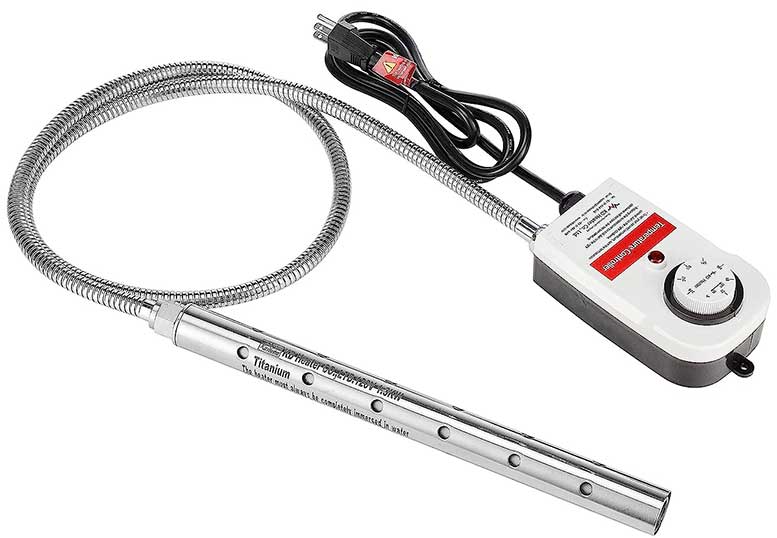 Key features:
1300W, titanium construction
Fully submersible and waterproof
Built-in thermostat auto shutoff
Light indicator for safety
At the intersection of convenience and efficiency, the PONG-DANG Titanium Fully Submersible Immersion Water Heater thrives. With its robust 1300W of power and titanium construction, it elevates your bathing or hot tub experiences by providing quick and reliable heating. Weighing in at 3.83 pounds and spanning 4.9 feet in length, it boasts a slim design, which makes it easy to store and maneuver. This water heater is fully submersible in any type of water, from fresh to salty, without risking damage or efficiency.

The built-in thermostat controls the water temperature precisely, and it can reach temperatures beyond the boiling point if needed. For safety, an automatic shutoff prevents overheating, and the device is 100% waterproof, guarding against electrical shocks. We found this particularly reassuring during our bathtub tests, where the unit heated the water effectively and safely while fully submerged. The light indicator gave a clear signal when it was safe to remove the device from the water, adding an extra layer of security.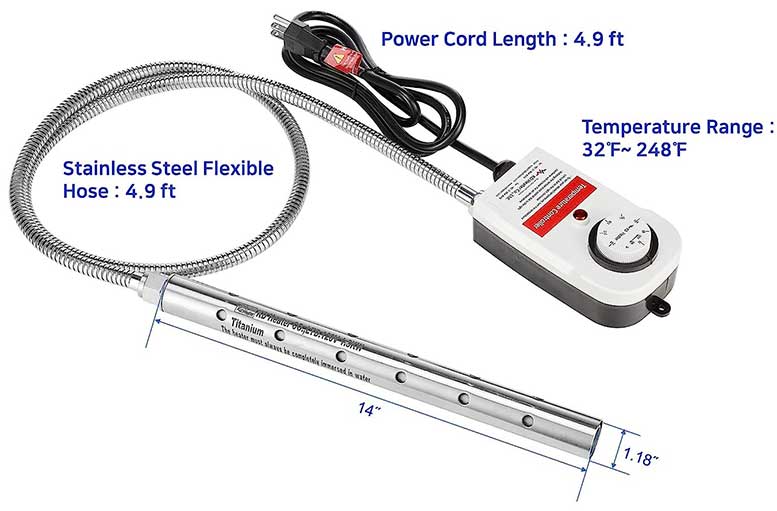 Its excellent durability and top-tier performance make it more than just a bucket water heater. This device is an investment toward a warmer, more relaxing bath or hot tub experience. Despite having the least wattage on the list, it provides efficient heating and is fully submersible, a feature that sets it apart from the GESAIL model. Its automatic shutoff feature and waterproof construction further enhance its safety profile, aligning it with the GESAIL heater in this regard.
What we liked:
Quick, efficient heating
Safety features built-in
Compact and portable
High durability
What we didn't like:
Careful submerging necessary
Can heat too much
Diximus 300W Immersion Water Heater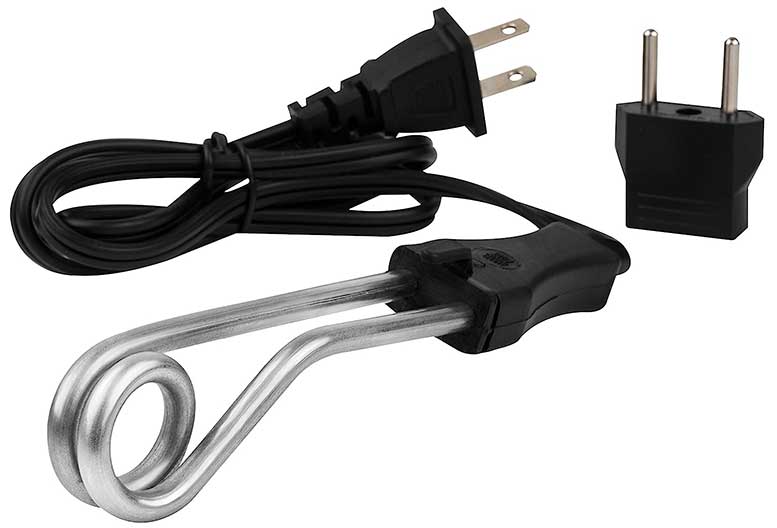 Compact and portable
Dual voltage system
Efficient water heating
High-quality stainless steel coil
The Diximus Immersion Water Heater is an impressive gadget boasting compact dimensions (8.19 x 2.87 x 1.69 inches) and a weight of 5.29 ounces. Its portability and convenience make it ideal for a variety of settings, from camping trips to construction sites. The heater is powered by a dual voltage system (110V-120V and 220V-240V), making it universally adaptable. If you travel internationally, it's especially handy with the included European adapter.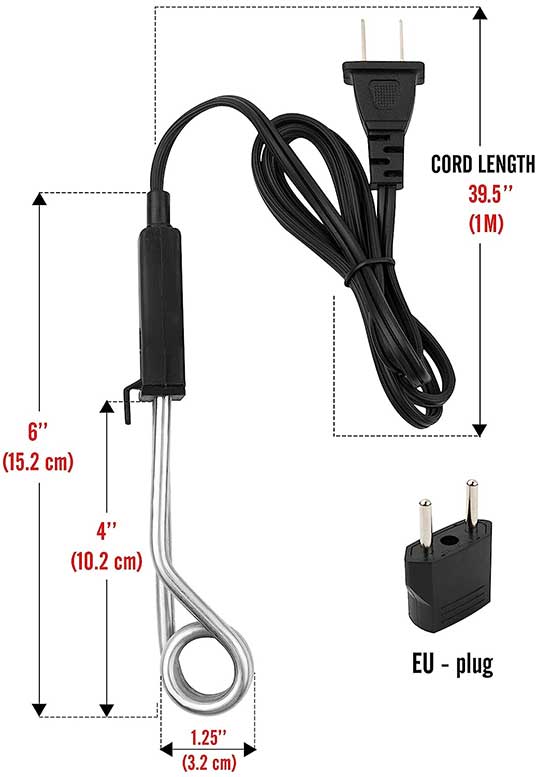 We tested the unit extensively, and the results were consistently good. It heated water rapidly with 300W at 110V and even faster at 220V-240V. It takes around 10 minutes to heat 2 cups of water at 110V, so you can gauge its usefulness based on how big your bathtub or bucket is. We appreciate that the design incorporates a high-quality 304 stainless steel coil. This promises durability and efficient heat conduction.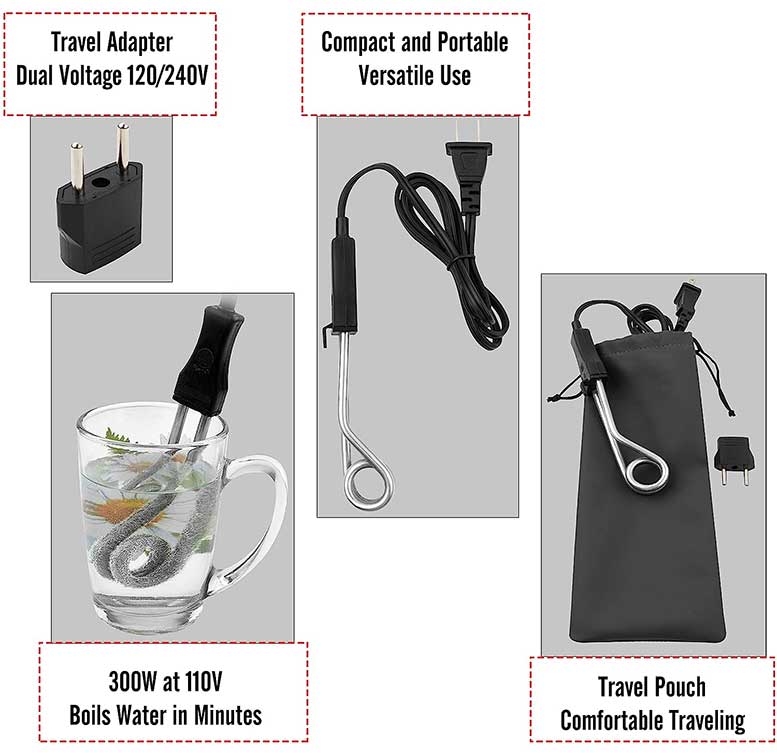 In our trials, it proved to be highly reliable, even when used consistently over extended periods. Despite having significantly lower wattage compared to other heaters on the list, it heats small amounts of water quite rapidly, outperforming others in this regard. The universal voltage compatibility is another feature not seen in any other heaters. But while it's an excellent portable heater, its high power consumption detracts from its overall appeal when compared to the others.
What we liked:
Quick boiling time
Highly portable
Universal voltage compatibility
Durable material
What we didn't like:
Requires careful handling
High power consumption
Immersion Water Heaters for Buckets & Bathtubs FAQs
Can immersion water heaters be used in any type of water?
Most immersion water heaters can be used in various types of water, such as fresh water and saltwater. But it's always best to consult the product's instruction manual to be sure, as some heaters may not be suitable for certain types of liquids or water with added chemicals.
Are immersion water heaters safe to use?
Yes, immersion water heaters are generally safe to use as long as they are used correctly. Most models come with safety features like automatic shutoffs to prevent overheating and stainless steel guards to protect against accidental contact.
How fast can an immersion water heater heat up water?
The speed at which an immersion heater can heat up water depends on its wattage and the volume of water. Higher-wattage heaters generally heat water more quickly. For example, a 1500W heater can usually heat 5 gallons of water in about an hour.
Final Verdict
After thorough analysis, each heater in our review certainly brings something unique to the table.
The MIXILIN 2000W Immersion Water Heater makes an ideal choice for those seeking quick heating solutions. Its compact design and portability render it a versatile addition to various scenarios, from home use to outdoor adventures.
The GESAIL 1500W Electric Immersion Heater offers energy conservation features and safety measures. It's a reliable choice for those who value a balance of performance and safety.
The Briidea 1500W Titanium Fully Immersion Water Heater sets itself apart with its versatility to heat a wide range of liquids. Coupled with efficient temperature control and a durable build, it's a smart choice for those needing to heat different types of liquids.
The PONG-DANG 1300W Titanium Fully Submersible Immersion Water Heater offers a completely submersible design and automatic safety features that make it a dependable and safe choice for many households.
Finally, the Diximus 300W Immersion Water Heater shines for its rapid heating of small quantities of water and universal voltage compatibility, making it an excellent travel companion.
No matter what your specific needs are, our comprehensive analysis has the ideal immersion water heater for you.