Pools can take a fair amount of time and effort to maintain. But having the right equipment can help make things a lot more streamlined. And whether you want to go on vacation, or you simply don't want to spend much time micromanaging your pool, a good automatic pool leveler can be a great help. But how do you select a good pool leveler?
Picking the Best Automatic Pool Leveler
Like all pool equipment, different levelers are made for different pools. So there are a couple of different things you'll need to think about for picking an effective pool leveler. That includes ease of use, the installation process, general quality of construction, and the water pressure allowed by the inlet valve.
Ease of Use
For most people, ease of use is likely the most important thing a pool leveler can provide. With some levelers, water adjustment might not be immediately intuitive. You might have to move up and down the whole unit, or you might be able to change settings from a digital interface. For more advanced installations, you can even setup a program to automate everything.
Even though they are doing the same job, pool levelers, just like wireless pool thermometers are constructed in a variety of different ways. Some are made for people who are managing several pools or several separate areas of their pool. You might also want to choose between units with support for multiple channels. Even some of the more primitive pool levelers will often allow for at least three separate channels to be established.
Installation Process
Naturally, ease of use is closely related to installation. But installation isn't only about getting your pool lever into position. It's also about setup and adjustment so that the lever can effectively perform for your pool. It is important to look to ensure the water leveler can accommodate the depth of your pool or not. How about pools with a large gap between the edge of the pool and the start of the water?
Is the leveler you're considering accessible for flat installations? How about above ground installations? Pools with a raised edge or a tapered edge? The leveler needs to be able to accommodate your pool. The good news is that most automatic pool levelers are designed to be somewhat universal. But bad news is that they're not totally universal. So unless your pool is incredibly ordinary in every way, you do need to pay attention for compatibility.
Quality of Construction
This part is mostly intuitive, but sometimes you get what you pay for. If you decide to pick a molded plastic water inlet, in the short term, you'll save a couple of bucks. But in the long term, a metallic-based water inlet will resist water pressure better than plastic, and will resist water forces wearing down the assembly in the tank.
Water Pressure (PSI)
And then there's the water pressure allowed by the valve. You should pay as much attention to minimum values as you do maximum values. Because just like some levelers are only rated for small amounts of water pressure, others require higher amounts for water to be able to pass through the valve. Luckily, a lot of the better automatic pool levelers on the market are built to common sense standards. So unless you're running a huge pool you usually don't need to dwell on water pressure.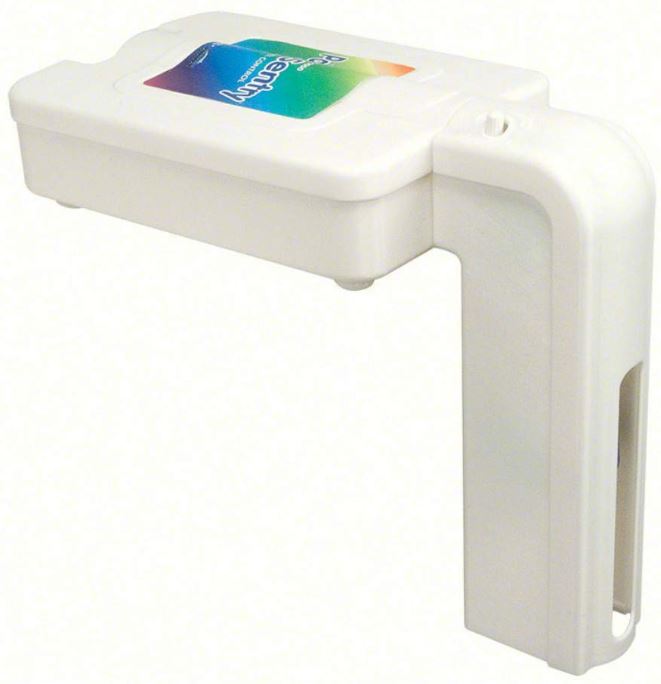 Rola-Chem Sentry Automatic Pool Water Leveler
As you would expect, these so-called sentries work to maintain the water level in your pool so you don't have to think twice about it. After your pool has reached the water level that you've determined, it will automatically shut down the leveler and maintain levels where they are.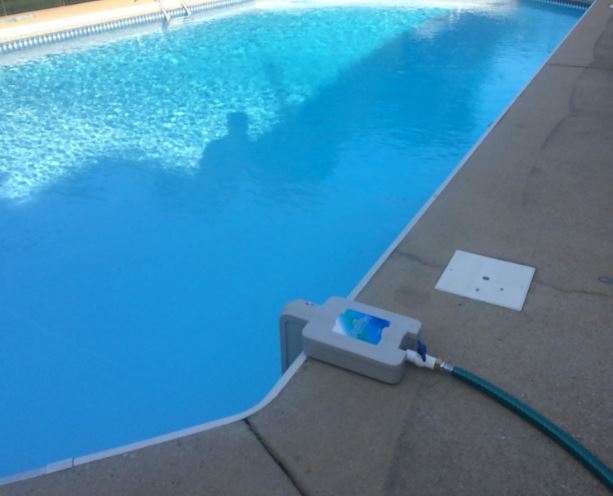 Design & Layout
The Rola-Chem Sentry measures 9 x 13 x 9 inches, and is the lightest water leveler on this list, weighing around 3lbs. That lightweight design is largely because this unit is made from a primarily plastic body. This design is a little bit on the flimsy side because this is a cheaper leveler, but not so flimsy that you have to worry about wear-and-tear. You just wouldn't want horseplay next to the leveler because one good blow to the topside would cause some damage.
In this instance, you can get about six inches of depth from the adjustability. For most people, that's going to get the job done. But if you're someone with one of those larger 9" gaps above your pool, or you're maintaining water at lower levels, then this leveler will be a little shallow. It's more suitable for people with average styled pools.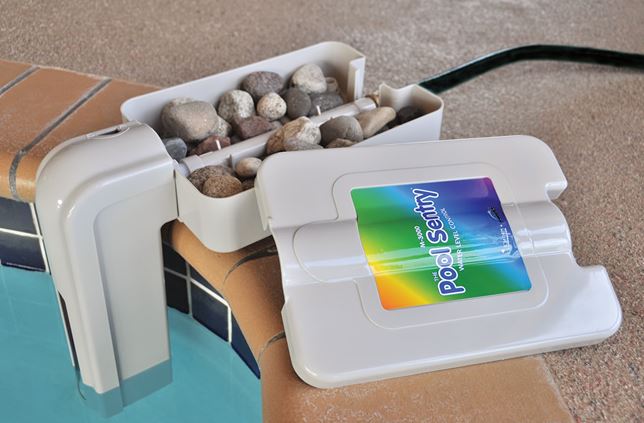 Other Considerations
You can find Rola-Chem Sentry Water Levelers in a one pack, two pack, three pack, and four pack. If you end up needing more than one leveler, these can actually be wonderfully cost effective. Plus, their multi-channel design means it's not tough to get them working in conjunction with each other.
One thing to note. In order to hold this leveler down into position, you'll need to place some kind of weight on top of it. Craft rocks are a popular choice. But really, just about any heavy object you feel like setting on top of it will work.
Notably, the water protection on the floater portion of this device isn't actually well protected from submersion. Neither is the digital display. If either are forced underwater and held there for the better part of half an hour, perhaps by a mischievous child, then there's liable to be water damage.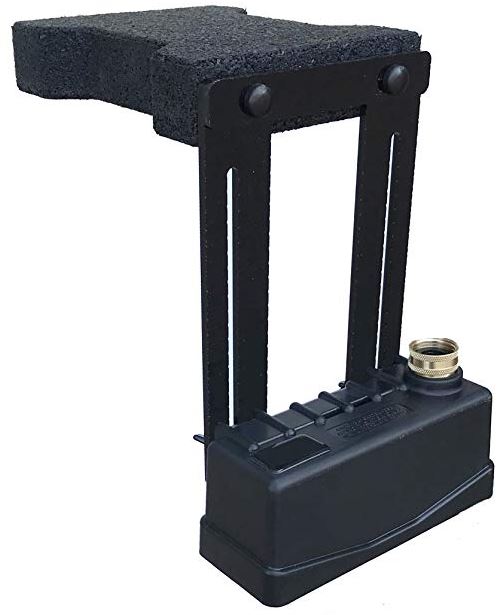 Fill-O-Matic 2000
Similar to the Rola-Chem Sentry, the Fill-O-Matic 2000 is a pretty straightforward pool water leveler. It's capable of being used in both salt water and fresh water. And it's suitable for both below ground and above ground installations. Whether you're going to have it sit on vinyl or concrete, either option will work.
Notably, the range of adjustment spans from 2" to 9". That's about one third further than the Rola-Chem. And if you need, a further extension bracket can be added if you need to go past 9". That bracket is actually sold separately, but the fact it's available basically means this is one of the longest pool levelers on the market.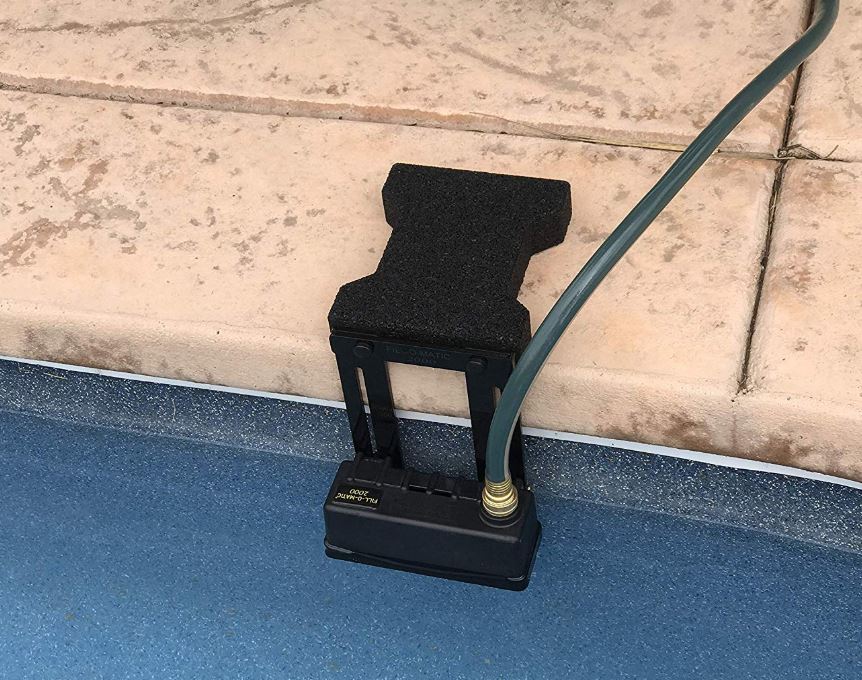 Design & Layout
The Fill-O-Matic 2000 measures 11 x 9 x 8 inches, and weighs the better part of four pounds. And basically everything about this design was built to last, or otherwise made to give off a general sense of thoughtfulness. For starters, the acrylic bracket provides great resistance against chlorine. That's essential for basically anyone interested in using the Fill-O-Matic 2000 for pool installations.
The rubber base is designed to not slip, unlike a cheap plastic model, which can prevent your stuff from falling into the pool. The brass hose connector holds up well to physical abuse, and was designed to stand the test of time. Stabilized acrylic brackets and some stainless steel hardware ensure this unit is supposed to keep going and going.
Since the base is rubber, so it's supposed to resist slipping and sliding, even in wet conditions. And unlike cheap rubber, it won't leave any marks from the impact against your pool area. The only part of the design that's a little more run-of-the-mill is the float mechanism.
Other Considerations
Since the base is entirely rubber, it's covered by a lifetime warranty. The other parts have a more limited warranty. And notably, your water pressure needs to be below 60psi. Otherwise you'll need to use the included pressure reducing value. Swapping the valve on only takes a few seconds, and usually doesn't require the help of any tools to get securely into position.
There are at least a few circumstances where this pool leveler wouldn't be an optimal choice. Notably, the Fill-O-Matic 2000 wouldn't work for a motorized pool cover. But outside of extremely customized installations, this leveler will be smooth sailing for most people.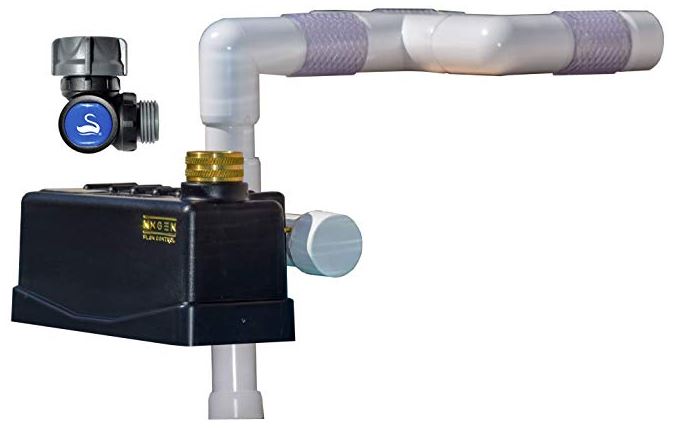 Staypoollizer Premium with Nxgen Flow Control Combo
As its name suggests, the Staypoollizer Premium is a higher end kit. It's supposed to provide a maintenance free design, allowing you to keep water levels constant without the need for micromanagement. Moreover, the Staypoollizer Premium with Nxgen Flow Control Combo is good for both flat, tapered, raise edge, and above ground installations.
As with the Fill-O-Matic 2000, the Staypoollizer Control Combo is able to run between 4" to 9" in its range of adjustment. Though you can't attach a bracket if you need to go further, the 9" depth really should be able to accommodate almost everyone. Even people who are running their pools at lower levels during an off-season, you can just about reach the bottom of your pool with the right bracket.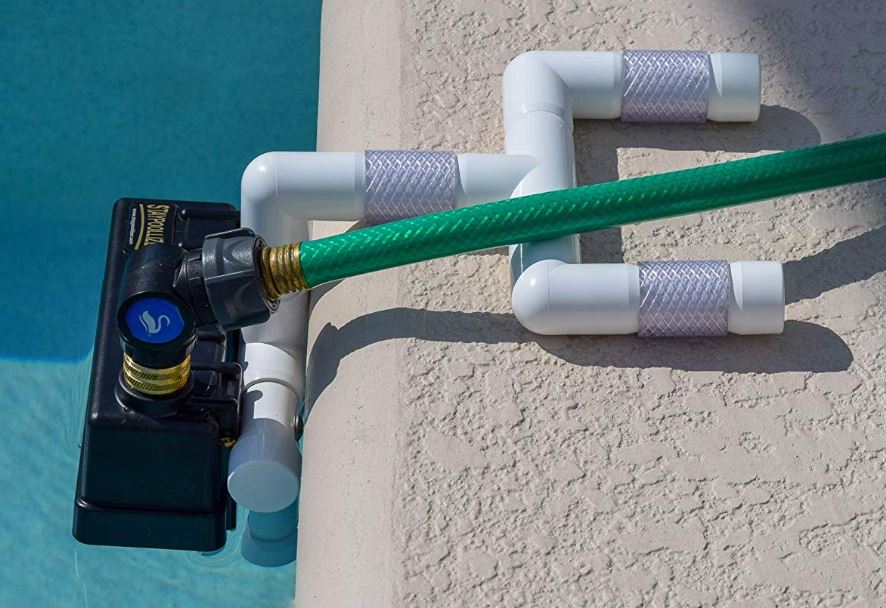 Design & Layout
The Staypoollizer Premium weighs about 5lbs, making it one of the heavier pool levelers out there. But that's really just a sign of the heavy duty flow control. As with the Fill-O-Matic 2000, this unit was made with materials that are not damaged by common pool chemicals. And the solid metal inlet allows for zero water pressure to be applied to the assembly tank.
That design allows you to experience fewer stress cracks, potentially leaky threads, or various inlet issues related to being worn won from water. Not only is this supposed to increase the life expectancy of the unit, it's also what allows the device to withstand so much pressure. For larger pools, the Staypoollizer Premium is going to be pretty well suited.
Additionally, the Staypoollizer water leveler includes an adjustable angle hose swivel. There's no assembly is required to get started — you just install and you're done. Without the aid of a water regulator, this flow control combo can allow you to keep water levels more consistent with greater efficiency.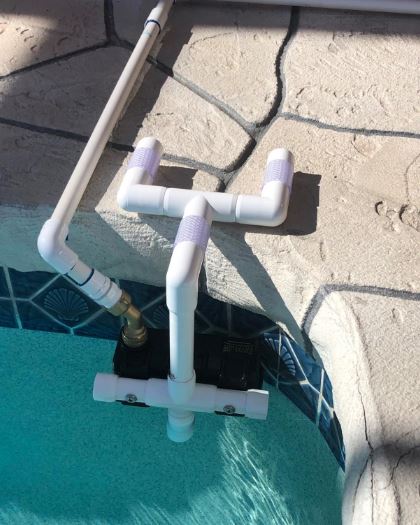 Other Considerations
The Nxgen Flow Control Combo requires water pressure to exceed 155psi to keep working. If you're working with a low-pressure system, this kit will be too robust for your needs. Apart from that, the body includes a lifetime warranty, covering the adjustment frame. And there's a one-year warranty for float assembly.
The installation instructions that come with this device are pretty abysmal. Thankfully, the whole thing is simple enough to be able to work out on your own pretty easily. There's also a fair amount of online support that lets you see how installation works, if necessary.
Choosing Between 3 Great Automatic Pool Levelers
Are you looking for something cheap and simple? The Rola-Chem Sentry Automatic Pool Water Leveler is probably going to be your best bet. These things are very economical in scale. It's easy to place more than one, and they're just as easy to replace if that ever becomes necessary. Since this is more of an entry-level unit, the setup process is slightly more tedious than the other pool levelers on this list, but not to the point of confusion.
The Fill-O-Matic 2000 is going to be a smart choice for someone who's trying to extend the leveler out as deep as nine inches or further. Along with the ability to add an extension bracket, this leveler can get much deeper than basically any other good pool leveler on the market. Since the 2000 series uses a largely rubber and metallic design, especially around the components that matter the most, this thing has a generally high degree of sturdiness. That makes it a great choice for someone who's looking for a pool leveler that's made to last.
Finally, do you need a flow controller and pool leveler in one? In order to keep pool maintenance as hands-off as possible, the Staypoollizer Premium with Nxgen Flow Control Combo can be a terribly effective combo. It accommodates higher levels of water pressure, which can be necessary when working with larger pools. Similar to the Fill-O-Matic 2000, the design is quite sturdy. Though if you could do without the flow control combo, you'd be better off running the Fill-O-Matic instead.