If you use pre-ground pepper or granulated salt from a shaker, you're missing out. Pepper goes stale and loses spiciness over time, and grinding it radically accelerates the process. That year-old pepper in your shaker doesn't have anywhere near the kick that it used to. As for salt, a grinder allows you to adjust the texture and coarseness. You can't do that with off-the-shelf granulated salt.
That said, grinding your own pepper and salt can be a chore. That's especially true if your recipe calls for significant quantities of either seasoning. Cracking a little pepper over your salad is one thing. Grinding out two tablespoons for your chili is another matter entirely. Thankfully, there's a good solution. An electric salt, pepper and spice grinder can make the job a breeze.
Today, we're going to review four of the best high-end and electric pepper and spice grinders on the market. No time to read the full review? Here's what you need to know:
Of course, there's a lot more to each of these salt and pepper grinders. Let's take a closer look, and see what we find!
Best High-End: MANNKITCHEN Pepper Cannon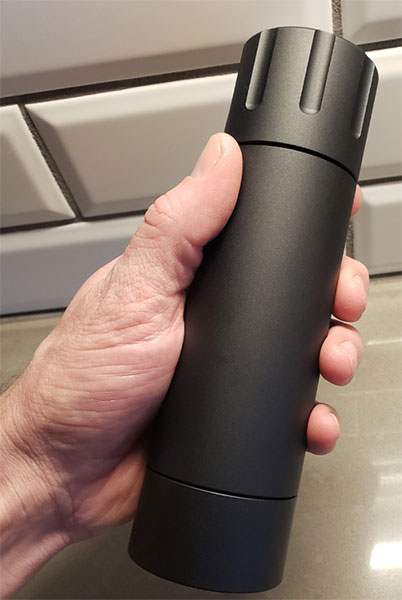 Key features:
Commercial quality anodized aluminum design.
Manual grinder with built-in gearing for superior speed.
Quick release top.
6-60+ mesh coarseness range.
The MANNKITCHEN Pepper Cannon isn't just any old pepper grinder – it's a tough, commercial-grade machine. The housing is constructed from black aluminum and can take a serious beating. It's also corrosion-proof, so you don't have to worry about it getting wet around the kitchen. At 7.25 inches tall, it has a diameter of 2.2 inches, and it weighs 1.07 pounds. It's a chunky cylinder with a knurled top that you twist to grind your pepper. But don't be alarmed, this is a high-end choice; the Ferrari of pepper grinders!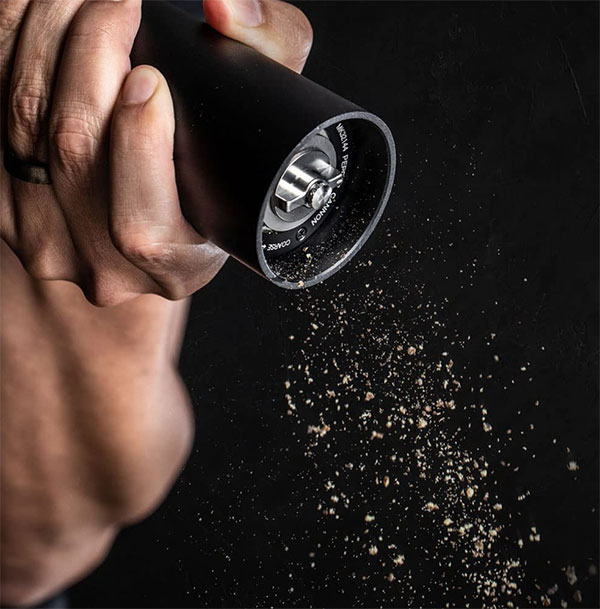 To be fair, this isn't an electrical grinder. But it has a geared system inside that cranks out pepper very quickly. You can crank out an entire ounce of pepper in under a minute, and it doesn't take a lot of effort. This is partially thanks to the grinding mechanism itself, which consists of a set of high carbon stainless steel burrs. Just be careful. While this mechanism will make quick work of peppercorns, it won't work well with salt. The steel will quickly corrode, and your grinder will be ruined.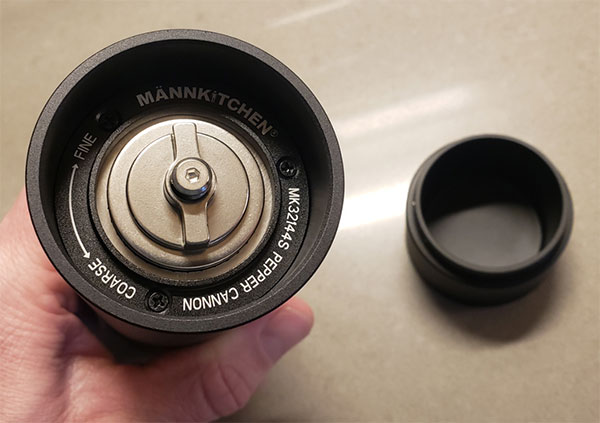 Holding it in your hand, it's immediately apparent that MANNKITCHEN went above and beyond in the design and execution of their product. The quickness and effectiveness of the grinder means serious business; it's said to be ten times faster than a traditional pepper mill. That said, it'll also last a lifetime.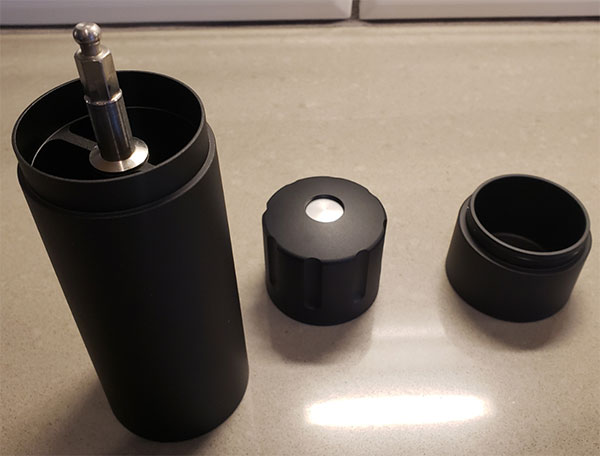 The Pepper Cannon has a wide range of coarseness. By twisting a metal flange on the bottom, you can grind pepper to anywhere from 6 to 60 mesh. 6 mesh is barely cracked at all, and 60 mesh is a fine powder. That's far more range than the average pepper grinder, which can typically go between 12 and 28 mesh. We also liked the refill mechanism. The top removes easily, leaving a wide opening for refilling.
What we liked:
Wide coarseness range.
Straightforward operation.
Fast, efficient operation.
Tough anodized aluminum design.
What we didn't like:
It's not electrical.
It only does pepper.
Expensive.
All-Around: VEVOK Rechargeable Salt and Pepper Grinder Set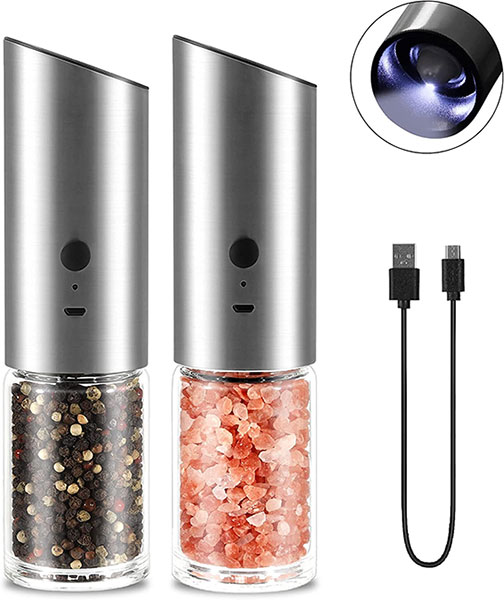 Key features:
Pair of salt and pepper grinders.
Built-in LEDs in the tips.
Rechargeable 1,200mAh batteries.
The VEVOK Rechargeable Salt and Pepper Grinder Set is a pair of two grinders – one for salt, and one for pepper. Each grinder measures 2.2 inches in diameter at the base, and 8 inches tall. The bottom portion is a borosilicate glass hopper for your seasoning. The upper portion is made from stainless steel, and comes in two color options. You can order a standard brushed stainless, or a black and white set to match your salt and pepper.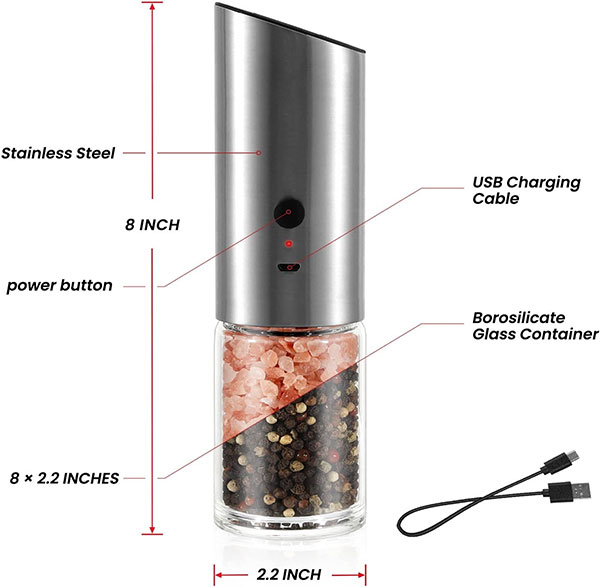 To use one of the grinders, first press the button on the front of the housing. This will activate the internal gyroscope. Turn the grinder upside down to start dispensing your spices, and flip it back over to stop. Just remember to press the button again when you're done. Otherwise, the gyroscope will remain on and drain your battery.
Embedded in the top of each grinder is a white LED diode. This lights up whenever the motor is active, and illuminates the area where your spice is falling. It makes it easy to see how much salt or pepper you're adding. As for grinding performance, we had no issues. The ceramic grinding mechanisms make quick work of salt and pepper alike. There's also a white dial built into the bottom of each shaker to adjust the coarseness. The adjustment is stepless, so you can get the exact texture you want.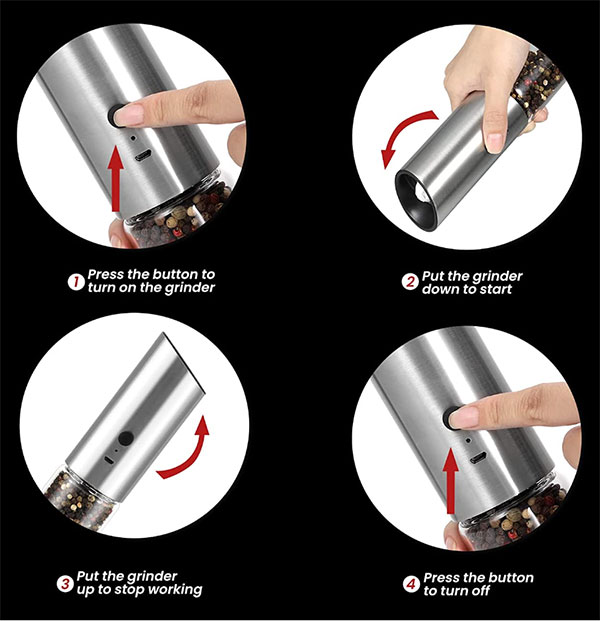 Each VEVOK grinder has a 1,200mAh internal battery. The battery is good for the equivalent of around 180 hand cranks – more than you'll need for any meal. Charging via Micro USB takes a little over an hour, and there's a pair of cables included in the package. You also get the benefit of a 180-day manufacturer's warranty.
What we liked:
Straightforward, easy-to-use design.
Built-in LED provides good visibility.
Stepless coarseness adjustment.
Long-lasting batteries.
What we didn't like:
Battery dies quickly if you forget to turn it off.
Charges via Micro USB.
Best Runner-Up: ProGrind Electric Salt and Pepper Grinder Set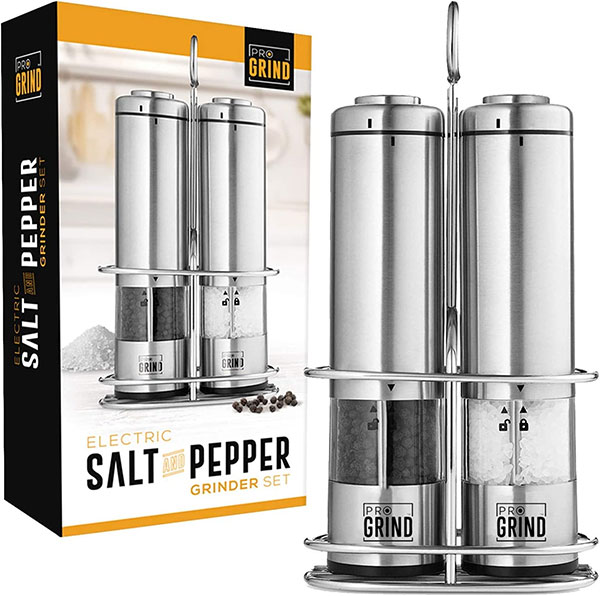 Key features:
Stainless steel bodies with acrylic hoppers.
Stepless coarseness adjustment.
Built-in LED lights.
Comes with a little metal caddy.
Takes four AA batteries.
The ProGrind Electric Salt and Pepper Grinder Set is another set with separate salt and pepper grinders. They have a two-part design, with stainless steel upper bodies and clear acrylic hoppers near the bottom. They're cylindrical in shape, with a diameter of 2 inches and a height of 8 1/8 inches. The stainless steel housings have an attractive brushed finish and they're easy to keep clean.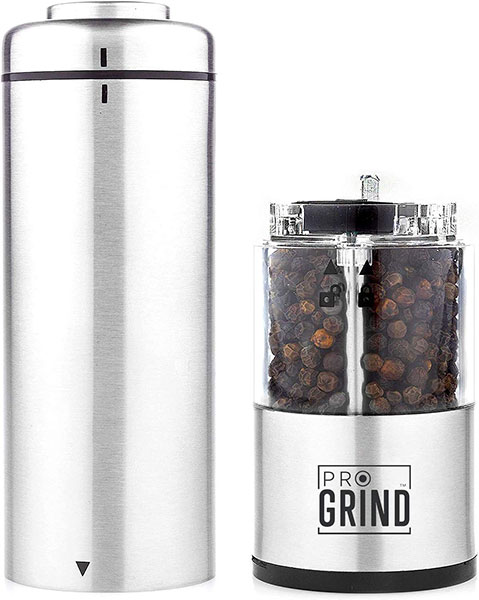 Along with the grinders, you get a few accessories that are worth noting. To begin with, you get a stainless steel caddy. It looks like something you'd find in a restaurant, with a metal ring at the top and the grinders on either side. If nothing else, it's an easy way to keep track of everything. You also get a pair of silicone covers for the bottoms. In theory, this is a great way to keep stray seasoning from spilling. In practice, the covers tend to fall off as often as they work.
Using the grinders is easy. There's a single button on the top that starts the motor. Along with the motor, the button will activate a white LED. This illuminates the immediate area and helps you track how much seasoning you're applying.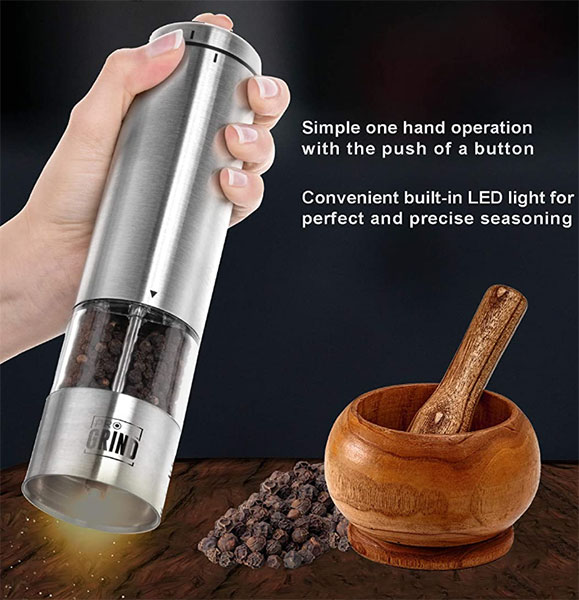 At the top of the hoppers, you'll notice a pair of black arrows with lock and unlock symbols. Twist the top to align the unlock arrow, and you can simply lift off the top of the housing. This makes it easy to refill your salt or pepper. The black knob in the base of each grinder is used to adjust the coarseness. Adjustment is stepless, so you have complete control.
Each grinder takes a set of four AA batteries. They're long-lasting, and will last for hundreds of grinds before needing to be replaced. Then again, that's a lot of batteries. You'll need to have some on hand for when you finally run out of juice.
What we liked:
Durable stainless steel and acrylic design.
Easy to operate and refill.
Built-in LEDs let you see what you're doing.
Attractive restaurant-style caddy.
What we didn't like:
Silicone caps fall off easily.
Internal connectors feel cheap.
Best Alternative: Cuisinart SG-3 Rechargeable Spice Mill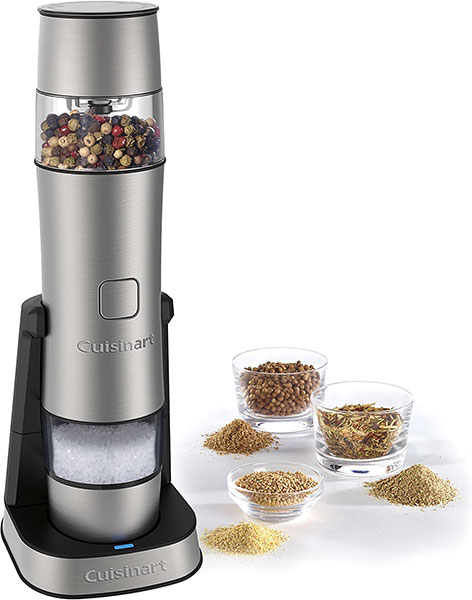 Key features:
Double-ended design holds salt and pepper.
Twist-to-remove hoppers.
Five coarseness settings.
Built-in measuring cap for recipes.
The Cuisinart SG-3 Rechargeable Spice Mill has a unique all-in-one design. It's a stainless steel baton with a pair of acrylic salt and pepper hopers near the ends. These hoppers are transparent, so it's easy to tell when you're about to run out of seasoning. Including the base, the unit measures 9.75 inches tall, 4 inches wide, and 6.13 inches deep.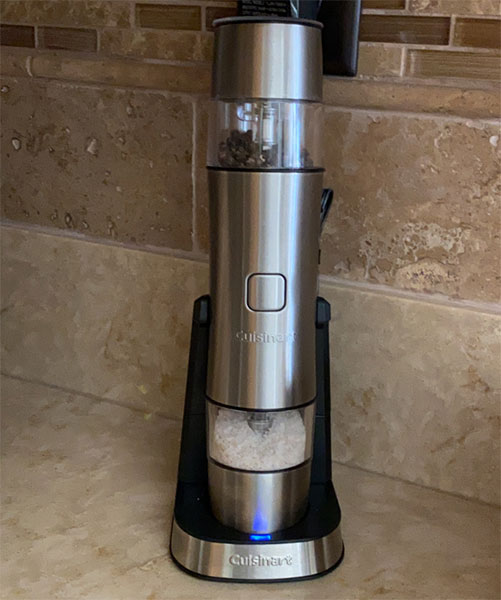 The base isn't just a stand – it's a charger. When the spice mill is in place, it will constantly be charging the battery. There's a notch in the back of the grinder which you line up with a peg in the base to make proper contact. A red light in the front of the base when the battery is 100% charged. Meanwhile, there's a removable tray in the bottom to collect and dispose of any spillage.
There's a square control button on the front of the cylinder that turns it on and off. The neat thing is that there's a built-in sensor that detects which side is up. Only the downward-facing side will grind. You can take advantage of this if you're adding both pepper and salt. A quick flip is all it takes to dispense both of them.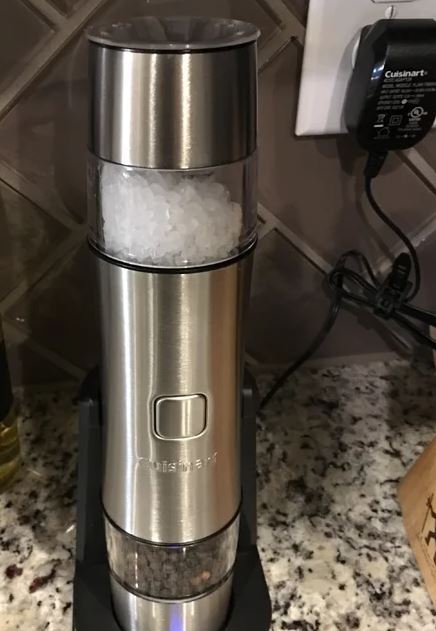 The hoppers are also easy to access and refill. Just twist them to unlock them and pull them out. When you're done filling them, push them back in and twist them to lock. There's a set of lock and unlock icons on the backs that are easy to line up.
You can choose from five coarseness settings. There's a black flange in the salt end that twists to select different options. It affects the coarseness of your salt as well as your pepper.
One other feature worth noting is the cap over the pepper end of the grinder. It's designed as a small measuring cup, with a capacity of 1 teaspoon. You can use it to measure salt as well as pepper, which is convenient for many recipes.
While you're outfitting your kitchen, it might be worth considering a new cooking appliance. The Multo by CookingPal is an excellent choice. It can steam, cook, blend, or mash, and it can do three recipes at once. Better yet, it does all that automatically!
What we liked:
All-in-one salt and pepper shaker.
Easy to use and adjust.
Built-in teaspoon measuring cap.
Base doubles as a charger.
What we didn't like:
Loud.
Runs relatively slowly.
Final Verdict
These are all good quality salt and pepper grinders. But which one is the best fit for your kitchen? Here's what we've learned about each one.
The MANNKITCHEN Pepper Cannon is no good for salt, but it makes quick work of peppercorns. Despite being a manual grinder, it can power through a full ounce of pepper in under a minute. The stainless steel grinding mechanism is just that powerful. We also liked how easy it is to pop off the top and reload the pepper hopper.
Next, we examined the VEVOK Rechargeable Salt and Pepper Grinder Set. This is a well-designed pair of grinders that's made from glass and stainless steel. The single-button operation is straightforward, and the built-in lights make it easy to see what you're doing. We also appreciated the long-lasting internal battery.
Third on our list was the ProGrind Electric Salt and Pepper Grinder Set. This set of restaurant-style grinders combines modern electrical motors with old-school charm. They're easy to operate, and we liked the LEDs. And while replacing four AA batteries can be frustrating, you'll rarely have to do it.
Finally, we reviewed the Cuisinart SG-3 Rechargeable Spice Mill. This nifty little mill is an all-in-one salt and pepper dispenser. The base makes it easy to keep charged, since it tops itself off whenever it's not in use. Meanwhile, a single button makes grinding your seasoning a snap. All in all, it's tough to go wrong with this option.