Are you searching for the best battery-operated lights for your closet or other dimly-lit spaces? We have tested and reviewed some of the top options available on the market to help you find the perfect addition to your space. We focused on their features, functionality, and ease of installation to include only the best of the best. Here's a quick rundown of our top picks:
In the following sections, we'll dive deeper into each of these battery-operated lights, detailing their key features and pros and cons, so you can make an informed decision and find the perfect lighting solution for your needs.
BLS T01L LED Closet Light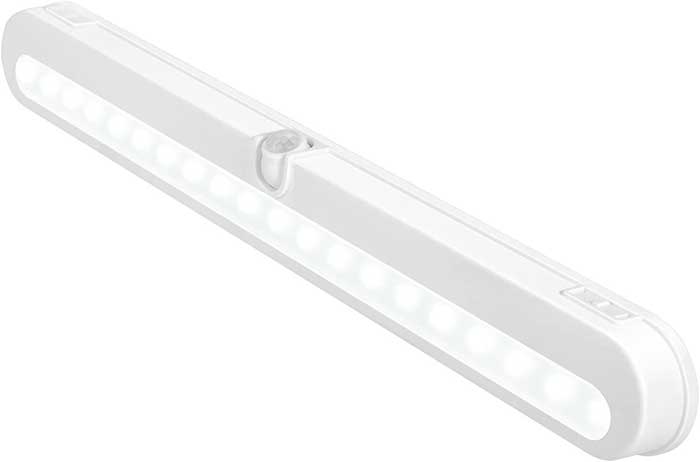 Key features:
Motion sensor with adjustable sensitivity
20 super bright LEDs
Battery-powered or USB DC plug
Easy installation and beam direction adjustment
The BLS T01L LED Closet Light is an efficient and versatile lighting solution for various spaces, such as closets, under cabinets, or other dimly-lit areas. Measuring 14.7 x 2.6 x 1.1 inches, this compact unit is equipped with 20 super-bright LEDs that deliver 180 lumens of soft white light, providing ample illumination for your needs.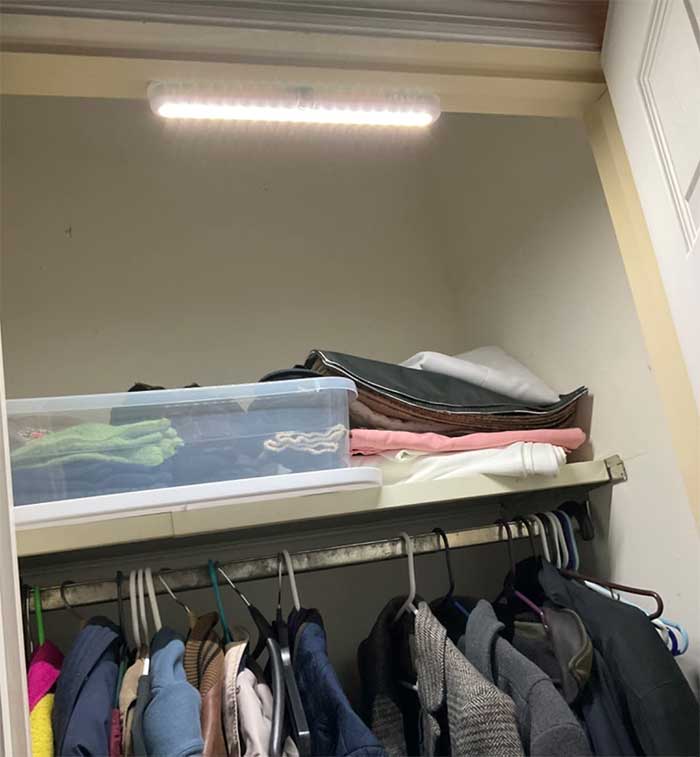 During our testing, we found the motion sensor to be quite reliable, activating the light within a 10-foot range and automatically switching off 20 seconds after no motion was detected. The unit offers three different modes – Auto, On, and Off – making it suitable for various occasions. Additionally, the built-in light sensor can be set to work only at night or during both day and night.
Powered by three AA batteries, it offers excellent run time, lasting up to six months with 10 daily activations. For continuous lighting, it can also be powered by a 5-volt USB DC plug. A cable comes with the light, but you'll have to provide your own charging block. Aside from that, installing the device is a breeze, thanks to the included screws and 3M sticker.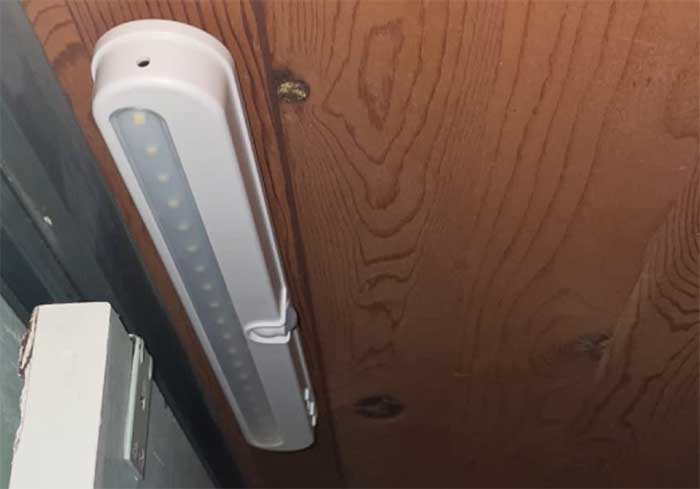 We were pleased to see that there's an adjustable light beam and motion sensor present. The unique design enables the unit to swivel, allowing for customized beam direction. And the motion sensor can also be adjusted to fine-tune sensitivity. With its 30-day money-back guarantee and 12-month hassle-free replacement warranty, the BLS T01L LED Closet Light stands out as a top choice for your lighting needs.
What we liked:
Efficient and versatile lighting solution
Three operating modes
Excellent run time on batteries
Day and night light sensor option
What we didn't like:
Batteries not included
Limited to 180 lumens output
VYANLIGHT Motion Sensor LED Lights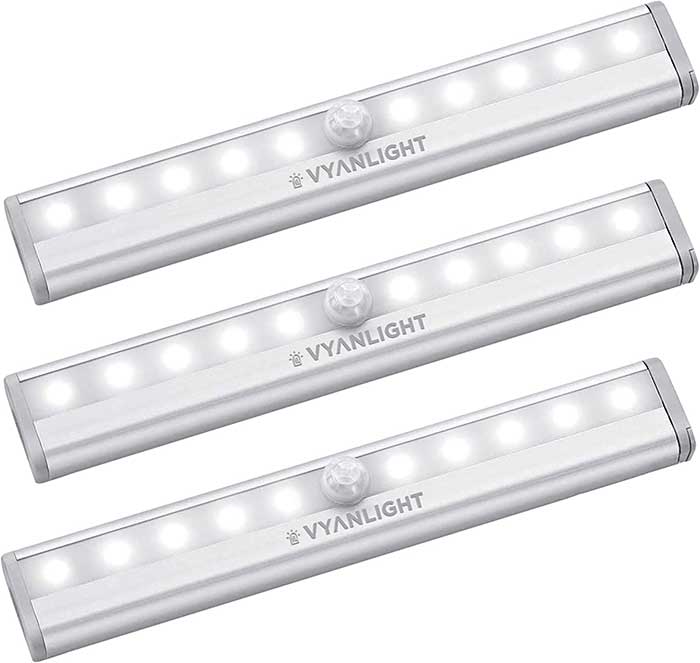 Key features:
Motion-activated with 9-foot sensor range
10 high-quality LED lights
Easy peel-and-stick magnetic installation
Durable aluminum and ABS construction
Next up is VYANLIGHT's Motion Sensor LED Lights, a sleek and modern solution to enhance your home's ambiance and functionality. This set of three 7.5 x 1.2 x 0.6-inch LED bars offers powerful illumination for various spaces, thanks to their 10 high-quality LED lights. Each bar is constructed using durable aluminum and acrylonitrile butadiene styrene materials, ensuring longevity and resistance to wear.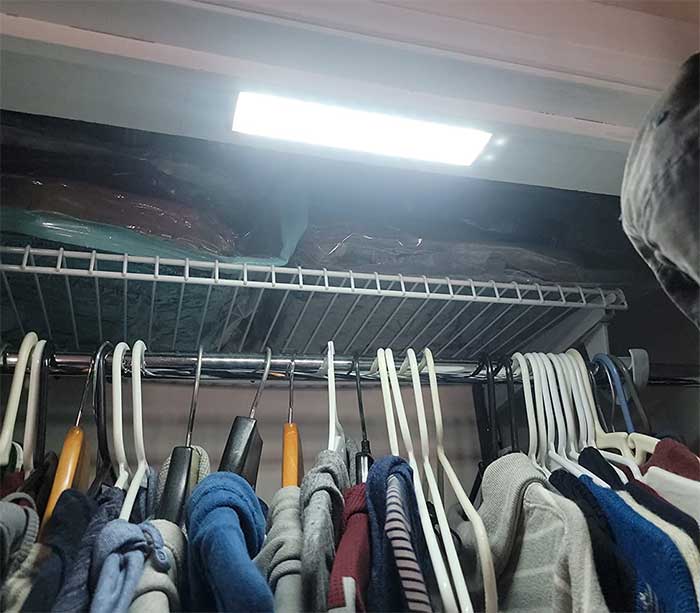 One notable feature is the built-in Passive Infrared Technology (PIR) motion sensor with a 9-foot range, which activates the light in the dark upon detecting human motion. The sensor also prevents the unit from turning on when other light sources are present, saving battery life. After 20 seconds without motion, the light automatically turns off.
Installation is quick and easy, thanks to the included adhesive-backed magnetic strip. It allows you to attach the device to any clean, dry, and flat surface without the need for tools, screws, or nuts. The magnetic strip also simplifies battery replacement, as the light bar can be easily detached. Each LED bar operates on 4 AAA batteries. Some might see this as a negative, but in our testing, our lights showed no signs of dimming after 3 weeks.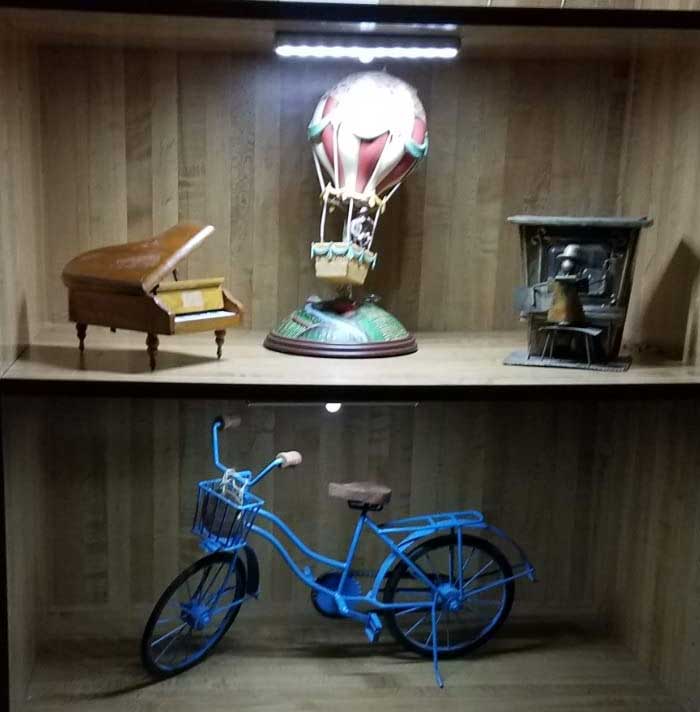 We also tested VYANLIGHT's Motion Sensor LED Lights in various settings, such as under cabinets, in closets, hallways, stairways, and kitchens. The device consistently provided bright, efficient lighting, making it an excellent choice for those seeking a versatile and easy-to-install solution for dark corners and compact spaces.
What we liked:
Efficient battery life management
Automatically turns off after 20 seconds
Versatile application in various spaces
Detachable for quick battery replacement
What we didn't like:
Limited to dark environments
Batteries required for operation
TOOWELL Motion Sensor Ceiling Light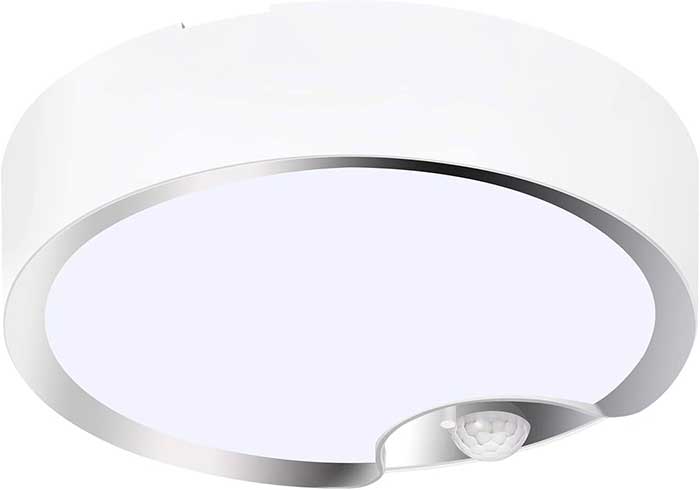 Key features:
400 lumens, bright LED lighting
Daylight/night mode customization
120-degree motion detection range
Easy wireless installation
From TOOWELL comes their Motion Sensor Ceiling Light, a versatile and highly effective lighting solution for various indoor and outdoor spaces. This battery-operated LED unit provides 400 lumens of brightness, making it an excellent choice for areas such as closets, stairways, hallways, pantries, garages, laundry rooms, bathrooms, and just about anywhere you need extra lighting.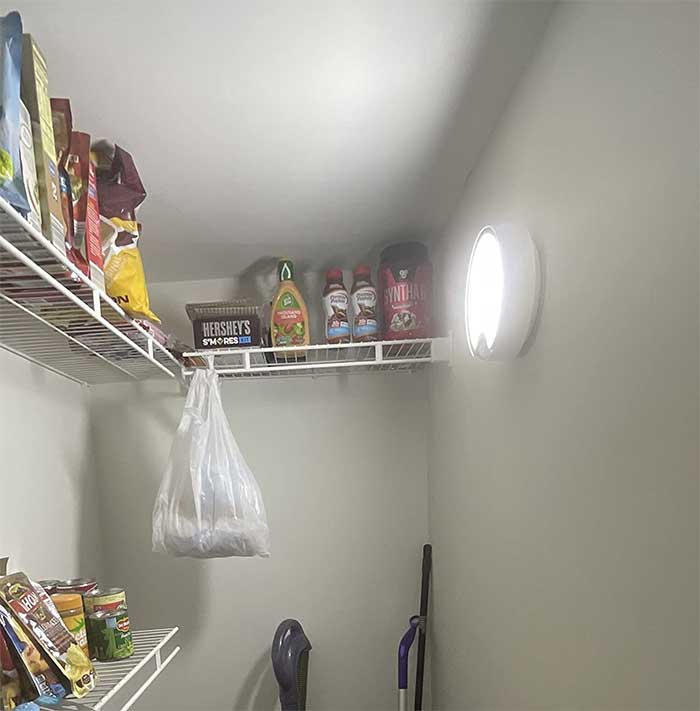 Featuring an upgraded daylight/night mode, the motion sensor light can be customized according to the user's preference. The NIGHT mode ensures that the light is only activated at night, while the DAYLIGHT mode enables motion-activated illumination throughout the day. Its built-in PIR infrared motion detector has a 120-degree detection angle and can detect motion from up to 20 feet away.
The device uses 80 SMD2835 LEDs, which are not only bright but also have a long life span of up to 60,000 hours. The frosted lamp cover softens the light, providing a comfortable and non-glaring experience for users. You'll need to supply 4 D-cell batteries to power the light, but once installed, the energy-efficient light can last over six months on one set of batteries.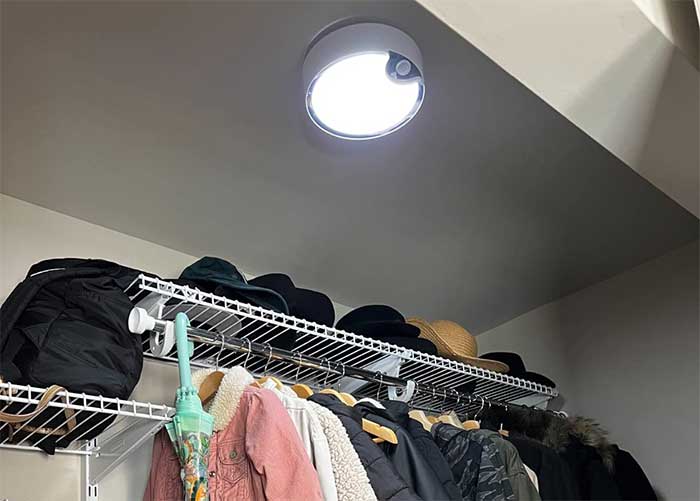 With dimensions of 7.5 x 7.5 x 2.4 inches, TOOWELL's light is easy to install without the need for electrical wiring. It is a convenient and renter-friendly alternative to traditional lighting fixtures, offering peace of mind with its 3-year warranty and 24/7 customer service.
What we liked:
Long-lasting 60,000-hour LED lifespan
Energy-efficient battery usage
Versatile indoor/outdoor application
3-year warranty, reliable customer service
What we didn't like:
Powered by batteries only
Limited range for large areas
goodland 160 LED Closet Lights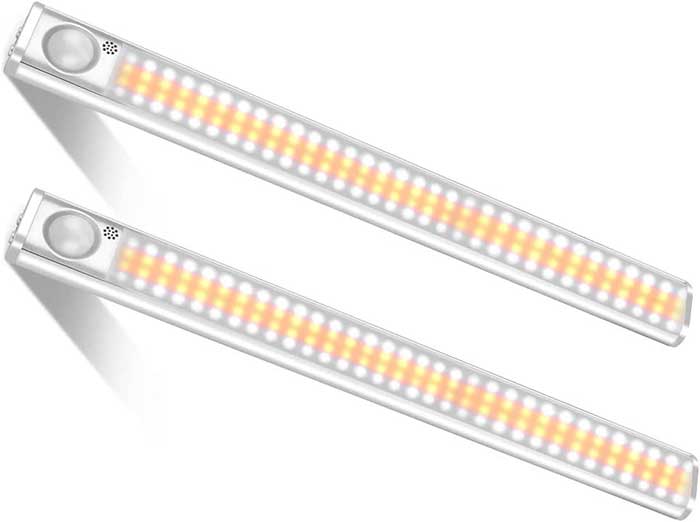 Key features:
160 energy-saving LEDs
Three color temperatures
Motion sensor functionality
Easy magnetic installation
Goodland's 160 LED Closet Lights offer a versatile and energy-efficient lighting solution for various indoor spaces. With dimensions of 1.38 x 15.35 x 0.43 inches, these lights are slim and unobtrusive. The set comes with two units that are simple to install, thanks to the magnetic strips that attach to any surface. Once installed, the unit can be easily removed and reattached as needed.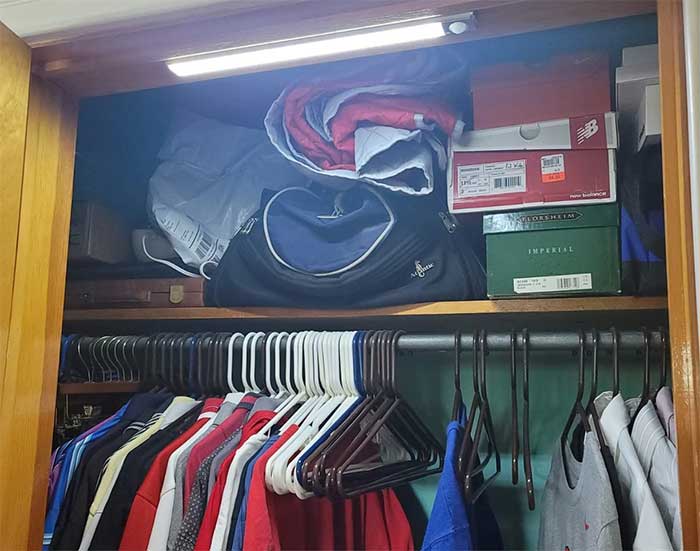 Equipped with 160 energy-saving LEDs, the device provides three color temperatures (cool white, warm white, natural white) for customizable illumination. It features stepless dimming, allowing users to adjust the light intensity according to their preferences. The unit also has four switch modes: Always On, All Day Sensing, Night Sensing, and Off. Switching between modes is as easy as pressing the S2 button.
We appreciate that this under cabinet light features a motion sensor, as it serves to detect human presence. And it's capable of doing so within a 16.4-foot and 120-degree range. The light automatically turns on when motion is detected and switches off after it detects approximately 20 seconds of inactivity. This feature is particularly useful in dark areas where manual switching may be inconvenient.
Powered by a rechargeable 3600mAh battery, the light is energy efficient and eco-friendly. It can be charged via a phone adapter, USB port, power bank, or laptop. The high-capacity battery ensures minimal recharging, and the charging status is indicated by red (charging) and green (charged) lights.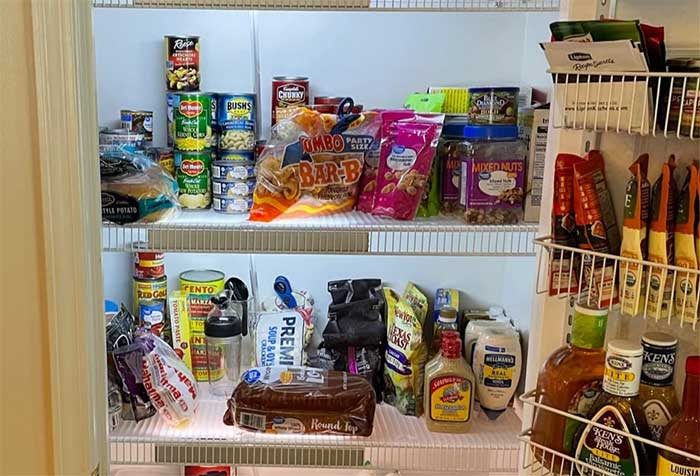 If you want a light that's suited to a variety of applications, check out goodland's 160 LED Closet Lights. It comes with a 24-month warranty and even has free replacement service to ensure a hassle-free and reliable lighting experience.
What we liked:
Stepless dimming for customizable brightness
Four switch modes for versatility
Rechargeable battery
Wide range of applications
What we didn't like:
May not adhere to all surfaces
Motion sensing not always consistent
EZVALO LED Closet Light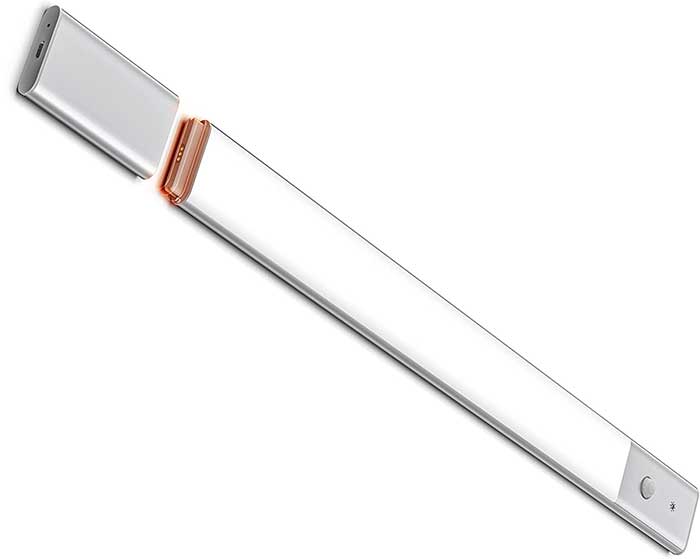 Key features:
Slim, durable anodized aluminum design
Detachable 1500mAh rechargeable battery
Motion and daylight sensor
Touch control and dimming options
The EZVALO Motion Sensor Cabinet Light is an innovative and versatile lighting solution, perfect for various spaces like stairways, kitchens, wardrobes, and cupboards. With a slim profile of only 10 mm, this 20.47 x 1.65 x 0.39-inch unit is made of high-quality anodized aluminum, ensuring a durable and sleek design.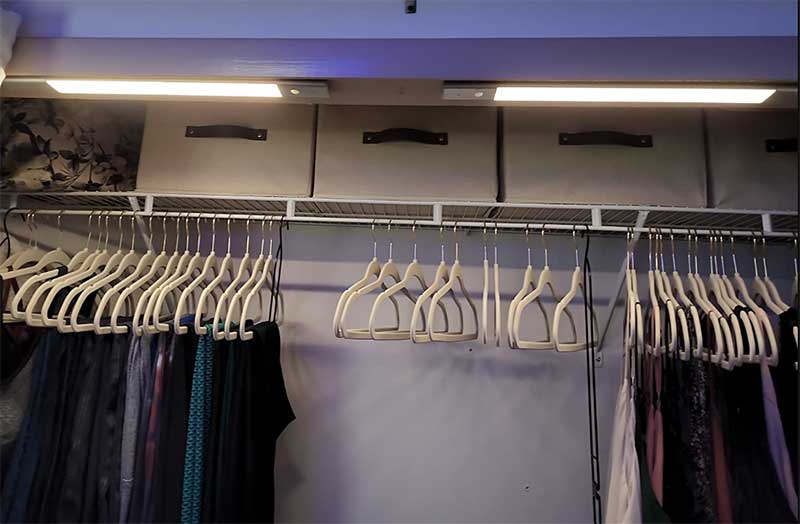 One welcome feature is its 1500mAh detachable rechargeable battery, which can last up to 90 days in auto mode (3 times per day) or 33 hours of continuous lighting. This detachable design makes recharging convenient and hassle-free.
Installation is straightforward, thanks to the integrated magnets in the back of the unit, allowing it to attach securely to any magnetic metal surface or the included adhesive mounting strip. The device features a motion and daylight sensor, activating the light when movement is detected within a 10-foot/120-degree range while ensuring it only turns on when necessary, conserving energy.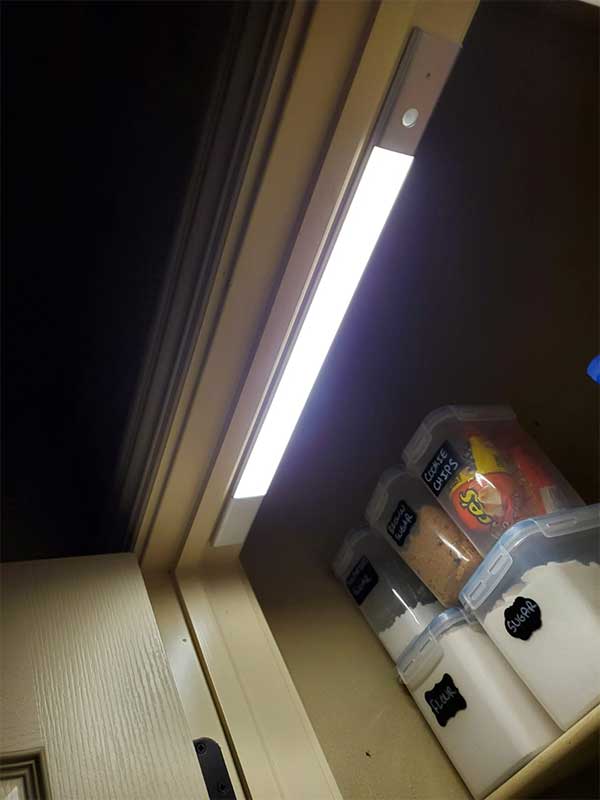 Three cycle modes (Auto, Always-On, and Always-Off) cater to various needs, while touch control and dimming options provide an elegant and efficient way to adjust the lighting. With a color temperature of 3500K, this unit emits a warm and cozy light, perfect for creating a comfortable atmosphere in your home.
Overall, the EZVALO Motion Sensor Cabinet Light is a practical and stylish choice for anyone looking to improve visibility and enhance the ambiance in their living spaces.
What we liked:
Easy magnetic or adhesive installation
Energy-saving with auto mode
Versatile lighting for various spaces
Three cycle modes for convenience
What we didn't like:
May not function near other motion lights
Auto-On Mode's 30-minute limit
Battery-Operated Light For Closet FAQs
How long do batteries typically last in these closet lights?
Battery life for battery-operated closet lights can vary depending on factors such as usage, battery type, and the specific light model. However, most battery-operated closet lights can last anywhere from a few weeks to several months on a single set of batteries. Many models also have energy-saving features like motion sensors or timers that can prolong battery life.
Can I use rechargeable batteries in my LED closet light?
Yes, you can generally use rechargeable batteries in your battery-operated closet light as long as they are the same size and voltage as the non-rechargeable batteries recommended for the device. Keep in mind that rechargeable batteries usually have a slightly lower voltage than non-rechargeable ones, so the light's brightness may be slightly reduced.
How do I choose the best battery-operated closet light for my needs?
When choosing and LED closet light, consider factors such as brightness, motion sensors, battery life and type, ease of installation, size and design, and any additional features like dimming options or adjustable color temperatures.
Final Verdict
After careful consideration and testing, we have selected these top battery-operated lights for various reasons. The BLS T01L LED Closet Light stood out due to its reliable motion sensor, adjustable sensitivity, and 20 super bright LEDs, making it a versatile choice for different spaces.
VYANLIGHT's Motion Sensor LED Lights were chosen for their sleek design and PIR technology, ensuring efficient battery life management and adaptability to various applications.
The TOOWELL Motion Sensor Ceiling Light was selected for its versatile indoor and outdoor use, providing a powerful 400 lumens brightness and customizable daylight/night mode.
Goodland 160 LED Closet Lights impressed us with their stepless dimming and rechargeable battery, offering customizable lighting for a wide range of applications.
And finally, the EZVALO LED Closet Light's slim design, touch control, and detachable rechargeable battery make it a stylish and practical lighting solution for any living space.
Each of these battery-operated lights offers unique features and advantages, catering to different needs and preferences. We believe our selections provide an excellent variety of options, ensuring that you will find the perfect lighting solution for your closet or other dimly-lit areas in your home.
Meet Derek, "TechGuru," a 34-year-old technology enthusiast with a deep passion for tech innovations. With extensive experience, he specializes in gaming hardware and software, and has expertise in gadgets, custom PCs, and audio.
Besides writing about tech and reviewing new products, Derek enjoys traveling, hiking, and photography. Committed to keeping up with the latest industry trends, he aims to guide readers in making informed tech decisions.