Powerful gaming PCs require ample cooling to keep them from overheating. There are usually two ways of accomplishing this.
The first is fully custom water cooling. While this works well, it's not the most accessible option to most people, with high costs and low margins for error.
The second option is fan cooled. If you go this route, you'll want to have the best fans available to achieve maximum cooling. They can go directly in the case, or on pre-built water cooling radiators.
That's why we've broken down the best 140mm case fans for you to choose from.
Important Considerations
Maximum RPM: Simply put, the faster the fans can spin the more air they can move. Conversely, the faster they spin the more power they consume. They come in all different options so you can achieve the fan speed, power consumption, and cooling you're looking for.
Construction quality: Anytime that your computer is on, your fans (should) be spinning. Because of this, they get a lot of wear and tear over the lifetime of a computer's use. We wanted to make sure you get options that are built with quality materials to take on that task.
Connection type: When you're building your PC, you may find that having enough space to plug everything in can be a challenge. Knowing ahead of time what connections you need to make everything work is critical to ensure you can get your computer built right the first time. Knowing fan connection types is no exception to this.
Noise level: Given that case fans are always spinning, noise control is important. There's nothing worse than having a loud PC, so we wanted to make sure these fans had taken noise-reducing measures with their construction.
Looks: Custom PC builds typically have a lot of different pieces competing for attention. Whether you're building something minimal or an RGB masterpiece, having fans that enhance your build is important.
Best Overall: Corsair iCUE QL140 RGB 140mm Case Fan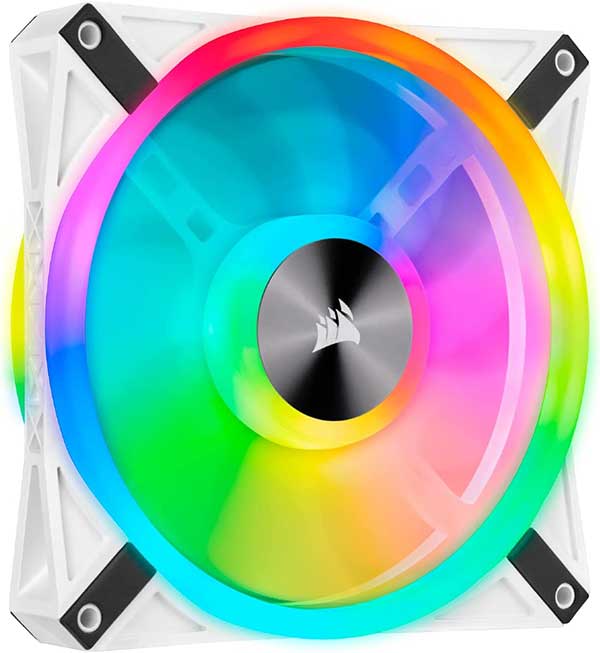 Key Features:
13.2 volts
1300 RPM maximum
26 decibels maximum
5.51 x .98 x 5.51 inches
The QL140 from Corsair is the big brother to the LL140, with more premium features available. It can achieve a maximum speed of 1250 RPM to help attain high airflow and great cooling. A single fan can move 50.2 cubic feet of air per minute, putting it slightly lower than the LL140 but still a respectable amount.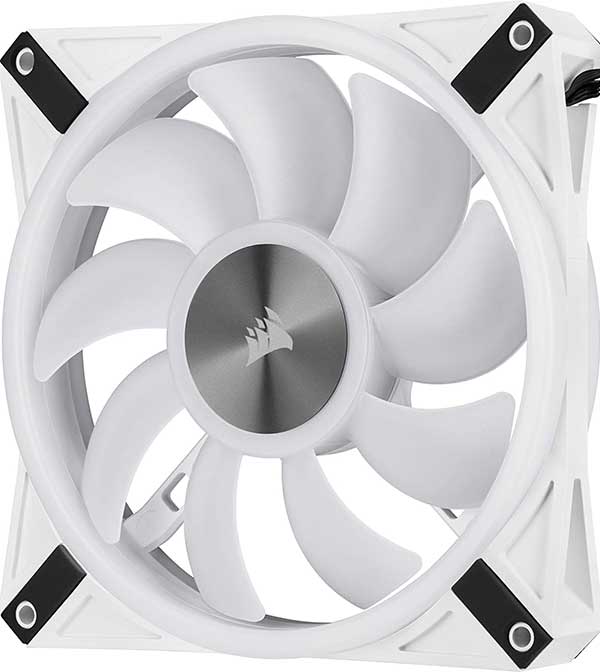 The build quality on the QL140 is great. Featuring plastic, rubber, and even metal components, this option will hold up for a long time. It has a uniquely shaped design that allows it to be used on both the case and on radiators, depending on your preference. The mounting bracket portion is available in both black and white, while the fan blades are semi-transparent.
If you're a fan of RGB, this is the best-looking option on the list. It features 34 individual RGB LEDs to give you the most customization possible. Similar to the LL140 it has two separate rings of LEDs. However, on this option, the RGB is much more visible from both sides. This allows you to use it as intake or exhaust however you have to without sacrificing RGB viewing. The outer RGB ring also sticks out from the body of the fan on both sides, increasing visibility even further.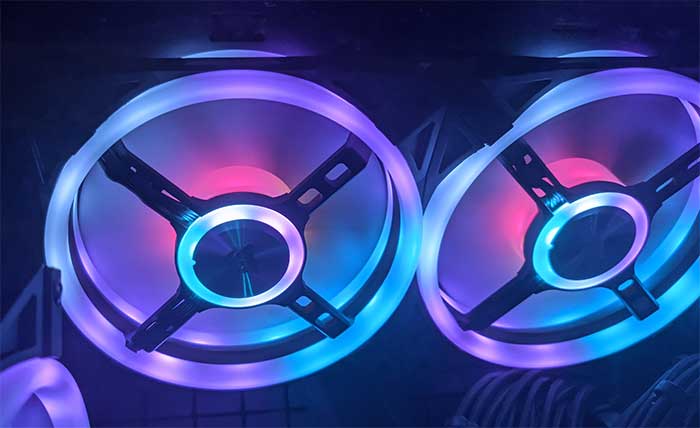 The RGB is completely customizable using Corsair's iCUE software. You can create amazing animations using this system. Its connection is also a two-cord system. The power and speed control is through a 3-pin connector. The RGB is controlled through the Lightning Node Core, which again is sold separately or available in the two-pack of fans.
The noise level comes in at a maximum of 26 decibels on the QL140 from Corsair, putting it just slightly higher than the LL140. This level of sound is achieved through the design of the fan blades. It is also achieved through the use of rubber dampers at all connection points on the frame. This reduces vibration from use and keeps noise to a minimum.
Pros:
Best looking RGB on the list
Additional noise-reducing measures
Available in black and white
Cons:
Highest cost on the list
RGB controller is not included in the single pack
Best Alternative: Corsair LL Series LL140 RGB 140mm Case Fan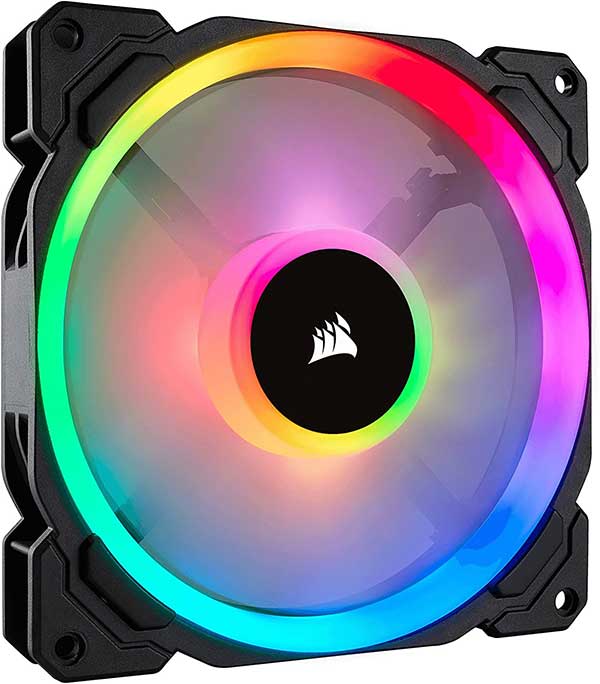 Key Features:
13.2 volts
25 maximum decibels
1300 maximum RPM
5.51 x .98 x 5.51 inches
The LL140 from Corsair is a fantastic choice. It's capable of a range between 600 and 1300 RPM. This allows it to achieve an airflow rate of 52.5 cubic feet per minute. The airflow created by it ensures your components won't overheat in any conditions. PWM technology allows you to set it at any speed it can achieve and it will stay there while in operation.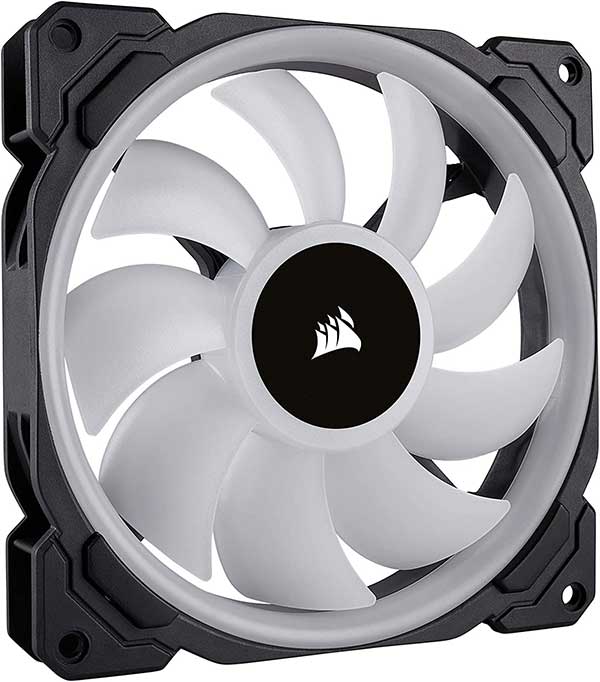 The LL140 is made from durable plastic so it will hold up for extended use. The square design allows it to be easily mounted to your case or a radiator. The mounting bracket part is made from black plastic, while the internal blades are made from translucent plastic. The bearing used internally is hydraulic to keep it completely functional. Overall, after analyzing reviews, the build quality and functionality of it as a fan weren't mentioned as issues.
As for looks, it's amazing. It features a ton of RGB. There are two circles, an inner and an outer, that total 16 independent RGB LEDs. Each LED is completely customizable using Corsair's software. To connect it, you'll have two different cords to plug in. The first is the standard power cord with a 4-pin connector. This cord also is was enables speed customization. The second connection is used to control and customize the onboard RGB. This cord gets plugged into a Corsair Lighting Node Pro (sold separately or included in higher-priced packages).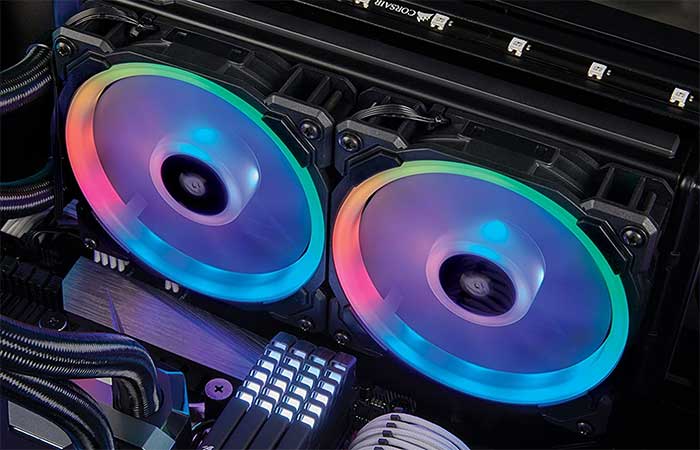 In our opinion, that's an annoying way to have to control one of its best aspects. Additionally, the reviews are mixed on the RGB. Some people report that their lighting effects stopped working altogether after some time.
When it comes to noise, the LL140 from Corsair is a very quiet option. It's designed to minimize sound and only hits a maximum of 25 decibels, making it very comparable to the Noctua NF-A14. Part of what makes it so quiet is the specially designed fan blade technology. Pair that with the speed customization, and you get a cooling option that can be as quiet as you want it to be.
Pros:
Very quiet
Extreme cooling capabilities
Easy speed control
Cons:
RGB controller not included in the single pack
Best Quiet Option: Noctua NF-A14 140mm Case Fan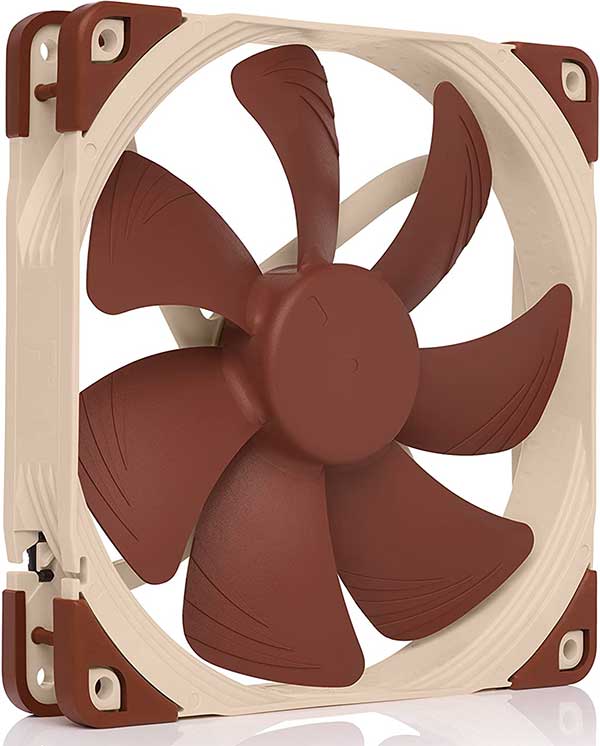 Key Features:
12 volts
24.6 maximum decibels
1500 maximum RPM
5.51 x .98 x 5.51 inches
The Noctua NF-A14 can achieve a range of 300 and 1500 RPM. It comes with a low-noise adaptor which reduces the maximum speed to 1200 RPM. It's also compatible with automatic speed control. This is extremely helpful if you aren't quite sure what speeds you want to be running.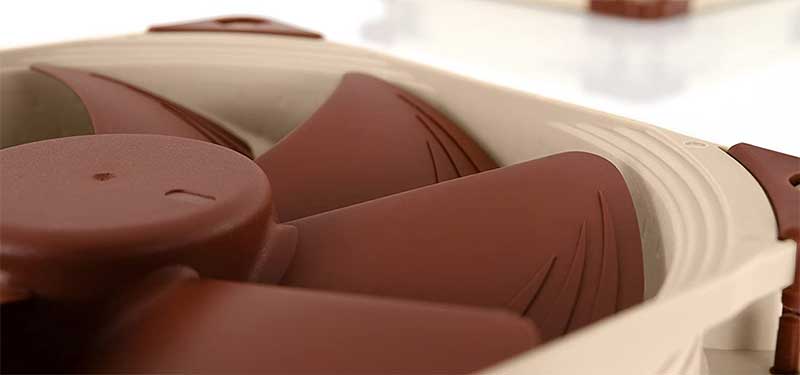 Noctua is known for making top-notch products, and the NF-A14 is no exception. It's made out of Fiber-glass reinforced PBT, making it extremely durable. Internally, it features the renowned SS02 bearing. This helps to provide better stabilization and durability on the moving parts. As for design, this is a fully squared option with rounded corners. The fan blades feature flow acceleration channels. This helps improve airflow at the outer regions of the blades and improves efficiency.
To connect it to your PC, you'll be using a 4-pin fan header. This header is what allows for automatic speed control. Included in the box are the necessary connection cable, as well as a 30cm extension cable. The extension will allow you even more flexibility in placement within your build.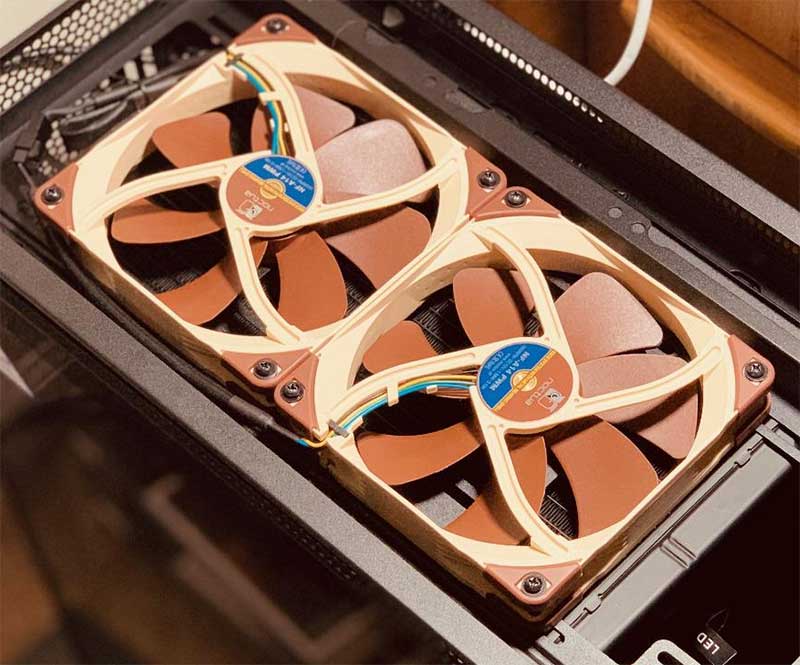 The highest level of noise from it is 24.6 decibels (extremely faint noise). This is achieved through its aerodynamic design, low-noise adapter, and anti-vibration pads. These pads are pre-installed pieces of extra soft silicone. Installing the fan using the four included anti-vibration mounts allows this to be a great quiet option. All of these measures allow it to comply with Noctua's Advanced Acoustic Optimization standard.
As for looks, the NF-A14 features the classic Noctua brown and off-white colorway. It lacks the frills of RGB and instead stays true to the brand. For some, this may not fit the overall look you want in your PC build. However, for others, this is a unique colorway that shows you care about quality.
Pros:
The square shape makes them ideal for cases and radiators
Premium build quality
Quietest option on the list
Cons:
A very specific colorway that will only work for some users
Best Fan Speed: be quiet! Pure Wings 2 140mm Case Fan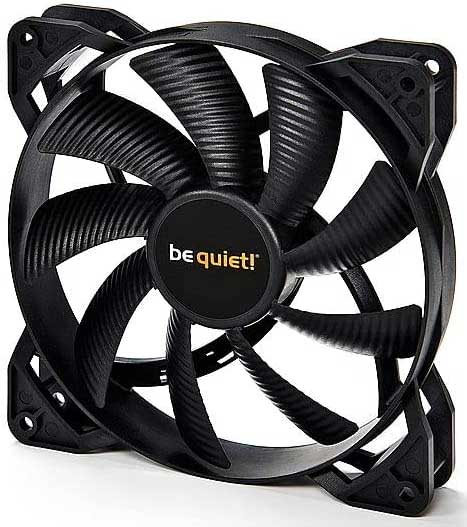 Key Features:
12 volts
1600 RPM maximum
37.3 decibels maximum
7.09 x 1.18 x 6.3 inches
The speed of the Pure Wings 2 is the fastest so far. Coming in at up to 1600 RPM, it can move a ton of air. This ability makes it an awesome choice if you're using water-cooling radiators in your system. It features PWM technology just like the options from Noctua and Corsair, allowing you to control the speed of each fan. It can also automatically spin faster or slower depending on temperature needs.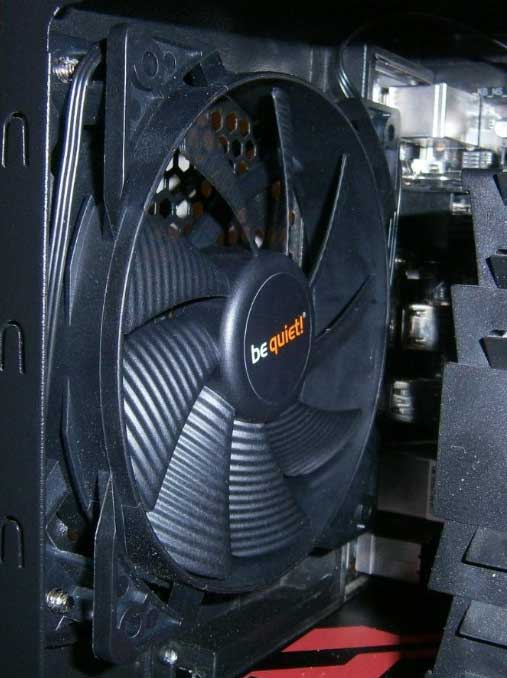 It's made out of durable plastic to ensure a long lifespan. Both the frame and the fan blades themselves are black. The design isn't quite square, and the overall body is slightly larger than the options from Noctua and Corsair. However, the fan itself is still 140mm. The internal components feature rifle-bearing technology. This technology promises up to 80,000 hours of use.
The overall look of the Pure Wings 2 is very basic. Only available in black and no RGB included, it's clear that the team at be quiet! was focusing on performance first. It's perfect for setups that are minimalistic and don't need the unique design or RGB flashiness offered by other options on this list. It's powered and controlled using a standard 4-pin connector.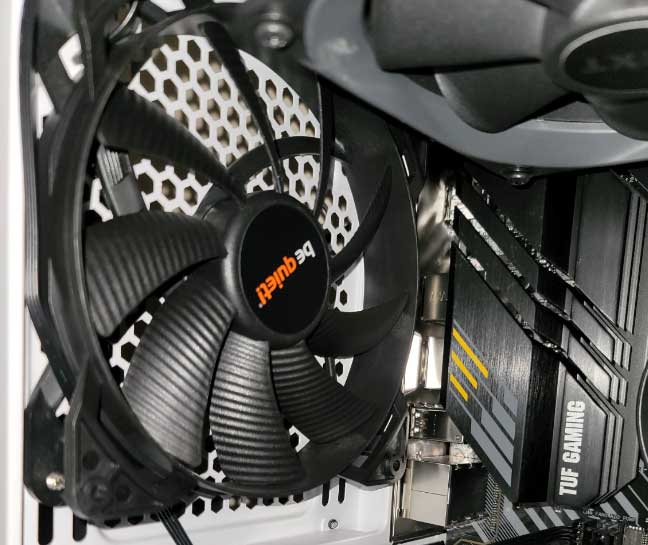 The design also allows this to be a very quiet option. The maximum noise is 37.3 decibels. On paper, this looks like a lot more when compared to the other options on this list. However, that's still a tiny amount of noise and shouldn't be looked at as a negative. The fan blades are designed and manufactured in a way that reduces overall air turbulence. This reduction helps to also reduce the noise created.
Pros:
Lowest price on the list
Designed to performance
Highest RPM on the list
Lowest power consumption on the list
Cons:
Best Minimalist Option: Antec Storm T3 140mm Case Fan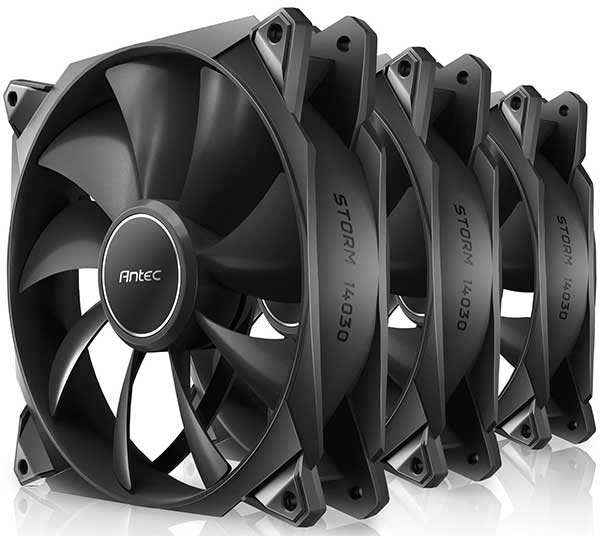 Key Features:
12 volts
1500 RPM maximum
33.69 decibels maximum
5.51 x .98 x 5.51 inches
The Antec Storm T3 is capable of high RPM performance, topping out at 1500 RPM. It's primarily designed to be used as a case fan but is radiator compatible as well. Its blades are 30mm thick, which when paired with the high RPM abilities, creates a lot of airflow. The case is designed in a spiral, curvy way to even further assist in maximum airflow. It's PWM compatible so you can set the speed where you want it to be, similar to our other choices.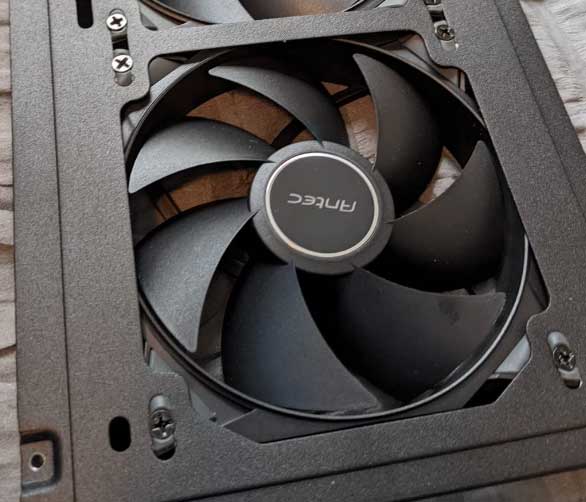 It's made from premium materials. The design is made thicker in some areas which will assist in its long-term durability. Both the frame and the fan blades are available in only black for the 140mm version. Internally, it features a fluid dynamic bearing. The design prevents oil from leaking out and keeps the fan safe for a longer period of time. This bearing allows it to operate for over 40,000 hours without fail.
The Antec Storm T3 is one of the more unique options when it comes to connection type. It features the standard 4-pin connector that most of the options on this list have. however, it can be hooked up in a daisy chain configuration. This means you can connect multiple versions of these fans. When set up this way, only one needs to be plugged into the motherboard for all of them to work. In a daisy chain, each fan is connected to the other with a 3-pin connector. If you prefer individual plug-ins, that's possible as well.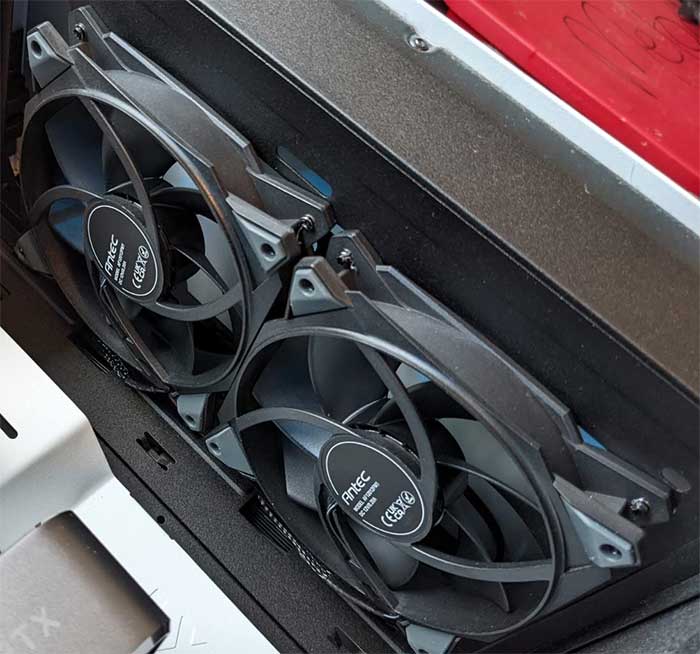 The maximum noise level is 33.69 decibels. This puts it just below the Pure Wings 2. It features enlarged anti-vibrating pads for noise cancellation. Additionally, the bearing internally is designed to reduce noise regardless of the speed of operation.
When it comes to looks, it's a very classy option. Only available in black and not featuring RGB, it isn't going to be the most noticeable option. However, if you're looking for something that looks as great as it performs you can't go wrong with the Storm T3.
Pros:
Daisy chain capable
Unique hydraulic bearing
Classy design
Cons:
Best Basic Lighting: Thermaltake 140mm Pure A14 Case Fan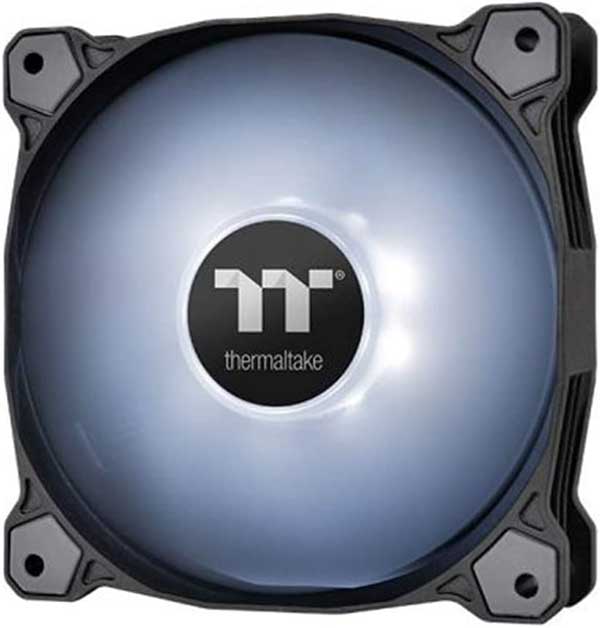 Key Features:
12 volts
1500 RPM maximum
32 decibels maximum
3.35 x 1.18 x 3.94 inches
The maximum speed of the Thermaltake Pure A14 is 1500 RPM. This puts it right in line with the Storm T3 for speed. At its highest speed, its capable of moving 93.15 cubic feet per minute with a single fan. It has been designed to be used on a case or a radiator depending on your system. The blades are specially designed to increase static pressure specifically for radiator applications. Just like our other options, PWM technology allows for speed customization.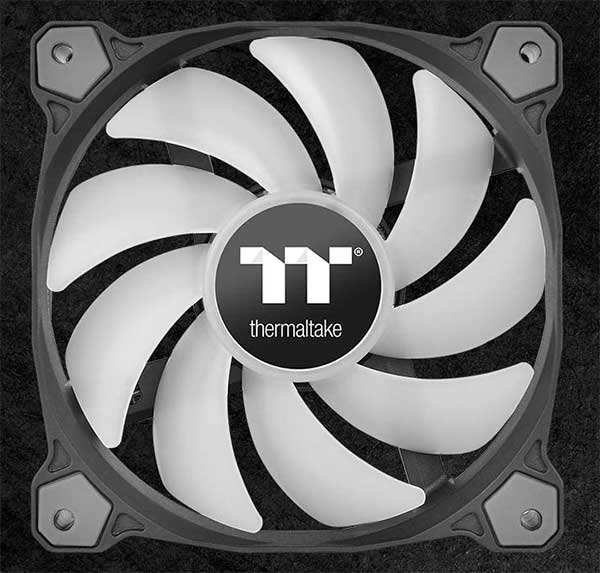 The overall construction features both plastic and rubber, with a very durable feel. The plastic frame is available in black, with the fan blades made semi-transparent. Internally, you will find a self-lubricating hydraulic bearing. It has a friction-reducing substance within it as well. As for noise, the bearings are designed to stay quiet in use. There are also four rubber pads in the corners that have anti-vibrating technology to further reduce noise. At maximum speed, it is 32 decibels, putting it in the middle of all options on this list.
The Pure A14 uses a 4-pin connector to connect to your motherboard. This enables the PWM technology to work as well. Additionally, there's an RGB version of it. To use the RGB version, an additional cable with a lighting controller is needed.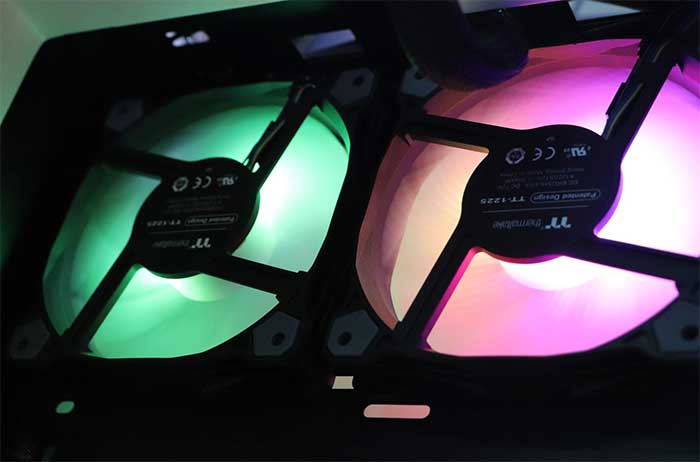 As for looks, the Pure A14 has a few options. The outer case is only available in black. However, it features internal lighting to have colored fan blades. The single fan options are available in white, blue, green, and red lighting. If you want RGB, you'll have to purchase a three-pack version.
Pros:
Anti vibrating mounting
Multiple lighting options
Designed with radiator cooling in mind
Cons:
RGB only available in three-pack