If you're an outdoorsy type, you're probably well-acquainted with the benefits of a good beanie. While not as iconic as a ball cap or as eye-catching as a fedora, the beanie is perfect for active people. It stays on your head when you're hiking, climbing, skating, and otherwise enjoying the outdoors. Not only that, but it actually keeps your head warm, something a lighter cap won't do.
Similarly, headlamps have a long history amongst backpackers and other active folks. The benefit here is obvious. With an ordinary flashlight, one of your hands is constantly tied up. Conversely, with a headlamp, you can keep both hands free for climbing, carrying gear, and so on. But what if you could get the comfort and warmth of a beanie with the functionality of a headlamp?
We're actually not complete strangers to technological chapeaus. Not too long ago, we reviewed Bluetooth beanies with built-in speakers. These were geared more towards people who walk or use public transportation, since they're very convenient. On the other hand, LED beanies are more useful for work or play than they are for riding the bus.
Today, we'll be looking at three different beanies with built-in LED headlamps. We'll start by reviewing the Highever LED Beanie. This is a classic black knit beanie with three light modes and a rechargeable battery. Next, we'll examine the Etsfmoa LED Beanie. This beanie has more color options, and features a removable LED light for easy charging. Finally, we'll look at the POWERCAP LED Beanie. This beanie comes in patterns for hunting as well as style, and uses removable CR2032 batteries. Which choice is the best for you? We're about to go into each beanie's material, tailoring, and overall style. We'll also discuss how the LEDs function, and how they're powered for each hat.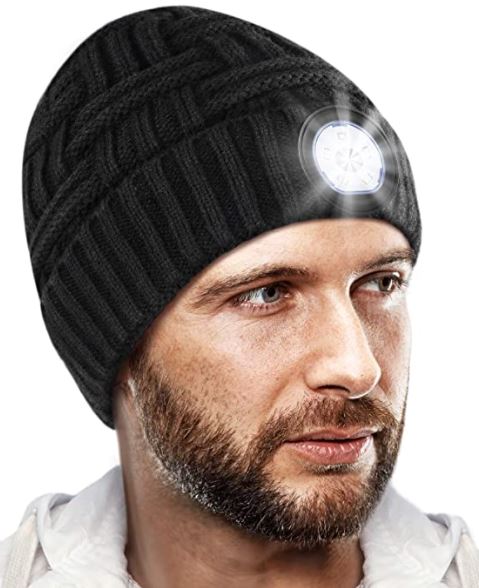 Highever LED Beanie
The Highever LED Beanie is a simple, black beanie without a ton of complications. There are no other color options. That said, it's attractive in its own right. This is an old-school, knit beanie with attractive stitching. Vertical stripes run around the band, while the rest of the cap is cross-hatched. All in all, it's very stylish, at least as far as LED beanies go. The LED element itself is mostly round, with a flat bottom that leaves the bottom fold of the beanie intact. There are no other decorations or cosmetic features to speak of.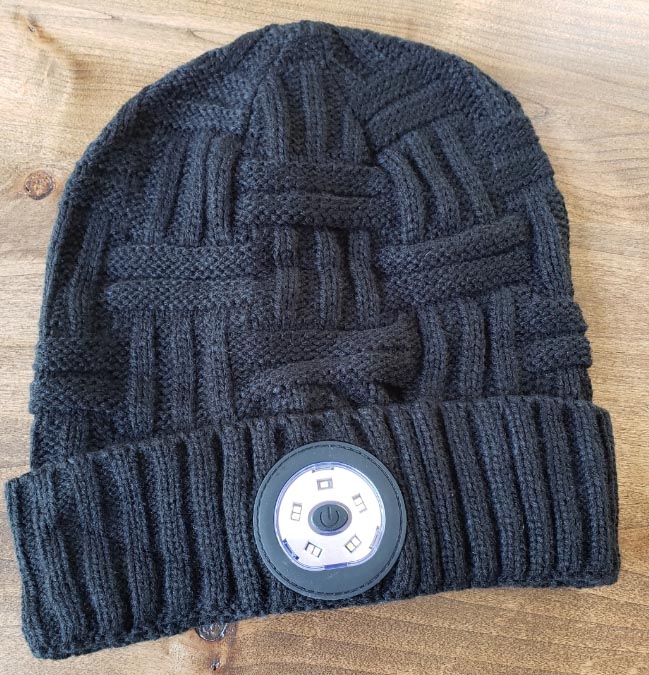 The fit is surprisingly comfortable. The material is soft, and reasonably thick. You won't get a headache from wearing this beanie for a long time. It also won't leave a red line around your forehead like a hat with an elastic band will. Even so, it's reasonably stretchy. It will fit most adults, although it's a bit large for most kids. Consider buying it for teenagers, but not for younger children. Cold weather performance is good, since the material provides plenty of insulation. Even so, it's surprisingly comfortable in warm weather as well. You don't want to wear it when the temperature is in the 80s, but it's breathable enough for temperate conditions.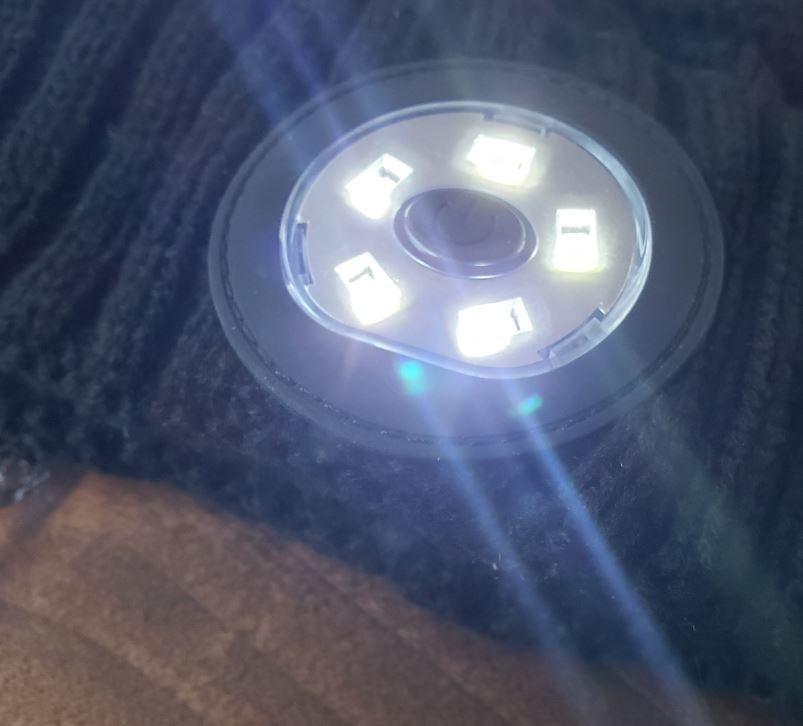 Light and Battery
Inside the LED unit, you'll see a set of five LED diodes arranged in a star pattern. These provide a bright, clear white light that can cast a beam as far as 55 feet away. This light can be adjusted between three different modes. The default mode is a dim light, which shines a bit shorter than 55 feet. However, it's still enough for use inside a tent, or even in a crawl space. The second mode is the more powerful, 55-foot light. Admittedly, this isn't as far as some handheld flashlights. But keep in mind that we're talking about LEDs that are built into a hat. Considering the small size of the battery, we're looking at some reasonably powerful lights. The final mode is a strobe, which can be used to signal for help in an emergency.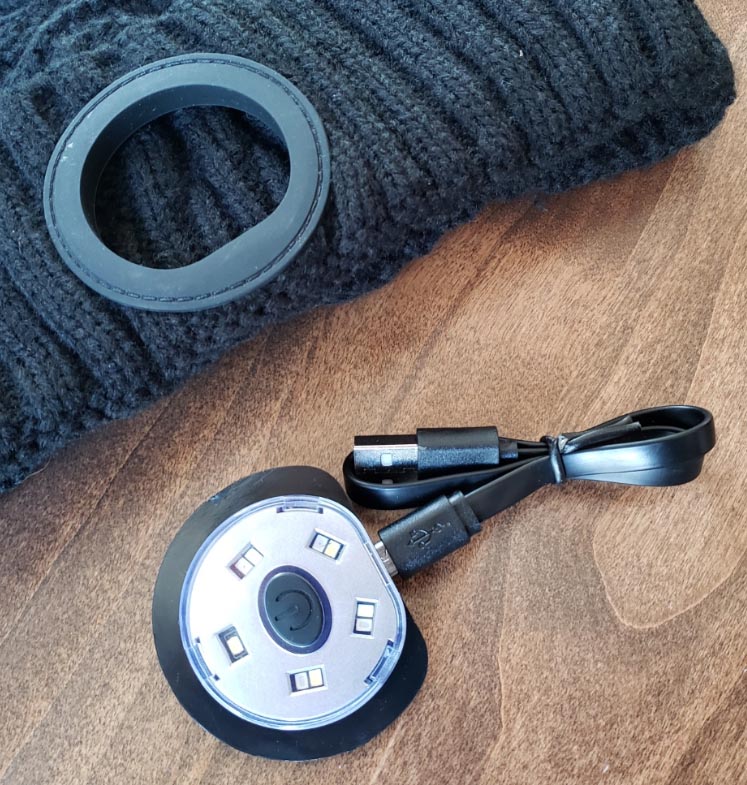 The LED housing itself contains a rechargeable battery that lasts from 3 to 7 hours. If that seems like a wide range, it's because your battery life depends on what mode the light is in. It will work for 7 hours in strobe mode, 5 hours in low power mode, and 3 hours at maximum intensity. It will also last a full week on standby, so you won't lose a ton of juice while you're traveling.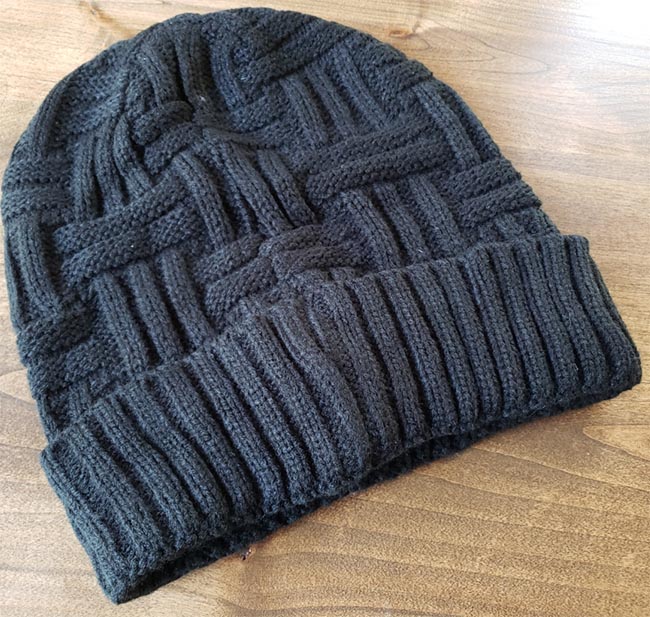 When the battery needs to be charged, you simply remove the LED housing from the front of the housing. It has a Micro USB port, which can be connected to any Micro USB charging cable. The advantage of this design is that you don't have to worry about a male USB plug snapping off the housing. The disadvantage is that you need a charging cable, and can't plug directly into a USB port. Regardless, the battery will fully charge in about 90 minutes. This allows you to easily top it up overnight, or between jobs if you're using it for work.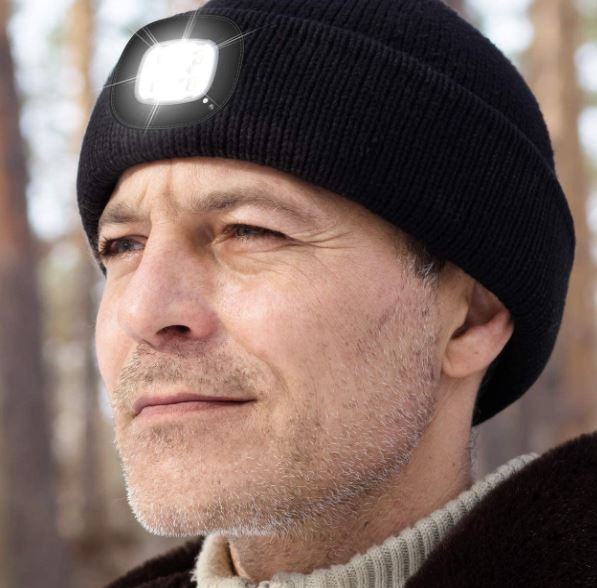 Etsfmoa LED Beanie
The Etsfmoa LED Beanie has a bit more of a modern design than the Highever. Instead of a knit construction, it's an acrylic blend with a consistent texture throughout. Whether or not this is a good thing depends on your tastes. It definitely looks more at place in a skate park than it would in a Starbucks. But it's still comfortable to wear, and reasonably stretchy. It's sold as "one size fits all," but as before, that really means "most adults." If you're buying for a young child, you're going to want a smaller hat. The material is warm, and will keep your head nice and toasty in chilly weather. It's not quite as breathable as the Highever, though.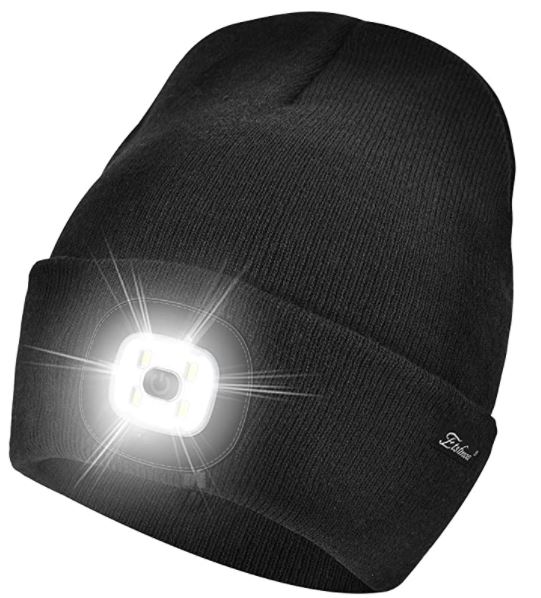 Just because there's no texture doesn't mean this beanie is boring. Yes, you can order it in plain black. But it also comes in blue, navy, green, grey, pink, purple, red, white, orange, brown, fluorescent green, and fluorescent yellow. That's 13 different color options in total. No matter what your sense of style, there will be one that fits.
The LED housing is rectangular instead of round, with slightly rounded corners to provide a sleek appearance. It contains four separate elements, separated into four different quadrants.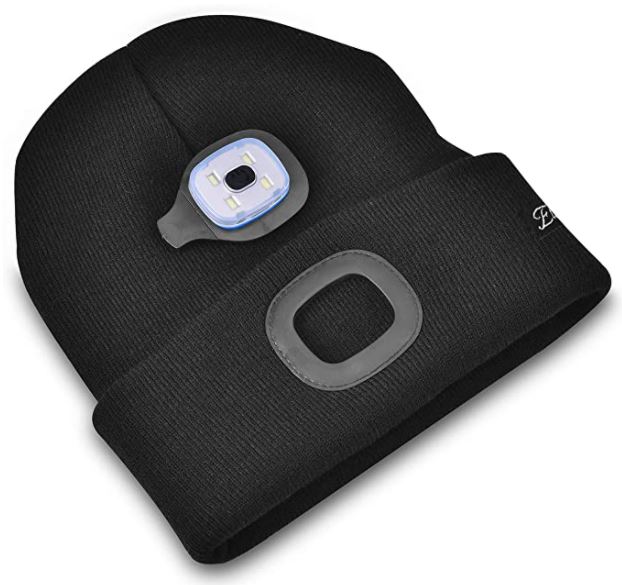 Light and Battery
The Etsfmoa LED Beanie's LED light can be adjusted between three different settings. The brightest is slightly brighter than the Highever's, although it's so close it's honestly hard to tell. Neither company provides a LUX or lumen rating, so we're basically eyeballing it. The lower brightness is great for reading or use inside a tent. It's brighter than the useless "firefly" setting that some flashlights use, without wasting a lot of juice. Instead of an SOS mode, the Etsfmoa light's third option is simply a middle setting. This setting is what you'll probably use most of the time, since it's best for medium-range use.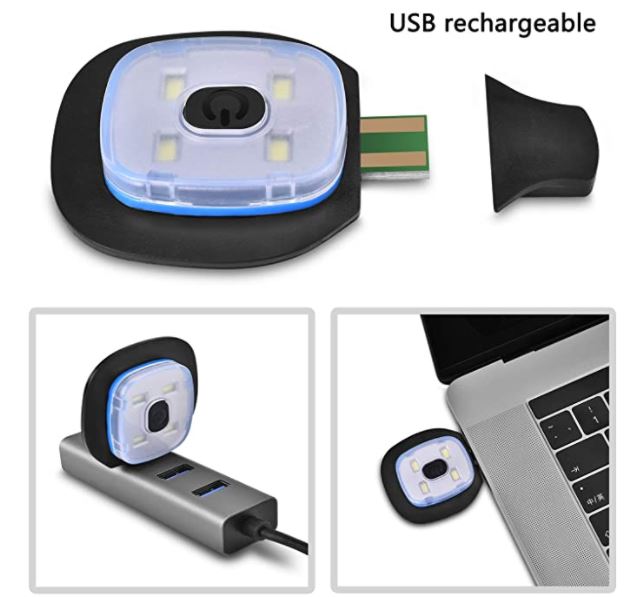 The internal battery in the LED light will last for 3 to 8 hours depending on how it's being used. Again, this depends almost entirely on your light setting. At high power, you can expect around 3 hours of battery life. At medium power, you can expect a little over 5 hours. 8 hours is what you'll get if you're exclusively using the low setting.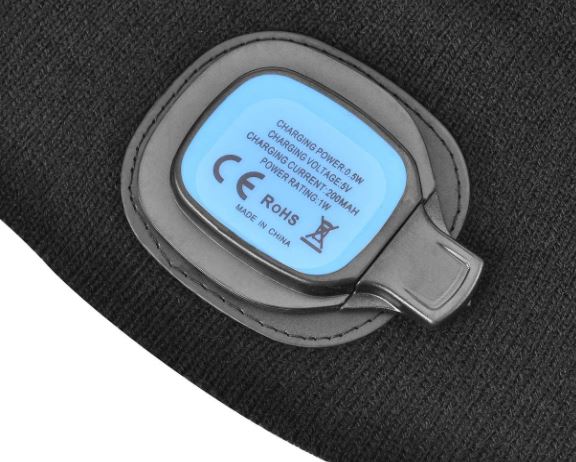 The battery charges in about 90 minutes via USB. Much like the Highever LED, this element is also removed from the hat for charging. However, it has a male USB Type-A plug instead of a charging port. This means it can be plugged into your computer, car charger, or AC adapter. You won't have to worry about carrying around an extraneous charging cable or adapter. On the downside, it also means you'll have to be careful not to break off the plug. If it gets snapped off, the LED light will be ruined.
Thankfully, replacement lights can be ordered separately from Etsfmoa if you run into any issues. Granted, the LEDs will last for around 50,000 hours of use. You'll probably wear the hat out before you ever need a new light element. On the other hand, if the plug gets damaged, you won't have to replace the entire beanie.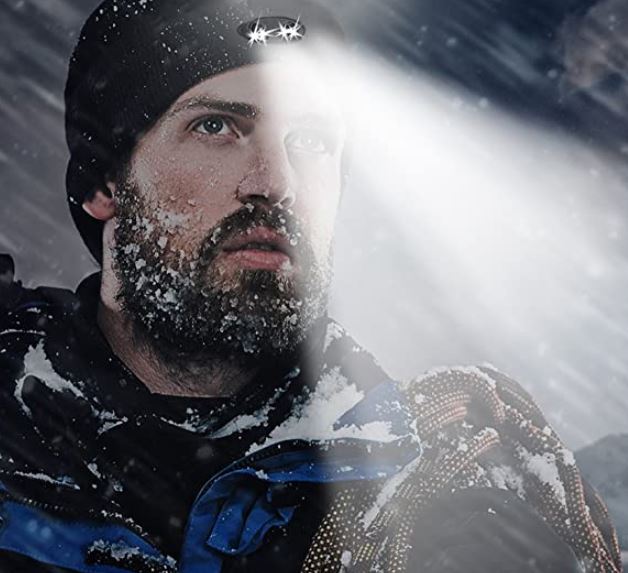 POWERCAP LED Beanie
In terms of material construction, the POWERCAP LED Beanie is the most modern of the bunch. Instead of a knit or weave, it consists of a dense polyester/spandex compression fleece. The advantage of this material is that it's both very warm and very breathable. It also looks reasonably good with everyday clothes, and doesn't seem out of place. That said, the compression fleece material only stretches so far before it gets uncomfortable. If you have a very large head, you'll probably want a hat with a little more stretch to it. On the other hand, you don't have to worry too much about overstretching. The beanie is covered by a lifetime warranty, shielding you from excessive wear.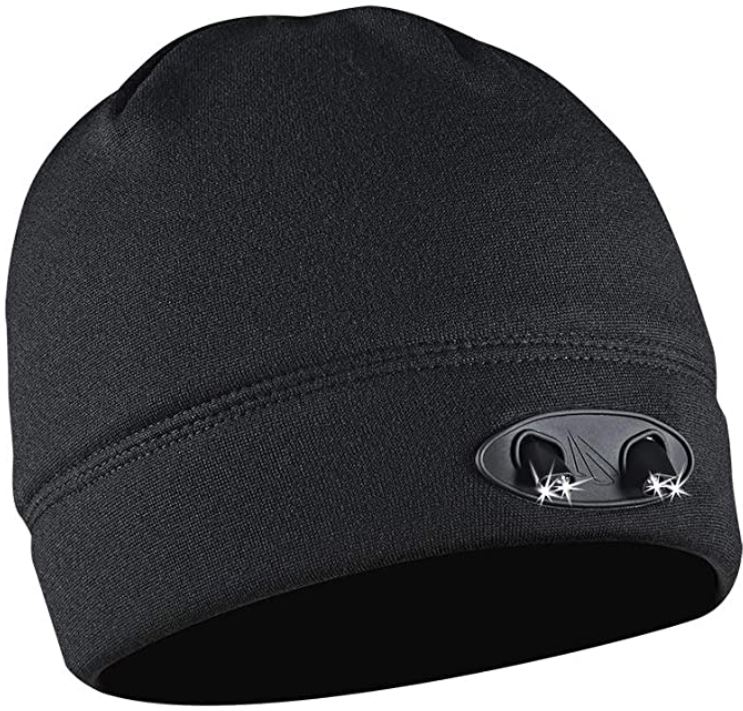 In addition to black, this hat comes in seven everyday colors. These include grey, high-visibility yellow, navy blue, olive green, grey plaid, red plaid, and purple. In addition, there are three camo patterns, including Mossy Oak, Realtree Xtra, and Realtree Max 5. Finally, you can order it in blaze orange, an essential safety feature for deer hunters.
Light and Battery
The LED light in this hat is a bit different than the last two we looked at. Instead of a single, removable housing, there are two separate left and right elements, each with two LEDs. The main benefit of this design is that it spreads the light out further. Instead of one beam straight ahead, it forms more of an arc in front of you.
The total light output is 48 lumens, which will cast a beam as far as 72 feet. On the one hand, we appreciate the simplicity, and you're getting plenty of light for any headlamp. On the other hand, a dimmer setting would have been nice for reading. At this brightness, a bleached white page can be downright painful to stare at for any length of time.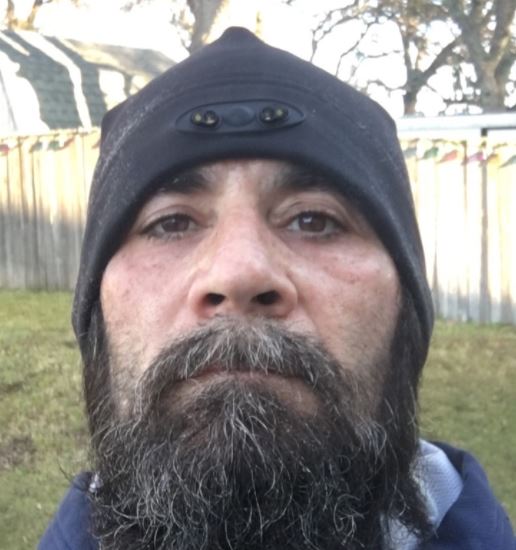 The POWERCAP LED beanie runs on four CR2032 batteries, which are included in the package. The advantage of this is twofold. First, you don't have to worry about recharging via USB. If you need to replace your batteries in the field, you can. Second, the batteries last far longer than an internal cell. You can run this LED light for up to 68 hours before it's time for replacements. On the other hand, replaceable batteries cost you money over time. A rechargeable battery is free, minus the negligible cost of power. Not only that, but old CR2032 batteries need to be disposed of, which is bad for the environment.
Final Verdict
So, which one of these beanies is the right choice for you? Let's quickly recap what we've learned. We started out by reviewing the Highever LED Beanie. This beanie gets top marks for fit and comfort, with its classic knit design. Say what you want about synthetics, but there's nothing quite like an old-school knit cap. The light also works very well, with a reasonably bright maximum setting. We liked the female USB charging port instead of a male plug. However, with a maximum of only 7 hours, the battery life was a bit lacking.
The Etsfmoa LED Beanie features a bit more powerful light, along with about an hour of extra battery life. Not only that, but the lighting element is replaceable, and plugs into any USB port for charging. On the other hand, the acrylic material isn't as breathable as the Highever's, and its appearance is plainer.
The POWERCAP LED Beanie we looked at last is a different breed. The LED light design is very useful, with a broader beam and brighter light than our first two options. The removable batteries are a bit of a mixed bag, and can be good or bad depending on your needs. The same goes for the material and fit. Either you like it or you don't.