When you want to keep warm, a beanie is a great way to do it. Beanies are a classic for several reasons, not least because they're so flexible. You can wear them over any hair style without mussing it all up. They cover your ears and your forehead, which is particularly cozy on a windy day. But with the help of technology, a beanie can do way more than just keep your head warm.
A Bluetooth beanie combines the benefits of a warm knit cap and a pair of Bluetooth headphones. You can pair it with your smartphone and listen to your favorite music, audiobook, or podcast. You can even use a Bluetooth beanie to make and receive phone calls. Best of all, you won't have to worry about fitting your hat over a set of earbuds. A set of built-in speakers is far more comfortable.
Today, we'll be reviewing five of the best Bluetooth beanies with built-in headphones. No time to read the full reviews? Here's a one-sentence summary of each one:
Of course, there's a lot more to go over when we discuss each of these options. Let's dig a little deeper, and see what we come up with!
Best Overall: Qshell Bluetooth Beanie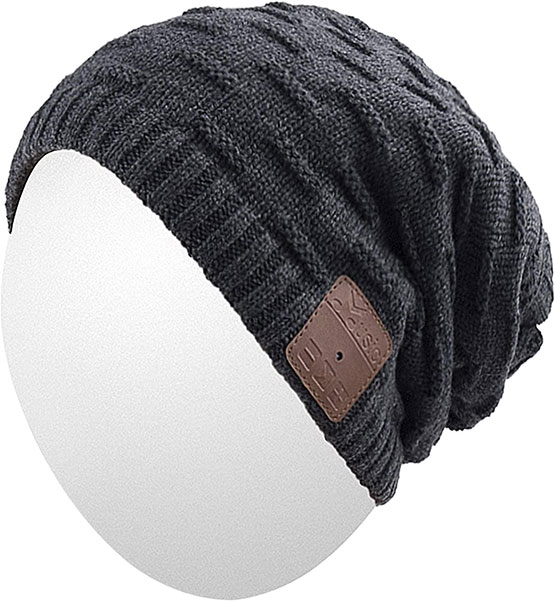 Key features:
100% acrylic.
Bluetooth 5.0
7-10 hours of battery life.
13 colors and patterns.
Machine washable.
Doubles as a scarf.
The Qshell Bluetooth Beanie is knitted out of 100% acrylic material. It's soft and stretchy, with vertical ribbing along the edge. The rest of the material is textured throughout, with staggered hash marks that create an attractive pattern. You can choose from 13 different colors and patterns, several of which have their own unique textures. There's even a bright red version with big tassels at the ears.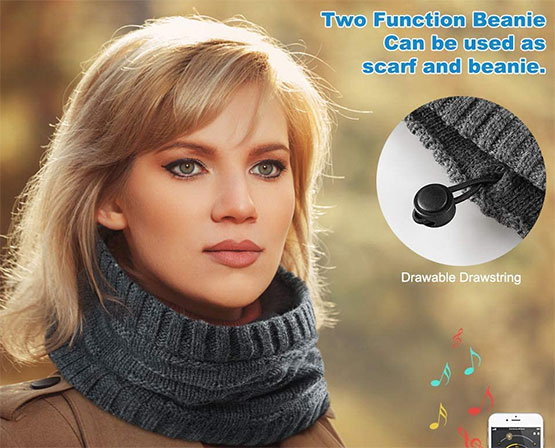 This isn't just a beanie. It's also a scarf. There's a drawstring at the top that can be loosened to create a second, equally-wide opening. You can then pull it down around your neck where it forms a soft, warm loop. When the drawstring is pulled tight, it tucks unobtrusively into the inside of the hat.
On the left side, near your ear, is a square leather panel that's stitched into the material. This panel has a set of built-in buttons that control the Bluetooth headphones. You can use them to play and pause your music and adjust the volume. There's also a Bluetooth pairing button for connecting to your Smartphone.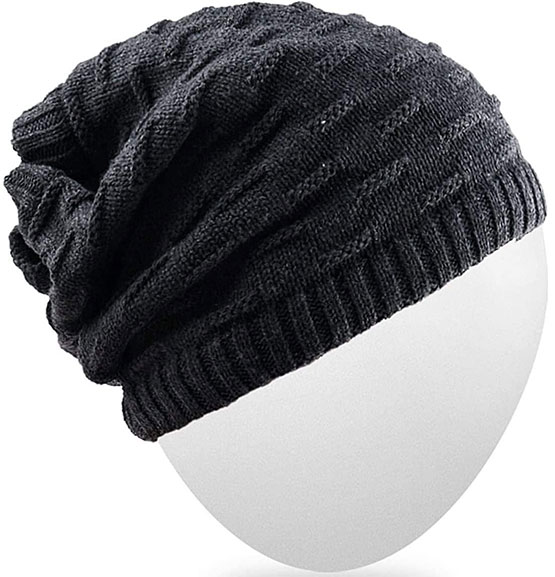 The Qshell beanie was actually on last year's "best of" list, but it's been upgraded since then. While the old version used Bluetooth 5.0, the current version connects via Bluetooth 5.0. Bluetooth 5.0 is an upgraded standard that provides several additional benefits.
For one thing, it has lower latency than earlier Bluetooth versions. This means that if you're watching a movie, there won't be a delay between the video and the audio. You also get a more stable signal, which means fewer dropped calls or random blocks of silence. And the connection bandwidth is higher, which allows you to listen to high-bitrate audio.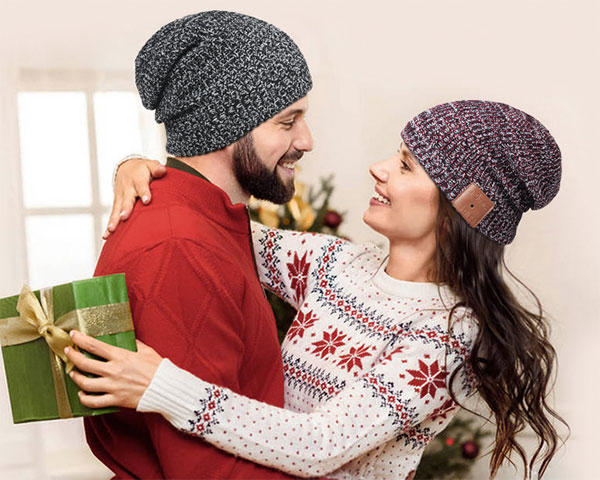 Power is provided by a built-in rechargeable Lithium-ion battery. It has enough capacity to run for about 7 to 10 hours, depending on your volume and other factors. Charging takes less than two hours, and a small charging cable is included in the package. Just make sure to power the speakers off when they're not in use. Otherwise, the battery will die in around 72 hours.
One other thing we liked about this beanie is that it's machine washable. You can remove the headphones from inside of the band, after which time you can simply wash it. That way, a dirty hat doesn't have to stay dirty. Just make sure it's totally dry before you put the headphones back in.
Best Runner-Up: SoundBot SB210 Bluetooth Beanie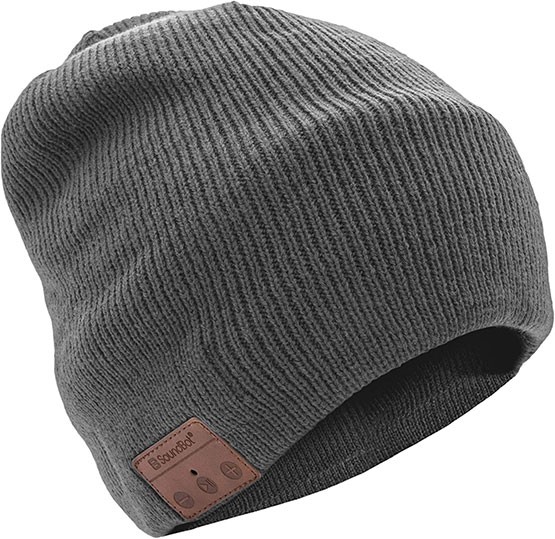 Key features:
50% acrylic and 50% polyester.
Bluetooth 4.0
5-7 hours of battery life.
6 colors and patterns.
Machine washable.
Customizable speaker placement.
The SoundBot SB210 Bluetooth Beanie is knitted from an acrylic and polyester blend. The material is thick, soft, and comfortable to wear. There are vertical grooves in the knitting pattern, which creates a sleek, clean look. The sides of the hat are extra long, and are designed to completely cover your ears with material to spare. This makes it a great choice if you have a larger-than-average head.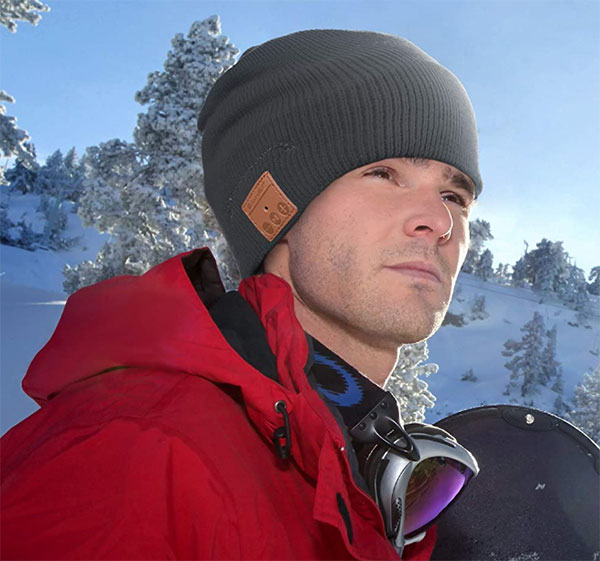 You can choose between six different colors, including grey, black, and blue. The controls are located on a small leather panel, which is stitched into the left side of the beanie. You can use them to adjust the volume, play or pause your music, and pair with your smartphone.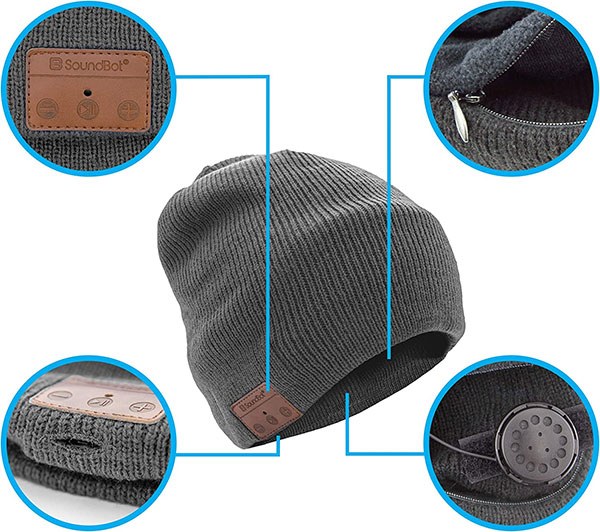 The SB210 pairs with your phone via the Bluetooth 4.0 protocol. This is an older version of Bluetooth, and the high latency makes it a poor choice for watching videos. Then again, you're probably not planning on watching movies with your beanie on. Besides which, the protocol is forward-compatible with newer devices. It's not as if your phone will fail to connect because it uses a newer Bluetooth version.
The built-in rechargeable battery carries enough charge for about five hours of listening. For phone calls, this extends to as much as seven hours. That's not incredibly long, but it should be plenty for your average outdoor adventure. And when you're done, charging via Micro USB takes less than two hours.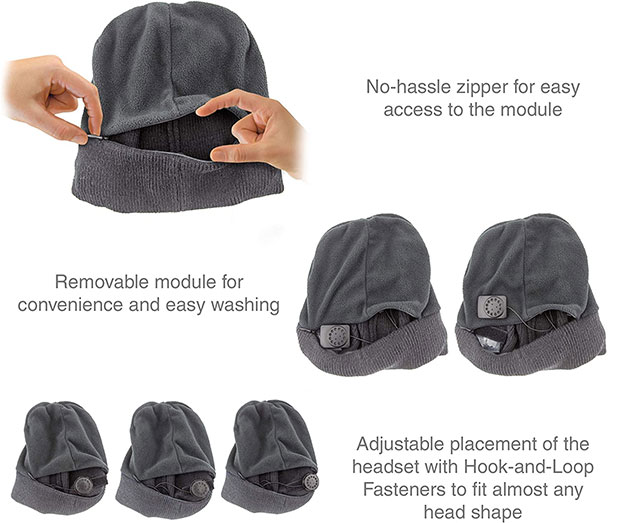 Like the Qshell beanie, the SoundBot beanie is machine-washable. The side of the shell unzips to reveal a large hollow compartment between the inner and outer fabric layers. The speakers are held inside by velcro strips, which makes them easy to remove. When you put them back in, you can reposition them if you want to. This way, you can get a custom fit where the speakers sit perfectly over your ears.
SoundBot backs their beanie with a 12-month manufacturer's warranty. If it fails prematurely due to a defect in parts or labor, you'll receive a refund or a free replacement.
Best Alternative: Highever Bluetooth Beanie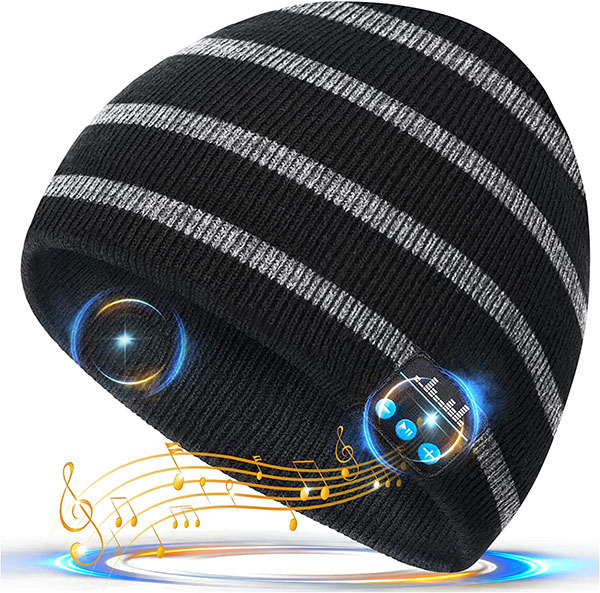 Key features:
Acrylic shell with wool liner.
Bluetooth 5.0
10-12 hours of battery life.
2 color options.
Machine washable.
The Highever Bluetooth Beanie is a little more restrained than some of our other options. It has a classic vertical grooved knitting pattern, which looks like a smooth finish from a distance. Instead of many color choices, you get two. You can order it in plain black, or black with horizontal grey bands. But despite its simple appearance, it's surprisingly soft and forgiving.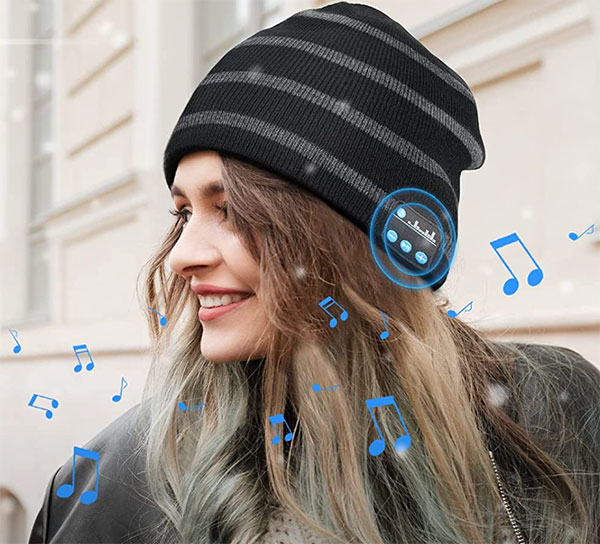 There's a small control pad made out of black nylon and sewn into the left side of the beanie. It can be used to play and pause your audio, adjust the volume, or enable Bluetooth pairing. And it uses Bluetooth 5.0, so you get low latency and a stable, reliable signal.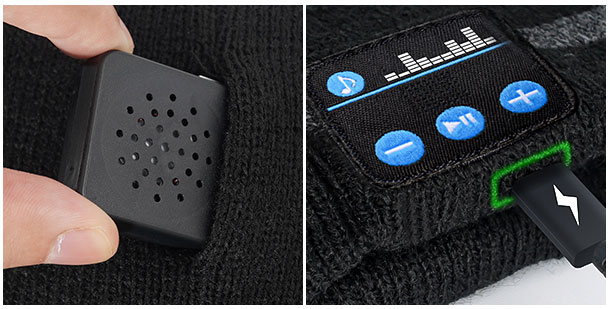 The Highever hat is machine washable as long as you take out the internal headphones first. The battery will last for around 10 to 12 hours depending on your activity. Charging via Micro USB is easy, and takes less than two hours.
Highever is a brand we've been familiar with for a while. When we listed the best LED beanies, the Highever LED beanie was near the top of our list. It has a built-in headlamp for hiking and camping, and it impressed us with its design. So it only made sense to take a look at Highever's Bluetooth beanie.
Best For Women: FashionLive Bluetooth Beanie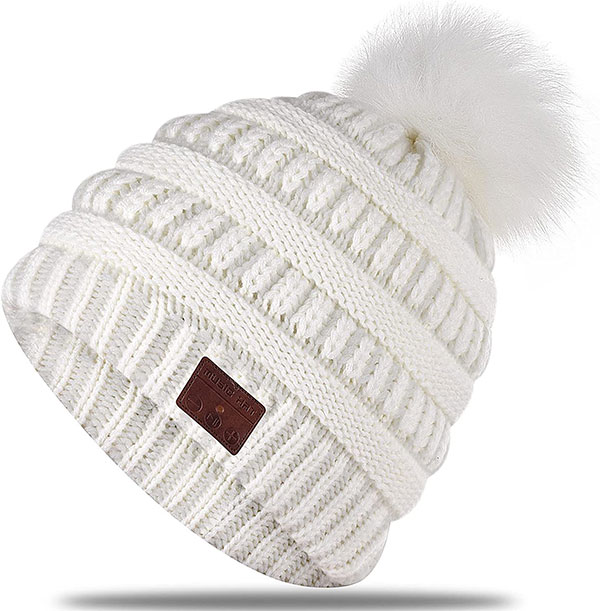 Key features:
Cotton.
Bluetooth 5.0
8-10 hours of battery life.
2 colors and 2 styles.
Machine washable.
Optional hole at the back for ponytails.
The FashionLive Bluetooth Beanie has a two-layered design. The outer shell is knit from cotton yarn with a series of bands and ridges that create an attractive pattern. The inner lining is soft and smooth, with a stretchy quality that allows it to flex to fit most heads.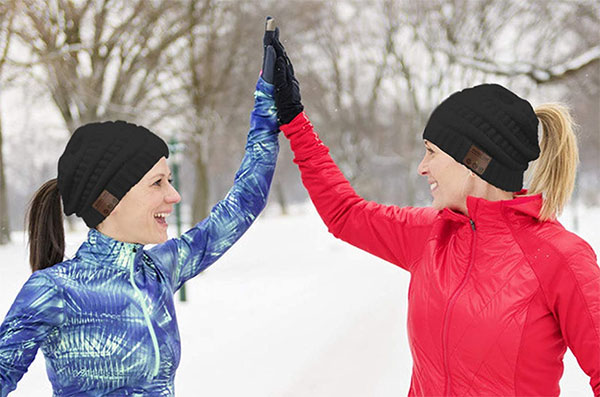 You can order it in black or white, with or without a pom-pom on the top. The version without the pom-pom has a small hole at the back instead. This is designed to accommodate a ponytail so you won't mess up your hair.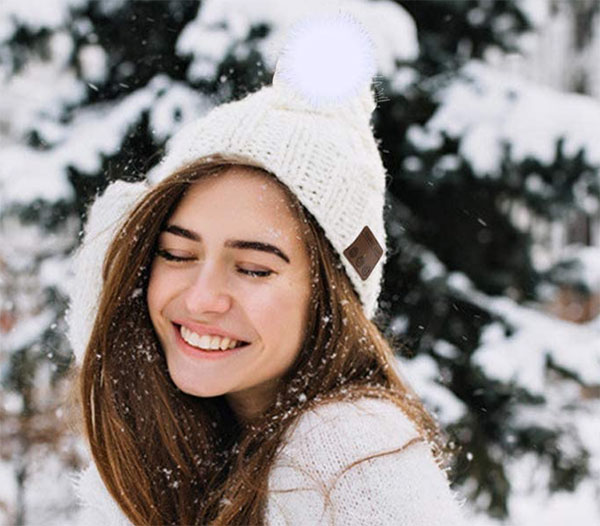 Controls are straightforward, with a leather panel on the left side. There's a play/pause button and a volume control, along with a pairing button. Pairing is done via Bluetooth 5.0, so you get a stable, reliable signal. The battery, meanwhile, lasts from 8 to 10 hours depending on your volume level and other factors.
Like the other beanies we've looked at, this one is also machine washable. Just make sure to take out the headset before you put the hat in your washer.
Best With a Light: Attikee Bluetooth LED Beanie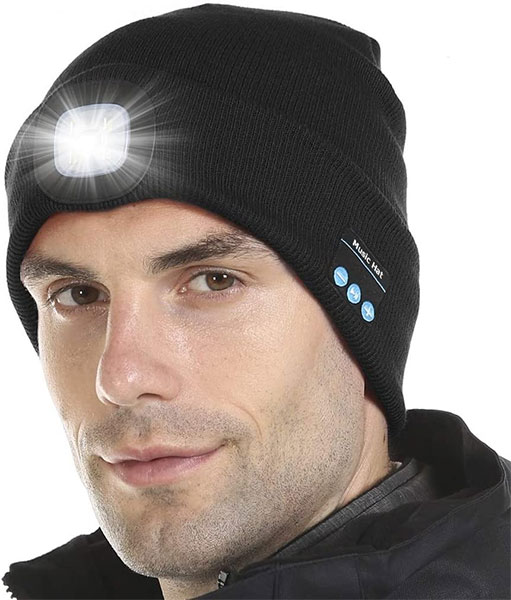 Key features:
Acrylic blend.
Bluetooth 5.0
8-10 hours of battery life.
8 colors and patterns.
Built-in LED headlamp.
The Attikee Bluetooth LED Beanie combines the best of both worlds. In addition to a set of Bluetooth 5.0 earphones, it also has a square LED headlamp on the front. The light has four LEDs and three brightness levels, and can cast a beam as far as 30 feet. It's removable for charging, charges in 2 hours, and lasts between 2 and 10 hours depending on the brightness.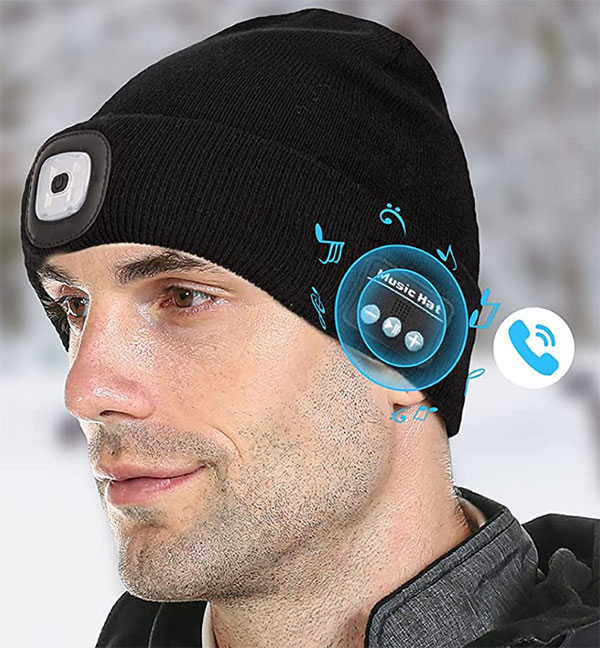 The beanie itself is knitted from an acrylic material with a finely-ridged texture. It has a fatter band around the bottom, and is thinner over the rest of your head. You can order it in seven different colors, plus a camo pattern.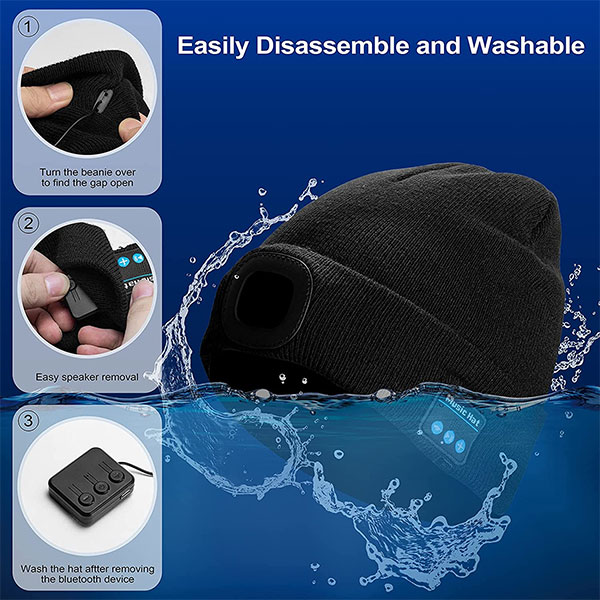 There's a little black control panel over your left ear with play/pause, volume, and pairing buttons. The battery for the earphones will last from 8 to 10 hours, and charges in just two hours. The earphones and LED are also removable, so the beanie is completely machine-washable.
Summarizing the 5 Best Beanies with Bluetooth Headphones
No matter how you cut it, all five of these Bluetooth beanies are worth considering. But which one is the right choice for you? Let's recap what we've learned today.
We started out by looking at the Qshell Bluetooth Beanie. This acrylic beanie is big, soft, and comfortable. It utilizes a reliable Bluetooth 5.0 connection, and maintains a stable signal under most circumstances. You can also turn it into a little scarf, which makes it even more versatile. And since it's machine washable, you don't have to baby it like some wearable electronics.
Second on our list was the SoundBot SB210 Bluetooth Beanie. This acrylic and polyester beanie is oversized, which is perfect for larger heads. It only utilizes Bluetooth 4.0, which could be a drawback for many people. Then again, you can reposition the speakers around your head to customize the listening experience. That feature alone makes the SB210 well worth considering.
After that, we checked out the Highever Bluetooth Beanie. This beanie has a simpler aesthetic than the others, with only two color options. But it's still warm and comfy, and the 10 to 12 battery life is outstanding. We also appreciated the stable Bluetooth 5.0 connection.
Next up was the FashionLive Bluetooth Beanie. This beanie comes in a fun pom-pom version or with a convenient ponytail hole in the back. It also has a respectable 8 to 10 hours of battery life and connects via Bluetooth 5.0.
Finally, we reviewed the Attikee Bluetooth LED Beanie. This beanie might not be machine washable, but it does sport a big, bright LED headlamp. It's great for camping, and has separate earphone and headlamp batteries to keep you going for longer.