Overall Design -

9/10

Sound Quality -

9.5/10

Battery -

7/10

Noise Cancellation -

9/10
Summary
The SoundPEATS Air4 Pro is a robust package, offering high-quality audio, effective noise cancellation, and impressive battery life. It's no slouch in performance, but don't expect it to be the jack-of-all-trades. The limited app customization options might give you a moment's pause. However, it's the balanced audio profile that steals the show, making it versatile enough for different listening scenarios.
Pros
Stellar audio quality
Effective noise cancellation
Seamless dual-device connectivity
Low-latency game mode
Cons
Wind noise sensitivity
Moderate battery life
SoundPEATS has been a name in the audio industry that most consumers are familiar with. Today, we're giving you the scoop on SoundPEATS' latest release: the Air4 Pro. We're breaking down its features, performance, and whether it's worth your hard-earned cash.
Unboxing Experience
SoundPEATS delivers a comprehensive earbud set here, giving you what you need right out of the box to enjoy your investment. Upon unboxing the Air4 Pro, you're met with the following components:
Earbuds: One pair of Air4 Pro earbuds snugly nestled, ready for action.
Charging Case: A case that doubles as a charger for the earbuds, sprinkled with those signature silver specks for added flair.
Charging Cable: A Type-C cable ensures your charging case stays powered for on-the-go convenience.
User Manual: A comprehensive guide for those who prefer to read the instruction booklet, cover to cover.
App Guide: A handy piece of literature directing you on how to get the most out of the SoundPEATS app.
The unboxing sets you up for success, offering everything you need to jump straight into quality sound. It goes beyond just the earbuds; it's a full package that has your back from start to finish.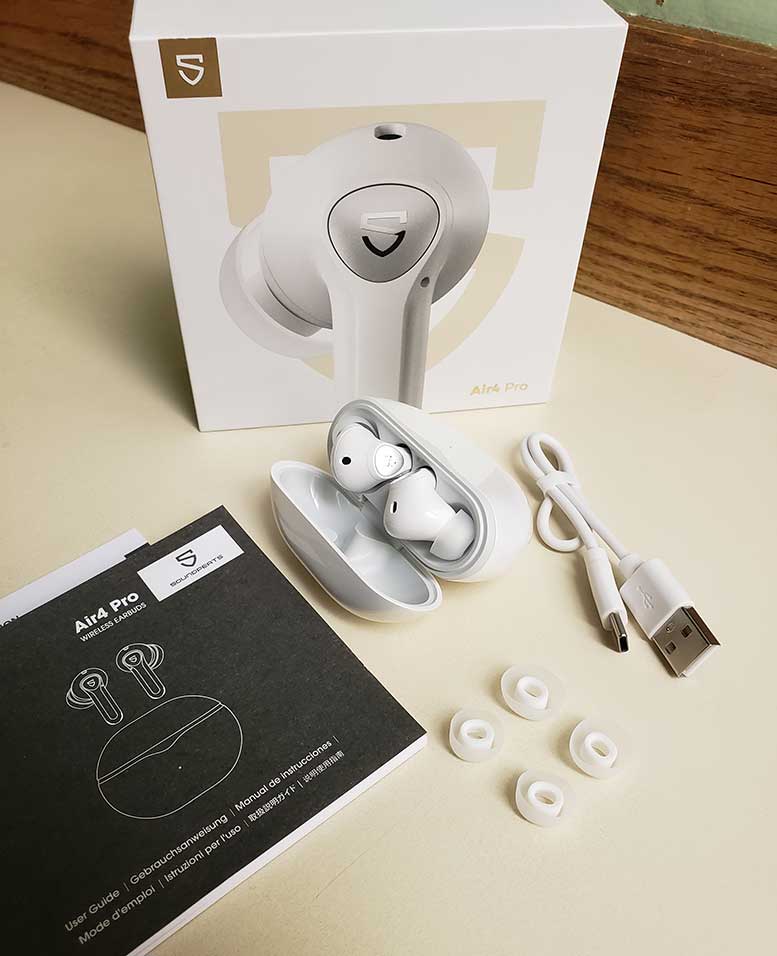 Design and Build
Right out of the gate, it's clear that the Air4 Pro has its own unique charm, especially when you stack it up against previous iterations like the Capsule 3 Pro.
It's a medium-sized earbud, not compact, but definitely a tad smaller than its predecessors. The charging case follows suit – just that bit more diminutive and pocket-friendly.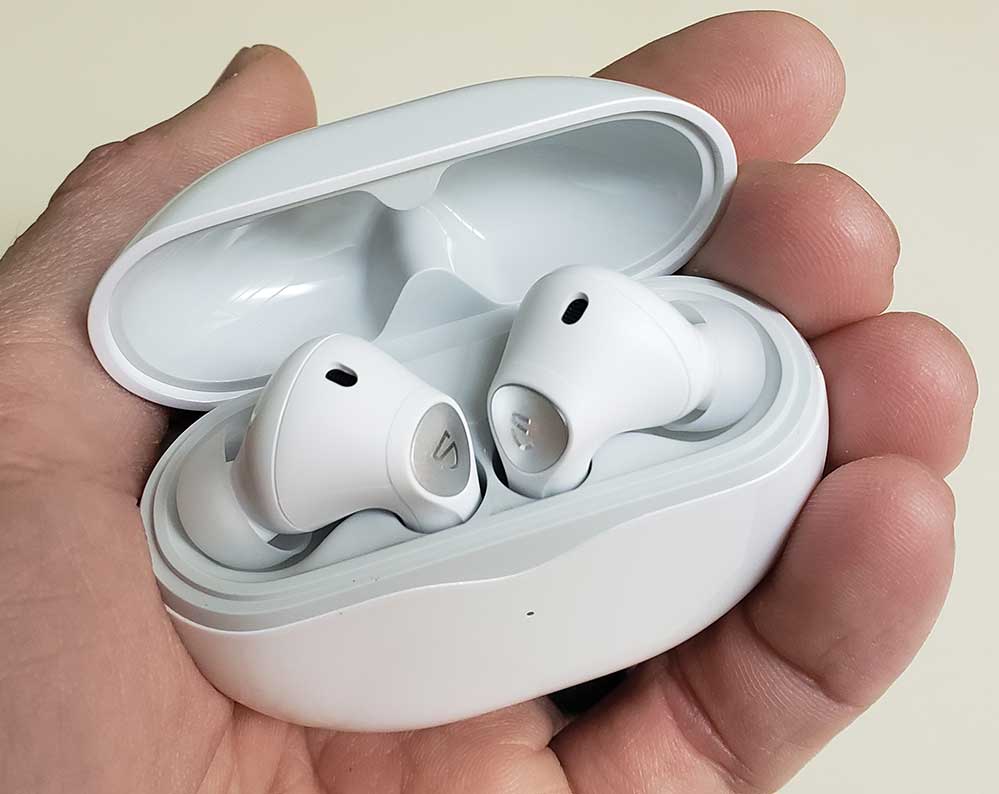 The design flair doesn't stop at the size. The case comes with a bronze accent piece down one side, embossed with the words "Hear Your Imagination."
This detail isn't just an aesthetic play; it serves as a quick identifier for the case amid a sea of black charging cases. Speaking of black, this one comes with silver specks that add a refined touch to the overall design.
When it comes to the earbuds themselves, SoundPEATS has opted for a shorter stalk, in line with the smaller case design.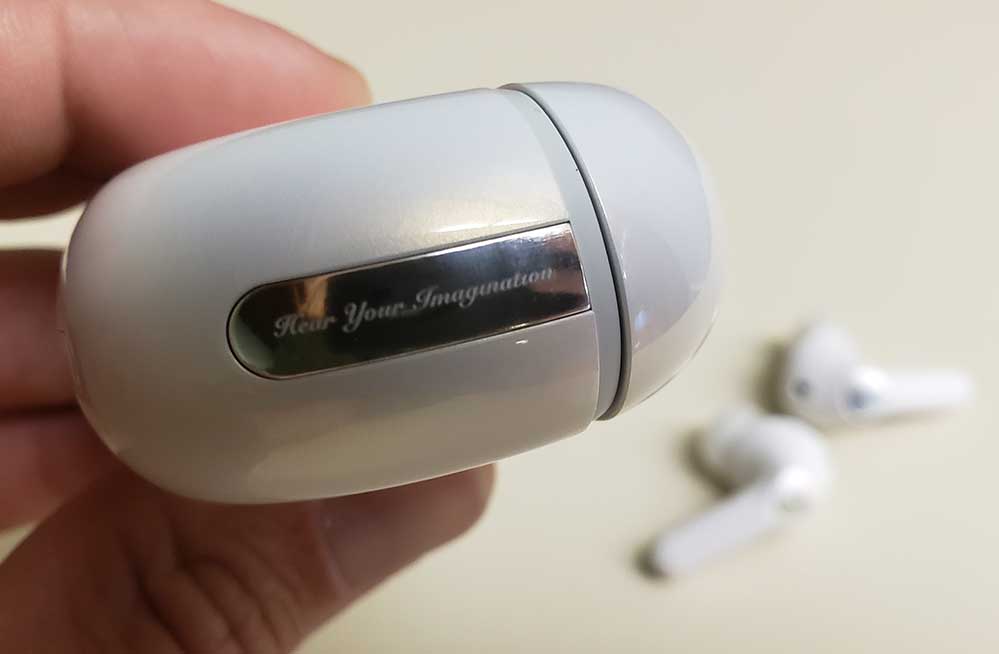 Unlike the Capsule 3 Pros, which feature a bronze accent along the stalk, this unit keeps it subtle with just a hint of bronze at the top. These nuances may seem minor but work effectively to distinguish them from other models.
Comfort and Usability
Ease of use and comfort are paramount for any earbuds vying for space in your ears. This device doesn't disappoint. Light in weight at just 3 grams per earbud, they snugly fit into your ear without causing any discomfort.
The silicone tips lock into your ears comfortably, making it feel like they've always been a part of your daily wear – solid comfort for those long listening sessions.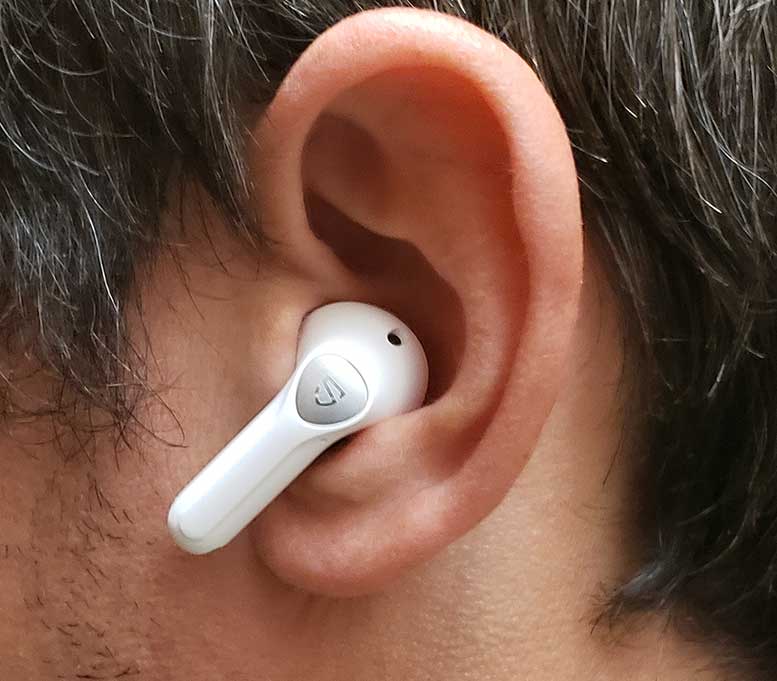 The earbuds themselves measure just 34.4 x 24 x 20.7 mm in size, while the charging case comes in at 64 x 24.2 x 48.3 mm. Tipping the scales at just 36 grams, these earbuds won't weigh you down.
Light as they are, they add to the convenience factor, especially if you're someone who's constantly on the move. It's easy to forget you're wearing them, yet you won't forget why you love using them.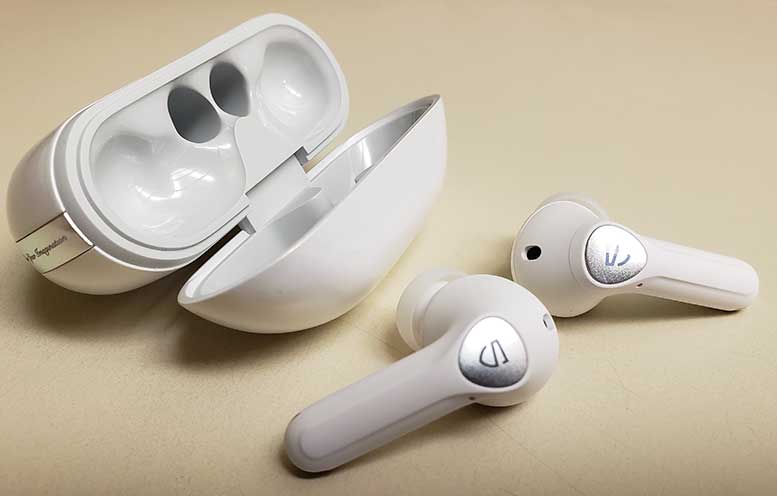 While aesthetics are often secondary to performance, SoundPEATS strikes a good balance with the Air4 Pro, offering a design that's not only functional but also visually appealing.
The smaller form factor, coupled with unique design elements, makes this a standout choice for those looking to upgrade their earbud game.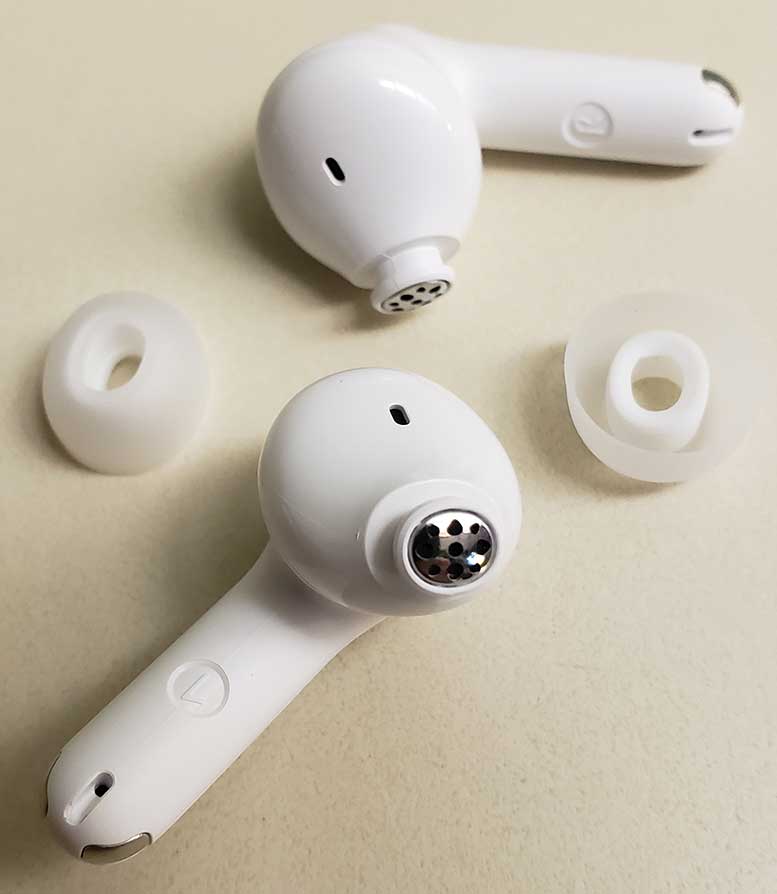 Sound Quality
If you're looking for a sonic experience that's top-notch, look no further. Outfitted with AptX Adaptive Lossless audio decoding and Qualcomm AptX Voice technology, the SoundPeats Air4 Pro earbuds are practically a mini-audio studio in your ears.
For both music aficionados and professionals on the move, these earbuds ensure top-quality sound – be it while listening to a multi-layered orchestral piece or discussing business matters on a call.
Personal Experience and Testing
Our hands-on tests confirm that this isn't just tech jargon; it's an audio promise delivered. The fidelity stayed remarkably consistent across multiple genres of music and different types of calls.
The full spectrum of sound – highs, mids, and lows – was accurately represented even at soaring volume levels. No distortion, no fuss, just pure, untainted audio.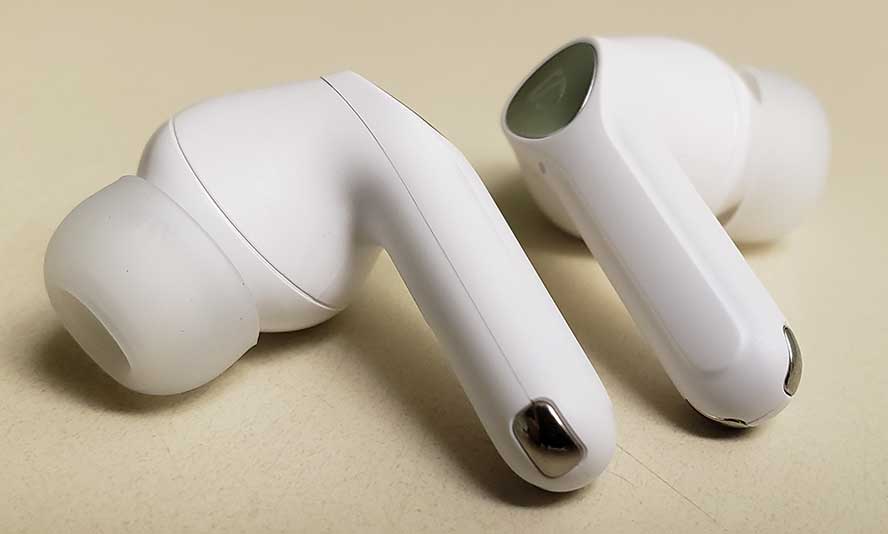 Adaptive Hybrid Active Noise Cancellation
These earbuds have a keen sense of what you don't want to hear. Equipped with adaptive active noise cancellation, these earbuds proved themselves in a variety of settings, efficiently countering external sound interferences.
From a chatty café to the steady roar of urban traffic, the noise-canceling capabilities are impressively robust. This is a big deal for those who are regularly on the move and need clear communication with colleagues and clients.
Wind Noise Resistance
Alright, let's address the elephant in the room: the wind. While the earbuds perform exceptionally well in most environments, their Achilles' heel seems to be handling wind noise.
The built-in microphones can be overly sensitive, amplifying wind during phone calls or windy outdoor sessions. It's not a deal-breaker, but certainly something to note if you live in a city that's particularly gusty.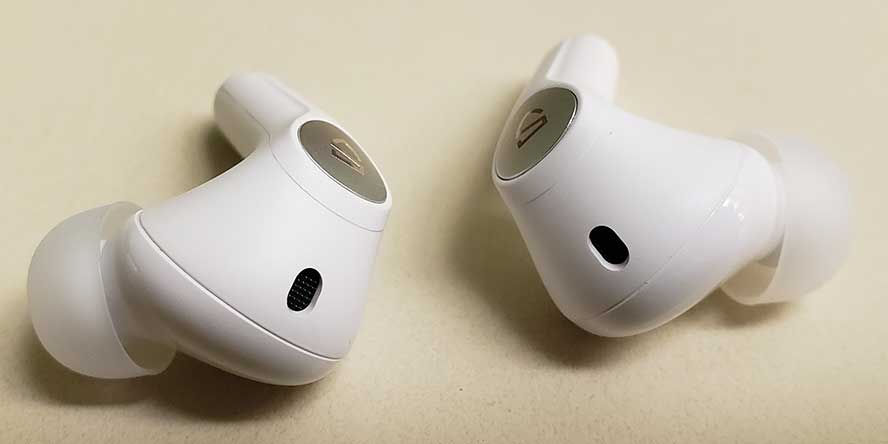 Low-Latency Game Mode
If you're one to take your virtual battles seriously, then latency can be your worst enemy. With an 88ms low-latency mode, the SoundPeats Air4 Pro makes sure you're well-equipped for that final boss fight or crucial in-game decision.
We put the earbuds through their paces with high-paced action games, tactical shooters, and even real-time strategy titles. In each scenario, the lag was nearly non-existent, ensuring no audio delay threw us off our game.
However, it's worth noting that while the latency was minimal, absolute perfectionists may still notice the faintest lag in extremely fast-paced sequences.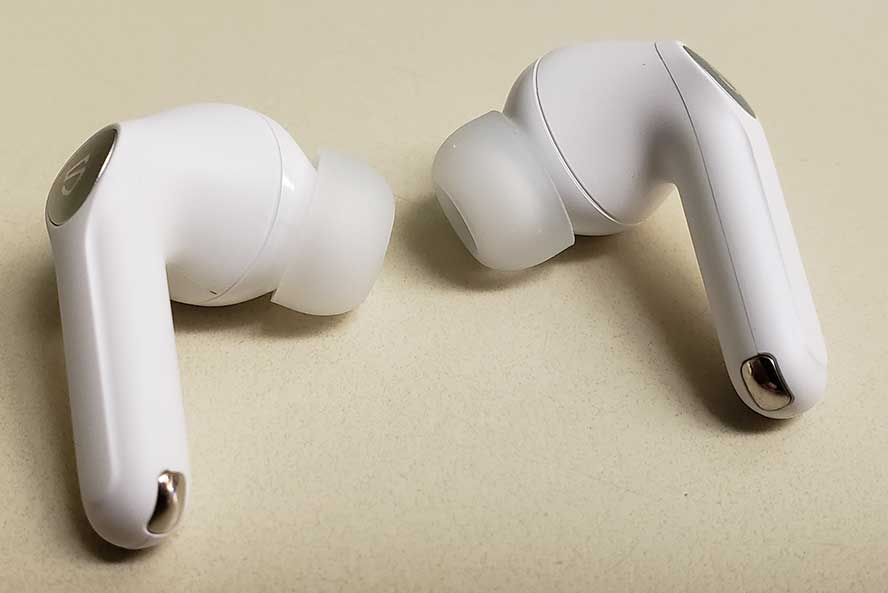 Dual-Device Connection
Multitasking is the name of the game in today's fast-paced world, and this feature is a multitasker's dream come true. The Air4 Pro supports dual-device connectivity, allowing seamless transitions between different gadgets.
We tested this by pairing the earbuds with a smartphone streaming a podcast and a tablet playing a video.
Switching between the two devices was remarkably smooth and instantaneous – no lag, no confusion, just effortless transitioning. While the earbuds scored high in most categories, they were not entirely without their shortcomings.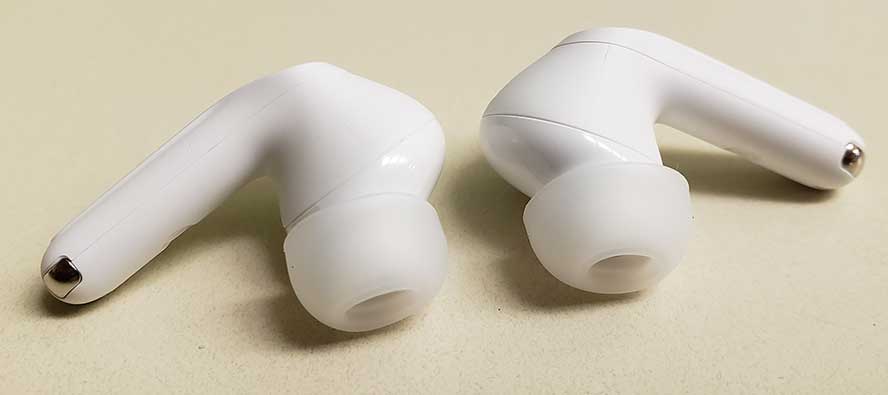 In complex Bluetooth environments with multiple competing signals, we did notice occasional drops in connection, although these were quickly restored. When it comes to gaming and multitasking, the SoundPeats Air4 Pro demonstrates strong performance.
The low-latency mode offers an engaging gaming experience, and the dual-device feature simplifies life for the gadget-savvy among us.
However, like any piece of tech, they aren't infallible and have their minor hitches in ultra-competitive Bluetooth environments.
Overall, a commendable effort in connectivity that warrants consideration from serious gamers and multitaskers alike.
The SoundPeats App
The SoundPeats App is pretty much indispensable if you own the SoundPeats Air4 Pro earbuds. While it's not overflowing with features, it offers some that are crucial for an optimized user experience. Let's start with the touch controls.
It's a problem many of us have faced: external elements like raincoats activating the touch controls on the earbuds. The app takes care of this by offering an option to disable touch controls. Simple, but a lifesaver.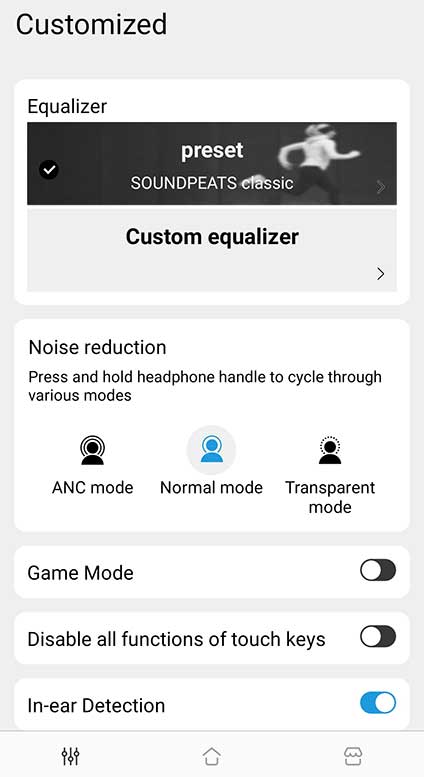 The app allows you to toggle in-ear detection, automatically pausing and resuming audio based on whether the earbuds are in your ears. You have the option to turn this off if it's not something you find useful.
What's more, the app allows for customization of equalizer settings and activation of a gaming mode. It also lets you choose your noise reduction preferences – ANC, normal, or transparent mode – giving you the control to adapt to different environments.
Ever been caught out with earbuds that run out of juice? With the app, you can easily monitor battery levels and avoid untimely interruptions. The app's user interface is straightforward but lacks one element: a quick reference guide for touch controls. It's a small detail that could make a big difference.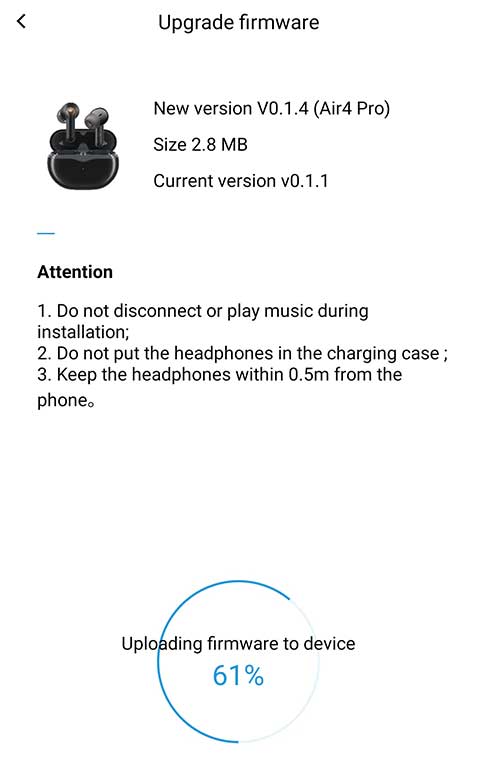 The SoundPeats App is a worthwhile companion to the SoundPeats Air4 Pro earbuds. It brings valuable functionalities right to your fingertips, including important firmware updates. While it could benefit from a quick guide on touch controls, the existing features make it a must-have for any Air4 Pro user.
Battery Stamina
In terms of battery endurance, the SoundPeats Air4 Pro earbuds offer a performance that can be best described as dependable but not groundbreaking.
With the active noise cancellation (ANC) feature turned off, these earbuds offer up to 6.5 hours of continuous audio playback. That's sufficient for most commutes, workouts, or casual listening sessions.
However, once you enable the ANC feature for a more immersive audio experience, the battery life takes a bit of a hit, dwindling down to around 4 hours.
Now, let's talk about the charging case. It comes with a 330mAh battery, which is notably smaller than what you get with the Capsule 3 Pro's 500mAh case.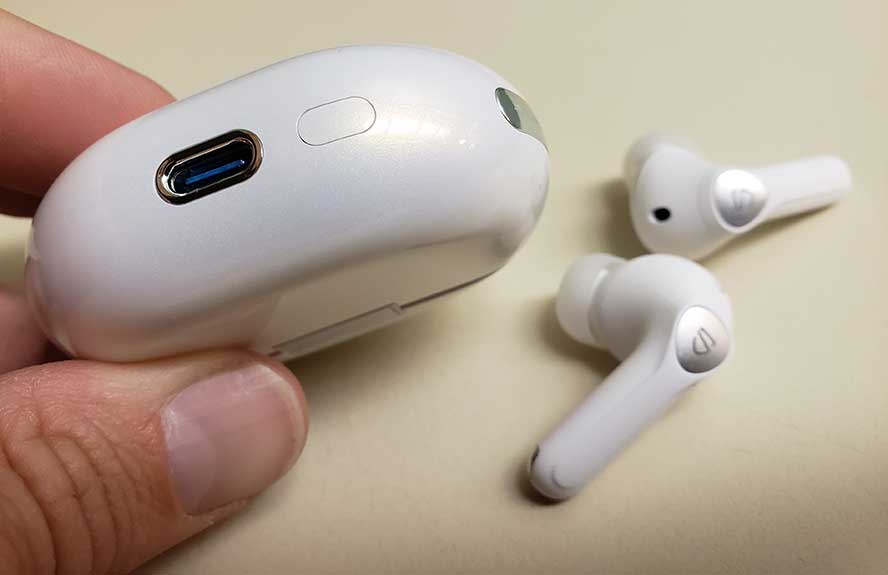 While this does mean fewer recharges, it's not a deal-breaker by any stretch. You still get a respectable total of 26 hours of playtime when you factor in the multiple charges the case provides.
In practical terms, this should be enough to get most users through a regular week of usage without having to scramble for a charger.
However, it's worth noting that if you're planning on a weekend getaway or foresee prolonged periods away from a charging outlet, the smaller battery size in the case might be a limitation you'll need to plan around.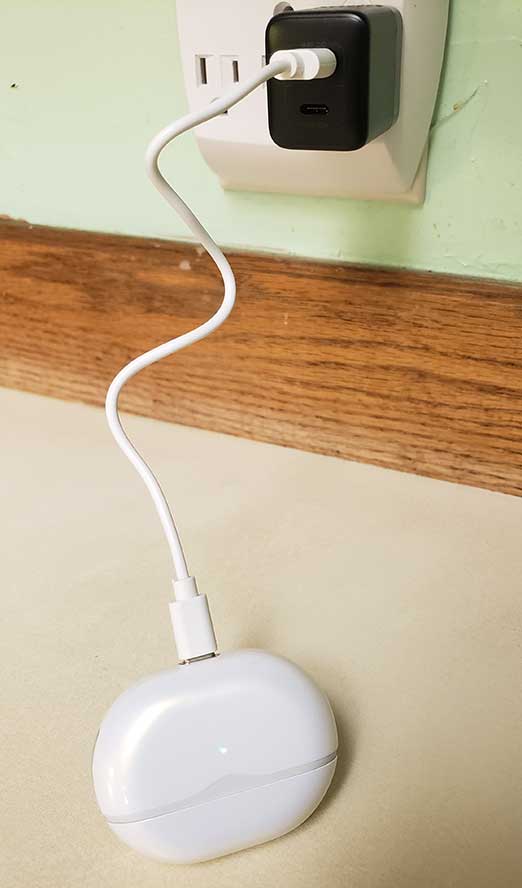 So, while the SoundPeats Air4 Pro may not set any new endurance records, they offer a balanced compromise between features and battery life that many users will find more than adequate for their needs.
Durability Specs
Though they're built to last, don't plan on going diving with these buds. With an IPX4 rating, they are both dust and splash-resistant, albeit not invincible.
While this might not be groundbreaking, it should suffice for your average gym session or commute.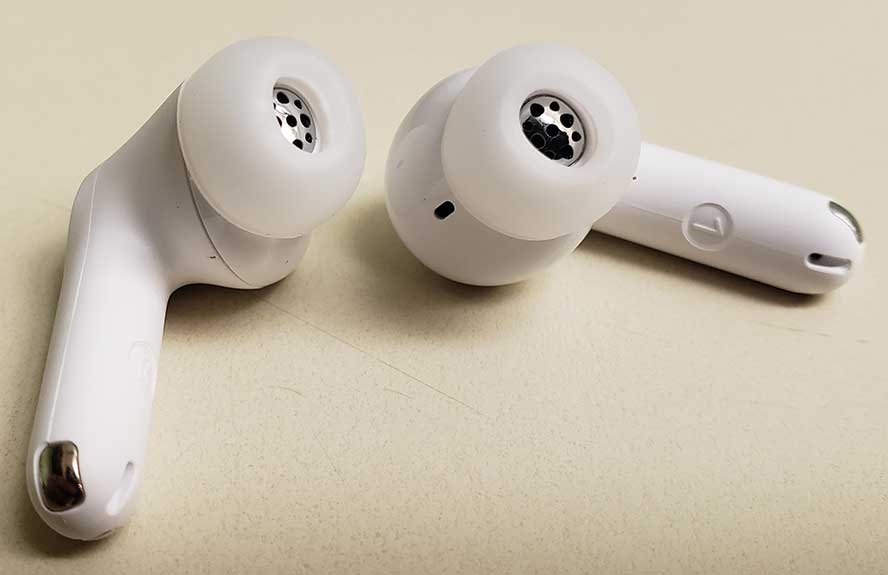 So, while not perfect, the SoundPeats Air4 Pro offers an intriguing blend of top-tier audio, effective noise cancellation, and moderate durability – all wrapped up in a sleek design.
If you can overlook the wind sensitivity and moderate battery life, these earbuds certainly hold their own in a competitive market.
Final Verdict
The SoundPEATS Air4 Pro is a robust package, offering high-quality audio, effective noise cancellation, and impressive battery life. It's no slouch in performance, but don't expect it to be the jack-of-all-trades.
The limited app customization options might give you a moment's pause. However, it's the balanced audio profile that steals the show, making it versatile enough for different listening scenarios.
Meet Derek, "TechGuru," a 34-year-old technology enthusiast with a deep passion for tech innovations. With extensive experience, he specializes in gaming hardware and software, and has expertise in gadgets, custom PCs, and audio.
Besides writing about tech and reviewing new products, Derek enjoys traveling, hiking, and photography. Committed to keeping up with the latest industry trends, he aims to guide readers in making informed tech decisions.